December 6, 2016 by Michael Madden
So, how was it for you?
Regular readers will no doubt be pleased to learn that that both of my complaints have been resolved. KLM paid £503 into my bank account mid November (for the flight chaos from July), whilst Virgin Trains, well, let's just say they have paid compensation. Ok, since you asked, how much do you think they paid for the ordeal of standing nose to nose with the great unwashed for just under 2 hours on a train to London, where seat reservations were 'out of the window' (not literally of course)? The grand total of £5! A whole fiver, including the animal fat. Now before you get all giddy and put in a compensation claim of your own, that was between us. So, £2.50 each. That makes me feel a lot less guilty about blagging first class!
I've been in festive mood in the kitchen, I guess its all that Christmas Food channel on Sky. Anyway, my Creole Cake is steeping nicely, having been fed with rum, brandy and port. A drop of sherry before icing will just about do it. And thanks to Rachel Allen I now have a good idea of the 'icing' I am going to put on it. Speaking of the lovely Rachel (always had a thing for the Irish accent – southern of course), I used her recipe to make these interesting mince pie muffins with egg nog icing. I quite like them, Sally definitely does not. Helen does, but she seems to like everything I cook. Might put more mincemeat in them next time.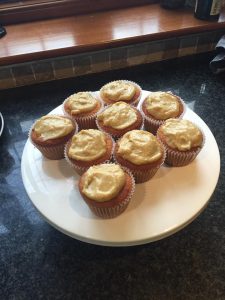 I also made piri piri chicken, which was fiery hot, and Bakewell tart. This will definitely be made again, though with a bit more Bakewell and bit less tart. The picture doesn't really do it justice, but that's because it disappeared rather quickly.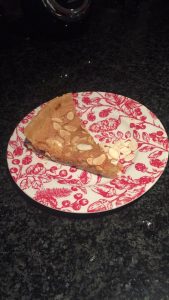 The egg nog icing used a lot of egg yolks, and as I don't like wasting stuff I had to do something with the egg whites. Hence, chocolate meringue which was very rich and gooey. Another one that will be made again.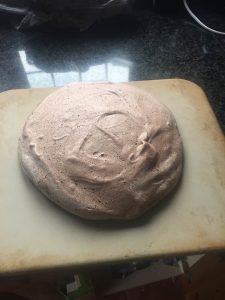 Finally, in the culinary section, I decided to make ricotta chicken. This is just chicken stuffed with spinach and ricotta, topped with cheddar cheese and baked. Sally was a little confused. Is that the white stuff with bits in we've been having? No, that's carbonara.
It was the Autumn Statement delivered by the Chancellor in November, and through High Peak Business Club (well more likely to be Freedom Financial Planning via Andy Nevett via Nick Heys), a journalist from The Times wanted to know my opinion, as an IT Consultant, on the detail. I was happy to oblige, and after the initial interview he followed up with a second one immediately after the event. In between, he sent a photographer to chez Madden, and of course Lady M was only too pleased to be involved. The article was ok, understandably cut down due to space, but the soft focus picture could not have turned out better. See below for the reaction!
We had a very exciting weekend last month, with Nixie's first sleepover. And boy can she sleep! She had heavy eyes from the start, and almost slept through the entire night. The next morning, after a brief spurt of activity following breakfast, she fell asleep again. Mind you, we did have to rescue her from a wild dog!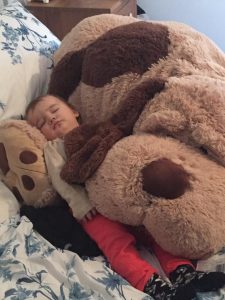 Its always nice to get requests for cooking, and recently I've made paella for a lovely lady from Chinley (or was it really for Helen?), and I've a Christmas order in from my Nottingham office for chocolate digestives. I suspect Bakewell tart will be making another appearance soon too.
For the first time in a long time we had a family trip to the cinema. Fantastic Beasts And Where To Find Them was the choice, and although I'm not a Harry Potter fan this was quite entertaining. Rumour has it they are making another four or five of them – hmmm…not sure about that. Popcorn, drinks and sweets are just as expensive as I remember them!
And whilst on the subject of movies, the remake of the Rocky Horror Picture Show – errr no! Shouldn't have done it, and the result is amazingly poor. Worst of all is the part played by Tim Curry; he's gone from the lead role to a poor man's Charles Gray. The original was and still is a classic. It should be placed on the same pedestal as The Sound Of Music and Gone With The Wind. Leave it alone and just enjoy it. Do not sully its memory with a pale imitation.
I met some very clever students recently, and they will hopefully help me to get my online course business off the ground. I recommend the 'Live Project' initiative to anyone who is interested in working with young adults, as in return for some business mentoring you get free resource for your project! Its run by MMU, which came as a bit of a surprise as I was expecting to have to travel to Salford like last time.
Had an emergency dash to Liverpool in November when Ole and his friend were at a gig. Emmy rang and said he was ill, throwing up and shivering whilst in the club. So, I drew the short straw due to the fact that it was Thursday. So what happens on a Thursday? Not much, except Sally had had a drink! It was inevitable, so I raced over there and picked the two of them up. On the way home it transpired that they had been to a fried chicken outlet where they had purchased something like four wings, four breasts and a drink for a couple of quid. The salmonella sauce came free. It took Ole a couple of days to recover, and the flapjacks took a hammering in the process!
And speaking of Ole, he always says that the cycle to Chapel is a challenge, particularly the uphill bend past the Hanging Gate. Anyway, I've tried it a couple of times, as a drier alternative to the muddy path to Marple, and its not too bad at all. So, now my trips to MacBurnhams are almost all on two wheels. 
You may have noticed that Donald Trump won the recent US election, or did he? Actually, no! It's a bit like Brexit, which was advisory, and which has been through at least two courts already with no sign of it actually happening. The US electorate voted for the electoral college voters to cast their votes for Trump, and although this is mandatory in many states, there are 21 states where they are allowed to vote for whoever they want. There's also the small matter of recounts in three states, with legal challenges in Florida as well. In this year of weird politics I would not be too surprised if Trump was not actually confirmed as president, although the bookies think he is an absolute certainty. But they have thought this before! One elector who should vote for Trump has already stated he will not, for many reasons, including this…
Mr. Trump goes out of his way to attack the cast of "Saturday Night Live" for bias. He tweets day and night, but waited two days to offer sympathy to the Ohio State community after an attack there.
With rumours of vote rigging, deliberate miscounting and hacking this could still have twists and turns! Watch this space…
Had another trip to London a couple of weeks ago, and this time Virgin Trains were on time and seats were properly reserved. I have to admit that I nearly wasn't, for a couple of reasons. Firstly, Zac threw up at school. All over his science book apparently, and whilst normally I would suspect that he had done that deliberately, when I picked him up he was definitely unwell! However, I made sure that he had everything he needed and then set off in plenty of time for my train. Not sure if you are aware, but parking at Macclesfield station is becoming a nightmare. I had resigned myself to missing the train when I found the last space in the Virgin car park, although I had to drive right up against the metal chain barrier and climb out of the back door. £28 for 2 and a bit days! Of course, it being Virgin Trains something had to go wrong, and this was no exception.
Originally I was coming back on Friday, but plans changed so I had to contact the Virgin Trains call centre to get my ticket changed accordingly. Now, originally I had a mobile ticket, meaning it was only accessible on my mobile phone. That's why I had to contact the call centre, which kind of goes against the principle of an m-ticket as it should be as easy to change as it is to use. I don't think its just me, but whenever I call customer services and the call is answered by a girl who sounds as if she grew up on the streets of Mumbai, and not too long ago, my heart tends to sink and my confidence in the service I am about to receive diminishes. Experience tells me that this is with good reason. I explained the need to change the return part of the ticket to Saturday from Friday, and she helpfully explained that this could only be done by the call centre, which was fortunate as that was exactly the reason I was calling the call centre. Once the initial exchanges were out of the way she got to work, and surprisingly quickly she cancelled my return ticket and issued a brand new one for Saturday. What could possibly go wrong?
Well, I got on the train and tried to activate my outward and untouched ticket, but it wouldn't activate. When I looked closer it was in my virtual ticket wallet, but it didn't have a mobile symbol next to it, and neither did it have a collect symbol next to it. So, whilst on the train I contacted the call centre again. This time I got a gentleman, also from Mumbai or surrounding districts, and I explained my problem. He was puzzled, but not for long as the train went through deepest darkest Staffordshire where it lost signal. I called back, and got a girl on the other end. Despite perhaps taking a break from her GCSEs she sounded knowledgeable, and understood my problem. She said she would reset my ticket, and it would be done within seconds. Should I wait on the line? No – it would be fine. So I hung up and checked my phone. And guess what? It would still not activate. So I called again. I could have sworn it was the same girl, but she had no recollection of our conversation just moments earlier. She told me to exit the Virgin Trains app and go back into it, and the problem would be resolved. So I did. And it wasn't. Still, at least she was still on the line. Are you sure? Yes – are you sure you reset it properly? Of course Mr Michael (now there's a bit of a giveaway). Perhaps if you switch your phone off and on again? So I did. And guess what? It didn't work. She then said I should uninstall the app and reinstall it. That would definitely work as it would effectively pick up a new ticket off their system which was definitely mobile. So I did, and it didn't. She had no other ideas, and nowhere else to go.
At that point the ticket collector arrived, so I explained the situation. She took my mobile and said, 'you should have printed the ticket at home.' So, I showed her my ticket receipt email which clearly states that it is a mobile ticket and can only be used on a mobile phone. 'How odd,' she remarked. 'Have you contacted customer services?' Fortunately she saw sense and agreed that it was Virgin Trains that screwed up and not me! I would have complained but based on previous experience (see above) I don't think that the estimated compensation of four and a half pence would be worth it.
Anyway, I arrived at Euston and strolled to my hotel, then got a cab to the Savoy for a bit of business. £21 may seem a bit steep for three coffees, but they did come with mini mince pies, a nice ambience, and a wonderful Christmas tree!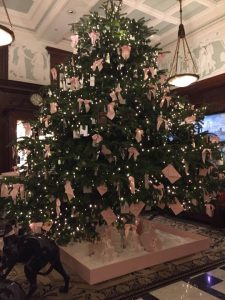 Next up it was a short walk to Riley's Sports Bar where a marathon NFL session was about to commence. Armed with nachos, hot wings and beers we had a whale of a time, but we were still hungry when it came time to leave. Being London the streets were still buzzing at 2.30 in the morning, and we were offered girls, both naked and clothed (well I presume they were clothed at the start as they were strippers), drugs, and generally 'a good time'. I just wanted to find Burger King that we had been directed to when we left Riley's, but which was not immediately apparent. In the grand old tradition of a sleazy News Of The World journalist, I made my excuses and left. The next morning it was the tube to Covent Garden for breakfast ( I do like Cafe Nero, much nicer than Costa and don't even mention Starbucks), followed by a chat over drinks in Philomena's Irish Kitchen (where the accents were disappointingly Cockney).
From there it was the tube back to Euston where the second half of my weekend was about to begin. Our American friends were over, so I met Sally and we headed on another tube to London Bridge. A few beers in the Banker & Barrowboy (really?!), and it was off to their apartment right underneath the Shard. I mean right underneath it.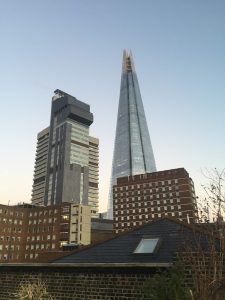 Its a famous landmark, but actually I think its quite ugly! After champagne at the apartment we headed for ice skating in the moat of the tower – cool in more ways than one, but not for me. I settled for hot chocolate and whisky in the bar! Tower Bridge looked amazing lit up, but it was getting very cold so we headed for food at a local pub.
The next morning Sally was very excited. The Times photo should have been published (unsurprisingly she wasn't bothered about the article), so we bought a couple of copies and headed for Roast, a great breakfast restaurant in the Borough Market area. Borough Market is a fabulous place, highly recommended on your next trip to the big city. The Roast offering was fantastic, as I'm sure you will agree.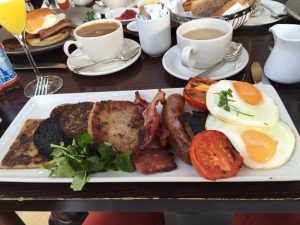 Not a scrap was left, but then again, the girls didn't leave any of their Bucks Fizz either. Over breakfast Sally casually turned the newspaper to page 64. No one took any notice so she started waving her finger at the photo. Still nothing, so she had to physically point it out herself. Cue a very excited American reaction along the lines of 'Oh my god, we're dining with celebrities'. Anyway, the other diners seemed unconcerned so I continued to tuck in whilst Sally regaled our guests with tales of the photo shoot. Now, the photo shoot took around 90 minutes, and this is just one picture. Never mind! Sally has emailed the photographer and there are more on the way!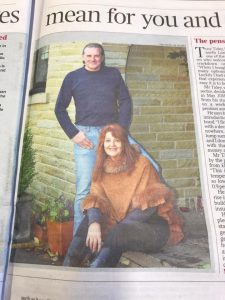 So, we headed for home, and on a fairly empty train we sat at a table. Two women appeared and occupied the other two seats at the table, which was cosy! However, it also gave Lady M another chance to reveal Page 64 and the photo that was unmistakeably us two. There was no reaction, so Sally nudged the paper across the table. Still nothing, so she decided to pick it up and actually read it. Bizarrely, the woman next to her was also in the paper, on Page 19. What are the chances of that? Anyway, Lady M said, 'Excuse me, I have to ask, is that you in The Times?' The woman, with a bit of fake embarrassment replied, 'oh, yes it is'. At that point it would be fair for her to assume that Sally would be asking for the full details, and maybe an autograph, but no. Sally swiftly turned back to Page 64 and said, 'so are we!' The conversation marvelled at the coincidence and they swapped stories, but I am fairly sure that Lady M's tale got far more exposure than our poor unsuspecting fellow traveller.
Zac had his bank account hacked! Well, what I think happened is that he lost his debit card and some kid picked it up. They purchased Microsoft points and lots of things using Paypal, but it only amounted to around £50. HSBC responded immediately, issuing a new card, cancelling the old one, and refunding £70. Zac is not complaining about the difference, but I dread to think what will happen if he ever finds out who did it! That's if he wasn't in cahoots with the fraudster in the first place!
Ole is taking driving lessons at the moment, but he has not yet booked his theory test. That is probably just as well based on a little quiz I gave him last weekend. 'What follows red in a traffic light sequence?' After adamantly stating it was amber, and then possibly green, he admitted defeat. No, wait, I know, its little green man! When I told him it was red amber he said that that is what he meant! So what does red amber mean? Go. No. Well you always go on red amber. No I don't! Next question, what follows green? Red? No. Yes it is! He could be a while with his L plates!
Zac also had a challenge on the driving front. He wanted to be dropped off at his mate's house in Chapel. So, Sally set off with him in the passenger seat.
Zac: You know. You picked me up from his party.
Mum: That was ages ago. I can't remember where that was.
Zac: Just drive. I'll recognise it when we get there.
The reason they were going there was so that he and his mate could go to the gym.
Mum: Call me when you are ready to come home.
Zac: I've not got my phone with me.
Mum: Well what time do you want picking up.
Zac: Don't worry, I will get the centre to call you.
And you know what? They did call. And they did it more than once! And my bet is that Zac will get them to do it again and again. They are at his beck and call, and that's before he persuades them to make him chips!
Zac has been watching I'm A Celebrity… One of the questions revolved around whether sex was better or worse after childbirth. Zac turned to Sally and asked, 'so how was it for you and dad?' Ole almost choked on his cup of tea, whilst mum, in the grand old tradition of a sleazy News Of The World journalist, made her excuses and left the room!
Got to love a deadline, and Christmas brings its own assortment! I decided to give the boys a proof copy of The History Of Zombies (that way I get it proof read for free), so naturally I had to finish it! The cover and cover notes will be changed as I near production, but the story is broadly complete. Chapter I is featured below. Message me if you would like the rest of it for free (on the basis that you too will proof read it!)
Zombies. Flesh eating crazed monsters. Bloodthirsty, vicious cannibals. Your worst nightmare. Right? Well actually…no. I mean, I wouldn't exactly want one living next door, but the truth is very different to what you probably believe.
Ok, let's start at the beginning. I am guessing that you picked up this book because your mum and dad said you were spending too much time on your X-Box or Playstation and not enough time reading. And I'm also guessing that you've played a lot of Nazi Zombies. Right so far? Well, if that's the case you should prepare to forget everything you've learnt about those particular zombies, and listen to a lesson that might just save your life.
So, who am I to be able to provide this lesson? I'm Zak, 12 years old, and an expert on FIFA and Minecraft. I used to be an expert on zombies, but after the last few days…I don't think I could ever play that game again. My brother, Ollie, still plays it, but he's a dumb kid who won't listen. And then there's my best friend Jimmy Gibson. Jimmy loves zombies. I mean really loves them. Zombies playing cricket, zombies playing baseball, zombies with guns, everything. And I guess that helped when we first met a genuine, real life, scary zombie.
Jimmy's mum just loves her sayings. 'You'll be stuck like that if the wind changes', 'Better to have no shoes than to have no feet' duh, and 'A thousand miles from home can still be home'. I never really got that last one, until we stumbled across the crypt in the graveyard, but more of that later.
So let's go back a few weeks. It was May, two days after Jimmy's birthday, and we were at Jimmy's house planning our school trip to Windy Ridge. Three days of no parents, no school, no rules, well actually there are rules, but no important ones, and no one checking if you've eaten your peas and carrots. Ollie went to Windy Ridge four years ago and said it was the best trip he ever went on. Now, I don't usually listen to what my brother says, but I remembered that, and we couldn't wait. Jimmy was writing a list of who we should allow in our room. Six to a dormitory, and if you were in a gang of six they would almost certainly put you together. Less than that, and you could end up spending three days with a cry baby or a teacher's pet. We had Alex, who always had loads of chocolate, Daniel and Robert, identical twins who used their appearance for lots of jokes, and Nathan, the only person I ever met who was better than me on FIFA, though I would never tell him that!
          Jimmy's mum was worried that Jimmy would get homesick. 'A thousand miles from home can still be home,' she said about twenty times. And Windy Ridge was about five miles away, not a thousand. Well maybe a bit more, but we could still walk there from school in less than a morning.
We'd had biscuits and crisps whilst Barcelona were playing Bayern Munich on Jimmy's X-Box, but then Mrs. Gibson started getting heavy; talking about my mum and dad, asking how I was doing at school, and all that kind of stuff. She even made me miss a penalty. As soon as she left I suggested we went to St Michael's graveyard, a favourite hang-out of ours.
We turned out of Beech Lane, where Jimmy lived, onto the wide St. Michael's Avenue. It was lined with huge trees, a great place to play Hide And Seek, and at the far end it led to the ancient St. Michael's church with its spooky graveyard. We walked in front of the old wooden church door and closed our eyes. We always did this, me on the left and Jimmy on the right, as we walked two steps at a time and shouted out the names on the graves that we passed. At first, it was just the names, but then we started to make up little stories.
I began. 'Old Martin Sykes, murdered in his bed,' then I stopped and it was Jimmy's turn.
'Sarah Jennings, drowned in her own bath.'
I took another two steps then, 'William Turner, riddled with measles.'
We continued with four graves each which took us to the place where the path split to the left and right, and where straight ahead was the scariest grave of them all. It was a huge angel on a plinth, with green and blue marble chippings surrounding the statue. It looked as though it used to be white, but it was now a faded grey, making the marble chippings stand out vividly. On still days it loomed menacingly, and when the wind blew it seemed to call to us.
'Zak, Zak, Zak,' it whispered in staccato, or 'Jimmeeee,' as I swirled around the bushes and long grass.
The words on the plinth were memorable. 'Mary Head. 1647-1675. Brought home in 1720. Mother of Sarah, James and Peter.'
Every word held its own puzzle. Mary Head; my mum said this was an Irish name, so why was she buried here in northern England?  1647-1675; just 28 years old. Jimmy thought that she must have been murdered, I think it was probably an incurable disease. My mum said that people died a lot earlier in those days. And most diseases had no cure. Brought home in 1720; this was the biggest puzzle. Brought home from where? The thought A thousand miles from home can still be home, seemed to shout at me. And why did it take 45 years to bring her home? And who brought her home?
Jimmy said she probably died on holiday abroad, until I pointed out that people didn't go on holiday abroad in the 1600s. Mother of Sarah, James and Peter; there was no mention of a husband, as there was on most of the other women's graves, and this one had three kids. Was she a witch? Was she ever married? And what happened to the children? There was no mention of any of them on the grave. She was buried alone, and it looked like she remained that way in her lonely grave. So, why such a grand monument for someone of such strange circumstances? It always sent shivers down my spine, and we always hurried by it.
We carried on past gravestones and small memorials; tiny areas that we used to think were the burial places of children and babies until we found out that they were for cremated remains. Eventually we came to an old yew tree, apparently they are very popular in graveyards, and to an open space that was waiting for more deaths, and more burials. The graveyard had plenty of room, both on the surface and down below!
We sat on the wall marking the boundary of the church. Beyond were farm fields, often filled with sheep, but not today. Today they were empty. Inside the wall the strange silence of the dead was everywhere. Jimmy picked up a wide piece of grass, pinched it between his thumbs and blew into his cupped hands. Phweeee, the sound broke the stillness and we laughed. We heard footsteps, and saw a figure walking past Martin Sykes and Sarah Jennings.
It was Adrian Smith, Schmitty, as we all called him. He was a year older than us, and he was a bit of a loner. He was tall, thin and geeky, but not in an X-Box kind of way. No, Schmitty loved computers, gadgets and other electronics. Not X-Boxes and Playstations.  I don't think he's ever played a game in his life. He walked straight past the graves and didn't even look up at Mary Head's angel. He continued towards us without even noticing that we were there.
'Hey Schmitty, what's up?' Jimmy called out to the startled kid.
'Hi Jimmy. Hi Zak. Just heading to town. Need a new motherboard.'
He stood with his hands in his pockets, almost frozen, waiting for us to say something else so that he could continue on his way, but then a very strange thing happened. Schmitty looked directly at us. He was about 4 or 5 metres away, close enough for us to see every movement of his face. He blinked, and then he shuddered. As if he had suddenly gone very cold. His eyes closed for a moment, and when they opened they were totally red. I don't mean bloodshot, I mean red. He didn't have pupils, or any other colour. It was as though his eyeballs had turned completely around, and they were red.
I looked at Jimmy, both of us open mouthed and unable to speak. A second or two later Schmitty closed his eyes again, and this time when he opened them they were back to normal. It seemed that the shudder and the red eye trick had broken into Schmitty's trance and he was ready to move on. He took a step towards us, and we instinctively swung our legs up onto the wall, away from him, but he changed direction.
'See ya,' he said, and walked on towards the far end of the graveyard, beyond which was the road into town.
The silence returned as we stared at each other, and we both jumped to the ground and started running. Past Mary Head where we took a sharp right turn. Past our friends
at the entrance to the cemetery, and out onto St Michael's Avenue. We ran together, as fast as we could, until eventually we could run no more. We stooped, hands on knees, gasping for breath, with one of the huge trees between us and St Michael's church, ensuring that whatever was in the graveyard could no longer see us.
'Wh..wh..what the heck was that?' I asked an equally breathless Jimmy.
His only reply was the sound of huge gulps of air filling his lungs. He slumped down with his back to the tree and looked up at me.
'Dunno, but I'm not going back to St. Michael's. C'mon. Let's go to mine.'