June 4, 2017 by Michael Madden
Teenage Depression And The Best Burgers In The World
Financial choices can be difficult within families – do you put it aside for university? Do you try to get the best interest rate? There are countless options, but I didn't really expect Sally's question when she asked, 'Should I put Zac's money into ISIS?'
Speaking of Sally, after almost 23 years of marriage I still don't think she quite gets my sense of humour. She was watching a documentary about the ill-fated dodo on tv. 'When did the dodo become extinct?' she asked. 'Dodo,' I replied. The withering look of disdain told me she didn't find it funny!
Elvis Under The Covers is going well as the deadline approaches – including quotes from Louise Hoffsten and Mary Coughlan. I read Mary's autobiography last week – and it was superb. Baring her soul about growing up in Ireland and making it, losing it and making it again in the music industry. Thoroughly recommend you check her out.
#Elvisunderthecovers
Cricket took a turn for the better at the beginning of the month, with a knock of 162no. And I was still able to walk the day after. Now, I have had big scores before, two over 100, but apparently this broke records for Whaley Bridge second team, and at my age there is probably an even greater sense of pride than if I had done it 20 years ago. Unfortunately I have been consigned to the first team ever since!
Right – I'm going to put this in print so that it doesn't get forgotten. Russ Wild and I are starting a band – him on ukelele and me on bass guitar. It will be an unusual and perhaps unique sound, to say the least, and we are currently working on parodies. We have no name for the band as yet – but the working titles of a couple of songs are Menopausal Man Blues and My Wife Is A Serial Killer.
Zac, as ever, seems hard done to. 'I'm this close to depression,' he declared one evening, going on to explain, 'do you know what the single biggest cause of teenage depression is?' The swiftness of his reply told us that the question had been rhetorical. 'Homework,' he confirmed. So what mountain of homework had brought on this state of melancholy? His English teacher had asked him to complete 3 sheets of A4 paper. Including pictures!
We had a visit from Nixie a couple of weeks ago. It was only supposed to be for a day, then overnight. Then another night. And another. It was joyous to see her, and she had a great time on the trampoline with the boys, but three days with a 1 year old can be quite tiring! Something that we had long since forgotten. We are stocking up on espresso and Sanatogen ready for her next visit!
My sister has taken to riding horses. Or more accurately, she has taken to falling off horses. She is a bit younger than me, but she doesn't bounce as well as she once might have done! Any suggestions?
Zac had to bake a cake for school. Well that's not strictly true. He had to make a guillotine, and apparently Minecraft was a suitable medium to use. Anyway, Zac found that too hard, so he decided to bake a cake and then ice a picture of a guillotine on to the cake. With it so far? So, it was the night before the guillotine project was due in, and I was blissfully unaware of all this. I was at Old Trafford, and the game finished around 9.45pm. I was walking back to the car and I got a phone call. It was Zac, explaining the Minecraft situation and asking if I would bake a cake when I got in. He then said that he had made the cake, it just needed cooking. He had got a recipe from Youtube, and the time for baking was somewhere between 20 and 50 minutes, and that would be beyond his bedtime. The icing would be done in the morning. So, an hour later I poured his cake batter into a tin and put it in the oven. I tasted the batter, and it seemed to have something missing, but it was 11pm so I left it! It came out quite well, and the following morning he managed this design.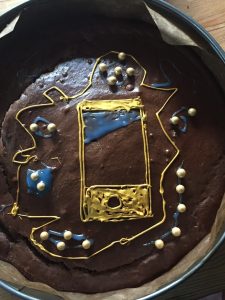 It looked good, so he took it in and it got shared about. How was it? Zac was non committal, which was strange as it was chocolate cake! I asked him what sugar he had put in it, and he said, 'what do you mean?' I clarified my question. 'Did you put granulated, or brown, or caster sugar in?' He thought for a moment, then explained, 'the recipe said granulated, but I couldn't find any of that so I just left it out'. Straight out of the Sally Madden school of cookery!
Two days after the Nixie mini holiday Ole took it upon himself to visit The Shepherds, and then he came home with a friend who was staying over. It was around 10.30 when I locked up and went to bed, and it was a bit of a shock when we were woken at 4 by Ole and his mate banging on the door. It transpired that he had gone to Manchester on the last train and partied until the early hours. He was very much the worse for wear, though to be fair he did get up to go to his last day of college, albeit briefly! So when the situation was dissected he asked why we had locked the door. 'I thought you were in bed,' I explained. 'You didn't even know I wasn't in the house?' the astonished 17 year old replied. 'That's just bad parenting!'
Despite our obvious lack of parenting skills the two boys decided to accompany us on a 5 day break to Italy. We flew to Brindisi, somewhere near the heel, and the cock ups started at the airport. With the heightened security Zac got the full patting down treatment as he had left his inhaler in his pocket going through the metal detector, and then both he and Ole had their bags searched as they had left spare inhalers inside. We eventually landed at our destination to find a cock up with the car, but it was probably a blessing in disguise that we got a taxi to our hotel as Sally's navigational skills leave a lot to be desired. The hotel was lovely.
We arrived late at night and had a plate of bread, fruit and cheese waiting for us, as well as four large glasses of red wine! The next day we went back to the airport to pick up the car, and were told that as we wanted the car for one less day we would have to pay an extra 94 Euros, which is more than what it cost in the first place. That puzzled the lady at Budget as well as ourselves. Fortunately the rental company agreed to repay this, so we returned to the hotel and for once Sally navigated us right to the door. Now, we know that Italians can make pizza, pasta, ice cream and coffee, well in the small town of Mesagne I can confirm that they make quite possibly the best burgers on the planet – and I have tried a few! Burger Eat Gourmet is the top rated restaurant in the town on Tripadvisor, so we gave it a whirl. Three 200 gram burgers, all excellently prepared and presented on a bun that was sturdy enough to not fall apart, together with chips and a bacon baguette for Zac. This wasn't on the menu but they made it anyway, and seemed happy to oblige! Beer, wine, water and Sprite all accompanied the burgers, and the cost came to an unbelievable 48 Euros.
Would you? This one's a New Yorker!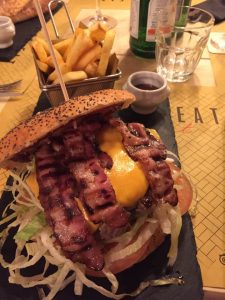 The next day we took advice from our cabbie and headed for the beach. It was half an hour away, but well worth the journey as we rented four sun beds and two umbrellas for 24 Euros. The man on the beach said that in August the same furniture would cost 8-10 times that! The locals claimed that this was their Caribbean, which is stretching it a bit, but the sea was clear, shallow and completely free of rocks for miles. An excellent pizzeria bordered the beach, and we spent a marvellously lazy day throwing a tennis ball and a frisbee until some pesky kids got in the way!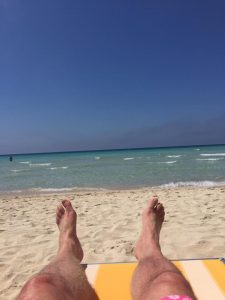 Apparently the Manchester to Brindisi flights are quite new – but well worth checking out. Message me if you want any more details. Anyway, all good things must come to an end and we dropped off the car in good time and waited at the airport. Its a small airport with very little to do, but we only had to wait until 9.25pm and then we would be on our way home. Then came an hour's delay. Then we got a text message from Ryanair stating it would be 3 hours. Questions were asked about compensation. Is it 3 hours? Is it 4 hours? The kids were getting grumpy! A very helpful Ryanair lady handed out leaflets and transit cards. The transit cards allowed us to go back outside the departure gate and pick up vouchers worth £3.50 each to spend in the airport. By this time there was only 1 shop open and his sandwiches looked sad, dry and old. We were also allowed to go back outside beyond security, but the only cafe open would not accept the vouchers. They did, however, serve excellent coffee. We examined the small print, and there was good news. If our flight exceeded 1500km and it was delayed more than 3 hours, we would be entitled to 400 Euros in compensation. Each. The word 'each' suddenly brought big smiles to the faces of the kids as they planned to spend their share. The addition of another hour to the delay confirmed the 3 hour mark, and a routefinder showed the distance at 2,500km. Even allowing for 'as the crow flies' we were confident that it would exceed the statutory minimum. I did a bit of searching and eventually found Ryanair's online form. I filled it in and hit submit….watch this space!
We went to see Imelda May at the Bridgewater Hall a couple of weeks ago, and what a star she is turning into. I pre-ordered her CD which gave me access to advanced tickets, so we ended up on the front row. Ms May really engaged with the audience and went through a stunning repertoire of old and new stuff with a band of superbly talented musicians. If you ever get the chance to see her I would strongly recommend it!. 
Anyway, back to reality and this week sees a meeting with KPMG and treks down to Gloucester and Newport. Its not all rock and roll!
,