September 8, 2017 by Michael Madden
The Ups & Downs Of Rollercoasters
The big news for this update is that Elvis Under The Covers hit the virtual shelves in time for the 40th anniversary of the death of The King. I have undertaken some memorable promotional activities, including interviews on BBC Radio York and Sheffield, as well as Oldham Community Radio and Ex-Pat Radio where I shared airtime with Mindi Miller, one of Elvis Presley's ex-girlfriends! Its all rock and roll. The guy who runs Ex-Pat Radio is actually from Sale, the same town as me, and we had some fun discussing our old stomping ground. Turns out we have many pubs in common!
Anyway, he has now offered me the chance to broadcast on Ex-Pat Radio every week – so I look forward to starting that in September.
Back to the book, and it has been selling reasonably well without breaking records. Sales have been recorded across all four major channels, (Kindle / Paperback in the US and UK), and it has reached the top 200 in Kindle musical categories on both sides of the pond.
Elvis Under The Covers on Amazon
Incidentally, Stags! still breaks into the top 100 whenever it is promoted on Kindle – not bad after all these years!
Sticking with music I interviewed Kirk Fletcher and produced an article on him for the Leek Blues & Moorlands Americana Festival. And now that Clive Ashton has taken up residence in The Wellington Inn no more excuse is need to visit the Staffordshire town for the event at the end of September.
The article can be found here
I had a bit of a flurry in the kitchen, making Bakewell Tart, brownies, Key Lime Pie and a seemingly endless supply of chilli. The brownies were the gooey, nutty variety, and I'm not expecting many to be left when we get back from Florida (seriously, help yourself Hell Dog!).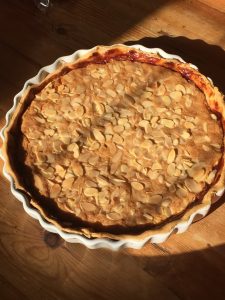 Some of the brownies, together with the Bakewell Tart, went with us to the Twinwood Vintage Festival in Clapham. Zac came too, and wasted no time in heading for the sausage stall. On the way back we ventured into the Moonshine Glade where a fiddler and a banjo player were warming up on a small stage. After a lot of tuning and several soundchecks they began to play, but Zac was not impressed. 'Is that it? Where's the singing?' he asked. I pointed out that this was an instrumental tune. 'Let's get out of here,' he replied.
The weather was a lot kinder this year, leading to a lot of people putting up parasols and umbrellas to protect them from the sun. Security then came round telling everyone to put them back down again as they were blocking the view, which was perfectly true. Anyway, there's always one, and a couple in front of us seemed to think that the rule didn't apply to them. The security man put them straight on that, and the next ten minutes were a great source of amusement as they tried to garner support from all and sundry to no avail.
Nixie came to stay for a night, and she decided that the garden needed watering!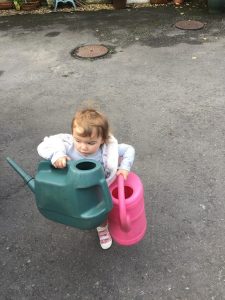 However, her favourite pastime is spending time with uncle Zac! This is a worry!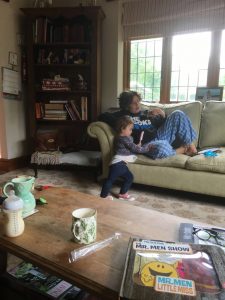 There was time for a quick visit to the ducks before it was time to go home – and we saw this by the canal in Whaley Bridge…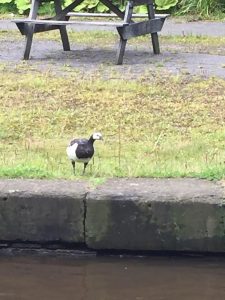 It appears to be a barnacle goose, and if that is true it is probably lost.
Travelling can be stressful experience, but flying to Florida in Virgin's Upper Class should reduce this. Right? Well not exactly. I generally take care of all documents that are needed to get us to where we want to go. So I had the passports, the travel tickets, insurance documentation, my driving licence, car park voucher, villa address and access details, rental car details etc. We sat in the car ready to head for the airport and I asked Sally, 'Have you got your driving licence?' I certainly wasn't expecting the answer, 'No,' but that's what I got. To cut a long story short, and thereby omitting a lot of expletives and a good deal of denial as she vowed to rearrange the whole house when she got back as that was obviously why she could not locate her licence, it turned out that when we dropped her car off for a service the previous day she had left her licence safely tucked into her log book that was in the glove compartment of her vehicle that was at the garage in Buxton, which would not open for another couple of hours!
I would have pointed out that rearranging all of the drawers would not have solved this little dilemma, but I thought better of it as the windows had already frosted over! Anyway, we hatched a plan that would take advantage of the privilege of the Escape Lounge at Manchester.
Check-In was quick and smooth, though as usual Zac got held up at security. I really don't know how he does it! We made our way to the lounge and put our plan into action. Sally attempted to get a copy of her licence from the DVLA whilst I set about changing the Rentalcars booking so that I was the lead driver. I did my bit fairly easily, and as Rentalcars do some sort of a price match, I got a refund of £35 as the potential price of the rental had dropped. Sally, meanwhile, had three or four airport staff running around looking for a fax machine. 'Have you tried a museum?' I somewhat unhelpfully suggested, but really, who uses faxes these days? Apparently they are not easy to amend, so they are the preferred method of the DVLA. Anyway, Sally received an email with a licence summary on which she duly printed, then she got another with her full licence including eligibility, convictions, etc.
We boarded the flight with the knowledge that we had done as much as we could, and the rest would be down to the rental car people in Florida. Upper Class was a dream, with even more space than usual. There were a couple of empty seats, and for some reason the cabin was configured with just the window seats meaning the whole of the middle part was empty. You could have jived there! Champagne was offered and accepted, even by Ole, whilst Zac was determined to try everything that he was given. Toothpaste, ear plugs, blindfold, everything. He still struggled with the food, rejecting the sausages that were covered in gravy, and he was positively outraged that anyone could consider chia and coconut as an acceptable flavour for popcorn.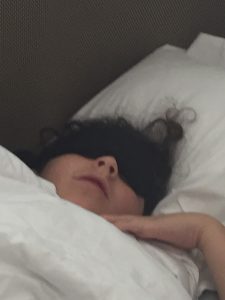 Zac tried everything in Upper Class
Another advantage of Upper Class is that you are one of the first off the plane and so are your bags. This also means that you are one of the first through immigration, and within an hour of landing we were on our way to the villa, having convinced the car hire people that the second email was valid as a full licence (ok, they insisted they it was printed off which meant a detour to the third floor and the Orlando Airport Marriott hotel).
We shopped at the local supermarket and settled in for a few days R & R. The boys sleeping patterns had already been adjusted back in the UK, due to them staying in bed until lunchtime, but Sally and myself were asleep by 10pm and awake at around 5am.
We had already decided that Wednesday would be a good day to visit Universal, and we rather ambitiously opted for a 1 day park to park ticket, basically taking in 2 parks at the same time. After a quick breakfast at Denny's (where else? and the woman said that I was not eligible for  the 55+ menu which is another tick) we reached Universal for opening time, and went to the Studios first. The Rock-It rollercoaster was empty so we walked on to that, and then ignored Minions, Shrek and Transformers as we headed to The Mummy. Again there was no queue, so 2 rides done by 9.30. The Harry Potter area is light on rides, so we did Escape From Gringotts which was another that we walked straight on to. Next up it was the Harry Potter themed train to Islands Of Adventure, with the five minute wait spent just watching for the train to arrive, so no queue as such. Duelling Dragons was our first ride in Islands, after which the boys went on the ride in the castle that makes us oldies feel sick, so we stocked up on expensive drinks and waited for their return. The Jurassic Park ride was next, followed by the new Skull Island adventure. This is ok, but not worth the 20-30 minute queue that we waited in. A highlight of Islands should always be the Dudley Do-Right Ripsaw Falls, and although the queue said 30 minutes it actually took us about 40 to get through it. It was well worth it, especially as a short time later the ride closed for repairs. We were wet, so we went on the Bilge Rat Barges to complete our soaking, with the queue a more manageable 10 minutes. Queues were starting to grow, so we went to The Hulk, another 'must do' that had no wait time, and then we returned to the Studios via the return train journey. This time almost every ride had a queue, so we decided that we should head for home. 12 rides plus lunch and we were done for 3, which was a relief as the heat was becoming unbearable!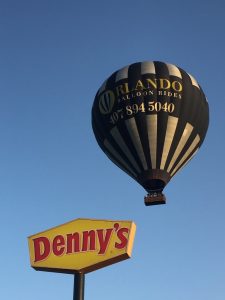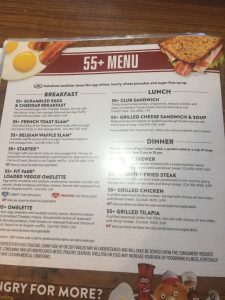 The next day was quieter, with the boys shopping in Target which seems to be de rigeur over in Florida. Zac bought some Nerf guns that needed batteries, but not the thin ones. these required the fat stubby ones. 'They are not fat, they are just big-boned,' said Zac showing a bizarre sensitivity. Anyway, there's a different standard of wildlife around the villa – here's an example…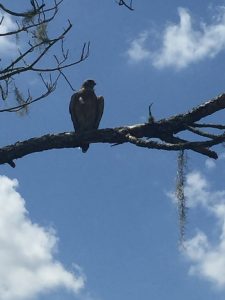 This bird of prey lives in a tree just outside the villa
Then came our first food challenge at the Ovation Bistro. This is very close to the junction of I4 and US27, and is the number 1 rated restaurant in Davenport on Tripadvisor. We weren't disappointed but still managed to fit in dessert!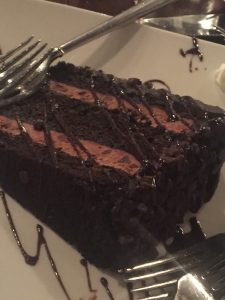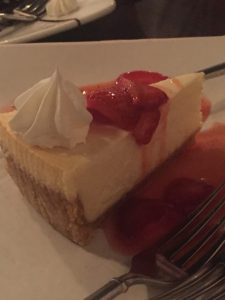 Followers of this blog know that if it is not chocolate cake or chips Zac doesn't really like it. However, he agreed to try BBQ wings because he liked the look of them. 'Do you like BBQ sauce?' I asked, to which he replied, 'I like BBQ crisps.' Turns out he doesn't like BBQ sauce, but he didn't mind the wings without the sauce. 'They aren't horrible,' was his considered opinion. The ride home was interesting too, as a green critter decided to hitch a lift. He lasted all the way to the villa, but after a violent storm later that night he was nowhere to be seen!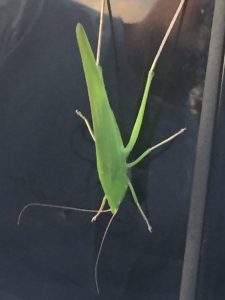 Seaworld is an old favourite but we've not been there for 4 years. The shows aren't as good since the killer whale killed its trainer! Anyway, once again there were no queues as we took in Manta, Kraken and Zac's nemesis Journey To Atlantis. They were all good, but then there was Mako. This claims to be the highest, longest and fastest ride in Orlando, and it is a fantastic experience. There is just a lap bar keeping you in your seat, and that does a barely adequate job as the ride takes you up and down steep slopes at great speed, and without the need to flip you upside down. Its the new favourite ride in Orlando. So much so that we went straight back on and rode it again!
Manta was interesting because there was a man in front of us who clearly could not fit into his seat. No matter how hard the attendant pushed and shoved, the safety harness would just not close. Eventually he had to take the walk of shame past the queue as there was no way he could ride!

Applebees was our next dining experience, a full 17 places below Ovation on Tripadvisor. However, we have been there before and its just around the corner! The food wasn't as good, but the service was second to none, and they seemed to want to give food away. We tucked into appetizers whilst ordering our mains, and they had an 'offer' on which meant we got a plate of mozzarella sticks for free. Drinks were 2 for 1, so when you ordered a beer 2 arrived, and of course you had to drink them quickly before they went warm and flat. The menu also contained a calorie guide against each dish. One of the desserts was well over 1700 calories. Interestingly there was a sentence on the bottom of the menu stating that the 2,000 calorie per day guideline is only indicative and calorie requirements differ. It might as well have had a heart attack likelihood monitor! The waiter left an electronic gadget on the table which logged the bill. It also had a series of games on it, including a trivia game that had a high score of about 200. Zac watched us play one game and then took control, notching up around 1400 points. His technique was simple, he ignored the wrong answers and just kept pressing, and his mum just had to tell the waiter. Ole found this highly amusing, and impersonated the conversation.

Ole as mum, 'He found an error in your program'
Ole as the waiter, 'I'm sorry ma'am, I just serve food'
Ole as mum, 'He beat your high score by 7 times'
Ole as the waiter, 'Err, do you want me to bring my manager?'
Shopping is an experience in the US, and a very confusing one. There are Labor Day sales, on top of normal discounts and VIP discounts, its amazing that anyone pays anything for anything. However, this is all a con. You get to the checkout and suddenly the 75% discount becomes around 5%. Sorry, that item is not in the Labor Day sale, or no, your coupon does not apply to that style. I guess they rely on the British sense of embarrassment whereby they purchase the item anyway! It certainly works.
Back at the ranch Ole struggled to cut up a melon. This lack of culinary expertise does not bode well for his impending University adventure.
Labor Day has a big tick against all the theme parks on the Busy Days calendar, suggesting they would all be free from visitors. As we had a Seaworld combined ticket with free parking we headed for Aquatica, and after about 90 minutes we headed home again! Standing in line to hurtle down a plastic tube is not my idea of fun, and I guess I should have trusted my UK instinct not to go to a theme park on a Bank Holiday Monday!
Monday was certainly redeemed by a trip to Manny's Chop House – the number 1 rated restaurant in Haines City. We arrived around 6.30pm and with a 25 minute wait we sat at the bar that would not have looked out of place in Road House. Again, drinks were 2 for 1, so both Sally and I were approaching the legal limit before we had even reached our table. Starters were plentiful without being overpowering, but I'm not sure how healthy deep fried breaded mozzarella sticks are, and then came the steaks. The filet mignon was like velvet and the sirloin melted under the knife. We even had to take some home in a box. Desserts were calorie laden, Manny's didn't bother with calorie counts – they would rather the diners just enjoy themselves, possibly because the restaurant is in a district seemingly filled with doctors and hospitals. Zac had his usual chocolate cake, and he even left some. I had the second best key lime pie that I had ever tasted, for the first see Mmm…No1…Cookbook! Ole went a bit over the top – see below.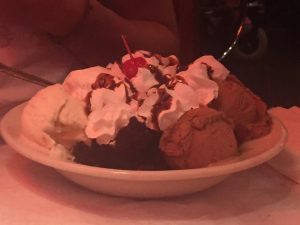 The following day we drove to Tampa for Busch Gardens, and not surprisingly after Manny's feast we didn't need breakfast until after 11am. By this time we had experienced Cheetah Hunt, arguably the best ride in the park, Montu, and Cobra's Curse. Queues were again non-existent as we took in every big ride in the park, except for Falcon's Fury as we had just eaten, and Phoenix as there was lightning in the air! Sadly, there were no kangaroos on show, but we got very close to a cheetah, separated by a pane of glass, and fed Lories. I also got groomed by a flamingo, which is definitely a first!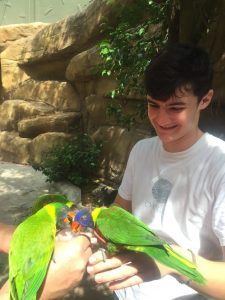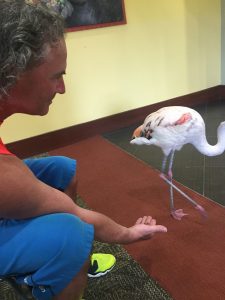 Some birds are more responsive than others
Our return was eventful in that we got delayed at Orlando due to lightning, but we arrived in Atlanta in time to make our connection ensuring Zac wouldn't be too late for his first day back at school. So how was it? Well he moaned about a lot of things, and in particular having bad teachers. I told him he needed to try to get along with them to which he replied, 'that's like you trying to get along with Hitler.' Its not started well!