January 3, 2018 by Michael Madden
Police And Thieves And Celebrities
Happy New Year to everyone, and the run up to Christmas has been as eventful as ever.
Certain things always happen at certain times of the year, and I'm A Celebrity seems to be one of them. It finished mercifully quickly, but that did not stop Zac from getting in on the act. One of the questions asked was, 'What percentage of men would give up sex for a million pounds?'
Zac proudly announced that he wouldn't, then he asked me. I took the same stance.
Ex footballer Dennis Wise mulled it over, wondering what Boris Johnson's dad would do (Mr Johnson Snr being another 'Celebrity'.) He considered that Mr Johnson Snr might already have stopped having sex, so giving it up wouldn't really be a hardship.
Zac saw the merits in this, and I knew where his line of thinking was going.
'Have you stopped yet?' he asked me, without a hint of embarrassment. When I replied that I hadn't he had his own announcement to make.
'Neither have I. I've not even started yet!'
Speaking of Zac, his latest purchase is a tongue scraper, and he has been letting all of his friends know just how wonderful it feels when you have scraped your tongue!
I've been travelling to London quite a bit recently, for business and pleasure. The pleasure side of it led to a great night of American Football for Thanksgiving, whilst the business side of it is mainly around my role as GDPR Consultant. However, in an interesting twist, I may be about to become non executive director of a software development company. Never done that before – so I will let you know how it goes.
Elvis Under The Covers got a bad review on Amazon, but that's ok. If everything was five stars people would be suspicious. As Phineas T. Barnum supposedly once said, 'there's no such thing as bad publicity'.
Its been a busy time in the kitchen, as you might expect in the festive season. The chocolate log was confirmed as 'The Best Cake Ever' by Ole and Zac, an accolade that I am happy to take from my pair of cake fiends.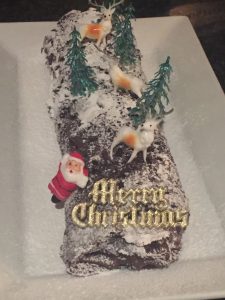 However, my own favourite is the Creole Cake that takes weeks to prepare, and which contains an alarming amount of alcohol!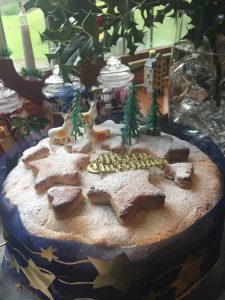 I was supposed to make some skulls for Hallowe'en but the baking mould did not arrive in time, so I made these chocolate ones for Christmas. They contain an awful lot of chocolate!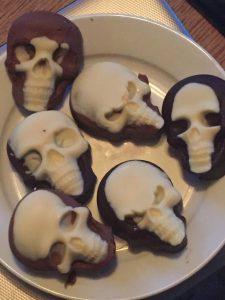 And then there was the eating machine, Ole, who was home for Christmas. Top of his Christmas wish list, alongside new bedding and an air freshener for his university room (don't ask), was more gingerbread! He has done very little exercise since he has been away – and he seems to take great delight in eating anything that isn't pizza! Not that he would turn down pizza either.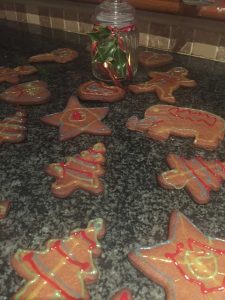 Not a great time of year for sport (except the armchair variety), but Zac did manage to fit in a man of the match performance in which he came very close to saving a penalty. Looking forward to the rest of the season, and especially the cup match!
You may be aware that it is two years since I had my high tibial osteotomy, and just before Christmas I went under the knife again to have the metalwork removed. The whole procedure started badly when they did my pre op tests in the hospital, which revealed an unusually high blood pressure. This was followed by them struggling to get blood out of my arm, all familiar stuff if you are me. I just don't like needles or hospitals.
Anyway, the big day came and the anaesthetic was beautiful. First they inject something to make you feel you have had about five or six pints, then they ask you to count down. Next you wake up and its all done! Honestly, if I could have one every night I would seriously consider it!
I was home the same day. and 48 hours later I removed the bandages. This had to be done in the bath which led to a sight akin to Jaws as the congealed blood took on liquid form once again. The actual wound was quite neat, and all seemed well.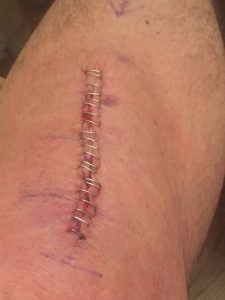 A week or so later, however, there was a lot of swelling and angry redness which indicated an infection.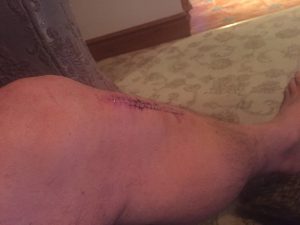 Sally put this down to a walk to the Drum & Monkey on Christmas Eve, as that 400 yard round trip was obviously worse than chasing after her and her horse around Bakewell on Boxing Day!
Speaking of which, she looked rather splendid in her new costume. It seems that she has had quite a few new costumes to accompany last year's Christmas present!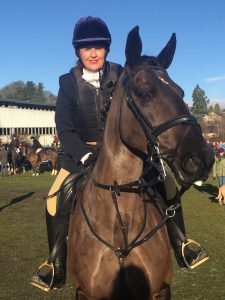 Alarming news that we were broken in to on Christmas Eve (actually the early hours of Christmas morning), and it soon emerged that we were not alone. Sally had left her car open, and some thieves stole a few pounds and some sunglasses. The power of Social Media revealed a Whatsapp group for Whaley Bridge crime, and Sally was soon an active participant. The thieves had targeted Elnor Lane and Walters Wood, and someone had seemingly chased them to Marple, noting down the number plate of their Audi getaway car. CCTV emerged, and there were two different sets of video from our road alone. Police were called, and Sally was advised that an officer would be around shortly.
This is when I began to lose faith in our noble boys and girls in blue. We got a phone call from a police officer who had apparently come to our road, knocked on the end house, as instructed by Sally, and got no reply, so she had returned to the station. Now, there are about 8 houses in a straight row on our road, which means there are 2 end houses, about 100 yards apart. This police officer clearly failed to grasp this fact, so now someone would have to come out the next night. However, we then got a call to say the case had been logged, and we were given an incident number. We would then be sent messages related to the crime and we could track progress online. A short time later we received another call to say that we had been sent messages for the wrong crime so we would be receiving more messages, firstly to tell us about the wrong crime and then to tell us about the right crime.
A few days later we were promised another visit, and this finally happened 24 hours later than expected, but fair enough, the police are busy! The officer took down all the details and then said he would go to the other houses to get their CCTV footage. Our neighbour has a fabulous CCTV system, so they took some of his footage on a USB. A little later we were disturbed by another knock. This time it was a police officer returning the USB, to the wrong house! It is hardly surprising that they were less than optimistic about the prospects of finding several thieves and a getaway driver!
Anyway, New Year's Eve definitely provided a highlight as we ventured off to Edwina Currie's jungle room for a party. Unfortunately we were not able to stay all night, but we were there long enough for a famous face to arrive. 'I am sure that I know her,' Sally announced, shortly followed by, 'isn't that Linda Lusardi?' My first impression was that it couldn't be Ms Lusardi unless she has had a breast reduction, but shortly afterwards the unsuspecting celebrity came over to speak to Sally and to complement her on her outfit (including the customised Primarni boots)!
We had to dash off, which Ms Lusardi was quite disappointed about, though she did happen to mention that she was appearing in panto in Northwich. Sally googled Linda Lusardi and found out that she was indeed in panto, but that was last year in Gravesend. However, the ever resourceful Lady M then googled Northwich panto and came up with Vicky Michelle, aka Yvette from Allo Allo! An easy mistake to make!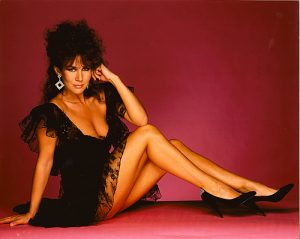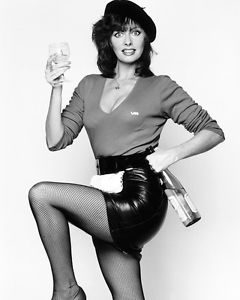 Anyway, Lady M is now stalking Ms Michelle on Twitter. I'm expecting her to be invited round for tea any day now!