June 7, 2018 by Michael Madden
As Greedy As A Pig
May was certainly a busy month, with Ole moving back home from university, our first day as members at York Races, and Sally taking lots of "food porn" pictures as we prepare for the launch of Mmm…No2…Cookbook. Sadly, the food porn has been put on hold as our cooker is knackered – new one being delivered next week. It never recovered from Sally incinerating those sausages, immediately followed by the door falling off (in a completely unrelated event!)

The food porn involves brownies, tomato soup, and Thai red curry paste, followed, of course, by Thai red chicken curry with mushrooms. For those of you keen to sample the Thai curry I will possibly be making a "Big Pan" of it in The Shepherds on 1st July. Its all down to a vote, so it could also be chilli or paella! Later on in the summer I am hoping to arrange a photo shoot for the new cook book, with such delights as chocolate key lime pie, Bakewell Tart and chocolate digestives. Watch this space…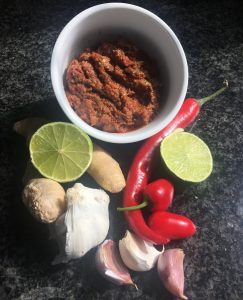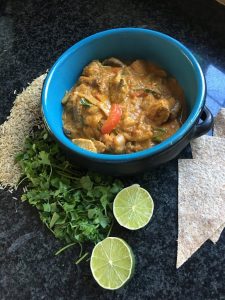 Thai red chicken curry with mushrooms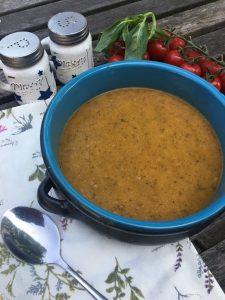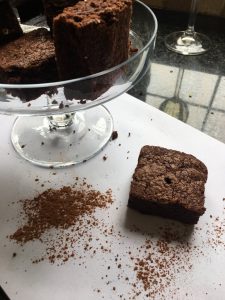 Quick brownies (or quick, brownies!)

The racing was a quiet and cold day, and it proved why so many people don't use public transport. I won a few quid, Sally drank some champagne, and we headed for the train home. We got to Doncaster on the fast train and that gave us a ten minute window to catch the Chinley train at Sheffield. Unfortunately the Sheffield train was delayed by 20 minutes, meaning we had 80 minutes to wait for the next train home. They wouldn't stand for it in Japan. For future events we will be giving Middlethorpe Hall a call and staying over!

Gabi is taking on legal drafting, including drawing up a contract for my business. If you need any legal documentation completing let me know and I will put you in touch with her. She is fully qualified!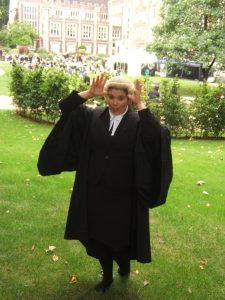 In a scene that could have been taking from 80s comedy "The Young Ones", Ole complained about being woken up at 12.30 in the afternoon. "That's like me waking you up at 4am," he moaned.

To be fair to the lad, he has got himself a job, with maybe more to follow! He is working for a company that send him here, there and everywhere to ensure he is IDed when he buys tobacco, alcohol or places a bet. Last Sunday I spent four hours driving him around Buxton, Hyde and Glossop, with a detour to Stalybridge. He now gets it, and one of his bets won! He also did a couple of shifts behind the bar in the Drum & Monkey just to learn how to pull pints etc. This role really appeals to him, as he can stay in bed until five minutes before his shift starts!

More good news for Ole is that he has been accepted on to The Television Workshop at Salford. He has a two hour session every week, and by Christmas we expect him to be on Coronation Street and Hollyoaks. Love Island will have to wait a year.

Are kids influenced by television? Well, Zac watched "Ferris Bueller's Day Off", and the following day he played the sick card and stayed off school. However, he let his guard slip by previously telling Ole that he hated red week Thursdays, and hey presto, this was a red week Thursday!

Ole has brought the tv back from university just in time for the World Cup. My plan is to install it up in the pool room so that I can watch all the games in peace, and completely uninterrupted by Love Island. Now, since I last watched tv up there I have had Sky Q installed, so I assumed that the lack of a signal was down to the Sky man not plugging the cables back in correctly. Not So! Apparently Sky Q does not allow you to send the signal all around the house using aerial cables. Its all based on Wifi, so the RF function has been removed. I looked on the internet and there were all kinds of suggestions. I could use Sky Go on my laptop and use a HDMI cable to output to the tv, but BBC is not available on Sky Go. There was a discussion about HDMI splitters that developed into a full blown technical argument between a few keyboard warriors, so I steered clear of that. I could get a man in to sort it out, but I opted for a freeview aerial that should just plug straight in to the tv. It arrives today – I will let you know how I get on. The situation is not helped by the tv not having a remote. That particular item is buried somewhere in Ole's student digs, so I think I will just leave it there.

Another reason for watching Sky in the pool room is that I can set up an exercise bike up there. My plan is to cycle as far as Amsterdam during the competition, but I will need a lot of luck and some favourable wind! Watch out for updates.

I think Sally may have "Russian Doll Syndrome". I am not allowed to say too much more about it, but what once happened with suitcases has now happened with garden pots. You know the kind, where a £15 pot will have a £10 pot inside it and a £5 pot inside that one, etc. I will say no more about it!

Not sure whether to be proud of this one or not! Driving in the car and Imelda May was singing All I Want Is You. Ole was not happy and said, "Put Dolly on", meaning Dolly Parton. I had to confess that I did not have any Dolly with me at the time, but no problem, Ole did!

Regular readers will know that Zac is never short of an opinion, and he was mulling over his options on takeaway night. He likes the garlic pizza at Whaley Kebab, but not so their chips. They are only the third best, and by some distance as they substitute quality for quantity. Memories Of India are much better, but the winner by clear margin is Frydays.

Sally took a trip to see the legendary Terracotta Army in Liverpool. You may have heard of this army – row upon row of Terracotta soldiers emanating from China. Well, I don't think the army have actually reached Liverpool yet. It was more of an advanced scouting party – with about 10 statues on display.

Finally, I am now very careful to set aside apple cores etc for Nellie up at the farm. Earlier this week I had a small sandwich bag of 2 apple cores, a few bits of carrot and some mango. Oddly, Sally did not take it (she enjoys feeding Nellie more than me!) I asked her why and she said she didn't think there was enough. She thought that Nellie might get angry if she ran all of the 20 yards from her house to the bottom fence to find just a few scraps. I'm thinking its starting to get just a bit ridiculous! Hence the expression, as greedy as a pig!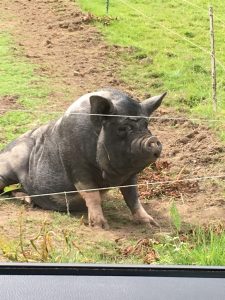 Incidentally – I came across these two minding their own business last time I was at the farm…