August 9, 2018 by Mike Madden
Rosettes And Ryanair
Interesting website developments, the most popular geographical area for my web content appears to be something listed as The Russian Federation. Maybe there is something real in all of this election hacking after all?!
Ole's iPhone was full – so he couldn't update his IOS which meant that he couldn't update the apps that were filling up his phone. Now, there has always been a problem between mine and Ole's phone, in that  I receive his call notifications and vice versa. Not the calls, just the notifications, which can be a little confusing. Anyway, I took his phone and started to delete unnecessary crap. There was a lot, but nowhere near the 1.5GB he required. His cloud usage wasn't quite maxed out – but there still wasn't enough. Eventually I deleted Facebook, Messenger, some other apps that he never uses, and changed some settings. Success. The IOS updated overnight. Unfortunately, one of the settings meant that I now got his iMessgaes as well as call notifications. And vice versa. It was time for action, so I set up his own Apple ID. I then disconnected it from my phone, and hey presto the call notifications stopped. The iMessages did not! I read lots of messages online about how to go about this, with responses ranging from "that worked thanks", to "what are you on about you idiot – Ive now lost all of my documents and data and still got the same problem." Honestly, people generally supply this advice for free out of the goodness of their heart. Keyboard warriors sometimes do my head in! Anyway, I specifically disconnected iMessage, rebooted Ole's phone, signed out of iTunes & App Store, signed back in, turned iMessage back on, and now we have two perfectly independent phones. However, I now need to update my IOS!
We are going on holiday to Croatia next week, so I decided to get all of the paperwork in order well in advance. Good job I did! I booked flights through Expedia, though they are actually Ryanair flights. Three adults and one 14 year old child. Unfortunately, not for the first time, when this got transferred to Ryanair it came out as 4 adults. You wouldn't think that would be a problem, but when it comes to adding Date Of Birth to the Ryanair booking you have to be 18 – they don't give the option of more recent birth years for adults. So, I emailed Expedia, not expecting much, and I went for the Live Chat option with Ryanair. After about 45 minutes I was connected to a friendly agent who changed the passenger designation, so I would now be able to check in, but I could not. I cleared the cache and tried again, still no. The friendly agent went away and asked me to try again! Eventually, at about the fourth or fifth time of asking, Zac finally became a teen! The chat was ended and I continued checking in. But it didn't work. This time I got to the boarding pass stage, but it would not let me go further. So, I started Live Chat again. This time it was a wait of around 50 minutes, and during the wait I tried the Ryanair app. I still could not get past the Boarding Pass stage, but at least it gave me an error message indicating that there was an outstanding sum. Back on the website I figured out that the change to a teen resulted in less APD – so I was actually owed £13. This being Ryanair I held out no hope whatsoever of getting that refund, but at least I had more information for the Live Chat. Sure enough, this was quickly resolved and I managed to check in. Incidentally, 24 hours later Expedia emailed me to say they could do nothing and I would have to contact Ryanair! Next up it was the Fast Track vouchers.
This was booked through Holiday Extras, and not for the first time I could not navigate to the vouchers. I then remembered that when this happened previously I had to go to the Holiday Extras website and go to Manage Booking, which then gave me a convoluted route to the vouchers page. With that done it was car hire excess insurance.
This was done via carhireexcess, and when I retrieved their email their link to my policy was broken, not for the first time! To sort this out I had to right click on their website and interpret the code. I could then figure out what the correct link should be and eventually I was able to retrieve my policy. My 40 year career in IT certainly came in handy!
Zac's sneaker reselling business has not got off to a good start as once again he failed to secure a pair of Nike trainers on release day. I don't think we have heard the end of this one!
Bakewell Tart is nice, but with pastry it is probably not the healthiest dessert. So I decided to make Bakewell cupcakes, without the pastry and jam. Quite good, but could probably do with a little less butter. I'll let you know when I try them again.
Sally got involved in some horsey competitions last weekend, one individual and one pairs. She won them both, returning home with a horse trophy, two rosettes, two medals and a bottle of fizz. She wanted to share her news, but Zac just said, "I'm playing my game right now, mum!"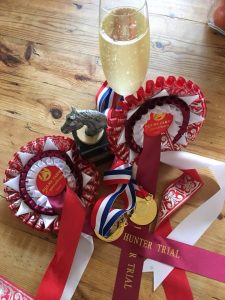 Of course it was really all down to the Christmas Present – otherwise known as Nancy!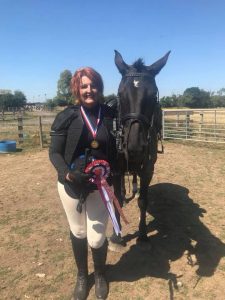 Ole's acting career got into an interesting phase last weekend when he had to produce a "self-tape". He did the first takes on Saturday, and after some feedback he prepared the to film the second takes on Sunday. He positioned a chair in front of his background, sat down and squealed as a wasp stung his arse! Cue lots of hilarity and very little sympathy. The project is a big one, and the odds are against him actually getting the part – but it will be good experience just to apply. May be more news in the next edition.
Regular readers will know that I often write articles for Leek Blues & Americana Festival (most can be found in the Articles section of this website). This year they are teaming up with Norsk Americana Forum – looking forward to getting involved with that one.
I don't expect much in the kitchen, and it is perhaps as well. Last week I made dinner on a number of occasions. Fajitas, chilli, chicken tikka masala, all home made. So, on Saturday I got home from cricket to find a few measly sausage congealing under the grill. I asked Sally if she was joining me in those culinary delights, but no! She had ordered a Chinese for herself!
Sally showed tendencies towards Delboy last week as she commented that people who borrow a lot of stuff are "taking liabilities". However, it may also be her "perimenopausal" stage, as underlined by the toothbrush incident. "I keep finding toothbrushes everywhere," she complained. "Could it be the same toothbrush that you keep moving each time you find it?" I suggested. She had to admit that it probably was!