August 27, 2018 by Mike Madden
A Kuna Tomato
Going on holiday is always a time for cleansing – and that includes the fridge! We had a lot of tomatoes so I made a couple of jars of tomato relish. Not tried it yet – and to be honest I'm not a fan – so I may be looking for volunteers!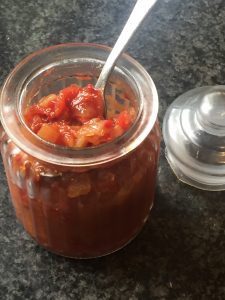 Elsewhere in the kitchen Zac got a bit desperate for a chocolate log, even though its not Christmas. It can be tricky to make, but when your chief taster says "you've hit the nail on the head with that" it can't be too bad! I think its the Nutella buttercream that does it.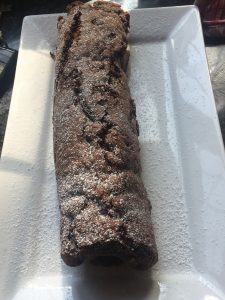 Musician Carl Sinclair put on one heck of a show at a fundraiser at the Shady Oak, and Sally got talking to him. Turns out he is a big fan of Mike Sanchez, and he actually showed her a pic of his daughter reading my book Mike Sanchez Big Town Playboy!
I did a bit of reminiscing recently, and came across a kind of tribute website to St Augustine's Grammar School that I attended back in the seventies. The school is no longer there, but I recognised a few of the names and a few of the incidents, particularly when one unfortunate schoolboy got crushed under the wheels of a truck on Altrincham Road. More disturbing was the news that my sexy French mistress (that was the term used at school – without the "sexy") has passed away. She would have been in her seventies, but to me she would always have been in her early thirties, and I would have been 12!
Well, guess what? The Drum and Monkey is still having a quiz – and we decided to form a team with the Glovers. Surprise, surprise, we won! Its on every other Thursday, and is a very friendly affair. Might even have to set the quiz myself in the not too distant future. Incidentally, that night Zac received a Tom Kitten 50p pin his change. A quick search on eBay showed it to be worth upward of £500. A more detailed search showed that it was worth little more than face value, as proven by the fact that we discovered two more the same later that night. So now our attention turns to the Jeremy Fisher 50p that has just turned up!
Oh dear, call notifications are back on my phone. I've given up with them – maybe I will have to get it sorted by a Genius at an Apple store.
Ole's acting career is starting to get just a little more serious, though he never did hear back from the audition mentioned in the last edition. However, he had to complete a DBS check. Fortunately it can all be done online, unless you have no credit file in which case the government does not recognise you! This led to a trip to a major post office (Macclesfield is the nearest) so that they could verify his passport, drivers licence and birth certificate.
So, the day came for us to travel to Croatia. Sally, Ole, Zac and myself were joined by Gabi and Nixie, and we successfully navigated the airport to board the plane bound for Zadar. Nixie was well behaved, unlike another poor little girl who was probably in some pain as the flight descended. Sally had an answer, and she started to sing "Twinkle Twinkle Little Star" at the top of her voice, encouraging other passengers to join in. Ole and Zac cringed, whilst Gabi cursed as that song is Nixie's favourite, and Nixie was fast asleep at the time.
Anyway, we managed to get our hire car, inspecting it for damage by the light of an iPhone torch. We had reserved a Volkswagen Touran or similar, and the "or similar" was stretching it a bit as we picked up a Dacia Lodgy. Now, I suspect we were always going to get the Dacia rather than a VW. In fact, I wouldn't mind betting that Avantcar do not actually have a VW Touran in their fleet. So why don't they just say so. It will be a Dacia Lodgy (or similar). Then if it is a Dacia I wouldn't be as disappointed, and if it does actually turn out to be a VW, happy days!
So, we set off, driving on the wrong side of the road, changing gear with my right hand, and I inevitably stalled it. Giggles from the back, and shouts of "Should Gabi drive?" The answer came from Nixie with a very resounding "Nooo!!" so that was the end of that conversation.
One thing that became abundantly clear quite quickly was that Croatians treat the central line in the middle of the road as more of a rough guide rather than a "do not cross" kind of line. This is particularly interesting rounding blind bends, when a random Croatian is likely to be cutting the corner on your side of the road.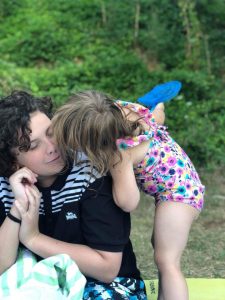 Nixie just demands attention
Our villa was just about perfect, including the wine and beer that was waiting for us in the fridge. A sizeable pool, lots of toys, and a picturesque church across the hillside. It didn't seem so picturesque the next morning when, at 6am, its bells boomed out across the countryside. We discovered that this happened several times a day, but sturdy window shutters managed to cut out most of it.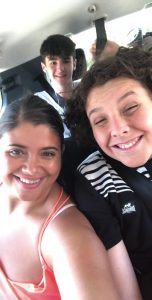 You are never short of pics when Gabi is about
We went to a couple of beaches, including Nin that at least had some sand (don't go to northern Croatia for beaches), and we dined at several restaurants in Benkovac, the nearest town to our villa. The Croatian staple is lamb, hacked off the spit. Very tasty, but quite rustic in appearance! The pizzas were magnificent, with one that was actually the size of a dustbin lid. We also went to the Zrmanja river where waterfalls feed in to a larger section of the waterway.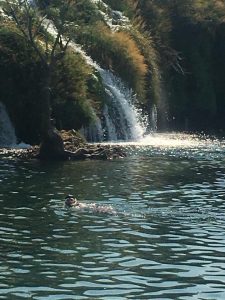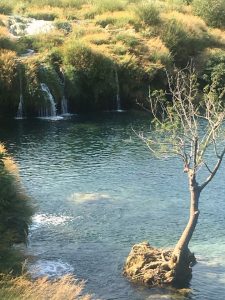 Sally got in, but I urged her to get out without actually telling her why. Once she was on dry land I explained that a snake was swimming about two feet away from her, and although she was in denial at first, she then saw it slither under a rock. It caused quite a commotion when it slithered back out again, but that didn't stop Ole, Zac and myself from exploring the underwater flora and fauna.
The flight home was delayed, but we have come to expect nothing less from Ryanair, though this time it was not quite long enough to justify compensation!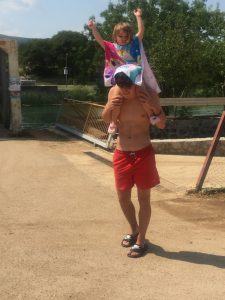 Uncle Ole provided Nixie with a ride
The Croatians have missed a trick with their currency, which is the Kuna. We have pounds and pennies, they have Kuna and what? I have no idea but it should really have been Matata! Imagine if something cost a pound and a penny in England. The Croatian equivalent would be a Kuna Matata – you could sing it! Anyway, tomatoes were quite cheap, so these are a Kuna tomato!
The summer seems to have ended with a series of torrential downpours that has seen the cancellation of the six a side and the postponement of our T20 finals day appearance. Hopefully that will now be played on 9th September. In the meantime we are off down to London to get some late August sunshine and to take in the Harry Potter play.
Our latest racing trip to York saw us both have a 20/1 winner, but we were both very tired when we got back to our hotel, probably due to a bit of jetlag after our delayed flight home from Croatia (or it could have been copious amounts of champagne and Birra Moretti.) Anyway, We were tucked up in bed at Middlethorpe Hall with hot chocolate by 9pm. However, just before the hot chocolate arrived three girls knocked on our door and asked would we like their turn down service. Ironically, I said no thanks, but that was a mistake. I have no idea how anyone can tuck in bedding quite that tight – I think next time I will just accept their kind offer!
Finally, Sally and I were relaxing with a morning cup of coffee when Zac put his own slant on it. "Is that what adults do in the morning, drink coffee and get laid?" Still not quite sure what he meant!