September 12, 2018 by Mike Madden
Lady M Strikes Again
I should probably have known better. Lady M came in for some criticism recently for not lifting a finger in the kitchen, but suddenly, without warning, she announced that she was going to make a hearty stew followed by apple pie. I came home to the results of her handiwork, and it was baffling. I must have had a puzzled look on my face as she uttered the immortal warning, "If you want to eat any of this you better keep your mouth shut." A somewhat bizzare statement, but ultimately good advice. The stew was supposed to be slow cooked lamb, but the lamb had been cooked separately. The stew itself was a medley of root vegetables. Rather chunky root vegetables, and there was a separate pot of gravy. However, this was a culinary masterpiece compared to the apple pie. I commented, without so much as a smirk, that it was rather red. "I put raspberries and blueberries in," was the lady's rather terse reply, so I decided not to mention the unhealthy excess of pastry that appeared to have been piled up around the sides. Now, I like apple pie to be, well, "appley", with discernible chunks of the quintessentially English fruit. I was out of luck! I can only assume that the apples had been stewed for a considerable period of time as the filling had the consistency of a kind of fruity passata.
A few days later I was giving Ole a lift home, and I asked him if he had sampled the apple pie. "That was apple pie?" he questioned. "I thought it was jam and pastry." He was on a roll so he continued his assault on mum's culinary expertise. "Why was there no meat in the stew?" I had no response other than to suggest that mum had deliberately cooked the lamb separately, but that was not enough. "She seemed to have just chopped carrots in half and thrown the whole lot in, like she couldn't be bothered." He seemed quite relieved that he was heading back to uni later that day.
The junior football season is back, and Zac needs new goalkeeper gloves. After much searching he settled on a pair of blue Adidas Fingersave Replique, and I ordered them from the Sports Direct website. To use the phrase "they arrived" would be misleading, as I will explain. The parcel seemed a little flimsy, and as I opened it I could see that the item inside was not the blue as ordered, but instead it was a rather insipid "aqua energy". I also noticed that they were not "Fingersave", in that there were no spines to protect fragile fingers. When I discovered that they had sent size 9 rather than size 8, I thought to myself what else could go wrong? And of course something else could, as they had only actually sent one glove! I contacted them via Twitter and through their website and I am awaiting a response. Their policy seems to suggest that I should pay for the returns! I will keep you posted.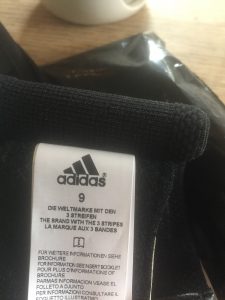 The gloves were the wrong size, colour and type…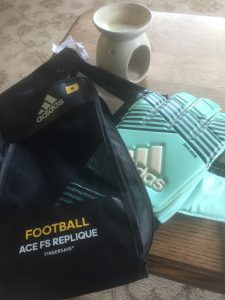 …and there was only one of them!
Back to the kitchen and I switched half of the flour in my quick brownies for ground almonds. A bit more protein! And Zac has not noticed the difference.
He wouldn't touch the Beef Enchiladas – but that's probably just as well as they disappeared very quickly. I will definitely be trying those again, maybe with chicken next time.
London is always an interesting trip, and a couple of weeks ago we caught the train from Macclesfield to London Euston. A tube ride saw us reach Putney where we had booked a very nice Airbnb at a fraction of the cost of a hotel. As we passed row upon row of very expensive terraced houses Zac made an interesting observation. "Everywhere in London is very narrow. Basically, you can't live in London if you are morbidly obese." Buyer beware! And speaking of buyers, Zac's sneaker reselling business has still not got off the ground. However, one of his friends had an appointment at the Supreme store in Manchester, and Zac was very excited about this exclusive opportunity. He asked his pal if he could get certain things, and offered to pay a £20 premium. We thought that, as they were friends, surely there would be no need for such a surcharge, but businessman Zac disagreed. "I would charge him," he announced. We walked out over Putney Bridge across the Thames, and caught the river bus into the city centre. Zac was fascinated by the different architecture, whilst Ole wanted to know the history. Having landed at Embankment all they wanted was a trip to Hamley's toy shop, so we walked through crowded streets, made even more so by some insane joggers who didn't seems to mind gulping in the polluted air. Sally and Zac were very impressed when Ole summoned us an Uber, though the driver was probably glad when he dropped us off after almost half an hour of intense questioning from Lady M.
The following morning a Wetherspoons breakfast overlooking the river was a very cheap £17 for four of us, then we caught the tube to Tottenham Court Road. From there we walked to PC World to get Zac a mouse, then to the Palace Theatre for the marathon performance of Harry Potter And The Cursed Child. This was an excellent production, thankfully in two parts as it lasts over five hours. In between parts we headed to Covent Garden where we found TGI Fridays. Ole's Warrior Burger was impressive, as was the rest of the food at this long standing American themed chain. However, our curiosity was tweaked by a huge queue outside a small ice cream parlour called Milk Train just across the road. The queue was around the block, and it didn't seem to die down at any point. Our waitress explained that social media was largely the reason behind its popularity, and it was in Time Out and other magazines as one of the top ten things to do in Covent Garden. The novelty? The ice cream was surrounded by candy floss, an idea that has not yet caught on north of Watford. Look forward to seeing it on the menu at Cafe 110 very soon!
Back at the theatre Sally got involved in relocating some audience members who couldn't quite fit in the front row seats. The performance continued and although it was a brilliant experience we were glad to get in another Uber afterwards.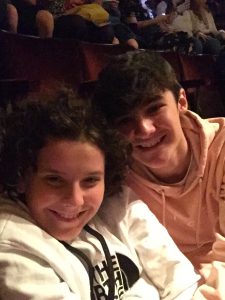 Seats were close together at the Palace Theatre
Our final day saw us get another tube to central London, followed by a lengthy walk back to Euston. We managed around 12 miles in less than 48 hours, although Zac was complaining towards the end. He now wants to know when Uber will reach Whaley Bridge.
We discussed our next family trip, and Sally suggested the Highland Games in Scotland. Zac was not in favour. "They all wear kilts, so every now and then you get a view of someone's privates because they don't wear anything underneath."
Sally and I had a lovely family day out yesterday at Chester Zoo, with my mum and her great grandaughter Nixie. Inevitably the only one who wasn't tired at the end of it all was the two year old, and a bit like kids playing with the boxes rather than the toys at Christmas, she seemed to like the statues much more than the real animals!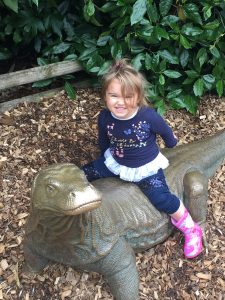 Ere Be Dragons!
I have been doing a lot of writing recently, and some old publicity has finally landed in the form of the August High Peak Review. Here is the original article from back in the spring!
And there is another poem published in The Pangolin Review
I have also been providing lots of stuff for book walls at various schools across the country. This includes copies of Ole And Zac And The Port Of Tumbattle and The History Of Zombies, as well as postcards, poems and various other bits. If your school could use any of this just get in touch through the contact form on my website.
Finally, I have been working on another article for Leek Blues & Americana. This time the subject is the Norsk Americana Forum. Very intriguing set of musicians, and I look forward to meeting them at the festival in October.