October 3, 2018 by Mike Madden
Broccoli, Brett And A Bot
Well let's start this month with Zac's money making scheme. His first purchase has been a bot that runs on his laptop to automatically buy expensive Supreme stuff that he hopes to sell at a profit. The bot cost around £60 – and he left it running on his computer while he went off to school, leaving me with strict instructions  on what I should and should not do. As it turned out it found the correct product, but failed to buy it because of incorrect credit card details. The following week it failed to buy because of a mis-spelling. Then, just to confirm it worked, Zac bought a keychain for £17. Yes, £17. It came with some labels too – and a shiny white plastic bag. But £17! I remain sceptical.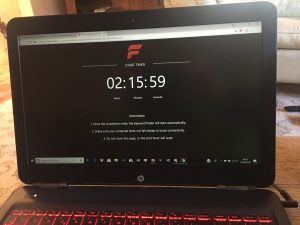 Next up Zac expressed an interest in Tom Clancy's Jack Ryan series. Mr Clancy also wrote the Rainbow Six tale that formed the basis of Rainbow Six Siege, one of Zac's favourite X-Box games. "Would you read it if I bought it?" I asked, to which he replied, "Yes – it would be interesting." So, I bought a paperback copy, and gave it him with some trepidation, all 900 pages of it.
"How does anyone even write anything this big?" he asked.
"If you read ten pages per day you will have finished it by Christmas," I told him.
So, he read ten pages. A couple of weeks later I asked him how he was getting on with it.
"Still ten pages," he replied.
"Well why don't you read some now?"
"I only read on Tuesdays," he said, at which point I told him it would take around five years to get through it, allowing for weeks when he doesn't bother.
Anyway, another couple of weeks have passed and he's still at ten pages!
Whilst on the subject of literature, do not believe everything that A.A. Milne writes in Winnie The Pooh. We have an oak tree in our garden, and I collected a bag full of haycorns for Nellie. She turned her nose up at them. Pigs do NOT like haycorns!
I have also discovered that mouldy heads of broccoli are not cordon bleu for Nellie, and she is getting a bit fed up with Dave's cock that keeps wandering into her enclosure through a hole in the fence!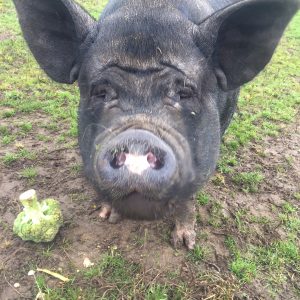 "You can keep your mouldy broccoli – and get rid of that cock!"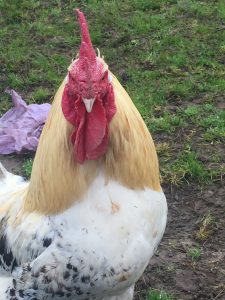 I have been busy in the kitchen, with Thai red curry, both chicken and vegetarian, as well as a hearty winter soup with cabbage, swede, lentils, leeks and celery. No pumpkin though – I have decided to save that for pumpkin chutney – more about that in the next edition.
Then there were the things Sally brought home! First up it was a giant onion that she obtained from the harvest festival.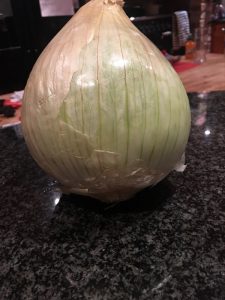 I made this into a "Blooming Onion", baked rather than deep fried ,so really quite healthy.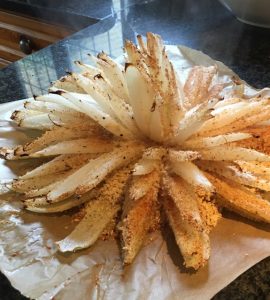 Then there was the marrow. She said her mum used to stuff them with savoury mince when she was a kid. So, I decided to recreate her childhood memories and produced a tasty dish of marrow, mince and melted cheese. I served it up, and Sally remarked, "when I said my mum used to make it I didn't say that I actually liked it." There's no pleasing some people.
I also got started on my Creole Cake, here is stage 1 which is dried fruit steeped in a lot of alcohol. It will be left for another week before the cake is actually baked – and then it must be fed with more booze every week until Christmas when it will be iced with almond paste and baked again.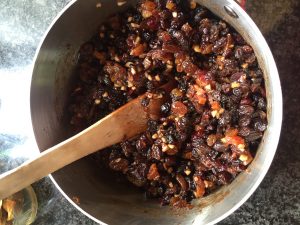 Next up it is gingerbread men – these won't last until Christmas – Ole is coming home next week! And there was also a batch of very messy cupcakes – could have been down to my helper!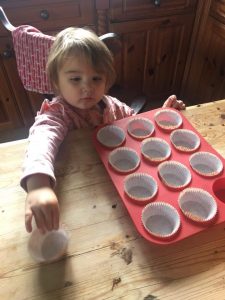 Ole has now gone back to university – so my first job was to post a pair of ripped jeans that he had forgotten to pack. The postage was around a fiver – and these jeans were torn at the knee. That may be fashion – but I wouldn't have paid a fiver for them!
This year he is in a shared house – rented through Friends Lettings. They kindly put the tenants in touch with Glide Utilities who split all of the utility bills equally. If you ever find yourself getting involved with these two companies – run a mile. They are an absolute shambles, and totally incompetent. They basically exist to fleece students who perhaps do not know better. I won't go into the Broadband "scam" whereby the students signed up for Broadband with Glide that Friends Lettings knew about in June, only to be told by Friends Lettings in August that Broadband was already in the house via the landlord. Glide then wanted to impose a £320 Broadband cancellation fee. There was also a list of several things wrong with the house, and it has taken several threats of withholding rent or even getting independent contractors in to make the house habitable, to get any action out of Friends Lettings.
Glide are considerably worse. Final demands are commonplace – and I have refused to allow a direct debit to be set up as once they start extracting money it will be virtually impossible to figure out what it was for. On 24th and 25th September they issued thirteen bills, the vast majority of which did not even add up.
Here is an example – if anyone can figure out what is owed and why please let me know!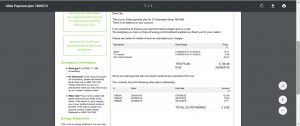 I contacted Friends Lettings about their position and they said that they would get back to me asap. That was twelve days ago!
Lady M was feeling quite pleased with herself when she sorted out the RAC quote. Our joint policy cost £216 last year – our renewal this year was £234.99. She was not having that – so she rang them. After a bit of deliberation the quote reduced by a staggering sum to £149. She was bragging about saving £85, until I asked her why she had not done the same thing last year!
A few months ago Lady M was clearing out the garage and found, amongst other things, a rusty old bike and half of a kids scooter. She put them near the bins, hoping that somehow they would magically disappear, but they weren't going in my car as I had already made several trips to the recycling centre at Waterswallows. Anyway, she obviously gave up hope, and decided that they would make rather a nice feature!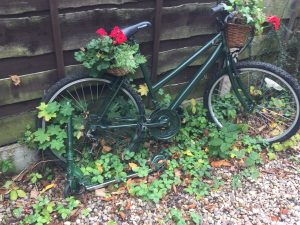 Ryanair Rooms sent me a survey. If anyone has ever travelled with Ryanair, you will know that it is marginally better than walking. By the time you have paid all of their add-ons it is generally not as cheap as you thought, but they get you there. There may be delays, there may be inconveniences, but they do get you there. However, Ryanair Rooms is a different proposition. Once I get to where I am going I want a bit of luxury, I certainly do not want to pay extra for a room key, air conditioning, or a surcharge for extra legroom under the reading desk.
Sad to report that a huge oak tree has fallen and damaged the war memorial in Whaley Bridge Memorial Park. There were plenty of volunteers to assist with the clean up in the aftermath – but apparently the council have it in hand.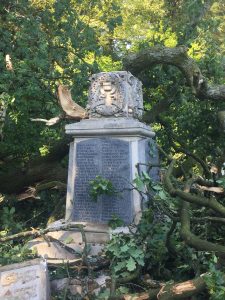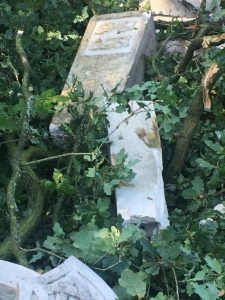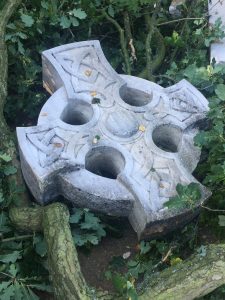 We went to see Matilda the musical in Manchester a couple of days ago. It was a highly accomplished production, but it also showed just how good Harry Potter and the Cursed Child is – that is in a different league. The musical pays homage to the book, though most of the audience were probably more familiar with the film which is also based on the book! Confused – you will be. Well worth going to see! Our next trip to the theatre will be at the Royal Exchange for The Producers. There will be no preconceptions for this one as none of us have either read the book or seen the film.
Sally won yet more rosettes a couple of weekends ago – she is now turning the garage into a tack room, with a sink, heavy duty washing machine, hooks and shelves, and hopefully a display area for her growing trophy haul.
I am amazed at the number of people who fall for Clickbait on the internet. I am writing a short story called "Clickbait", which plays on free giveaways, quizzes and other tricks designed to steal your details or worse. In support of this I have created a blog that I will be adding to over the next few months. The blog explains some of the tricks that you might fall for, and what you should be looking out for. Eventually it will also contain a link to the short story – but that is some way off as yet!
My article on the Norsk Americana Forum appearance in Leek has been published – you can find it here:-
or in the Articles section of this blog.
It has been a big few days for news on the other side of the pond. One of the major talking points has been the comeback of Tiger Woods, and as he walked up the 18th at Eastlake there were scenes that have never been seen before on a golf course. Hats off to him – many had written him off, and I look forward to seeing him challenge for more major titles in the years to come.
In politics the Supreme Court nomination of Brett Kavanaugh has been hitting the headlines – and whilst I will not go into the details here – this video mash up is one of the funniest things to come out of the whole charade.
I have interviewed some lovely authors on Ex Pat Radio recently, including Tracy Buchanan, Kat Diamond and Helen Fields. Next up its Sam Carrington, and that may be it, unless the station can arrange for shows to be pre-recorded. Sadly I have a new job, which looks like being full time! I will not be sorry to leave behind the traffic hell that is Nottingham, but I am not looking forward to the commute to Leeds – especially with winter about to start!
The Whaley Bridge Cricket Club Trip has enjoyed a bit of a renaissance – with seven members heading to the wonderful city of Nuremberg. Medieval streets, sausage stands, strong beer, it was like the Manchester Christmas Markets without the knob heads! Great destination, and our hotel was right next to FC Nuremberg's stadium, so we all became fans for the weekend. They won 3-0 – which certainly helped.
Finally, The History Of Zombies has received a couple of very nice reviews. The first of these is on Amazon, written by a schoolteacher.
In a world where children are increasingly desensitised to violence, it is refreshing to read a piece of zombie YA fiction which takes this into consideration. In Jimmy and Zak, Madden has created two young heroes who have a modern attitude towards the apocalypse, facing the perils in front of them with humour as well as terror.
Whilst the gore is very real, and described vividly at times, there is a sense of relevance, and a connection to youth culture which I think children would find refreshing to read. There is a pace and narrative which is easy to follow and engage with, as well as interesting characters with depth and backstory which makes them believable.
The book is short at 106 pages, which makes it of suitable length to twist a plot around zombies of noir, barklan and vertige to name but a few, but also brief enough to give the more reluctant readers an achievable and rewarding reading experience.
I would recommend the book to those looking for a zombie novel with subtlety and humour intertwined with blood and guts!
The second came in a personal message on Twitter from one of the children who are reading the book after being inspired by their teacher's book wall.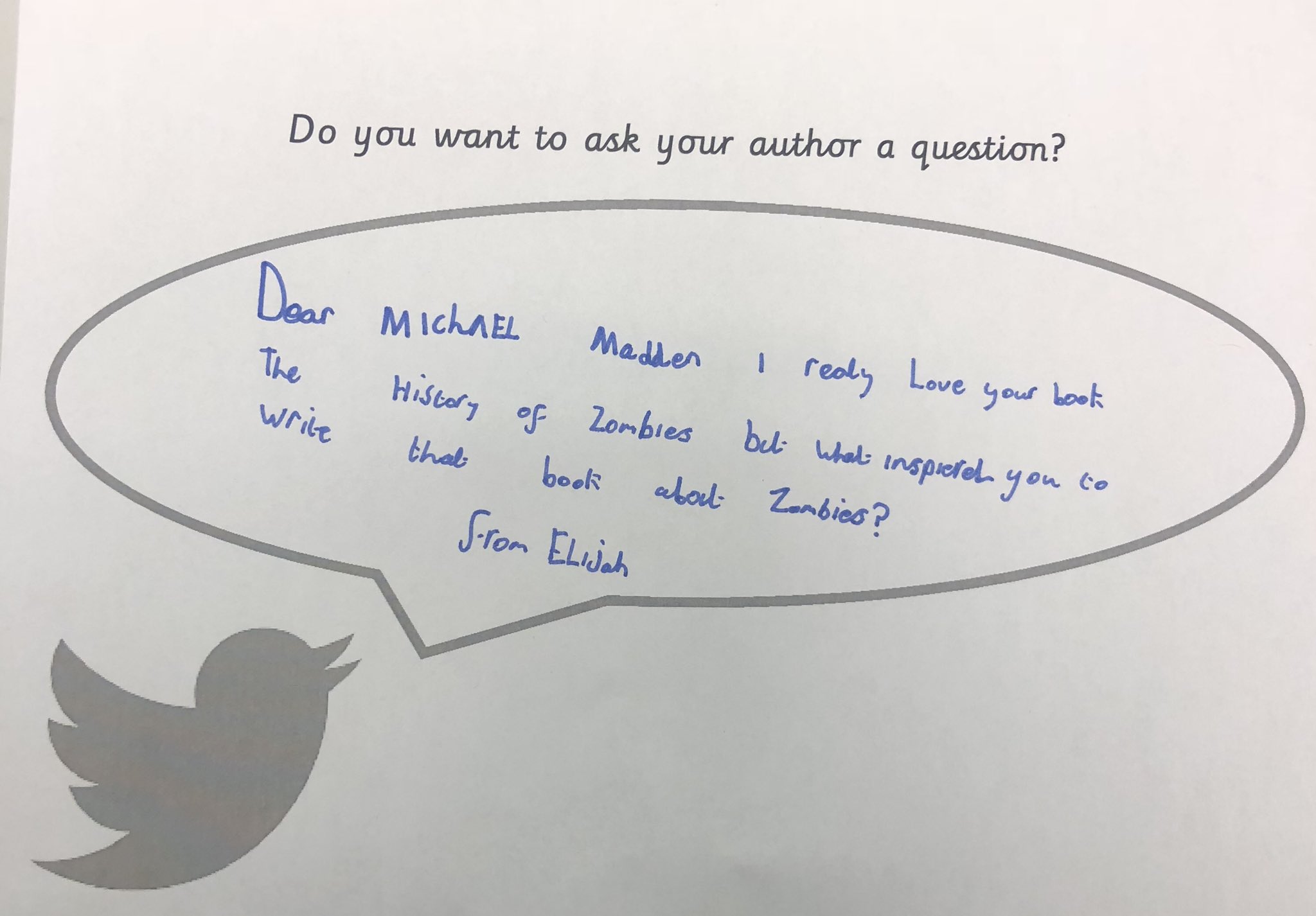 Makes it all worthwhile!