February 17, 2019 by Mike Madden
Podcasts – the start!
You may have noticed a new button along the top of my home page. "PODCASTS" does exactly what it says on the tin!
I have signed up with Spreaker (as they allow me to have multiple shows in one account – more of that below), and have managed to create 8 Podcasts in a matter of days – but it has not been all plain sailing.
For my Arts Show Podcast I got to grips with the Audacity software. I recorded an intro with music from the wonderful Mike Sanchez, as well as an outro that also showcased his music. For each episode I then recorded a brief introduction. Next up was getting the levels right, and then I had to contend with my laptop running our of space! The artwork was created by my wife Sally, and we realised that we needed show artwork as well as cover artwork. The show artwork had to be a square of very precise dimensions. I then intended to use this for each episode – but it was too high resolution so I dropped it down. The cover was a long shot – like a Facebook cover, and that involved a lengthy session in the garden with various musical instruments, a random piece of art, and an artistic image of Johnny Cash!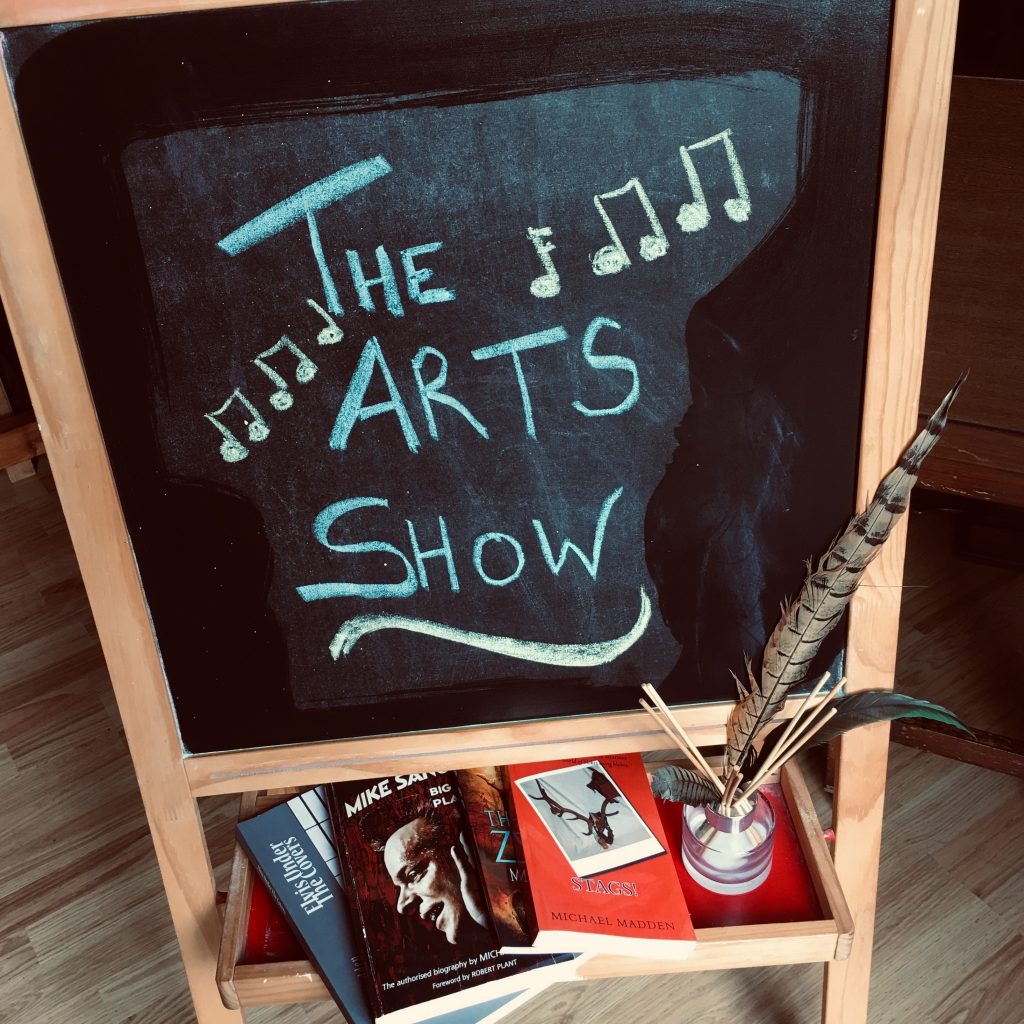 Most of the episodes are from The Arts Show broadcast on Ex Pat Radio. Live interviews with Avon authors Claire Allan, BP Walter, JP Carter (Jim Raven) and Jacqui Rose cover a variety of subjects, and a variation in quality due to the Skype connection. Nick Montague provided insight into his role as musical director for Tideswell Male Voice Choir, whilst French-based indie author Erica Laine gave us the lowdown on the final part of her Tangled Queen trilogy.
These are all quick half hour bites, but we had a full hour to showcase director / producer David Boni who took us through the highs and lows of his forthcoming Stranglers film. This is by far my most popular episode – perhaps not surprisingly.
Finally, for now, another Avon author, Jane Gilley, had a much more relaxed chat as it was a one to one interview recorded via Zencastr. Although it was not live on Ex Pat Radio, it was equally as effective due to the increased quality. Caroline England is lined up for the next of these!
Future interviews include author MJ Ford (tomorrow), George Borowski (Guitar George), Wreckless Eric and David Darling of Weird Maths fame.
Other Podcasts will include my Legacy IT Show (which will be linked to www.legacyit.co.uk), and a cooking show (MMM Cook Show) to support my MMM…No2…Cookbook which will hopefully be out this year!
If you want to be kept in touch with all of these use the "Contact Me" form that you can navigate to from my home page.
You can also use this form if you would like to appear in one of my shows.