May 10, 2019 by Mike Madden
I'd Go The Whole Wide World To Find The Lentils In Tesco
Well, our boys have been busy, though I have to qualify that with "relatively speaking"! Ole went over to Liverpool to audition for Hollyoaks, and sadly he did not get the part. He then had to embroil himself into university work whilst rehearsing for Saturday Night, Sunday Morning at the Edinburgh Fringe and a radio play version of Rebecca. Last week he was complaining that he had to get up at 8.30am – yes A M!
For the next few weeks he has 12 hour days, starting uni at 9 until 6 and then straight across to the Television Workshop. In fact I rang him this
morning but he immediately cut me off saying, "Can't talk right now dad, I'm in make-up".
Meanwhile, Zac has just finished his exams – a very stressful time though he did manage to spend plenty of it on his X-Box. Then there was the day that he almost got scammed. A guy wanted to buy an old coin, and Zac had found one. He figured he could make a tidy profit buying and selling the coin. Then his mate discovered that the buyer and the seller were connected – and that it was probably a scam. Zac relented, but not for long. The next day he was downloading all kinds of dodgy software under the guise of "ethical hacking". Now, ethical hacking is where people get paid to try to bring down a website. I am not sure that was Zac's intention. The next day the BBC website reported that a cyber attack had targeted school exam files. Call me old fashioned, but I still think that two and two makes four!

Nice to see Zac's sense of humour developing. One night after school he asked what's for tea. "Curry" I said, to which he replied, "great, I think I'll join you." "Really?" I asked, surprised at this diversion from his usual limited diet. "No – I just wanted to make you smile," he said.
Ole is having dietary problems of his own. After coming home yet again he attacked the biscuits. Twenty four hours later, as he collected his washing from around the house, he noted,"These jeans have shrunk!"
My radio show "The Arts Show" on Ex Pat Radio continues to grow. Recent interviews include local lass Beulah, author Phillipa Ashley who invited me to the Cannock Chase book festival, and musicians Vinny Peculiar and Wreckless Eric. Eric was a particular favourite for me, having bought his self-titled LP back in the late seventies. Hopefully Suzi Quatro will be appearing soon.
Catch it here http://www.expatradio.uk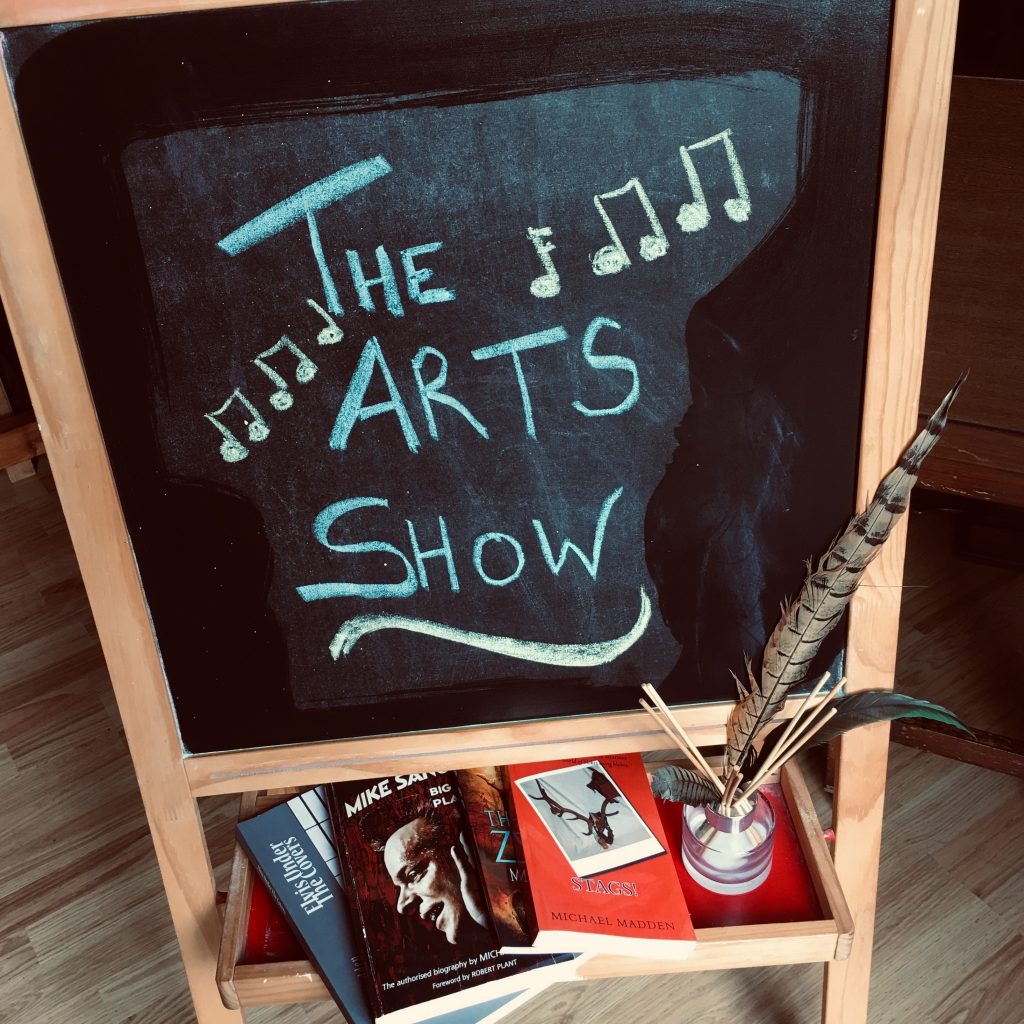 A few months back I interviewed David Boni for the show, and he spoke about the upcoming Stranglers movie. Well, March saw their annual tour and another great night at the Apollo, made better by the support act Dr Feelgood. The Stranglers are still a great live band, and there are rumours of a new album. They started strongly, but drifted in to three or four slower songs that made me think "I knew the bride when she used to rock and roll"! However, they finished very well with Down In The Sewer, and the encore was as good as it gets. Two weeks later Sally and I headed for London to see the premiere of the movie. To soften the experience for Sally I booked us in to the 5 star Hilton Bankside, but we were less than pleased when no nibbles accompanied the drinks in the bar. Sally requested some, but all that materialised was a small bowl of tasteless popcorn.
We Ubered to the Ritzy cinema in Brixton where David Boni was stood outside, so we chatted to him and then I got a couple of drinks. Meanwhile, Sally was talking to someone sat at a table outside. I kind of recognised him as Andy Kershaw, only because I knew he was doing the Q & A before the film. Sally did not know this, and continued to question him. "I used to be in the medical profession and I'm wondering if you were one of my patients," she told him. Shortly afterwards he got up and left.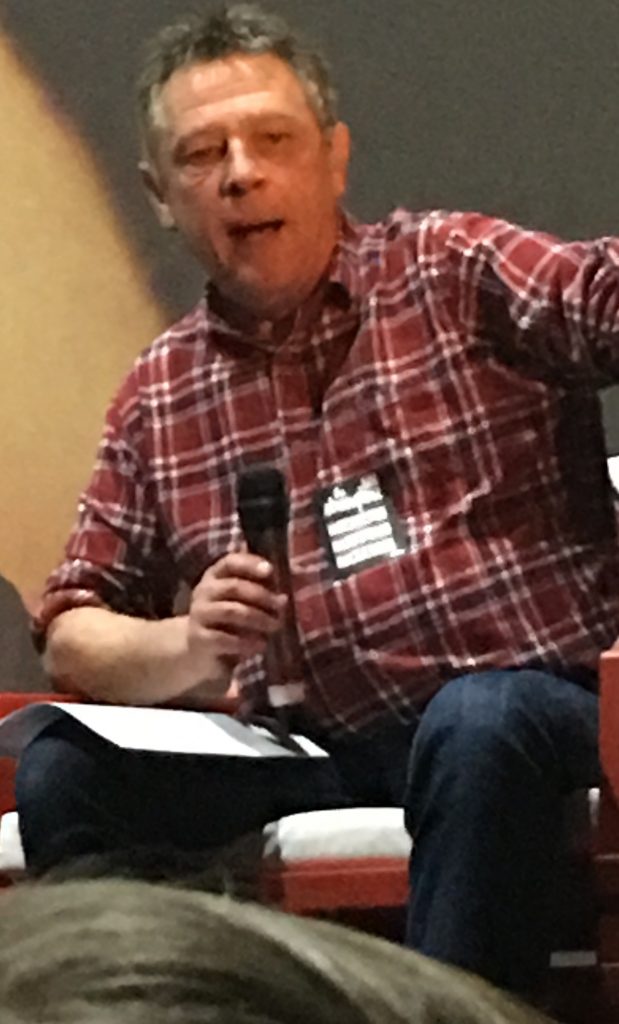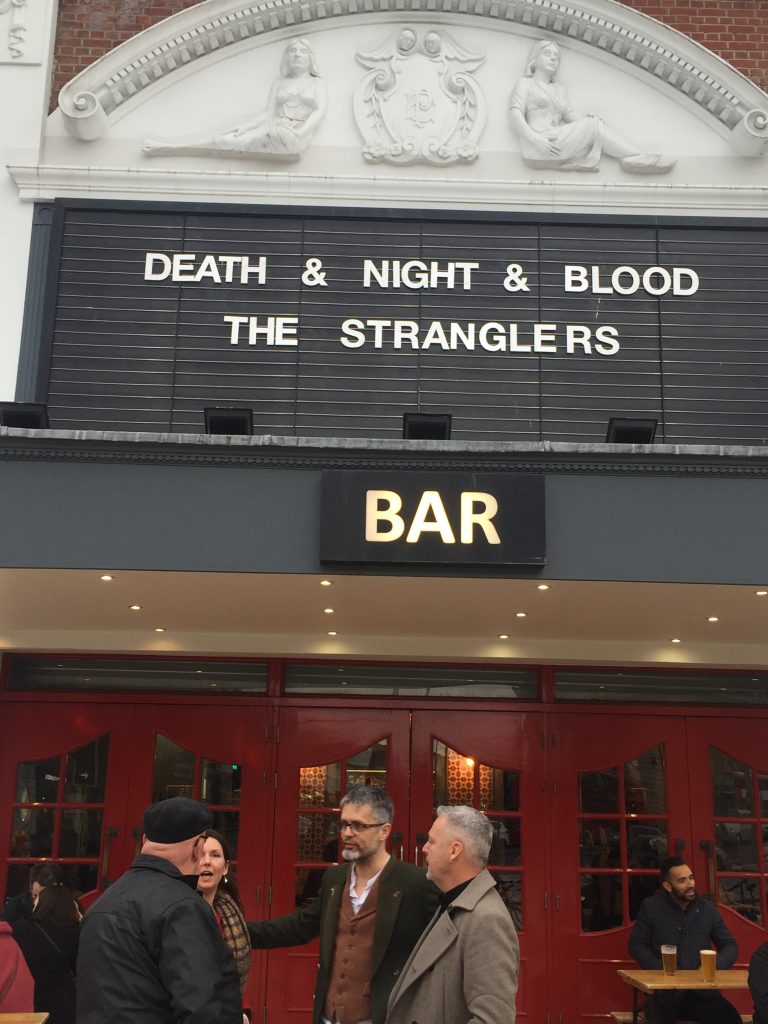 The premiere was somewhat chaotic, but we queued to get wristbands and then queued to get in to the cinema. We sat on the second row as the backdrop of Death + Night + Blood loomed large on the stage. Eventually the band, together with David Boni and Andy Kershaw, sat down for the aforementoned Q & A. That became a bit tedious as Mr Kershaw insisted on asking multi-layered questions whilst the audience just wanted to hear Jet and JJ in particular. The film itself was great. Even Sally enjoyed it. And we Ubered back to the hotel for room service. A swim and a walk round Borough Market followed the next morning, then on the train home I met the wonderful Caroline England for the first time. Ive spoken to her loads for the radio show, but this was the first time in the flesh. Anyway, next time we speak I have a surprise for her! Thanks to Ole!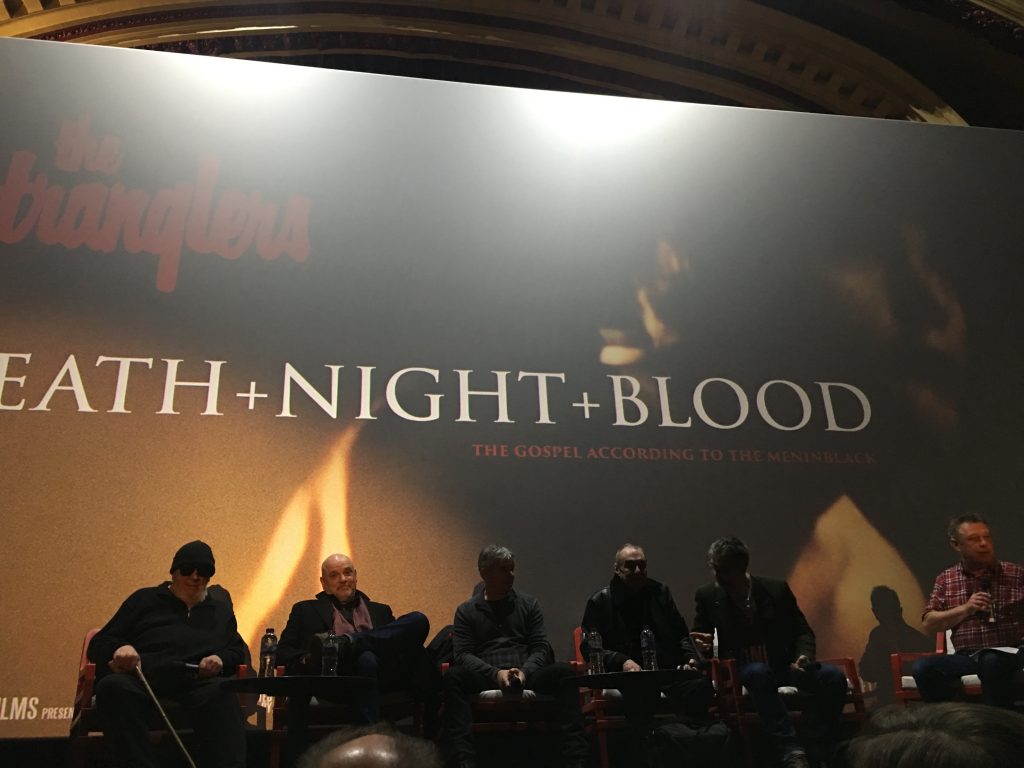 In other musical matters I caught up with Vinny Peculiar and Wreckless Eric in Leeds. Vinny started his set off with a spoken word intro to his first song – a great idea and I hope it catches on. Eric hit the stage and got the somewhat sparse audience to gather round to create some atmosphere. Some of his new stuff is quite good – but it will never match Whole Wide World, and some of his instrumental experiments were a bit tedious. But he is a great showman and is definitely able to laugh at himself. Check him out before its too late!
And whilst on the subject of people out to get you, TUI Holidays have been doing the rounds on Facebook again, offering a free holiday to the Maldives because Sharon from Wolverhampton has not responded. (Not the real TUI Holidays I should point out) This Clickbait is shared by tens of thousands of people – all because they could not be bothered checking the actual Facebook page which clearly shows this to be a scam. I will be doing something similar when I launch Clickbait!
However, it is highly likely that The Hole will be completed before Clickbait – watch this space…
and still on the written word, "They Will Not Play Again", my poem in tribute to those who lost their lives in the Munich Air Disaster, is a finalist in the Poetry Matters competition.
Tesco moved the lentils again. They used to be in the Wholefoods aisle, but that has disappeared. The sign is still there, there are just no Wholefoods there any more. I went everywhere looking for them, and eventually there they were. Hiding on the top shelf next to the rice. Which reminded me, I needed some brown rice. Now, the idea behind these rearrangements is to get you to buy more – particularly if you are a bloke and won't ask. Well it didn't work – I just got more and more annoyed – and I would have bought the rice anyway, eventually. What next? Ketchup bottles designed so that you can never get the last drops out so 200g goes to more like 170g? Teaspoon makers in cahoots with Tate & Lyle, producing bigger teaspoons so that you use more sugar? Where will it all end? They are out to get you people. Be vigilant.
I started a new contract in April – literally 100 yards from my previous one. In fact my window seat looks right across to my old desk. However, this one is a lot different. First of all, everyone is very laid back, and its kind of expected that you will work from home at least one day a week. Secondly, it is dealing with a problem in the Ukraine office, so next week I'm off to Kiev – that should be interesting.
Regular readers may recall an incident a few years ago where Sally lost her keys in the snow and I had to break a window to get the spare set. Well, it happened again! Not exactly, but Sally was outside as I was about to take Zac to football. She had gone out the back door which I duly closed behind me. She then asked if I have a key for the front door. Of course I have. Well can you make sure its unlocked? So I did. But it wasnt unlocked. It was locked. And the key was still in the lock on the inside of the door. I tried to dislodge it but to no avail, and after several minutes we decided that the only solution was to break the window again. Last time we broke it we put reinforced glass in. So although I was hammering on it it would not break. I cushioned the blows with a thin piece of cloth so that the glass would not shatter. However, Sally decided that enough was enough. She got a hammer and hit the glass directly. It shattered and splintered everywhere. Zac stood on a piece over a week later!
Spring has sprung and the Peak District is a beautiful place.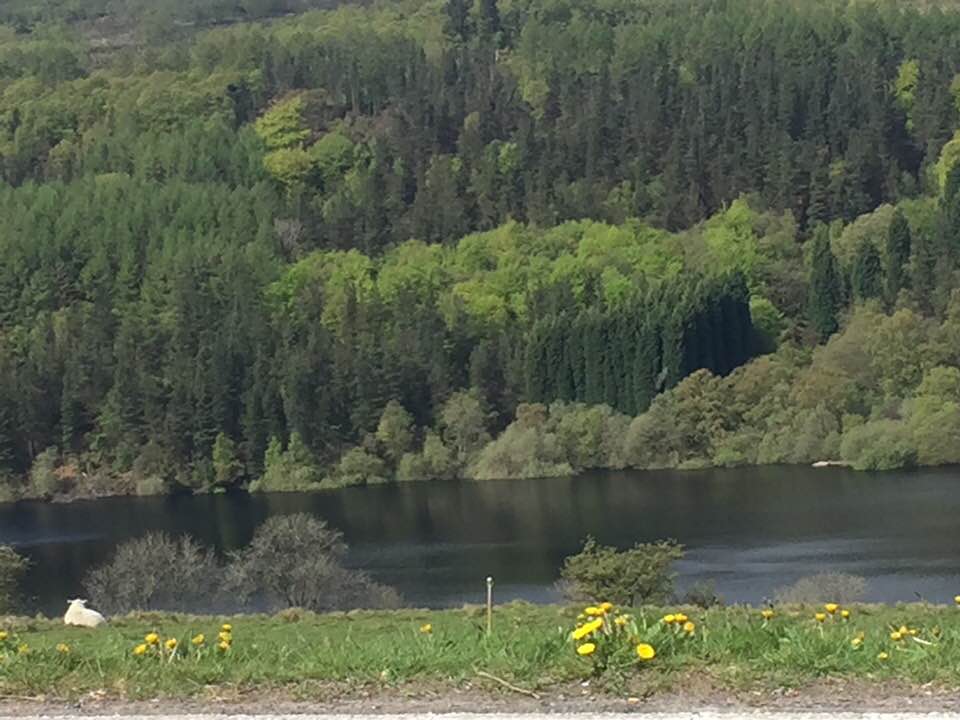 And there's a new foal at the farm…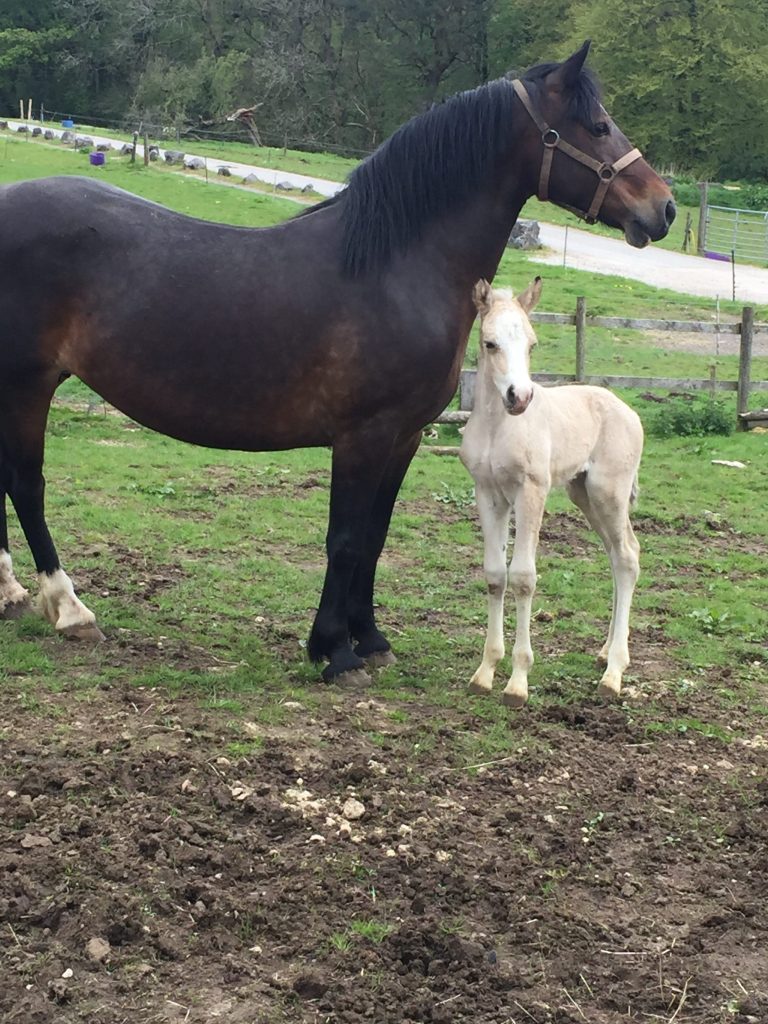 The kitchen has seen a lot of action, with a variation of Beef Maharajah providing a spicy meal.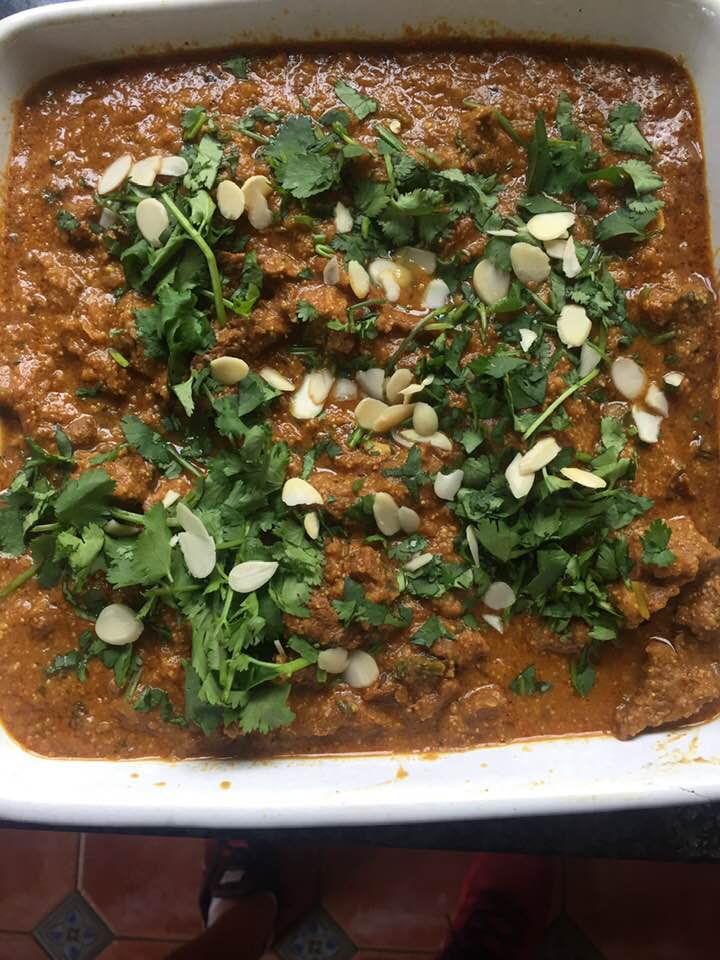 And then there was the rather hot Easter weekend when it seemed almost Mediterranean in Whaley Bridge…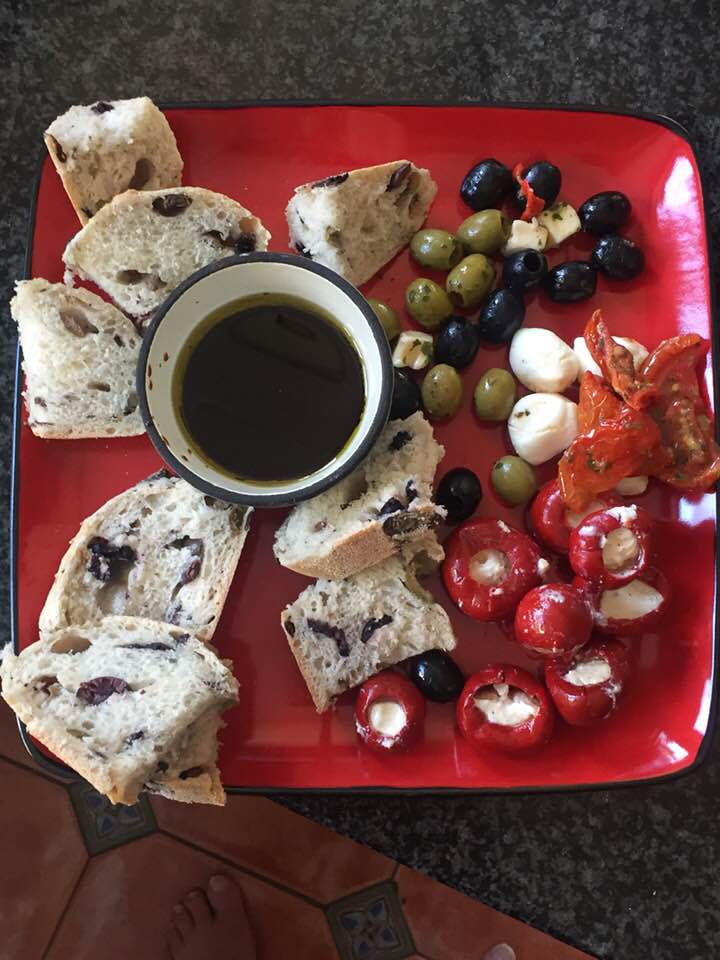 I also made a banana and walnut loaf, and then, because we had a lot of bananas, I made another banana and walnut loaf with coffee and coffee drizzle. Its still cooling!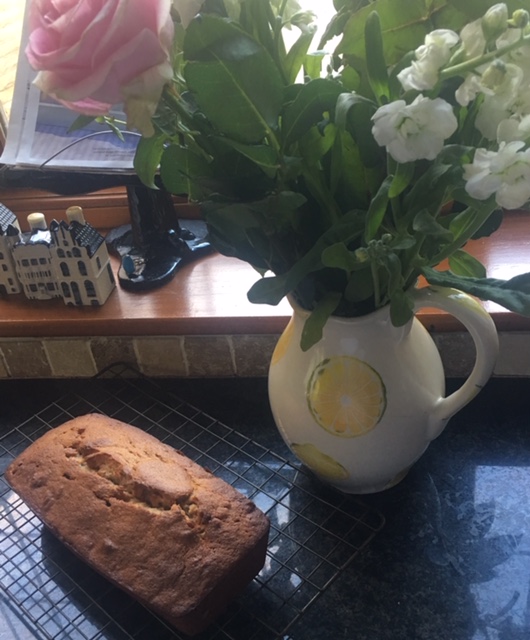 I now have a US postage address. I really wanted a pair of Asics trainers, but they were only available in the US, and Asics (and Asics on Ebay) would not ship to the UK. So, I used MyUS and created a US mailing address. The trainers got shipped there – and postage is about £10 to get them delivered here. They are currently somewhere in transit – but as long as they actually arrive it seems like a great service – they even send pics of your package when it arrives at your US postal address.
If you wish to make a contribution to Ole's Edinburgh extravaganza you can do so here…
The Television Workshop Salford – Edinburgh 2019
Finally, Tiger Woods won the Masters. It was magnificent performance, made even better by the fact that I had a sizeable bet on him. So, I gave Gabi, Ole, Zac and, of course, Sally some dosh. I should have just kept quiet. Endless questions about how much I won, how much I bet, etc. That's just something you should not ask. Just be content with the payout and don't worry about proportions. I mean, I don't ask how much did that (insert horse related item here) cost? Or how much you actually spent when you tell me you saved £50 at the Handforth Dean sales.