June 27, 2020 by Mike Madden
Ciabatta And Chocolate Cake
The interminable lockdown continues, but I have been as busy as ever, with gardening, chocolate cake and DIY all on the agenda! I am working on projects for Google (GCP) and Buyanom by day, whilst still managing to make dinner with some careful planning. And there are good reasons for that.
The Kitchen
First of all I asked Sally to cook something. It was not a complicated task! Five minutes later the smoke alarm is blaring throughout the house. Secondly, I asked Ole and Zac to make dinner. They decided on burgers, and somewhat ambitiously got the grinder out of the cupboard. 20 minutes later two burgers had been made, the grinder was very hot, and there was a lot of cursing.
"Its rubbish," said Ole.
"Nothing is coming out," said Zac.
The grinder is not an industrial on; it can get blocked. I started to take it apart. Funnel, corkscrew, fastener, mince wheel…
"Where's the…" I said.
"You mean this?" Ole interrupted, holding up the cutting blade. "We took it out as it was blocking everything."
So they had basically been trying to push chunks of steak through very small holes. I suggested they put the two already made burgers back into the mix and start again!
Can't Beet It
In an unrelated episode Sally bought some raw beetroot.
She put it on the stove to cook and went about her business. Ole looked puzzled. "Should I turn it off?" he asked. "No – it will be fine," said mum. I nudged him, and said, "that will be forgotten". Sure enough, an hour or so later, Sally had left and gone to the farm. I got a call. "Can you turn the beetroot off?" "You called it dad," said Ole. "Experience and orphaned pan lids," I said. I then removed the heat that was starting to meld the beetroot into the enamel of yet another pan.
Ciabatta
June was definitely Ciabatta month, and I found a great recipe. The first attempt was ok; I left the "Biga" for 4 hours to mature before starting the full baking process.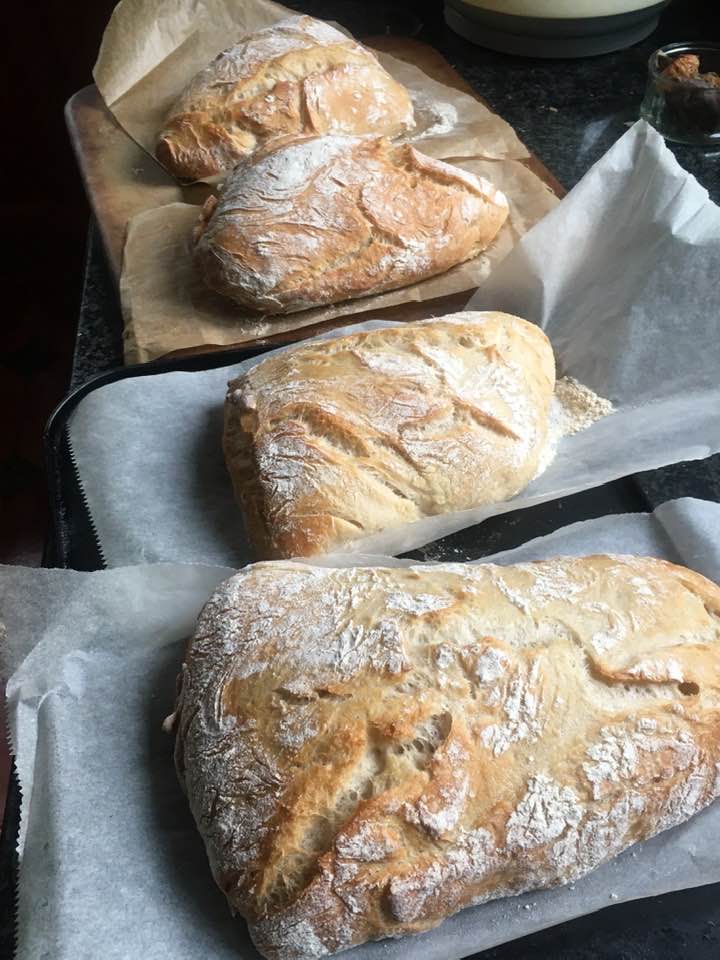 A good first try, but my second attempt was a revelation. This time I left the Biga overnight, and left the dough much stickier. I realised I would probably need a bigger bowl!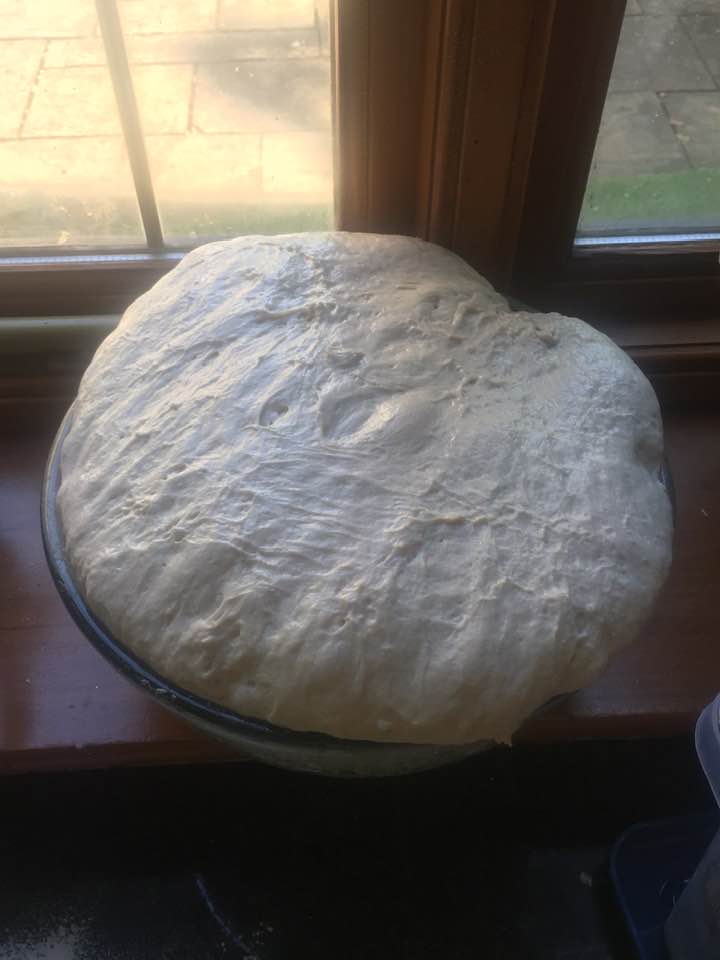 The finished bread was magnificent, even if I do say so myself. The proof of the pudding, as they say! It had all gone a very short time later.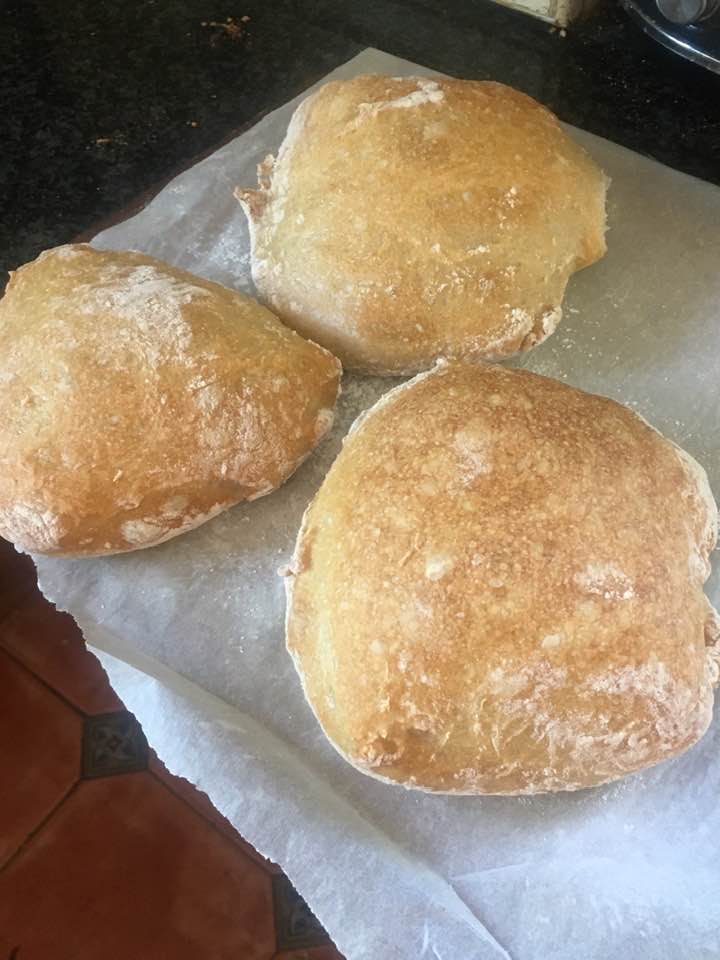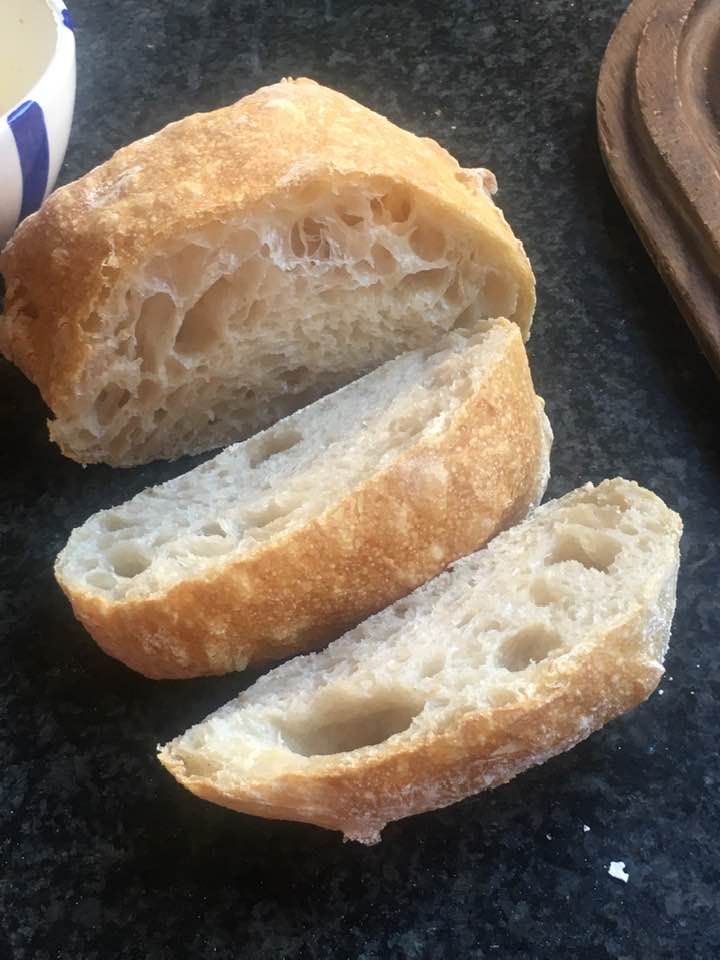 Anyway, I have now ordered a bigger bowl – so expect a lot more breadmaking in the near future!
Chocolate
Chocolate cake has been a popular choice over the last few weeks, and any time really! I made a Genoese sponge with chocolate buttercream…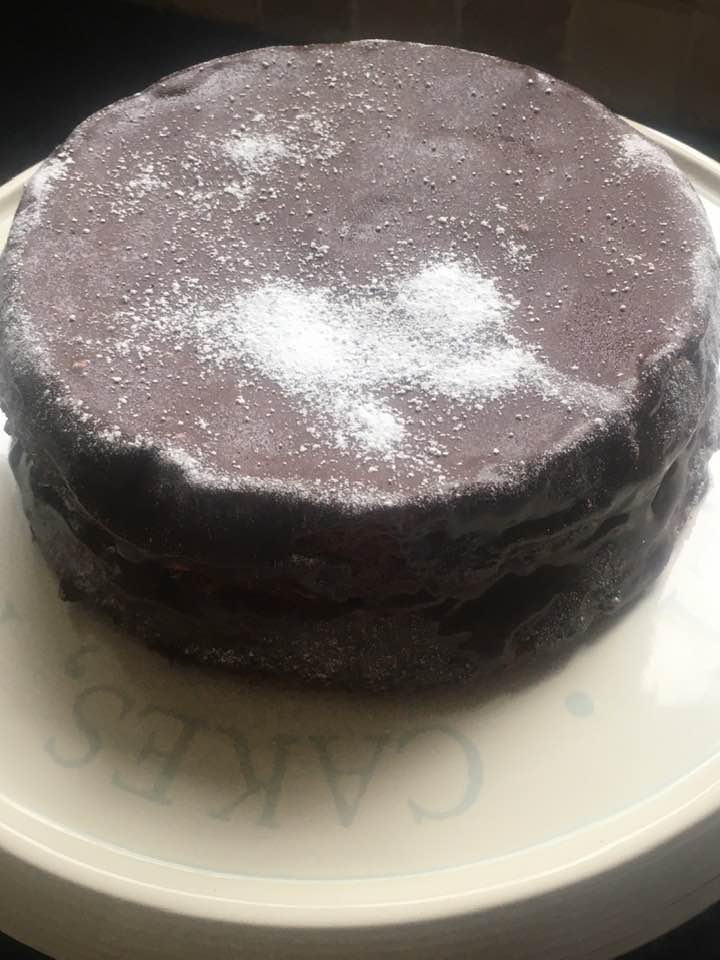 …and it seemed to be going down rather quickly.
"Zac, how much cake have you had?
"A normal amount"
"And how many times have you had a normal amount?"
"Twice. Not counting after tea."
So three then – but that still did not account for all of the missing cake.
"Sally, have you had any cake?"
"I've had chocolate egg."
"That's not what I asked – have you had any cake?"
"I might have had a sliver."
Honestly – you have to be on your toes! I am thinking of diverting the Ring doorbell for my next one.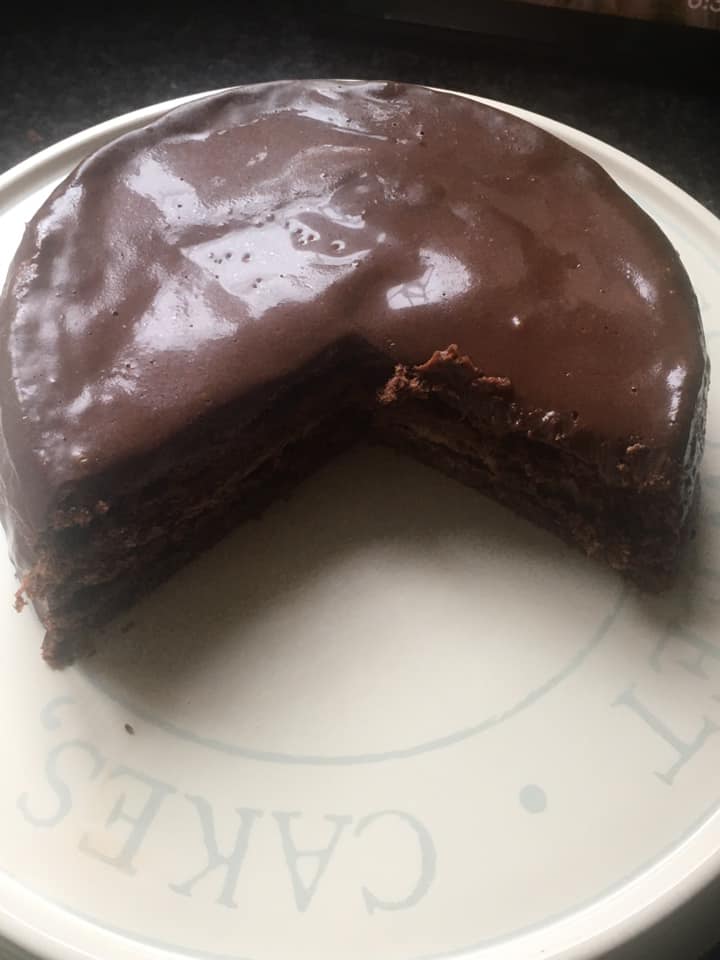 I also made Gypsy creams, mainly because I wanted a good picture for Mmm…No2…Cookbook.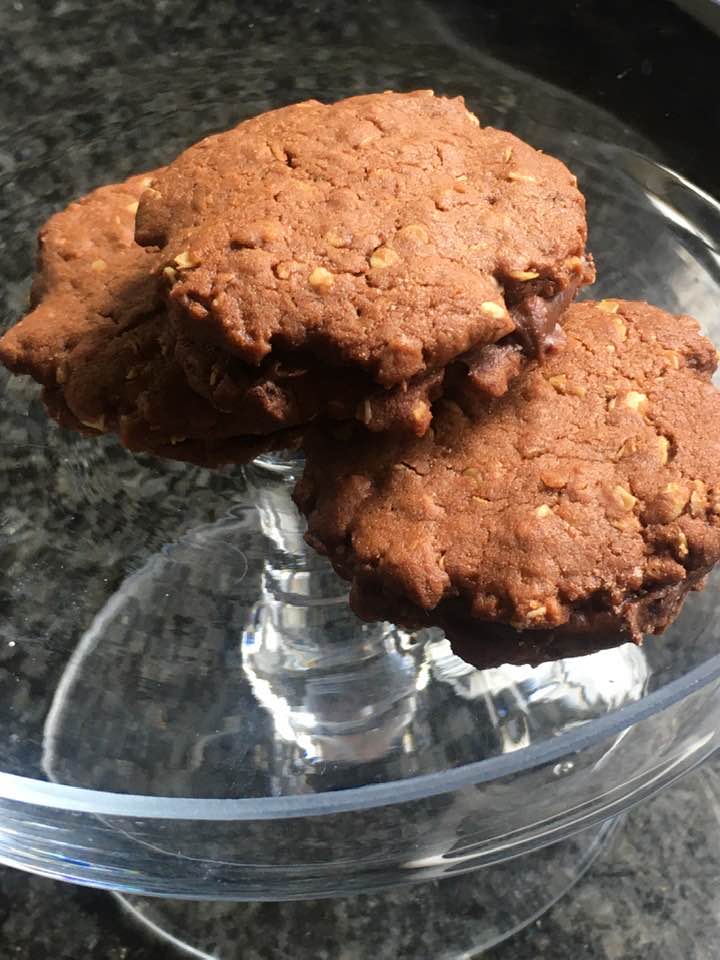 These are a great biscuit for dunking – and very moreish. Its a shame they stopped making them – and if they started again they would probably have to change the name to appease the PC brigade!
Another popular dish has been Mexican lentil soup. Depsite the hot weather this is quite refreshing, with the chilli giving it a real kick,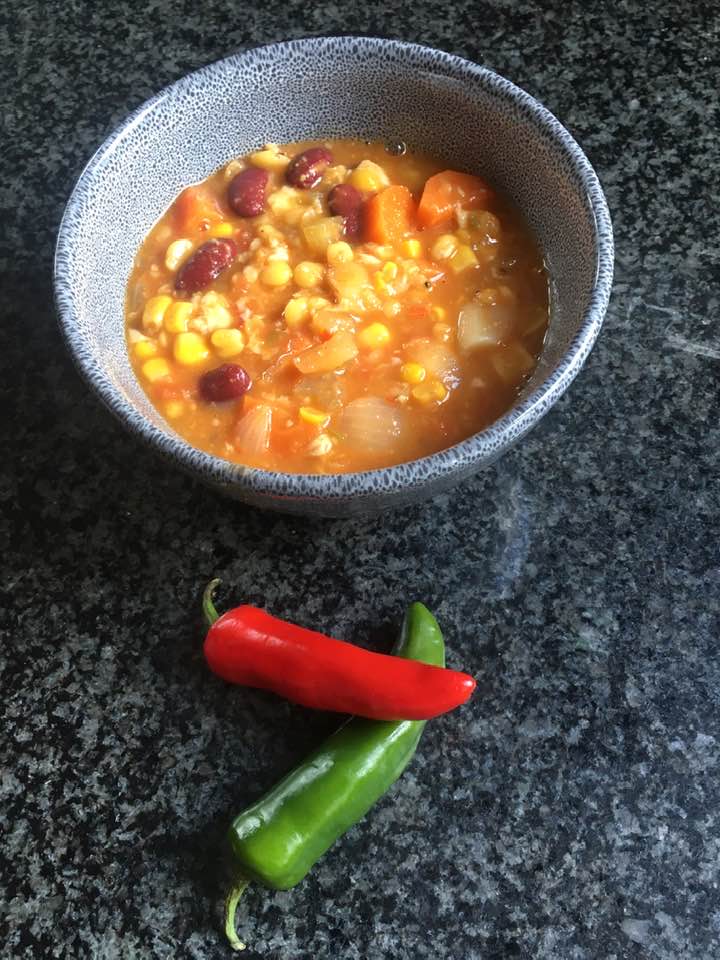 The Garden
The vegetable patch is coming along famously and we have already tucked into plenty of fresh lettuce. Sally says its expensive in the shops – I reckoned we have saved around £4.75 up to now!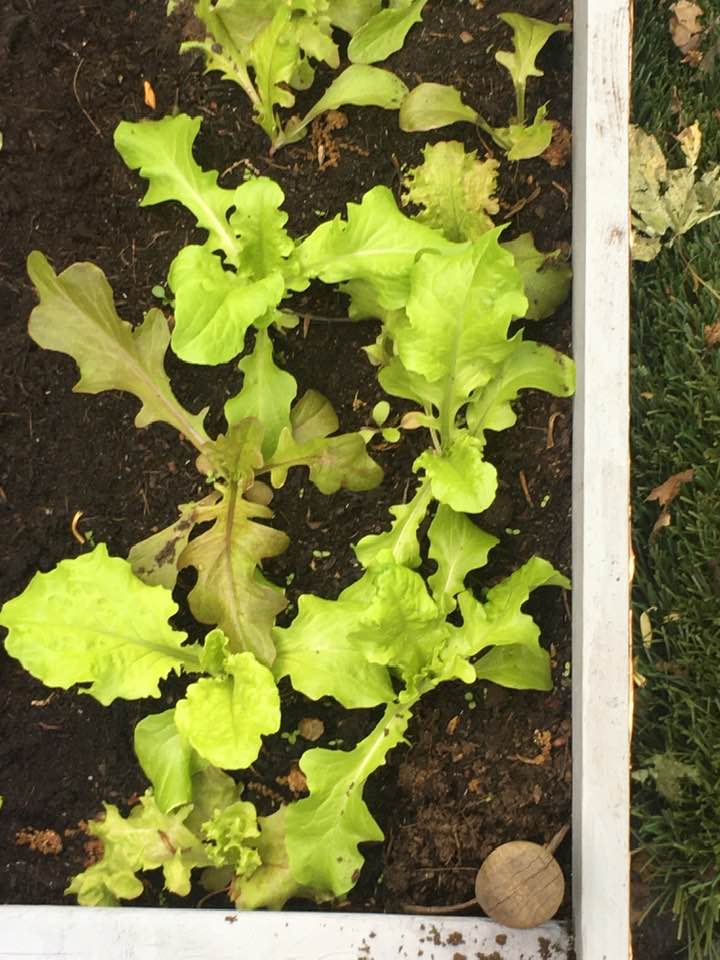 Ole questioned the merits of this – "will it taste of soil?" I assured him that it would be totally organic and free from chemicals. "Chemicals that make it taste nice," he responded. There is no hope for the youth of today, and Zac didn't help when I extolled the virtues of picking peas and eating them straight out of the pod, "There's no way I am eating raw peas!" and bearing in mind he eats less than 10 peas at a single sitting this will definitely be an uphill struggle.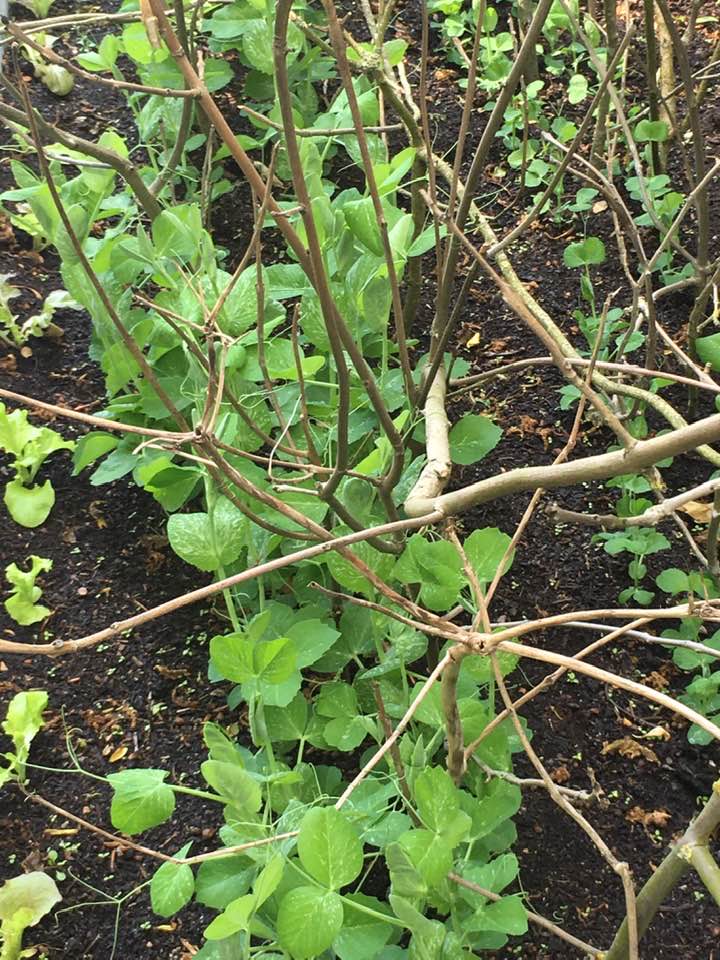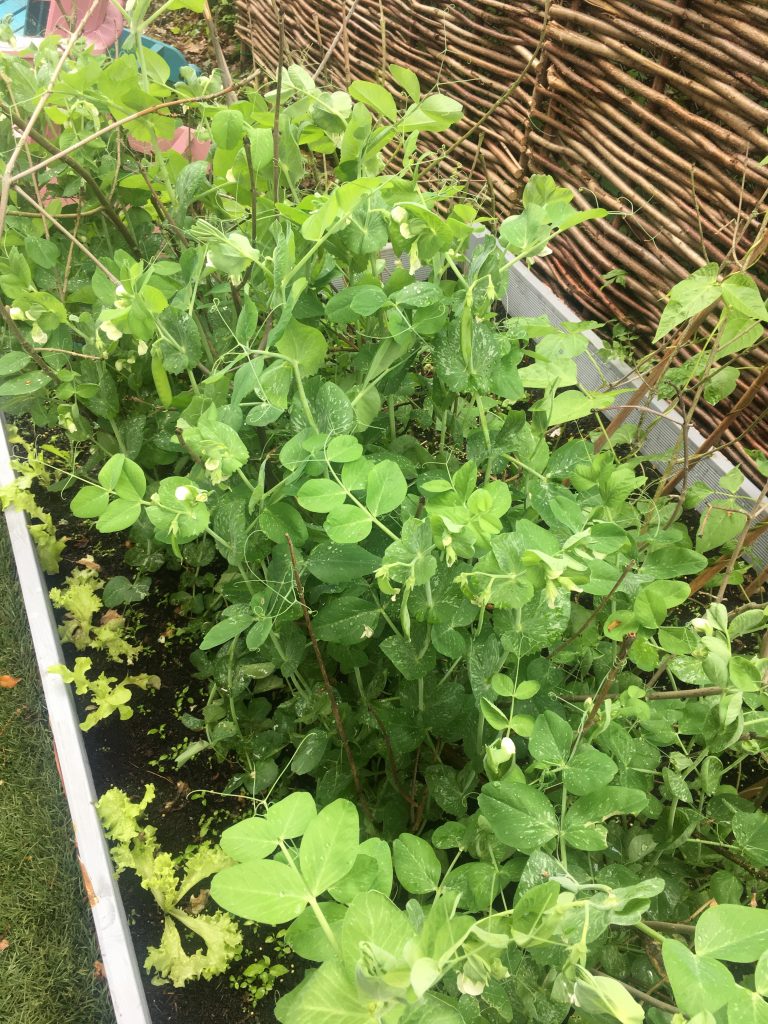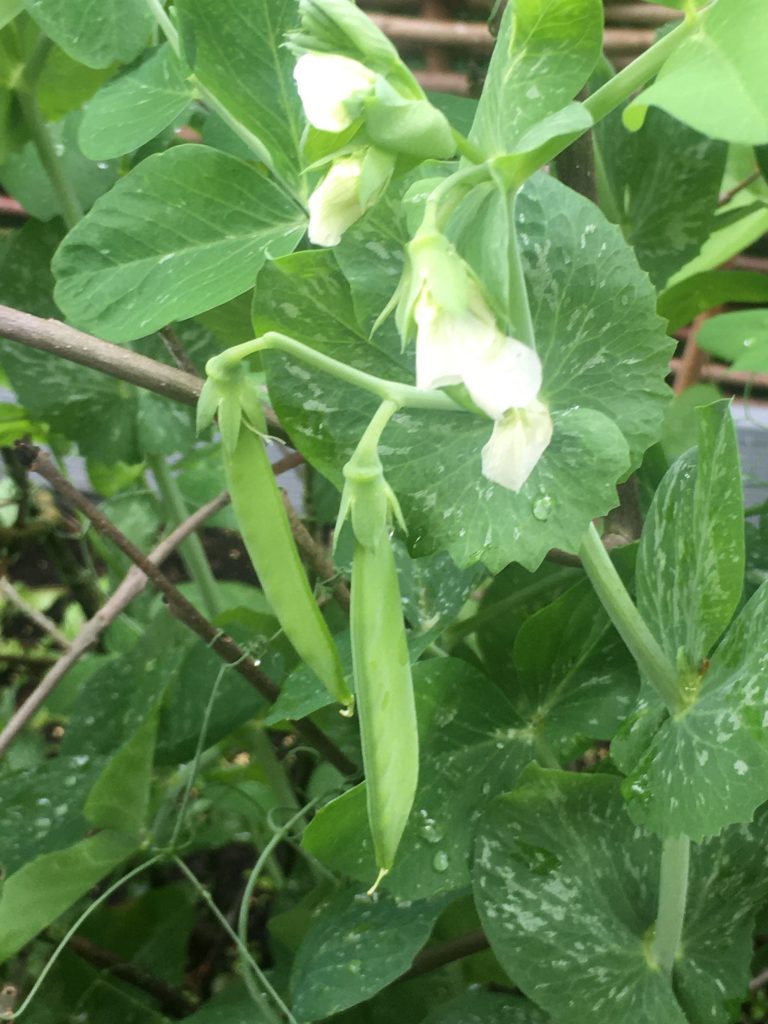 The beans took a while to get going, but now they are climbing away…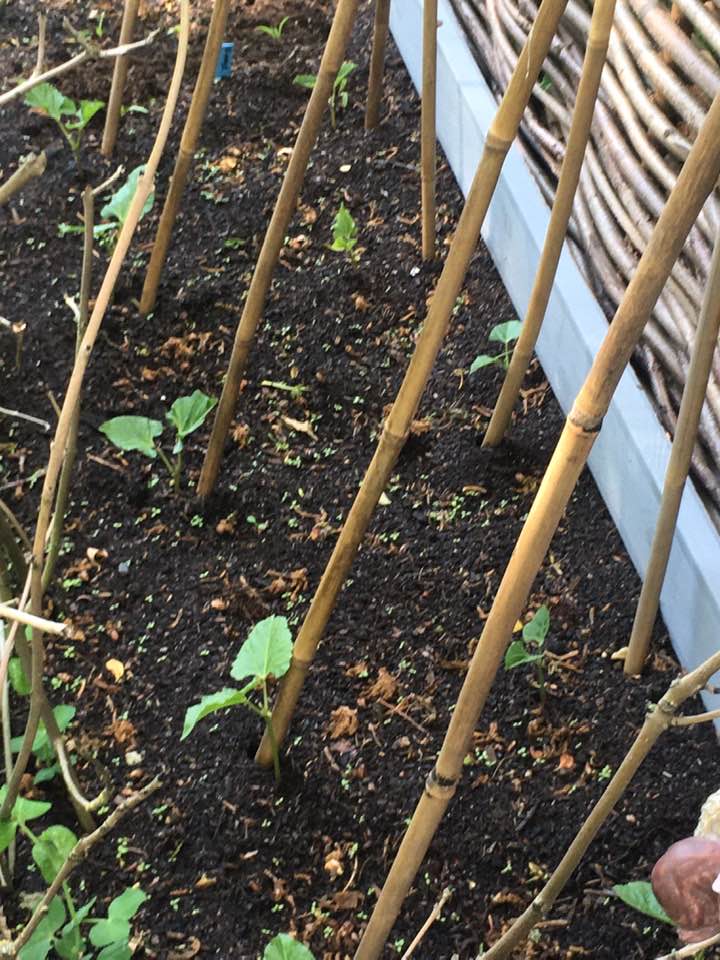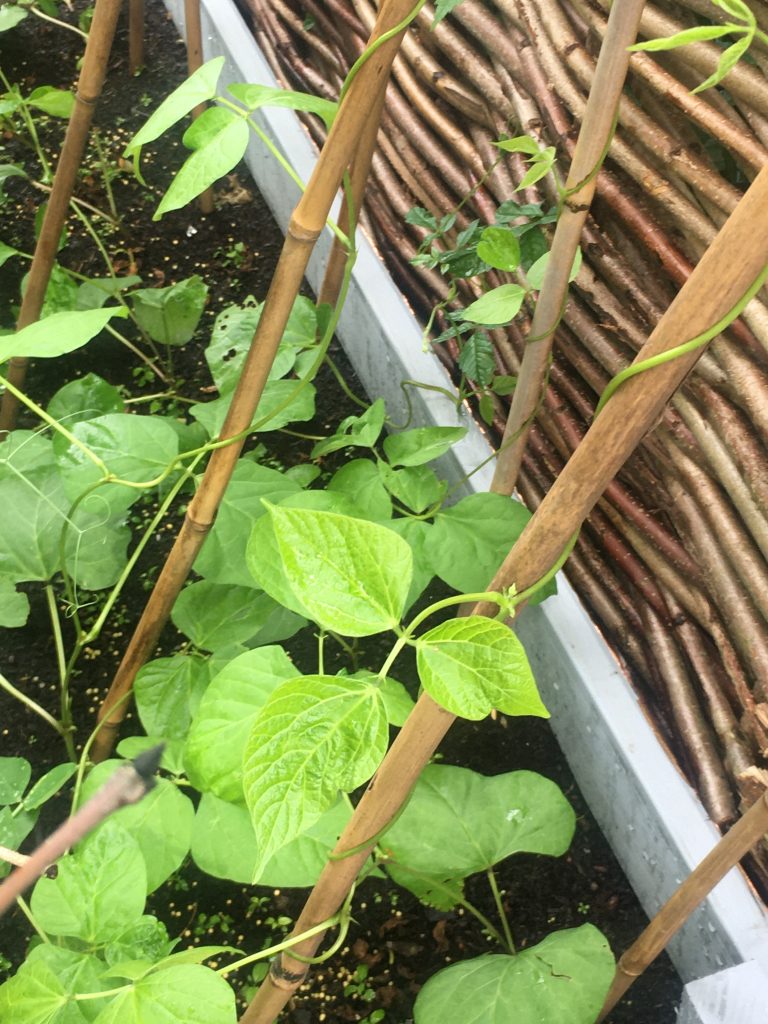 …and the pumpkins are adapting to their new surroundings.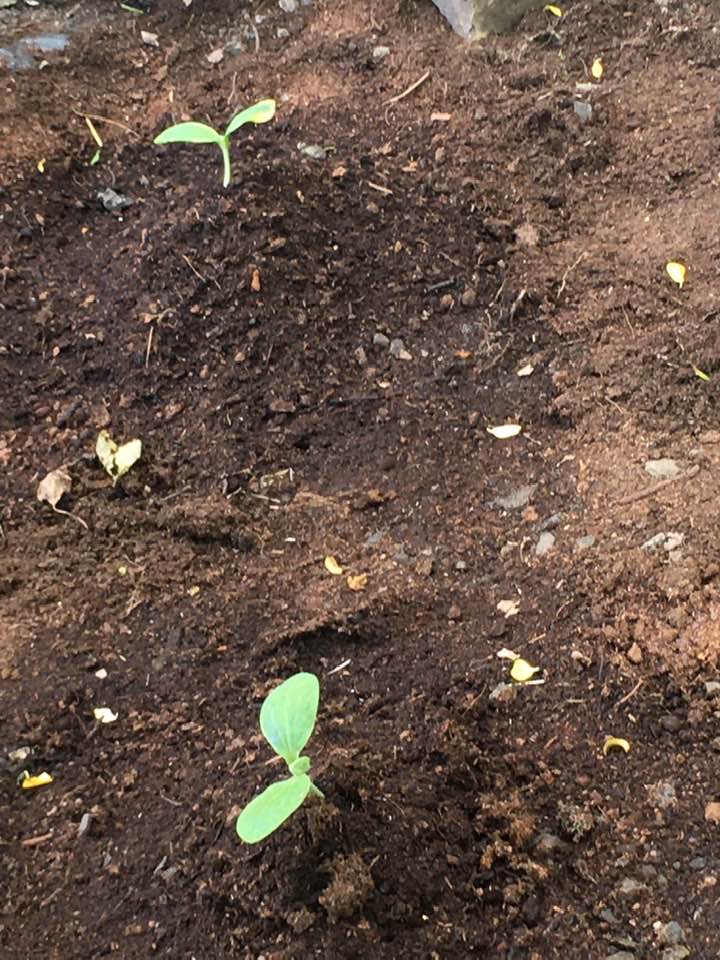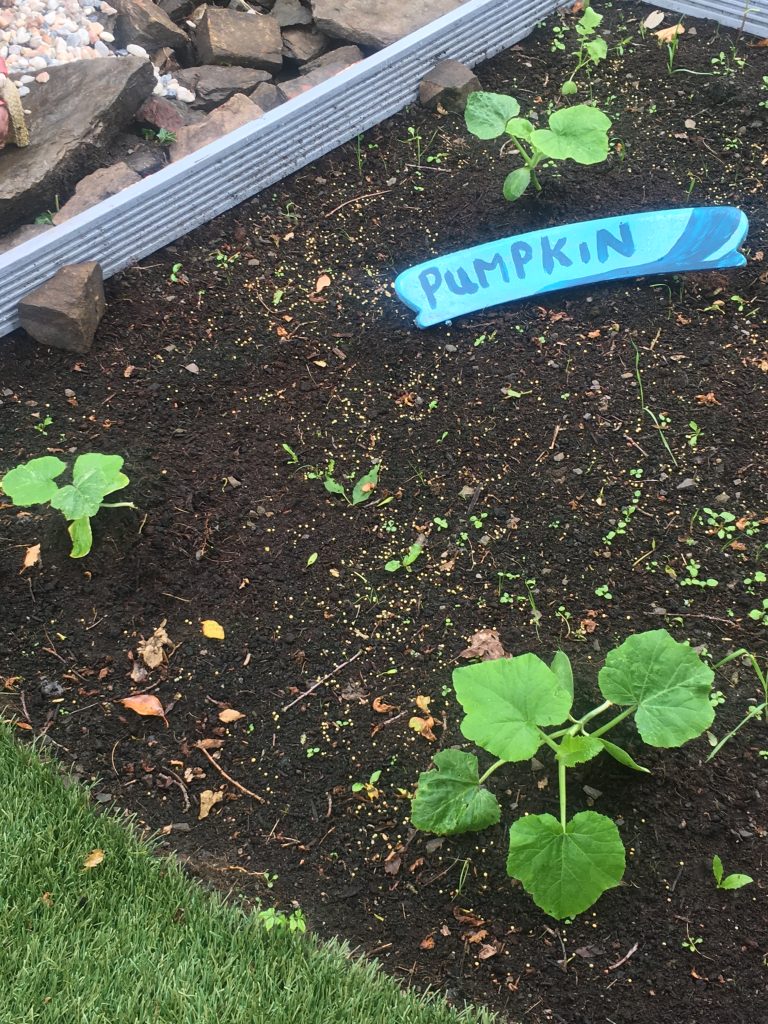 The most eagerly anticipated crop is beetroot. Everyone tells us it is difficult to grow!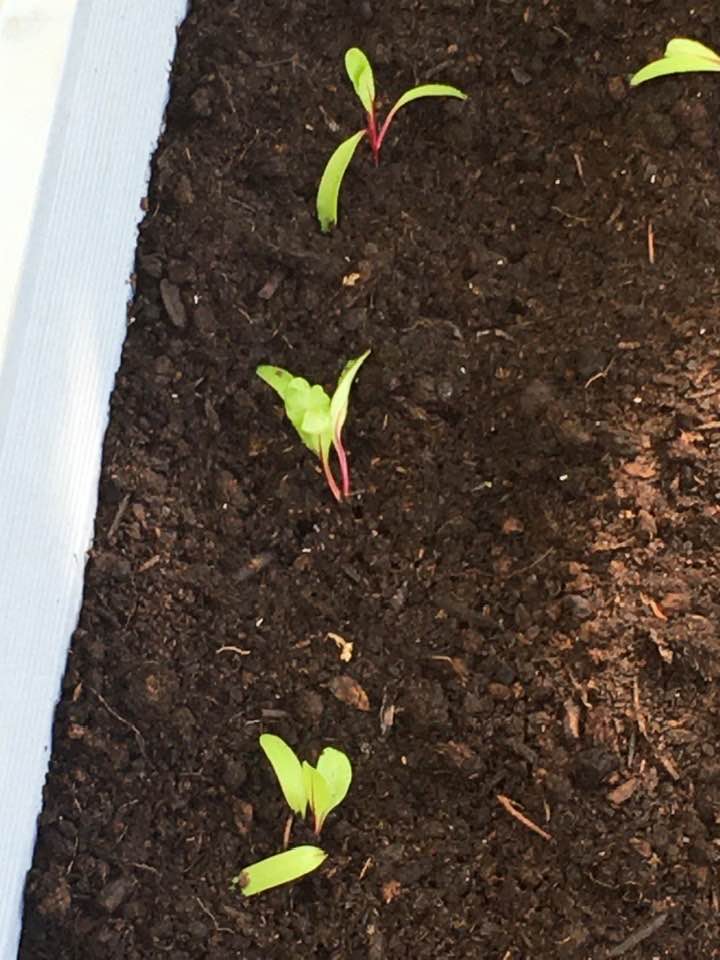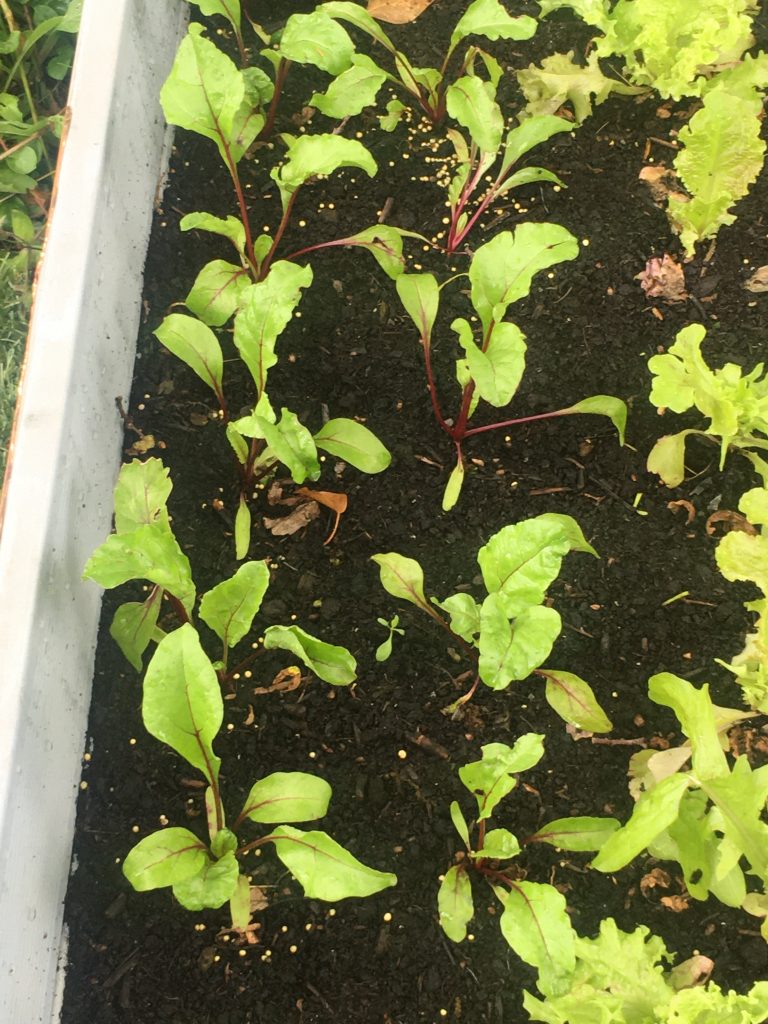 Of course, I put the success down to the scarecrow keeping all of those pesky birds at bay!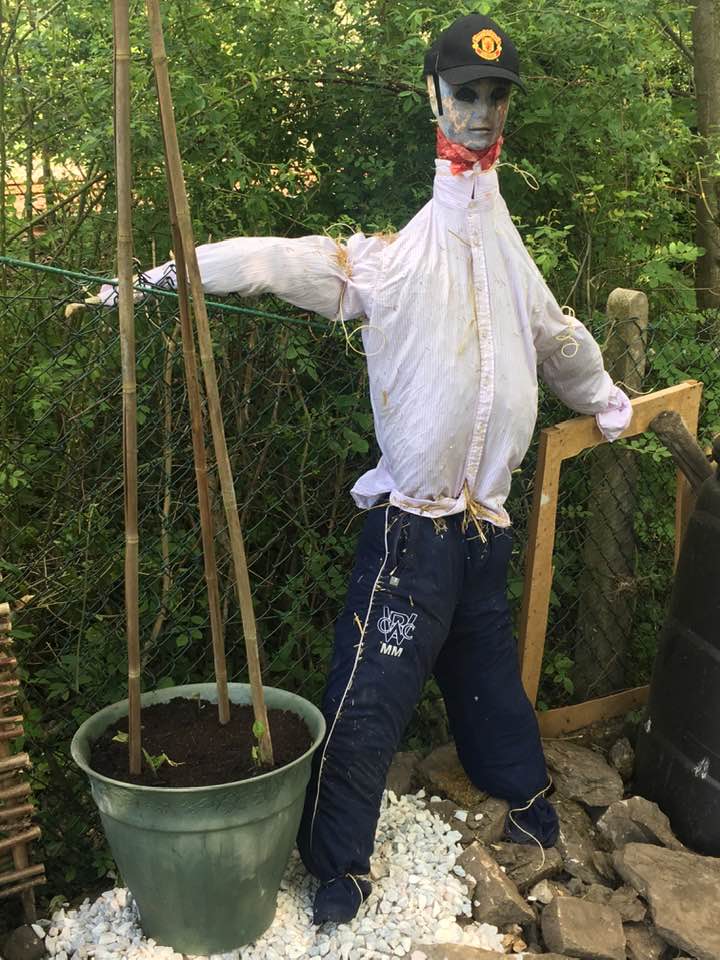 The Bench
For those that know me this next story may seem a little unbelievable, I made a garden bench. Sally moved a dilapidated bench to the vegetable patch. I suggested it should be thrown away, as the wood was completely rotted. With a venomous undertone she suggested that she had had the bench for a long time, and it would be akin to throwing away her childhood. So, I set about restoring it. I measured the wood that was left to work out what was needed. Then I dismantled the dilapidated relic.
As I did so I realised that the metalwork would also need renovation, and my original idea of throwing it away seemed a lot more appealing. Drinkwaters supplied some sturdy wood. I sawed it and chiselled it, and I gave it a couple of coats of misty blue paint. Then it was rust removal time! This would have been a lot easier with a flat piece of metal, but ornate bench ends are not great for wire brushes. I got some attachments for the power drill, and I displaced quite a bit of the old paint and rust. Next I got some rust remover, and this did as good as a job as I could have hoped for. Finally, I applied spray paint, and left the black ends to dry.
Construction
Putting it all together was probably the hardest part, as some of the screws were in awkward positions, especially with the added complication of a lever that allows the bench to face both ways. But, I persevered, and eventually a sturdy bench appeared. I am not sure how many times the metalwork has been replaced in the past, or, indeed, the wood (thanks Trigger). But to Sally it is now back to its original glory. Childhood saved!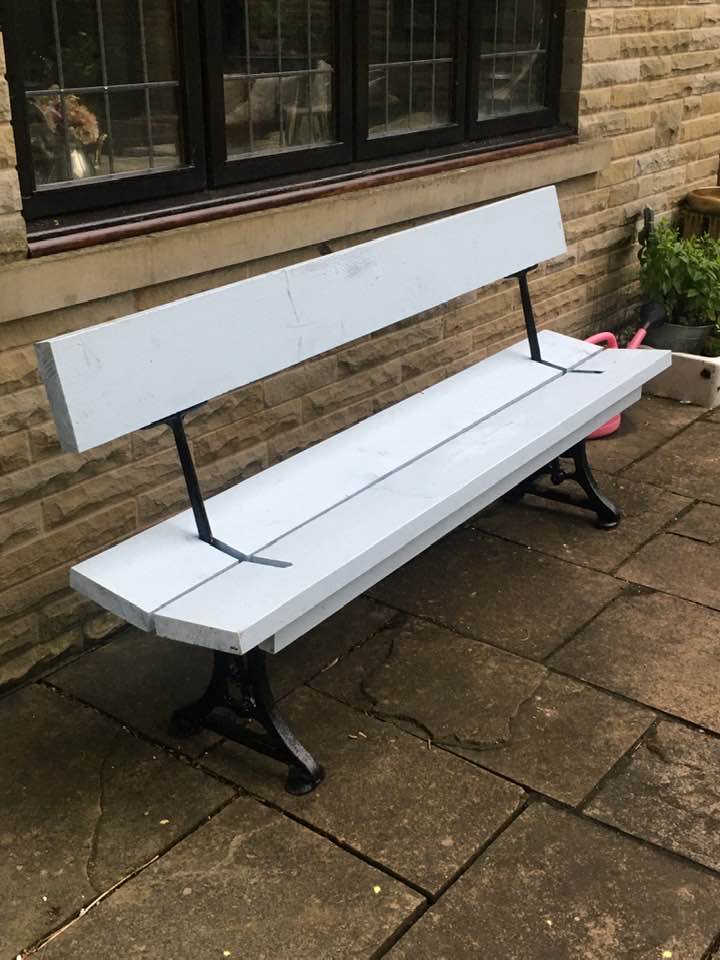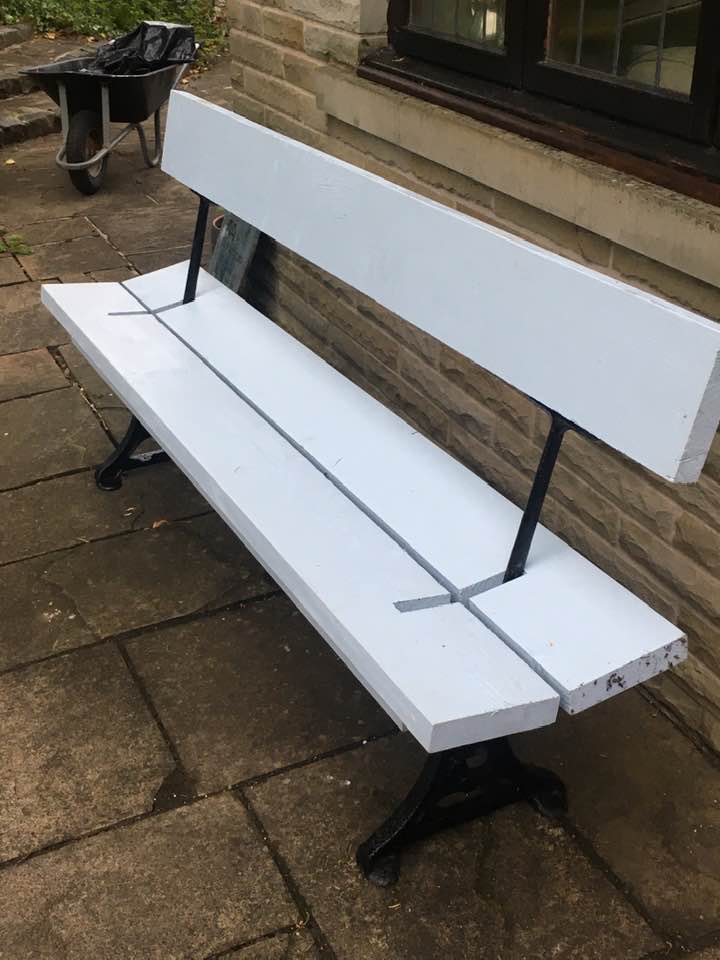 Zac
Lockdown has been tough on Zac, in so many different ways. He looked for a lightsaber; unfortunately the one that he wanted was too expensive. Then eBay came to the rescue and he got one for around £3. It suprised him when it arrived, as it had been posted through the letterbox. It had been extracted from a MacDonald's Happy Meal, rather than being a life-sized replica from Star Wars!
Football has been abandoned for the season, and he is not one to voluntarily indulge in exercise. However, he did go to the football field with a couple of mates. An hour later he returned to announce, "I am going for a little bath, I think I have earned it!"
Trying to build on that we suggested a family walk. "We can go up to the cricket field, or up to Eccles Pike?" mum suggested. "I am not going anywhere that involves the word up," he replied.
Cycling
Last week he walked with his mates from Whaley to Combs, then he called me to drop my bike off so he could cycle back. Unfortunately he cycled back a bit too far, and ended up in the middle of Whaley. Undeterred, he walked over Old Road and arrived back in one piece. Two days later he is still complaining that he can no longer walk properly!
His favourite late night drink is hot chocolate. However, he is not to be fooled. He has a reputation as a super taster, and this was once again borne out as Sally tried to hoodwink him. They may look like Cadbury's but they certainly don't taste like Cadbury's and he would not budge. After several attempts at bluff and bare-faced lies, Sally had to admit that she had tried to mix some Spanish hot chocolate with the Cadbury's, and that it would taste the same. It clearly did not, and that might have had something to do with the Spanish stuff being 8 years out of date.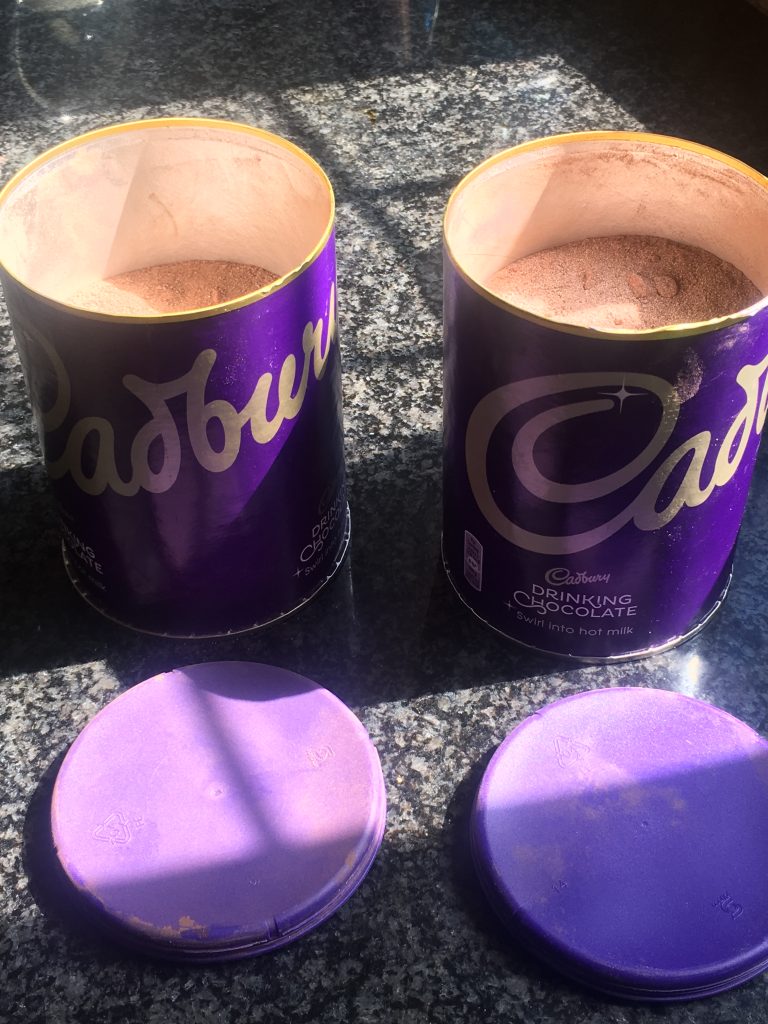 Zac's mood was not helped when it was my turn to select which takeaway we would get. I said that there's a new frozen yoghurt place in Buxton – we could go there. Zac was gobsmacked. No chippy, no Chinese, no Indian, no pizza? He suspected a rat. "Frozen yoghurt? Is that even a thing? I'm Googling it!" We ended up at the wonderful Frydays.
Yoghurt
And speaking of yoghurt, Sally regretted not putting her readers on when she indulged in scones with strawberry jam and cream. They just didn't taste quite right.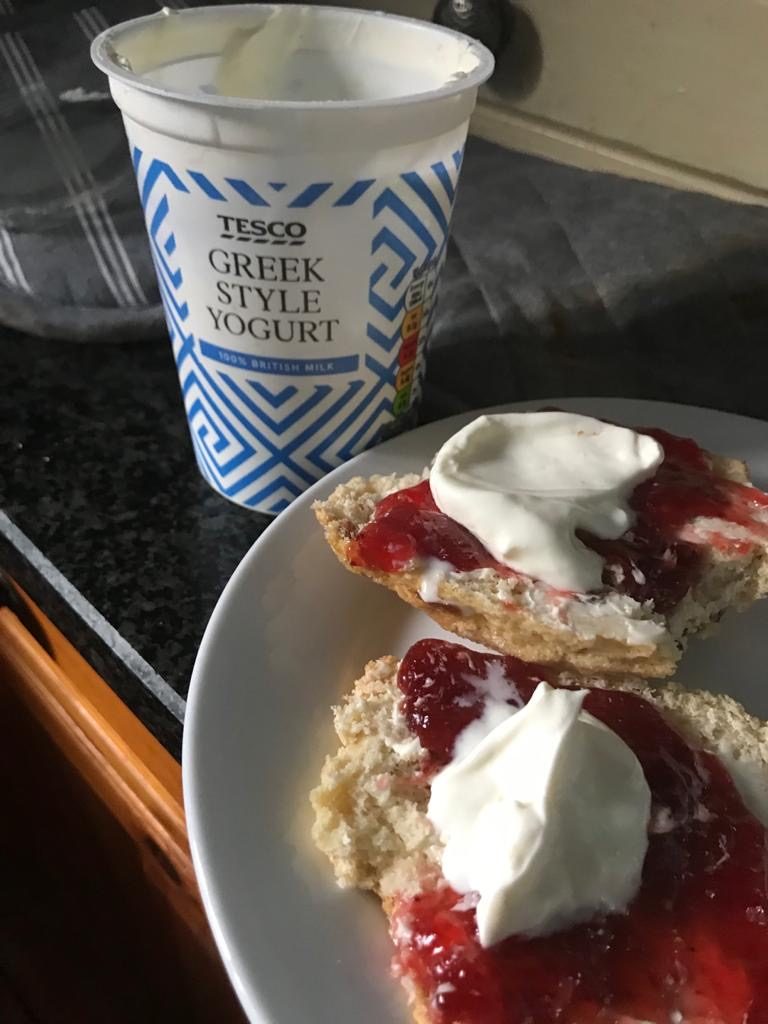 Ole
Ole's lockdown has been a very different beast to Zac's, with daily workouts a regular part of his routine. "I've done weights and cardio. What have you done?" he asked his brother. "I've had four more hours in bed than you have," was the technically accurate reply.
Ole finally finished his uni work, and he received the marks for his last piece. He is optimistic about his final grade which should be released in July. Meanwhile, the trailer for his film "White Light" has been posted on Youtube, with the full release on Amazon Prime Video on 17th July. It is one in a series of five or six short films, with the first released on 3rd July.
The trailer is here:-
https://www.youtube.com/watch?v=wuZnGbI-tGE
His audition to play a 15 year old for the BBC did not result in a role, but they contacted his agent to give him very good feedback, which is unusual. Ole then went on to say that at his BUPA ad, for which he has been paid handsomely, he also got good feedback from a friend of his agent, across both of the days of his filming. Zac listened along with a certain detachment before announcing, "I've had enough of your showboating!"
Its the time of year when everything becomes due all at once. I sorted out Ole's car tax and insurance, and told him he needed an MOT. "What again?" was his stunned and possibly annual response.
Back To Work
Sally's return to work as a volunteer at Stepping Hill seems to result in an endless supply of goodies donated by local businesses. At first it was primarily Easter Eggs, but last week a box of low sugar granola appeared. Having tasted it I can see why they had to give it away!
She also managed to sneak off for a haircut in the garden of her hairdresser in Buxton. She was a bit miffed when on her return I asked if her hairdresser was unable to do it (it was a joke!), whilst Ole said nothing at all. "Let's see what Zac says," she said, wondering if her youngest would pay her a compliment. "Says about what?" asked Zac. "You mean about mum always having a go at us?" Mum decided not to continue her search for platitudes.
I was a bit worried after a trip to the farm when it appeared that Nelly was ill. Sure enough, a couple of days later she was on antibiotics. Fortunately she has made a full recovery and is back to eating anything and everything, though strawberries are a particular favourite.
New Technology
I bought a portal for my mum so that she could keep in touch with her family during lockdown. She is just about getting used to it. Its a bit difficult to explain to someone who has only just dispensed with a proper wired dial phone how to swipe with your finger! She now enjoys video chats with her sister in Canada and several others. The portal is so impressive that it has become a must-have gadget, so now Sally and Gabi have them too. Who will be next?
Sport
The country is showing signs of returning to normal, with the Bundesliga back on our screens. Initially it was a strange experience without fans, but then La Liga reappeared, followed by the Premier League. Sadly, it looks like the domestic amateur cricket season will be all but wiped out. That is a real shame as the ground at Whaley Bridge looks magnificent!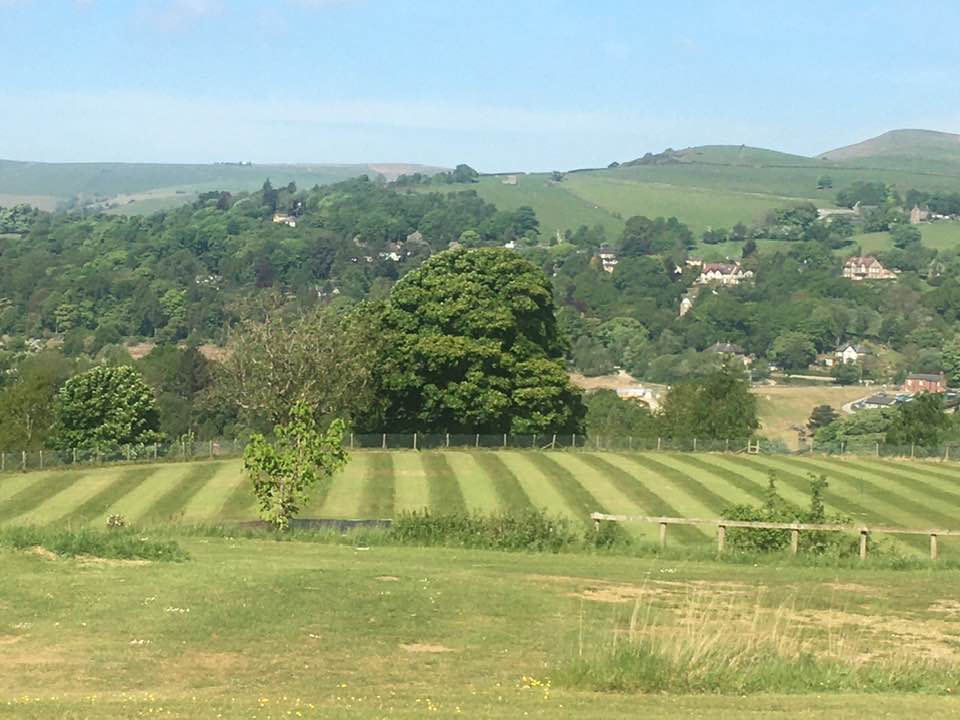 I was saddened to hear of the death of Stranglers keyboard player Dave Greenfield. Together with Jean Jacques Burnel, in my opinion he was the Stranglers. They have announced that they will still play a farewell tour later this year, and it will be interesting to see who replaces Dave. I certainly hope that they release the film that we saw previewed in Brixton last year.
Here is my interview with the director David Boni
https://www.spreaker.com/episode/17050242
Facebook scams and Clickbaits seem to be thriving in lockdown (see previous posts). I can also categorically state that having not done the ice bucket challenge, I will not be posting 10 albums, 10 happy moments, or 10 footballers either!
Fathers Day was interesting as the boys bought me a turntable. They had never seen vinyl before, and they were fascinated that one single groove produced the music. They were less than impressed that an LP, when both sides were considered, contained around 12 songs!
The Road Ahead
So what does the future hold? Well, Buyanom is launching in the US, and although the Live Projects were curtailed this year we still have plans for next. Our pub app Pub-Head is still progressing, and although pubs are still locked down, we are hoping for a big launch in the autumn. One sponsor is already on board!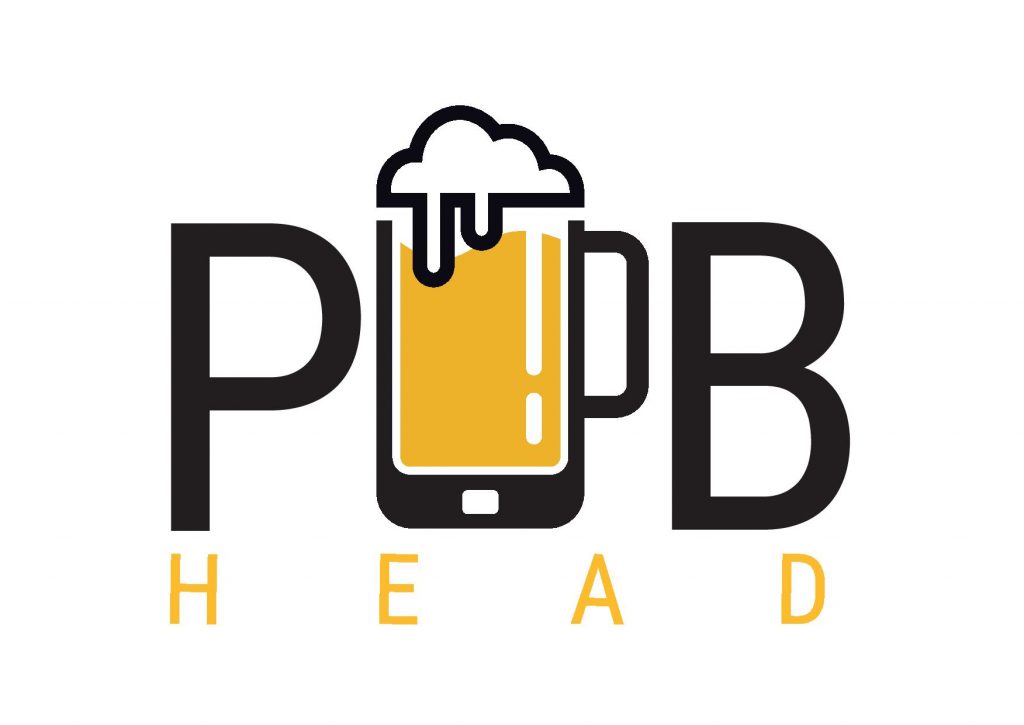 So, we have been indulging ourselves during lockdown, and I splashed out on some Birra Moretti glasses. I have already abused them – this is actually Magners with ice. Cheers!