February 27, 2022 by Mike Madden
Pizza, Paella, A Duke And An Earl
Plentiful pizza
The clay oven has been working overtime during its first few weeks of operation. Obviously pizza had to be the first product, but I hit a bit of a hiccup meaning the dough was over proved. I knocked it back, but it became difficult to work with. However, it still made lots of good pizzas, and only two were sacrificed to the great pizza oven god. My first two judges were the little girls from down the road, and they loved it – so that's good enough for me!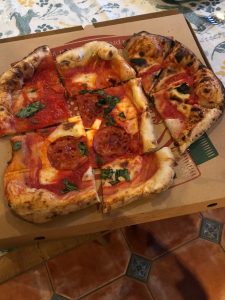 The first batch of pizzas
Dough Oh Dear
However, it was clear that pizza dough needs to be planned a couple of days in advance. My second attempt was much more successful. The dough was given just the right amount of time, and so it was much easier to work with. This also meant that it made much bigger pizzas. Too big, in fact, and so my third attempt used 10% less dough. Ive got the technique down quite well now, fingers crossed! (not literally).
I discovered Oasis International Foods in Northenden, which will ensure a plentiful supply of Tipo 00 pizza flour and San Marzano tomatoes. These staples are essential for an authentic Neapolitan dough. My next revelation was to squeeze as much moisture out of the cheese and tomatoes as possible, to ensure a crisp base. I also got some authentic Italian hard cheese. This has a very distinctive flavour and goes well on a base just drizzled with olive oil.
I've still not put pineapple on though!
Variety Is The Spice Of Life
Now, pizza has to be cooked using a live flame in a very hot oven. As the wood fired oven cools it can be used for all kinds of things. First up it was brisket, and I did this for 3 hours cooked followed by 2 hours smoked, making full use of my Tuscan grill. The outside was somewhat blackened, but the meat was deliciously tender and smoky.
I have since made a Mexican pork and bean stew in my new Terracotta pots, and a Porterhouse steak which was fabulous and done in minutes. I also used the cooling oven to cook asparagus, mushrooms and tomatoes, all done in a matter of seconds.
Not sure it would be great for burgers – I could probably only fit 3 at a time on the grill, but we'll give it a go!
Pan Heaven
I went to Valencia back in 2005, where I bought an authentic paella pan. Although it still cooks great paella, it has become a little warped and is showing signs of wear and tear. (Regular readers will know that Sally never has problems of longevity with her pans.) Fortunately, Gabi bought me an enamelled replacement, so although I probably won't throw the original away, it can now be gently retired. Plus, the enamel one can go in the new oven, though I have not tried that yet.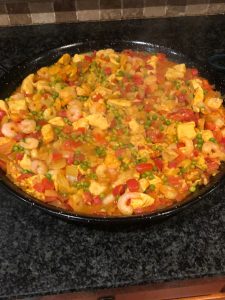 New paella pan
A Frosty Reception
While we are on the subject of cooking, I noticed that some of the food in the freezer was a bit squishy. Ice cream was melting, ice wasn't forming, there was definitely something wrong. Sally agreed, and we came to the conclusion that we needed a new fridge freezer. Our immediate problem was how to make the most of a freezer and fridge full of food, and out of adversity comes opportunity! We cooked and we cooked, and we crammed the garage freezer as full as it could get.
Wellington Gets The Boot
However, there were still several items that looked like they were going to waste. Many of these were seafood related, always a bit dodgy once the defrosting process has started. There was also a Beef Wellington. I was sceptical at the time that Sally purchased this unusual item. In the 27 years of our marriage I can quite categorically state that we have not only never made a Beef Wellington, we have never even contemplated the idea of a Beef Wellington. I have no idea what possessed her to buy it, its such an oddity. I mean, there's no such dish as Chicken Wellington, or Lamb Wellington, (well there is but let's not go there!) The nearest is probably Sausage Wellington, better known as Sausage Roll. Anyway, it was condemned to the bin, thus clearing more space in our yet to be delivered replacement appliance.
AO – Daylight Come And Me Wanna Go Home
Sally found a suitable replacement model and sent me the link to the AO website so that I could pay for it. The following morning, at 7am, the thing arrived. Two men unplumbed the old one and shifted that onto the driveway. They unloaded the new one, moved it into position, and removed all of the packaging. Then came the revelation. Despite the fact that we had paid for the new one to be plumbed in, the new one could not be plumbed in. No pipework! It had a reservoir in the fridge that had to be filled manually. "Not having that" announced Lady M. So, the delivery men began the laborious process of packing up the new model once again, putting it back on their van, and driving to their next destination.
I'm not entirely sure whether it was AOs fault or Lady M's fault (as she ordered it). Unfortunately, I will no doubt get the blame as I paid for it. Anyway, all was well the following day when another fridge freezer arrived. This one had the requisite pipes and connectors. It works like a dream, and there is plenty of space in the freezer without the frozen muscles and infamous Beef Wellington. I wonder how long the space will remain uncluttered!
Bee Reasonable
Finally, on the food front, I took my mum to Wythenshawe Park. This was a favourite haunt from both her and my youth. The park is an oasis on the edge of an infamous council estate. However, I never really saw it like that as I went to school just around the corner from there. So, we wandered through the park, and saw Wythenshawe Hall from a distance. Sadly, it has still not reopened since getting severely damaged by fire in 2016. We then strolled around the on site farm complete with cows, pigs and goats.
Eventually we called in to the farm shop as I knew they made their own honey. What I did not realise is that locally made honey comes at a significant price. £6.50 for a regular jar and £8 for hawthorn honey. Hawthorn honey is apparently from the bees that frequent the hawthorns. My question is, how do they know? I mean, bees are bees, and surely they would head off to whatever they could find to gather their nectar. Anyway, we opted for the £8 jar, and I am fully expecting it to bestow eternal life, smelling forever of hawthorn blossom!
An Unkindness
Covid seems to be fully over, and we took the opportunity to visit Ashford-in-the Water for a quiz night. We knew it was in the village hall, abut we weren't quite sure where the village hall was. As we pulled around the corner onto the main street there seemed a likely venue on the right hand side. "Go and ask that man," said Sally, pointing to the figure posing in front of the hall. It wouldn't have done much good, as the figure concerned was a statue!
However, he was a statue stood outside the village hall, so at least we knew we had arrived. An hour or two later we left as champions, having defeated all other teams by a significant margin. The best answer of the night was undoubtedly "An Unkindness" as the collective noun for a group of ravens. Sally, however, was still harping on about Bananarama. The prize was a small box of Celebrations, and Sally came very close to "gloating" as she passed them amongst the vanquished teams. We will, of course, be back to defend our title next year.
Role Model
Its been quiet on the acting front, though Ole did get a request for a self tape for a jeans ad. Oddly enough they didn't want to use his face, just his body, and some hi tech to superimpose someone else onto it. It has certainly progressed a long way since the days of David Dundas.
Ole got pencilled in for a fitting – but he has heard nothing since.  It seems like a frustrating industry to work in, but I've had plenty of telephone and in person interviews where agents keep stringing you along and the client says nothing!
Rolling Back The Years
Many, many years ago I was in a band called The International Set! Some of you may remember it. We did covers of You Really Got Me and Do You Wanna Dance, but all of the rest were originals!
Well, now Zac is getting proficient on guitar, and Ole has a set of electronic drums, so they are almost following in the family footsteps. Of course, what they really needed was a bass player – and so I offered my services. The only problem is I have no clue about any music from the last 30 years (unless it was featured by A-Toe-Mic Karaoke). So things like Valerie and Seven Nation Army have to be explained at a chord level. Fortunately, we have also included Ballroom Blitz, Eight Days A Week, and Nice N Sleazy – so its quite a varied repertoire!
Suit You!
With the summer approaching there are important days ahead. Zac will hopefully have interviews, and there is the racing, but more of that below. We decided that the boys needed suits, so we headed to Slaters menswear in Manchester. This was an education! Neither really had a clue what they were looking for. Ole settled for a slim fitting blue three piece, but Zac was less decisive. They took up at least three changing rooms, and occupied a number of shop assistants. Eventually, Zac opted for a blue and black check. He wasn't sure about the waistcoat until he discovered that it was all included.
Ties were next on the shopping list, and whilst Ole went for a classic grey, Zac wanted bright pink. Both with matching squares for the pocket. Zac needed shoes but wasn't sure of his size, whilst Ole did not want to pay £90 for a very smart brown pair. Finally, it was shirts, so away they went back into the changing rooms. Zac inexplicably took his shoes off to try a shirt on, but it all worked out in the end. They now know their chest, waist, inside leg and collar sizes for future reference!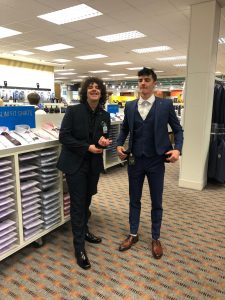 The Lady Steps Up
We received a nice update from Jason Kelly, the assistant trainer to David O'Meara, regarding Star Of Lady M. Firstly, the stable wanted to x-ray her knees as a precautionary measure prior to stepping up her work. Once that was done, and she was given the go-ahead, they sent us this video.
She is the grey on the inside and she is showing some good speed. In about 4-6 weeks they will have an idea as to when she will be ready to race and over what distance. Her daddy, Havana Grey, was a Group 1 winning sprinter who rarely ran over more than 5 furlongs. I am hoping she follows in his footsteps! We are visiting the stables of Star Of Lady M and Emerald Duchess next week for an update.
Holding Court
I always suspected that the apps that encourage people to trace their ancestors were a dangerous thing. Well, now I have proof. Sally traced her family back to the other side of Buxton. Earl Sterndale to be precise, and it turns out that she is distantly related to the original Earl Sterndale. "I always knew that I was gentry," she said. To be fair she has been telling the rest of us that very same thing for years. So, the House Of Lords and Ladies had better watch out.
How High's The Water Momma?
Most of you will remember the dam incident from a few years ago, well last week it seemed that we might have another flood, this time based around the canal and the river.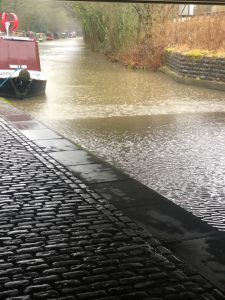 The canal came within inches of reaching the towpath, and the river resembled a white water ride at Alton Towers.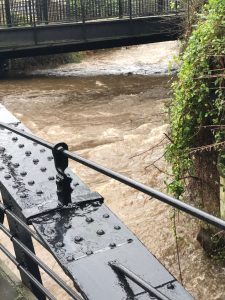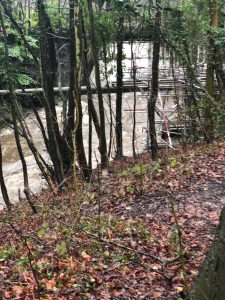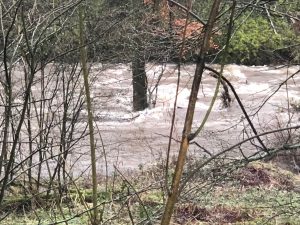 Throw a few tyres in and I am sure there would be some daredevils willing to risk it! Elsewhere, there were reports of a tree down blocking the walk around Fernilee reservoir. This was somewhat less dramatic than it sounded, as most people would be able to simply duck under it!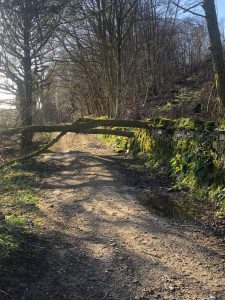 The footpath around Fernilee was not quite as impassable as we had been led to believe!
Joint Decision
Finally, after another visit to my surgeon there is not much more that can be done for my knee. Apparently there is a small spur of bone sticking out inside the joint, and that may be catching my tendon. It could cause more damage to remove it and make it worse. The only option seems to be to run more carefully or don't run at all! I look forward to the new cricket season with some trepidation.
Previous Edition
Syn Free Pizza? I Doubt It!