April 18, 2022 by Mike Madden
A Star Is Born
Racing To Redcar
Only one place to start this month and that is with Star Of Lady M. Our two year old Havana Grey filly was showing a lot of promise on the gallops. I let the stable know that we would not be around from 6th to 14th April as we were on holiday. No bother for them, they had her pencilled her in for a race at Redcar on 4th April.
She is the grey finishing fast on the inside
The flat season approached. It began with the traditional Brocklesby at Doncaster where all eyes were on the precocious two year olds. Our race at Redcar was nine days later, and the favourite was Primrose Ridge who had finished second in the Brocklesby. The pundits have to say something. However, with little or no form to go on at least one was somewhat unkind!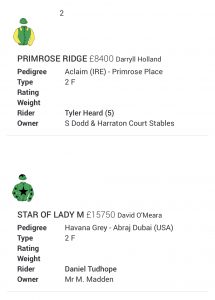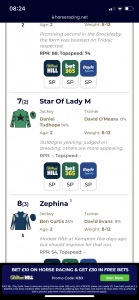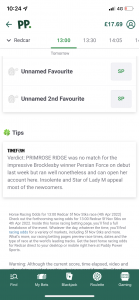 It was great to see our filly actually listed on the racecard, and it seemed she was not without a chance.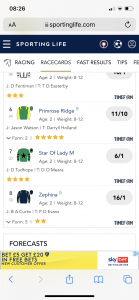 Its A Long Way….
So, we headed north to Redcar. I put a bet on at 17/2. I was a little disappointed to see that on the morning of the race she had drifted to 12/1. However, no one really had anything to go on, and her price quickly shortened. The favourite was very short at 1/2, and with her experience she was definitely the one to beat.
I'm not sure if you've ever been to Redcar, but it is a long way. We travelled for two and a half hours to get there, and when we arrived the course was not even open. Ten minutes after our arrival, they finally let us in. We walked past the winners enclosure, wondering or maybe hoping if we would be back there later. Any of the spots would do.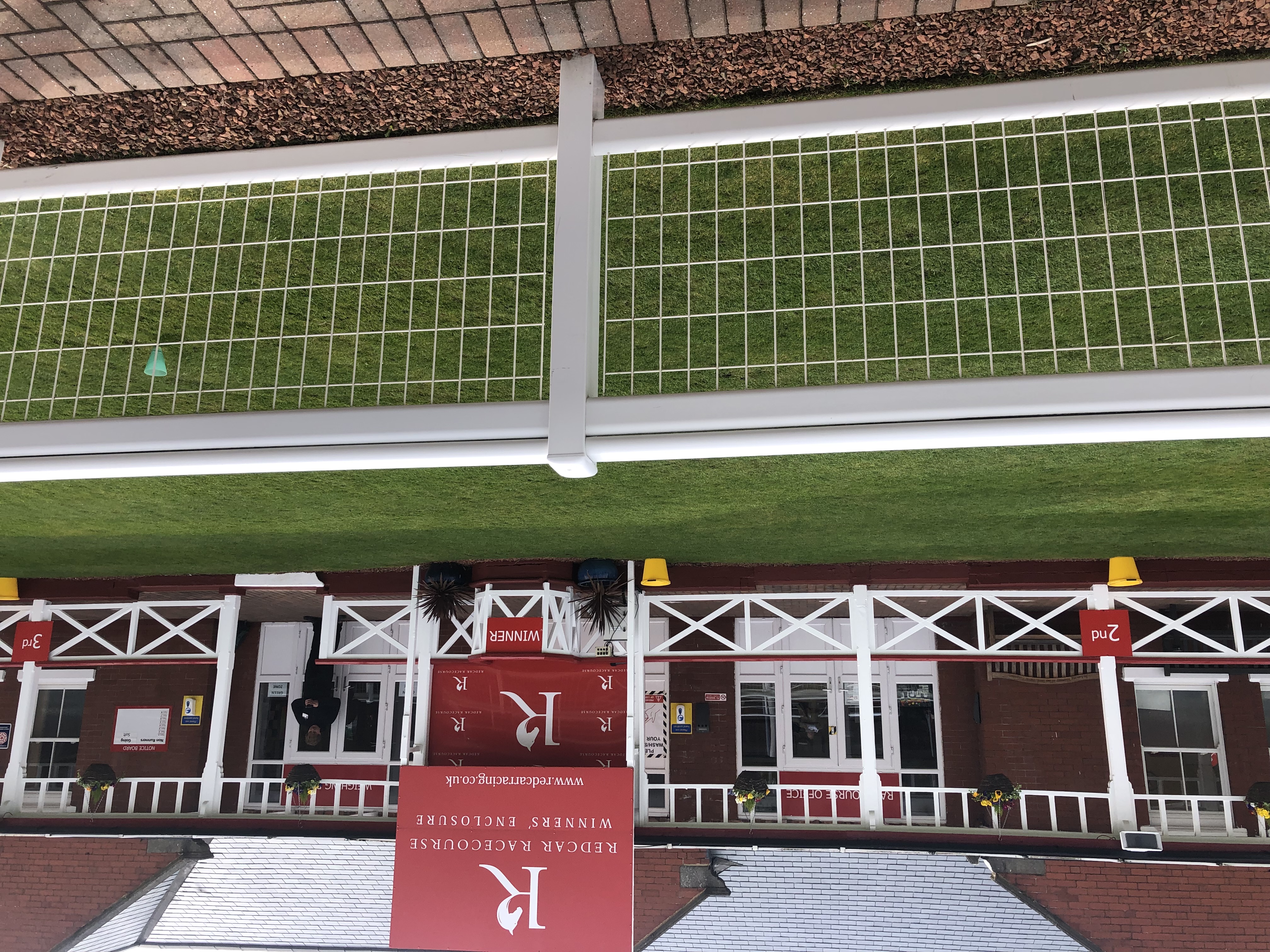 Looking out onto the racecourse, it was calm, tranquil, though there was a bit of a breeze blowing.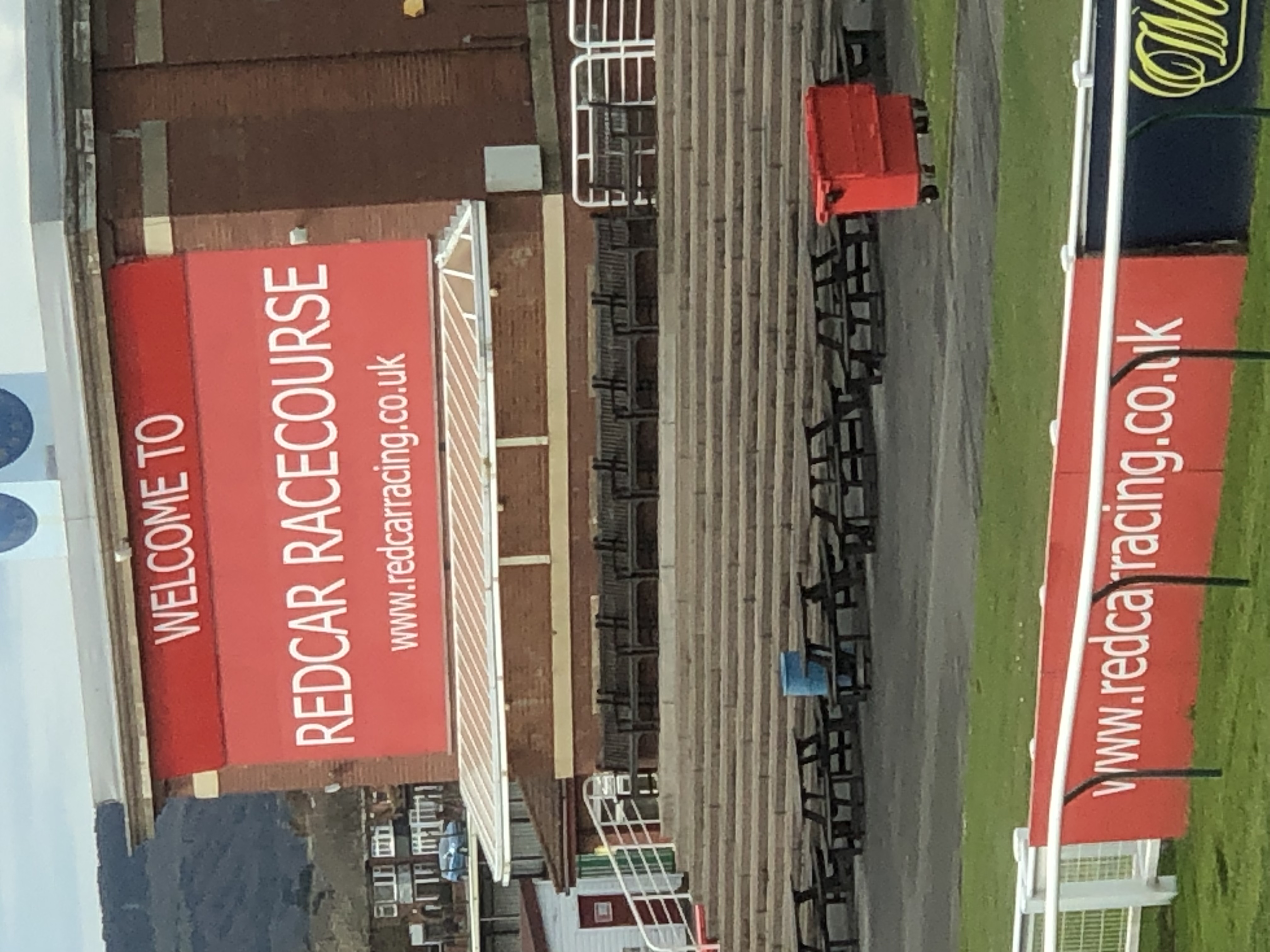 We found our way to the Owners & Trainers enclosure, and Sally and I were both quite nervous. Our girl's name was everywhere, which didn't help!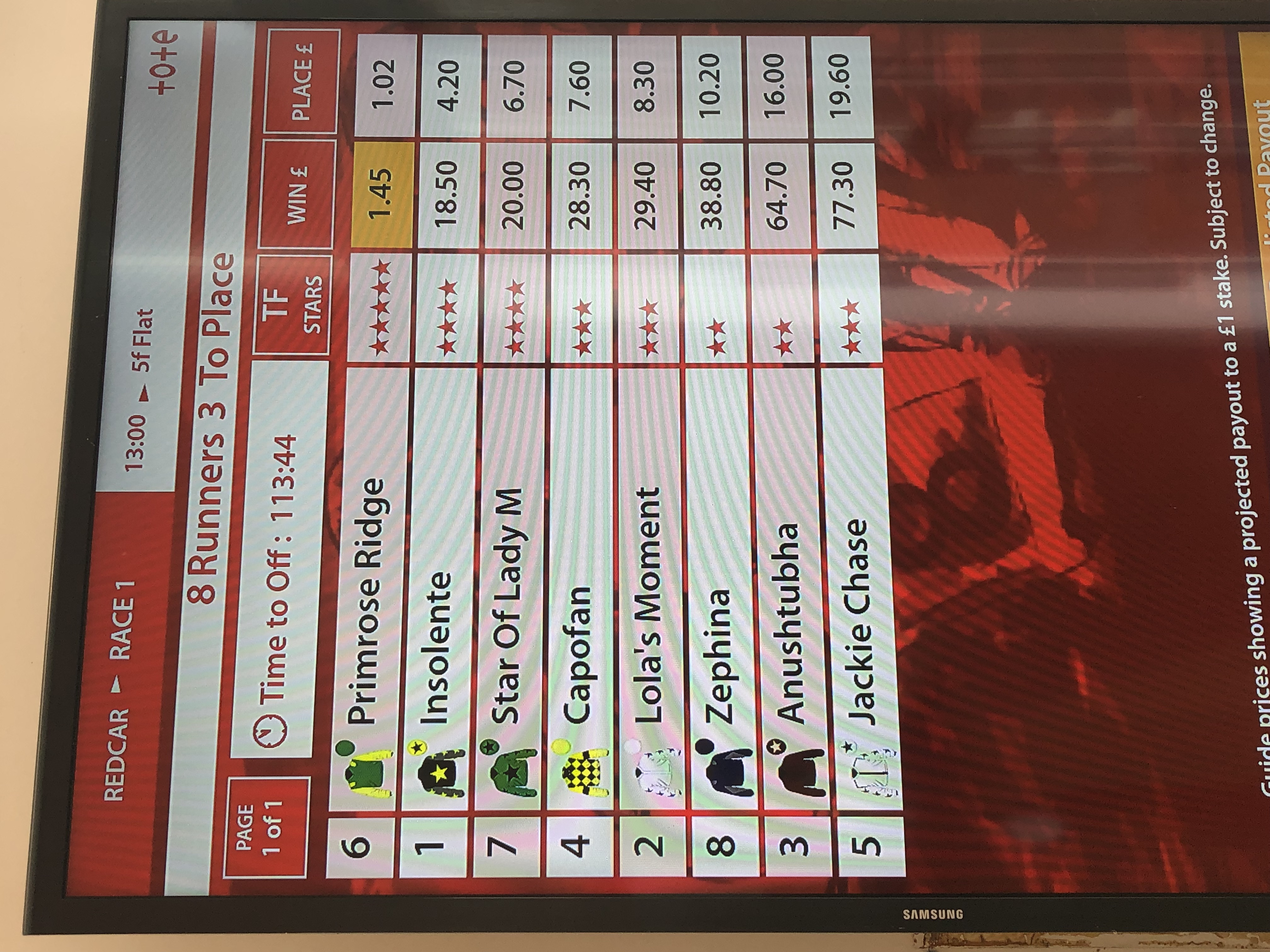 I spoke to assistant trainer Jason Kelly earlier in the day, He cautioned that inexperience might be our downfall. However, he assured us that jockey Danny Tudhope would give her an education. Our nervousness increased as the clock ticked around, but we met Tim Easterby and Tom Denham. They kept us occupied and took our minds off the race. Tim also had two running against us.
The Big Parade
Finally, it was time to go. We went to the parade ring where we met Charlie from the yard. I asked her what happened if we didn't finish in the first three. Did we just go home or would we see her afterwards?She said we could go back to the parade ring where the horse would be unsaddled. Danny came out looking resplendent in our emerald green and black starred colours. He told us that he hoped to cover her up behind the two horses that had raced previously.
Jason Watson, the other jockey associated with David O'Meara's stable, was on the favourite. I asked Danny if he had spoken to Jason about how good the favourite was. He had not, but Jason had asked him about our filly. Confidence grew, but only a little. Danny was calm, we were not. As she headed for the start we took up a position on the steps overlooking the finishing line.
They're Off
She went into the stalls with no problem, so step 1 was complete. She broke well enough, so step 2 was complete. The plan was abandoned when Primrose Ridge and Zephina went right. We were exposed, but up with the pace. The favourite led, but around two furlongs out Jason was hard at work. Danny moved Star Of Lady M up to challenge. He was going well. The expensive Insolente switched to the inside and looked a threat along the rail. Danny went in front. A head, a neck, half a length.
The angle was poor and it looked as though Insolente was gaining, but he was actually a length back. Primrose Ridge was beaten, Insolente was held, Zephina finished quickly but well behind. With 100 yards to go we had it sewn up. We both shouted "Go On Star", and then looked at each other in astonishment. We were close to tears. Our baby girl, purchased for just 15,000 guineas back in October, had won her first race, The winning prize was about £4,000, but she had also claimed a GBB bonus of £20,000 of which we got 65%. The yard, jockey, trainer and breeder also benefitted from this windfall.
She's Got It
We headed back to the parade ring where Tim Easterby commented that we had a nice filly. He also pointed out that we were in the wrong place. We should have been in the winner's enclosure. We were still in a dream. Charlie collected us and led us to the place reserved for the winner, where Danny had just dismounted. It was clear that he loved the horse, giving her reassurance before and after the race. It was also clear that she responded to him. The next 20 minutes was a bit of a blur. Sally had already had a selfie with Danny in the parade ring (of course), but now lenses were clicking and microphones appeared from nowhere. We gave our details, and then we were invited inside for a review of the race and a glass of champagne.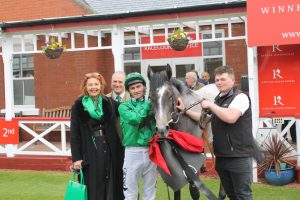 Lady M topped the day off by sitting here…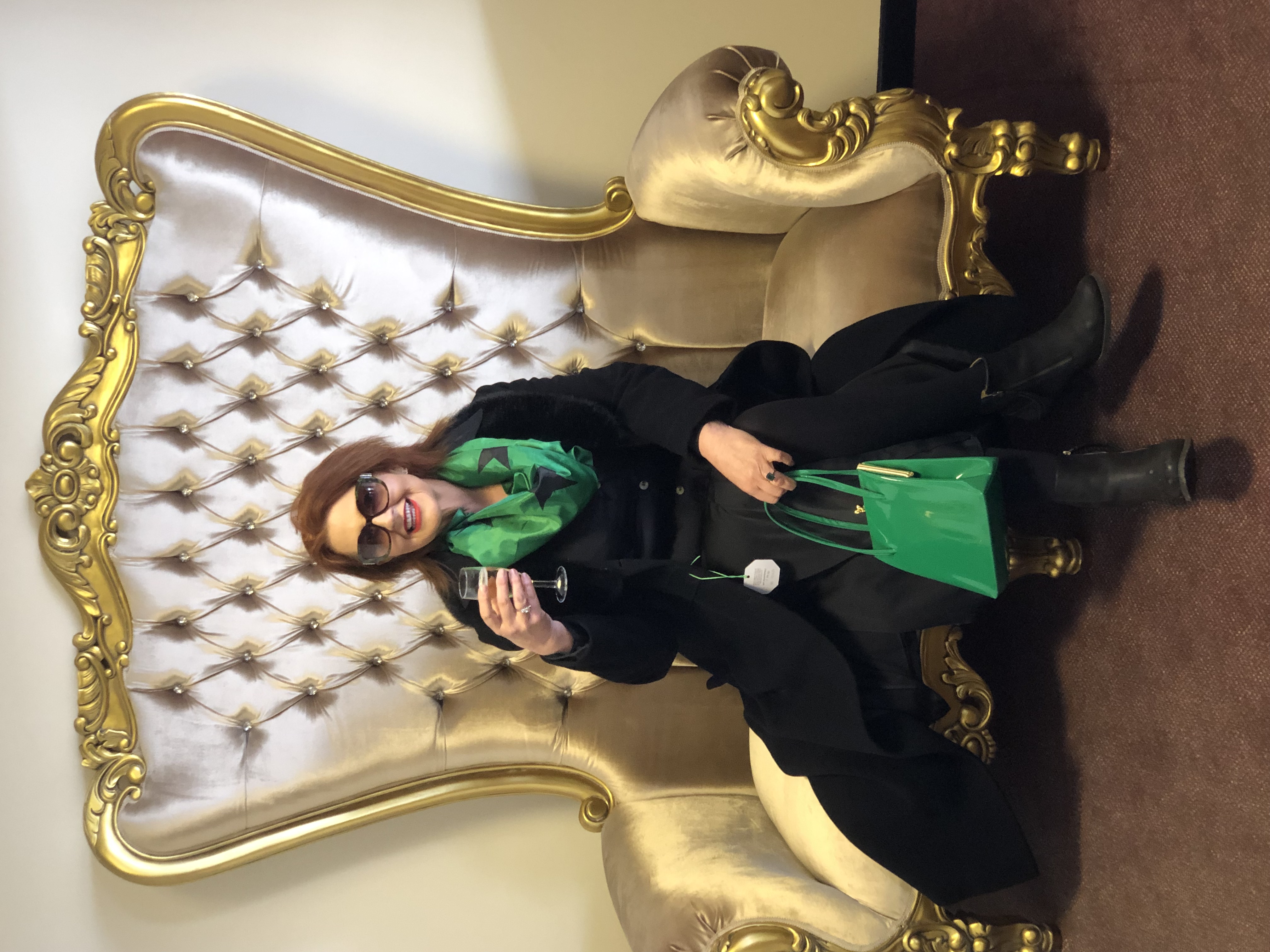 Redcar gave us a USB stick containing the race (that is now well worn out!)
They also provided a memento of the day, and kept everything safe for us until it was time to go home.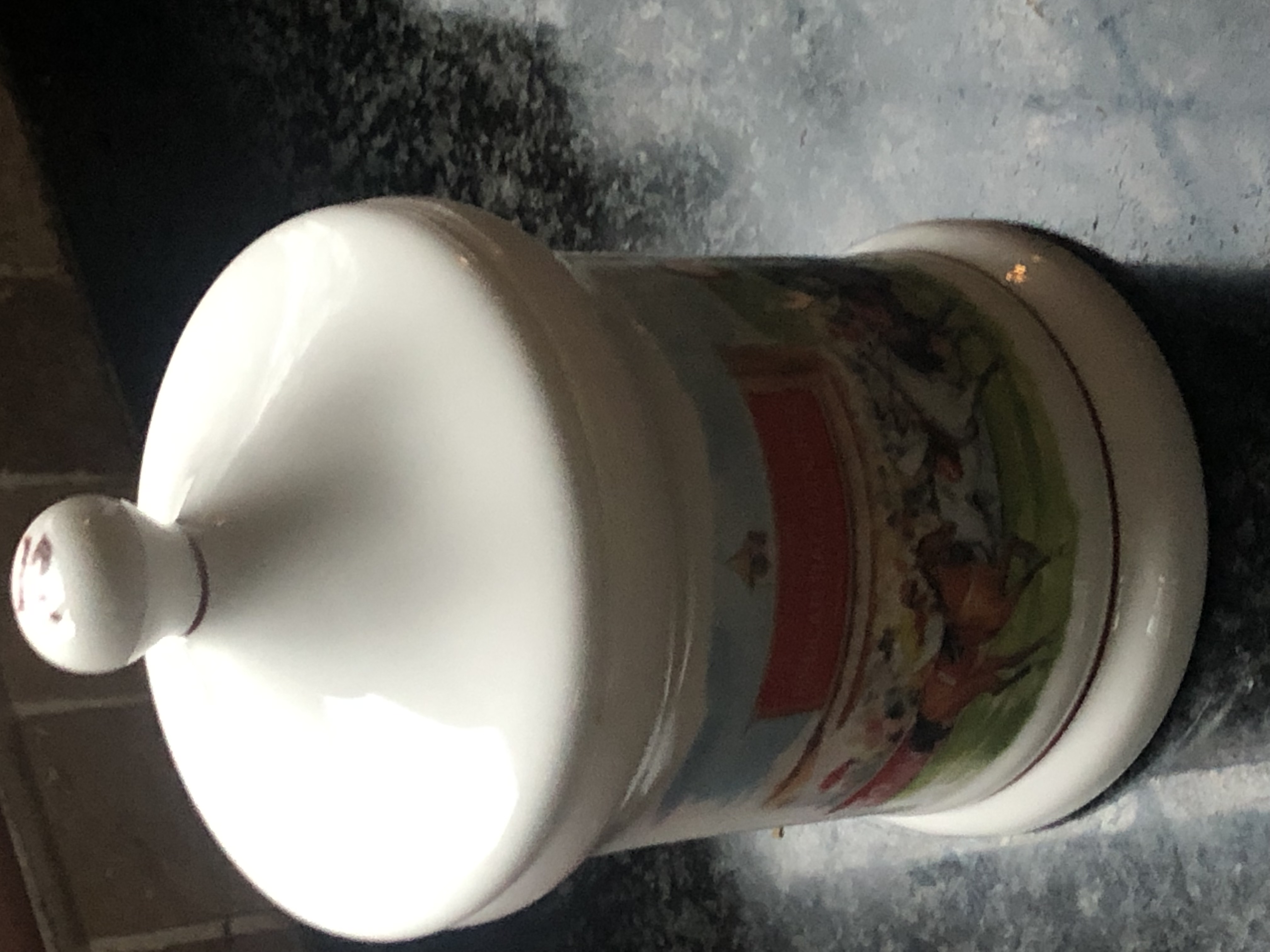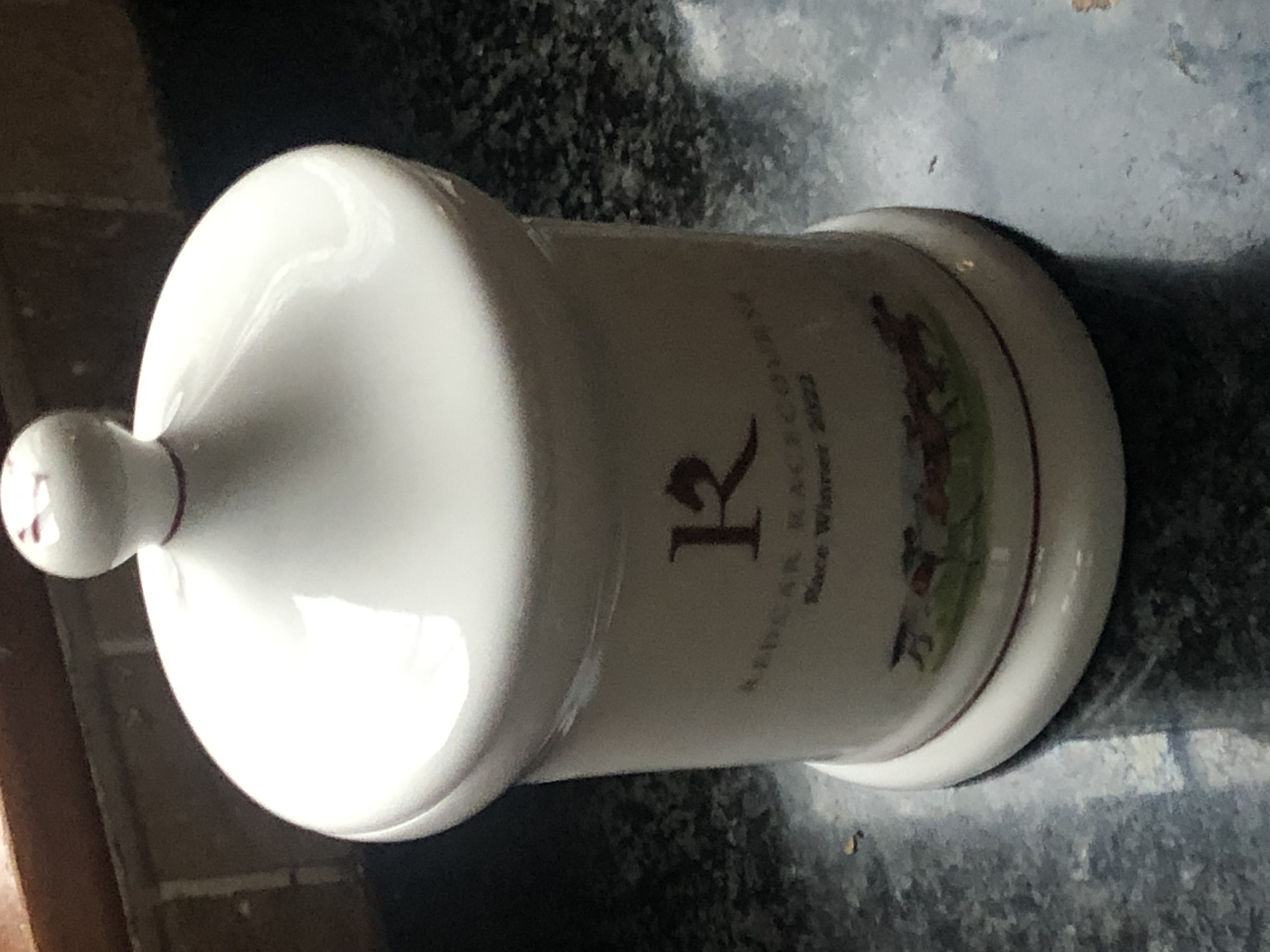 Heads In A Spin
We sat outside, oblivious to the biting wind, and contemplated what had happened. Our phones exploded with messages of congratulations, and then they started ringing. Luke Lillingston (our friend and bloodstock agent) was first up – we had originally asked him to buy us a racehorse. Nine days into the season she had already won. Richard Kent, breeder and co-owner of Emerald Duchess, was thrilled for us.
My favourite Tweet was this one…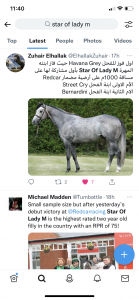 The rest of the day's racing was somewhat irrelevant. We couldn't really get into it. Danny rode another winner for David O'Meara, and I backed him when he came second on another O'Meara horse, but we decided to head home. We celebrated with a few beers in the Drum & Monkey, and looked forward to our next outing.
She was officially rated as 51 on TopSpeed with a Racing Post Rating (RPR) of 75, so at that moment in time she was the highest rated 2yo filly in the country!
Whatever Next?
The plan was to go to Beverley on 21st April, a week after our return from holiday. She would have to carry a 7lb penalty for her victory, but that's life. However, the stable had a back up plan. Ripon on 14th was not ideal, the day we travelled back from the Dominican Republic, but she would only have a 4lb penalty and the race looked like it would cut up to just a handful of runners. The going was described as "Heavy", not ideal, and so another backup plan, at Lingfield on 16th April, was put in place.
By the time declarations were made, 48 hours before the Ripon race, two things had happened. Firstly, the going was changed to "Soft", which is the same as at Redcar, and secondly the race was reduced to six runners. Two of them ran in the Brocklesby, finishing 6th and 8th, and as we had already beaten the runner up we should have been confident. There were also three unraced horses, and soon after one of these was listed as a non runner. My two nephews represented us at the course, and had an absolutely fabulous day out. Paul took his partner's father Neil, whilst Jake took fiancee Aimee, and it was an unbelievable experience, meeting the horse, chatting to the jockey, and enjoying the privileges of the Owners & Trainers area.
Lounging Around
We landed at Paris and were in the lounge in good time for the race. British bookmakers do not allow live streaming of races outside the UK, and Sky Go is not available in France, so we searched for another feed. I found William Hill TV, and we settled in to count down the 45 minutes until the race. Jason Kelly called and said we would try to start quickly, but Beach Breeze (8th in the Brocklesby), was drawn on the rail and would likely lead. The plan was to track her and make our move from half way.
Unlike at Redcar she was a hot favourite, as short as 4/7 in places, and the pundits were all over her.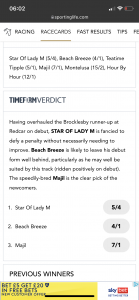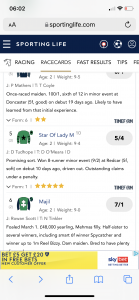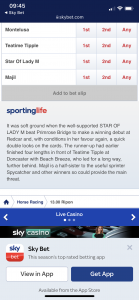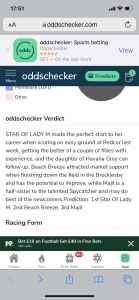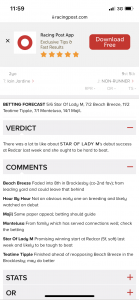 She drifted in the betting, but we were still confident, and she looked well in the parade ring.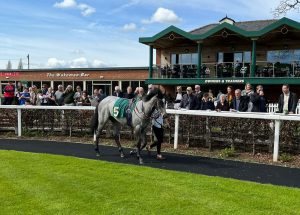 At the post we had a major concern as Danny Tudhope was off her back and trying to tighten her saddle. Two stall handlers tried to calm her, but she was getting agitated. Fortunately the situation was resolved, and although she was looking around she was led calmly into the stalls.
A Walk In The Park
Moments later they were off, and as predicted Beach Breeze took the lead along the rail. The two newcomers were hopelessly outpaced, one of them lost about 8 lengths at the start. Teatime Tipple (6th in the Brocklesby) was under pressure early, and Star Of Lady M raced on the shoulder of the leader. By half way the leader was under strong driving and we were cruising. Danny let out a little bit of rein and she pressed on, taking the lead and soon going clear. She was never asked a serious question and won by an easy 3 1/2 lengths.
The airport lounge soon knew about it, and once again the phone started ringing. Luke, of course, and then Jason. Marygate was on everyone's mind. This is a class 1 listed race at York in May, a huge step up in class, but she deserves her chance. Her TopSpeed rating was announced as 80, a huge increase from 51, and her RPR was 84, up from 75. She was now officially rated better than her mother!
The first three in the last running of the Marygate were rated 68, 77 and 81 before the race!
Richard Kent was more ambitious, expecting us to get calls from California to get her racing over there!
As for Star herself, she was just fine!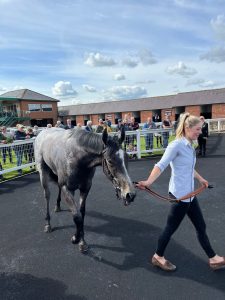 Beverley tweeted that she looked an ideal horse for their showpiece Hilary Needler race. York came back and suggested the Marygate was first. Star Of Lady M was in demand!
When we got back to Whaley Bridge it was off to the Drum again for drinks, and as the following 48 hours unfolded we were happy to learn that she was safe and sound and almost certainly en route to the Marygate!
My nephews returned from Ripon and handed over a nice picture, USB recording of the race, racecard, and another memento, this time a plate.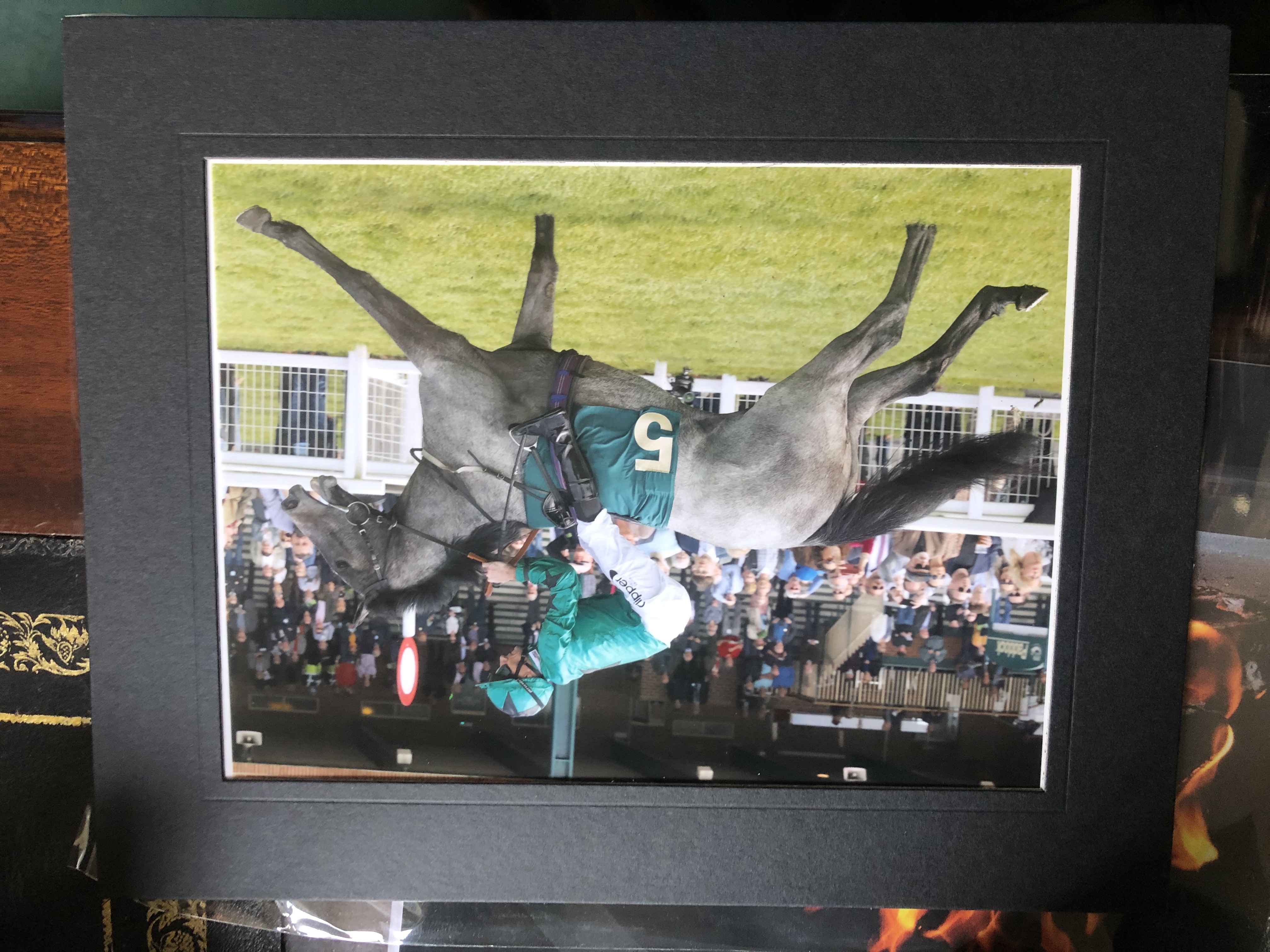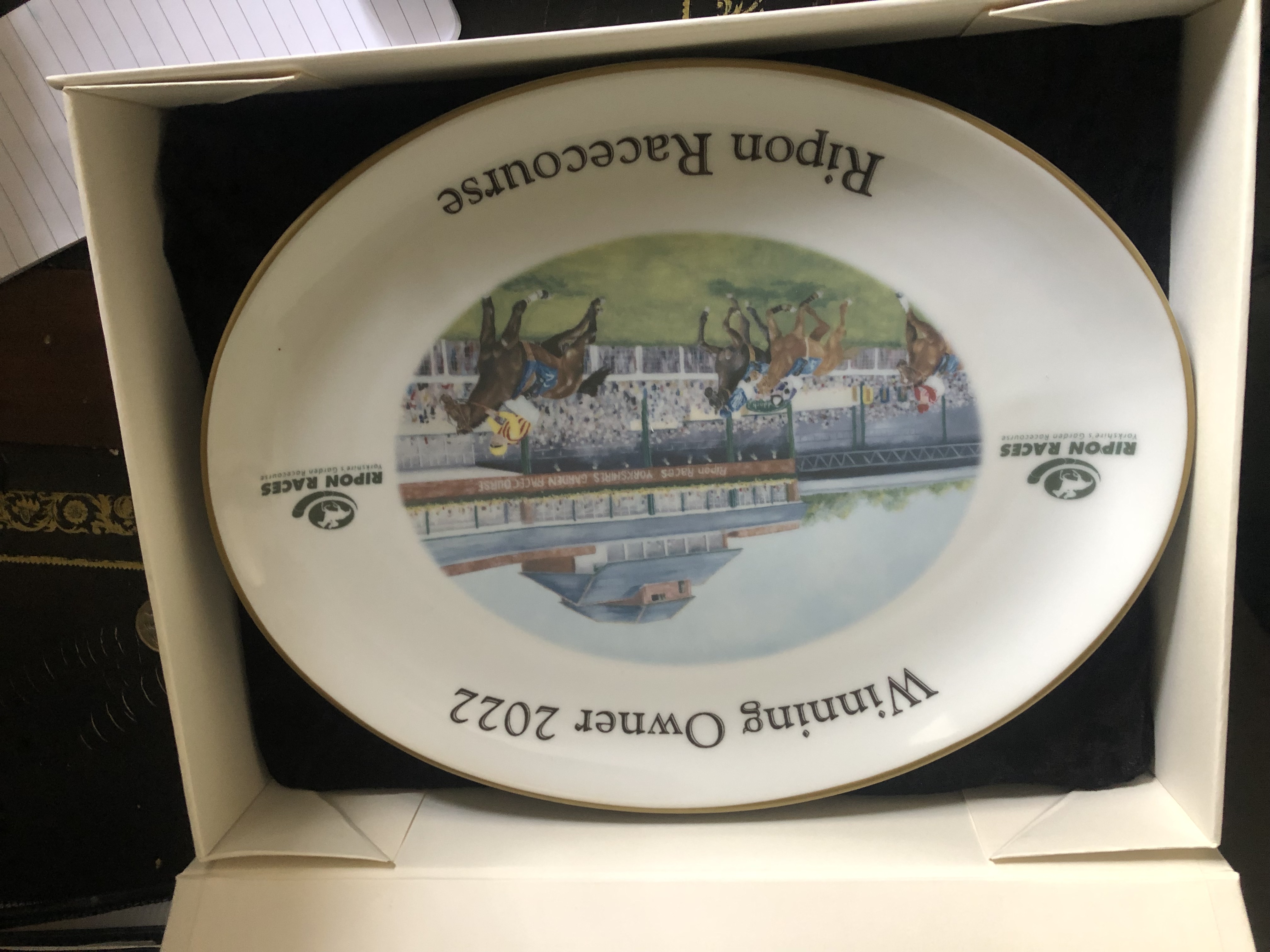 Waiting For The Duchess
Regular readers will know that we also have a syndicated filly, Emerald Duchess, at Tim Easterby's, and she is yet to see the racetrack.
She suffered from sore shins, but we got two clips of her that show she is progressing. We will visit her in late April, and hope to see her racing soon.
Emerald Duchess is part owned by Richard Kent at Mickley stud, and Richard invited us to have a look round the stud farm. We travelled down to Market Drayton in Shropshire, and Sally was thrilled to see all of the foals and mares on display. We also got a glimpse of a very lazy looking Massaat, the sire of Emerald Duchess.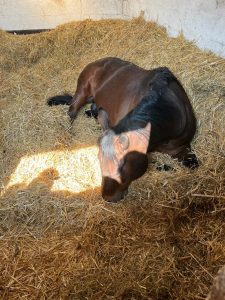 He wasn't so lazy a short time later, when he had to perform in the covering barn. We happened to be passing by at the time, and Sally decided to video the whole episode. Massaat was very professional and efficient, with the whole act being concluded in about sixty seconds.
We thanked Richard for his hospitality and left for home. Sally called Zac down and asked, "Do you want to see Emerald Duchess's father perform?" Zac traipsed down the stairs and asked, "What do you mean?" so Sally showed him the video. He was horrified. "I did not come downstairs just to watch horse porn," he said, and returned to the sanctity of his bedroom.
Enter The Lady!
And with all of this horsey info – we had better not forget the lovely Nancy. Here she is with Sally galloping away with Chatsworth in the background.
Shop Local!
In the last edition you will have seen that I went to Wythenshawe Park and bought some rather expensive local honey. In the same shop I noticed "Mrs Darlington's" preserves, a selection of jams, chutneys and curds that were stocked in the local farm shop and marketed as local produce. More recently I went to Bakewell, and bought a local Bakewell Pudding (same ingredients but quite different to the Bakewell Tart).
In the same local shop guess what else was on sale? "Mrs Darlington's" preserves. Now, I am sure that Mrs Darlington's produce is flavourful, but local to Bakewell and Wythenshawe it is not. Its from Crewe! I suppose its about the same as Chatsworth Farm Shop suggesting that all of their "local" produce is actually grown on the farm!
Its Been A Long Time
Its seems a long time ago since we went to Spain (August 2021), and even longer since we went long haul, so we were mightily relieved to finally get away to the Dominican Republic. We upgraded to Business Class with Air France, though someone forgot to tell Air France what "Business Class" actually entails.
For the previous few weeks I had been getting government updates for travel to France and the Dominican Republic, but none of them seemed to specifically refer to "Transit", so I interpreted them as best I could! Turns out I had more documentation than I actually needed, but better safe than sorry.
There were horror stories related to Manchester Airport, particularly four hour queues at security. I had dropped off a family friend at the airport the previous weekend so I knew that these stories were true! So, we arrived there at 3.30am for a 6am flight. There were check in queues, mainly for bag drop, but security looked deserted. We joined the Sky Priority bag drop queue from Air France, and although there were only about a dozen people in front of us, it took well over an hour to drop our bags and collect our boarding cards.
Covid Crisis
We also had to demonstrate our covid status, and as Sally could not download hers. She had not enabled face recognition and there was no Wifi available at the check in desk. This added another ten minutes onto the whole process. Note to Air France – when queues build up you need to be able to open more priority desks, which they eventually did after an hour.
We cruised through security, except, of course, for the obligatory search of Sally's bag. This time she claimed it was just a random drugs search and swab, but Ole, Zac and myself shook our heads! It was now 5.30 and we exited security through the duty free shop (why does every airport take you through the duty free shop?). We didn't even have time for the lounge, but Sally edged towards Jo Malone. "The display doesn't say Flounce Off To Duty Free,  it actually says Go To Gate," I pointed out, and we headed for the plane.
The flight was late taking off, mainly due to waiting for passengers to get through the Air France check in process, but we had a layover of 4 hours at Charles De Gaulle airport and so were not too concerned.
Non Madame
On the long haul flight the crew came round asking for our choices for lunch. Although Sally was one of the first to be asked, she was told that they had no beef. She didn't want anything else, so the stewardess went away to see what she could do. A few minutes later she came back and effectively said that Sally could have her beef and she would have something else.
Now this is wrong on so many levels, for instance, why make a passenger feel like you are taking the food off someone's plate, and why are the crew reserving their meals before Business Class passengers. The Air France offering included ewe's milk cheese tart and cucumber juice, but it was ok. Not a patch on KLM, but at least with Air France we had good seats and rest areas.
They offered us champagne, water or orange juice prior to take off, at which point Zac requested a vodka and lemonade. They made him wait for that!
Arriving in Punta Cana we would normally expect Business Class passengers to disembark first, but not with Air France. They positioned the air bridge over the second door, and then we waited for the next cabin load of passengers to get off before we could.
Paradise Found
Our bags arrived promptly, and we negotiated the zoo that is the Punta Cana arrivals hall before picking up our transfer. Forty five minutes later we arrived at the beautiful Zoetry Agua Punta Cana resort, and our troubles seemed to melt away.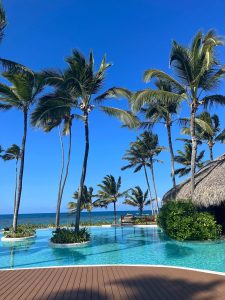 The first morning we were up early, like 5am early. After a quick coffee we strolled along the beach and watched the sun rise. Later in the day we discovered that there was a coral reef just off the beach which meant that snorkelling was within easy reach. The activities included yoga, Spanish lessons, aqua gym and evening entertainment. Ole and Sally made the most of these, I did not.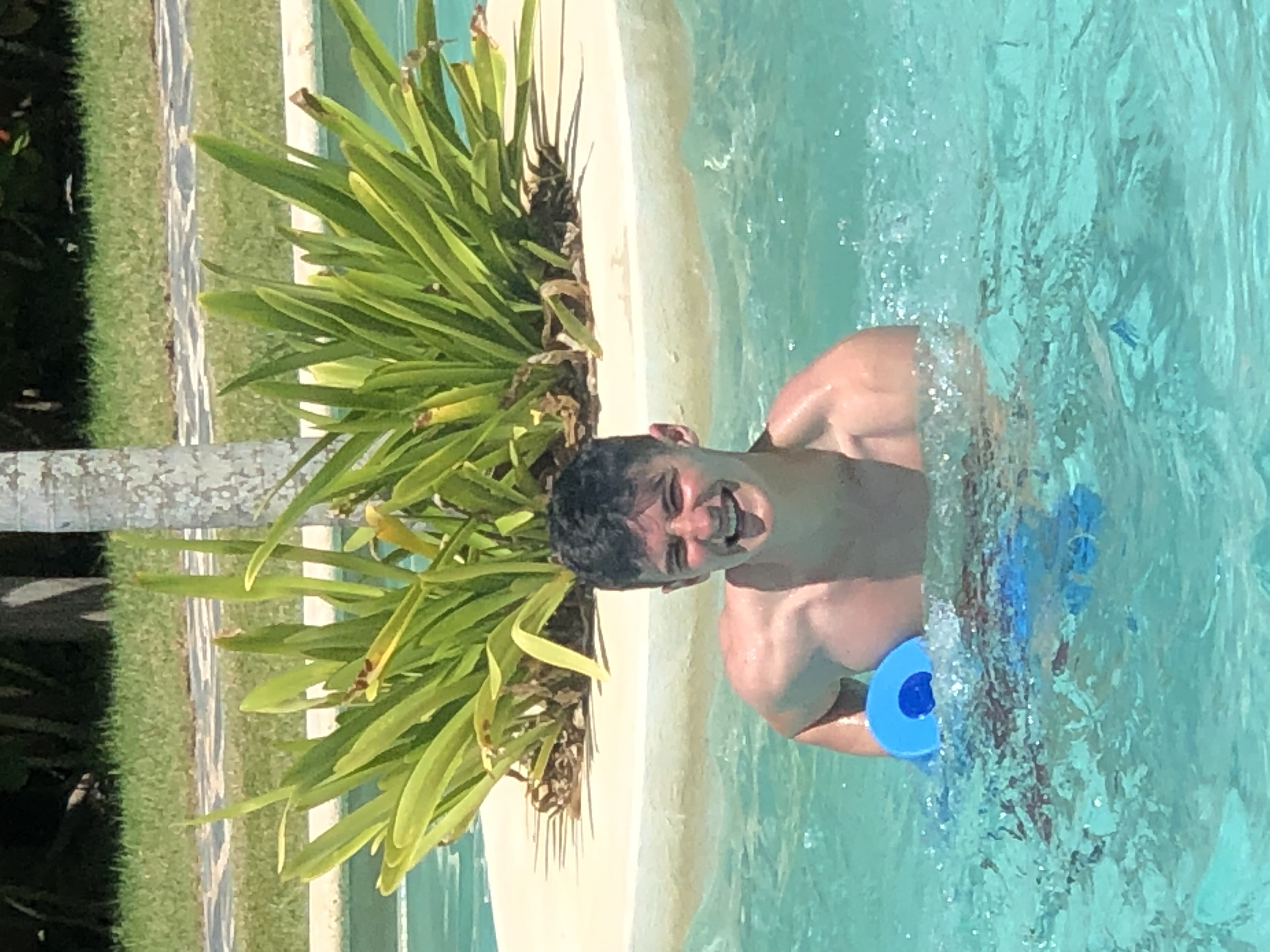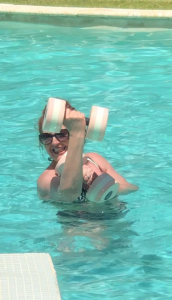 The following day our early morning beach stroll was interrupted by a security guard who wanted to know our room number so that he could account for everyone leaving the resort, as well as returning. Where were you at 5am yesterday? I thought to myself.
Fish Food
We saw a local guy catching fish from the beach, but he got a bit too close to one of them and got bitten. The blood poured out, and he had to rip up his t-shirt to stem the flow. We explained this to the boys, but it did not deter them from entering the ocean. They snorkelled quite far out, and when Ole told Zac that he thought he had seen a barracuda, Zac did not ask any questions. He turned to the shore and motored as fast as he could to the safety of dry land.
Zac spent a lot of his time studying, with exams straight after the Easter holidays. However, he did try a lot of new foods, including rice wrapped in vine leaves, and chicken wings that became his staple lunchtime protein. He was promised lobster, but none of the restaurants had it on the menu. Apparently it was the wrong time as it was the breeding season and quotas were reduced.
So, we asked our concierge for a taxi to Castaways, a local beach restaurant that advertised grilled lobster. This was arranged, but before that he also managed to get one of the restaurants to prepare lobster just for us. This was very much appreciated, and delicious, but we decided to head for Castaways the following day anyway.
Desert Island Security
The taxi picked us up and drove us a few miles down the coast. Castaways is on the beach inside a gated community full of apartments and villas, so the taxi had to stop at the gate. I was a bit surprised when paperwork had to be completed, but we were soon on our way. The driver gave us his card, and passed some paperwork to the restaurant. We ordered several starters, grilled lobster, mahi mahi, local beers, and finished it off with key lime pie (not as good as mine!)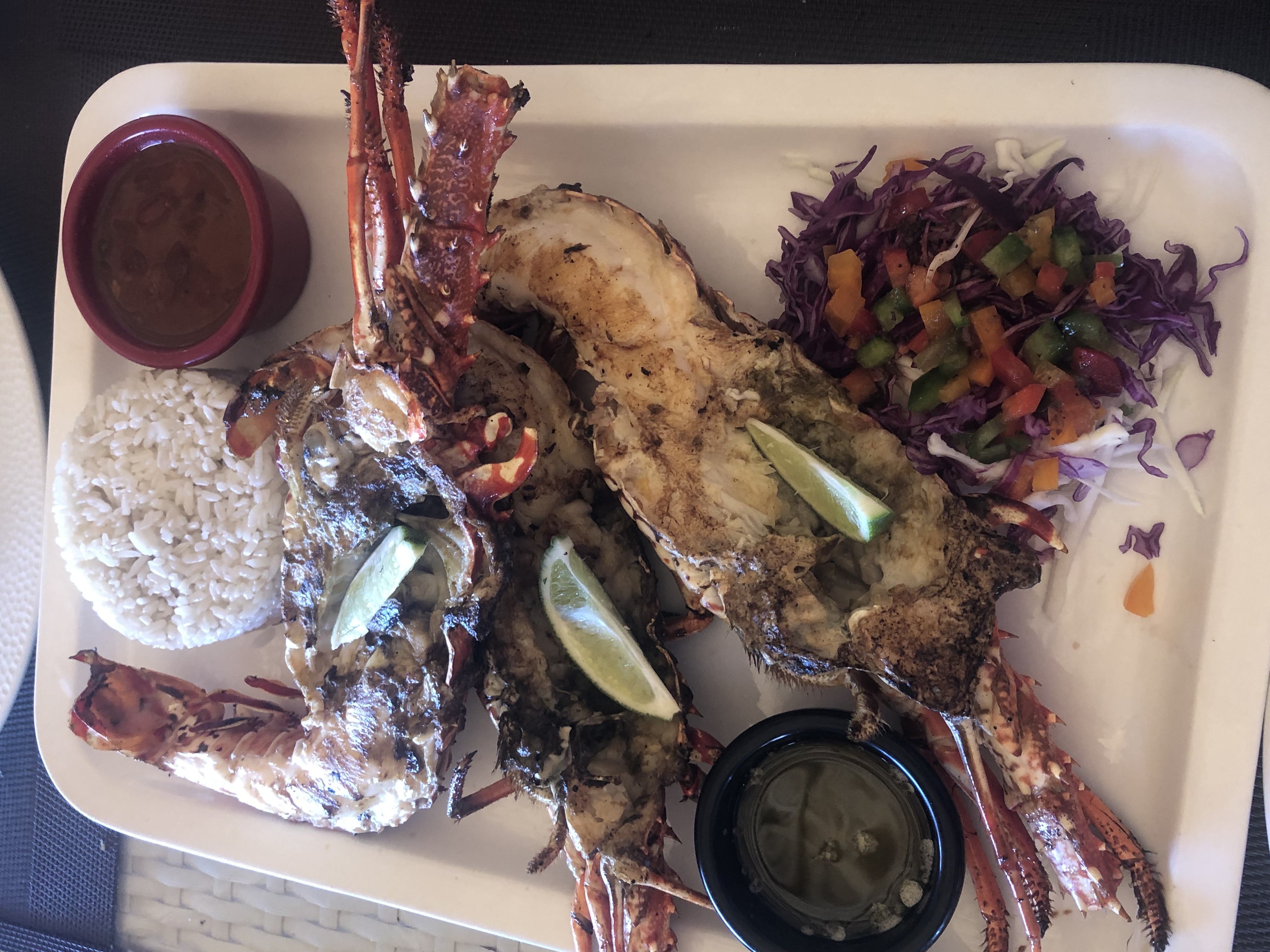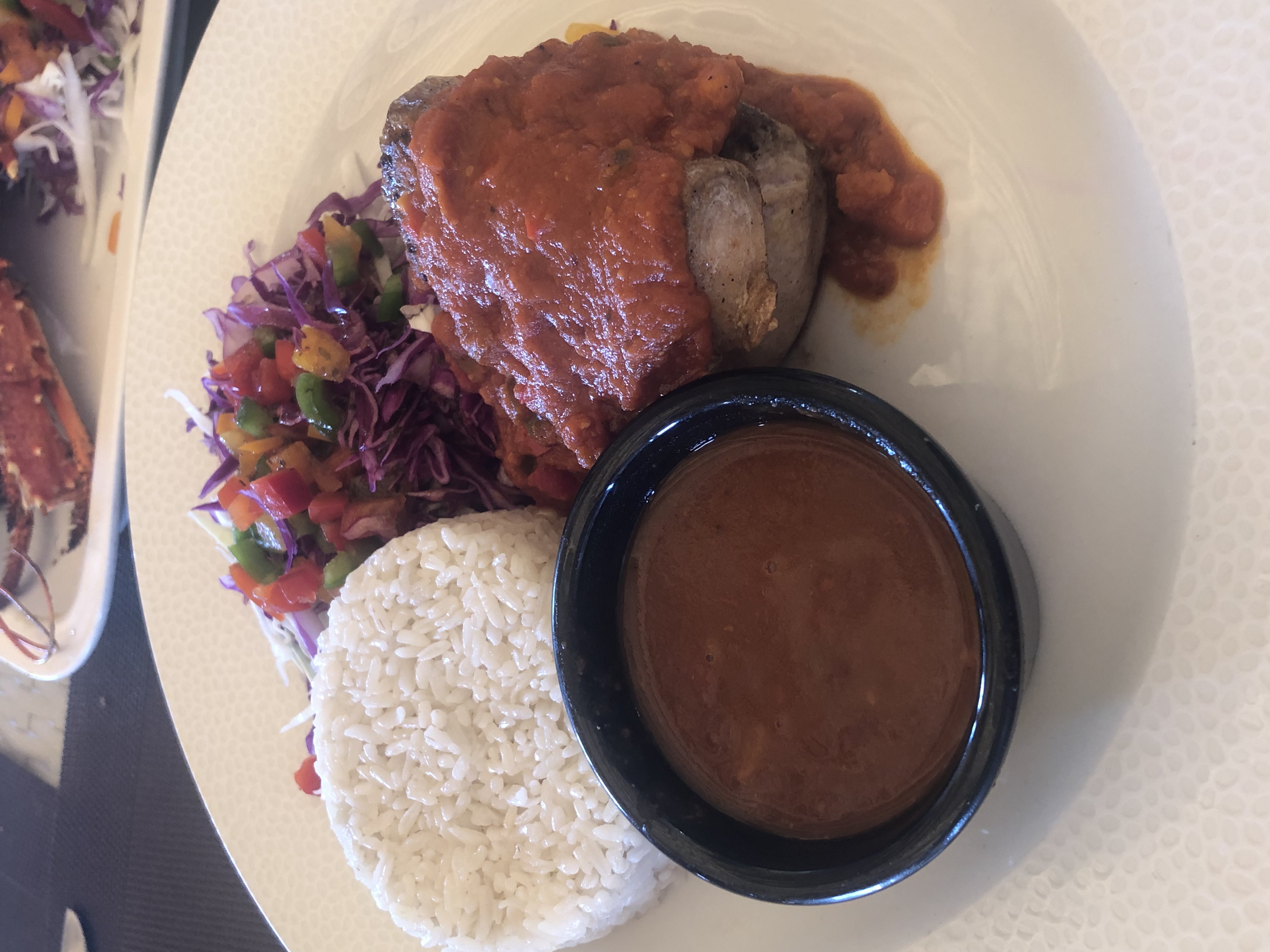 It was a peaceful setting on the beach, a very relaxing atmosphere, and the staff seemed to be genuinely Caribbean. Then, the staff called our driver who needed more paperwork. The restaurant had to sign to say we had visited them, we had to pass that to the driver, and he had to hand it in on the way out of the gate. It was all very over the top, and would probably put me off ever going to the Dominican Republic again.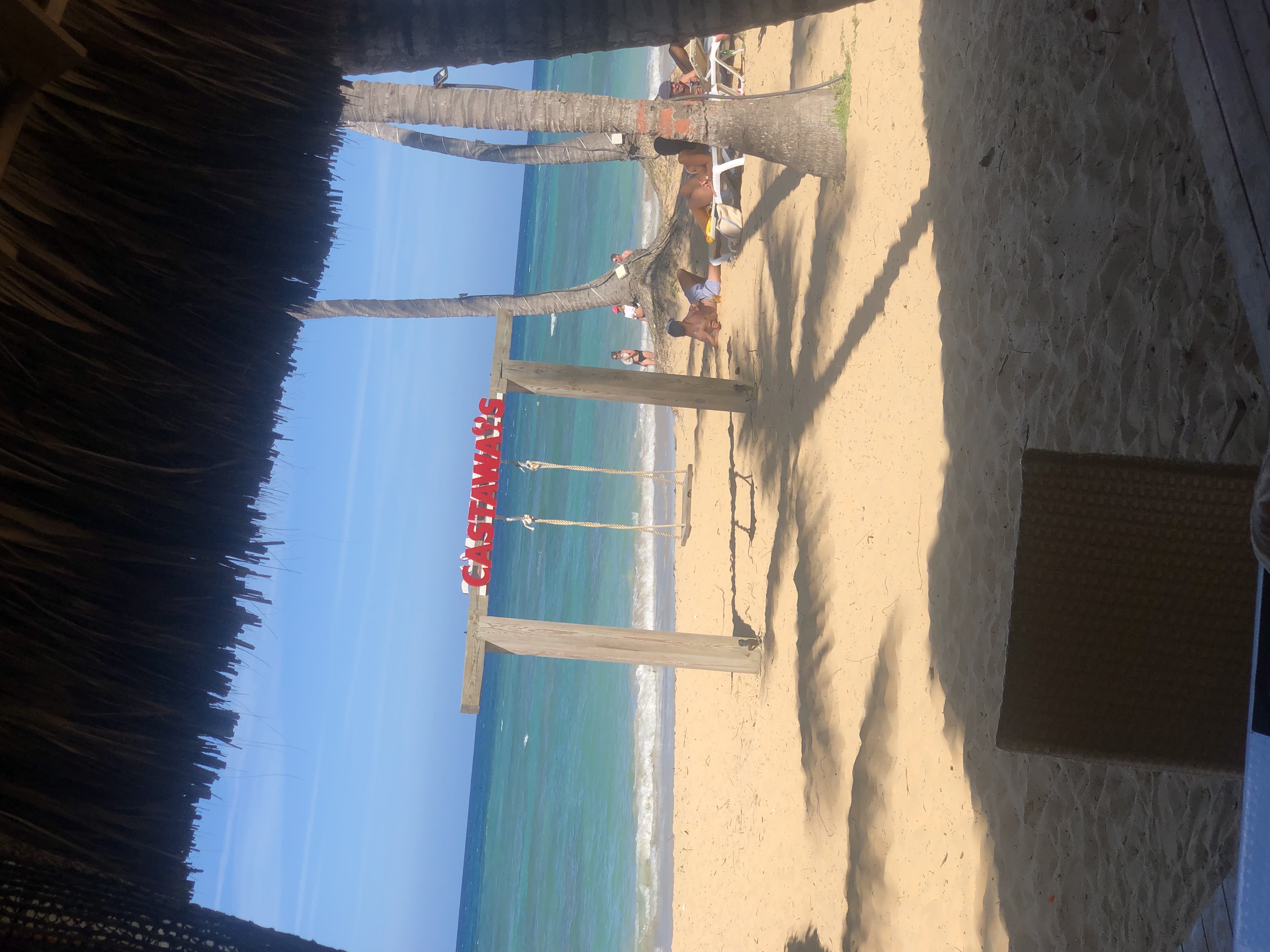 Delayed
Our return took us via Santo Domingo, adding a couple of hours onto the journey, but that at least meant we would catch the race at Paris. The whole process of pick up, check in, security and passport control was very good, and we were soon chilled in the lounge. Zac went to Pizza Hut! At Manchester there were lots of e-gates open, we cruised through and had to wait all of five minutes for our bags. In fact, the biggest delay was waiting to turn right off the A555 at High Lane!
Culinary Creations
In the kitchen I have been very busy, with St Patrick's Day creating a flurry of activity. I made potato farls, boiled ham and cabbage, St Patrick's Day cake and a new venture, bread and butter pudding with Irish Whiskey custard. That was very heady, and should always be followed by a lie down.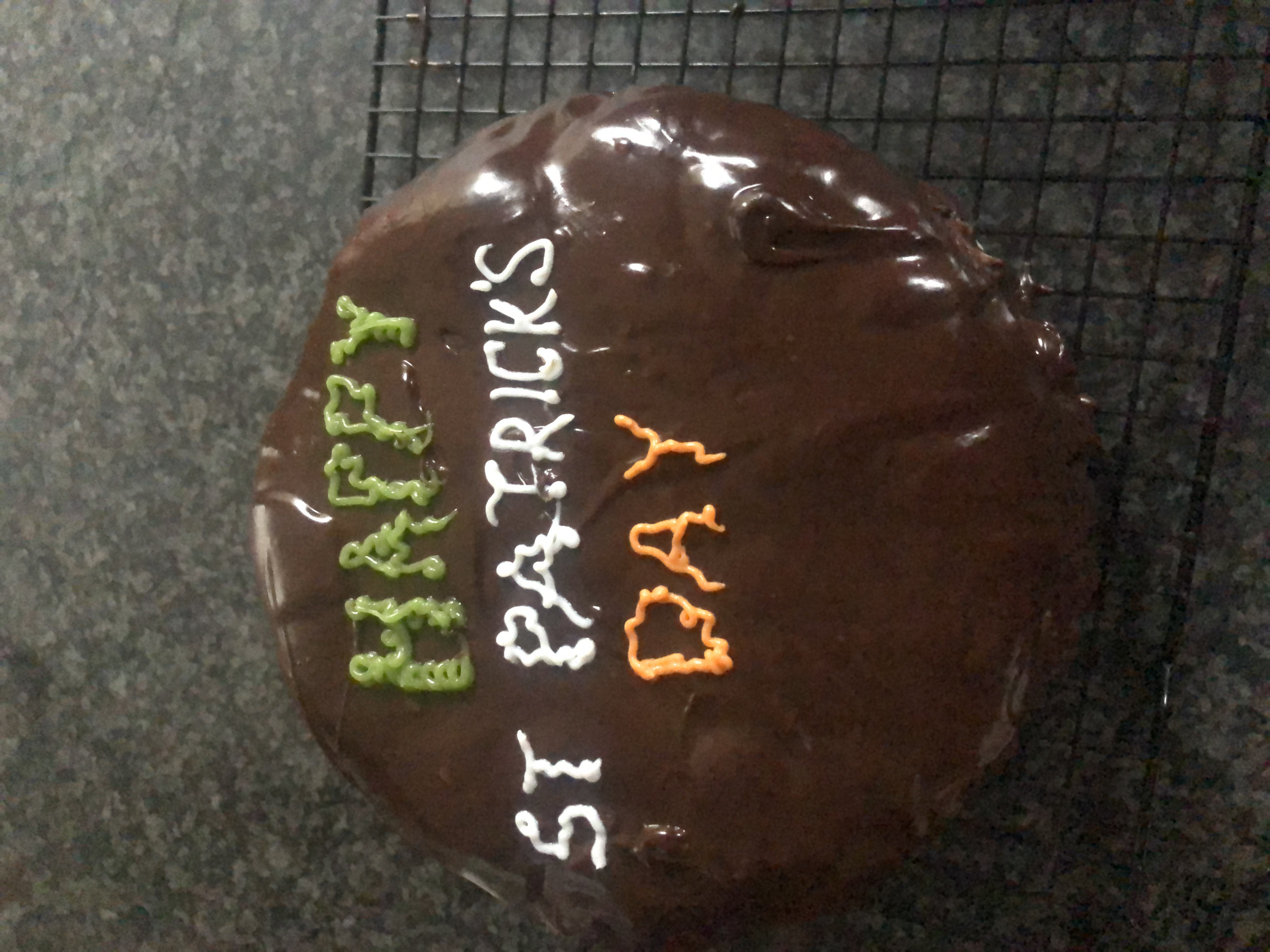 The clay oven has been in constant use, with pizzas and chicken high on the agenda, but as we approach spring, and because the Irish Whiskey custard left me with a lot of unused egg whites, I also made a meringue with fresh fruit.
Fire!
In the garden I have been digging up some shrubs and replacing them with laurels to create a natural hedge. One of them was a real bastard to extract, causing me to break one of the tines off a garden fork. When I chopped into it the inside was bright yellow, clearly toxic and we are well rid of it!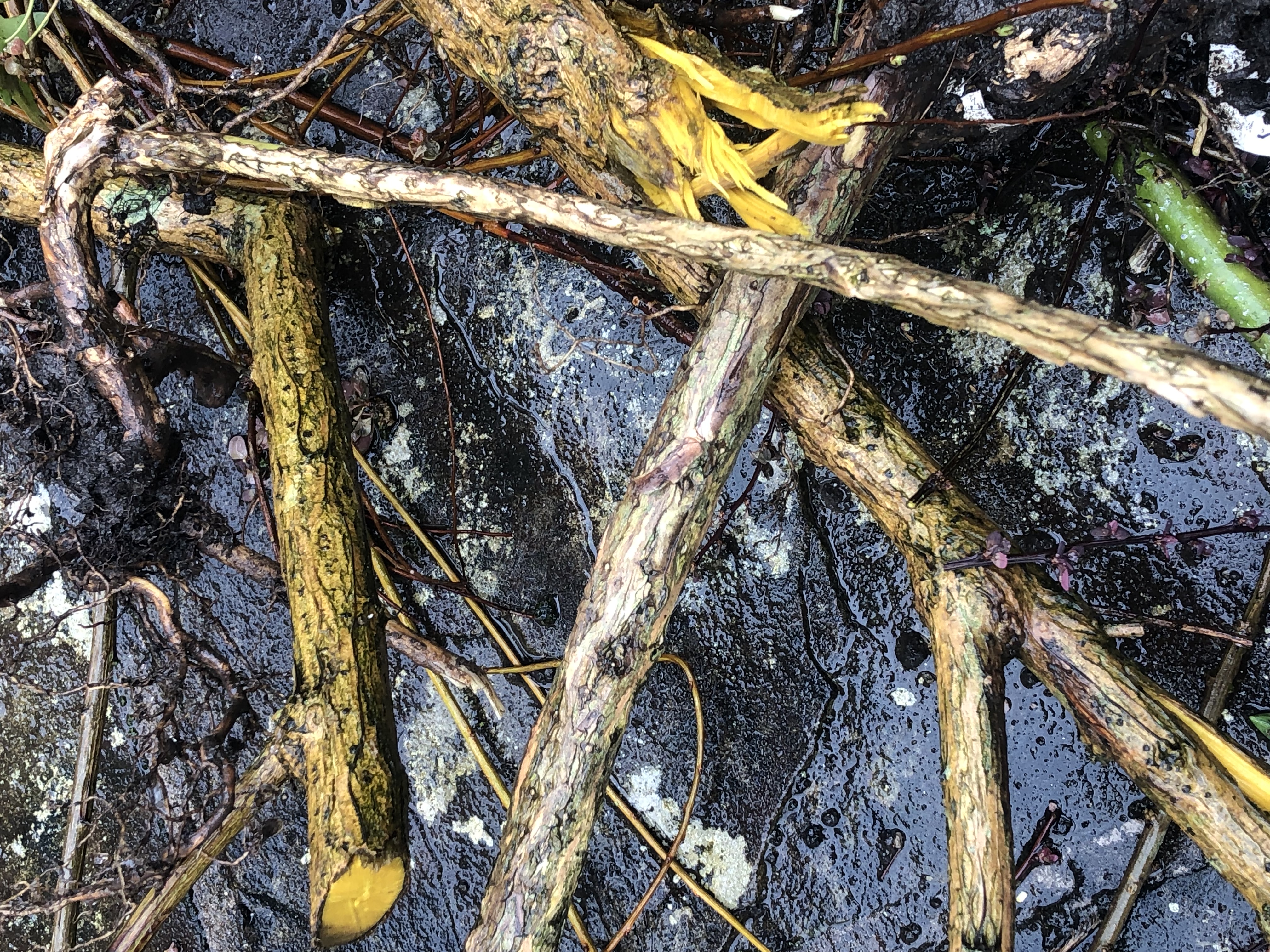 Elsewhere, we cleared out the fire pit, and as our neighbours were getting rid of a garden shed I decided on a bonfire. It went up like a dream, and generated such heat that it shattered several of the rocks around the pit. It was worth it though.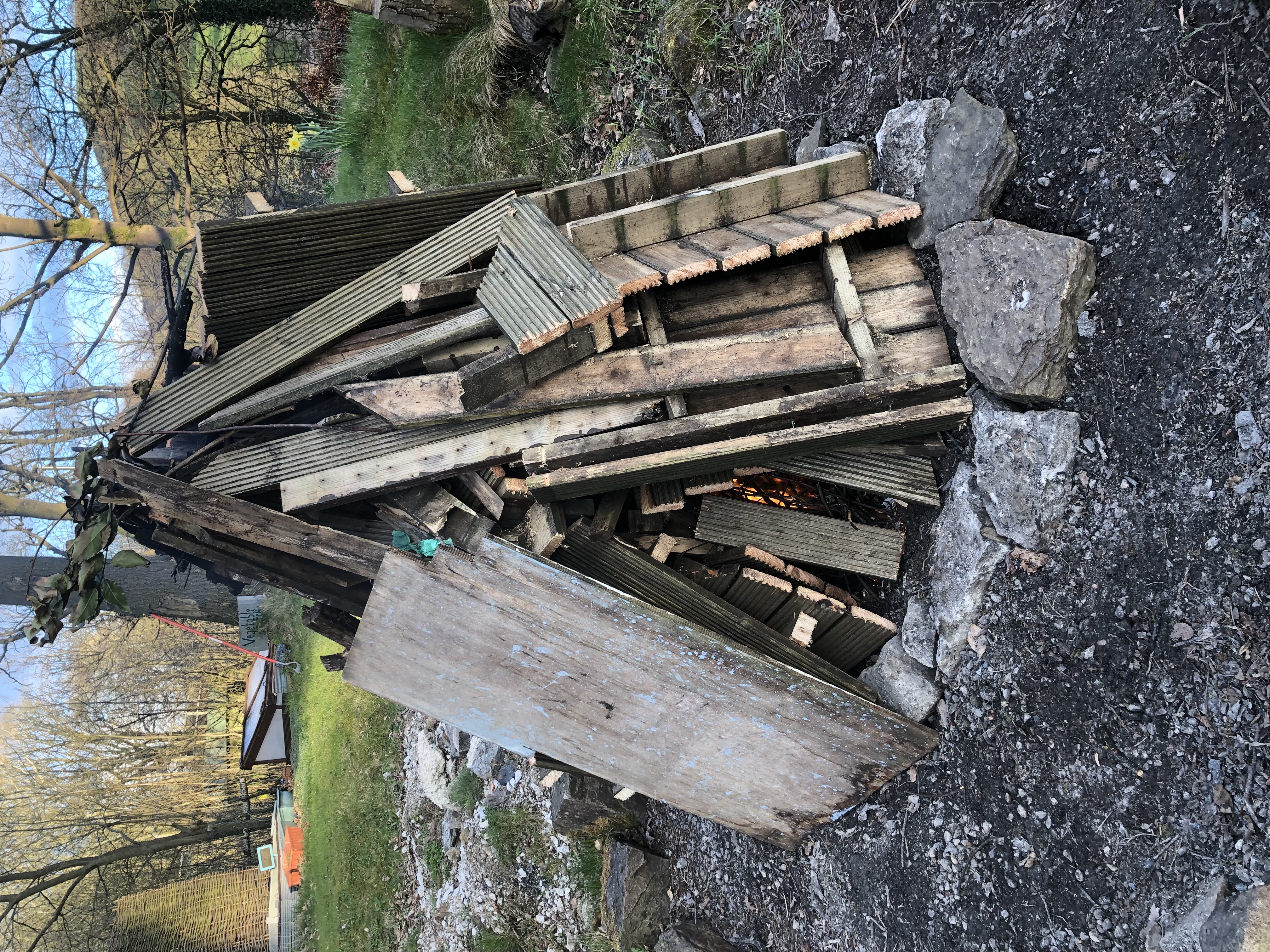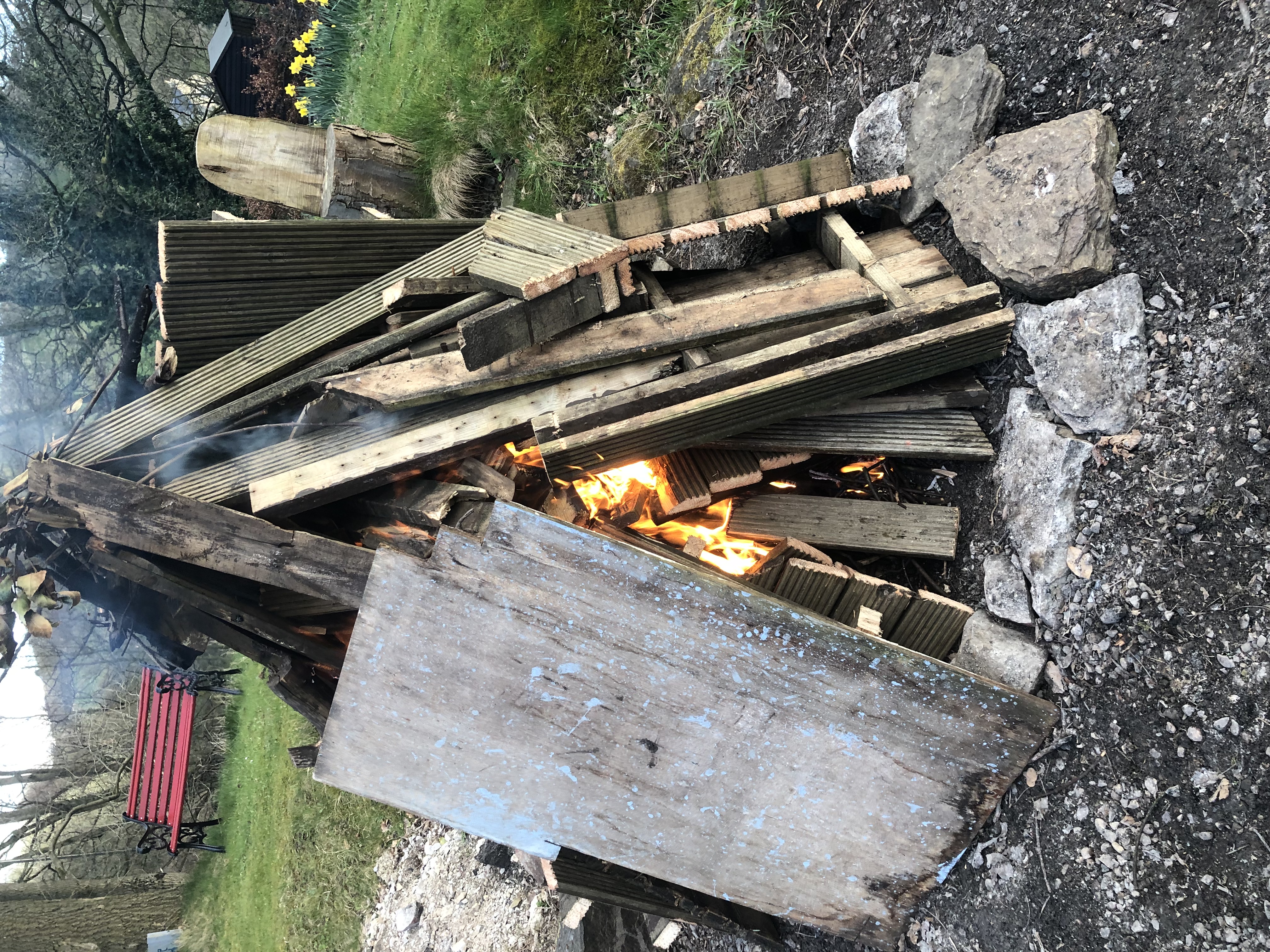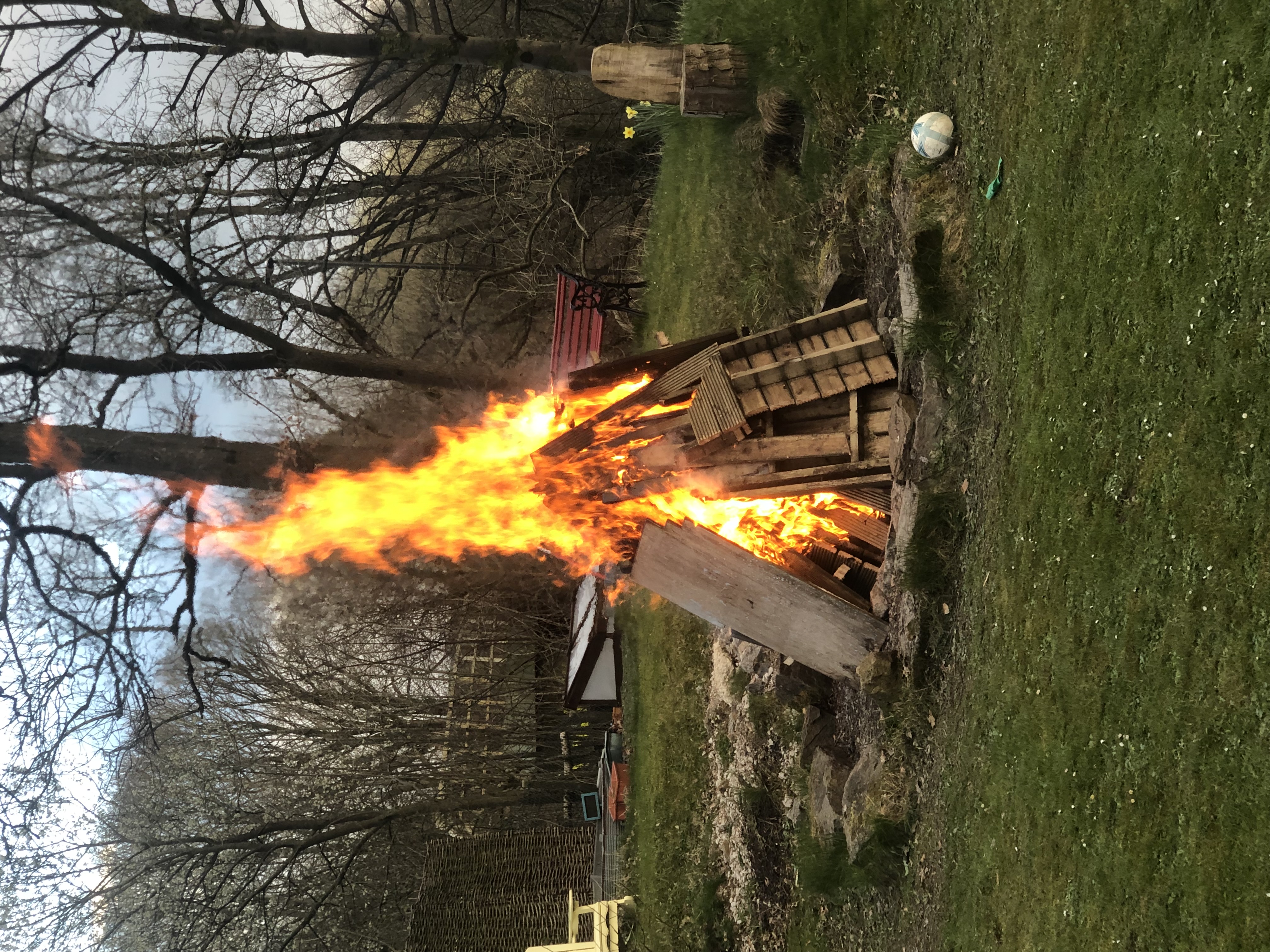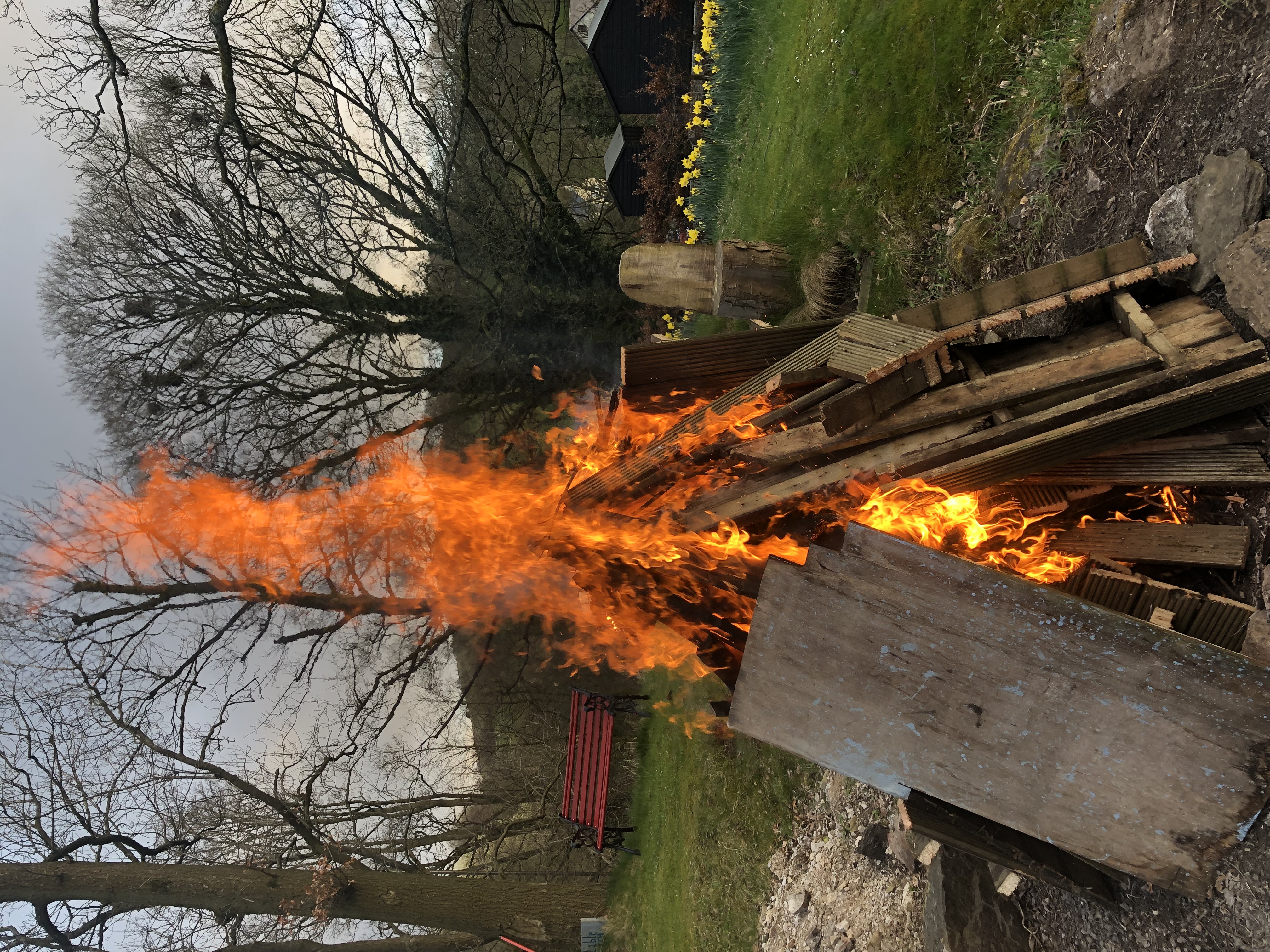 Champions!
Ole's Hayfield team duly won the league in a canter, losing just one game all season. They did suffer a draw in their final game at home to Buxworth, but only because the referee had an absolute shocker. I don't normally criticise referees, but when they are in their seventies and can barely see the watch on their wrist it is perhaps time to think about hanging up their whistle.
The season is not yet over, as while we were away on holiday they also beat 19th hole in the cup semi final, so we look forward to the cup final at Baslow at the end of the month.
On the acting front Ole has done plenty of auditions without much success. However, he did receive another boost from the BUPA ad that he recorded two years ago. They want to run it for another year so he gets another annual fee!
Lay Down Your Spoons
We seem to have lost a lot of teaspoons. Ole blamed Zac, mum blamed Zac, and Zac said he had noticed that there were fewer about. So, we had a spoon amnesty. We are not yet up to our full complement, but there has been a definite increase.
Wrapping A Cat
Anyone know how you wrap a cat? Probably best to just pretend that you are wrapping something else. They always get involved.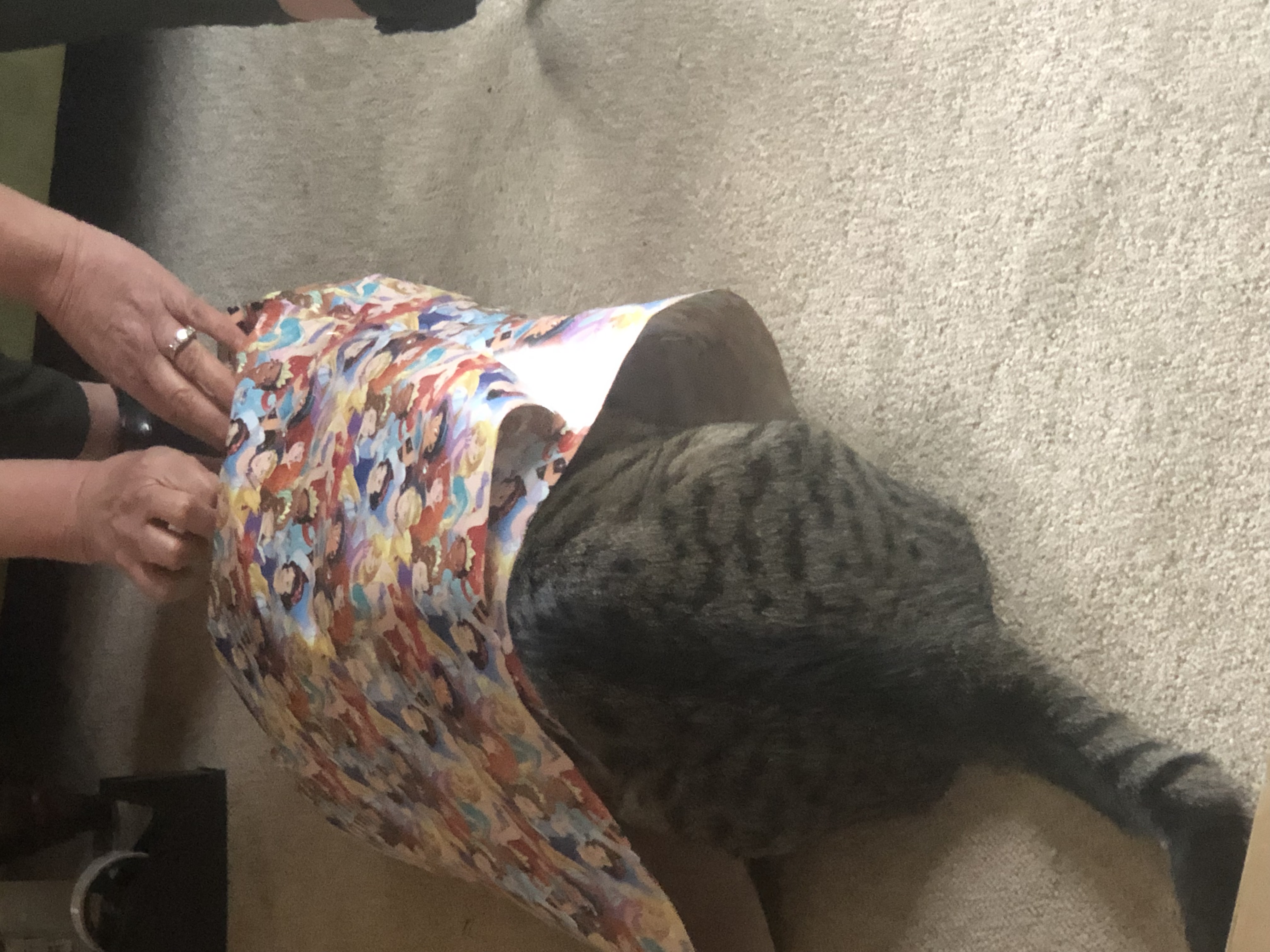 Is It Spring Yet?
Finally, we have often wondered if Zac knows what day it is, and I think its pretty clear that he doesn't. With the temperature rising he said, "Its pretty warm for February." It was the 22nd of March.
Previous Edition
Pizza, Paella, A Duke And An Earl