May 19, 2022 by Mike Madden
Down With The Duchess
Big Day For The Duchess
The racing career of Emerald Duchess got off to an inauspicious start after the early euphoria surrounding Star of Lady M. We went to see her at Tim Easterby's, and for the first time they managed to get her out onto the gallops during our visit. She was entered into a race at Ripon, but Tim preferred to wait until he could find a fillies only race. I mentioned that there was just such a contest at Nottingham the following Tuesday, and she was duly entered.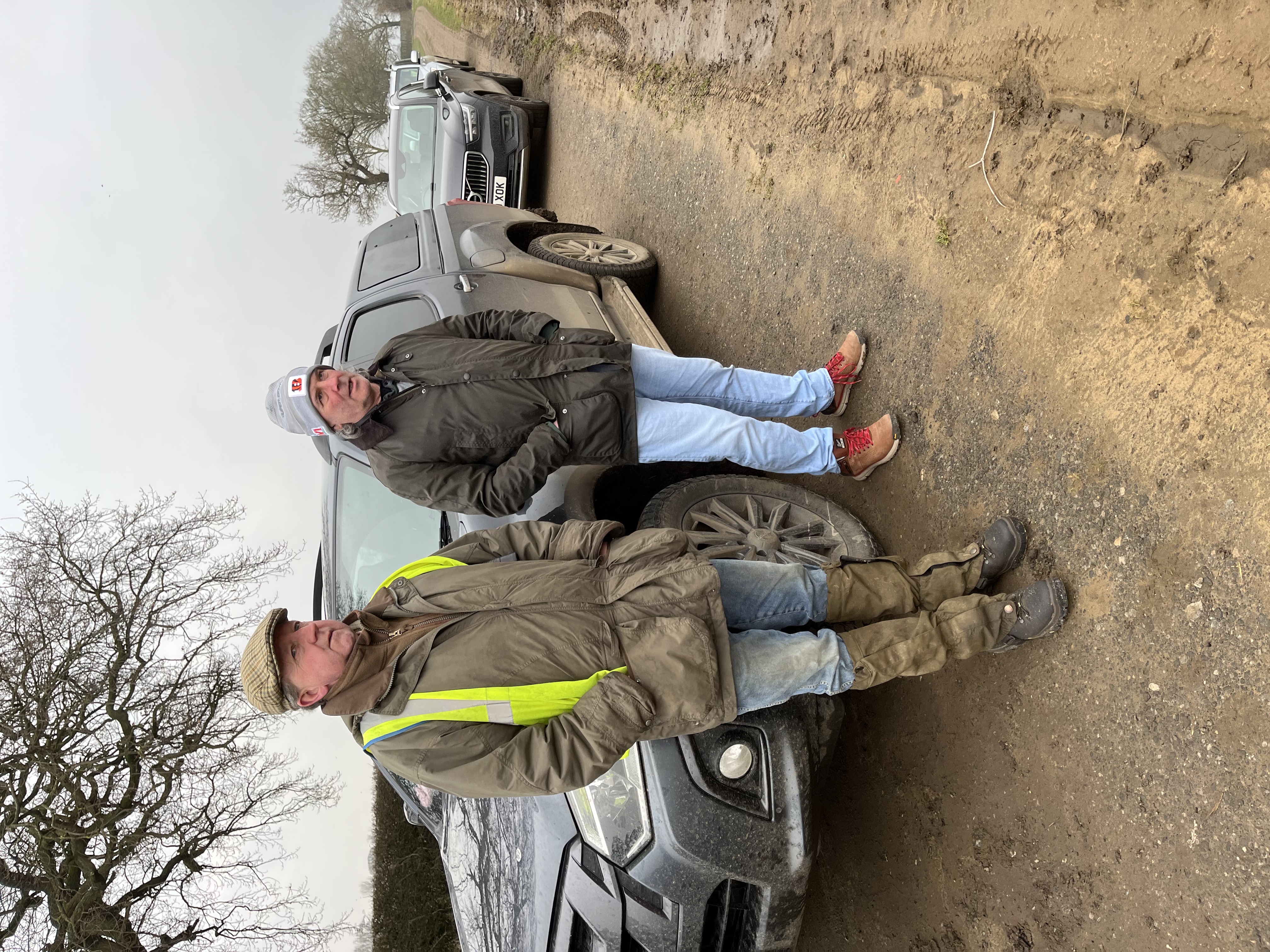 There's a race at Nottingham Tim! Could be just what we're looking for!
The landlord of our hotel was very keen to know about our visit, and we also mentioned to him about our other horse that had won two out of two. He knew exactly who we meant, as he explained that "Teatime Tipple" on the wall of the bar was not just an advertising slogan, it was also the name of his horse. Star Of Lady M had beaten Teatime Tipple at Ripon, of course!
I was familiar with the roads around Nottingham, so it should have been and easy run over there once the entry was confirmed. Unfortunately my satnav had other ideas, as it took us on a circuitous route that seemed intent on visiting every set of roadworks on offer.
Dining In Style
Luke Lillingston told me that his second cousin Richard is the chairman of Nottingham racecourse, and a short time later Richard invited us for lunch in the directors box. Nottingham itself was a very friendly course, and we were shown around with a complimentary glass of fizz. We spoke to our assigned jockey Duran Fentiman before the race, as well as Geordie who was there on behalf of Tim. This was our filly's first day at school, and it was really just the first step in her education.
It was clear that she was not well fancied.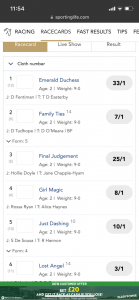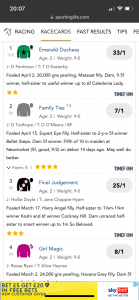 She looked well in the paddock, and she made her way smoothly to the start. Unfortunately, she missed the break and was always struggling. The ground was like concrete, and Duran moved her off the rail to get something a bit softer. She ran on past a few horses, then she had to be snatched up to prevent her from running into the back of those fading. She finished 9th of 13 at 125/1. The winner cost 150,000 guineas, another runner cost 190,000 guineas, and the one that was tailed off last cost 40,000 guineas, so it was clearly a hot contest. The horse that finished second went on to win the Marygate at York.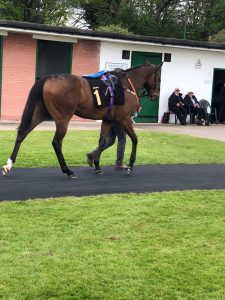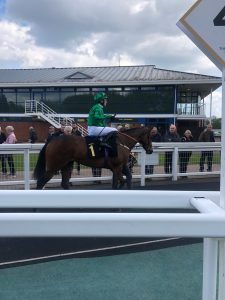 The ground was a problem all day, with one horse slipping over on the bend. Emerald Duchess was fine in herself, but the following day she appeared to have sore shins and would be given rest for a while. Subsequently it was found that her shins were fine, but I think that we would avoid firm ground in the future.
To Marygate Or Not To Marygate?
Meanwhile, I went to visit Star Of Lady M to pick up our Redcar photo and to take a few pictures. She looked well, and by that time plans had changed from the Marygate at York to potentially the Lily Agnes at Chester followed by the Marygate. I have always loved Chester, and my favourite course is York, so what could possibly go wrong?
Back in February I won membership to Nikki Evans' racing club, and in particular a horse called Fittleton Ferry. She is a Class 6 sprinter who had encountered all kinds of training problems, but now she had a new trainer and new owners. In the fuss surrounding the Chester entry I completely forgot that she was running at Bath, and as it turned out she finished last of the seven runners.
The Chaps At Chester
On the day of the Lily Agnes declarations Jason Kelly called and we counted down the entries. There were just 7, and we had a reasonable chance against all of them. We were going to Chester, and we were going to enjoy it! We booked a driver so that we could enjoy a drink, and as ever we were early arriving at the course. A helpful chap unlocked a gate and we somehow made our way to the owners enclosure, not only without badges but before it had even opened.
That was quickly resolved, and after a brief chat to Kevin Keegan, who appeared to be as perplexed as we were that Chester had not opened their gates on time, we sat at a table with all of Hugo Palmer's owners. These included Charles Ledigo, an entrepreneur who has a business with Sally's friend Jane O'Neill in Whaley Bridge, and Seamus Burns. Seamus is a shrewd Irishman who had previously bred the winner of the Derby and the Oaks, as well as selling a home bred yearling at Tattersalls for five million guineas. With Seamus was Ken Webb, another successful businessman who also happened to be very much in charge of point to point racing at Tabley.
It was an entertaining group, especially as Charles had a runner in our race. His Glorious Angel was touted as being targeted specifically at the Lily Agnes, but Charles had no idea where that rumour came from.
Never Trust A Bookie
The bookies had us as odds on favourites at the off, and we were heavily tipped!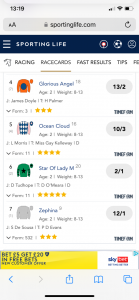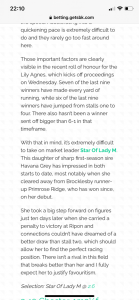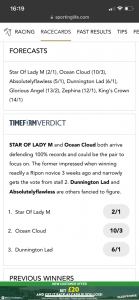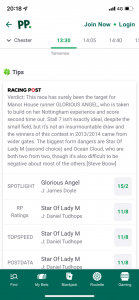 At race time we headed for the pre parade ring, where Michael Owen came over to chat to us. Actually he came over to chat to Seamus and Ken but we just happened to be with them. He did seem to have an interest in our filly, but more so in the chances of Glorious Angel who was trained by Hugo Palmer at Michael's Manor House stables.
The Star Stumbles
However, all was not well. Star Of Lady M is normally a very laid back horse, but she was on her toes and anxious. She carried this into the parade ring, and although we tried to banish it from our thoughts it remained as a nagging doubt.
We met Richard Kent who thought that our filly looked wired, and would perhaps benefit from a month off. She had not raced for three weeks, so that did not quite make sense, but Richard is a good judge in these matters.
Despite the agitation she did win best turned out horse, a welcome prize collected by our groom.
Our jockey was once again Danny Tudhope, and he was reserved but confident as we talked through the tactics. He ought to be able to lead on the rail, but definitely did not want to get boxed in.
It was time for Danny to get on board, and we were then intercepted by the ITV film crew. Matt Chapman wanted to know all about Star Of Lady M, even more so Lady M herself. Lady M has never been a shrinking violet, and she positively bloomed in front of the cameras. Matt asked me about the going, and it was a welcome distraction as the race drew nearer.
The Comedians
We made our way to the viewing area, which was not great. It was on the inside of the course, and as we looked down the course the big screen was angled away from us. Suddenly they were off. Star Of Lady M bolted down the inside, and Danny worked her to maintain a position in the blistering pace. It was clear that the horse was fighting him, and as they came into the home straight she edged right which is the worst thing to do on a left handed track.
She battled gamely, but ultimately finished last, four and a half lengths behind Absolutelyflawless. She had nothing left to give, having burnt her energy leaving the starting gate. It was disappointing, but Danny had eased her down over the last 100 yards, and she could have finished closer. We were beaten by the better horse on the day, but I am convinced that on another day at another course we would have overcome that field. The bookies agreed, sending her off the odds on favourite at 10/11.
The Star Faded
Danny was gutted at the result, and the fact that she did not show her true form. He thought she would benefit from a straight track, and from using her speed at the end of a race to pick off the leaders, as she had done at Redcar and Ripon.
We enjoyed the rest of the day, with Sally chatting to Frankie Dettori, but more on the Dettoris later! Charles had another string to his bow, producing stage musicals, and so we exchanged emails and he offered to show Ole around when his latest production, All Or Nothing, appeared locally. Star Of Lady M was fine after the race, but it now seemed that the Marygate was out of the question. It was not all bad news though. When I received my Weatherbys bank statement we had more or less covered our costs because of the prize for sixth place, the sponsorship, and some appearance money (for the horse, not for Lady M). Of course, that does not take into account the cost of the car and some rather expensive rounds!
Badminton Bound
The following week we went to the Badminton horse trials for the cross country and show jumping.  I booked an Airbnb, described as a garden cottage, and Sally normally likes to veto or approve my choice. In this instance I thought it rather odd that she just left it up to me. When we arrived I found out why. The garden cottage was within the estate of Wortley Hall that had recently been featured in Tatler magazine. Our host, Jessica, was very welcoming. She provided us with a map of her 25 acre garden that she was obviously very proud of. We decided that we had to take advantage, and so we spent an hour or so wandering through the various walled gardens, paddocks and tree lined grassy avenues.
We went into the village of Wotton-Under-Edge, which sounds like somewhere out of a murder mystery. As we settled into the first pub we were informed that not only did they have no available tables for dinner, they could also take cash only as their card machine was broken. It was a friendly place, so we booked a table for the following evening. We settled on the Swan Hotel, which was a couple of streets away. It had a rather cold hotel dining room feel to it, even in the public bar. However, the food was nice enough and the chap behind the bar provided excellent service.
Horse Trials? Not Guilty!
The following day we got a taxi to the showground, and the driver explained where he would meet us afterwards. Badminton was definitely full of horsey people, but we managed to get some good views of a few of the tougher cross country obstacles. Sally went off shopping as I headed for the bar, but when they said that Staropramen was their only draught lager I feared the worst. Guinness saved the day, and after watching quite a few people fall off, and even more horses refuse to jump at all, we headed back to Wotton-Under-Edge.
Taxi Trials & Tribulations
Unfortunately our taxi driver was not where we expected, and the powers that be had reversed all of the one way systems. He sent me his location, which was a 90 minute walk away. We asked him to get closer to Badminton village! No one at Badminton seemed to know where the authorised taxi pick up spot was, and hardly any of them were local anyway!
Eventually we were directed out of the grounds to turn left and head down the hill. A jobsworth on the gate said we couldn't do that as there was no footpath, but Sally ignored him and marched onto the grass verge. We then got a message from our driver that he was at the Post Office, which clearly meant nothing to us. We continued to follow the road down the hill for around a mile, under a bridge as directed, and there in front of us was the Post Office.
In front of the Post Office was our driver, who had just been moved on by the local authorities. He was about to pull away when we flagged him down. We completed the 15 minute journey back to the pub an hour later. Our route took us past several familiar landmarks several times, sometimes on the opposite side of the road!
Are You Local?
The pub food was good, and then a local taxi driver took us the ten minute ride back to our cottage. The whole scenario was a bit "Hot Fuzz", with the driver shouting at other cars who were obviously not locals!
Next day we met Simon, the man of the house. He was on a golf cart with shotgun in hand, explaining that he had failed to shoot a single rabbit all morning.
We said our farewells and returned to the Swan Hotel for a hearty breakfast. Our next journey was back to the showground, this time in my car. We spent a pleasant hour or two chatting to my sister who is a Badminton regular. She told us that the morning showjumpers are those with no chance in the overall competition. We had to wait until 3.30pm for the contenders.
Jumping Round In Circles
As 3.30 ticked around we took up our seats in the grandstand. The Princess Royal arrived to warm applause. Sadly, nobody quite realised that the National Anthem was being played until it was too late to sing along.
We had a long journey home ahead of us, so we left about half way through the showjumping finale. Sally kept in touch with proceedings via her phone, but I was all horsed out by then.
The next day Fittleton Ferry came out and finished 4th of 14 at Chepstow. I had a nice each way return at 80/1, so maybe she is not such a forlorn hope after all!
Middlethorpe And Marygate
Our next horsey event was the Marygate at York. On the one hand I was disappointed that Star Of Lady M was not running, but on the other I could relax. We checked into our regular haunt of Middlethorpe Hall and asked them to get us a taxi. They had good news. Rather than struggle with a local cab firm they had now engaged a driver. He would run us around on demand for the same cost. So, Terry took us to York racecourse. On the way he told us that he had been Frankie Dettori's driver for about ten years. In fact, later that day he had to take Mrs Dettori to the designer shopping outlet before a visit to Marks & Spencer for some nibbles.
We got to the course and had a great day. Pillow Talk won the Marygate, having beaten Emerald Duchess by quite a way at Nottingham. Primrose Ridge, who Star Of Lady M beat at Redcar, came sixth. Therefore, in theory we would not have been a million miles away, but there were no regrets.
Spotters Badge
We headed down to the parade ring mid afternoon, and there was Terry, accompanied by Mrs Dettori. It did not take long for Sally to introduce herself, and they parted as if they were new best friends. I await developments with interest! Sure enough, Terry was there to pick us up afterwards. We will certainly be availing ourselves of his services when we next visit Middlethorpe for the July meeting at York.
Star Rises Again
We were up early the following morning, and rather than head for home we went to David O'Meara's yard to see Star Of Lady M. She was out on a 9.30am gallop, so we arrived at about 9 on a glorious morning. David's mother Dympna came to greet us, and she became another of Sally's new friends. She was certainly not shy of giving her opinion, and she said she would come on to the gallops with us.
Jason Kelly joined us and we chatted about the Marygate. He agreed that we would have finished in the front half of the field, then thoughts turned to possible entries. David was out on the gallops, and he favoured the Hilary Needler at Beverley. Jason thought we could find another restricted race that would cut up. This would potentially give us another easy bonus. My preference was more ambitious. I thought we should enter the Listed National at Sandown and hope that the race reduced to just 6 or 7 runners. If it did not, then we could have the Hilary Needler as a second option. My issue with another novice race would be that she would have to carry a 14lb penalty.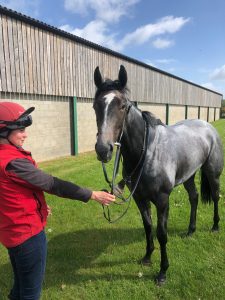 Double Duchess
I am continually scouring the BHA race list. This allows you to filter on age, distance, class and a host of other things. I thought that Haydock was a good option for Emerald Duchess. It was a Class 4 maiden race, ie for horses that had not won previously, for fillies only in bands C and D. The race had only attracted a handful of runners in recent years. It would at least allow her to double her appearance tally and maybe run into a place. Tim agreed to enter her, but when the entries were announced there was a total of 24. Many of these would run elsewhere, but it was still rather a lot. I thought we might have made a mistake. However, we applied for badges and waited for declarations.
Two days before the race it was time for the declarations. It emerged that more and more of the entries had alternative engagements. This was perhaps because their trainers were discouraged by the large number of original entries. When the final declarations were in there were only 10 runners. These included Glorious Angel, so we would be able to renew our acquaintance with Charles Ledigo rather quickly! Emerald Duchess was priced up at 33/1 by Sporting Life. However, with softer ground at Haydock, and an additional furlong to race, we were cautiously optimistic.
The Ferry To Bath
I also got a message that Fittleton Ferry was in the first at Bath on the same day. This was another Class 6 handicap with so many runners that it had divided into two! She was also priced at 33/1. Given that she finished fourth last time out I was encouraged to put an each way double on the pair.
Southern Star?
The news from Star Of Lady M was somewhat puzzling. Jason had bypassed the Musselburgh Class 2 race, as expected, but had entered her into a race at Lingfield. This was a Class 5 fillies only race restricted to band D, and it was known to cut up in previous years. However, with a 14lb penalty we would need the services of a claimer to compensate for the huge weight.
Lingfield on a Saturday night was not my idea of heaven. However, Jason assured me that we would only go there with a favourite's chance. There were just 13 entries, so it looked promising, and one of those ran earlier in the week. Another three were entered in other races, so Jason's assumption could have been correct. Unfortunately, as the declaration stage approached, there were only two other horses that had alternative engagements. We would have to give 14lbs to Favourite Queen who had finished third and second, and Lahina Bay who had finished sixth and third. There was also Byefornow who had won her only race. She would carry a 7lb penalty, but she also had a claimer on board.
It was not looking good, but we would have to see how it panned out the following day. I noticed later that evening that Star Of Lady M had an entry in the Hilary Needler. This could only mean one thing, she was going to be scratched from the Lingfield race.
Beverley Bound
The next morning I watched the Lingfield declarations tick up. When they reached eight I received the expected call from Jason Kelly. We were not going to Lingfield, but we were entered into the Hilary Needler. Saturday afternoon at Beverley was infinitely preferable to Saturday evening at Lingfield, but now my daily countdown demons could resume. Nine days to go, and in the meantime there was the small matter of a trip to Haydock Park with Emerald Duchess.
Worse Than War
The news is quite depressing these days. One night Sally decided to turn it off as it was just too shocking. The horror stories about Ukraine were just a little too graphic. She consoled herself with some downloaded content on her ipad, but I was surprised at what it was. I went upstairs to find that she had fallen asleep to the calming sounds of the Jimmy Saville documentary!
Bo Tangles
Bo has had an interesting time lately, starting with her discovery of cat mint in Sally's car. She was straight into it, and obviously thought that it would be a regular source. She made her way back into the car  a week or so later. Sally was unaware of this, and promptly locked her in for the best part of three hours!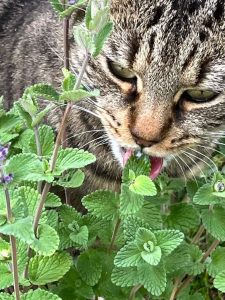 Bo Shopping
A short time later I ordered her regular supply of cat soup. Ole took in the delivery, and it seemed to be quite a large box. Inside, rather than some 40g pouches of soup, there was a 15kg bag of dried cat food. Bitiba had somehow mixed up the order, but Bo was quite happy with it. To be fair to Bitiba they arranged collection of the gargantuan bag, and supplied a replacement box of soup almost immediately. Then another replacement supply of soup arrived without even being asked for. I wonder what will turn up next!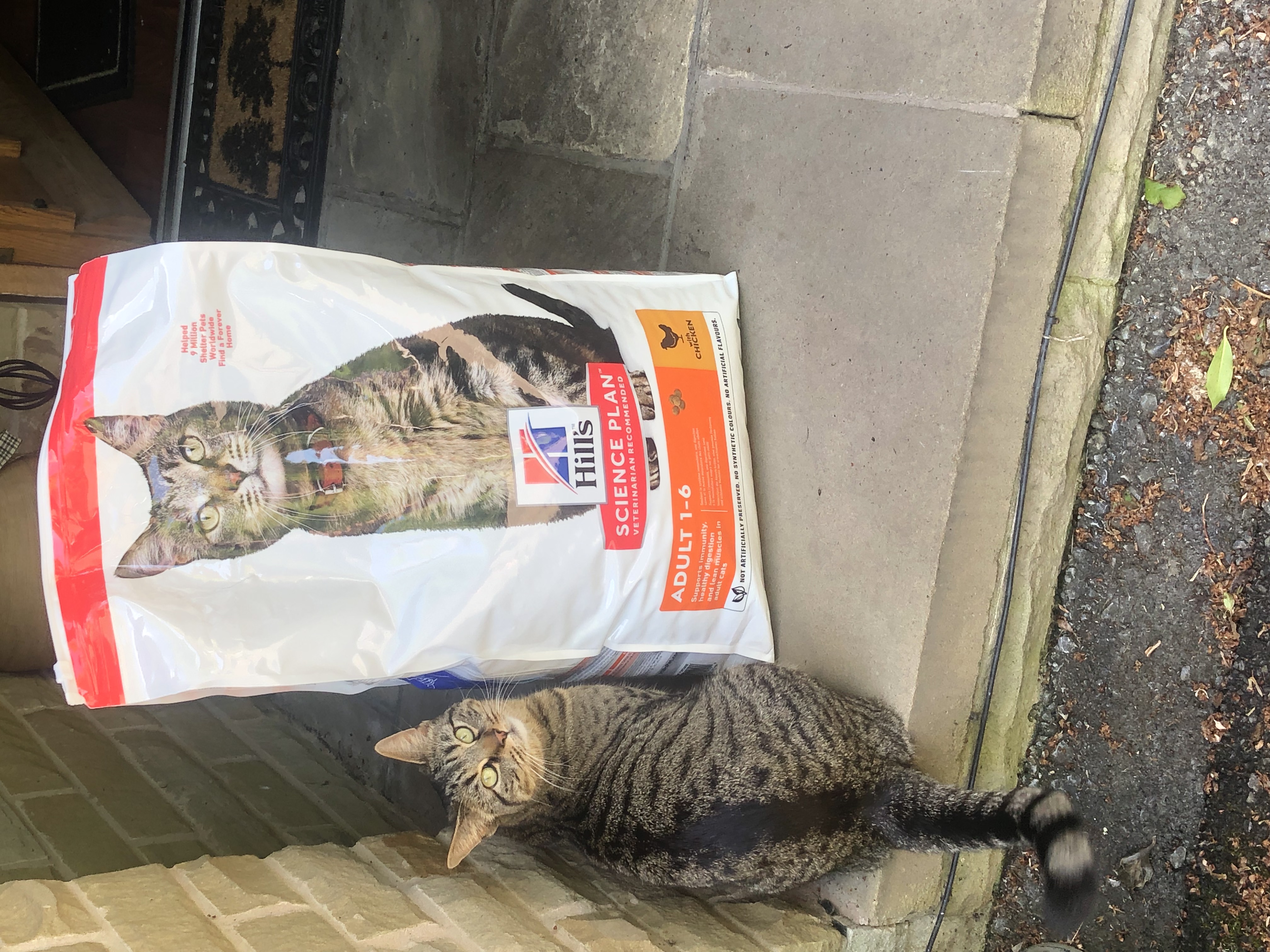 Stinky Fish
I have not been too creative in the kitchen recently, though I did make some Spanish fish inspired by Rick Stein. It was flavoured with lots of garlic and paprika, with chorizo thrown in for good measure. A word of warning though, if there are any leftovers do not leave them in the fridge. The smell is very strong, and will taint everything else in the vicinity!
While The Cat's Away…
The clay oven has been put to good use, with fillet steak the latest success. The boys asked if they could make pizza for their friends while we were at Badminton, and I reluctantly agreed. They took most of the dough out of the freezer (thanks boys, I guess I will just have to make some more!), but they did that a day early which meant the dough would be difficult to handle. It seems to have been a success, though Zac described dropping several onto the floor, and cremating others. Surprisingly, when I inspected the oven and the tools, it was all cleaned almost to perfection.
Travellin' Man
Ole has been busy with auditions, and he got a role in a mental health film that saw him head to Leeds for a day. He also had a call back for an ITV drama "Maternal", which meant a train journey to London, but he has heard nothing more. It can be a frustrating time, but at least he now knows what a Split Save train ticket is!
A Thorough Examination
Zac has been busy revising for exams. His mock results were a little confusing, and he admits that he missed the point of one of his economics questions. He got a B In core maths when he was expecting an A, and he did not even give us the "onemarkoffa" excuse! His computer science project scored 47 out of 75, which he was not very happy with. He then realised that it was more than 60%, and so the world was all good again. His car insurance has just been renewed, and for the first time he has a black box. This entails an app on his phone that tells him whether he has been a good or a bad driver. He has declined to share this information so far.
The Search For Fish & Chips
I took my mum a bit further afield recently, driving all the way to Lytham before realising that the sea can be almost as far away as at Southport. Undeterred, we drove up the coast to Blackpool, where we definitely could see the sea as it splashed against the pier. However, that was about the highlight for Blackpool. It is not a nice town, and although we searched for fish & chips the only places we found open were manned by people who did not have even a basic grasp of English.
When a debate started about the merits of serving chicken nuggets without chips, a request that the server was either oblivious to or chose to ignore, we decided to head home.
Anyone For Goujons?
A couple of weeks later we went to the much more civilised Colwyn Bay. The north Wales riviera was spotlessly clean, calm, sandy, and sunny. We ambled along the beach and stopped at two cafes, looking for the traditional fish & chips, preferably served in a newspaper. Both cafes favoured fish goujons, served with French fries, mushy peas and tartare sauce, so we were out of luck. We sat down at New Horizons, and it was nice enough, but not what I want from an English seaside town. I think we might travel a little bit further along Colwyn Bay next time as there was at least one cafe that definitely advertised "Fish & Chips". Or, we might just try Abergele!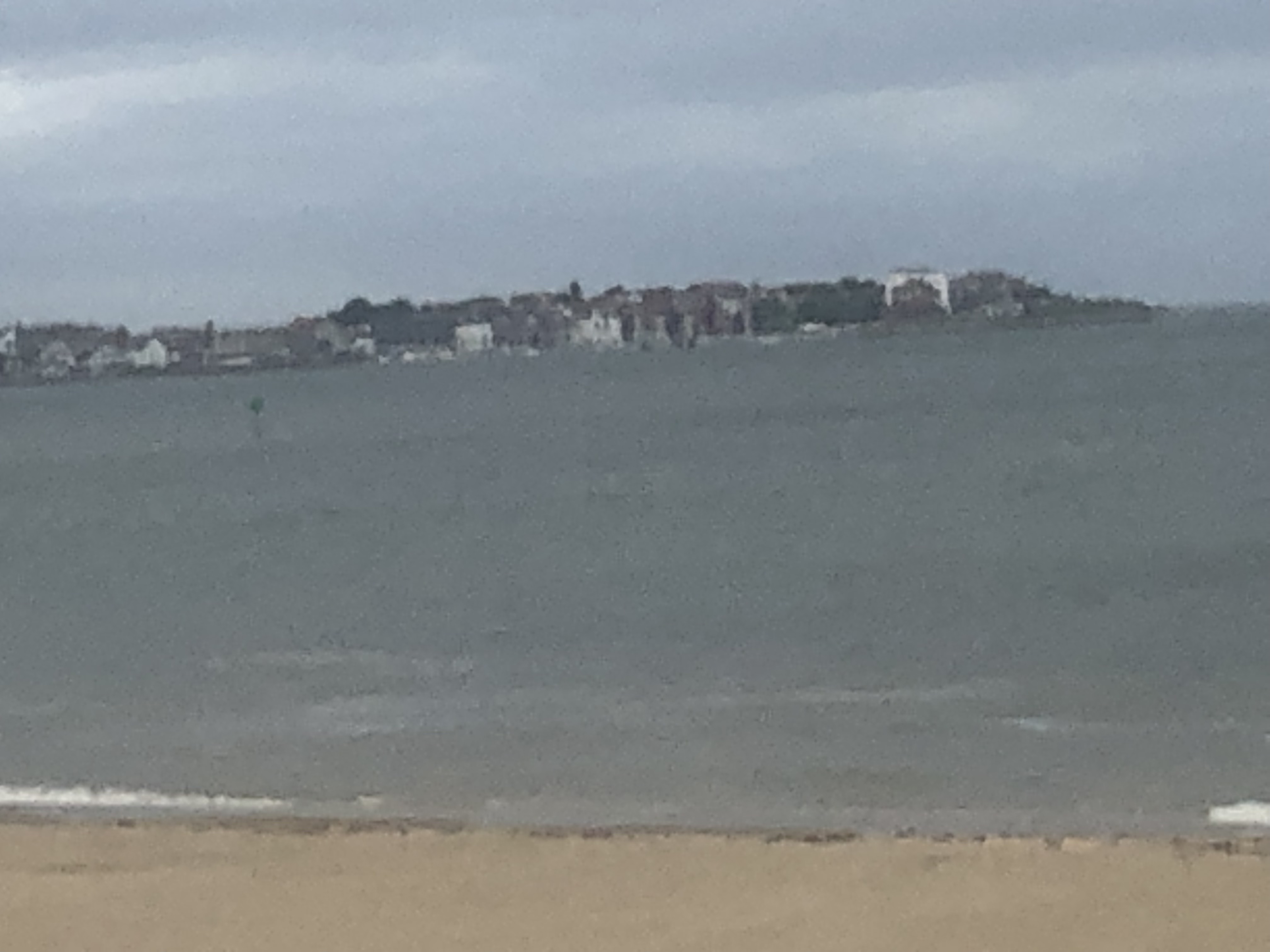 Colwyn Bay in May
I'm Leaning On A Lamp Post
Finally, this is the lamp post on Chapel Road opposite our house. It doesn't look well! George Formby would be proud of it. I reported it to the council on 27th April – I am interested to know whether it will fall down before they respond!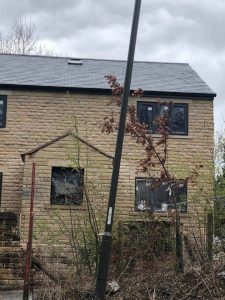 Previous edition
A Star Is Born