June 11, 2022 by Mike Madden
A Star Is Bo
The Catwalk
I know a lot of you will be reading this hoping for racing updates, and they will come! However, first I have to mention the new social media star in our family. Regular readers will recall the picture of Bo next to a giant bag of cat food from the previous edition. Well, Amazon liked it so much that they started asking questions about her on Twitter. She seemed like such a fun loving cat. I told them that she loved drumstick lollies, or any hard lollies that had a white stick. Maybe she thinks that is a tail? So, after this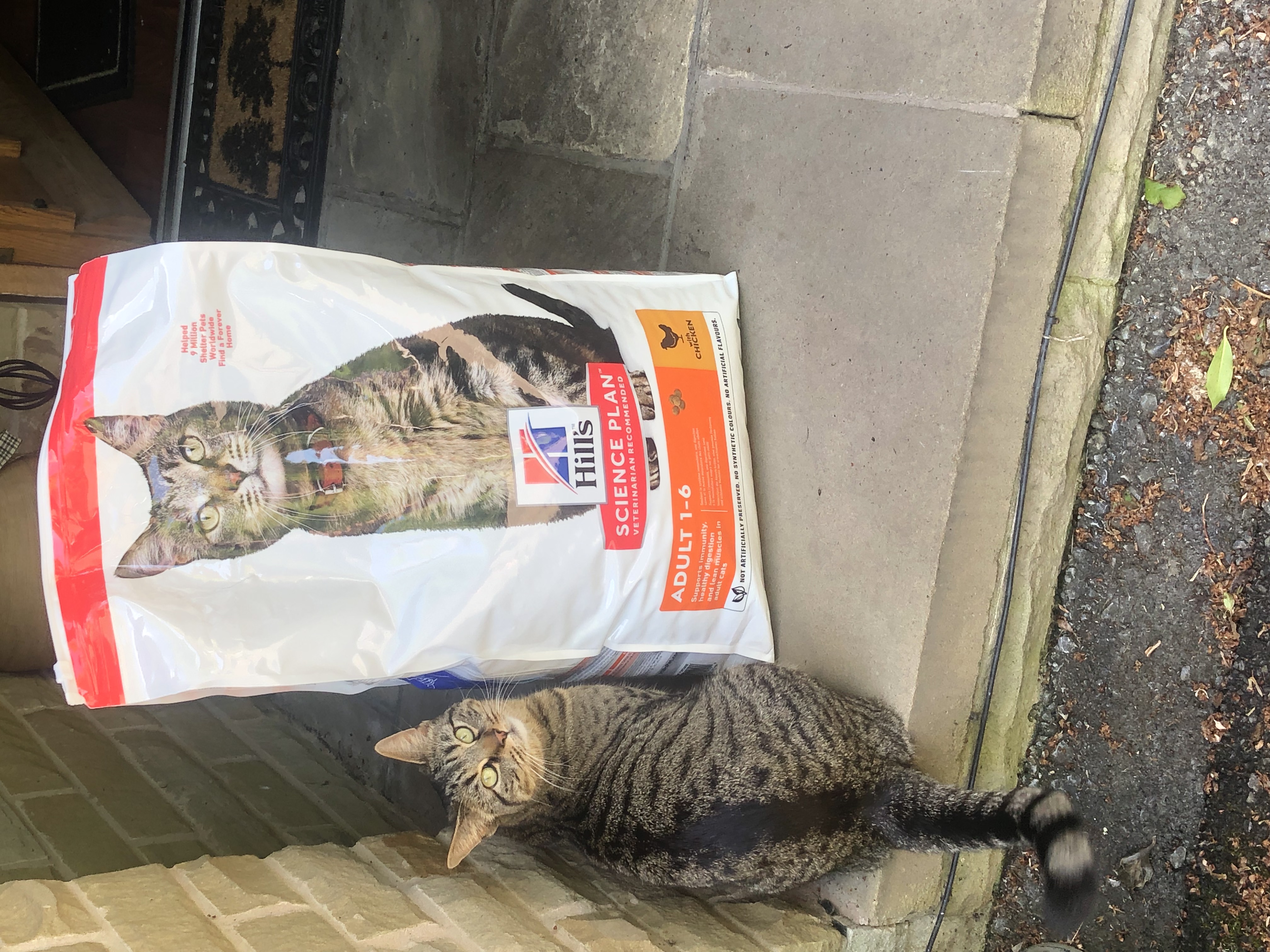 brief exchange they said they would send her some treats. A few days later she received a whole bag of drumsticks, plus several catnip toys. There was a box of shiny balls, and a variety box of Dreamies. Ironically the original order was not even from Amazon, but we certainly thanked them for their interest.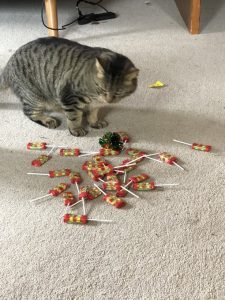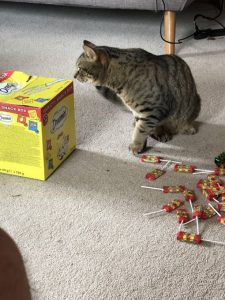 Her favourite was probably the box!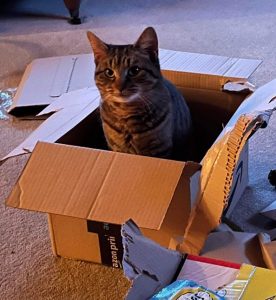 The Return Of The Duchess
Emerald Duchess hit the racetrack again at Haydock, and we had an almost full complement of The 1891 Group there to see her. She was not well fancied after her Nottingham debut.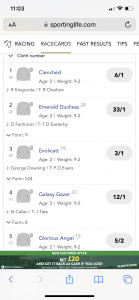 We pulled in to the Owners & Trainers car park at Haydock, and found our way to the Owners reception. We proceeded to the Owners bar and we were told that the whole of the Owners area was under refurbishment. I did consider that for a supposedly prestigious course that had gone through Covid and a sparse winter jumping season, perhaps they could have refurbished in plenty of time for the flat. Regardless, we had some very decent draught Guinness and Pravha. We then watched Fittleton Ferry finish a disappointing 12th of 13 at Bath. Her RPR of 10 was about as low as I have ever seen, down from 53 in her previous race. Afterwards, Nikki Evans said that it could have been the ground, or she could perhaps have been in season.
Lady M Puts Her Foot Down
The bar area at Haydock had a huge entrance that was wide open and the place was cold. So, we moved next door to the dining area. There was a dining room, and an ante room that contained several high tables close to the bar. These did not look like they were for diners, so we sat there. The dining room organiser said that our tables might be needed if the dining room filled up. We said that if that happened we would relinquish them, and ordered drinks from a waiter. Lady M was certainly not for moving.
It was a somewhat frosty reception, and the waiter made it worse. He said that he could not serve us draught beer which was only available at the official Owners bar. The official Owners bar was some twenty feet away. I guess that Haydock could learn a thing or two about customer service.
Charles Ledigo said "Hello", his Glorious Angel had shortened as favourite for Emerald Duchess's race. I then received an odd email. It said that Emerald Duchess had been entered into a race at Ripon the following Thursday. The entries for the race included Carmela, Breege and Lady Bullet. These were all operating at well above the standard set so far by Emerald Duchess. By chance, Will Easterby walked in at about the same time, so I asked him about the entry. He had no idea, so we dismissed it and prepared for that afternoon's race.
Looking Good
Emerald Duchess looked very well in the paddock, as did Lady M resplendent in matching colours. Our jockey for the day was again Duran Fentiman. Both Will and Duran were managing our expectations, looking for a clear progression. We hoped that she would pass a few more runners with a late surge. As it turned out quite the opposite happened. We made our way to the viewing area, where the winning line was at a surprising angle. By the end of the race this did not really bother us.
The Duchess Dwells
She missed the break, though not as badly as at Nottingham. This was followed by an effortless burst to move into a challenging position. By half way she was amongst the leaders, but she then faded quite dramatically. When we spoke to Duran afterwards he said that this might be due to missing some work with sore shins, but also that the ground was on the firm side again and she was fighting against it. However, he was impressed with her early speed that saw her overcome a slow break, even suggesting that she might revert back to five furlongs.
She finished eighth of the ten runners, well in touch with the few in front of her, and it was not too much of a disappointment. Her RPR of 47 was an improvement from her previous mark of 41, though her TopSpeed went down from 39 to 37. However, I have yet to find anyone who understands what TopSpeed is or takes much notice of it. Charles Ledigo was a little subdued after Glorious Angel could only finish fourth.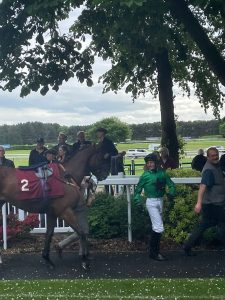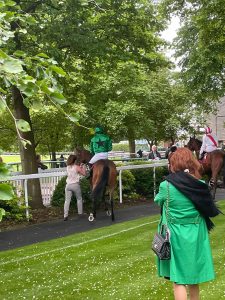 There's Always The Bar
Will bought us drinks in the bar, and we had a good chat about Maryland, where he had ridden in the Maryland Hunt Cup, and other parts of the US, as well as cricket. Emerald Duchess got a mention, but we all knew she needed a bit more time. She had already run twice before the end of May, which is way beyond expectations, especially when you consider that her sire Massaat did not run until July in his two year old year, and he only ran three times in that season overall.
The ground was clearly against her once more, and it was no surprise to find that the following day she again had a sore shin, but she was well in herself.
This Is The End – Or Is It?
The day after Haydock I was called up at the last minute to play cricket for the firsts at Stalybridge. Injuries have certainly got the better of me recently, but the firsts are going well, so I was hopeful of having minimal involvement. How wrong I was! After the game I took the decision to officially retire, and I sent a message to the club.
Man Of Letters
This message is probably long overdue, but after yesterday I have decided that enough is enough and I am retiring from cricket.
I took to the field with a seriously damaged knee, and after running three twos in the first over my glute, hamstring and calf were coming out in sympathy. However, all leg pains were quickly forgotten whilst fielding as I dived (some might say fell) on the ball and seriously bruised a couple of ribs. Struggling to breathe I eventually got to my feet praying that the ball came nowhere near me for the rest of the innings.
On the way back to the Sheps I had to pull over due to violent leg cramps, and I already knew that the end had arrived.
I can look back on a career that saw me rack up 3 centuries, including 162 not out against Offerton which remains the highest individual score recorded for Whaley Bridge seconds. I only scored 1 first team 50, and there should have been more, particularly in more recent years when opening the batting with Luke Dogg and Dr Dec. As second team captain I played with more juniors than Prince Andrew, and for those that were at High Lane there will always be "The Catch".
https://whaleybridgecc.co.uk/archives/328
Its been a blast, and all I can say is Dougie, make sure you have a good scorer when you turn out for the seconds today!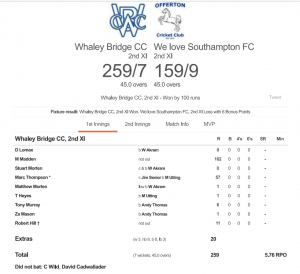 Every Cloud…
As days went by the pain was strong in both my side and stomach, which was a concern. The dangers of Google came to the fore as it suggested I may have "popped a rib out", so I called 111 and they were absolutely useless. It seemed that their sole aim was to cover their own arses. So, I went to the GP who gave me a rather odd diagnosis. She thought that Ibuprofen might be upsetting my stomach so she gave me some antacid, despite my request for stronger painkillers. I went to the chemist to collect the prescription, and to my surprise I found out that as I was now 60 my prescriptions are free. This may lead to me getting something new every week!
I took two of the antacids, stopped taking Ibuprofen, but still the pain continued. Some cricketing friends consoled me by telling of their own experiences with a similar injury. Turns out it could take four to five weeks to heal.
The Star Shines Again
Star Of Lady M was entered into the Hilary Needler at Beverley, and at the entries stage it looked to be a very hot race. By the time of the declarations some of the potential favourites had dropped out, but there were still five previous winners in the line-up, including ourselves.
David O'Meara also ran the debutant Your Spirit, but we had secured the services of Danny Tudhope. Sporting Life initially priced us up at 8/1, but I doubted whether that price would hold with the actual bookmakers.
The day before the race there appeared to be money for Richard Hannon's Distinguished Lady. Although still a maiden she was challenging Absolutelyflawless, who had beaten us at Chester, for favouritism. The same analyst who wrote "judged on breeding others are more appealing" about Star Of Lady M before her debut at Redcar, now suggested "disappointing when taken on for the lead in the Lily Agnes 24 days ago". She was clearly not fancied, but there were some crumbs of comfort on Twitter. Avid two year old student Mike Curtiz wrote "Happy to put a line through Star Of Lady M run at Chester, I think she's the best in here and she can reverse the 4 1/2 lengths (from the Lily Agnes).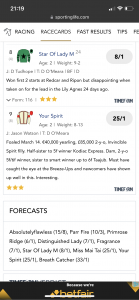 If You Can't Say Anything Nice…
The most disappointing comment I heard came in a podcast. Trainer Darryll Holland, whose Primrose Ridge had finished second to Star Of Lady M back at Redcar, said that the Redcar defeat was purely down to the ground, and Star Of Lady M would never beat his filly again. I thought that it was a little disrespectful towards our girl, but I guess he was being interviewed and had to think of something to say.
Distinguished Lady was clear favourite overnight, whilst we were around 8/1. As the morning progressed Absolutelyflawless came back in to head the market, and we shortened to 7/1. Our two sons, Ole and Zachary, got into a panic trying to find shirts, shoes and ties that were only purchased in February. As well as Ole and Zachary, we also had Ole's girlfriend Abbie as the fifth member of our party. We drove to Beverley, taking the scenic route to Sheffield before hitting three motorways. It was uneventful until someone decided that the M62 would be better as a single lane rather than three, and that delayed us for around half an hour.
A Very British Beverley
We parked up next to Mick Fitzgerald who was busy studying form, and then we went to the Owners & Trainers reception to collect our badges. We were greeted with a glass of champagne, and our badges were adorned with a union jack in honour of the Very British Racing Day. This was coincidentally appropriate as I wore my red, white and blue striped blazer! The Owners and Trainers section was quite spacious, with a nice terrace outside that was unfortunately too cold to sit at.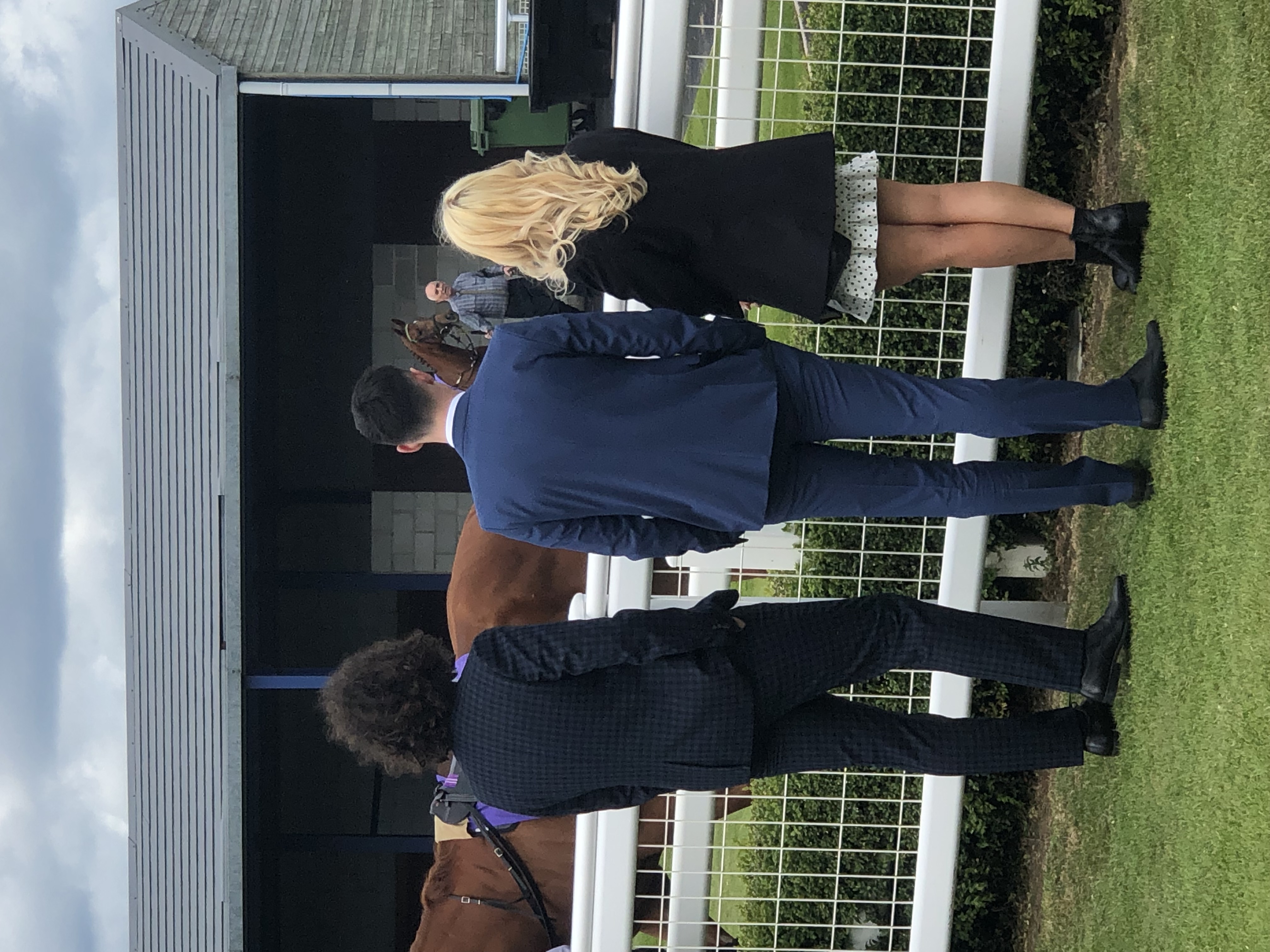 Zac, Ole and Abbie casting a knowledgeable eye over the first race runners
The boys had been to Galway races previously, but that was seated at a table overlooking the winning line and betting exclusively on the Tote. They had also been to Southwell many years before, but they could not even remember that. I showed them around the betting ring, the parade ring and the viewing area, and they decided to use the Tote for convenience. After a brief pause whilst they retrieved their IDs to prove their ages, they had a bet in the first and we went into the stands. Zac backed the first winner at 6/1 and had the second each way at 80/1, whilst Ole backed the second each way. So they were both off to a good start, but now it was time for Star Of Lady M.
It is always good to see some familiar faces at the racetrack, and we were pleased to bump in to Will Easterby who wished us good luck.
Be Prepared
In no time at all our filly was in the pre parade ring. She was a little on her toes, but nowhere near as bad as at Chester. She made her way to the parade ring, and I followed her in along with Sally. I beckoned to the other three and Ole joined us, but Zac and Abbie seemed a little intimidated by the prospect of crossing the path that the horses were walking around on.
David O'Meara was in attendance along with Char-lee Heard, and they were very relaxed. David introduced us to the owners of his second horse in the race, and then Danny came out resplendent in the emerald green silks with the bold black stars. I asked him about tactics but he was not giving anything away. "We'll just see how the race pans out" was about as detailed as he got, and in my mind I wondered whether this was confidence or nerves.
Star now had a groom on her inside as well as her outside, and this calmed her down significantly. Danny mounted, and they were off to the start. We went into the grandstand where we could see the big screen opposite as well as having a great view down the course. The nerves really began to churn. My throat was dry as I considered what a good result would be after the disaster of Chester. First six would guarantee a prize. Second or third would mean a conversation about Royal Ascot. A win would be out of this world, and would include a third GBB bonus.
The Hilary Needler
She went into stall four very calmly, despite the newcomer Your Spirit playing up at the post. Eventually they were all in, and they were off. She dived left at the start, but showed good pace to fall in just behind Mark Johnston's Fragrance. Primrose Ridge came from the outside at a blistering pace and soon took the lead. We passed Fragrance and tracked the leader, and after a couple of furlongs it was clear that she was a very different filly to the one at Chester.
With two and a half to go Primrose Ridge was going further clear, but we were holding second. The rest of the field were struggling as we passed the two furlong pole, and the thought of finishing second, that had seemed so appealing before the race, was now possibly a disappointment.
A furlong and a half out we were probably two lengths down, but Jack Mitchell on board the leader had gone for his whip. Passing the furlong pole there was still clear daylight between the two, but Danny then urged our girl for an effort. She responded, cutting into the lead, but she was still a length down with half a furlong left to race. He drove her harder, and she picked up. She was gaining. Would the post come too soon?
Flying Finish
She was flying, and in the split second it took me to switch my eyes from the screen to the live action she had gained half a length. Beverley is a stiff uphill track, and the finish can be gruelling after a hard race, but Star was loving it. Her ears were pricked as the commentator called "Primrose Ridge being mowed down by Star Of Lady M". She put her head in front, then effortlessly eased to victory by three quarters of a length, the same distance that we beat the same rival at Redcar.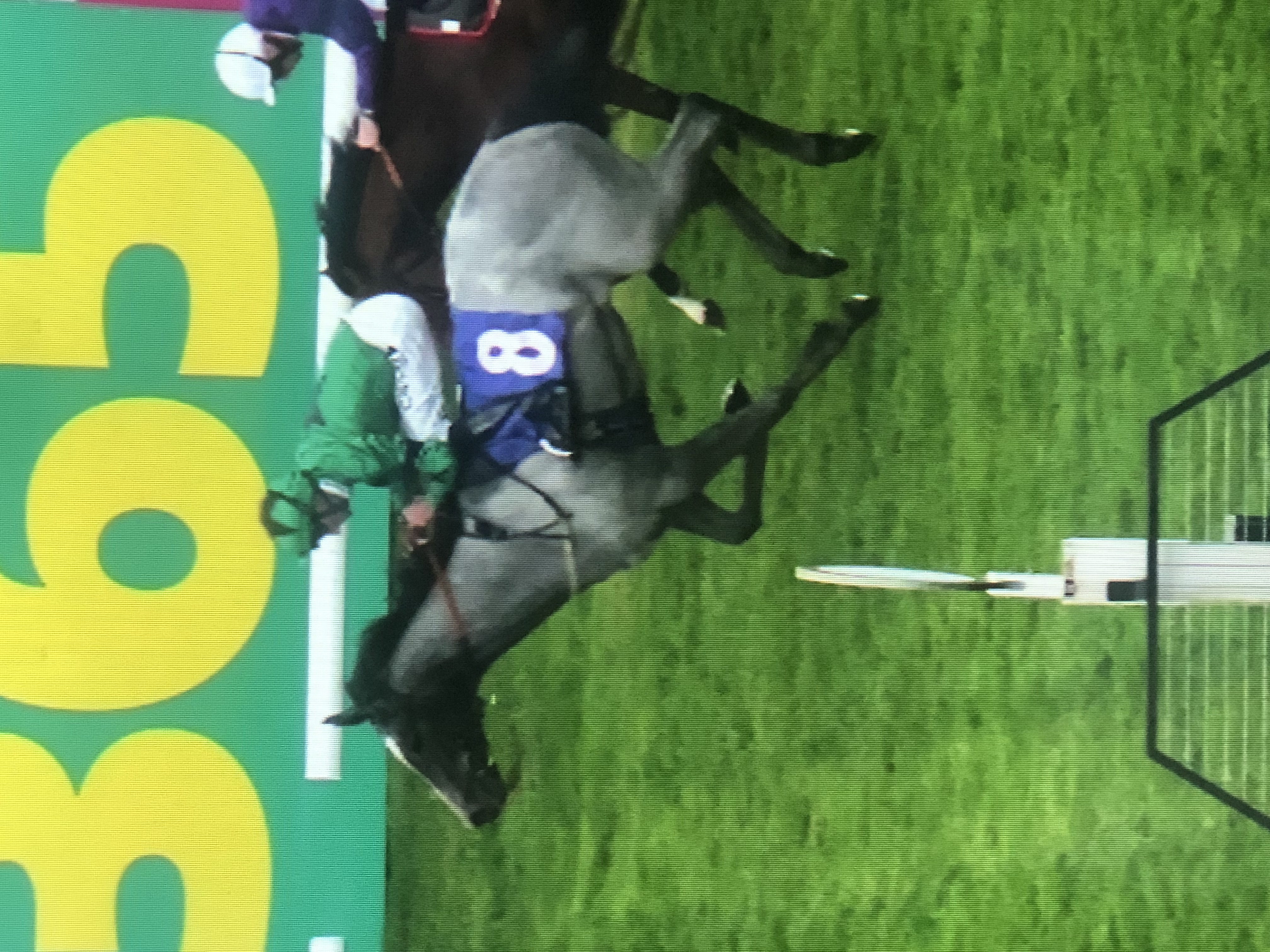 The last 100 yards was all heart, and the deficit from ¾ down to ¾ up was in the blink of an eye. She won going away from Primrose Ridge, with the rest a few lengths back. Sally's hat went up into the air, the boys and Abbie were buzzing, and then they announced that they had all backed her. I rushed to the parade ring where Danny was about to be interviewed. "Put a line through Chester and she's unbeaten," he said, and followed this up with, "she deserves her chance at Royal Ascot." David suggested, "the owners might want to go to Royal Ascot," and he was also quick to dismiss the Chester race. Mick Fitzgerald had a quick word with us and then it was time for the presentation.
A Trophy – And A Demand
We received our trophy from a relative of the original Hilary Needler, and we were then asked several questions about what went wrong at Chester and whether we would go to Royal Ascot. Sally said that if we were going there she would need a helicopter!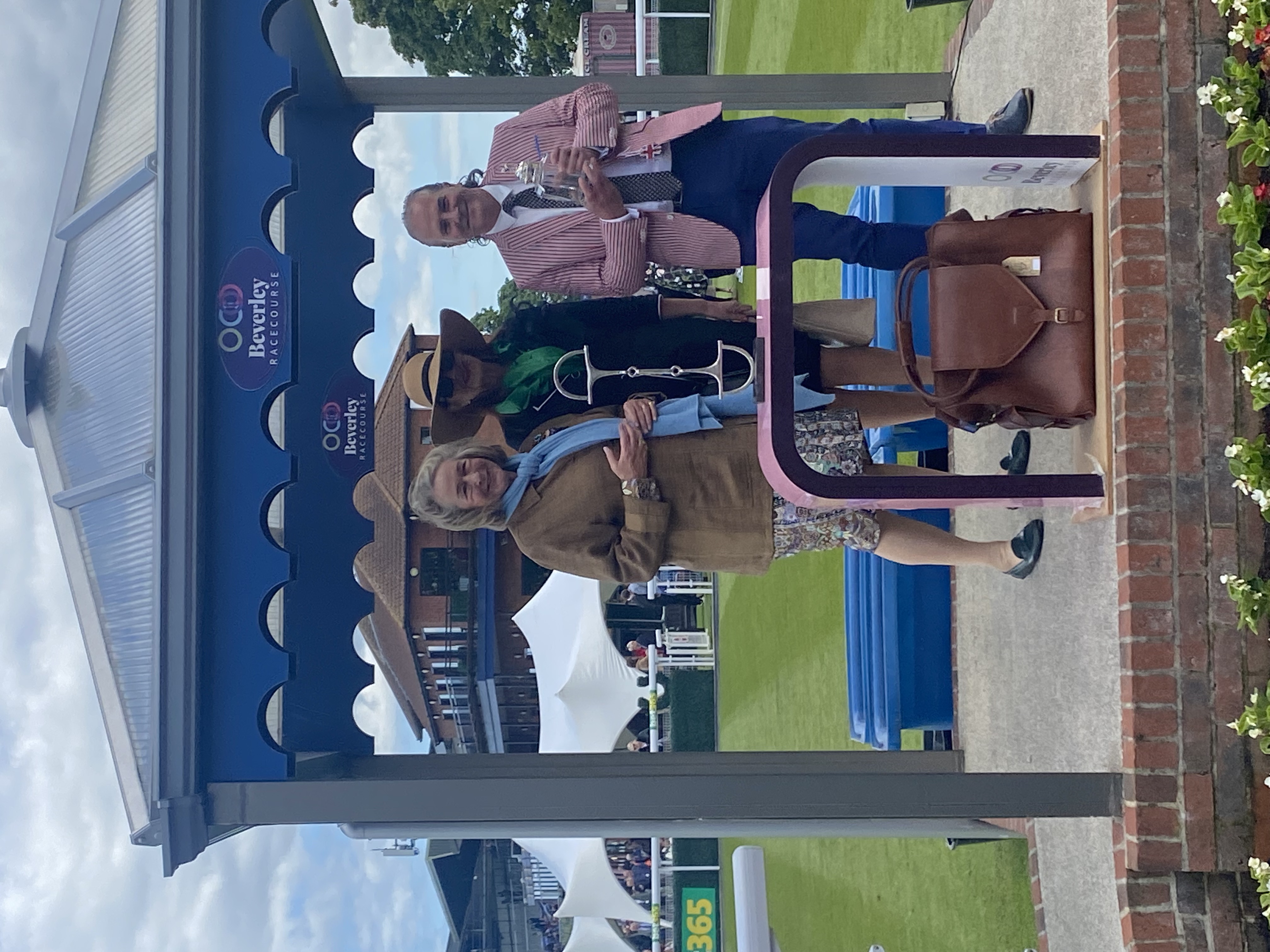 David received a trainer's trophy, and then Danny received a bag as the winning jockey. Beverley are quite rightly proud of their race, the Hilary Needler is synonymous with the course. It is a Class 2 race, but it used to be Listed, and I am sure that they would love to see the Listed status restored.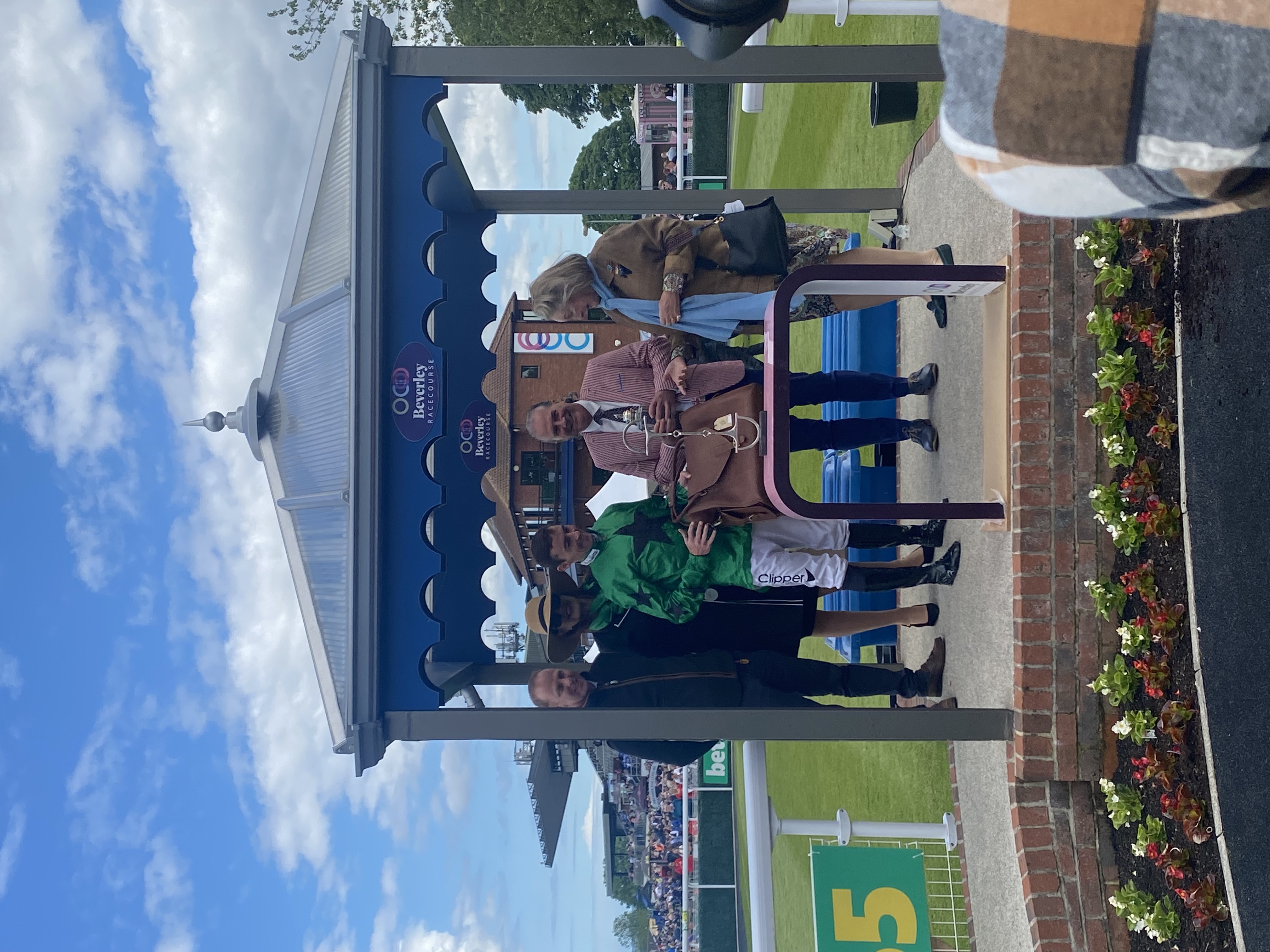 There's Only One Destination
We were led away to a presentation room, where a large television was already showing reruns of the race. There were so many people in there that I thought they must be connections of all of the other horses! We spoke to the Chairman of the course and various other dignitaries, and they were all urging us to head not just for Royal Ascot but for the Group 2 Queen Mary. They were genuinely wishing us well, but there was also the slightly hidden agenda that if our horse did well at Royal Ascot it would go some way to proving that the Hilary Needler once again deserves to be Listed. Very shortly afterwards, Beverley Racecourse followed me on Twitter!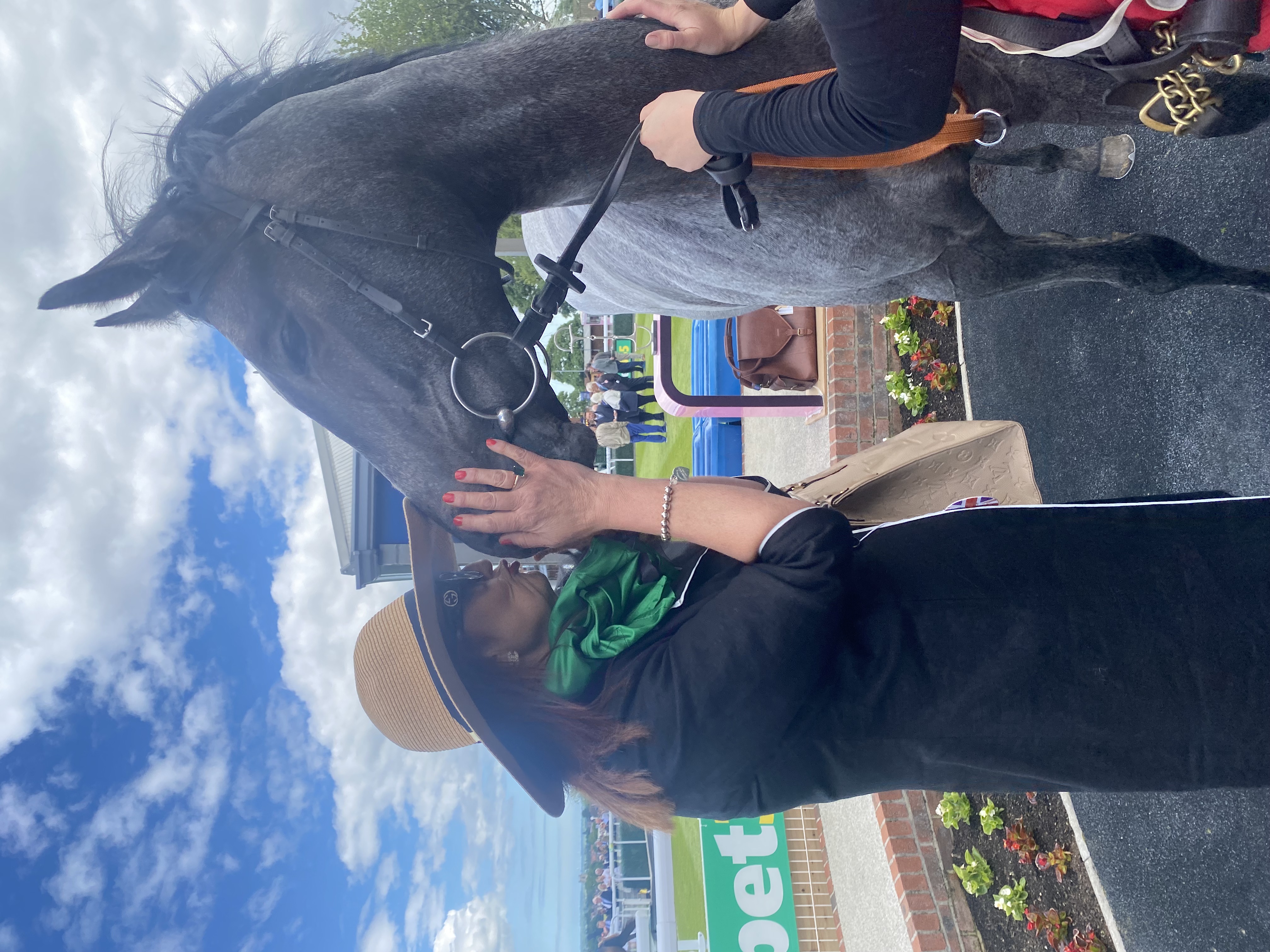 Lady M gives her namesake warm congratulations
Good News Travels Fast
I had to be careful with the champagne due to having a long drive home, so we said our thanks and headed back to the Owners & Trainers area. As ever, my phone had exploded with messages. I got through them, and then the phone calls began. First up it was Luke, and he was thrilled with her performance. He did throw a bit of a curved ball at us by suggesting that rather than heading for Royal Ascot we could go to France and pick up a Listed race with very decent prize money, as these tended to be weaker than over here.
There was also a message from Whitsbury Manor suggesting that the Empress stakes at Newmarket would be a good option, but that was six furlongs and David had confirmed that for now she would stick to five. They also advised against Royal Ascot as it can ruin a horse, and we did not want another Chester on our hands!
Talk Of The Town
Back down to earth we realised that the debate about whether she would be rated 75 or 95 had been settled in our favour. We had also won the £20,000 prize as well as the £20,000 GBB bonus. Congratulations came from all angles, with many of the locals keen to share their memories of the Hilary Needler. It really was a proud moment to now be a part of that history. I chatted to people too numerous to mention, and I think that our appeal was that we were not one of the big players, we were just ordinary people enjoying the thrill of owning our first racehorse.
The Gamblers
The boys were almost in shock. Ole, like me, thought that with a furlong to go she was not going to win, and that burst of acceleration was really something. They got back to betting, but several races went by without me taking much notice of them.
The general consensus was that we had to go to Royal Ascot, We might never get the chance again, but that decision would have to wait. Will Easterby passed on his congratulations, and then we returned to our table where Sally had a full bottle of champagne waiting for her.
When Everyone Wants To Know Your Name
We had had another thrilling day, perhaps the best yet, and we headed for home. The journey back was mercifully quick, and we walked down to the Drum & Monkey for our traditional post race celebration. We went to Whaley Bridge Bowling Club which was in the midst of the Champions League final, but well wishers came from everywhere. Most of them had backed her again, some had won more than others, and some were just happy for us. If our local bookie was still around he would definitely have gone bust after our win.
I returned home around 1am and of course turned the television on, retrieved the USB, and watched the race several more times. I then watched the ITV coverage that I had recorded, where Jason Weaver was the only one who gave Star Of Lady M a chance, before finally falling into bed.
Follow The Leader
The next day I concentrated on all of the Twitter messages, including an interesting follow from Jamie Osborne who we had outbid at Tattersalls for our filly. I wondered if he was regretting missing out on the purchase, or whether he had forgotten all about it and was just genuinely interested.
I had a call with Richard Kent who urged me to take our filly to Royal Ascot. He asked me if I had any intention of selling her at the London sale, and as I had never heard of the London sale, and I had no intention of selling her, I said "No!" He also suggested that a reasonable figure for insurance purposes would be around £150,000, so that was added to my "To Do" list.
Jason messaged me to tell me that Star Of Lady M had come out of the race absolutely fine, and we would have a call the following day to discuss options.
I passed the time by creating a new ringtone, so now when anyone calls I will hear "Primrose Ridge being Mowed down by Star Of Lady M. Star Of Lady M's won the Hilary Needler."
Rising Star
The TopSpeed rating of 66 from the Beverley race was a little disappointing, especially as she had reached 80 at Ripon. However, as I have said before no one really understands what that is, so I did not let it worry me. Her RPR improved to 88, up five points on Ripon, but still not quite at the levels of the favourites for the races at Ascot.
The following morning I had had the chance to mull over the past 48 hours, and what it actually meant. I was almost certain that whenever Star Of Lady M races she will carry the distinctive emerald green with black stars. Even when she reaches the broodmare stage we may decide to keep the foal, though that would be far less certain.
Waiting…
Jason let me know that we could agree race plans around 2pm, after he had sorted the weekend entries. That was then delayed until 3pm to give him a chance to analyse the options. In particular he wanted to check the results of Hilary Needler winners at the royal meeting. It seemed like a very long wait. It was actually around 3.20pm when we got to chat, and Jason explained our options very clearly and concisely.
The Norfolk Stakes would probably be a step too far in terms of quality. We also agreed that there was no sense in increasing her distance to six furlongs just yet. That left the Queen Mary and the Windsor Castle. The Queen Mary is a Group 2 race for fillies only. It also has the advantage of being the first race on the card.
The Windsor Castle is a Listed race open to colts and fillies, and takes place more than three hours later. Would my nerves be able to stand that wait? Wesley Ward, the famous American trainer, had what he considered the best horse he had ever sent to Royal Ascot entered in the Queen Mary. This could put off a lot of potential challengers. On the other hand, the very best fillies would go for the Queen Mary. Therefore we might have a better chance in the Windsor Castle.
What Will The Future Hold?
I almost had to pinch myself during the conversation. There were no other options, just the two races on the same day at Royal Ascot. So, we were definitely going! In the end we decided to enter both races and see how they panned out at the declarations stage. That was perhaps a little extravagant in terms of entry fees. However, we thought that she had earned the right to have the options. We were really using the Royal Ascot entry as an experience, as opposed to a genuine chance of winning. As long as Star Of Lady M was happy and came away none the worse for her experience, I was OK with that.
We also discussed what might happen afterwards, and it was black type all the way. The Dragon at Sandown was a possibility. There were races at Newmarket and Newbury before the Julia Graves Roses at York. We agreed that there would be time to discuss that in more detail afterwards.
Royal Ascot Here We Come
I then started to let everyone know, and the social media world erupted. After thanking Richard for his advice, I spoke to Luke who was as excited as anyone about the decision. I mentioned the Wesley Ward hotpot. Luke dismissed that with, "he claims to have one of those every year." I invited him to join us at Ascot, but he had a prior lunch engagement with the Queen's racing adviser. He assured me that he and Tabitha would join us in the parade ring. Incredible, unbelievable, staggering, the superlatives kept on coming. We were heading for Royal Ascot, and we might even be the cheapest horse there. We were both delighted for each other!
Let The Countdown Begin
The next few hours were spent researching the dress code for the Queen Anne enclosure. I also had to find quotes for helicopter prices. We could not simply turn up to Royal Ascot in a taxi.
I asked Russell Wild, the chairman of Whaley Bridge Cricket Club, if we could land on the cricket pitch. He not only agreed, he insisted, and stated that our return would involve a reception party.
Helicopter prices ranged from £3,000 to more than £13,000, and I am not entirely sure of the reasons behind the differences. I decided to leave it to the following day, and I went to bed with the countdown firmly in progress. There were sixteen days until our big day.
I decided that £100,000 would be sufficient for insurance. If she did well at Royal Ascot we would have to change it again anyway! Our insurance man, James Denley, had taken a keen interest in the career of Star Of Lady M, and he was happy to increase the coverage. I then contacted the yard to get a veterinary certificate.
Two Helicopters Or One? You Do The Maths
Meanwhile, the helicopter responses continued to vary wildly. Our best quote came in at just over £4,000, but there was a problem. The six seater helicopter had a maximum passenger capacity of 450 kilos. We weighed in at approximately 530 kilos. Now, I do not think that 530 kilos is excessive for six grown adults, at less than 90 kilos each, but the helicopter clearly did. The helicopter company asked if we could double check the weights. Although there might have been scope to lose a kilo here and there, to bring it down by 80 full kilos would take something as drastic as amputation. They did have a bigger six seater helicopter, but that came in at more than £12,000.
I figured that two smaller ones would be cheaper than one large one, so we came to a compromise. For £7,500 we could get two helicopters that would accommodate all six of us between them. There was myself and Sally, of course, as well as Ole, Zachary and Gabi. Finally, there was my sister Fiona, and we were all very excited.
Dressed To Impress
I went into Manchester to order some smart navy tails with a stone waistcoat. The girls thumbed through endless options for suitable attire. The boys decided that they would use their existing suits as they could not be bothered with the rigmarole of formal dress. Fortunately we were in the Queen Anne enclosure, where the dress code is not as strict as the Royal enclosure.
I received notification that Fittleton Ferry was due to race again, this time at Chepstow the following Saturday. Another five furlong Class 6 race, for which she was around 16/1. I made a mental note to watch out for that, but I had other things to think about. Simon Chappell messaged me as he had a gazebo within the Royal enclosure. He advised that the majority of men in the Owners & Trainers would be in top hat and tails. I decided that my tails would definitely need to be finished off with a topper.
We agreed that we should meet up, though I wondered if Royal Ascot was similar to other racecourses. Would we be able to venture into any enclosure up to the status of our ticket? That would mean that he would be able to come to the Queen Anne enclosure but we would not be able to enter the Royal enclosure.
The Race Is On
By Wednesday, with two weeks to go until the big day, several people were asking the question about which race we would be in. The BHA racing administration site was updated with entries into the Queen Mary and Windsor Castle. This was another confirmation that it was really happening. The bookmakers responded by adding Star Of Lady M to their lists. Most of them quoted her at 20/1 or 25/1 for the Queen Mary, with Paddy Power being the exception at 40/1. Wesley Ward's Love Reigns was the hot favourite, as short as 9/4 in some places. The Windsor Castle was almost ignored, with only Unibet listing her at 20/1.
Massaat Off The Mark
The following day there was welcome news related to Emerald Duchess when her sire Massaat had his first winner. Mascapone, who had finished fourth in the Brocklesby, won at Chelmsford. The Brocklesby form was certainly working out well, and Star Of Lady M had already beaten three of the runners.
Have You Heard The News?
That weekend it was the Jubilee celebration, and Whaley Bridge Cricket Club hosted a major event for the village. As is tradition I spent most of my time in the bar, serving rather than drinking. In doing so I met a great many people. Everyone was interested in our horse, including some people that I had never met. The legend of Star Of Lady M was growing almost daily. The helicopter ride to and from Royal Ascot would only add to that legend, regardless of the result.
It was also the weekend of the Oaks and the Derby, and I managed to pick the wrong horse in both races. Fittleton Ferry finished a disappointing 7th at Chepstow. The explanation came that perhaps she needs further and a stronger ride from her jockey. It seemed that the trainer may be going down a previously trodden path. Perhaps the horse is simply not cut out to be a racehorse.
Driving To Deauville
For the first time in many weeks the next step for Star Of Lady M was clearly defined. It was also very unlikely to change. We still had to decide on which race she would run in, but we knew we were going to be at Royal Ascot on the Wednesday. There was little to speculate on, but I did put my mind to where she might go after Ascot. I was very familiar with the options in the UK. However, Luke and David were both thinking that France might be a better option to pick up some black type. She could achieve this with a top three finish at Ascot, but it is always good to have a back up plan.
Deauville seemed to be the most likely destination on 10th July, but it is not an easy place to get to. A flight to Paris seemed an obvious starting point. Unfortunately, with the turmoil at most airports, and in particular Manchester, that was a daunting option. The train was a possibility. We could go from Macclesfield to Euston, followed by a short hop across London to the Eurostar bound for Paris. Another train to Deauville would take the journey time to around nine hours. The final choice seemed to be to drive. Although it involved using the channel tunnel, the time taken would be less than eight hours. It was not a particularly appealing prospect, but it was certainly the quickest door to door. Perhaps we should just pin our hopes on winning the Queen Mary and then we could remain in the UK!
The Whaley Bridge Grand National
With a week to go the next milestone would be the entries for the Coventry Stakes. This was the only two year old race on the first day of the Royal meeting. They would not be published until 12 noon, so I took the opportunity to go to Tesco. It was relatively quiet, but then I bumped into an old friend who asked about Star Of Lady M. One of the shop assistants overheard us. She knew Sally, and she wanted to know all about our racehorse, having heard about it through another friend. She said that she did not normally have a bet, but she would be putting some money on her at Royal Ascot.
As I stood by the mangoes a few more people were showing an interest. My five minute shopping trip approached half an hour! One woman said, "I will have to get my son to put a bet on as I don't know how to do it." It seemed that we had created our own version of the Grand National, with Star Of Lady M carrying the weight of many small bets on her big day. I urged caution, and emphasised that there would be many other opportunities. I sensed that this was not what people wanted to hear. Eventually I got to continue my shopping, check out and return home. As it turned out I had forgotten the mangoes!
Back at home I looked at the BHA website. The Coventry Stakes had 22 entries, and several of them were the leading fancies for the Windsor Castle. It was another level of intrigue that would develop as the entries for subsequent days were released.
Lady M Lights It Up
As I mentioned we have had a Jubilee weekend, and the weather forecast told us that it would be a good one. However, Sally was not convinced. Her conspiracy theory was that all of the weather agencies had been told to forecast good weather so that everyone went ahead with their Jubilee plans. In the end we had sunshine and warm weather across both days.
That was not the only contribution that Sally made. She was invited to perform the ceremonial lighting of the beacon. This was by special request of the council, and they also wanted her to introduce the events across the celebration. As the saying goes, there's no show without punch…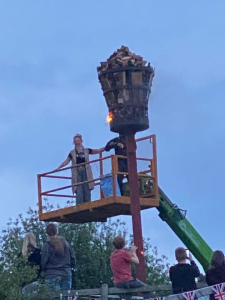 If You Want To Get To Dublin I Wouldn't Start From Here
Finally, a recommendation. If you get chance go and watch The Dublin Legends. I did this last week at the Lowry in Manchester. These four Irishmen are essentially what is left of The Dubliners. Despite their ages they perform Irish ballads and folk songs for almost two hours. They also find time to engage with the audience, and one of them told a story about a friend named Barney who had recently passed away.
Barney left the pub and was driving home, but his car was all over the road. The Garda stopped him and asked if he had been drinking. "Yes," he replied, so the officer asked how much he had consumed. "About 12 pints," was the response, so the officer asked him to blow into the breathalyser. Barney said, "Why, don't you believe me."
You can view the previous edition here
Down With The Duchess