July 5, 2022 by Mike Madden
Fairytale Of Newmarket To Ascot
The Star Of The Fairytale
The fairytale that began at Newmarket last October reached new heights as we ventured to Royal Ascot. Our story was headlined by our own princess, Star Of Lady M. She was entered into the Windsor Castle, a Listed race open to colts and fillies, and we were drawn 1 of 24 runners. That was not great. However, the favourite was drawn in 2 so perhaps we could tuck in behind and make our move late.
Not Favourite
The betting had us at 20/1 up to 33/1, but our ratings told a different story. The Racing Post Rating (RPR) had us at joint third best, and TopSpeed had us as joint first. I originally thought we would enter the Queen Mary, so that is what I registered our ownership as. Now that the switch was confirmed, I contacted Royal Ascot Owners & Trainers to switch us from the Queen Mary to the Windsor Castle. At most courses this would not matter, she was still entered in a race on the same day. Royal Ascot is different, as the parade ring passes are issued on a race by race basis. They assured me that if I had emailed they would certainly deal with it.
The day before our trip was quite a busy one. I had to go into Manchester to pick up my suit. Years ago I used to work in Manchester, and I got used to the sights and the sounds of the streets. Now, the buskers seem to delight in blasting out backing tracks, possibility to drown out their own mediocre voices. Perhaps the city should impose an "acoustic only" rule!
Its All About The Fashion
Back at home Sally, Fiona and Gabi discussed outfits and accessories with the weather turning almost tropical. It was also the first day of the Royal meeting, so we scoured the television to get a sense of the different enclosures and the styles being worn.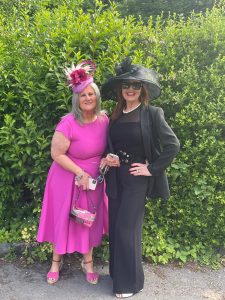 Everyone Has An Opinion
The pundits were optimistic about the chances of Star Of Lady M. They ranged from "Clearly wasn't 100% at Chester and unbeaten aside from that, finding plenty for third win in the Hilary Needler at Beverley 18 days ago. Well worth a shot at this level." to "Didn't take to Chester in the Lily Agnes on her penultimate start but has won her other three outings, including a valuable conditions event at Beverley last time. Needs more but she looks a tough sort and cannot be dismissed easily".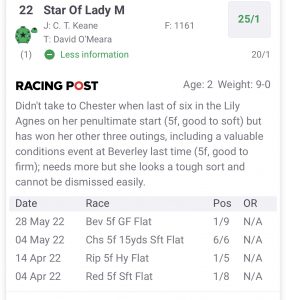 Chopper Squad
A telephone call from the helicopter company caused a bit of a panic. They said that they had not received landing permission for our trip to Ascot. Fortunately, they were only concerned about the Whaley Bridge Cricket Club end of the journey, which was easily resolved! I had also not heard back from Ascot Owners & Trainers with regard to my request to switch Star Of Lady M from the Queen Mary to the Windsor Castle, despite two emails and a number of fruitless phone calls. That would have to be a job for the following morning.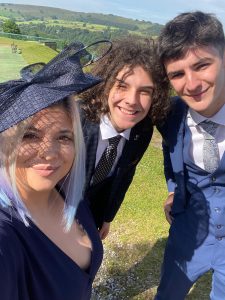 Twitter was very kind to us, with lots more follows and good wishes. For now we were the pride of Yorkshire, ironic given my cricketing and footballing allegiance to Old Trafford.
Lucky Number 22
We were to carry number 22 in the race. I was clutching at straws when I discovered that the number 22 represents your angel's way of telling you that you're on the right track and that your dreams are about to become a reality. You will have probably gathered that I was doing just about anything to pass the time!
Bradsell won the first two year old race at Royal Ascot, a 12,000 guineas purchase as a yearling. He was drawn in stall 2, although he did track over to the other side of the course. However, it did give me renewed confidence. He proved that a horse could win from anywhere if it was good enough and got the run of the race.
The Big Day Arrives
On the morning of the our race I decided to embrace the luck of the Irish. A small glass of Irish whiskey was the order of the day and it seemed to work. I finally got through to Ascot to confirm that race switch. Shortly afterwards the helicopter pilot rang me to say they were all on time and expected to land at 9.30am. I said we were booked for 9.40am but that did not seem to bother him, it all seemed very relaxed.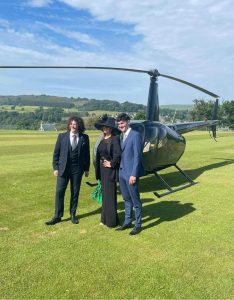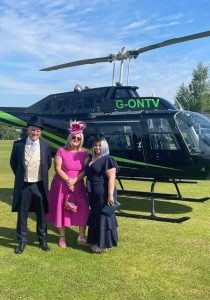 I also received a picture message from David O'Meara showing Star Of Lady M in her Ascot stable. She had her head over the door looking to see what was going on. She was seemingly unconcerned about the drama that was about to unfold.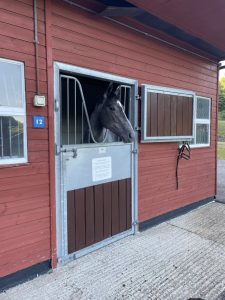 It was already hot. As we stood for photographs I could feel the heat through my double breasted waistcoat, and beneath my top hat.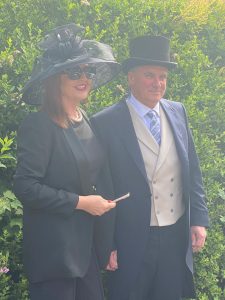 We took the short but bumpy ride up to Whaley Bridge Cricket Club. As we pulled into the gate the unmistakeable sound of helicopter rotors could be heard overhead. The first one came into view, and then the other. They landed on the immaculately mowed outfield, and then we waited for the rotors to completely stop. The smaller of the two was almost entirely black, whilst the larger machine had emerald green livery on its black exterior. Its registration, starting ONTV, indicated it was one of the helicopters that had been used on Anneka Rice's Treasure Hunt.
Those Magnificent Men…
We split into two groups. Sally accompanied the boys in the smaller helicopter, based very roughly on weight. Myself, Fiona and Gabi went into the larger beast. There were more photos and videos, and even at that early stage the girls were concerned about their phone batteries. There was a brief safety demonstration, and we were away. Our pilot took the lead, given that he was easily the more experienced of the two. Within minutes we had cleared the two reservoirs of Fernilee and Errwood. He was ultra professional, and I thought it best not to tell him that when we returned there would actually be a cricket match in progress on the cricket pitch!
Our average flying altitude was around 1200 feet, and so everything on the ground was crystal clear. However, with nothing else to do I found myself looking down for far too much of the journey. This resulted in quite a stiff neck! We crossed over Alton Towers, and then headed for the M40. Bicester, Oxford and Henley-On-Thames could all be clearly seen from the air. Our pilot gave us the lowdown on things that he had to avoid, such as microlight aircraft, gliders and parachutists.
Picture Perfect
After around 75 minutes Ascot came into view, and we flew over the home straight. This proved to be another great photo opportunity. We swung around and landed in a large field, and we were then accompanied to the reception area by the ground staff. Our pilots would park up and be taken to the golf course to be fed and watered for the day. They would be rested and refreshed for our return journey later.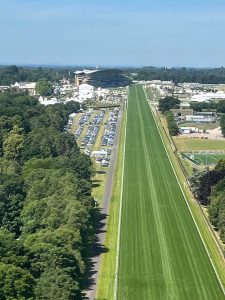 Flowing Fizz
The reception area was a rather grand marquee. There was a check in desk at one end where they issued us with the details for our return flight. At the other end there was a bar. The complimentary champagne flowed rather freely, whilst I opted for a grapefruit juice followed by a bottle of Peroni. Zac took the opportunity to open his study book as he had an A Level exam the following day. I think that that was the last time his book saw the light of day.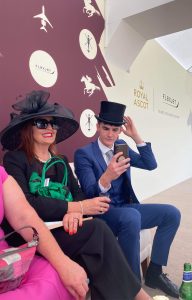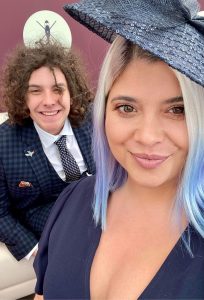 Pastries were offered, and there was a supply of Royal Ascot racecards. I picked one up, it was different to any other racecard, with a decidedly antique feel inferring its quality and value. It was a proud moment to see Star Of Lady M listed in the sixth race. I was anxious to get to the course, collect our badges and go inside so that we could relax, but the girls wanted more of the complimentary champagne.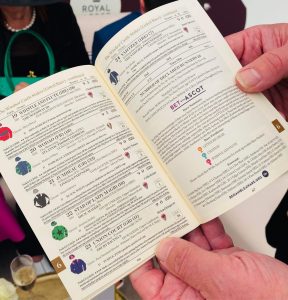 Road To Nowhere
Eventually we boarded a Mercedes people carrier and set off to cover the short distance to the course. The driver followed the signs to Car Park 8, but I knew that our badges were at Car Park 2. The roads were already getting busy with raceday traffic. I was thankful that we were not paying the standard £45 to park our car in a field. We reached Car Park 8 and the driver described the pick up situation. There would be cars about marked with the heliport. We would just have to locate one and then all would be taken care of. I was not convinced, and then I insisted that he took us to Car Park 2.
We soon discovered that Car Park 2 was on the other side of the course. Walking to there in that heat would have been a disaster. As it turned out it might have been quicker, as we got stuck in traffic on Ascot high street. My nerves were starting to shred, with still around five hours until race time. We then discovered at least part of the cause for the delay. The Royal family were heading in the opposite direction, in preparation for the Royal procession.
Royal Rumble
So, we waited, inched forward, stopped, and waited some more. Around 45 minutes later we passed the entrance to Car Park 2. The instructions said that the Owners & Trainers facility was at the west end of Car Park 2, but the signs simply stated L and R. We gambled, and it paid off, as we walked in right by the aforementioned facility. Five minutes later we had our individually named Owners badges, as well as parade ring passes for race 6.
The entrance was on the other side of a busy road that we were herded across by an efficient steward. We underwent a thorough bag check before stepping across the threshold onto the hallowed grounds of Royal Ascot.
Show Me A Sign
The signs inside were about as good as those outside. We wandered aimlessly for a while, taking in the grandeur of the grandstand, the bustling throngs, and the decorated Queen Anne enclosure. The Royal enclosure had its own rules, and these extended until after the Royal procession, which seemed rather odd. I found an information desk to ask for directions to the Owners bar. A surprised lady said that she did not think that there was one. She then unfolded a map from the centre of one of the racecards, and she pointed us to the Bustino and Grundy lawn area that we had just walked past.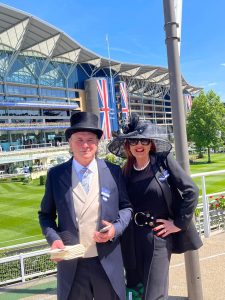 Pimms O'Clock
It was now approaching 1pm so we settled ourselves at an Owners bar. A jug of Pimms and more Peroni disappeared rather quickly. The temperature must have been approaching 30 degrees out on the manicured lawns where every table had already been reserved. I would not normally eat before Star Of Lady M has raced due to frayed nerves. In this case, with still four and a half hours to go, we all agreed that we should dine as soon as possible.
Fiona went in search of a restaurant, and she came back a short time later having achieved her goal. We followed her lead. She meandered through corridors and another bar before finally arriving at a crowded restaurant. We were seated at the far end, and quite coincidentally our table was number 22. This was the same number as Star Of Lady M in the Windsor Castle. It was an omen! I laughingly suggested that we would finish 22nd, but that was quickly dismissed.
The buffet style lunch was excellent. After several cold meats with rice, pasta and various other side dishes, I attacked the chocolate pudding, strawberries and clotted cream with gusto. Two glasses of wine washed it all down, and then we once again braved the heat outside.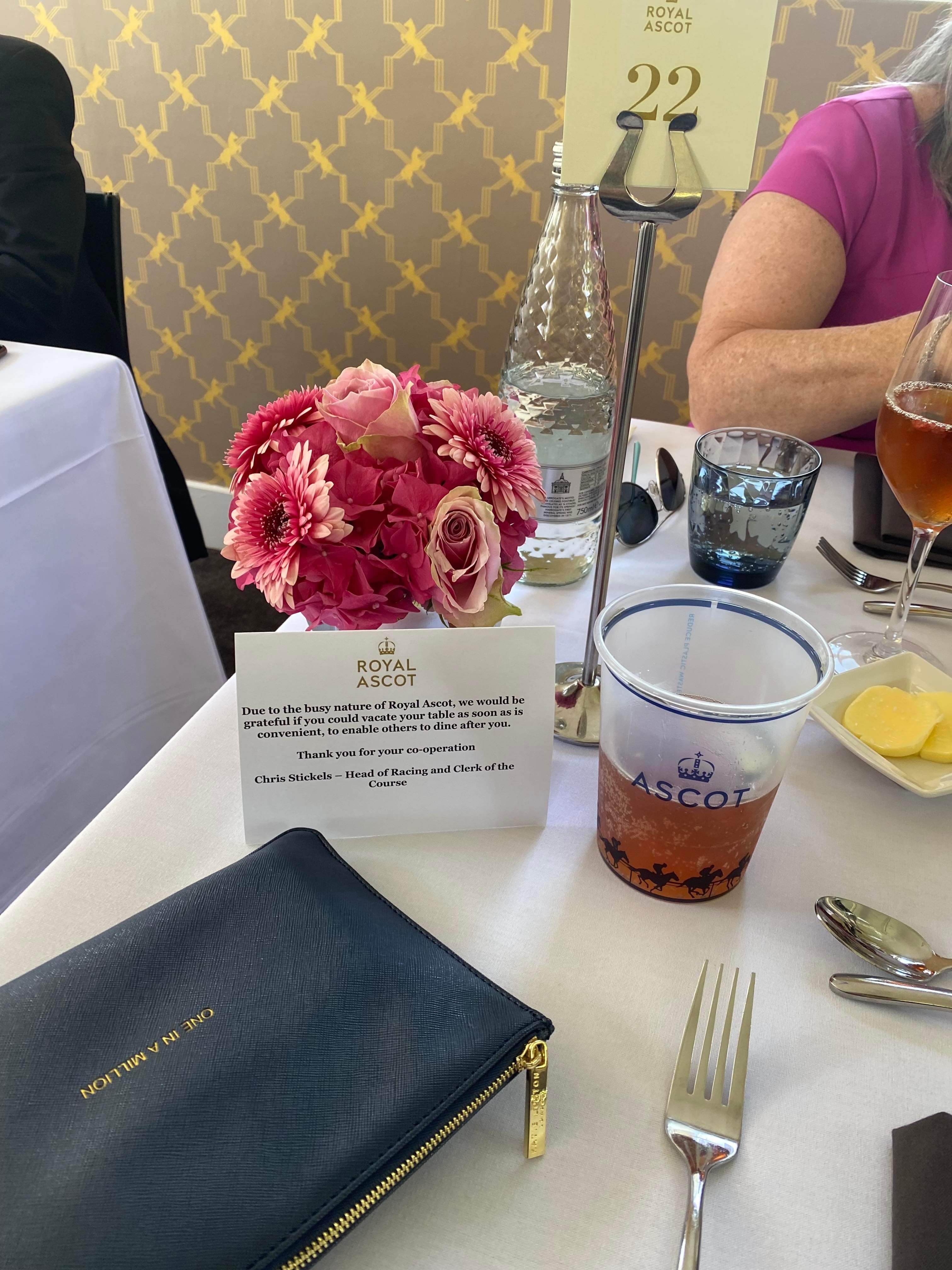 A Popular Distraction
We took up our position in the Owners viewing area to watch the Royal procession. The Prince Of Wales and the Duchess Of Cornwall, otherwise known as Charles and Camilla, took the lead as the carriages made their way down the course. This kind of spectacle is what makes Royal Ascot so special to so many people. To be honest I just wanted to get on with the racing.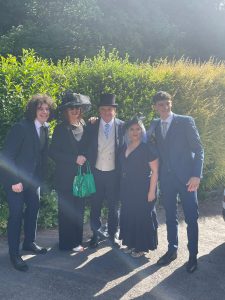 We met Luke Lillingston and his wife Tabitha. They were as excited as we were at the prospect of Star Of Lady M running at Royal Ascot. We went our separate ways, aiming to meet up in time for our race, and then we settled in for the racing. Temperatures continued to soar, and I opted for water to stave off dehydration.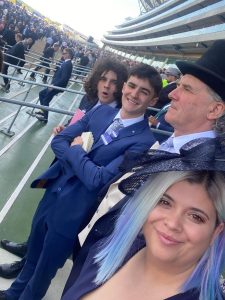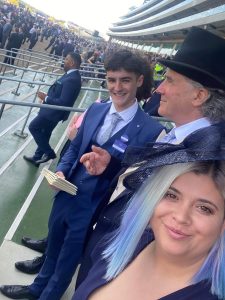 They're Off
The first race was the Queen Mary, and of course on a different day that might have been our race. As it turned out our regular jockey Danny Tudhope rode the winner, and I had backed him. Zac had bet £10 each way rather than £5 by mistake, and so his betting reserves were already seriously depleted. Gabi had never been to a race meeting before, and she quickly burnt through her funds as well. I backed the third winner at good odds, and then we decided to try to find somewhere out of the stifling heat.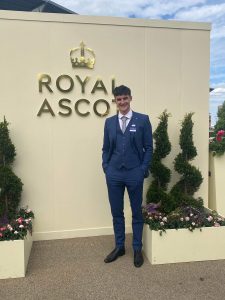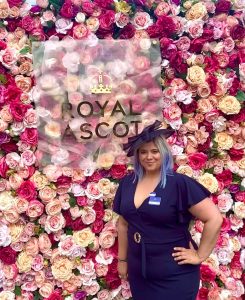 The Big Heat
The bar was now full, making it even hotter than before. Eventually we settled for a table with two chairs at one end of the lawn. This was just away from the pre parade ring. A waitress took our order, and I opted for a vodka as well as my usual water, just to calm my nerves. A combination of heat and nerves is not good, and I was starting to suffer. It was around 4.45pm, and the Royal Hunt Cup was just 15 minutes away.
I went for a walk, and noticed some of the horses for the Windsor Castle coming into the pre parade ring. My nerves ratcheted up to another level, and I went to sit back down. My hat was off, my jacket was off, and now I unbuttoned my waistcoat. This felt like being released from a straitjacket, but as time ticked on I was honestly not sure whether I would be able to make the race, and particularly the preliminaries.
Race Time
My phone buzzed. It was Luke beckoning us to the pre parade. I galvanised myself and, accompanied by concerned and excited family, we went to meet him. Star Of Lady M was nowhere to be seen, they were clearly keeping her out of the heat. I met Jason Kelly and Char-Lee Heard, and they were busy but relaxed. We found Luke and Tabitha, and we also met John O'Kelly who was the auctioneer when we bought Star Of Lady M. I suggested that he might have brought the hammer down just a little quicker, and that raised a smile. I was over the effects of the heat, but my nerves were dreadful.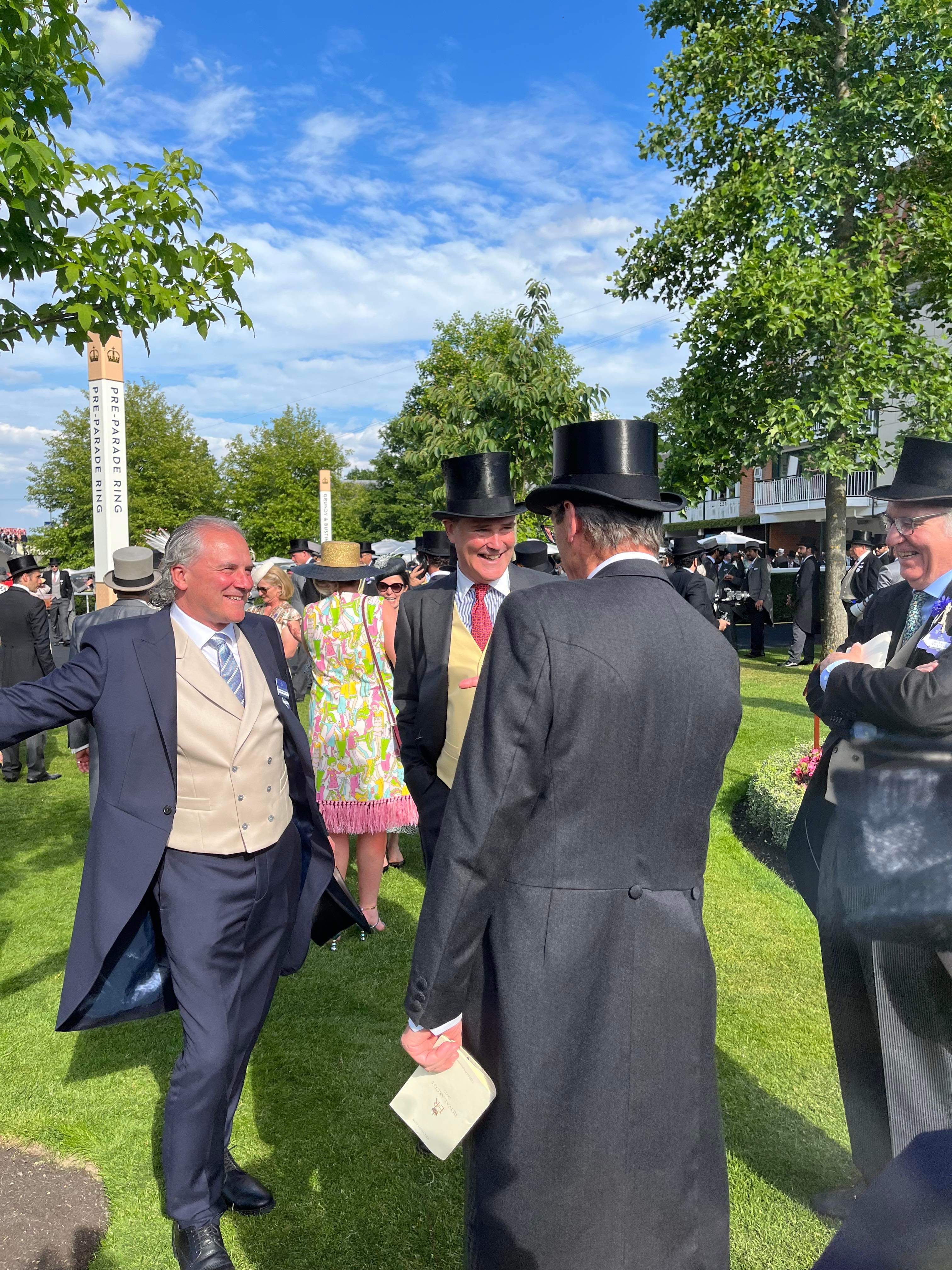 Star Of Lady M finally emerged from her stable and went straight to the parade ring. She looked magnificent, and her appearance was made even more special by the Royal Ascot saddle cloth with gold numbers and lettering.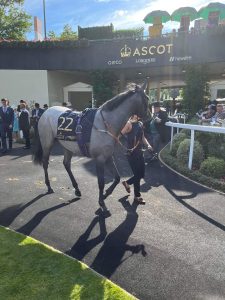 The Lady Is Not To Be Rushed
As we made our way there, other runners were already heading out onto the course. We were very late, but I think this was a deliberate ploy to keep her away from the hullabaloo for as long as possible. The pre parade ring had been busy, but the parade ring was far worse. It was impossible to see anyone. Luke spotted our trainer David O'Meara, and we followed Jason through a small gap where David was giving last minute instructions to our jockey Colin Keane.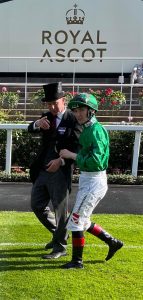 Sally appeared a short time later, just in time to see David give Colin a leg up. They both looked relaxed, and we made our way to the packed grandstand with reserved optimism. Gabi grabbed me another water along the way, and as we peered towards the start. Star Of Lady M walked calmly into stall 1, the first horse to be loaded. My stomach was churning as I waited for the other 23 to go in!
Under Starters Orders
After what seemed like an eternity they were off. Star Of Lady M got out better than she had in any of her previous four starts, then Little Big Bear was driven to pass her. It was going well until the field tacked across to the centre. Colin Keane tried to straighten her but she fought against him. She changed her legs and then seemed to get bumped. It was clear that she was not going to win, so Colin eased her through the second half of the race with hands and heels. There was no reason to give her a hard race, particularly in the burning heat, and she trailed in towards the back. Little Big Bear won the race, and Star Of Lady M was, well we might have guessed, 22nd!
Relief!
My nerves had disappeared completely and a swathe of relief washed over me as we realised that her race was run. We rushed down to the unsaddling area, where Colin had already dismounted. I wondered if she had sustained an injury, maybe sore shins, but Colin was fine with her. He said that she is uncomplicated with good speed, but the ground was plenty fast enough for her. David confirmed that there was nothing wrong with her, and we stood debating the outcome for quite some time. We all agreed that with a middle draw it could have been different, but that's racing. It was not our day, but everyone was convinced that she would bounce back.
Thinking Ahead
Our next target would be a Listed race to try to get black type, which would increase her value as a broodmare. The options were either the Dragon Stakes at Sandown, or the Yacowlef at Deauville in France which was a more likely destination. David had to go off to saddle a runner in the last race and he said that he would be in touch in the next few days. Tabitha introduced us to her mum, and Sally immediately spotted that her name badge read "Lady Ross", although she preferred Susie. The conversation inevitably turned to horses, and in particular an occasion earlier in the year.
Sally had picked up Luke and Tabitha's daughter Lara from Bakewell after her Duke Of Edinburgh event, and she reported back that as soon as she saw that Sally's car was full of bridles, saddles and other tack she knew that she was alright, and Susie concurred! Susie owned a piece of Mehmar who had finished a few places in front of us in the Windsor Castle. It was probably the most relaxed twenty minutes of the whole day, but we had to move on so we said our goodbyes.
And Now The End Is Near
We somehow ended up in the Royal enclosure for the final race of the day, but I was certainly not bothered about having another bet. Once the racing was done I had made a profit, while Gabi and Zac had not had a single winner. The most memorable result came when Ole's horse beat Sally's in a photo finish. Fiona continued her obsession with Danny Tudhope by backing his winner in the first. However, it was the majesty of Royal Ascot that left the biggest impression.
We were fortunate to find a steward who pointed us in exactly the right direction for the helicopter. We had to walk down the course, around a marquee, and then across the track. Our original driver just happened to be waiting for us on the other side. Less than ten minutes later we were back at the helicopter reception with the girls making the most of the champagne that was still on offer. I had more water and grapefruit juice, and just before 7pm our pilots were ready to take us back to Whaley Bridge.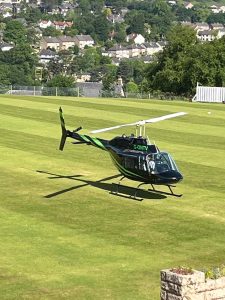 Helicopter Stops Play
Our route replicated the outward journey, including another birds eye view of Alton Towers. As we approached our destination I messaged the club to ensure that the pitch was clear for our arrival. It took us around 75 minutes again, and as we touched down the assembled crowd took photos and videos from their elevated positions along the banking. I decided we should look our best, so I donned my top hat and tails again and stepped out to a round of applause!
Some friends had arranged a champagne reception for our arrival, but I settled for an ice cold Vimto. We returned home, and as is tradition I headed for the Drum & Monkey. I was exhausted, but felt that I had to make the trip, and I was joined by Fiona, as well as her son Jake and his fiancée Aimee. One pint later we headed back home where Gabi, Sally and the boys were tucking in to a takeaway. I had a few chips but could not face any more.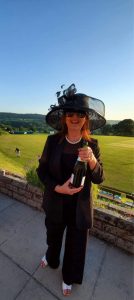 Memories Are Made Of This
It had been a marvellous day, and the helicopters certainly surprised the village. Even in 2022, when someone hears those thudding rotors they always look up, point and shout "Helicopter". I am not sure I would like to travel much further in a helicopter, 75 minutes was just about my limit. The blistering heat is also something that I need to manage better, as are my nerves. One thing is for certain though, for the six of us that made the trip, our day at Royal Ascot is one that we will never forget.
The Morning After
After a good night's sleep I watched the race back, and everything that we had discussed afterwards was reiterated. She had not had a hard race, but the journey and the heat would have taken plenty out of her. Perhaps she would be ready in time for the Dragon at Sandown which was just fifteen days away, or perhaps it would be better to wait for Deauville on 10th July regardless. In my mind I had decided on Deauville, which also meant that the next countdown could begin. We were twenty four days away from her next race.
We had an anxious wait until the message came through from Gina that Star Of Lady M had returned safe and sound, and none the worse for her experience. I spoke to Richard Kent and he was fully in support of heading for a Listed event in France. He had a filly that had unfortunately finished fourth when he tried it the previous year.
Star Of Lady M's Fan Club
On social media I thanked everyone for their help and support, and I was touched by the responses that were unanimous. Everyone was so pleased that Star Of Lady M had made it to Royal Ascot, even though most of them had lost money on her on this particular occasion. They wanted to know that she was safe and well, and they looked forward to her next outing.
I made special mention of David O'Meara and his team who managed the whole process of travel and pre and post race activities so well, and also to Colin Keane who gave her the best possible race in the circumstances. I would certainly love to have him on board again whenever Danny Tudhope is unavailable. Finally, without Luke and Tabitha we would not have had the same experience. Tabitha was such a calming voice amid the chaos, whilst Luke pushed on and cleared any obstacles in our way. As ever his post race assessment was spot on, and I looked forward to my next conversation with him.
Ooh La La
I decided to check my Weatherbys bank account to see what our day at Ascot had cost from a racing perspective, and I made some interesting discoveries. Our jockey, Colin Keane, did not have VAT attached to his fee, and our share of the sponsorship, for having a saddle cloth embellished with both Royal Ascot and Longines insignia, was just £20.24. We did not even get any appearance money as we had at Chester.
However, much more interesting than this were the additional payments. There was a £10 debit for the Foreign Racing Handling Charge, and there was a debit of £18.59 for Star Of Lady M to be registered with France-Galop, the administrators of racing in France. These had actually been processed a month or so earlier. It must have taken that amount of time to complete the process, but it was certainly auspicious less than twenty four hours after the Ascot race.

Where Exactly Is Deauville?
So, we were definitely off to France, or so it seemed. The next few hours were spent researching trains, planes and automobiles to get to Deauville for a Sunday afternoon meeting. Flying to Paris would be the obvious one, but with the chaos at most airports at the moment this would be so stressful. It is also probably three and a half hours from Paris airport to Deauville, making the door to door time somewhere close to ten hours. Driving would be quicker, but then there are rules about your car and adaptations that would need to be made. In addition, although the journey time could be under nine hours, it could also end up being closer to twenty hours given the UK roads.
A ferry from Portsmouth would take us close to Deauville, but the crossing could take eight hours or so, and then there was Eurostar. My sister is a seasoned traveller, and she said that she would not consider any other way. Business class to Paris Gare Du Nord is the way to go, and that would include free food and drink as well as lounge access at both ends.
French Connection
That more or less settled it, travelling Saturday morning and returning Sunday evening. Unfortunately, Sally is unavailable that weekend, so I asked my nephew Jake, and Neil Woolley, both of whom own a share in Emerald Duchess. Neil was a definite almost immediately, and Jake would be except for one small problem, he did not have a passport. He applied for a new one two weeks ago, but the wait time at the moment can be up to ten weeks. Fortunately this arrived a few days later, and we were all keen to know whether we would be off on a trip to Normandy.
Our nearest major train station is Macclesfield, and on Sunday evenings the last train back from London Euston to there is 9.30. That would be a close shave to connect from the Eurostar, so I looked at Derby which is about an hour away. That is a much better connection, with the added advantage that the train from Derby goes directly into St Pancras where the Eurostar departs from. So that was decided. We would go from Derby to St Pancras, then Eurostar to Paris, followed by an onward train to Deauville. With twenty three days left until the race it was all sorted!
Emerald Emerges
Meanwhile, we went to watch Emerald Duchess at Thirsk. Thirsk is another very friendly and hospitable Yorkshire course, and we had a lovely day up there.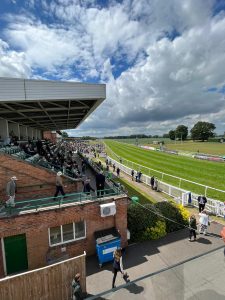 We were a little puzzled at Emerald Duchess's performance, though to be fair our trainer Tim Easterby explained that the main goal of the race was to get our handicap mark. Maybe some of the bookies knew this!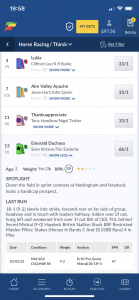 It was a gentle race for our filly who is still learning the game, even when she came to challenge. She came in 10th but not beaten very far at all. It is also clear that Tim is very sweet on her, and he mischievously suggested that Star Of Lady M might not be the best racehorse that we own. Our jockey, apprentice Sean Kirrane, said she was still quite green, and there are still some things to work on, but now that she has qualified for an official rating we should see her dramatically improve.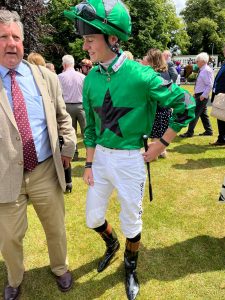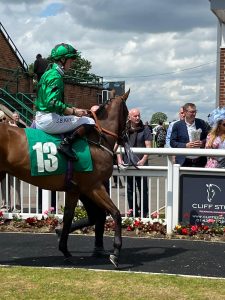 It also looks like she will be tried over seven furlongs, which means that it is unlikely that she and Star Of Lady M will ever meet on a racecourse.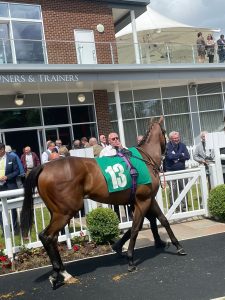 Fathers Day Down Memory Lane
Fathers Day saw lunch at the Church at Chelmorton which is always good quality. Zac won't have a roast dinner, but he will have sausages with all the trimmings, and I called in advance to ensure this was an option. Of course, Zac is now grown up so we let him order all by himself, but on this occasion he was totally flummoxed with no idea what to ask for. It got painful to listen to, so I intervened and all was well! We were glad that we opted for the Church, as over the hill in Kettleshulme the Swan ran out of Yorkshire Puddings. I am not quite sure how that happens, as they are clearly not difficult to make, but so be it. At the Church we had two each!
Fathers Day can be a bit of a damp squib. I don't expect gifts or anything really, lunch was quite enough. The boys bought me a bottle of Proper 12 Irish whiskey which I will savour over the next few weeks. Gabi was little more creative. Or rather, she expects me to be a little more creative. She remembers her childhood when a rather expensive toy version of Thunderbirds' Tracey Island went on sale. Blue Peter thought that it would be a good idea for people to make their own, so they created a full set of plans. Imagine my surprise when I opened the package and found, those very same plans. Apparently Nixie is really looking forward to making it with me. I think I may have to resort to the Blue Peter tactic of "Here's one I prepared earlier!"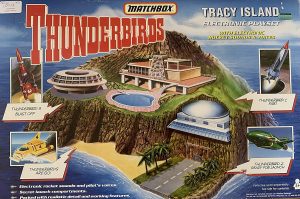 Travellin' Man
Meanwhile, Zac has now finished his exams and has decided to go off travelling. Obviously his mum is fretting about this already, particularly when he said that his first destination would be Thailand. From there, apparently, it is easy to get to Balti, which I always thought was a curry. It is! He meant that it was easy to get to Bali, and our confidence in his ability to navigate the globe took another step backward! Ole is far more sensible, opting for a trip to Alicante with his girlfriend. Originally he asked me to book it, then he plucked up the courage to book it himself. He just wanted me to pay for it, though to be fair he has since reimbursed me.
Zac has been applying for various roles to fund his potential travelling, including one with Aldi. He got through the first two stages, and the third was an automated video interview. In this, he would be given a question, then he would have 30 seconds to prepare before the robot started to record his answer. He wondered where he should be for the recording, and Sally suggested that it should not be in his room, as he would not want Aldi knowing how messy he is. He agreed!
Not Quite Dead
Its prime hunting season for cats, and Bo is no exception. She has deposited three dead birds and several mice in places where they are quite difficult to find, as well as presenting others as gifts. On one occasion she dropped a mouse in front of Sally, who said, "well at least it is dead." Bo stuck out a playful paw, and the supposedly dead mouse shot under the settee hotly pursued by Bo. Sally was not amused.
When Is A 3 Not A 3?
Finally, Ole has been having trouble with our oven. He was grilling bacon and he was cursing as it did not seem to be cooking very well. I asked him which setting he had it on. "3," he replied, and I asked him, "which 3?". This baffled him so I explained that if you turn the dial to the left the whole grill comes on, but if you turn it to the right only half of the grill comes on. Its more economic that way. He struggled to see why you would have the same number setting for two completely different things, and he went further. "The fridge doesn't work that way. I don't put something in the fridge and find out that it is not cold because only half of the fridge is cooling stuff." I guess he has a point.
Previous Edition
You can read the previous edition here
A Star Is Bo