September 17, 2018 by Mike Madden
Norsk Americana Forum in Leek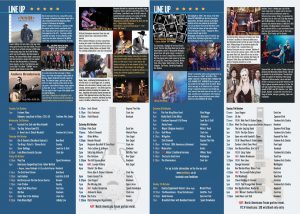 Now in its sixth year, the Leek Blues & Americana Festival continues to punch above its weight in terms of attracting the very best Blues and Americana performers from around the globe. This time around they have teamed up with an entire country, well at least that part of the country that is interested in all things Americana. The Norsk Americana Forum is a non-profit organisation dedicated to promoting Blues, Country, Americana and all things in between throughout Norway and beyond. The forum dates back to 2010, and current board member Bjorn Nilsen explained its role and how it operates. "As the genre got bigger and more popular, somebody had to try to get people to pull together for the common cause. A lot of the promotional side is web based, but we also do radio interviews and we write columns in newspapers and magazines."
In reality, the Norsk Americana Forum does not have rigid rules. It also promotes related styles of music such as Country and Blues, and it is not restricted to Norwegians, with members from as far afield as the USA. However, Nilsen does admit that, "it would be hard to see Disco, Polka and Norwegian dance music fitting into it."
The Forum is made up of musicians, journalists and other interested volunteers, and its "Not For Profit" status is important, with all generated revenue being ploughed back into the funding of gigs, tours, festivals, etc.
Norway has a thriving music scene, with Jazz, Blues, Rock & Roll, Americana and Country all having a major presence. There has even been a Norwegian Elvis tribute album, Elvis Tributter, with contributions from notable Norsk artists such as Paal Flaata, Stephen Ackles and Michael Krohn. So what is the most popular musical genre in Norway? Nilsen answered with a smile. "I would guess music to get drunk to. But seriously, Country music is much bigger with the public than it is with mainstream media. Some of the biggest festivals in Norway, which are Blues and Country festivals, always have a good portion of artists in the Americana genre."
Of course, we did not just want to speak to Bjorn Nilsen for a few soundbites; he is one of the three artists promoted by the Norsk Americana Forum at Leek in 2018. Nilsen's musical journey has taken in the Jetsurfers and the Marshall Monrad Band, with his latest incarnation being Nilsen's Southern Harmony.
His influences are evident in many of his songs, but he still likes to list them. "As showmen go, it is hard to beat Mick Jagger. My early influences were The Rolling Stones, Led Zeppelin, Willie Nelson, ZZ Top, then later on Bob Dylan, Steve Earle and The Allman Brothers Band. If I had to choose I would most like to have played with Bob Dylan, The Rolling Stones or Steve Earle."
As with most musicians, these influences played a key part in Nilsen's musical development, but his earliest memories go back even further as he recalls his first instrument. "I inherited a guitar after my grandfather, and I was listening to music a lot." The singing was inevitable because, "I was writing songs and not having a singer to sing them."
In recent times Nilsen has been developing his undoubted talent for songwriting, and performing as a session or touring musician rather than working on his own projects. "I have co-written songs with several American and Norwegian artists and songwriters," he explained. "So, I have had around 40 songs recorded by other artists in the last five or six years. Sometimes I write a song for a specific reason, and sometimes an artist will ask me to create a song or adapt one that I already have."
His musical output continues to gain critical acclaim, with his latest mini album NSH, and his more traditional offering Hardcore Roadhouse Gospel, gaining rave reviews. The instrumental Twangin' from NSH is the theme song of the Oslo Americana Sessions Radio Show, and a number of his songs have been featured on the Netflix series DAG, as well as several Scandinavian TV series. Other hits include guitarist Petter Baarli, recently of boogierock band Backstreet Girls, with his 2014 album You Petter B. Goode, and Country artist Ottar "Big Hand" Johansen's 50 Years On The Road. Nilsen co-wrote several tracks with "Big Hand", including the European top 3 single Starting All Over Again. He again teamed up with "Big Hand" and Country artist Arne Benoni for their album Benoni And Big Hand that produced the European top 5 single The Life And Times Of A Singing Cowboy. 2018 has seen his biggest success to date, with two Norwegian chart toppers, Baby Don't Ask performed by musician and singer Linda Kvam and "Big Hand", and Help Me Hold On by artist and songwriter Anders Brodersen, who will also be appearing in Leek.
The future looks bright for Nilsen, with a short tour to Florida and Alabama scheduled for November. He will also start recording a new Nilsen's Southern Harmony album, based on songs co-written with Austin Church, Melissa Joiner, Lawson Vallery and others. However, all that comes after his momentous dates in Leek!
The Forum will also be represented in Leek by the intriguing Lawson Vallery Band. Lawson Vallery has adopted Norway as his home having been born in Louisiana before growing up in the oil fields of Texas, listening to a radio that played non-stop Country from traditional venues like the Grand Ole Opry. The area featured towns such as Midland, Odessa and Abilene; as Vallery himself described it, "serious cowboy country".
He started school at the age of six, but his formative years were fraught with problems. He had trouble reading, but he was blessed with an almost photographic memory and an ear for music.
Fate played an early hand, with the ten-year-old Vallery taking guitar lessons from Roy Orbison who also lived in Odessa at the time. However, even that was a challenge as Vallery preferred to watch and copy what he had just seen rather than to read. Enough was enough, and after repeatedly failing the ninth grade he dropped out of school at the age of fifteen. A brief stint at sea was followed by three years as a soldier in the military, and then he took the somewhat surprising step of returning to education to get a diploma in Louisiana. His struggles with reading continued, and he was diagnosed with severe dyslexia, but that did not stop him from achieving his diploma and finally proving to the world that he was neither slow nor stupid.
Of course, Vallery's own talents were very much in the musical arena rather than academia. He could remember the lyrics to numerous songs, and to this day he can quote many of these dating back to the fifties. As the sixties waned he began to write his own lyrics, and this became one of the great loves of his life, alongside hunting, fishing and dogs, though in no particular order. Sadly, despite having lyrics and some self-penned melodies, he was reluctant to share these artistic pieces because of his poor spelling. Some were kept, but many simply disappeared over the years.
His career progressed to welding for the oil industry in the Gulf Of Mexico, and in the mid-seventies he was asked to take a general superintendent's position in the North Sea. This was off the coast of Stavanger, and he has called Norway "home" ever since.
He realised that the new position came with great responsibility, and he resolved to improve his English to be more in keeping with his role. His reading material was limited, but he tried to take in as many books as possible, and he remains grateful to James A Michener and Stephen King in particular for writing such interesting tales. Although his grasp of English inevitably improved, he still struggled with spelling, and that remains a constant.
However, by 1977 he found the time to start writing again, and by 1980, with a fourteen day on and fourteen day off working pattern, he found even more time to devote to his creative passion. Things changed in 1984, when he began working in South East Asia and the Middle East. Two other passions infiltrated his life and filled his spare time, competitive shooting and his dog kennel. This led to almost two decades where his writing lay silent; a sleeping giant that would emerge at the turn of the century.
In 2000 Vallery's spelling woes were virtually over, thanks to his first PC. Spellchecker gave him a whole new freedom to explore his heart and soul; visions from his inner self given credence by the simple click of a button.
Love came knocking five years later, and once again in Vallery's own words, "she is a real writer with a real education". Susan convinced him that his work was good enough to share with others, and she gave him the courage to go out and do what he had always wanted to do; write poetry and lyrics.
In 2011 he published a collection of his writing in From The Heart, and although writing remains a passion, his band also occupies much of his time. He was commissioned to perform for the US embassy in Norway, as well as at the 4th of July festival. Vallery was also one of the vocalists at the All-Star event that paid tribute to his friend Kris Kristofferson in Oslo, together with Paal Flaata, Bill Troiani, Linda Kvam, Hege Brynildsen and Jørund Vålandsmyr.
The Lawson Vallery Band is made up of first class musicians who have worked with renowned artists including Kenny Loggins, Joe Sun, Paul McCartney and Casino Steel. Their recent album "TEXIANA" was released to great reviews in June 2018.
The third member of the Norsk invasion of Leek is Anders Brodersen, who reached the top of the Spotify chart in his homeland with his first single Help Me Hold On, co-written by Bjorn Nilsen. He has just released a second single, with an album due in early 2019. Brodersen hails from Fauske, a small town within the Arctic Circle that borders Sweden. Fauske has produced a few notable musicians, including singer Christel Alsos, and it is perhaps no surprise that Brodersen grew up in a musical family. He started his career in his early teens, exploring his talent for singing, songwriting and playing guitar in dance halls, bars and pubs. Fauske remains the centre of his biggest fan base where he is popular both as a solo artist and with his band Dusty Boots, but he is hoping to extend that to Leek at the forthcoming festival.
Bjorn Nilsen signed off by admitting that although the artists promoted by the Norsk Americana Forum have appeared at many Norwegian festivals, they have never appeared at what is arguably Norway's best-known Blues festival at Hell Station in the village of Hell. So, when you welcome the Forum to Leek Blues & Americana Festival, you can rest assured that they would rather go to Leek than go to Hell!
With acknowledgement to Bjorn Nilsen and Lawson E. Vallery's own entry on the Cyberwit.Net website.
Image courtesy of Leek Blues & Americana Festival.