January 30, 2016 by Michael Madden
WI oh WI?!
It was a busy time last weekend thanks to the long awaited return of junior football. It was quite memorable too, with Ole scoring his first goal in several years in a 4-1 win, whilst Zac almost kept a clean sheet as his team moved into the cup quarter finals.
Who remembers Quatermass & The Pit? I watched it (again) last Saturday. Wonderfully dated British sci-fi, with a preposterous storyline. There are tons of things that I could pick holes in, but the thing that made me smile the most was the drill. Ordinary drills wouldn't do, so they had to get the hardest drill known to man to try to open up the mysterious object. So where would they get one of these drills? A workman turned up with it, complete with trousers tied up with string. Looked like a tramp. And he kept the drill in an old toolbox. Priceless.
It was also burger time, though a word of advice. I used shin beef and it didn't hold together as well as other cuts. Burgers were still tasty, just messy to eat!
I have started to stretch myself a bit more, and after checking the United Utilities website to confirm that the towpath was still shut at Disley I decided that Disley should be my destination. It wasn't too cold, but it was very muddy, and when I got to Disley, the towpath was open. That gave me a bit of a dilemma. Should I continue? Or should I stick to my original target? I went two bridges further, about half a mile, and then turned around. It was probably a good thing that I did as by the time I got to Whaley my stamina had just about given up. I also did not have the power in my legs to get up out of the saddle, but that is gradually returning. Six weeks of relative inactivity is going to take some building back up again. Incidentally, most people along the canal, walkers, cyclists, joggers, etc, give you a happy greeting, pleased that you tinkled (your bell) as a friendly warning. Others are ignorant gits, and that is probably why I was tempted to nudge an elderly gentleman in the direction of the canal. He wasn't even walking. He saw me coming and stood in the middle of the towpath. Then he turned his back. My bell had no effect so I had to stop and navigate around him. The splash was quite loud as he hit the water (only joking! you wouldn't have heard the splash above the grumbling of the old twat). I so wished he had challenged my right to cycle along there – I had my licence at the ready!
Last Friday saw my first visit to the pub since November, That's a long time! A couple of pints in the Drum & Monkey went down very well, and yes Donna, I will pay your cafe a visit in the very near future.
Here's a funny thing. There is a new WI branch in Whaley Bridge. Nothing funny about that, but what is funny is they started a Facebook group. An open Facebook group. So anyone can join, and anyone can approve anyone else's request. Some of the male folk from our village thought it hilarious to join, and to offer advice on all manner of things, particularly how to care for your rabbit! Sally went to the first meeting last Thursday, and even came back with a magazine. She has been threatening to make home made rice pudding recently, but the WI tradition of jams and chutneys must be avoided. Le Creuset couldn't cope with her every day culinary catastrophies. Molten jam could cause an ecological disaster. My sister Fiona might turn up to a future meeting as an honoured guest, so I suggested that she could pretend to be the Capo Di Tutti Capi of the Bedford branch. Sally was quite taken with that title, even if she didn't quite know what it meant.
Meanwhile, I decided to make sweet potato and parsnip mash to top part of a cottage pie (Ole insists on traditional mash). I also made humble bangers and mash with onion gravy, and a guilty pleasure of baked beans on the side. Today has been a real experiment, with green bean soup from Transylvania. Sally has already given it the thumbs up, which is fortunate as there seems to be a lot of it.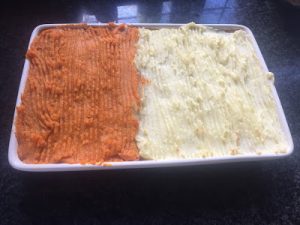 Finally, looks like there will be a brief change of scenery very soon. I've got a contract that will require a couple of days in Dordrecht in the Netherlands, and maybe a week somewhere in the US, Interesting thing is we don't quite know whether it will be Jacksonville in Florida or Little Rock in Arkansas.