January 6, 2017 by Michael Madden
Leave The Cooking To Dad
We are just 6 days into 2017 and Expedia have already made an outstanding case for the worst customer service of the year.
The start of the new year is always a good time to plan ahead, so I decided to look for a short break for the May half term, which happens to be the only school holiday where the kids are off at the same time. They do have an overlapping week at Easter, but firstly Europe is not that warm in April, and secondly the travel companies do like to pull your pants down and have their way with you as a kind of addendum to the traditionally religious festival.
So, I found 4 nights at a rather nice hotel flying with Ryanair to Brindisi. I looked it up, and it turns out to be in Southern Italy, so what could possibly go wrong. I sat on it for a couple of days, and then decided that the time was right. So, on Tuesday, I went on to the Expedia website armed with a credit card, and the confidence that I had used the site so many times that I had now reached gold status. The cost was around £1300 for four of us, so imagine my surprise when the minimum amount rose to over £1800. I did a bit of digging and it transpired that Expedia no longer offered the Ryanair flights. I then discovered that I could get the same package, with the Ryanair flights, for around £1500 on Opodo. I then discovered that I could get flight only on Expedia with Ryanair for just under £400. So I wondered why they wouldn't offer the flights as part of a package.
Still with it?
Well, I decided to call Expedia to find out, and that was when things started to go wrong. Fortunately iPhones log all of your calls, including duration, and that is how I know that the first call lasted precisely 49 minutes. During thus time I was told that my original package was indeed available for around £1300 plus a £7 credit card charge. I gave all of the passenger details, confirmed the dates and the hotel, and went on hold. After several minutes the customer services lady, cant remember her name but let's call her Mrs Singh, came back on the line.
Mrs Singh: I'm sorry Mr Madden it is taking a long time to go through, are you still ok to hold?
Me: Yes thats fine.
Several more minutes silence.
Mrs Singh: It is still not going through. I will ask my supervisor why. Are you still ok to hold?
Me: Yes thats fine.
Several more minutes silence.
Mrs Singh: Do you have another card? It is not accepting this one?
Me: Is it declining?
Mrs Singh: No, it just doesn't seem to be going through. But the price has come down to £1258. I will try again…No it is still not accepting it. Do you have another card?
Me: No. Don't worry. I will book it through Opodo.
Mrs Singh: Let me try one last time. Are you ok to hold?
Me: Yes that's fine.
Several more minutes silence.
Mrs Singh: It won't let me book it because of the flight. I don't know why. Should I look for another flight?
Me: No thanks.
Mrs Singh: What if I got you another flight at the same price?
Me: No thanks. The flight with Ryanair goes direct from Manchester to Brindisi. Alternative flights go half way around Europe to get to the same destination.
Mrs Singh: What if I guaranteed the same price?
Me: No thanks. If that flight is not available I will go somewhere else.
Mrs Singh: What if I tried to book the flights and hotel separately?
Me: That is usually more expensive.
Mrs Singh: What if I guaranteed the same price?
Me: That would be fine. Go for it.
Mrs Singh: Are you ok to hold?
Me: Yes that's fine.
Several more minutes silence.
After 49 minutes the phone went dead. I was cut off, which was unfortunate, but not the end of world. I seriously doubted Mrs Singh's ability to do what she had promised, but then I thought what if she actually had done it? So I called back. Obviously I didn't get Mrs Singh, so let's call the new chap Mr Patel.
I explained the situation to Mr Patel and he tried to resolve it.
Mr Patel: I have your details Mr Madden, are you ok to hold?
Me: Yes thats fine.
Several minutes silence.
Mr Patel: It says I can't book it because of the flights.
Me: Yes, that's what happened before.
Mr Patel: Should I try to book it separately?
Me: That's what your previous agent tried to do but we got cut off.
Mr Patel: Are you ok to hold?
Me: Yes that's fine.
Several more minutes silence.
Mr Patel: What price were you quoted?
Me: Anything from £1258 to £1306.
Mr Patel: The cost of the flights is £383 and the cost of the hotel is £1032.
Me: Thats a total of over £1400. I am not prepared to pay that.
Mr Patel: Ok what shall I do then?
Me: Nothing thanks. Goodbye.
I decided that I would check online later.
Next I received an email. Not from Expedia, but from Ryanair. Interestingly, it was timed 26 minutes into my 49 minute conversation with Mrs Singh. It confirmed my booking for 4 flights for £432.40. That's £50 more than Expedia's Mr Patel quoted just minutes earlier. I quickly went to the Ryanair and Expedia websites and found the same flights still available for under £400. I rang Expedia again. This time I was put through to customer service rather than bookings. Now I realise that you think that me calling the Expedia representatives Mrs Singh and Mr Patel could be construed as being racist, but that is not the case. They are actually very common British names! However, I do have an aversion to non British call centres where the operatives can barely string two coherent English words together. So, now that I have cleared that one up, I spoke to the customer service chap. Let's call him Mr Smith. Unfortunately Mr Smith had what appeared to be a very strong Mumbai accent.
Mr Smith: Hello Mr Madden. What appears to be the problem?
I explained my previous two conversations and the email.
Mr Smith: So you didn't want the flight only booking?
Me: No. I specifically told 'Mrs Singh' that I would accept separate bookings only if she could guarantee the same price as a package booking. Go back to your call recording and check.
Mr Smith: So what about the flight only booking?
Me: Well unless you can add on the hotel I suggest you cancel it as I have no intention of paying the hotel only price.
Mr Smith: It is with Ryanair. They wont let us cancel it.
Me: That is your problem, not mine. I did not authorise that booking so I expect a full refund or a hotel.
Mr Smith: I will look into it. Are you ok to hold?
Me: Yes.
Several minutes of hold music – interestingly I got music when on to customer service but silence in bookings!
Mr Smith: We can't cancel the flight booking. Can you book a hotel?
Me: What?
Mr Smith? Can you book a hotel?
Me: Yes. I could book a hotel. Bit I have already apparently paid £50 more than quoted for flights and if I book the hotel separately I will end up paying another £200 extra.
Mr Smith: Can you book the hotel and we will look into it?
Me: Your customer service is shocking. I have gold status, I wonder what it would be like if I was entry level? Anyway, I will book the hotel at a cost of £1032 if you guarantee to refund the difference.
Mr Smith: We will need to listen to the calls. That will take 48 hours.
Me: That's fine. So how will you get back to me?
Mr Smith: We will email you or call you. But it will take 72 hours.
Me: Can we just end this now before it takes any longer?
Mr Smith: I'm sorry?
Me: So am I. Goodbye. (51 minutes later)
So, I booked the hotel, and it was indeed £1032. I then decided to back up my claim by contacting Expedia via email, which is a lot harder to do than you might imagine. I stumbled upon their price match guarantee page, so I filled in the form, and used the comments section to elaborate on why Expedia owed me around £250.
Yesterday was interesting. I received two different flight confirmations from Expedia, and an email from their price match team stating that my claim was not valid as I had booked hotel only, Aaaaargh!! I then emailed them back to tell them to read the comments section (I was amazingly polite), and they did actually reply saying they apologise for the miscommunication and they would look into it. I would have to wait.
I am still waiting – approximately 70 hours into their 72 hour promise….
Sally lost her iPhone. She knew approximately where, but not exactly. In fact, she had a choice of three places. So, she quite sensibly logged on to the findmyiphone app. Sure enough, there it was, in Drinkwater's where she had left it. Unfortunately it was Saturday afternoon, and it was closed. And we didn't have the number. This revealed a flaw in the app, that would be really useful if it was called findthenumberoftheguywhoownstheshopwhereileftmyiphone rather than just findmyiphone. Undeterred, she put a request out on Facebook for the number of Jim from Drinkwater's. Half an hour later she was getting impatient. 'I thought it was supposed to be quick this social media,' she complained, so I pointed out that if she wanted to find something out about Kanye it would probably come back a lot quicker than the contact details of the owner of a plumber's merchant in Whaley Bridge! Anyway, all's well that ends well, and my thanks to Jim for opening up on a Saturday afternoon so that we could retrieve the phone.
So, it's Christmas, and there was a lot of festive baking going on. I used Rachel Allen's toasted almond paste recipe to cover my Creole Cake, and it looked and tasted really good, even if it was a bit fiddly. And speaking of fiddly, I made a chocolate log. Well, I actually made two chocolate logs, filled with Nutella buttercream. The first disappeared rather quickly, and when I asked Zac how much he had eaten he simply said 'loads'!
Another messy one was Christmas Gingerbread Biscuits. I made two batches of these – the second with considerably more ginger. Icing these has always been a pain, but rather than use the tiny tubes from Tesco, I got large ones from Sainsbury's and the result was much better.
I also made strawberry cheesecake, which was ok, but didn't quite set properly. The problem was solved by the freezer, but I might just try a baked one next time.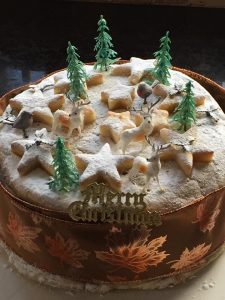 Creole Cake with Toasted Almond Paste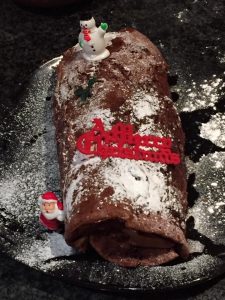 Chocolate Log with Nutella Buttercream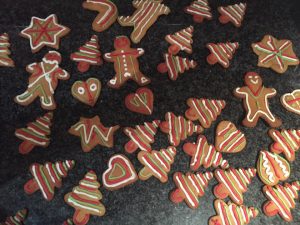 Christmas Gingerbread Biscuits
The run up to Christmas was fraught, as Ole finished off the chocolate in his Advent calendar before the 10th. The chocolates on the Christmas tree didn't last much longer either. Ole had zero, Zac had two, I had zero, and Sally may have had one. The remainder must have been stolen by the cats. Sally was at the end of her tether and she announced that she was not buying any of these treats next year, at around the same time as she reached the bottom of her giant tube of Smarties.
The big day itself is always an adventure, and this year was no exception. Sally was awake at 5.30am, though even she didn't expect what was about to happen. I had kept it a secret since October, and on the day itself a text message at 8.30am almost gave the game away, but we survived. At 9.30am Santa knocked on the door, and Lady M, who was just about to head upstairs to get ready for the day, had to go outside to get her Christmas present…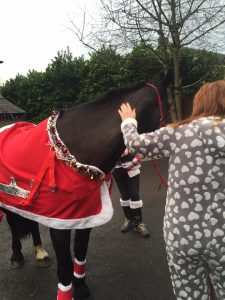 That awkward moment when your Christmas present is dressed better than you
There were tears, and I was feeling quite smug. Brownie points earned for the year, and lots of time spent at the stable for Lady M. Not so. The following day I had to go to Bakewell for the hunt (before you get upset its a drag hunt, and not a very successful one at that). The streets of Bakewell were packed awaiting the spectacular departure of hounds and horses and riders, but the day almost came to a premature end when 'Nancy' spooked at a bicycle. Lady M kept her together well, and off they went.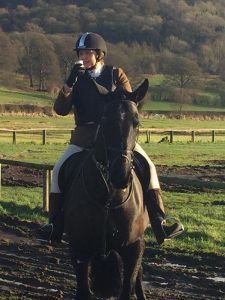 On Boxing Day I had to go to watch the Christmas present run around
By Tuesday I expected things to go back to normal, but no. My duty now was to ride up and down on my bike at the stable to ensure that Nancy got used to bikes for further excursions. I was quite relieved to get back to work this week.
Back to the big day, and Zac managed to conquer his annual Christmas lego challenge single handedly which saved me a job. However, I didn't escape the construction phases of Zac's workbench and rollercoaster kits. I finally managed to get The History Of Zombies finished in time for Santa;s delivery, at least good enough to proof. So Zac and Ole have both got a copy, and Zac has actually been reading it. Can't wait for his critique!
I tend to stay over a couple of days a week, and first week back in the New Year I forgot my razor. I could have just grown stubble, but I thought no, I'll make an effort and get some disposables. A pack of Bic for £2, that will do the job. How wrong I was. At first I thought it was a very smooth shave, but then realised I still had the safety cover on. When I removed this it was like rubbing my face with very coarse sandpaper infused with sharp gravel. Never again. So if anyone wants the remains of a pack of Bic razors just let me know.
I got back into the habit of watching movies over Christmas, including Concussion and John Wick. When I arrived home last night Sally and I decided to watch another. Its never easy to decide, and she couldn't remember watching Deja Vu (no, seriously), so although I had already seen it a couple of times we sat down to watch that. I did warn her that its a bit of a complicated tale, and she replied that it is only a '12', how complex could it be? Well, she never got to find out. She fell asleep after five minutes, and woke up half an hour later. She asked the inevitable question, 'what's happened up to now?', so I told her there was only five minutes left and she might as well go to bed. It seemed to work!
A  couple of work items – and people often wonder what I do! So, here's an article I wrote on Linkedin (you can also find it on my website www.legacyit.co.uk).
Also, if you're after any makeup please check out Gabi's website. Don't know much about this one – but I am sure she will fill you in on the details.
On the writing front, I will be aiming to get The History Of Zombies on the virtual shelves of Amazon before Easter, but I will need a cover image first! I continue to add to Mmm…No2…Cookbook, but that will be at least summer before it is complete, and I have a new project detailing the history of cover versions of Elvis Presley songs, hoping to exploit the 40th anniversary of his death in August!
Finally, Lady M may have manipulated her way to a kitchen free life. Ole took her to one side and said, 'Sally, can you leave the cooking to dad in future?' He explained his reasoning to me…'she made this chicken by just smothering it in pesto, and she made a vegetable curry that was disgusting'.