February 4, 2017 by Michael Madden
Elvis Presley And A Horse's Arse
Regular readers will be interested to know that after another tortuous phone call I finally got a refund from Expedia. The latest phone call was with a Mr Wayarasinghe, or at least that's what it sounded like, and he wanted to know what my problem was. I told him my account details, my itinerary details, remember those, that was for the hotel only? And he asked if I wanted him to refund the hotel? Or book a flight? Or what was it? I explained the customer complaints situation, and he asked me to go over it all. Again. So I did. Patience wearing very thin. I gave him my case number. We had been on the phone for an hour when he had a Eureka moment. He said I had to wait 72 hours. I told him 72 hours had passed long ago. No, he said. I will ask for the recordings of your original conversation and then you will have to wait 72 hours. Aaaarrrrggghhh! Oh, wait a minute, he said. I see that your complaint has gone through to our finance team, and they have authorised a refund. Well why the f*ck didn't you mention that an hour ago? Anyway, four days later the refund arrived, and although I will use Expedia again, there is no way I will ever book anything through their call centre!
Zac broke the screen on his phone. It just about worked, but probably best to get it fixed. So, I went across to Sainsbury's in Nottingham where there is a Timpson stall that fix phones. iPhone 5C screen – £70, one hour turnaround. The guy in Buxton charges about the same. So, I checked online, and in the Nottingham and Derby area there's Wemendphones (catchy name!). They come to your work place, fix it in about half an hour, and charge £35. Ok, so they were a bit late, but great service. Wonder if they will expand across to the Peak District?
Sally lost her voice. Tragedy? No. Illness? Probably. Overuse? Almost certainly. I did what every self respecting father would do. I told the boys to make the most of it.
I've had a very busy time in the kitchen, with homemade pizzas, homemade doner kebab (oh yes!), and a cakefest this weekend.
The homemade pizzas are easy enough, the dough takes a bit of kneading but nothing too strenuous, and the doner kebab was a bit of an experiment after I saw a video on Facebook. And it turned out ok. A bit dangerous, but that's because we went to the pub and left the final stage, which involves searing the outside with a blow torch, until we got back (hic!). But it tasted like doner kebab, and it certainly gave you the authentic doner kebab taste in the morning! Might try again, but with beef or pork mince instead – if it works I'll post the recipe.
The cakefest started because Sally and I both love Festival gateau, and Morrison's, the last place that it was available from, stopped making it. So, for her birthday I made one. Its known as Princess cake in Sweden, and its basically a top layer of fresh whipped cream, with a very light sponge underneath, then custard, and more light sponge on the bottom, all hidden beneath a marzipan dome.
It looks a bit like this…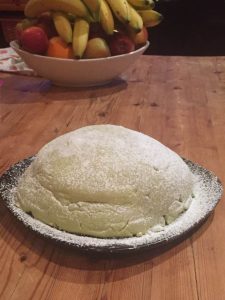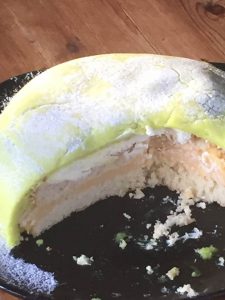 It actually turned out quite well, though it was a bit of a struggle getting it out of the upturned bowl that it was assembled in. Sally came up with a very good idea – so next time I will be lining the bowl with baking parchment. Now, the custard part uses egg yolks, and I had only used a bit of it so I had a lot left. What uses custard? Vanilla slices, and because I don't like to waste anything I made meringue with the discarded egg whites, and because Zac wouldn't eat any of that stuff, I made chocolate digestives. Think I might need more sugar next time I go to the shop.
I also made a whole baked celeriac. Takes a long time but very tasty. Barbeque spare ribs were another experiment that took a long time, but they were gone in seconds!
Sally made lasagne, something that she's actually quite good at. I asked Ole how it was. 'It was ok. There were some burnt bits, but that's what you get with mum.'
Zac is slowly but surely getting through his copy of The History Of Zombies. He's done 40-50 pages so far, which is 40 or 50 pages more than he would have read anyway! Anyone out there want a beta copy for an X-Box bound young teen just let me know!
My latest project is a catalogue of covers of songs originally recorded by Elvis Presley. In an act of shameless bandwagon jumping, I am anticipating a huge bandwagon in August to mark the 40th anniversary of The King's death. I thought it would be easy, but the sheer scale of the operation has meant it might have to be scaled down or it could take another five years. I started with Can't Help Falling In Love, and it turns out there are over 300 authenticated versions of this. I've logged about 230, some quite obscure, the rest – well who knows?! I've already uncovered a lot of stuff I didn't know before, for instance, Elvis Costello's dad released an album of Elvis covers, and Elvis's manager allegedly tried to persuade Dolly Parton into handing over half of the publishing rights to I Will Always Love You if Elvis covered it. She refused, and made millions by retaining the rights herself. I was originally going for 40 songs, I'm now on the second, In The Ghetto, that was recorded by Gene West, amongst others. Never heard of Gene West? Neither had I – turns out it is really Barry White. Anyway, I've trimmed down my goal to including just ten songs. If its popular I can always do a volume 2.
I've listened to lot of Elvis songs so far, including this beauty by Swedish award winning impersonator Eilart Pilarm…
but Zac has still to be convinced that Elvis is anywhere near the star that Justin Bieber is. Based on Youtube views he may well be right, as he compared Bieber's billions to Elvis's hundreds of thousands. He then pointed out another factor.
'Look, Elvis has 58 dislikes on Youtube,' and then with one swipe of his finger…'make that 59!'
Pixie came for her second sleepover, and although she had been poorly she seemed to enjoy herself. She was one tired little lady on the drive home.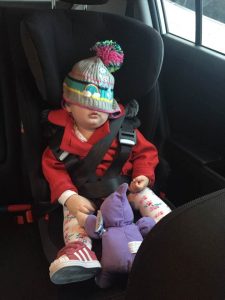 And speaking of illness, the perils of horse ownership were highlighted when the stable got Strangles. This is some kind of horse virus, and the horses have to be quarantined. Now, Nancy has shown no signs of developing it, which is good, but she has to be regularly tested for temperature. Any idea how you test a horse's temperature? It involves a large thermometer, a horses's arse, and a lot of fortitude.
And speaking of horses, I'm not allowed to mention the horse to my friends' wives. Haha!
Ole now has two offers for university places, Sheffield and Liverpool. He's still trying to get closer to home, with Salford being his preferred choice! Mum took him to Liverpool, and for a few days before we were asking if he had done his prep. The typically teenage response of grunts or silence was not reassuring, and when the big day came he didn't even have the postcode.
'It's just Liverpool University,' said Ole as they drove towards the motorway.
'Which one?' asked mum.
'I don't know,' replied Ole.
'Well, I need a postcode, you will need to check your email,' said mum.
Ole reluctantly got his email up on his phone.
'Its John Moores university,' said Ole.
'Postcode?' asked mum.
So Ole started reading his email out loud.
'Welcome to John Moores University. Please arrive early, and bring a photograph with you. Wait. I need a photograph. Mum, have you got one?'

Fortunately mum was resourceful enough to find a Tesco with a photo booth so that Ole had a vague chance of getting through the door at Liverpool!

Of course, once his A Levels are over there will be a huge sigh of relief, and he intends to celebrate with a lads holiday to Zante. Mum is not too happy, as he will be away for his 18th birthday, and the threat to fly over for the occasion has not gone down too well. The funny thing is, it appears to be mainly Whaley lads who are going, and Whaley lads who have been friends since the early days of Taxal School. One of the mums works in a travel agent, so she has booked it all, ensuring that the little darlings are in an apartment complex that has a 24 hour warden on site! It will be a bit like a care home.
We may well be planning a trip to Washington and New York in the autumn, but Zac would prefer Los Angeles. 'I know L.A. like the back of my hand,' he said. 'I could get you from the airport to downtown no problem. And, I know where there are at least three strip clubs.' So you see, GTA is not all bad!
How much do we really need the weather forecast? I mean, its absolute rubbish. If we didn't produce all of this incorrect data and didn't spend time talking about what the incorrect data was telling us we would be so much better off. We would only be able to talk about what is actually happening and we wouldn't have a largely inaccurate view of what the coming days will be like.
A recent spate of bad weather was forecast as follows. At 7 it said it would start snowing at 8. At 8 it was 9, at 9 it was 10 and at 10 it was 11. This is hardly long range stuff. In the same period of time it forecast that there would be snow for 4 consecutive days, three hours later they decided it wouldn't even snow tomorrow. Might as well rely on the weather girls to just make it up.
They have been forecasting weather for years and they are not getting any better. So let's just cut it out. Spend the money on the NHS, or a ladder to the moon. We could remove the weather app from our phones, we could remove the forecast from media such as television and newspapers. Scrap the weather satellites and close down the Met Office. Anyone against? Its a difficult thing to do, they say. Well yes. Clearly too difficult. It could be argued that people need to know what the weather will be, well that might be true but our current situation gives them nothing, causing unnecessary disruption and wrong decisions. We might as well rely on Bill's Bunions!