March 17, 2017 by Michael Madden
Disproving That A Dog's Bark Is Worse Than Its Bite!
Dogs – love them or hate them? For me – its hate! I've always resisted the temptation to get one, despite family pressure. The last one I did have was a feisty bitch called Sally. Don't want another one of those! Anyway, Ole thought he would like to adopt a dog for a day. Sally (wife, not corgi), snuck it into the house and took it to Ole's bedroom. Zac gave the game away. It was then let loose downstairs. First it crapped, then it peed. It jumped on Zac, it jumped on everything. 'How cute' said Ole. 'I hate it' said Zac. I had an ally, and after half an hour Ole retreated to his bedroom with the novelty clearly having worn off. We took it back to its home, and I suspect and hope that it won't be returning.
So why do I hate them? Well, here's an example. This morning I went to pay some football subs. The treasurer's house is in Furness so I cycled there. His door has a low letterbox so I bent down to push the envelope through. At that point the dog inside decided to try to take my finger off. I withdrew my hand as quickly as possible, and I could actually feel the chewing. Now waiting to hear back from the doctor's as to whether I need another tetanus. Not had one since 1995 – so my guess is I will – and you probably know how much I hate needles. Almost as much as I hate dogs!
Update – don't need a tetanus. I'm tetanused up to the max. Instead I've had the wound cleaned with iodine, I've got a large dressing on it, and I'm on antibiotics. Great!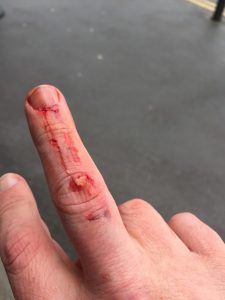 Whilst on the subject of football, Zac has become quite the complete goalkeeper for the Under 13s. A couple of weeks ago they played Richmond Rovers and he was substituted half way through the second half having kept a clean sheet to that point. A minute later Richmond scored and he was feeling quite smug. Then, with five minute left he went on as an outfield player. Up front. The crowd were expectant, and he didn't disappoint. As time ran out he received the ball at the edge of box, swung his leg and clipped it beyond the outstretched keeper. The goal was the last kick of the game, and it was just as well. He ran around two pitches, kicked a corner flag and eventually made it back to his own game after remonstrations by his manager. Next week – the Rene Higuita Scorpion Kick!
I remember a long, long time ago, when I was but a child, asking when the long running soap opera Coronation Street would end. Television dramas generally ran for about 6 episodes, then there may or may not have been a subsequent series. But not with a soap opera. A soap opera just runs and runs. And runs. I was a bit shocked that this could happen, I mean, what's the point of there being no ending? Back in primary school you were always taught that a story should have a beginning, middle and end, right? Anyway, I digress. So the soap continues, and the snippets I caught recently are lacking the genuine characters like Eddie Yates, Reg Houldsworth, Fred Elliott, etc. Weatherfield now seems to be overrun with drug dealers, gangsters and crooks. Sally was watching it a couple of weeks ago, when the storyline centred around the Websters. This dysfunctional family have suffered more than most, with suicide plots, arson plots, affairs bordering on incestuous, con artists, murder, in fact the only thing they have not been involved in is high treason. Well, I'm not quite sure Sally (Madden, not Webster), got the significance that what she was seeing was a made up drama for entertainment purposes, when she said, 'This Webster storyline is unbelievable'.
Here's a bugbear of mine. When you pay for something on a card you expect the card statement to tell you who you've paid. Sometimes you might have to guess but you have got a pretty good idea, and sometimes it makes no sense at all. For instance, I needed to book flights from Orlando, Florida, US to Atlanta, Georgia, US. I used the US website of Delta Airlines and paid in dollars. I thought that maybe they would bill me through Delta, or possibly Virgin Atlantic who have a partnership alliance with their American counterparts. It took quite a bit of head scratching to figure out why Air France appeared on my bill!
Another bugbear – mobile phone apps for payment. I'm ok with contactless, but the number of times I've stood in line behind some idiot who can't find the right app, then discovers he's been logged out of the app, then can't remember his (or her) password. Just pay for your coffee in coins and f'*ck off out of the way.
Zac decided that he wanted to make slime. 'Can you get me some Borax?' he asked. 'No – you're not allowed to buy it.' 'Why not?' 'Its been banned by the EU. It has been linked to about a thousand ailments.' Hopefully that will be the end of it – but I'm not so sure.
Sally has been in the kitchen again, and this time she was quite proud of her Shepherds Pie. She had made two, one with mashed potato on, and the other with an orange topping that looked a bit different. I should have suspected something when she called it Rocky Road Shepherds Pie, and she explained that the mash on the top was a mixture of sweet potato and swede. Unfortunately the sweet potato cooked far more quickly than the swede, and the swede would not go through the masher. So, she left it, hence the appearance of the orange sweet potato carpet strewn with what she liked to call boulders of swede.
Of course, things like that can be explained, and you could also just scrape off the top if boulders are not your thing. The soup, however, was another matter. It had some standard stuff in it, like leeks, bacon, etc. However, she decided to spice it up a bit with a few scotch bonnet chillies. Seeds included. Not one of her better ideas!
Speaking of cooking Zac had food technology, and Monday morning there came a familiar phone call. Zac has forgotten his food tech ingredients, can you bring them in for him? Other than the obvious answer of 'No', even if we had wanted to assist we didn't know what he was supposed to be cooking or even that he was doing food tech. So the actual answer was, 'No – he'll have to serve a detention. Just bolt it on to the one that he is already doing tonight for losing his English homework.'
The following week Zac made chick pea, spinach and potato curry. In an unexpected twist, Sally made turkey curry at the same time. I, of course, was the judge. Nice flavour Zac, very authentic. Well I would say that because he used some of my home made curry paste. Sally's, on the other hand, was from a jar or a tin, but still tasty. Unfortunately, the carrots were a bit 'al dente', which just about swung it in Zac's favour. Next week – it's savoury rice. Zac has all the ingredients, I suspect Sally's will come from a packet with 'Batchelors' written on it.
I've not done much experimenting in the kitchen recently, though I did make a Brownie Pudding. This is a bit like the traditional brownie, but even more gooey and it has to be scooped out with a spoon. It didn't last long. I also revisited a few old favourites such as Chicken Tikka Masala which gave me an opportunity to make my own chapatis. Can't believe how easy it was – I will definitely be doing that again. Another was chicken hash. Like corned beef hash but made with, well you can probably guess. Unusual, but easy to make! Then there was Thai Red Curry. A bit of faffing but again a success.
Zac had a test at school. One of the questions was Name two Beatles songs. His answer? My dad will know.
As I've mentioned before there are opposing political views on the other side of the Atlantic, seemingly with no common ground. I try to watch Charles Krauthammer whenever I can, he seems to be more balanced than most, but as a piece of non political commentary Bill Bonner is my preferred scribe. He collaborated with Addison Wiggins on an excellent book Financial Reckoning Day, and he writes a daily piece for Capital & Conflict. Here is his latest article.
A couple of interesting twists in the Ole university saga. He got a letter from MMU saying that the campus was being closed and therefore the course would not be running. Now, the closure of the MMU campus would be big news, and I am sure there would have been protests and media coverage. However, it soon became clear that he had enrolled for a course on the MMU campus in Crewe! Perhaps as well he didn't get an unconditional offer. Speaking of which, he did get an unconditional offer from his first choice, Salford. His accommodation is sorted, and all looks set, but he has also received a flattering email from Sheffield saying how impressed they were with his video, and he has discovered that he can apply for an alternative course at MMU. It's a shame you cant arrange your future via video games – he would be great at that.
Zac decided that he wanted to resurrect the old Harry Potter PC games. These first came out about a year before he was born – and he's 13. Unfortunately, they are not forward compatible. So any PC running in Windows 7, 8, 10, etc – forget it. I even tried compatibility mode – nope. Tried Ole's old laptop, after first removing 2,200 'threats' from it, including Trojans, spyware, malware etc. No success. Then I dug out an old laptop with Windows 98 on it. Too old. It was a bit like Goldilocks. The sweet spot was a Windows 2000, XP or Vista laptop, and I looked on eBay. These were going for upwards of £50, and many of them didn't work properly, so I tried Gumtree. Sourced a Vista laptop for £30, picked it up, and, it didn't work! Interesting thing is that the original games came with a key code. Turns out that the key codes are not unique, and virtually any code will work for any game. The internet is full of them, as well as dodgy copies of the games that don't really work and infect your laptop with malware. Anyway, eventually I configured the Vista laptop as an administrator and hey presto, success. The original disc was a bit worn out, we had to treat it with toothpaste and a banana (who'd have thought?) to get it to fully load, but he was as happy as Larry. Then Sally nudged the lead, it disconnected and the laptop lost all power. Zac lost about an hour's gaming! But, he managed to continue and has almost finished. Next up it will be Harry Potter And The Prisoner Of Azkaban.
News this week that the Azure Window collapsed. The natural landmark to the west of Gozo has been used in Game Of Thrones, and is a 'must see' for all visitors to the small Mediterranean island. Well, except Ole and Zac, they couldn't be bothered. Anyway, rumour has it that after Lady M was seen posing in front of the Window there was a rush to repeat her pose and that caused its demise.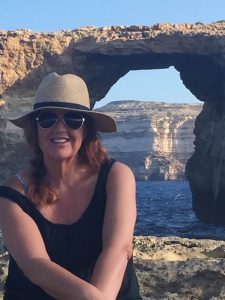 Elvis Under The Covers is coming along slowly but surely, and I got a favourable response from Al Kooper this week. Al is the biggest in a growing list of people all to happy to contribute, mainly Elvis impersonators, though I have not started on the main list of celebrities yet! For those who do not know about Al Kooper, Google him. You will be impressed. I have now settled on the 10 songs that fit the bill, and I am half way through the third. Long way to go – but still optimistic that it will be done in time.
Been for a couple of Sunday lunches since the last edition, and the first of these was The Bulls Head at Foolow. Phoned ahead to book a table and service was ok. Food excellent, with the emphasis on the meat part of Sunday lunch. Worth a drive out and scored 8/10. Last week it was The Church Inn at Chelmorton. Again we booked ahead, and although the standard menu was limited there were a lot of specials. The vegetables were a bit of a let down, especially the boiled potatoes, but overall a good experience and would go again. Roast beef probably better than roast pork, though both came with a sizeable Yorkshire pudding. 7/10.
On a similar note – if you find yourself in Nottingham I recommend 4550 miles from Delhi with a banquet that just keeps coming, or Annie's Burger Shack with an ever changing menu and loads of craft beers.
The Superbowl was one hell of a game. It was all over at half time, with Atlanta destroying New England. But Tom Brady is Tom Brady, and he broke all kinds of records as New England came back to win in overtime. Three and a half hours seemed to fly by – can't wait for next year!
Went to see The Stranglers again last week at Rock City in Nottingham. Ruts DC were the support act, but I didn't get to see them. However, The Stranglers were excellent, going through a variety of album tracks and singles reproducing the songs from 35-40 years ago to perfection. They are on in Manchester on 1st April – get yourself along there for some real music.
The MMU student project showcase is on next Tuesday, and we are quite excited at the prospect of seeing finished projects from Orbit and Posh Eels. Orbit are creating a framework for online courses, including COBOL. Posh Eels are providing an application to test websites, providing information on broken links, missing images, etc. More pics to come next week.

And speaking of students, Sally discovered that Zac had some online stuff to do. It was graded, and you could see your scores against other members of the class. Zac hadn't done anything, whilst some pupils had accumulated in excess of 5,000 points. Sally doubted this, and decided to get competitive. 'Zac', she called. 'Come and look at this. I've managed to get you 2,000 points in half an hour.' Not quite sure that's the point, but I look forward to next month's competitive mums league table.
I've decided to add a new feature to each edition – a famous quote. First up its Sammy Davis Jr, and it seems quite appropriate with what's going on across the pond! 
Being a star has made it possible for me to get insulted in places where the average Negro could never hope to go and get insulted.