October 20, 2017 by Michael Madden
Mops, Strops & The NFL
So how's university going? Well three weeks in and he's been back twice! The second time was for a trip to Wembley for the American football, but he decided to come home early. His first and most pressing question was 'Is there any food in the house?' and then we went shopping. 'Can you buy me some snacks? I can't afford those,' he claimed, shortly before organising a taxi to his girfriend's house and ordering a Chinese. Anyway, we left Zac home alone whilst we headed off to The Wellington in Leek, new home of legendary ex-Whaley landlord Clive Ashton. Its a great pub, with a great new tenant back doing what he does best. He and Carol have settled in well, though Clive did escape with a week in hospital with Quincy Jones (or some such similar tale). Anyway, lets get a minibus together and pay him a visit.
The next day it was an early start as we got the train to London. Several vagabonds were sat in our seats as we boarded at Macclesfield. They were quickly moved along and we continued on to the Big Smoke with a slight delay around Watford.
The variety of Gridiron shirts was a strange one to explain, but not as difficult as the tube operation. As I have said before, the tube is now contactless, so I took three contactless cards. Handing one each to Ole and Zac I said 'pay attention' as I headed to the turnstile. I placed my card on the reader and went through, as did Ole, but Zac had clearly not 'paid attention'. 'Wait, what?' he called after us as he tried to stick his card into several non existent slots. Ole laughed, I sighed with a resigned shrug and went back to show him how to get through. A short time later we boarded a crowded tube across the city, getting off at Wembley Park within sight of the Twin Towers. Well, obviously today its the massive arch, but you know what I mean.
Two and a half hours before kick off the place was buzzing. It was a magnificent sight, Wembley is still a special place, especially for first time teenage visitors. However, we had an important job to do first. Ole was heading straight back to university after the game, so we had to drop his bag off at 'Luggage Hero'. This turned out to be a convenience store that had a nice side business going, but it was very easy to use and efficient. You get an email with a 'Check In' button. Once you click this your timer starts, and when you 'Check Out' you are charged for the time that your bag is in their possession. All good, and we headed towards the stadium and in particular the Tailgate Party. Unfortunately the queue to get in would have meant missing half the game – so we went to our entrance at Club Wembley. Security is strict, and Zac started taking off his shoes and unfastening his belt as if it was an airport, but the security guard waved him through and high fived him – clearly not a terrorist threat!
We still had 90 minutes to kick off, but food was on the agenda, and what a selection! Beer was £5.80 a pint, which compared to some other prices was quite reasonable. £6 for three donuts? I'll swap that for a pint and 20p change. We had exotic burgers, a selection of sausages, Ben & Jerry's ice cream, pick and mix (not recommended – on full display in front of the coughing and spluttering hordes), popcorn, donuts – actually it was worse than previously stated – because two of them were too sickly sweet to eat. Zac had the chocolate one. Conveniently, everything was paid for on contactless, so you don't realise how much it costs you until your battered and bruised credit cards pleads to stop.
Our seats were magnificent and straight away Ole started taking pictures. Pictures of the stadium, pictures of the grass, pictures of the cheerleaders, pictures of the players. Zac, meanwhile, had found the flag that the NFL had left behind each chair. One side gold for the Saints, and the other blue for the Dolphins. Zac had decided that the Dolphins were his team, but when he held the flag up it only waved on the gold side, so he re-engineered it! Ole was cheering for the Saints. As kick off time approached the atmosphere built up, with the playing of the anthems a highlight. The big screen picked out certain parts of the crowd, but even Ole paid his respects as the flags were raised. Well, that was until a kid appeared on the Jumbotron and laughed, at which point Ole got uncontrollable giggles. Fortunately, the President didn't get wind of this so we were never accused of disrespecting the flag.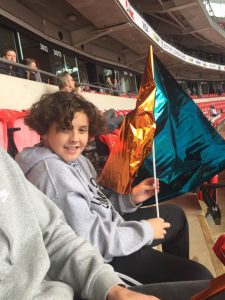 We discussed bets – and Zac wanted a bet that no one would score a touchdown at 150/1. I told him that would be ridiculous – so we didn't!
The game kicked off and all was going well for Zac as Miami marched down the field. A throw into the endzone….interception, and that was about as good as it got for the Dolphins. New Orleans weren't much better and it was 3-0 at half time – with no touchdowns!
The interesting thing was that both of them were absorbed in the action. They asked lots of questions, but they understood the point of it all, and were actually quite into the array of unusual penalties. Every break, and there are a lot of breaks, was filled with entertainment. Cheerleaders, t-shirt guns, men jumping around on springs, etc. And unlike English football, they could see that every play had to aim to move forward. There was nothing to be gained by endlessly passing the ball across the back four.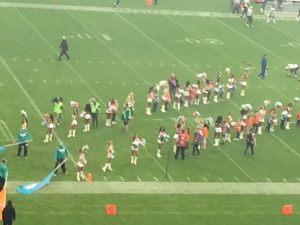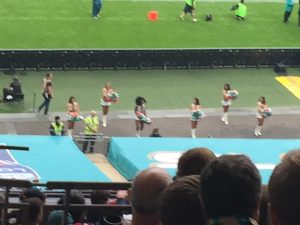 Anyway, time for me to retrieve my credit card from casualty and give it another bruising.
The second half was more entertaining, as New Orleans raced into a healthy lead. Thankfully there was a touchdown, which saved me paying Zac £150. This also led to Zac switching allegiance, so they are now both Saints fans. When the second touchdown went in to make it 20-0 with about four minutes left, which is about 15 minutes in American Football, we headed for the exit. Luggage Hero was a bit chaotic, with lots of bags strewn amongst cases of baked beans and Tennants Super lager, but it was quickly located and the 6 Euro fee was very reasonable. We were soon on the tube and reached Euston with more than an hour to spare. So, more expensive burgers followed by a quick beer in the good old Doric Arch before we boarded the train. Ole was quickly asleep, amusing the carriage with his snoring! Would they go back next year? 100%. Can't wait!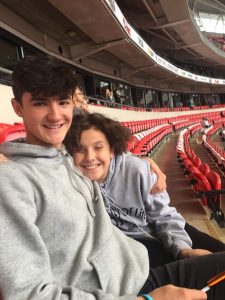 Don't often see them like this!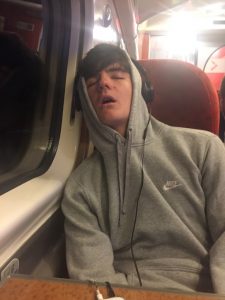 I have taken very few courses throughout my career. The last certification I actually got was probably for Child Welfare. Anyway, I have now added to that with Level 2 Food Hygiene. I am now licensed!
So what did I cook to celebrate this new found professionalism? Chocolate muffins, at 6am. Our granddaughter came to stay, and she pays no heed to the time of day! She was up early so I was up early, and one of her favourite words is 'Cakey'. Unfortunately there are no pictures of 'Cakey' because they disappeared. Of course, the advantage of being little and getting up early is you can have a nap!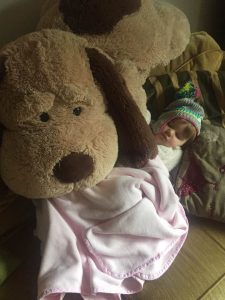 The next time she visited she realised that winter is not far away – and we would certainly need hats!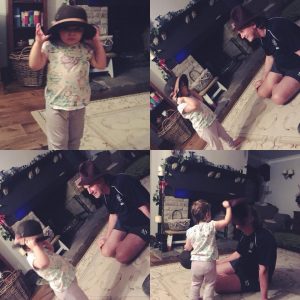 One of my favourite events of the year is York Races, and the October meeting followed by a night at Middlethorpe Hall is a particular favourite. This year we had a tip straight from the horse's mouth in the first race – so what a great way to start the day. Except that it came nowhere! Of course, a trip to the parade ring is also a must, and lo and behold Lady M bumped into Mick Easterby again. The old boy was born in the same year as her mum, so they had something to talk about, and we are getting quite a collection of photos!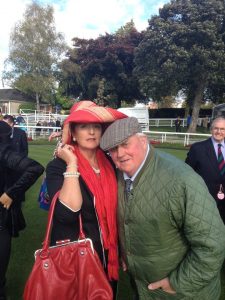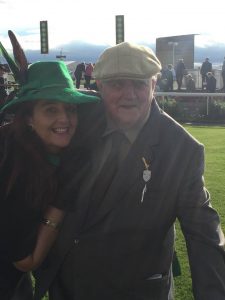 Anyway, I changed tactic and started on red wine, well after the Pimms, champagne and a couple of lagers, thinking I would be able to pace myself better. Unfortunately the first bottle had disappeared quicker than that donkey in the first race!
Funny when you are going through old pics – there's always one that you have forgotten about!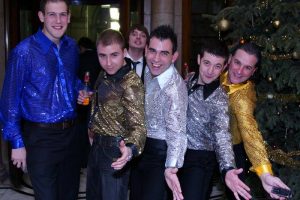 Elvis Under The Covers has received another favourable review. This one is only 4 stars – but still a great testimonial.
Format: Kindle Edition
Verified Purchase
Good presentation, and interesting read.
Back to university and one Sunday morning I awoke to a stream of messages from Ole that had been sent at around 5.20am.
Dad I need your help
I ordered Dominos tonight
And the guy came and gave me the pizzas
But didnt have any change
So he said he's be back in 5 minutes
With the change
45 minutes later he's still not here
I've called him and he either hasn't answered
Or said he'll be 2 minutes
And he still isn't here
I called the Dominos
And they said there's nothing we can do then started getting arsey and hung up
And I called back and they hung up
So Dominos owe me £5 and said they'd be back in 5 minutes and have been over an hour
I'm going bed now but it's a piss take
I'm fuming
I rather unhelpfully pointed out that ordering pizza at 4 or 5 am was not exactly healthy, but of course that was Sunday morning and there was no response. By Sunday afternoon, when Ole emerged from his bed, the furore was over. They guy had eventually turned up with his fiver, and also suggested that some people are quite happy to tip a fiver. Ole is not one of those people!
Zac also had a food related rant when his Wembley sausage was accompanied by a watery red liquid. He has his own favourite. 'There should only be Heinz. Everyone loves Heinz and other stuff isn't as good so why do they bother. What even is this stuff? It doesn't taste of ketchup.' Interesting that he said it doesn't taste of ketchup. I can honestly say I've never had any ketchup that tastes remotely like tomatoes! Anyway, in the kingdom of Zac watch out for the first law of ketchup.
Our search for the perfect Sunday lunch took us to the Royal Oak at Hurdlow. We had tried to book here previously but they were full. This time we were at Hartington and decided to call in on our way back. Fortunately, after a 10 minute wait at the bar, they found us a table. Definitely the best so far, with generous portions of roast beef and all the trimmings including a sizeable Yorkshire pudding. A bit skimpy on the Horseradish, but that is being really picky. We will definitely be venturing here again. This week its The Swan at Kettleshulme – already a perennial favourite.
We seem to have found a new game. Where's My Phone? is frequently accompanied or preceded by Where's My Keys? Sally can play this game for hours, often finding the phone and then losing it again whilst looking for the keys. Its even worth hiding them just to watch the frantic confusion – but I've not actually tried that yet – honestly!
Now, I'm all for new trends and new designs, in fact I'm quite a fan of the rechargeable hoover that sits neatly on the wall charging up so its always ready for action. But one thing that I have never considered could be improved upon is the humble mop and bucket. You dip your mop in the water, squeeze it out on the handy addition to a normal bucket, then mop. As simple as it could get. How wrong I was. Now the activity of squishing your mop out in the specially designed section of a mop bucket has been replaced by a high tech squeezing mechanism meaning that your mop can now go into a regular bucket. I mean, this is hardly the stuff that we pay our scientists to do – I guess you don't go straight from innovative mop design to nuclear fission. Hang on, let me put my mop down while I think about that. Err – if I put it in the newly designed plain bucket it will have to rest in the water which will mean there was no point in rinsing it out. Back to the drawing board methinks Mr Mop Designer.