April 20, 2018 by Michael Madden
Blogs, Hogs And My Drama Exam
Well, my last post, accompanied by a picture of some Japanese schoolgirls, has been the most viewed in the history of this blog. I like to think its because the writing is getting better!
It has been a traumatic time for my two sons. Ole was home for Easter and he was driving my car. The subject of fuel cropped up and he asked if there was enough to get to Chapel Leisure Centre. I explained that the dashboard has a number on it that currently reads '96'. That is approximately how many miles there are left in the tank. He understood that, but still had a problem. 'How do I know how far a mile is?'
A few days later he went to Wales with his girlfriend. Not in my car, I hasten to add, particularly after he explained that he had reversed into a picket fence, and it was hilarious. It must have been, as all of his mates who saw it 'live' said it was hilarious. Anyway, off he went to Wales, with every intention of doing his drama homework. This was an essay on Black Watch, a play about the famous Scottish regiment and their time in Iraq. I said that I would help him, he would just have to email me his work. Unfortunately, parts of Wales are still in the middle ages – and there was no Wifi! He said he could take pictures of it and text them to me, but I declined. Eventually, late on Sunday evening, the first draft came through, and it was about a third of the required words. I rewrote it, embellished it, and added a few hundred more words, then he did some more work. I don't know what they teach for grammar in school these days, but Ole seemed to have bypassed it all. Further revisions just left Ole to do the final scene and conclusion. He sent those through, and it was hardly noticeable, 160 words at the most. More revisions, and I finally had it finished! I'm hoping to get a first.
Zac was very excited to get his first 'Season Pass' for Alton Towers. For £55 he can go as many times as he wants this year, and his first visit was an inset day last Monday. I dropped him off, he picked up his pass, and in he went. When he got home I told him to put the pass in the drawer with his bank card. Unfortunately, when he emptied his bag, there was no pass. He had lost it within a matter of hours of picking it up. We rang round and no-one had it. Emailed Alton Towers, but nothing. However, all is not lost. For £10 he can get a replacement. So, he decided that he would work off the debt and get a new card. Mum offered to give him a couple of hours of chores to cover the £10, but he was shocked. 'I'm not working for minimum wage,' he announced, and that was that! He wasn't even swayed when he found out that Ole was on less than £5 per hour this time last year. Zac is a bit more cunning than that. Beware, he has 'outsourced' his jobs before, and I can see this happening again.
I think that nerves are starting to get the better of Zac, as he has felt a bit sick during his last two football matches. He, of course, has another explanation. 'Maybe I'm lactose intolerant – I had a hot chocolate before the game.' That almost backfired as I said, 'Maybe you are chocolate intolerant. You eat a lot of Cadbury's milk chocolate – what do you think that is made from?' That conversation ended very quickly.
An exchange student has been in to Zac's school, from Denmark. Zac feigned interest, but his ears pricked up when a surprising fact emerged. There are 6 pigs for every person in that particular corner of northern Europe, but I suppose with so much Danish bacon its got to come from somewhere. Anyway, that brings me on to my latest friend, Nellie. Nellie is a pig at the farm where Sally goes to ride Nancy. Nellie is very friendly, particularly if you have a bag of food. She doesn't like oranges or cabbage, but she loves potatoes and strawberries.
I have been busy in the kitchen – including a repeat of kebab in a can. This is doner kebab made with lamb, onions, herbs and spices, and it is cooked in an empty can (in my case baked beans). Tastes like the real thing, without the eyelids, nostrils and bone. The white stuff is mint yoghurt!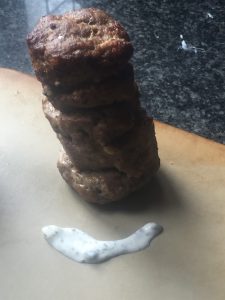 The weather has been anything but springlike, so I decided to leap in to summer with paella, complete with fresh lemons. Very summery – but too cold to eat alfresco.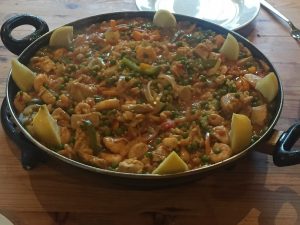 I also made a kind of cottage pie, topped with sweet potato as well as normal potato. The filling was chicken and vegetables in a thick chicken gravy – so more like a Colonel Sanders pie.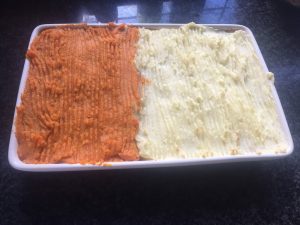 I have also been trying out a new five ingredient brownie recipe, Zac's new favourite. Actually, it ends up being 8 ingredients, but they are very very easy to make. Unfortunately, I have not managed to keep them long enough to take a picture.
And whilst on the subject of food, I have recently added Frydays and Cafe 110 to my Whaley Bridge takeaways page. Hoping to get some more in the next couple of weeks.
And whilst on the subject of blogs, I have produced a guest blog for global IT company Microfocus. Hopefully there will be more to come.
Still more blogs – 2018 marks my 40th anniversary in IT. Of course, its not all been bits and bytes – there was a lot of drinking in and out of a brewery, my very own MMM Fantasy Cricket Leagues, and a lot more besides.
And now – GDPR! I have written some blog posts for Acceptcards detailing GDPR and the journey to compliance.
There are a lot of scams on Facebook at the moment, including free trips to Disneyland and free flights from Ryanair (really?) Anyway, if you are tempted to 'Like' and 'Share' one of these posts, just ask yourself, 'Does this seem to good to be true?' If it does then it probably is! You will probably find the Facebook page is a few days old with no posts. The link will be 'Clickbait' designed to get hold of your data. Beware – there are some unscrupulous people out there!
And speaking of Clickbait – that is the title of my latest novella. I've only written the first line…
I'm quite pleased with it so far!
In other literary news, my poem Where Did All The Children Go? has been accepted for The Pangolin Review, an online journal to be published in their June edition. I thought that this might be some sort of a scam – but no – some of the poets in previous editions have been shortlisted for very prestigious awards.
The History Of Zombies has received its first review – and its from France (fortunately in English!)
The review says exactly what I was aiming to achieve…
"Thrilled to see my 12 year old son engaging with a book. He really enjoyed this book. Roll on the next one!"
I went to the Irish World Heritage Centre last week to see Mary Coughlan. Although it was a surreal experience in what looked to be a converted gymnasium, the lady herself was fabulous. "The finest voice ever to come out of Ireland" has been said several times. She hails from Galway, the same as my mum's family – and has a very interesting past – I recommend her autobiography "Bloody Mary".
This is her interpretation of a famous Joy Division song…
The finest voice ever to come out of Wales is probably that of Tom Jones, and we will be going to see Tom after racing in York. Someone asked me if Tom often played venues such as York racecourse. I said "Its not unusual".
Finally, on the music front I went to see The Stranglers in Manchester (again). They were great, even though their setlist contained some very obscure and dubious album tracks. However, they have added a brilliant light show. The audience was as raucous and rowdy as ever, with a fight breaking out right in front of me. Most of their original fans, myself included, would not have the energy or inclination to get involved in anything like this, but the protagonists probably weren't even born when I first saw the band.
Easter saw us head to Moviescape in Stockport. We were at a Breaking Bad themed escape room, chosen by Zac who was the only one that had actually seen a single episode. Anyway, that didn't seem to matter as a girl who was far too excited locked us into the room. We didn't have to escape, we just had to collect as much money as possible. Every time we asked for a clue we lost $50k. Anyway, with just 20 seconds of our hour remaining we unlocked the vault and claimed all of the cash – using up three clues (but we got away with one due to some poor printing). Great fun – and we may well try the haunted house next.
Sometimes, you just can't put your finger on the right word to use. No problem for Zac, he just makes up a word that seems to fit. We were watching football the other day, and he disappeared half way through. He only wanted to come back at the end, so that he could watch the 'analysation'. I think I know what he meant!

And speaking of Zac – he announced that he is going to be the next Stephen Hawking. His brother was dismissive. 'You mean you are going to ride around in a wheelchair with a funny voice?' but Zac had a response. 'Well all you do is drama,' delivered in a voice that Laurence Olivier would have been proud of.


Finally, a sad ending. We lost a dear friend recently, 19 year old Callum. He has been a friend of the family, and particularly Ole, for many years. So sad to see so many young people at his funeral, but they turned it into a joyous occasion. Callum played Edgar Allan Poe in our production of The Raven, a challenging role that he pulled off with great skill and characterisation. He will be fondly missed.