August 4, 2018 by Michael Madden
Football, Festivals And The Advantage Of Two Badges
Well, the World Cup came and went, and not without incident. Ole described the night it kicked off in the White Hart, but he still went back for more at the semi final stage!
Cricket was the bad guy, as the quarter final fell on Saturday afternoon. Efforts to get our game started early were quickly thwarted, but at least Hazel Grove had the good grace to collapse for a paltry 75. This allowed us to claim a ten wicket win and get to the pub for the second half.
At home I had a much more sophisticated solution to the "where shall we watch the game?" problem. Regular readers will know that I bought a portable aerial, and we recently bought some garden furniture perfect for lounging in. The television has an anti glare screen, so with all of the good weather it was a no brainer to put the TV opposite the furniture and we could pretend we were in Spain!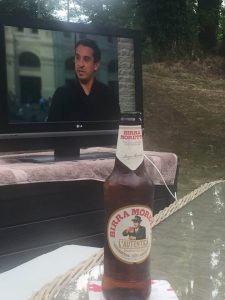 "The coverage in Mike Madden's garden is tremendous," said Gary Neville
Whilst this was going on I struck up a friendship with a French blues singer Sofai Martins. She asked me to write an article to promote her new album Free Loving Human, which I did. We then chatted about football, and being French she was over the moon with their victory. She was just disappointed that they did not get to thrash England in the final.
The article is available on the Articles Page of my new website! Speaking of which, I hope you are enjoying the new site. It is fresher, cleaner and greatly simplified compared to the old one that has been consigned to history. I am just ironing out a few teething troubles, so if you spot anything that isn't working please get in touch.
One of the tasks I set myself was to ensure that all of my blog content was successfully copied across. This worked except for a couple of videos. How difficult can it be to extract a video from Blogger? Well, its dead easy according to some sites. Just use Video Grabber (didn't work), and if that fails use Video Converter (didn't work). As a last resort you could use the Firefox browser with the Greasemonkey plug in (didn't work). Actually, the solution was simple. I did eventually use Firefox, but with the Video Download Helper extension. I guess the clue is in the name!
My blog that details my forty year career in IT is now finished – for those of a curious disposition you can read it all here…
Meanwhile, its been a very busy time in the kitchen, both physical and metaphorical. At one point I rewarded myself with homemade Bakewell Tart and custard!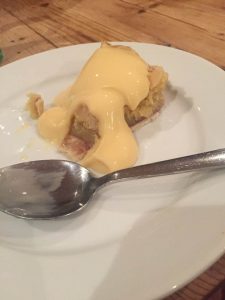 Elsewhere, my kitchen has extended to the Drum & Monkey and the Shepherds, where chilli, paella and red Thai chicken curry have all featured in various Big Pan events. Of course, Ole is still at home, so we are getting through copious amounts of chicken, and the arrival of granddaughter Nixie meant that brownies were in order (which she helped me to make, of course). No such problems with Zac, he still eats carbs and sausages, with the occasional apple begrudgingly thrown in.
Sometimes its difficult to come up with a bit of variety, but chopping half a chorizo sausage into chicken fajitas seemed to be a very popular move, except with Sally who thought they were too spicy.
Nellie's food bags seem to be getting bigger every day, though Zac is fighting against the tide. "Sod Nellie," he said as he threw an apple core into the bin rather than her bag. The lovable Nellie is now the star of several videos. The ones below are the same, with different music. I will let you decide which one you prefer.
We had a bit of a hiccup on Ex Pat Radio this morning as the station lost all communications. That was quite disappointing as my special guest was Carole Lieberman who has been on every show and in every newspaper under the sun. Her chosen subject was how to teach terrorism to children (dealing with it rather than causing it!) Hopefully we can reschedule for September. Last week saw a return for the delightful Caroline England whose My Husband's Lies is riding high in the Kindle chart, whilst David Darling's maths protegee and co-writer Agnijo Banerjee has just won the Maths Olympiad!
In the next few weeks I am hoping to be able to record some of the shows to include on the Radio Page of my website.
I really cannot make head nor tail of what is going on in the US. The problem is that Democrats contradict everything Republicans say, and vice versa. President Trump is pretty much a standing joke globally, or is that propaganda? Who knows? Yesterday he demanded, via Twitter, that the Mueller investigation be halted by the Attorney General who recused himself from that investigation. This morning he has praised Fox News over CNN (for the millionth time), and he has also praised Greg Jarrett for writing a book that claims the whole Russia thing is a hoax designed to clear Hillary Clinton and frame Donald Trump. Personally, I didn't think that the President could promote a private enterprise such as this, and I have no idea who is telling the truth, but it sure beats Coronation Street!
My second contribution to The Pangolin Review is now live, with a third on the way.
This one is called Time and it is an example of Triolet (as is the whole edition).
I am quite inspired by The Pangolin Review and have decided to publish my own collection entitled The River.
I may even include a couple of guest poems – if you are interested please let me know.
I am also looking for an inspirational cover shot. Sally has one of the river at Chatsworth but it looks a bit calm. However, we are heading to Croatia in a couple of weeks, where there are rivers and waterfalls in abundance. Can't wait. It seems like ages since I've been on holiday. Two days in Palma for a wedding don't count!
And its not just us that are going on holiday. Nancy (you know, the Christmas Present) will also be going away to an eventing school. She will have lots of fun, and she will be kept active by a variety of riders. But of course, as Lady M confirmed, she will only be ridden by professionals!
Another thing I am very much looking forward to is Halloween. Not just for the normal fun and games, because this year I have planted pumpkins. Will they grow in time? Will they grow at all? Will the pumpkins be big enough?
Here is the latest pic…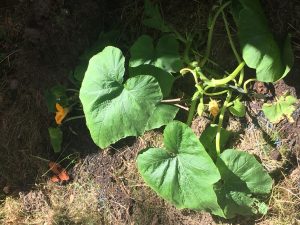 Although the internet is full of supposedly viral messages and videos, its actually quite difficult to get something to actually go viral. Well, none other than Clive Ashton achieved it with the recreation of Vindaloo by the citizens of Leek, headed by Clive himself. At one point he called me from the Palace Hotel in Buxton, he was holed up there to get away from the incessant demands of the press!
Might have to have a trip to see Clive and the rest of Leek in the near future.
Well what can we say. What a great turnout. I love the fact that Leek is an amazing town.No other town could pull this off.THANKYOU to everyone for turning out, a big thankyou to Tim Burgess and Jason Sales for supplying the music system.LTV – Be proud #itscominghome #vindaloo #england #worldcup #leek #leekvindaloo

Posted by Leek TV on Sunday, 8 July 2018
Zac is currently obsessed with expensive limited edition trainers. The latest are Nike Presto off white in white, whatever that means! Previous attempts have failed because he either lost out in a raffle or he overslept and missed the trainers going online. Anyway, there is another opportunity tomorrow – I'll let you know how he gets on.
Work is beginning to tail off in time for holidays, which is a good thing. However I was down in Leamington Spa last week. Usual crap traffic on the M1 and a small office that was still warm despite doors and windows ajar. Anyway, I got to the respite of the hotel with the temperatures still touching 90, and discovered that the hotel had no air-conditioning! Phew what a scorcher! as The Sun would say.
Anyway, I don't think it will be quiet for long, particularly if this new Y2K type issue materialises…
Zac was counting down the days to the end of the school term, clearly ignoring subjects that he would not be taking as part of his GCSE courses, and which he considered to be a waste of time. This was reflected in his end of term report. One of the subjects began with…
"Zac is not exactly disruptive and it's not that he doesn't try…"
You just know there's a "but" coming!
So, the holidays are here, and now he seems to be counting down the days until he returns to school, but not in a good way! He brought some lady friends round to our house, mainly to swank about the new garden furniture and watching tv outdoors, but as he walked through the front door he issued a cautionary note!
"Hey guys, is anyone naked, I've got guests?"
Sometimes those guests can overstay their welcome, and on a separate occasion Sally called out to him, "Come on Zac we have to go out," precipitating the departure of his friends. Sally and him were not going out, but he was very relieved as he had not been on his X-Box for some considerable time, and I can see him using this nefarious partnership in the future.
Sally had her cousins round to visit, and she planned to use my coffee maker. I pointed out that it needed descaling, so I put a descaling tablet in the water reservoir. I then went off to cricket. Sally forgot all about this, and made the coffee complete with descaler. To be fair, her cousins should be well aware of her culinary skills by now.
Nixie has become quite the chatterbox, and she is learning all the time. "How many legs has Dolly got?" "Two". "How many legs has Bobby got?" she had to be helped out with that one, "Four". How many legs has Nixie got?" She looked down, pointed at them each in turn and said, "this one and that one".
Its been a busy time for Ole, starting with his birthday for which we went to Bailey's Burger Night. A great experience, but unfortunately burger nights are no more. They are looking to introduce another theme in the near future.
The following day he was off to Benicassim, a Spanish music festival between Valencia and Barcelona. I gave him a checklist, which he ignored. One item on it was "book transfer to / from festival". He decided to do this the day before travel, and guess what? There were none available. So they had to pay a premium and book a private one. It was amusing to watch him and Bruce try to figure out what could be left out of their big bag to keep the weight down, then they set off for the bus. Twenty SECONDS later I had to chase after them, taking their charging packs that they had bought specifically for the festival. They got there late, and it was hot. Very hot. Ole couldn't sleep, then he felt ill. They went to the beach which afforded some respite, but it was still hot. And he was hungover. After a day of water he seemed fine again. Funny that! They made regular trips to the beach for food, and Lidl for alcohol, generally having a whale of a time. Then it was time to go home. One of their friends had booked a hostel in Barcelona for the last two days of their week long stay. I suggested a hotel in Reus, close to their departure airport. It would have cost about the same, but they would have had bigger rooms and use of a pool. As it turned out the train station was so busy that they abandoned the idea and got an apartment in Benicassim. They then booked another transfer to the airport and arrived home later that day. It was an experience, and one that they will all learn from, especially Ole who likes his home comforts. So, I suspect a hotel or apartment with a pool and as little time spent under canvas as possible.
His return coincided with his debut in an official film, as he played a rapist in a short video about consent made by The Television Workshop in Salford. He had the lead role, and he had to be in Manchester for two whole days. However, being the star he got his own changing area, and he got paid £60 whilst the others had to settle for £30. Not yet seen a star go up on his bedroom door, but it can only be a matter of time!
And then there's his job! Saturday morning saw him back at Cafe 110, and although the work is easy enough, he had to spend a considerable amount of time catching up with Donna's gossip, and vice versa!
There was another trip to York Races last week, for their musical showcase event starring Tom Jones. Now, Sir Tom has been ill recently, so there was some doubt as to his participation, but York announced he would definitely be appearing so we looked forward to it. We parked at our usual hotel, the wonderful Middlethorpe Hall, and Sally got the day off to a fine start with a large gin & tonic. We headed for the course, and although it was still early there was a queue of around fifty people at our entrance. However, the owners, trainers and jockeys entrance was empty, so Lady M hatched a cunning plan. Entry to racecourses is done by badge. We had badges for the Parade Ring restaurant, but we also had our members badges. She marched up to the entrance and looked with disdain at the larger queue. She turned to the man on the gate and said, "We have two badges, surely we don't have to queue up with them?" The man on the gate smiled and waved us through! The Parade Ring restaurant is a new experience for us at York, but definitely one that will be repeated. We sat overlooking the parade ring, sipping a welcoming drink of locally distilled potato vodka and tonic. Sally then started on a bottle of champagne, and by the time the lady came round to take bets for the first race she was in a bit of a tizzy!
Anyway, we persevered, and the waiters and waitresses were very attentive serving a very nice meal. My only criticism would be that I can make a Bakewell tart better than their "almond tart"! One waitress, however, blotted her copybook with Lady M. "Were you here last year?" she asked, to which Lady  M replied, "not in this part, but you may have seen me elsewhere." "Oh no," said the waitress, "I only do this restaurant. I just thought you looked familiar." There can be no greater insult. The last thing Lady M wants to look is "familiar"!
Around the start of the first race there was a thunderstorm. It was so bad that they dispensed with the starting stalls, and then it poured down. One particular lady who begged the question "has she dispensed with knickers or is her thong riding up?" got happily soaked, but the racing continued without further interruption. Unfortunately, about ten minutes before the last race, York announced that Sir Tom would not be performing as he could not get to the course due to the electrical storms. There was uproar, outrage, amusement, indignation, and refunds! We received 25% off our restaurant package, as well as £80 cashback for being members. However, others had booked cheap tickets with the sole intention of seeing Sir Tom, and their 50% would in some cases have amounted to a tenner!
Back at the hotel the storm had caused a power cut. We sat in the drawing room amid flickering lights powered by a flimsy back up generator, and rather than serve hot chocolate and sandwiches, the head waiter told ghost stories. Anyway, our next trip there will be in August for Ladies Day. Lady M is planning an outfit to commemorate the 100 year anniversary of the end of the Great War. Of course, pictures will be mandatory.
Finally, some news that may be expanded upon in the next edition. Ole has received a call for an audition for a significant part in a big production. Originally he was called to London but they allowed him to do a self tape. That will be assessed, and if it is good enough he will get a "Call Back", again in London. Sally is very excited, and spent at least three hours Googling the first series of the show in question. She is, of course, helping with the self tape, and it would come as no great surprise if she actually appeared in it!