October 25, 2018 by Mike Madden
Horses, Pumpkins And A Lady – No Its Not Cinderella!
Credit where it is due! This year sees the 100th anniversary of the end of The Great War, also known as the First World War, that produced many atrocities from 1914 to 1918. I am sure that the youth of today cannot comprehend just how bad things were back then. I am 57 years old and I could not contemplate National Service, let alone the trenches and battles that killed so many. To commemorate the 100 years you may have seen "Silent Soldiers" in numerous locations. These dark silhouettes are a stark reminder of those times, and Whaley Bridge will soon be the recipient of several of them. Actually, the first of these has gone up today, on the grass at the bottom of Elnor Lane next to the Welcome To Whaley Bridge sign. Sally has been instrumental in gaining sponsorship and funding for these eloquent monuments, though the erection of the first soldier led to a few technical difficulties that she managed to overcome with the help of her brother Simon. The soldiers arrived last week, and stood silently (that's what they do) at the bottom of of the stairs, it was actually quite eerie catching a glimpse of them every now and then – I'll be glad when they are out on duty!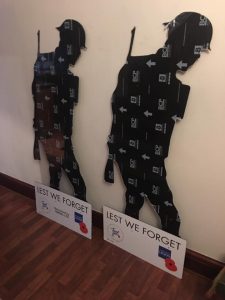 In addition to this she has been helping to raise awareness of and funds for the Fernilee church and graveyard, and many of the inhabitants of the graveyard are the same war heroes that are epitomised by the Silent Soldiers. This culminates in a huge party at the end of November, and tickets are selling like hot cakes so you had better act fast if you want one.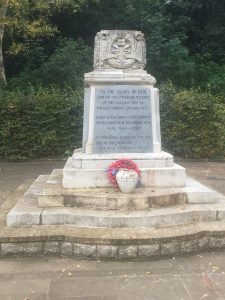 And whilst on the subject of war, there has been tremendous progress on the Whaley Bridge memorial that was so badly vandalised by an errant tree. Hopefully the stonemason will be able to restore it to its former glory in time for the remembrance ceremony.
They have even managed to tidy up the fallen tree!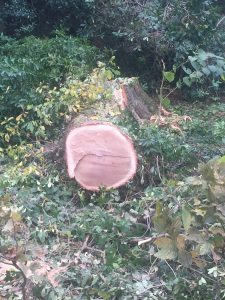 Anyway, back to the mundane, and I started a new job in Leeds. I used to work in Leeds, and remembered the journey by car to be around 75 minutes. Unfortunately, I soon realised that that was 24 years ago! There is a lot more traffic on the road these days, and the average journey time is about one hour and fifty minutes. I've booked myself some accommodation for this week, but I have signed up until the end of February, so anyone who has a helicopter flying there regularly  please let me know.
The kitchen has, as ever, been a busy place. I pickled a whole new batch of balti paste, leaving a rather fetching aroma for several days, but I made sure that my Creole Cake had reached its next stage first, and so could not be contaminated by the smell of the sub continent.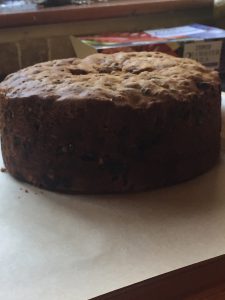 It doesn't look particularly pretty right now – but when it is laden with alcohol and iced with almond paste….
I also made pumpkin chutney, using the innards of my first pumpkin carving of the year, as well as citrus fruit and sultanas. Its a bit zingy – but good with cheese!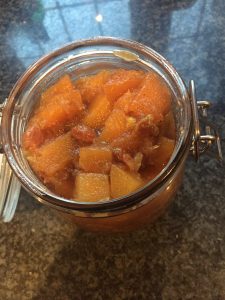 …and here's the pumpkin…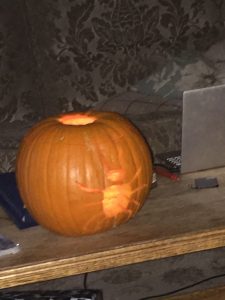 …its a spider – looks better in the dark!
Finally – I tried a different recipe for gingerbread – not as good as my mum's – I will be reverting to hers in time for Christmas.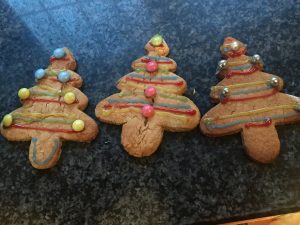 We used to have an annual trip to York races – now we seem to be there every few weeks! However, I guess that the October meeting will always be our favourite – and Mick Easterby's too! He once again managed to get his picture taken with Lady M in the Parade Ring!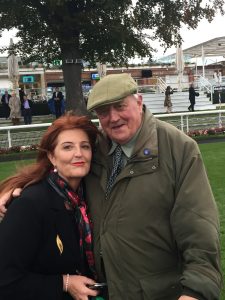 And speaking of horses, this next tale is not for the weak of heart or faint of mind! Sally was watching some sort of horse event on her phone. Not sure what it was, it might even have been a recording of herself riding Nancy. Anyway, there were lots of shouts of "That's the way", "Go on", and "You can do it." Zac waited for his moment, and then quite simply asked his mum, "Is that what you shout in the bedroom?"
That's not been his only gem this month. We received notification that there was a jobs fair at his school, and we asked him if he intended to go to it. "I might do, but I am planning on working for myself so it won't be much good." A noble thought, but one that deserved a challenge. "What are you going to do?" I asked. Without skipping a beat he announced, "I'm going to do your job. That seems to pay the bills."
Product news, and I can definitely confirm that the new style and much maligned Toblerones do not last as long as the older ones. It must have something to do with the increased space which inevitably leads to less triangles. And space is not just reserved for Toblerone. I took out a box of McCain Micro Chips from the freezer and it sounded suspiciously quiet. I shook it, nothing. It appeared that the box was completely empty. It was still sealed in cellophane, so had clearly not been tampered with, it had always been without chips! Sally sensed compensation, so she emailed them. They were not exactly distraught. They asked her for the batch number and said that they would send her some vouchers by way of recompense. So what is an empty box of McCain Micro Chips worth? £6. Well, actually it is £6 in vouchers that can only be spent on other McCain products. Hardly worth the effort!
I sometimes wonder about Ole! He had the relatively simple task of getting from Salford to Whaley Bridge tonight, on the train. He somehow ended up in Bolton, and he has no idea why or how. Maybe he was trying to get his head around his newly opened Sky Bet account as he tries to make up for his complete lack of funds by gambling on the NFL. Luckily he has come to the right place!
Yes the NFL is back at Wembley, and here are a couple of travel tips. When heading down there from Macclesfield get off at Watford Junction and get the direct train from there. If you do manage to end up at Euston, don't follow the crowds. Instead get the Victoria line for two stops to Oxford Circus, then the Bakerloo for 3 stops to Marylebone, and finally the overground train to Wembley that only takes 7 minutes. Just as easy on the way back too as it arrives at and departs form the very convenient Wembley Central. As a side note, isn't it amazing how London has managed to name its streets and stations after the squares on a Monopoly board?
Sad news, the fox got in up at the farm and savaged Dave's hens and his prized cock. This little fellow will no longer be there to greet me in the mornings!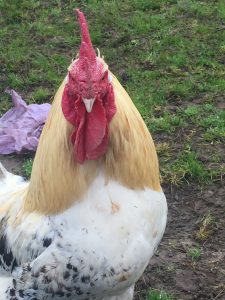 However, every cloud has a silver lining, and now Nellie's pen has expanded into the vacant lot next door!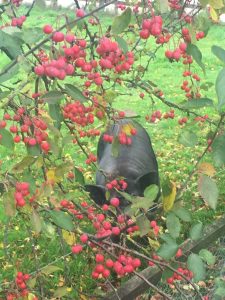 The 21st century has arrived! I have now discovered that I can pay cheques into my HSBC account using just my phone. It scans the cheque and deposits it with very little fuss, and without trying to find a branch that has not suffered the ultimate cut by closure!
Staying in the 21st century, Zac's bot finally worked. He managed to purchase a Supreme North Face bag, for the princely sum of £188 plus £5 postage. Now, it doesn't look like a £193 bag, but who am I to judge? His next task is to either keep it, or sell it on Stock-X, the marketplace for this kind of high end nonsense. At the moment the bag is selling for around £210, which would mean no profit or even a small loss taking into account their commission. I will let you know the outcome, meanwhile when December comes around there is a really big drop, so who knows what he and his bot will end up with. My credit card is braced for the assault.
Which brings me nicely on to my latest writing project, Clickbait. Its a horror novella, around 10-12000 words (if I ever get around to finishing it), and I am trying a new marketing technique. Rather than just bombarding people with 'please buy my book' messages, I have created a blog that explains the dangers of Clickbait. So whilst you may not be tempted to buy the book, at least you might learn something!
The cover has once again been created by the wonderfully talented Emmy Ellis at Studioenp.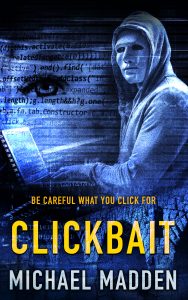 Click here for the Clickbait blog
I will be adding new Clickbait examples on the blog over the coming months.
We have an unexpected addition to Zac's diet. Lobster. I don't think it will ever quite replace sausages, but he tucked in to half a lobster tail, and now he is looking forward to trying King Prawns. He has also started to tolerate Heinz Spaghetti on toast, which is a huge improvement on 12 months ago!
Finally, the US is going absolutely mental on the political front, with the mid-term elections fast approaching. If you have not been following – you have a lot of catching up to do. This week some suspicious packages were sent to various Democrats as well as to CNN. Now, you would think that a Republican supporter would be to blame, right? Not necessarily. You see, it has become so twisted that there is a strong belief that a Democrat supporter sent them so as to adversely affect the support for Republicans. But I have another theory. What if a Republican really did send them, thinking that a Democrat would get blamed for trying to adversely affect the Republican vote? Still with it? Well, to compound the situation the US president then said the media and politicians should not treat each other as enemies and should not encourage violence, exactly the behaviour that he has been showing for the past two years, or maybe that's just the fake media reporting it so! Maybe not, I am sure I have seen some footage of his rallies and some white supremacists at the White House! Stay tuned, November 6th promises to be a real rollercoaster. In the meantime – here is my take on it…
SIDES
There have always been sides
Parallel, perpendicular, adjacent sides
Sides that could touch each other
So close together
But now I look at all sides
I see them all so wide
Apart, so torn apart
Separated both by head and heart
Each so sure of wrong and right
Each so sure of truth and lie
A river through the great divide
Where ethics come to die
And morals shrink
Beneath the outstretched hand
And dollars rule the land
Signed with poisoned ink
As the buttons on a shirt
Can draw two sides to stay
Or let them drift away
For now but never hurt
Alas our fabric has been gripped
The fields of our cotton have been ripped
Forced by hands of fury
Buttons fall beside Old Glory
Fastenings never more
Strewn across the floor
And so the shirt falls open
No modesty remains, no token
And vulgar nakedness no longer hides
A shadow cast across both sides