December 27, 2018 by Mike Madden
Whaley To Wisconsin (And All Places In Between)
Bucket lists – yes or no? Never really been concerned about them, I mean, if you put ten things on there and you achieve all ten, then what? Start another one? And what about things that you just do? For instance, going to watch the NFL at Wembley. That would, perhaps, have been a bucket list item, but now it is a regular event. Anyway, I thought, what the hell? and created a list. Top of it was a trip to Green Bay to watch the Green Bay Packers, and last weekend I achieved it. It was so good that it may well become a regular trip – so does that go on future bucket lists too? I really don't know how this is all supposed to work!
So last Friday Marc and I set off for Green Bay. Obviously, that's not just the 199 from the end of the road, and we began by driving to Manchester Airport. We checked in with KLM, flying to Chicago via Amsterdam, and we were in something that they call "World Business". What this really is is posh premium economy, but more of that later.
Our bags were checked through to Chicago, so that was one less thing to worry about, and we were given access to the lounge, which was particularly relevant as we were in the renowned Terminal 3, normally reserved for stressed out Ryanair passengers wondering how the budget carrier will fleece them next.
So, we went through security where Marc was stopped for having a lighter in his pocket, then we settled in for the hour or so wait for our short hop to the Netherlands. I had a breakfast, Marc had a coffee (he doesn't eat much), and then as the clock ticked past 8 o'clock the complementary Birra Moretti began to look nice so I had one of those.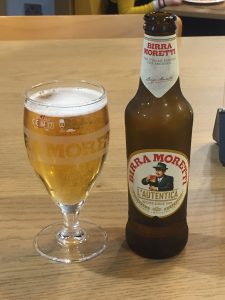 We boarded the rather small plane that was to take us across the North Sea, and discovered that KLM consider Premium Economy on short haul flights to be the same as economy but with an empty seat in between passengers. I then spotted a problem with boarding cards. Marc had been given his transatlantic boarding card specifying seat 78B upper deck. Mine was 3J lower deck. "Bastard," I thought. "He's been upgraded." The stewardess said she would email ahead and get it sorted. So, we arrived in Schiphol with a short walk to our next flight, and showed the boarding cards to the KLM staff at the terminal gate. They looked puzzled and then said they would sort it. They then announced that I had been selected for an additional security check. "Jackpot," I thought, remembering that "additional security checks" are often what happens when passengers are given a free upgrade. I, too, was placed in the upper deck, and we boarded expecting to be dropped in the lap of luxury. Unfortunately, KLM no longer appear to have a lap of luxury. Although the cabin was nice, certainly much nicer than Premium Economy, there was very little space. Those with window seats were blocked in (not the case on normal business class configurations), and there was no bar to sit at! Some passengers complained about the lack of baggage space, and the crew seemed to be constantly engaged taking coats, luggage and anything that they could and moving it to a storage area next to the kitchen. Worst of all, we were on board a full half hour before even being offered a drink.
We settled in for the flight; Marc searching through the somewhat limited entertainment package, and me doing some work that has been outstanding for quite some time whilst I have been reluctantly engaged in a full-time job!
The journey to Chicago was reasonable, though the food confirmed that this was not really much better than Premium Economy. The beer and wine flowed, and my laptop rattled away as I got myself up to date.
One advantage of not flying Economy is that you get off the plane first, always an advantage at the hugely crowded and slow US airports. So, we disembarked and headed to the immigration hall at a brisk walk. The hall was filled with automated machines, the same machines that I have seen go badly wrong at Dulles. However, here they worked perfectly, and within twelve minutes, yes twelve minutes, we were through immigration and in the baggage hall. That was where our problems began! I received a text message from KLM stating that one of our bags (or maybe at least one) was delayed. I clicked on the link but it took me nowhere. We watched with growing anxiety as bags tumbled off the carousel, and I messaged Sally to let her know the bad news. "Not my Samsonite?" she messaged back, clearly more put out at the prospect of losing her bag than any inconvenience that we might have to put up with! Anyway, my bag appeared a short time later, but there was no sign of Marc's. I spotted a guy in a yellow high visibility vest with "KLM" stamped across it, and I asked him. He was clearly expecting this, as he led me to a chap with a clipboard. I gave him Marc's name, and sure enough Marc's bag had not yet left Amsterdam. They told us it would be on the same flight the following day and would be delivered to our hotel, but they were a bit puzzled when I told them that we would be in Green Bay by then.
The man in the high visibility vest looked at the heavens. He led us through the airport, bypassing customs, towards a check-in desk that appeared to have been reinvented as a KLM F*ck up area. He took down our details and gave us various bits of documentation, including the KLM elite baggage telephone number. He told us that they would let us know what we could purchase in lieu of having no bag. We made our way outside so that Marc could address his nicotine craving whilst I phoned the elite baggage line. As it turned out, it was not very elite. However, outside it was very cold. I kept alternating hands on my phone and putting the free hand into my pocket for warmth. The elite baggage line was not just for KLM, it was for Delta and Air France too, and I was speaking to a Delta representative until I got cut off. Fortunately, I got straight back to the same agent who, after a lengthy period of deliberation followed by an interminable "hold", told me that the bag would arrive tomorrow (I already knew that), and that they would get it to our hotel in Green Bay (I already knew that too). What I didn't know was that they would fly it to Green Bay via Minneapolis. I thought of asking if it could send a postcard of its travels but decided against it, I only wanted to get to the sixty-four-million-dollar question; how much stuff could we buy. There was no straightforward answer to this, other than, "if you need a $500 jacket get a $500 jacket – its cold, I am sure they will cover it" which was not really the precision we wanted to hear. It was getting colder as the day wore on, so we jumped in a cab and headed for The Loop and in particular the Hilton Chicago. After fifteen minutes my Satnav indicated that we were still more than an hour away, a combination of lane closures and Friday afternoon rush hour adding to our journey. Our driver became increasingly agitated, but we ignored this and called home to let them know the situation. Sally was very pleased that her Samsonite case had not gone missing after all. In the city centre the traffic grew exponentially worse, and our driver made liberal use of his horn and abusive hand gestures to anyone who even looked like they might get in his way. Eventually we reached the hotel, as the driver reached a crescendo of volatility. He tried to pull in to the kerb, but another taxi would not let him. More gesturing and shouting ensued, though as it was clearly not English we were not entirely certain of the words involved, but we had a good idea. Neither party wanted to give an inch, and the driver on our inside let his window down, either to get a blast of icy fresh air or to make his abuse a little clearer. Undeterred, our driver also let his window down, pointing and shouting in a very worrying manner. Given the reputation of the US we strongly feared that guns may be drawn, but they were not. Instead the hotel concierge stepped forward between the two vehicles, ignoring the threat of violence from one or both taxi drivers, opened our door and uttered the immortal words, "Welcome to Chicago."
The Hilton Chicago is a huge, impersonal hotel – there are about 15 different lifts! However, it did have a nice Christmas tree and a relatively short queue for check-in. "Would you like an upgrade, sir?" a lady of Oriental appearance asked. "No thanks," I replied. "We are only here for one night." "We do have upgrades available," she persisted. "No, I'm good thanks." "The upgrade gives you more space, and two bathrooms," she clarified, without being prompted. "How much is the upgrade?" "$30," she said, clearly having rehearsed her hard sell. "No, we're good thanks. We will be out of here quite early." Disappointed, she had nowhere else to go so she gave us our keys to a standard room. We contemplated searching for a shop to replenish Marc's stuff, but the Hilton have a perfectly adequate, if somewhat expensive, gift shop. He bought a few essentials, toiletries, etc, and happily paid the $88 in anticipation of a full refund. Then he realised he needed a phone charger, which was another $40+.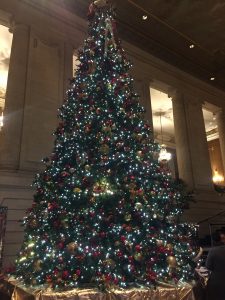 Hilton Chicago's best feature
Feeling suitably fleeced, we quickly changed and ventured out into the freezing Chicago night. Marc spotted a liquor store which may have sold much needed cigarettes (the Hilton gift shop sold them, but only at a premium!), but we decided to find a bar as quickly as possible. We spotted Buddy Guy's Legends that seemed to have a few people in, but I had read that they have a cover charge of $20 on Fridays. Taking note of the "No guns" sign on the door, we went inside and I asked about the said cover charge.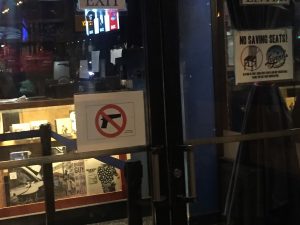 "That's only from 8pm," came the response from behind the counter, so we went in and settled ourselves at the bar. A blues singer was singing quietly on a fairly large stage, and various patrons came and went. The walls were adorned with the guitars of various players, including Hendrix, Tom Petty, BB King and more.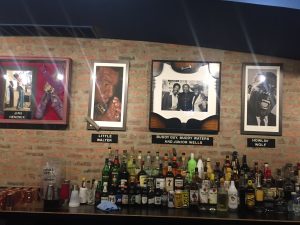 We refilled our beers more than once, then Marc went outside for cigarettes. Whilst he was gone the barman warned me that in ten minutes the cover charge would kick in. Unfortunately, he didn't warn Marc, and on his return he did indeed have to fork out twenty bucks. Around the corner was another bar called the South Loop Club. This was a short but very cold stroll from Buddy Guy's, and we were glad to get inside where garish lights, sports screens and an adjoining takeaway awaited. We ordered beers, at which point the woman behind the bar said, "Gonna need to see some ID sir." As luck would have it I had my driving licence in my pocket, so the beers were handed over to the amusement of Marc and a mixture of surprise and smugness from my fifty-seven-year-old self. The beers were good, accompanied by unlimited free popcorn, and I guess the Philly cheesesteak sandwich and burger were not too greasy to devour! An hour or so later, the icy blast that greeted our departure made us glad that we were just a block from our hotel. Still, we headed for the much closer rear entrance and were glad to get inside.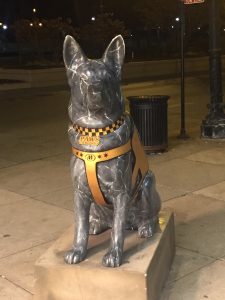 The Hilton Chicago is well guarded
The next morning we checked out electronically, and as it was not yet 6am we decided to head for the airport in a taxi rather than to find the traditional Chicago diner, Yolk. Of course, in terms of breakfast I had a secret weapon, I had discovered a Denny's around 40 minutes from the airport en route to Milwaukee.
The taxi was much quicker than the previous afternoon, but only $10 cheaper, which probably explained part of the grumpiness of the taxi driver form yesterday. O'Hare airport is huge, and we were happy to find a helpful chap who pointed us in the direction of a bus. The bus took us on a ten-minute trip around the airport to a separate building that housed the car hire companies. It was actually very efficient, and we were at the front of the queue (not surprising at that time in the morning). We paid extra to the rental car chap so that we did not have to fill the car up on the way back, and then he asked us about tolls. He said that the cost of tolls from Chicago to Green Bay return was around $28, and the cost of the toll pass was around $30. Of course, we could then go anywhere without paying extra. To us, the convenience of not having to stop and rummage around for quarters was well worth $2, so we paid for that too.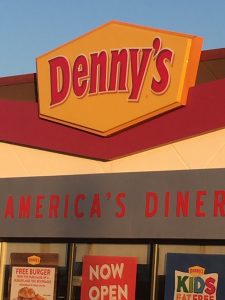 We soon found our way on to the open road, and our Satnav took us straight to Denny's. I could have ordered from their over 55s menu, but I'm a sucker for a lumberjack slam so that is what I got. Marc had a coffee! I must admit, the second pancake was beyond me after sausage, eggs, bacon, ham, hash browns and toast.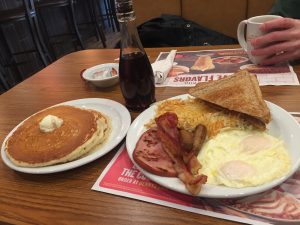 Suitably refreshed we got back in the car for another forty-minute trip to Milwaukee. Our intention was to visit the Milwaukee Brewers stadium, and although we knew it was not open there was always the shop. The interstate through Milwaukee is a bit odd. You are driving along expecting to exit from the slow lane on the right, but no! There you are keeping a close eye on the exits, when suddenly you have to switch to the outside lane and get off from there. We negotiated this and wondered where the stadium was. As we arched around a sweeping bend we saw it. A magnificent metal and brick construction that towered over everything.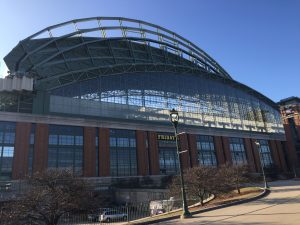 Very impressive, as was the acres of car park. We parked up, meandered under a bridge and noticed the temperature. It was freezing, and we were early. Everywhere was closed, so we had a brisk walk around, snapping pictures of statues and wondering whether it would actually open on time. We returned to the car and drove it as close as possible to the shop, which wasn't actually where it was supposed to be. During the off season it is inside the stadium next to TGI Fridays, so we went into the warmth of that and purchased a few souvenirs.
The Brewers love their statues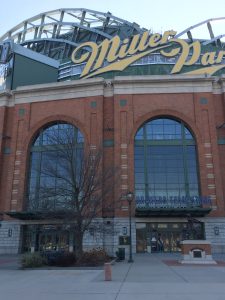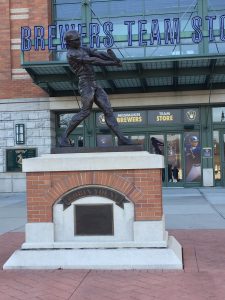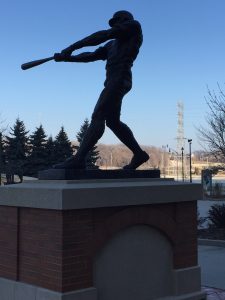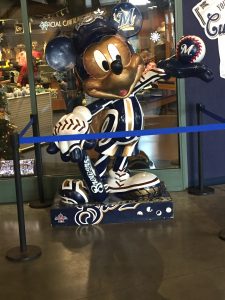 The Milwaukee Brewers' celebrity pitcher
Back to the car, and it was about an hour and three-quarters to Green Bay, so we settled in for the long haul. Leaving Milwaukee we came across a few farms, all of which looked like something out of Twister. There were red wooden barns, towers for something or other, milking sheds, and miles of frozen pasture. After half an hour the landscape had not changed, in fact it was like the background of a cartoon, just repeating itself over and over again on a loop. This occupied around ninety per cent of our journey, and I contemplated another stop as I was struggling to stay awake. Finally, and just in time, we came to the very small metropolis that is Green Bay. The wonders of Satnav steered us straight to the Americinn Green Bay West, and we parked up for the weekend. It crossed my mind that we had not gone through many tolls, but I'm sure they were expensive and we were getting good value for money!
The hotel was very friendly. It was paid for in advance, so a quick glance at my ID and we were done, despite being several hours earlier than the advertised check in time. Free coffee in reception, a fire and tv in the lounge, what's not to like? The view from our window was somewhat disturbing, so we shut the curtains!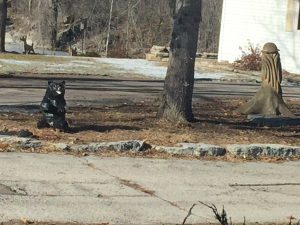 Across the road was the "Watering Hole", a sports bar and restaurant that looked like a good place to start our Green Bay adventure. They struggled when we asked them to put English football on the television, but they served a variety of beers and didn't complain when we said we didn't need food. It was the kind of bar that you would expect to see a Country or Americana band playing behind a chain link screen (as in The Blues Brothers), but on a quiet Saturday afternoon the assortment of characters were just interested in downing a few cold ones. We returned to the hotel and ordered a cab to take us to the legendary Lambeau Field, our destination for the rest of the day.
It was a bit of a surprise when the taxi pulled up and we were greeted by a dog. The whole cab stunk, and although the mutt was reasonably well-behaved it wanted constant petting. The driver explained that it was his sister's service dog, and if I had had one on me at that moment I would definitely have produced one of my "Don't Give A Flying Fuck" cards. Not a dog person! The driver warned us about the extortionate cab prices on game day, and advised that we get in his shuttle for $7 each, pick up at 9am. The hotel confirmed the prices, and told us that the Watering Hole also run a shuttle setting off at 30 minute intervals from 9am. That gave us food for thought as I was planning on getting to Lambeau by around 8am on game day, but more of that later.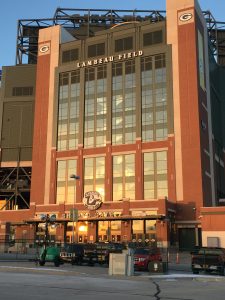 The stadium was just a short drive away, and we were grateful to get out of the doggy car. The ride cost just $20, and we thought that even $40 on game day would be ok, but apparently it was much more than that. The stadium was impressive, and we went into the Atrium, a huge expanse capable of seating 150 people for dinner comfortably. From there we went to the shop where all manner of souvenirs had been stamped with the Packers' green and gold. Actually, it was relatively tasteful by American standards, and the clothing felt good quality. We decided to return later, as we still had the Hall Of Fame and stadium tour to complete, and did not want to be carrying packages around. The Hall Of Fame was next, with impressive interactive displays of the good and the great, old and new.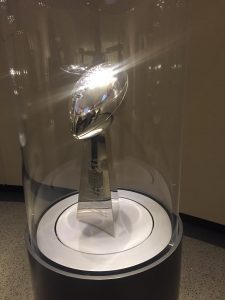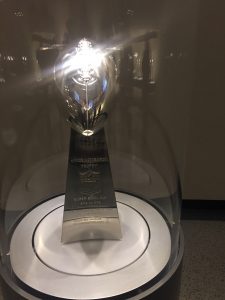 Superbowl trophies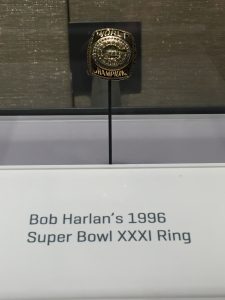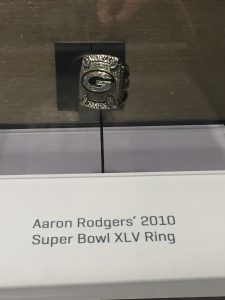 Superbowl rings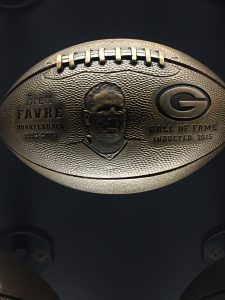 You know you're important when your face is engraved into a football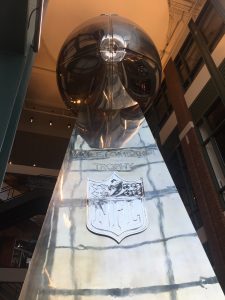 Replica Superbowl trophy that spans two floors!
A short film showed the history of this most storied of franchises, but it started getting busy so we decided to explore outside. "Titletown" is an area outside the stadium, where a snow slide had just opened. We were already cold enough so declined the opportunity, and went in search of a bar. We walked around the entire circumference of Lambeau Field, and did find a coupe of potential places, but we went back inside the Atrium where the Packers own bar was serving food and drinks. Unfortunately, the wait time was around ninety minutes, so we settled for a couple of takeaway Miller Lites and went on to the verandah where patio heaters struggled against the rapidly falling temperatures.
Eventually it was time for our stadium tour. It was dark outside and everyone was well wrapped up. Our tour guide was a personable chap, with a few set jokes especially about people from Minnesota. He told us of the history of the Packers, and of the stadium that until fairly recently was just used for football. Now it hosted events at the rate of more than one per day.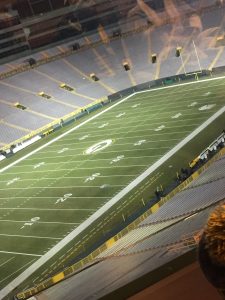 It even looks cold from inside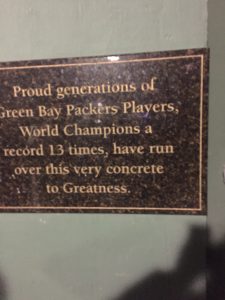 Inspirational words on the way to the pitch at Lambeau Field
We sat in a hospitality suite overlooking the pitch, and then we went outside. We were actually in the tunnel where a metal roller shutter protected us from the open expanse of the playing surface. Once the roller shutter went up the icy blast was memorable for all the wrong reasons. We shuddered and shivered, though once we actually got within touching distance of the playing surface we warmed up, or at least became less cold, as the wind dropped. The surface looked magnificent, engineered by a UK company, replacing the previous one that was laid by the Dutch.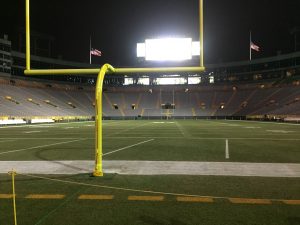 It was less than eighteen hours until kick off time and our tour was almost done. One last trip back up into the Atrium and we were out of there, even more excited at the prospect of tomorrow's game.
I contemplated finally activating my Uber account, but there were cabs waiting outside so we jumped into one of them. That proved to be a mistake as the meter ticked over rather quickly on the short trip back to our hotel. Almost $40 later we felt as though we had been robbed, and it was fortunate that the driver took credit cards as we were running short of cash.
The Watering Hole beckoned, and it was a little busier than earlier in the day. We ordered cheese curds, a favourite of the cheeseheads in Green Bay, and they were ok, a bit like mozzarella sticks. I ordered a bowl of very spicy and warming chilli, washed down with some ice cold beers, but by 10pm we were ready for bed, knowing that tomorrow we had a long day ahead.
Game Day started early, with sausage and scrambled eggs, pastries, fruit, juice and coffee, all provided by the hotel (well who knows when I would get to eat again?) We sat in the lounge watching the build up to the game, though it was still before 6am. A friendly lady from Atlanta explained that although the Packers were playing Atlanta she was actually a Green Bay fan, and this was kind of a bucket list thing for her too. A friendly chap walked in and helped himself to coffee. He seemed to know the staff, then he offered parking at his house just north of the stadium. The lady from Atlanta took him up on his offer, she just agreed to provide a bag of coffee. I downloaded Uber onto my phone, and there were several of those little black machines in the area. The tariff was around $16, suppressing all of the horror stories form the previous day. At 7.30am I dressed for the day. Three pairs of socks (complete with footwarmers), a thermal shirt, jumper, jacket, additional jumper, coat, Green Bay shirt, thermal trousers, jeans, beanie hat, bobble hat, balaclava tucked inside my outer coat just in case I got cold. By 8am we were ready to go and summoned the Uber. The driver was very friendly, though he clearly had a weight problem. Still, better than a stinking dog car or a very expensive ride that we had encountered the previous day. He drove us around Titletown, explained where to pick up the Uber later (there is a reserved area just for Ubers), and which were the best bars.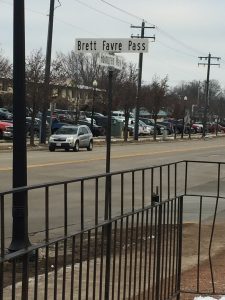 And if your face on a ball is not enough there's always the street name!
He dropped us at Stadium View, right next to Favre Pass and, not surprisingly, within view of the stadium. We took seats at the huge square bar, facing numerous screens all building up to a Sunday in the NFL. It was almost four hours to kick off, and the bar was already busy, with lots of fans from both teams enjoying friendly banter. Everyone was in team colours, and all were dressed for a very cold afternoon.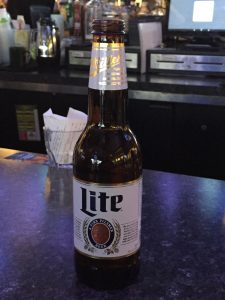 It started with a traditional Miller Lite, and we opted for bottles rather than draft. The bartender was friendly, as were many of the locals. The most popular drink in the bar appeared to be a red concoction that I, for some reason, assumed was cranberry juice with maybe vodka or rum in it. Not so. The bartender squirted some of the red liquid into a glass for me to try. It was a Bloody Mary. Not particularly palatable, but when in Rome… so I ordered one. It came with the rather strange accompaniment of a large pickled gherkin which, to be honest, was the tastiest bit.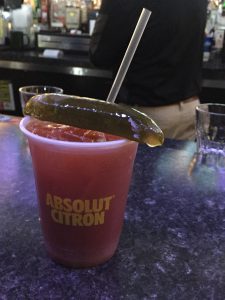 I got it down, with another couple of Millers to take away the taste, and sensing my dislike the barman then gave us a couple of free shots of some melon based liqueur. Much nicer.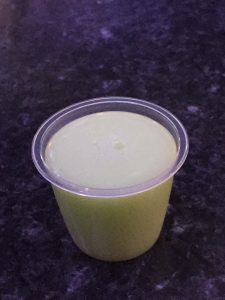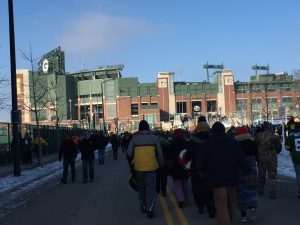 The Lambeau equivalent of Wembley Way
Eventually we had to bid the bar farewell as we both wanted to soak up the atmosphere at the ground. On the way we dived into a tent hoping to sample a famous Wisconson Bratwurst. However, the bar was strictly advanced purchasers only.  A helpful chap told us that we needed a wristband, but these were sold ahead of game day and we were out of luck. All was not lost, as he offered to get us a couple of beers as he did not have to pay (as indicated by his own wristband). We got into a healthy conversation about the NFL, Green Bay, our road trip, Manchester and beyond. Stephen was a great find, and he introduced us to his brother, his fiancée, and his brother's girlfriend. He is heading for Europe next year, and maybe we could meet up. Who knows? The flow of free beers certainly helped in the planning stages. Never underestimate the kindness of strangers.
With game time fast approaching we left our new friends behind and set off for the stadium. Oddly, there are only four entrances, one on each side. We entered at the opposite side to our seats, which we knew after research the previous day, but it was a little confusing as rather than place blocks in numerical order they seem to have an odds and evens approach.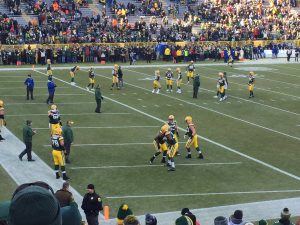 The Packers warm up
We walked a hundred yards or so before we found our position, then we tucked in to a Brat covered in barbequed pork together with ice cold beers that in reality got colder as the day wore on until they were really too cold to drink (yes, that is possible).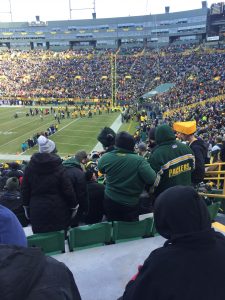 Yes that person in front is wearing a cheese on his head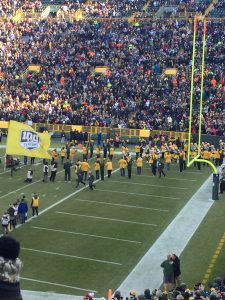 The Packers take to the field
The Packers took to the field amid great cheers, and we cracked open our handwarmers as the national anthem started.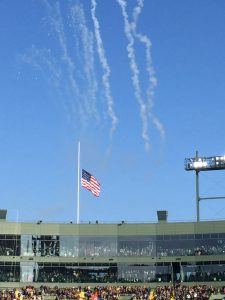 Evidence of fireworks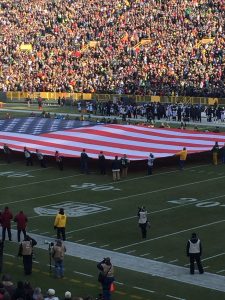 The Americans love a big flag
Although we did not see too much pre-game entertainment we did catch the jets flying over and an array of fireworks.
On your feet, hand on heart, hats off!
Atlanta took the ball first, and scored a touchdown on their first drive. Was this to follow the Pack's recent games with a disappointing defeat? How would the team react to their new coach (the old one having been sacked less than a week ago)?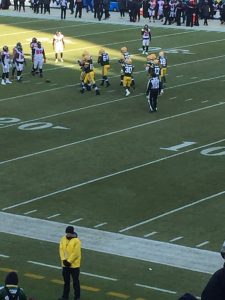 The Packers come to the line of scrimmage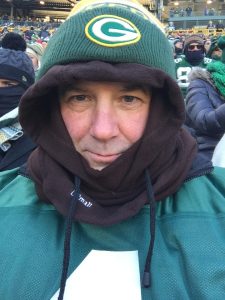 Feeling the cold
I needn't have worried. Aaron Rodgers was at his best, even breaking Tom Brady's record for most consecutive passes without an interception, as the Pack built up a commanding lead.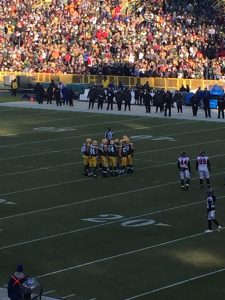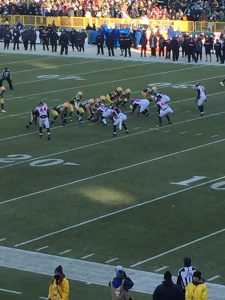 In the huddle                                      Three nineteeeeeen, three nineteen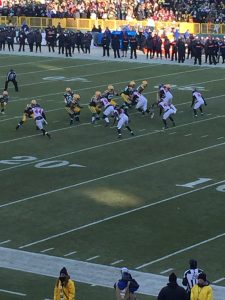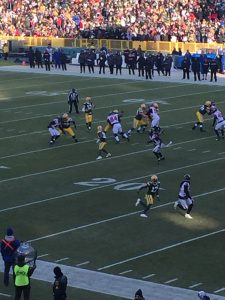 Rodgers back to pass                       All the time in the world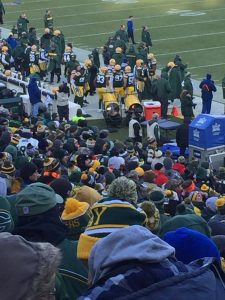 The players making use of the big burners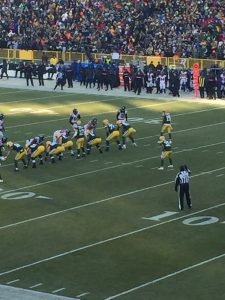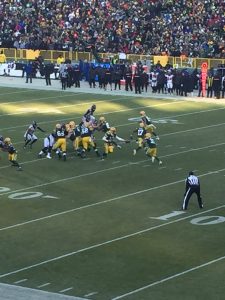 Rodgers under centre – hands off to the running back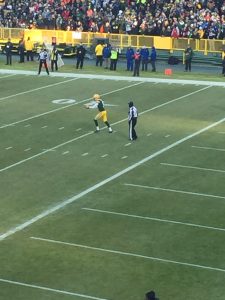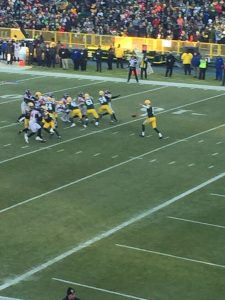 A rare Packers punt
At half time I went in search of hot coffee, but it appeared that cold beer was the only option. Maybe they should consider mulled wine! I completely missed the military parachute display, fortunately Marc videoed this impressive sight.
Atlanta briefly threatened a second half comeback, but it was never really on the cards. The crowd entertained themselves with dancing on the big screen to the tune of Roll Out The Barrel, and then one young chap decided to brave the temperatures by removing his shirt!
As the game came to an end we considered returning to the Stadium View, but it was on the other side of the stadium and could only lead to a late night and hangovers, so we opted for an Uber and the Watering Hole.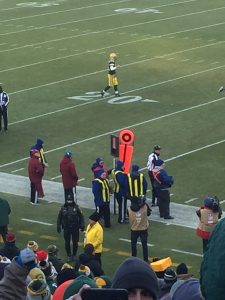 Rodgers returns for the final play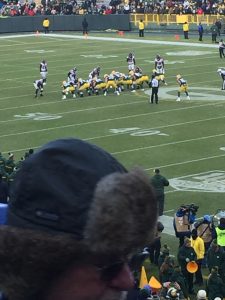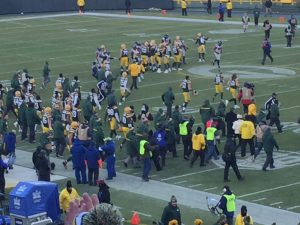 Kneel down time                              Game over – Packers win
It was a very civilised exit from the ground, unlike the melee at Old Trafford and other football grounds, and we made our way towards the designated Uber area, where our cab was moments away. We paused at the side of the road as a policeman guided a pick up truck around the side of a parked RV. We laughed as the truck took out the rear end of the RV, doing considerable damage to itself in the process. The policeman looked on with shock and amusement. Unfortunately, just as our ride arrived, my phone died. It did this a lot in the cold weather, but I remembered the make and reg of the car, and despite a couple of missed calls Cheryl was there to pick us up.
Cheryl was an interesting character (in line with almost everyone else we met in Green bay – especially the cab drivers). She was the wife of a farmer, and she had taken up driving for Uber to supplement the falling income from farming. I thought this might be because the fields for miles around were frozen tundra for many weeks of the year, but no, this was entirely down to Donald Trump and his policies. She hated Trump with a passion, and turned off the tv whenever he appeared. We got stuck in traffic, and so were treated to a non-stop story of her driving career, a bit like a real-life audio book. When she realised that we were staying opposite the Watering Hole, she mentioned that she had picked up a guy there once. He told her he was a serial killer so she shouted at him to get out of her cab. We ignored this apparent and, to be honest, not surprising danger, and I asked her about the snow. In the UK, when it snows, it can hang around for days and weeks and everything is a nightmare. In Green Bay it snowed a week ago and it was all swept to the fields away from the roads and footpaths. It had no chance of thawing but it wasn't a problem. They really do know how to handle snow up there. "I've got a new car," she explained, "but I don't use it for Uber. Don't want to get it messed up. Last week I drove right into a snow drift and smashed my bumper, but the biggest hazard round here is the deer. Must have hit about fifteen deer, and they can do some damage." She wasn't exactly selling her driving ability to us, but after the story about how she handled a potential serial killer we just sat back and listened.
Back at the Americinn a few fans were returning from the game, and we contemplated walking to a different bar. However, it was about 400 yards away, so in the freezing temperatures we headed the 100 yards to the Watering Hole where a couple of seats were empty at the bar. The late afternoon game was on the television, and our accents drew the attention of a couple of locals.
They were clearly drunk, and with the potential tag of "serial killer" hanging over their heads we thought it best not to aggravate them. One of them seemed to have a big thing against the French, and the other seemed to be extremely drunk. The French antagonist bought his mate a Jameson's whisky, which his mate politely declined. He then offered it to me, and in the spirit of entente cordiale I downed it. The French debate became increasingly heated, even though it was one-sided, and we were very glad to see the back of them when they went off to play a dice game. We ordered nachos, burger, and Philly cheesesteak, and wondered at the sign on the wall!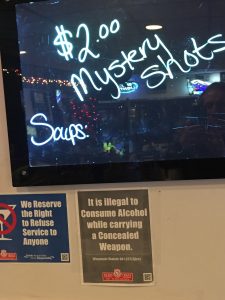 Are these two related?
The food was good, though again quite greasy, and then we realised that most of the bar had disappeared. The rednecks had most definitely left the building, and we decided that we should probably depart with another long day ahead.
The following morning it was predictably cold. The car had remained untouched for the best part of two days and was definitely frosted over, but it started first time. After plenty of coffee we decided that an early start was in order, and we hit the road around 7am. The roads were quiet, and despite the cold they were free from ice. We made good progress, too good really as it seemed we would be at the airport around six hours before our flight, despite a bit of traffic around Milwaukee. Fortunately, Denny's came to the rescue, and we pulled in to our familiar restaurant so that I could get breakfast and Marc could figure out what fuel our car took. There was nothing in any of the documentation and nothing marked on the dashboard or fuel tank, so he rang Nissan who told him it was petrol. Great, so which petrol? There were three on offer, so we put $20 of the middle one in and continued on our way. The question of tolls again raised its head, and as we neared Chicago we had done just over $4 each way. The guy who sold us the pass for $30 knew what he was doing!
The advantage of the detached car rental place at O'Hare airport came to the fore as we easily dropped off the vehicle and made our way to the terminal. There was almost five hours until our flight, but we got checked in and through security, where Marc was stopped for having a Kindle in his bag. They failed to notice the Dutch ornamental house provided by KLM on the outbound flight and which contained some as yet unknown alcohol, but never mind. The duty free was limited so we headed for the lounge that was even more so. A few sandwiches, some ghastly looking Chinese food and a sparsely stocked fridge were about all that was available, so it was going to be a long wait. We watched CNN on the lounge tv for a while, and drank lots of iced water. Eventually we were called for our flight, and this time we were downstairs. It was still no better than posh premium economy, and it was again a significant wait to get our first drink. The food was definitely economy, with hard pasta microwaved to a cinder and spot welded into a dish. After a couple of glasses of wine we got some sleep, and before we knew it we were descending into Amsterdam. We received another Dutch alcohol-filled ornament, and disembarked at virtually the same gate that our flight to Manchester was due to leave from. Schiphol is generally quite expensive, so we didn't bother with Duty Free, and a short time later we were airborne on the final leg of our journey. We were first in line for security at Manchester, but last when it came to getting our bags. Still, we were soon on the new road and back in Whaley Bridge before 10am, already planning our return to Green Bay next year!
As a footnote it was something of a tortuous process to claim our expenses back from KLM. We decided that they were definitely down to pay for the taxi, toiletries, phone charger and the Green Bay store, so I scanned in all of the receipts and tried to fill in their online form, but it didn't work. I tweeted them, and they sent me a Facebook link, so I laboriously typed in all of the details again, attached the receipts and sent it off. They then contacted me for all of the information that was in the Facebook message, so I sent it again. The they wanted the full international bank details, so I sent that. Finally, they made an offer. It was around £85 short of what we had claimed, which I pointed out to them, but they ignored that and submitted payment anyway. The toiletries and charger were just over £100, but the rest of it we would have bought anyway, so we were effectively £180 in profit. However, KLM proved that they have not improved their refunds process.
Regular readers will know that I love a bit of a competition, and although prizes may vary they are all fondly remembered. There was "The Amazing Mr Blunden" paperback, as well as the white Alan Ball football boots (back when everyone wore black), and of course the trip to Japan. Well on the day we watched the Packers beat Green Bay I got an email from NFL UK offering the chance to win a trip to the Superbowl. Yes please! All I had to do was to go into a Superdrug store and find the Just For Men display that had all of the details. Being stuck in Leeds I asked Sally to venture into Superdrug in Buxton, which she did. Not only was there no display, the staff had never heard of this promotion. So, I found a Superdrug in Leeds and called in there. Same story. Undeterred, I thought that I would investigate further, after all, it was a bit of lateral thinking that got me to Japan. I could not find an email address for NFL UK, but I figured it out from their "no reply" address and sent off my question. No response. I then messaged Superdrug on Twitter and got several responses. I sent the original email to them and the answer was unanimous. They had never heard of the promotion. I emailed Just For Men and they emailed back giving me a different email address to try, which I did without success. So, I have now messaged Just For Men on Twitter. If I get no response I will have no hesitation in passing the information to the Advertising Standards Authority. There are laws about such false promises – and they have already contravened the rules by not including the Ts & Cs in the original email. I am hoping that they are Tweeted into submission and just end up giving me the prize. Watch this space…
At this time of year the kitchen is inevitably busy. I've made chocolate digestives (two batches – Ole is home), gingerbread, quick brownies, and my first ever mince pies. Today it's the Christmas log and the finishing off of the Creole Cake. And there's a special request for Christmas Day, rum punch! I guess it will go with the Creole Cake.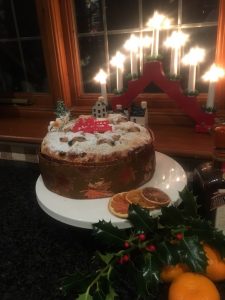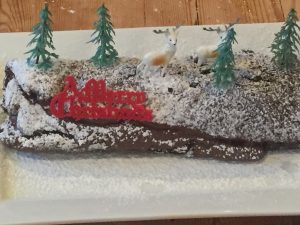 Its been an interesting time for Zac. He has been excelling at badminton, but he wasn't picked for the tournament. I asked him if he was going to ask the teacher why, but he said not. He was certainly going to speak to her, as the tournament had already taken place and the team had been badly beaten. He simply wanted to gloat!
Elsewhere he has been passing his exams with flying colours, but this is not always reflected in his final report. Of course, it has nothing to do with him, its the fault of the teachers. "Why bother giving an assessment grade when its all about the exam? Why not just put my score as the exam score?" He has a point, and I am sure he will argue it until someone agrees.
He went to the dentist this week, and mum let him go in on his own. The dentist showed him how to brush his teeth properly, and gave him plenty of encouragement. Zac came out beaming. He said that it was the best dentist trip ever as he was treated like an adult. I can't help thinking he will be expecting the rest of us to start doing the same, even though he still cant put his clothes away, keep his room tidy, or eat an apple without being reminded.
Another event that will see him "grow up" is the Duke Of Edinburgh award. He didn't apply for it originally, but then he changed his mind and supermum got him a place. He met with the teacher and gave his preliminary list of requirements. He needed a torch with a strobe effect, a fancy pen knife and night vision goggles. I think someone may have told him the D Of E is a bit like being a spy.
Anyway, with this new-found adulthood supermum asked him to make a cup of tea,. "I can't," he said. "I'm preparing for the D Of E." Its going to be a long winter.
Meanwhile, Ole has just had his eyes opened with a trip to Amsterdam. "Every shop has something to do with a penis," he said.
He is still trying to earn a living with Amazon deliveries through Serve Legal, and at one point he was using my Prime account at the same time as me. He asked me to empty my shopping basket so that he could place an order, so I logged in. I noticed that he had Becks Blue ready to order, so I asked him why. "It's the cheapest product," he said, to which I replied, "there's a reason for that." Puzzled, he could not figure out what the issue was. "Becks Blue is non-alcoholic – they won't need to ID you if that's all you order!" Mind you, his ignorance has given me an idea as to how I can keep him sober over Christmas.
His studies are going well. He has received two firsts and a 2:1 in his second year so far. However, it is not all hard work as you can see.
Its such a hard course this media and performance – sometimes I really feel sorry for him!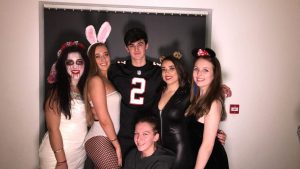 Ole loves a game of "Odd One Out"! Can you spot the odd one out here?
Sally helped to organise a fabulous charity evening in Buxton, raising over £10,000. However, she was probably most proud of her boy coming back to support her at the event. Awwww!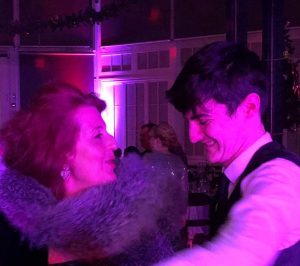 Meanwhile, Sally has been busy making the house festive for Christmas whilst I have been away in Leeds. She has done a marvellous job, even the gargoyles haven't escaped her attentions.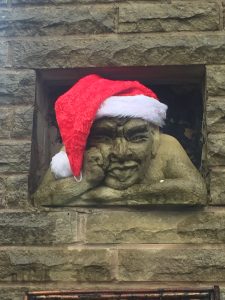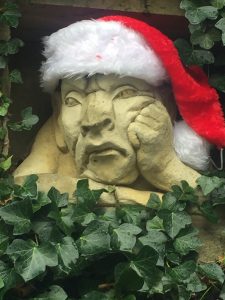 My stint on Ex Pat Radio is going well, with some fabulous guests. There is even a rumour that they might start paying me! I'm now live on Monday nights from 8-9pm – the next show will be on 7th January.
The students at MMU are progressing well, particularly those working on the Pub Spotter app. This is where users can collect pubs in the same way as Panini stickers, so its probably not a surprise that they are keen on it. The Bloodstock app is significantly more complex, and it may be that we develop that professionally first. I have a meeting scheduled for February with Bloodstock agents from Limerick and Stratford-Upon-Avon, and we are hopeful that this could be a real winner.
Finally, I will leave you with an assessment from Zac. As a family we played our first game of Risk, and he probably played it better than anyone. I was driving him home one evening and he gave me his opinion of the players. "I am the strategic thinker who just sits back and takes it all in before making my move. You are the balls deep guy who moves all of your army at once." I almost crashed the car!