July 12, 2019 by Mike Madden
One Hundred Not Out!
100 Not Out! No – thats not a cricketing reference, that is for the remarkable achievement by my cousin-in-law (is that even a thing?) Tracy Cooper-Posey who will publish her 100th novel in July.
To mark the occasion, her husband, my real cousin Mark, is running a huge giveaway – 124 prizes worth a total of $2,650, and everyone who enters gets a gift.
The giveaway is already live. You can check it out here: https://tracycooperposey.com/giveaways/one-hundred-books-and-counting/
It will run until July 25th, which is the release day of the 100th book.
There is also a website all about the 100 books!
https://tracycooperposey.com/the-official-100-books/
Now, I have never actually met Tracy, though I have interviewed her for The Arts Show on Ex Pat Radio, and it is many years since I last saw Mark. Maybe this 100th milestone is the opportunity they need to come over here, do some book signings, and hang out with us northerners?!
If not – we might just have to head for Canada!
In English news, Sally and I went to Hickstead. There are rumours that I messed up on this, having bought Sally two tickets for two days at the Hickstead Derby meeting down in Sussex, with the intention that she would either go with my sister or one of her horsey friends. Instead, I was "delighted" that she chose me as her companion for two days of nothing but equestrian chat and competitions!
We got the train down there, via Euston, Victoria and Haywards Heath, completing the journey with a very strange taxi driver whose cab definitely smelt of weed. We were greeted by two of the best hosts ever to grace an Airbnb, Michaela and Richard, with G & Ts awaiting us. She owned horses too, thereby ensuring that the four legged chat continued.
They showed us around our cottage, complete with home made muesli and massage chair, and then joined us at the local pub for a few beers. We enjoyed a fine meal, though the service was a bit odd, and then retired for the evening with the promise of two days at Hickstead ahead.
The following morning, Richard, kindly dropped us off at Hickstead showground, and we walked in without even showing our tickets. Lady M assured me that we would not be challenged, and she was correct. We had a stroll around the shops, selling everything from horse feed to horse ornaments to horse tack to horsey clothes to horse (insert anything to do with horses), with Sally deciding that new gloves would be in order. We took our place on the Dark Horse Terrace and watched the action, which was possibly not as interesting as watching the people. The Terrace was ok, but the Pimms poured a little too slowly and the food was expensive.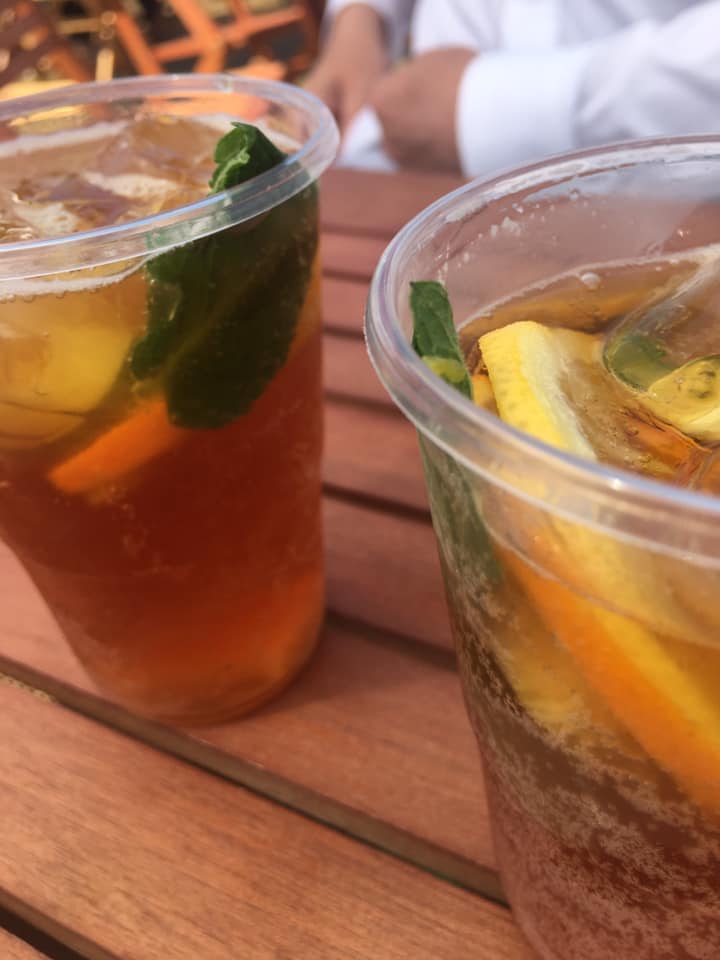 After the show we headed for the taxi stand, but owing to a problem with trains the wait would be at least 90 minutes. Not to worry, we could ring our hosts to pick us up. Unfortunately they did not answer, so we decided to try to flag a taxi down. We set off walking, but taxis were a rare breed, and in rural West Sussex there is no such thing as Uber! We walked, and we walked, down leafy lanes, main roads, more leafy lanes, and eventually, after 16,500 steps, according to the app on my phone, we arrived home. Our hosts provided us with more G & T and a pale ale, whilst Sally collapsed into the massage chair for an hour or more.
The next morning Ole called as he had a problem – he did not know how to turn the dishwasher on. Its the same dishwasher that we have had for many years – so that tells you a lot! I talked him through it – and all was well with the world. Sally went off to see Michaela's horses, and I chilled for a while.
Michaela gave us a lift to the showground, and this time we had booked a taxi to get us back to Haywards Heath station, just in case. We had a problem – two travel cases that we would have to carry around with us all day! No one at Hickstead seemed to be able to help, but we went in to the members enclosure where a helpful chap suggested the restaurant. That turned out to be a fantastic move as the head of their customer service came rushing down the steps to greet us. He took the cases and put them safe, then offered us a table for lunch. It was quite expensive, but better than traipsing round grabbing burgers, and more Pimms in plastic glasses. The lunch was great, as was the service, but as it came towards the time of The Derby we thought we would try to get a better view. The members' grandstand was full, so our customer service friend suggested that we stand on the balcony just behind the seating. Perfect. However, he then made it even better by bringing out draped chairs for us to sit on. And, not only did we have our own seated private balcony, we got to chat to the right hand man of the Al Shira'aa organisation, which is basically the Abu Dhabi royal family. He told us about taking the F1 trophy back to Abu Dhabi, and how kick boxing was their next big sport. Our next surprise came when we were presented with rather nice Tote bags, and these contained expensive looking Al Shira'aa gilets! Perfect for Sally and Zac (Ole and I are not really gilet people!). As The Derby began we were joined by another couple, and as Sally chatted to the woman about, errm, well, horses (!), she told us that she had competed with four of her equine friends. She knew most of the competitors, and was quite pleased that I had backed one of the young ladies at the on course bookies. So instead of the infamous "Come along Lucinda!" it was now "Hurry up Harriet!"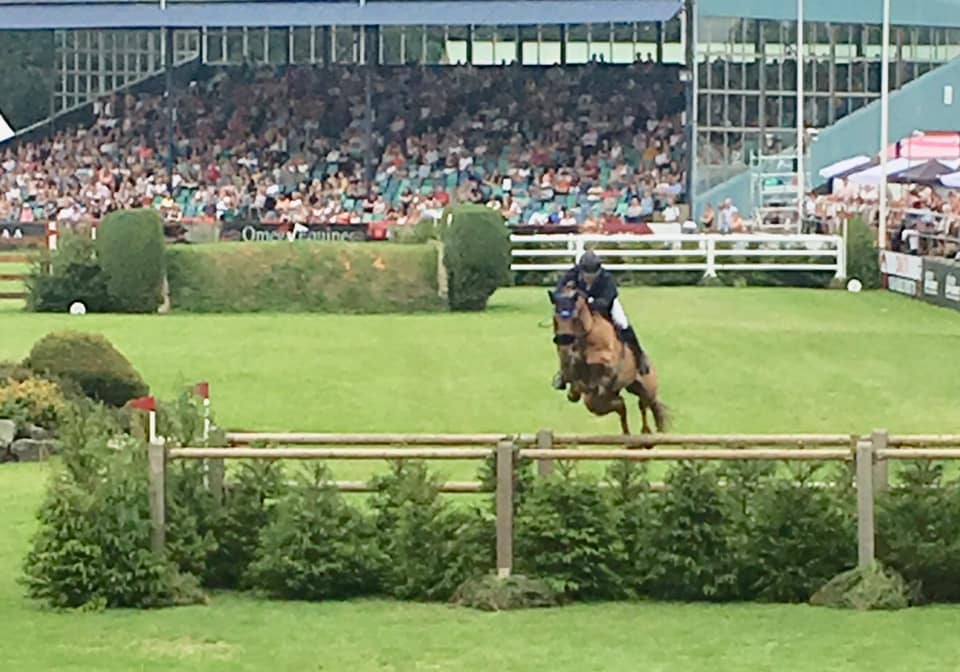 As it turned out Harriet finished second, but it was a great day out and we rushed across London to catch an earlier train by the skin of our teeth. Back to normal horsey events later this month, as we head for York Races featuring Tears For Fears!
Of course we are never far from horses these days, and Sally proudly came third in her first ever dressage (that's horse dancing) contest with Nancy. Another sash, another rosette, we will probably need a new room for it all soon.
Straight after Hickstead I went to Kiev again. The local staple of kachapurri was recommended to me, so when in Rome… It was actually at a Georgian restaurant, and "kachapurri with lamb" seemed the way to go. All I can say is, NO! Just don't. It was the greasiest of greasy pasties, a cross between a huge Ginsters pasty and a Greggs steak slice. Indigestion city, and fortunately I only ate half of it. The only dish that could make you yearn for some horseradish vodka to get rid of the taste! I'm back there again at the end of the month – maybe I will stick to the Asian cuisine at Spicy No Spicy!
Last weekend I had the misfortune to be hit on the head by a cricket ball. Fielding at gully, the ball took a wicked kick off the turf and struck me on the forehead. Luckily it wasn't half an inch lower or it could have made a mess of my eye socket! Perhaps its time to take up something safer!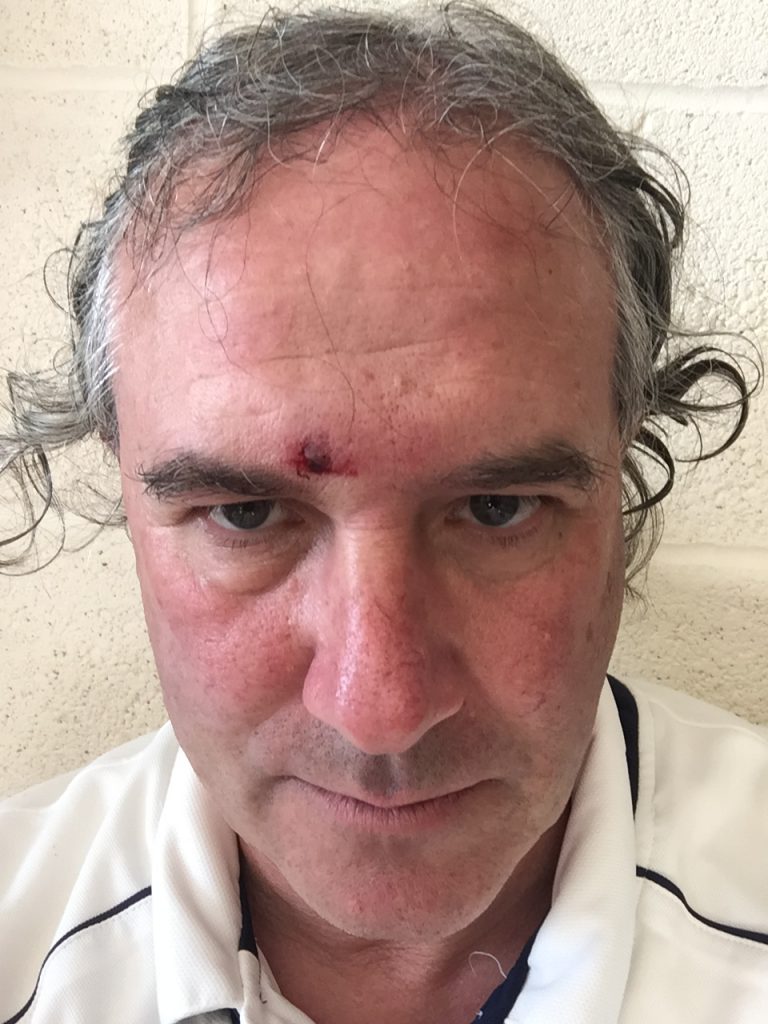 This weekend sees Zac's Duke Of Edinburgh expedition, and unusually it is a Sunday / Monday event. Not content with one day off school, Zac has already announced that he will need Tuesday off to recover. Mum is handling the delicate negotiations.
I have finished the first edit of The Hole! Its about 13,000 words – and should just take another couple of edits. More soon…
The Bloodstock application is going well, with a very long day at Newmarket on Monday. It was a total of 7 hours driving and around 9 hours of work, but hopefully it will all be worth it! We have acquired a spectacular image of the statue on the roundabout approaching the historic horseracing town, and we have agents ready to take us to the next level in the US and the UK. More will be revealed in September.
Ole has been busy, and we are looking forward to a couple of days in Edinburgh where he will be performing in Saturday Night Sunday Morning. He has also recorded Rebecca, the Daphne DuMaurier tale, as a radio play, and that should be on The Arts Show on Ex Pat Radio very soon.
Finally, Zac has been having problems with English. Well, not English exactly, just his English teacher. We promised her we would ensure he did his homework, but he didn't! So he got a detention. Then he finally did his homework, so I asked him what her reaction was. I was somewhat taken aback when he said she didn't even look at it, and he emphasised the problem by saying, "that's why I don't do my homework, because there are no consequences". I'm glad I'm not his teacher!