August 16, 2019 by Mike Madden
A Dam Fine Effort
Well, I knew my village was being partially evacuated, but sat in a hotel restaurant in Kiev on Thursday night and seeing Whaley Bridge on the news brought home the extent of the situation. Before flying home the following day I asked Sally to find out if they wanted any catering. When I landed, I half expected to hear that the dam had collapsed, but no! The emergency services and armed forces would love some hot food, and Tesco in Macclesfield would be happy to provide the ingredients. Fortunately our house was just beyond the evacuation line and we could get into and out of the area, often by a circuitous route. So we got through the roadblocks and set up our "big pan" near to the command centre.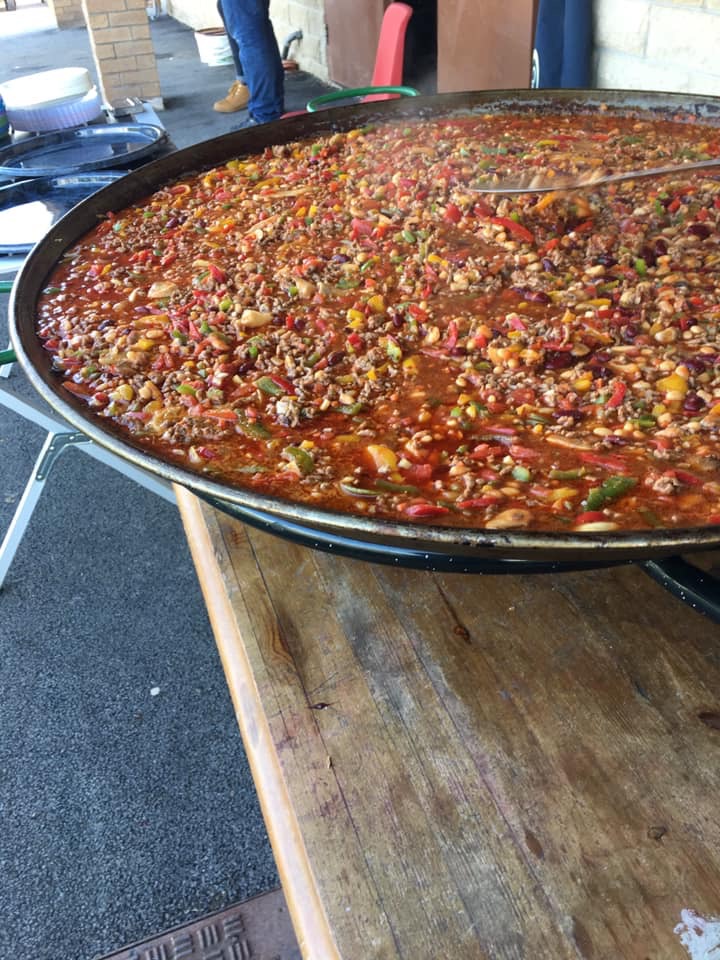 Chilli & Crusty Bread
Some of the workers had been at it none stop for many hours, and they were so grateful for a plate of chilli and some crusty bread.
The PM arrived, and he was very well received! Everyone lined up to shake his hand, and he was happy to chat to anyone and everyone. It was a real morale boost. However, Sally was not happy with any of my pictures, including the one above. So, when Boris returned from the dam she intercepted him. This was the result.
The following day we came back and made paella, and were privileged to see the Chinook land (though we were warned that we could get blown into the middle of next week from the power of the rotor blades).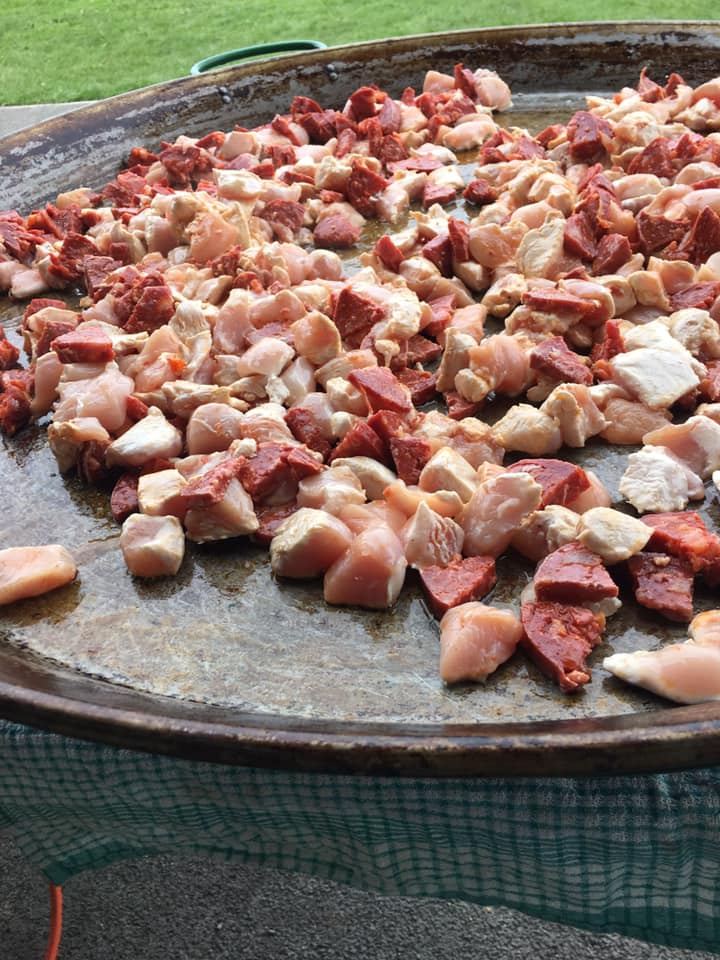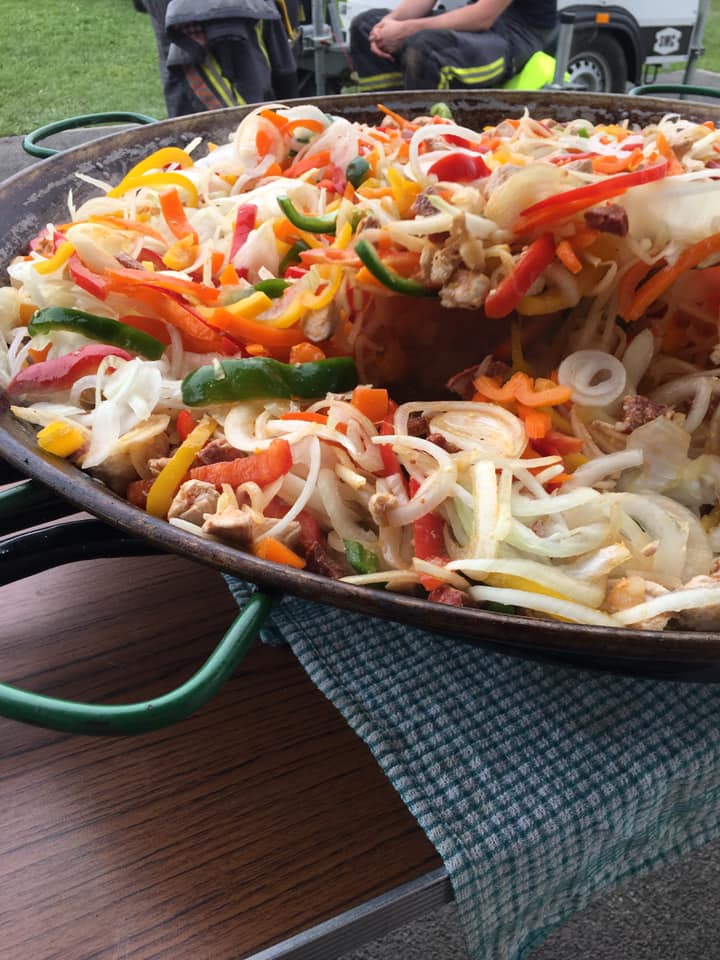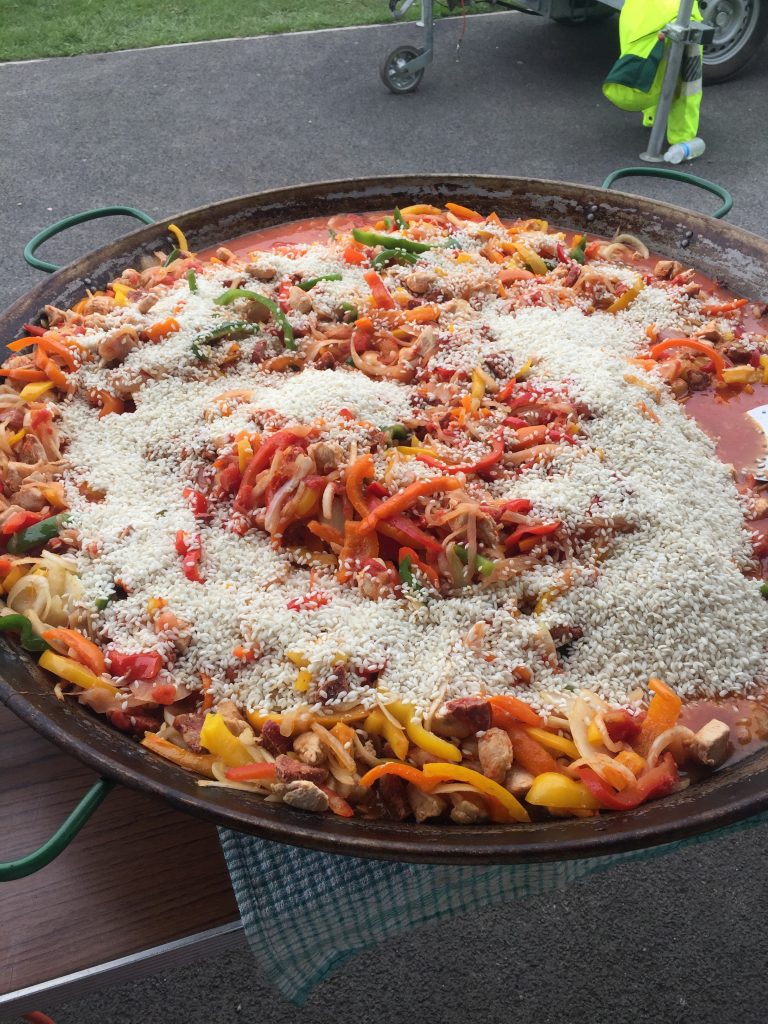 Sunday it was vegetable balti, and that disappeared quicker than I could make it!
Mouths To Feed
Another 60 or so hungry mouths fed. Some of them were living on crisps and biscuits as they didn't have time for anything else. It was so pleasing that the "big pan" not only provided sustenance but also a focal point where they could catch their breath and have a moment among the chaos. The Chinook crew literally ran across and asked for a Tupperware box of curry with some naan which they then took into the chopper! No time to stop.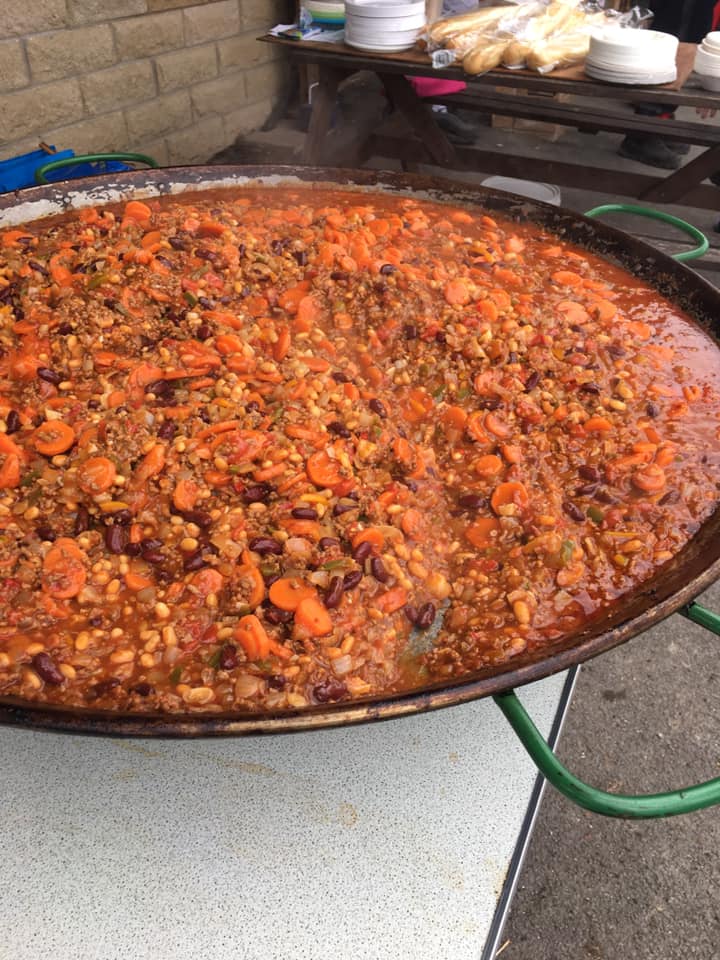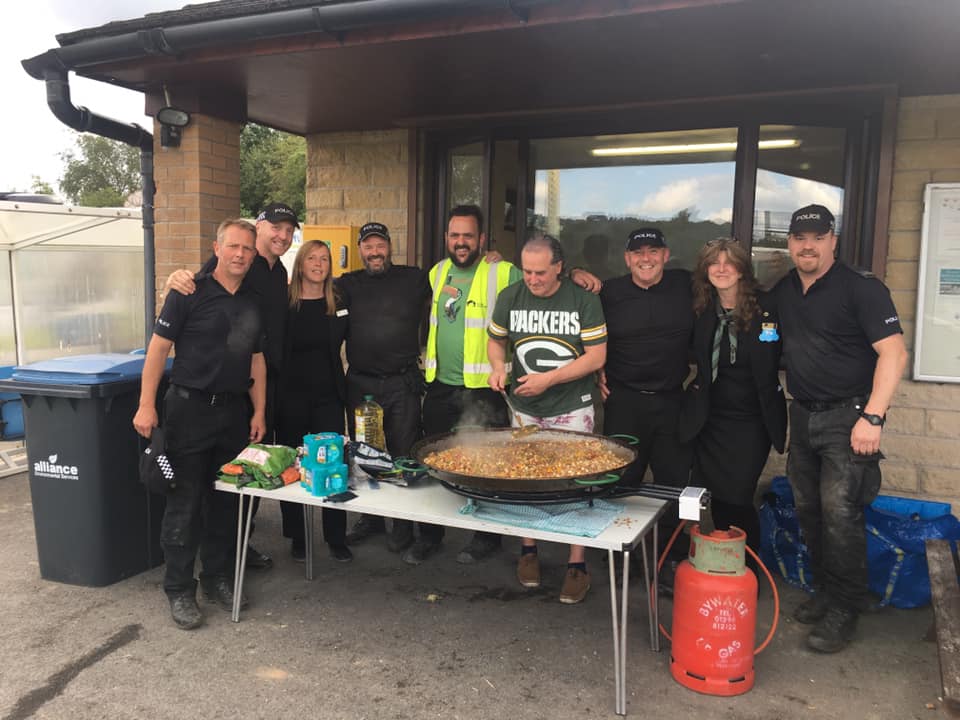 Monday we returned to chilli, and as there was a noticeable reduction in numbers it took a bit longer to shift. It seemed that things were now under control, so we had a night off on Tuesday. However, Wednesday seemed busier than ever. It was a first for the big pan – chicken and potatoes in a barbeque sauce, and it literally flew off the big spoon (every big pan needs a big spoon).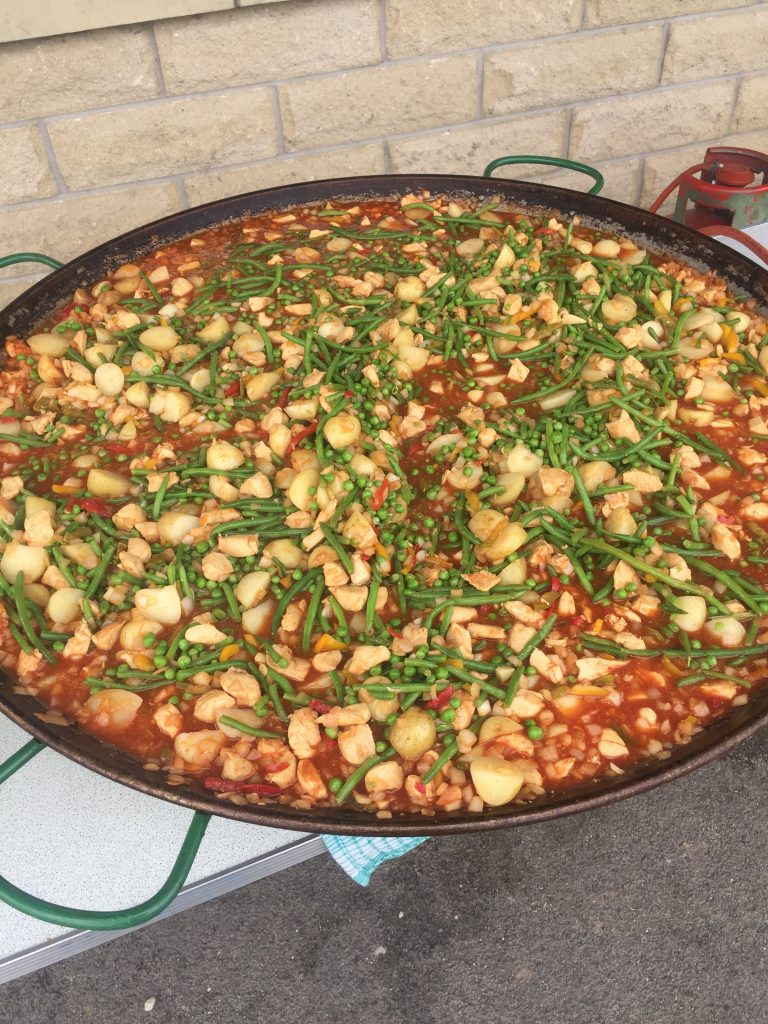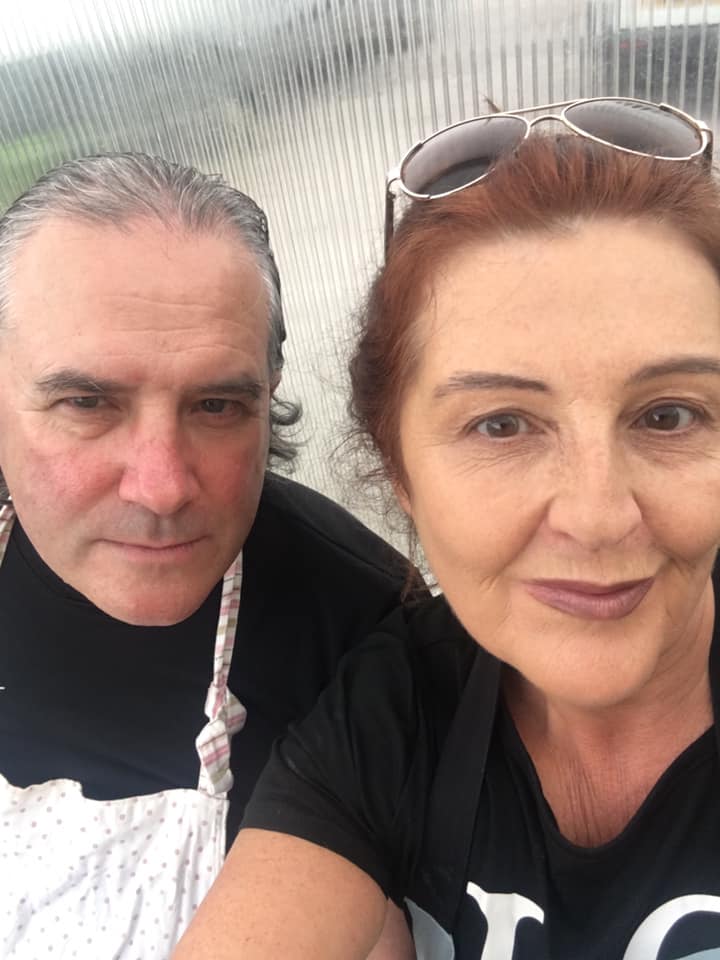 The big pan had quite a following by this time, and someone asked me what its called. "Horace" I said, a spur of the moment thing, but apparently he just wanted to know what TYPE of pan it is. Anyway, Horace seems to have stuck!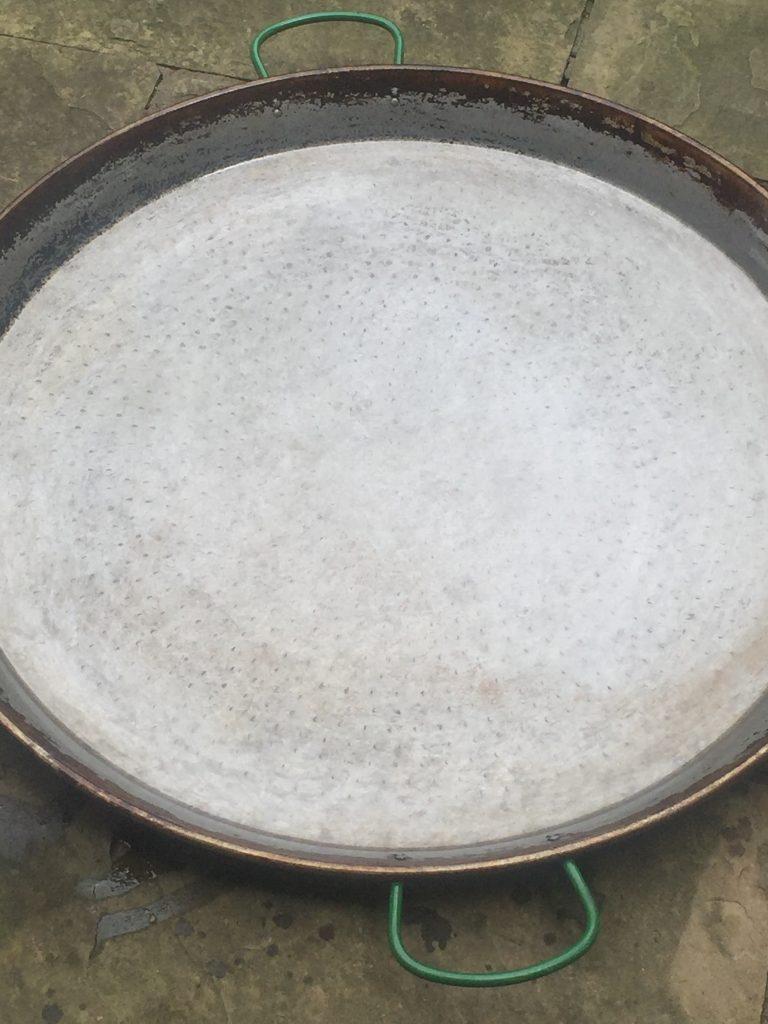 Our final pan was the ever reliable chilli, this one especially hot, and I was asked for the recipe so it must have been good. Maybe Mmm…No2…Cookbook needs to be rushed to the press with a special section on Horace and the dam. Proceeds to the emergency services of course!
They didn't know who we were and we didn't know who they were, but everyone was working together for the common good. And when you are serving paella to the deserving professionals and one asks 'do you have a restaurant business in the village?' it makes it all worthwhile.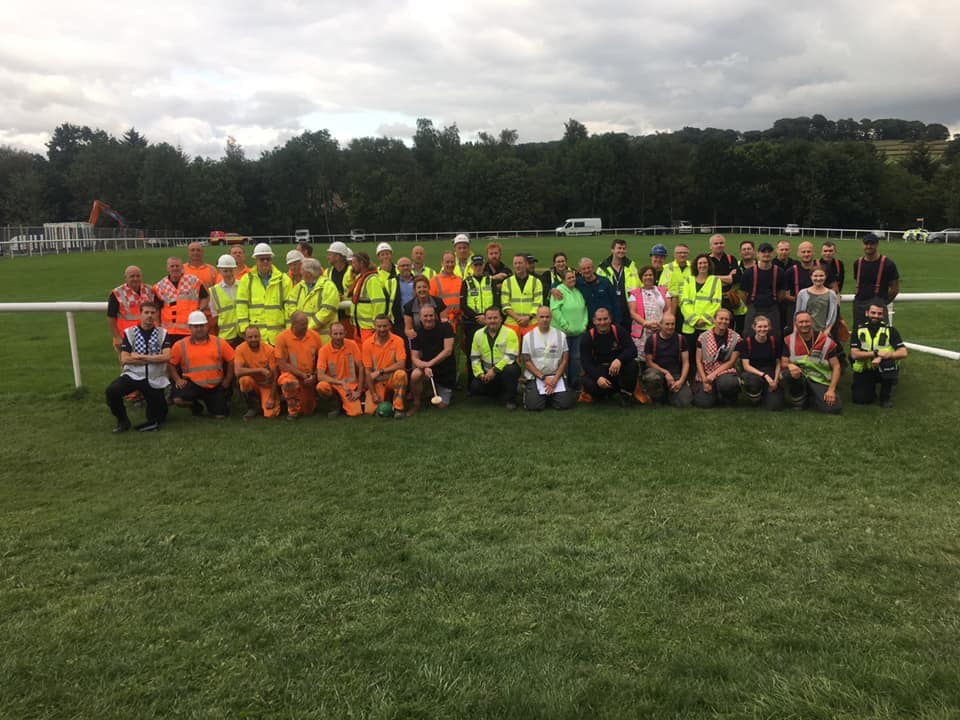 Feel The Forces
Total respect for the armed forces and the emergency services, including RNLI, Buxton Mountain Rescue, and so many others as well as the obvious fire, police and ambulance. We were all hoping for a safe and successful outcome, and with the endeavours of these brave and tireless people we had every confidence in what they eventually achieved.
Away from the dam, somehow it has still been a very busy time. Zac went off on his official Duke Of Edinburgh mission, but not without wardrobe adjustments. It was quite a warm weekend, but he decided to dispense with shorts in favour of leggings, so as best to avoid ticks and adders. I suppose that its even more important when you consider that for the 36 hours that he was "in the wild" he avoided any hint of a wash or a change of clothes!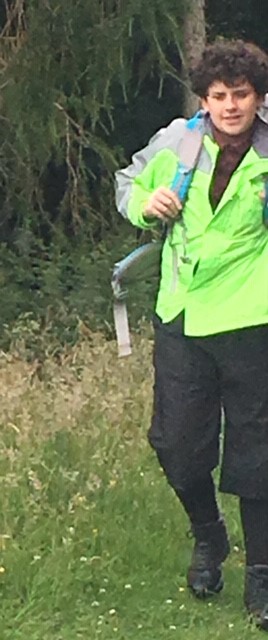 End Of An Era?
The end of my cricketing career is imminent, and a recent weekend at Woodley probably accelerated that. In all the years that I have been playing I like to think that I played the game the right way. I enjoyed my three centuries without gloating, and I begrudgingly applauded the centuries scored against me. My 162 not out against Offerton 2nd XI will inevitably be a highlight. However, that game against Woodley, where incidentally my hazy memory suggests that may have been where I played my first ever game (apart from on the street using a tennis ball and a lamp post for the wicket), was the first time that I have ever seen physical violence threatened on the field of play.
Umpires stepped in and the game continued, but really, the thought of violence should be far from a cricketer's mind, and the statutory punishment for such an offence should be a strong deterrent. Alas, I fear that the local game has gone. Contrast this with the emotion, drama and sportsmanship of the World Cup Final the following day, and I wonder whether those encouraged to take up the game after such a wonderful sporting spectacle, will be outnumbered by those leaving with an air of disillusionment as local cricket takes on the ambience of a streetfighting football match. Plus, by the time the next season starts I will be 58. I'm too old for all this.
Fun At The Fringe
Last weekend saw us heading to Edinburgh for the Fringe, or more specifically to see Ole perform in Saturday Night And Sunday Morning. He was already there – having performed 6 of his 8 shows, so it was just Sally, Zac and myself that set off from Whaley Bridge station. Fortunately the trains had resumed, and we reached Piccadilly with a minimum of fuss. When I booked the train tickets there was no way to reserve seats to Edinburgh, and this proved to be indicative of the shambolic service provided by TransPennine Express. Of course, Sally exploited this to the full, as the overcrowded train lurched from station to station. A family tried to convince her that they had reserved the seats that we were sitting in, but they had clearly not read my blog about the time she blagged first class seats as a previous train had been cancelled. "All reservations have been cancelled," she said, and with such confidence that the family had no option other than to walk away.
Other passengers, also squatting in supposedly reserved seats, applauded her actions. We trundled through three and a half hours to the Scottish capital on a train no better than the one that goes from Buxton to Manchester, and we were glad to get off into the Edinburgh air that had more than just a hint of wacky baccy about it. Our Uber driver was clearly not a local, but we reached our Airbnb, dropped off our bags, and headed for the bright lights.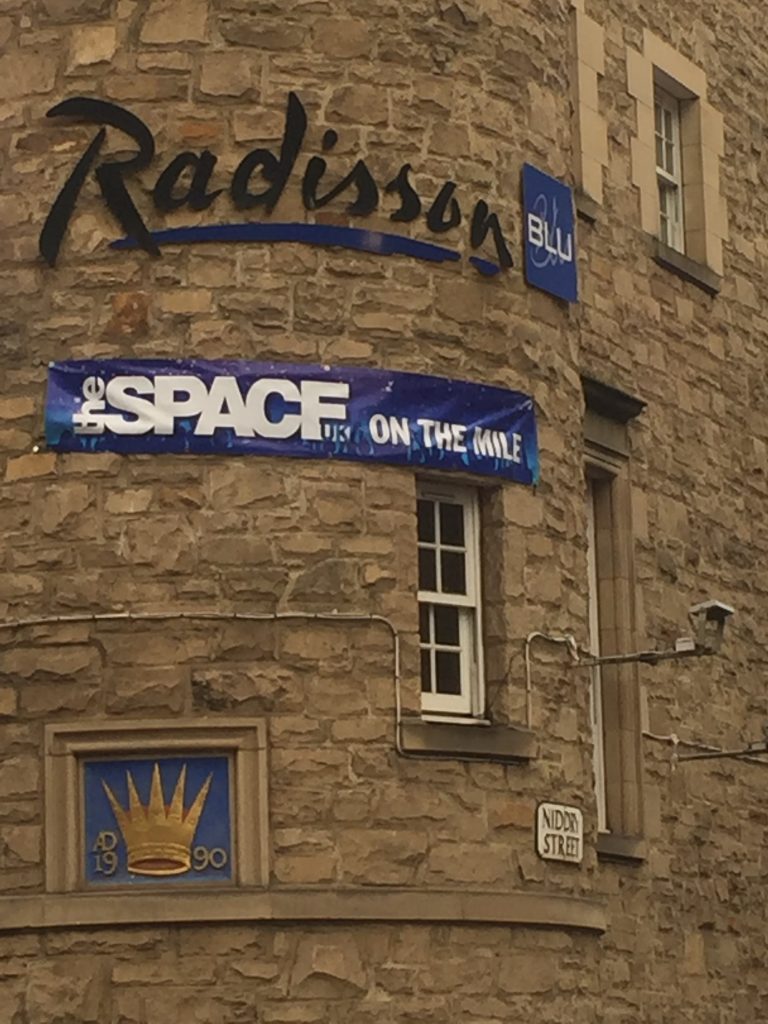 We met Ole after his Friday show and dashed across the street to Byron's Burgers. They were ok – I've had better – but the Irn Bru was on top form (when in Scotland…).
You may have seen the cows in Manchester and the Frogs in Stockport, well Edinburgh has a lot of young boys, laughing, with their legs open. I have no idea why!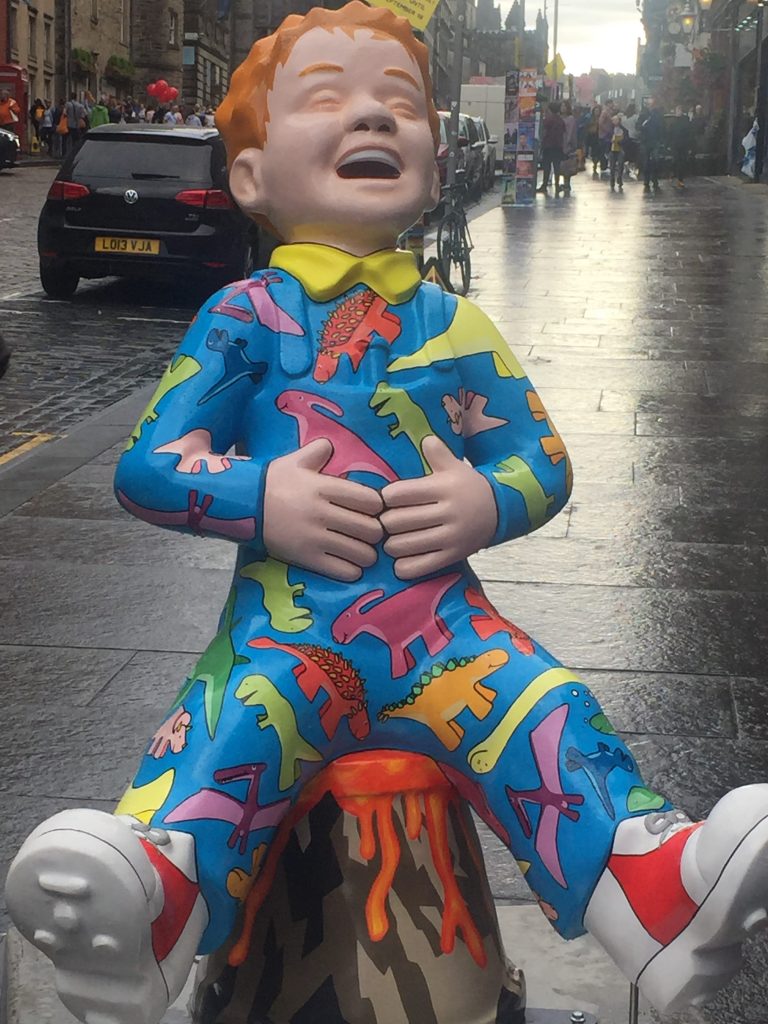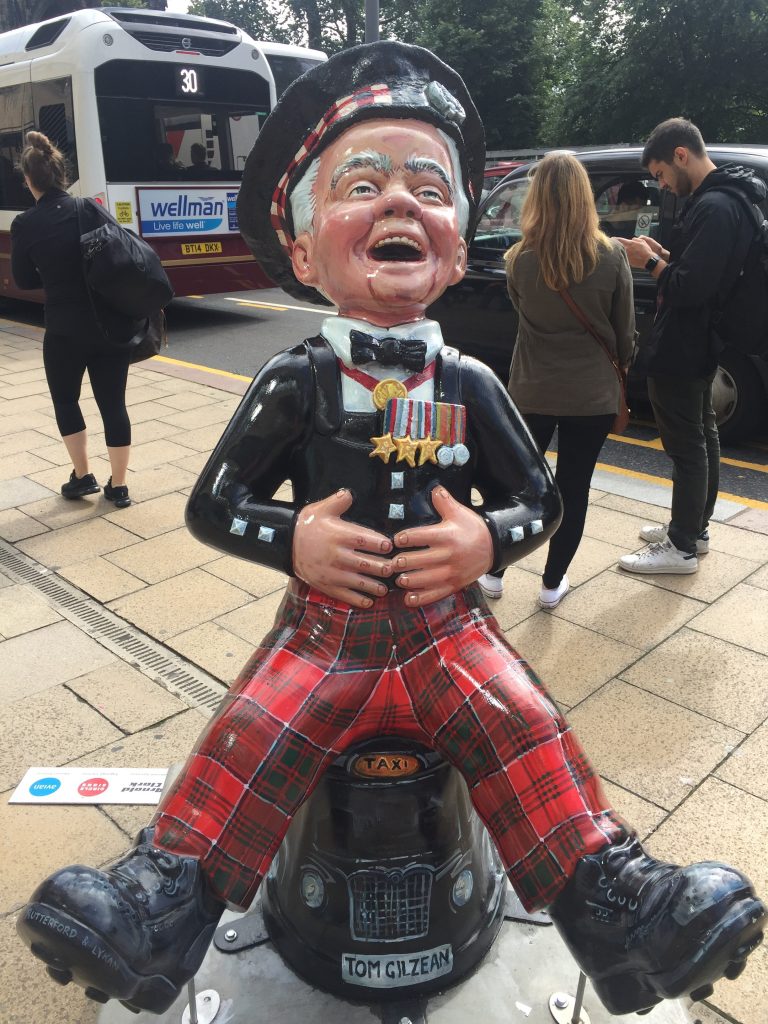 The following day we again hit the Fringe after a hearty Scottish breakfast at the Southern Cross Cafe, then took in a stand up show with Daniel Audritt. He is known for writing for Mock The Week and 8 Out Of 10 Cats, and it was an entertaining hour, albeit in uncomfortable seats. A few drinks and a game of poker passed the afternoon, then it was time for Ole's show.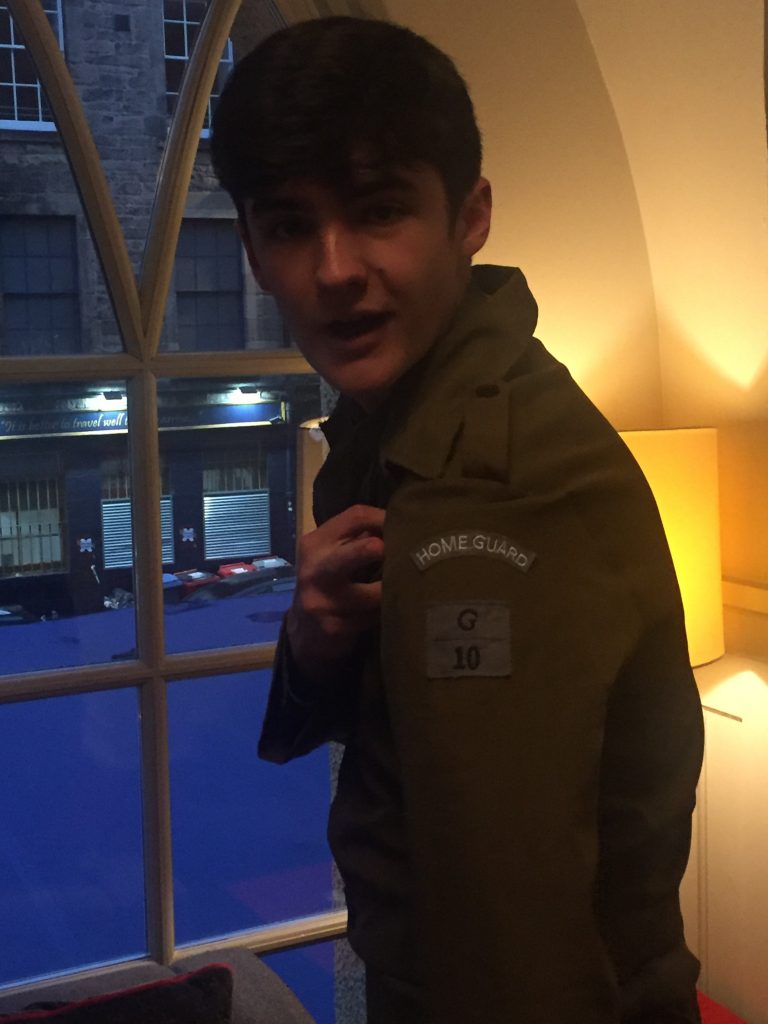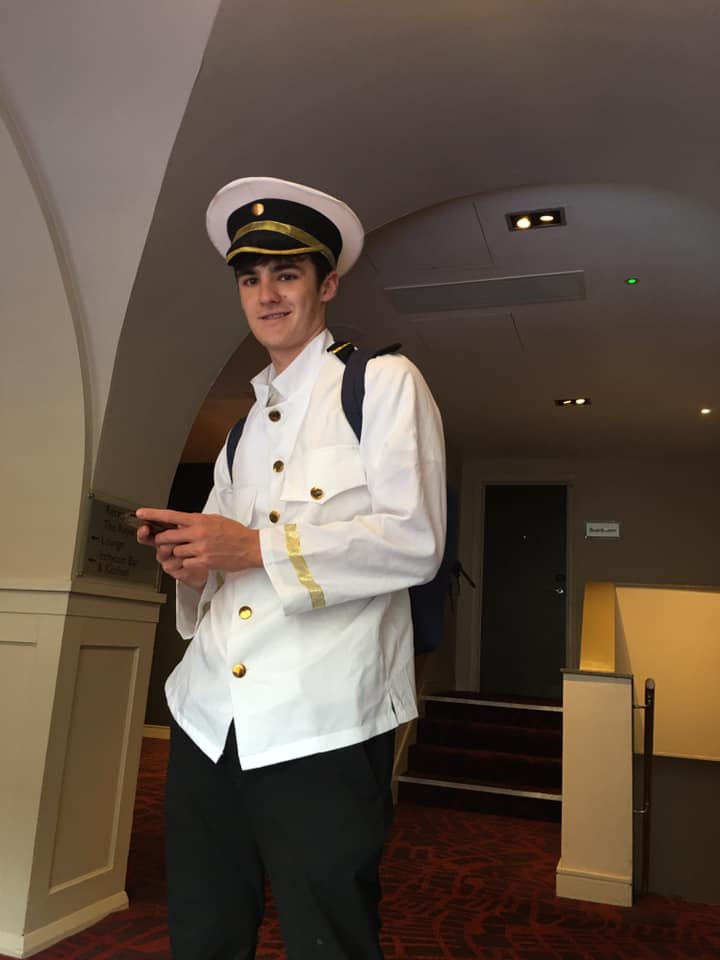 The Performance
The theatre was about 2/3 full, and the audience seemed appreciative. The cast were all sad but relieved that it was all over, and we decided to celebrate at Chez Jules. Unfortunately that restaurant was on the other side of town, and it was pouring down. We eventually flagged a taxi, and huddled in to the atmospheric French eaterie. Steak was popular, but Zac took the opportunity to devour a full lobster. Now, when Zac eats, he always eats the tastiest thing on his plate first, followed by the second most, etc. This showed me just how much he enjoyed the shellfish, as he devoured it before he even looked at his chips.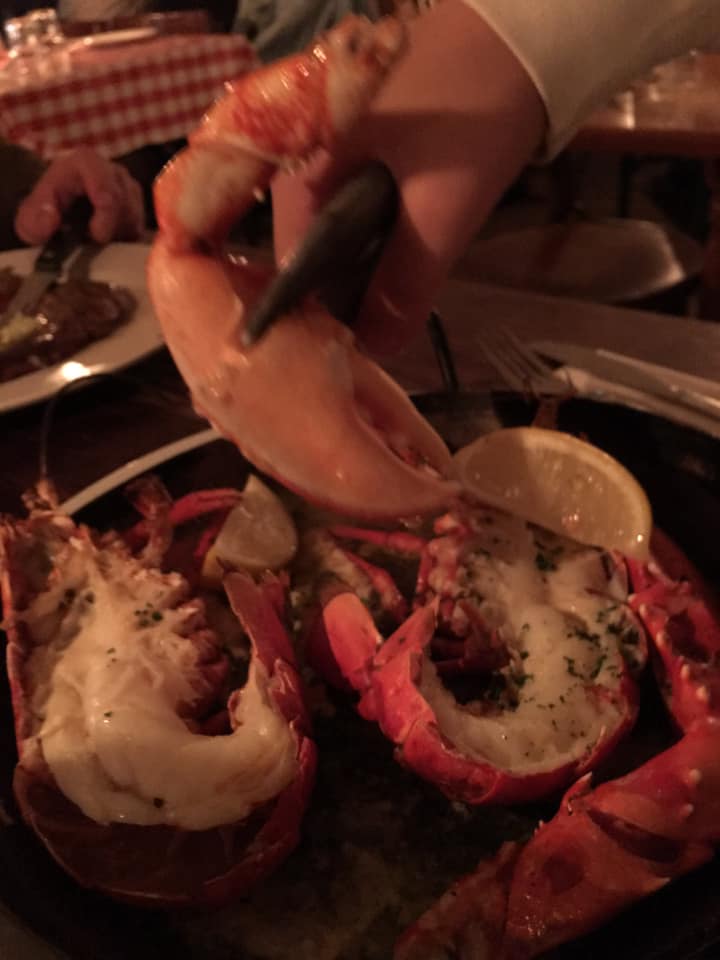 Sunday was home time, and we had to endure another painful experience with Trans Pennine Express. Once again seat reservations were discarded, and the train was hideously overcrowded. I guess that no one told them that the Fringe was on!
Zac has been on form, particularly with his new found love of poker. However, he's not very good with his poker face, or "polka face" as his mum calls it. He needs to stop the cheesy grin when he has a good hand, and he needs to fold now and again.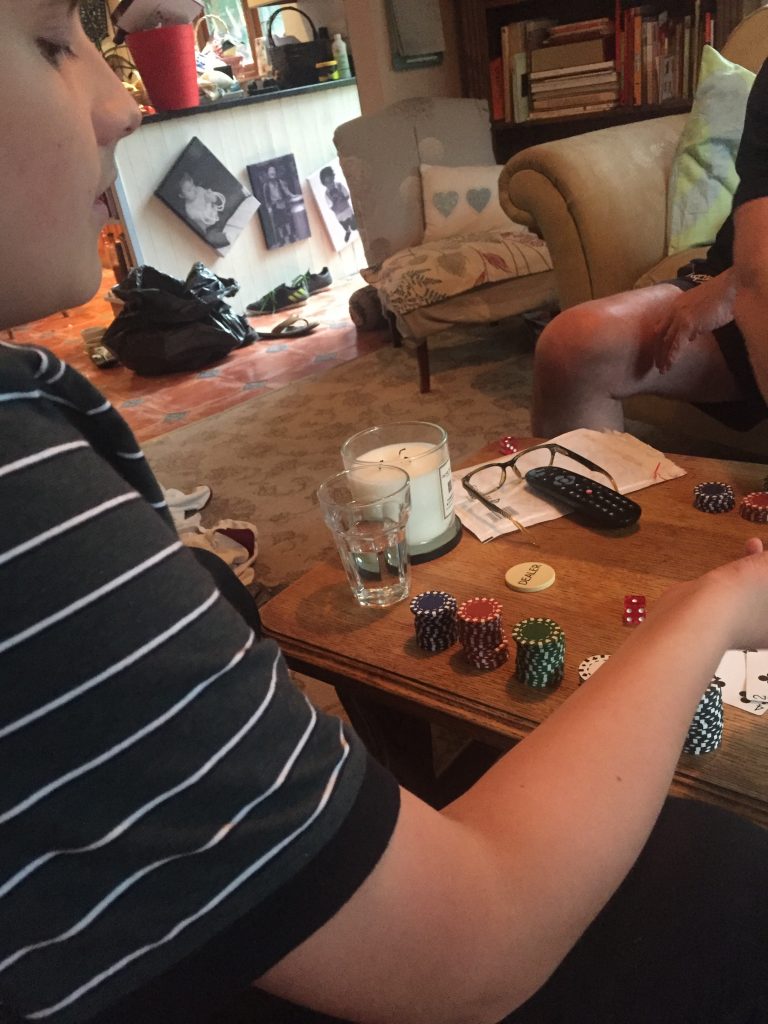 Bad, Bad Whisky
Of course, in Edinburgh there were a lot of new sights and sounds. "I like whisky," he said over dinner one night. "When have you had whisky?" asked his mum. "I've tasted it out of that bottle in the hall," he said. "That's sherry," his mum replied.
And then there was the saga of the Microsoft points. Basically, he bought some points but did not know if the transaction had gone through, so he clicked again, and again, and again. Altogether, he overspent by about £130. He contacted Microsoft but they said it was up to Activision who made the COD games that the points are used for. So, he contacted Activision to no avail. Finally, he tried his bank, but HSBC were unable to help as he had authorised the transactions. "No problem," said Zac. "When I have kids and they want to play COD, I'll be able to say there's £130 of COD points to get you started."
Despite the cooking up at the football field I have still put a few dishes together at home, and I am particularly proud of a perfect dome that emerged when I made a steamed chocolate pudding!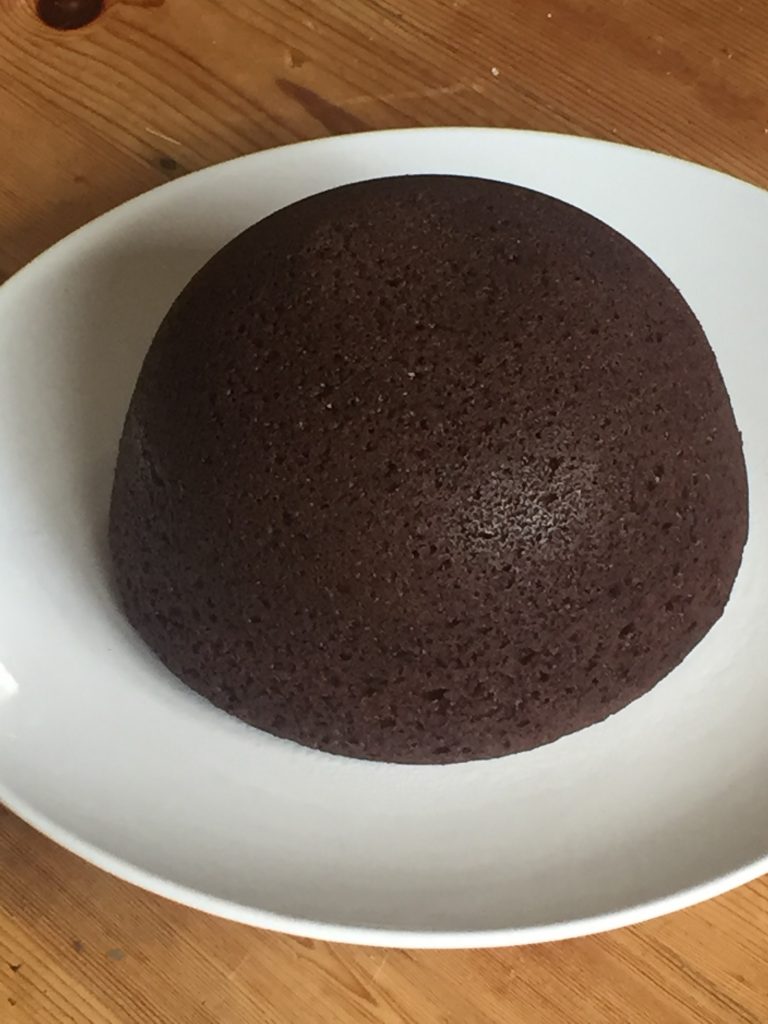 I finally finished a piece of writing. The Hole is a sci-fi short story that I began several years ago. Here are the first few of chapters…
The Hole
I
Little Tom Baker was quite possibly the only person to see the unusual occurrence that night, he was certainly the only one to mention it, and given that he was an eleven-year-old boy with a fertile imagination, it was quite likely that no one would have believed him anyway. But Little Tom had reason to remember. It was August 11th, the day before his twelfth birthday, and with the excitement of tomorrow dancing around his head, sleep was the last thing on his mind. He so hoped that he would get the Crisp Ultima scooter. His old JD Bug was ok, but the new Crisp, with its shiny purple and chrome, was the real deal.
His knees sank into the mattress on his bed as he eased himself upwards. The cold, unforgiving surface of his windowsill pressed into his elbows as he gazed out at the Renwick Community Skatepark. His breath landed on the window, forming a fog that he smeared with an outstretched finger. The skatepark was just a hundred and fifty metres or so beyond his bedroom, across the well-kept football field that would soon be in regular use by Renwick Town Seniors and Juniors once again.
The skatepark was empty, though the floodlights cast their brilliant light across the ramps on the far side of the dark, grassy expanse. Strange shadows struggled to survive under this unnatural glare, but there were one or two, skulking around the edges, where barriers crossed and steep ramps still afforded a place for darkness. His bedroom was built into the extension of the last semi-detached house on Oak Tree Drive, and Oak Tree Drive was the final cul-de-sac at the far end of his housing estate, where all of the roads were named after trees or bushes of some description. His was the only window that looked out towards the skatepark, except for the kitchen below, but the view from there was of a huge hedge of maturing laurel bushes, green and impenetrable; a thick, leafy wall.
So, on that clear August night, there was only Little Tom Baker that saw the strange light that seemed to hover above the football field directly in front of his window. The light was almost white, but not quite, and it formed a perfect circle. It was like a full moon, but there was no moon in the sky. At first he thought that it might have been a new set of floodlights, but no. This was a different light. A controlled light. This was not just the battering ram impact of the floodlights, this was focussed into that perfect circle. It was just pure light. No fuzzing around the edges, a thin disc of solid creamy whiteness. He watched intently, wondering how long it had been there before he had noticed it, and trying to figure out exactly where it was. A hundred metres away? Ten metres away? The night was clear, and looking out was like standing at one end of a long, empty room. There was nothing to obscure the view, but that far wall was just out of reach, and the strange quality of the light made it difficult to judge distances. His only reference point was the skatepark that was flooded with light, but was this closer, or further away?
A trick of the light, he thought, a phrase that he had heard before without actually knowing what it meant. As he pondered and squinted, somehow believing that narrowed eyes might improve his understanding, the light answered his unspoken questions by falling to the ground. Only it did not quite fall, it floated, and then it bounced like a ball unhindered by gravity. It bounced back up to its original height, and then it repeated, two, three, four times.
What could it be? Little Tom wanted to go outside and investigate, but he knew that his mother would not allow it, so he knelt at his window, occasionally shifting his elbows as they numbed, transfixed by the light that now resumed its hover an unknown distance away from him, and an unknown height above the ground.
The light struck the ground again, quivered for maybe a second, before rising slowly back into the night air. It then repeated the process, moving across the field in a random pattern. Its playing one of those Whack-A-Mole games, thought Tom. Where would it land next? Eventually it settled and did not move for some time. It did not separate itself from the ground; the sphere was flattening at the bottom, and then expanding again. It reminded Tom of school exercises, bending your knees before straightening up. Repeat until you are bored or the end of lesson bell goes, he thought, smiling. As he watched, he noticed that with each flattening of the sphere it grew smaller. No, that was not right, it was still the same size, but it was sinking, sinking into the earth. It became a perfect semi-circle. Half of it was gone, but it continued. Smaller and smaller, like a penny dropping into a money box, but there was no rattle as the penny hit the pile of other coins. When the final sliver of this light disappeared, it did so in silence.
Little Tom Baker sat for a few moments longer, mystified at what he had just witnessed. Was it a balloon? Or maybe one of those Swiss balls like the one that his dad bought that sits unused in the garage? Was it someone in the field with a torch? As he dismissed each of these thoughts, a sense of urgency replaced them. He climbed off his bed and rushed downstairs.
"Mum, mum. There's a light in the field. It was there and now its gone. Like a football, only bigger, and, and.."
As the words poured out Little Tom struggled to make sense of them, and his father looked over at him with a knowing, contented smile.
"Now, now, Tom," his father was friendly but stern. "Back to bed, close your curtains and off to sleep. It's a big day tomorrow." He folded his newspaper and placed it on the side of his armchair, always a sign that his intentions were not to be questioned.
"But I saw it," Tom said, "it could be a UFO."
"Well if it is, I am sure we will hear about it on the news, now off to bed."
"But dad…mum, can you just have a look?"
Mrs Baker edged to the window and drew back the net curtains. "Nothing there," she said. "Now do as your dad says and off to bed."
Tom's shoulders slumped and he turned to the door. He glanced back at his parents, but he knew that the fight was lost. "Night," he said, and climbed the stairs. The light was gone, but it was there. He knew it. He saw it. It was a long time before he drifted off into a dream-filled sleep. Dreams of family parties, school lessons, strange lights, and broken toys.
II
It was August 12th when he next opened his eyes. The Glorious Twelfth his dad called it, which Tom thought was great until he discovered that this particular phrase was borrowed from the grouse shooting season that just happened to start on the same day. Twelve years old. Almost a teenager. Almost, but not quite, a master of his scooter. He threw on his dressing gown and raced down the stairs. His mum and dad were already there to greet him. A plate of toast and a large glass of orange juice waited for him, and he slowly opened the door to the lounge, taking care not to disturb the Happy Birthday banner that was strewn across it.
Balloons danced across the floor on the breeze created by the opening door, and the centre of the room was filled with objects disguised in blue wrapping paper decorated with footballs. He knelt before the pile of presents, his gaze darting between the assortment of blue shapes that sat on the pale red carpet. There was a football, and some kind of a racquet, maybe tennis or badminton. Their shapes were obvious, but these were incidental. At the centre of the display, rising majestically above the other gifts, was the shape of a scooter. It had to be the Crisp Ultima. His parents would not know any other model, unless it was just another JD Bug.
His hands tore at the paper. No sense of neatness or care; this gift wrap would not be reused. And there, gleaming, was a new Crisp Ultima. It seemed even more magnificent than the pictures in the catalogues and online shops. Even more cool than the one that his friend Johnny had received just one month earlier.
He was speechless and breathless at the same time. His face shimmered, looking back at him from the chrome, and he turned to thank his mum and dad. Their expressions reflected his own joy, the shared pleasure of pre-teen birthdays.
The remaining presents were opened with haste and politeness, but as his dad left to go to work, Little Tom Baker was already dressed and ready to ride the Crisp Ultima. He sometimes envied the kids that had their birthdays during school time. They got the adulation of all of their schoolfriends, and usually a mention from the teacher. Not today, though. Nothing could diminish his pride in his new scooter, and he could ride it all day.
III
Tom placed his right foot on the plate of the scooter and pushed off with his left. The wheels were like marbles gliding soundlessly across a carpet. No noise, no friction, just smooth motion. He pushed again and turned towards the path that led into the park from Oak Tree Drive, where Christopher Johnson was balancing on his BMX bike.

"Hey, you got it," Chris said as Tom approached.
"Yes," said Tom. "Its everything I thought it would be. Come on, race you to the skate park."
"Ha, see you there," said Chris.
The scooter was great on paths and smooth surfaces, but the bike had the advantage. It could travel on any terrain, and Chris raced across the grassy football field towards the skatepark. That would prove to be fatal.
Tom traced the tarmac around the perimeter of the field as Chris cut a direct line towards the skatepark. He realised that Chris would win easily, but even that could not dampen his spirits. He laughed, but then he glanced over to Chris who seemed to hit an invisible object and fall to the ground, leaving his bike at a grotesque angle with the front wheel spinning.
Chris sat up and brushed his clothes with his hands. "Hey, look at this," he beckoned Tom to join him on the grass.
Tom stopped and began to wheel his scooter across the dewy field to where his friend sat. As he drew nearer, he saw that the uninterrupted green carpet was not as perfect as it first seemed. Chris got to his feet and stood about five metres away. Between the two of them there was a brown circle of grass about two metres across. Chris was standing on the edge of the circle and Tom stopped. He stared at it. It was perfectly round, and the colour of milk chocolate. Not scorched, just coloured. He felt nervous, though he was not sure why, and he certainly did not want to get any closer.
"What is it?" he asked.
"Dunno," said Chris. He reached over the circle with his left foot, balancing unsteadily on his right. "Must be slippy or something, brought me off my bike." His foot came down on the discoloured grass, and he fell backwards.
"Woah! Must be some power line somewhere. I can feel it humming. Come and have a look."
"No – I'm staying away. Don't want to get my new jeans dirty on their first day." He laughed, but really he was glad of the excuse. There was something not quite right about this patch of ground sitting in sharp contrast to the otherwise flawless emerald blanket.
A loud thud interrupted them. It was a dead sound, one that started and ended quickly, with no echo, like a foot kicking a ball. Within the brown circle it was obvious where the sound had come from. A large pigeon had fallen from the sky and lay on the discoloured grass, quite dead.
Tom instinctively looked up, but other than wispy clouds meandering across the clear blue sky he saw nothing. Christopher raised himself onto his hands and feet and edged backwards, like an ungainly crab evading a seagull.
Let me know if you enjoyed it – and I will add more chapters in the next edition.
Speaking of writing, I will eventually turn my attention back to Clickbait. In the meantime, the presence of Clickbait on Facebook shows no signs of abating. This is the latest offer designed to get you to like and share and generally give up your details to a fake advertisement!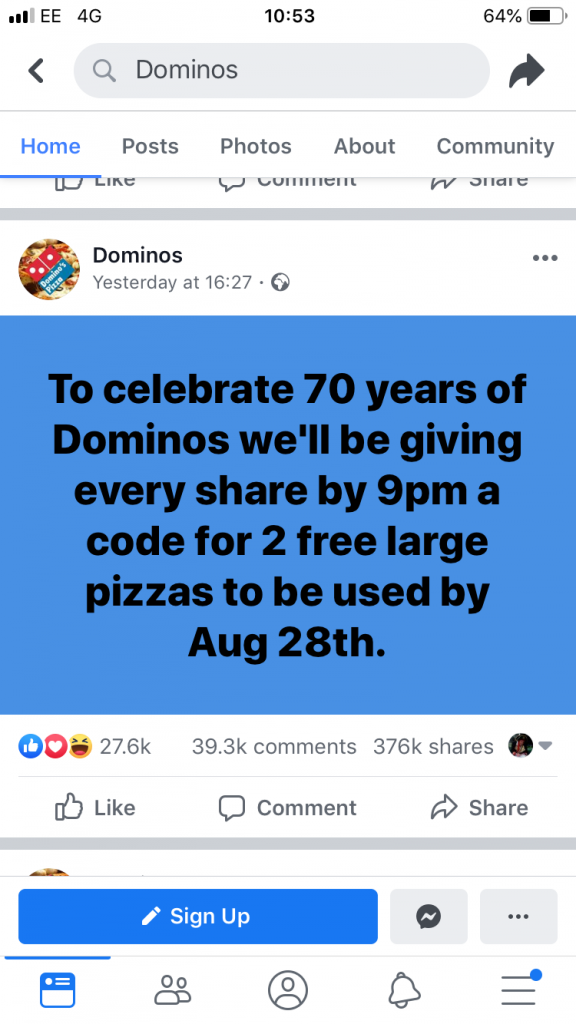 Regulars to Whaley Bridge will know that Cloud Wine has closed. Zac was quite disappointed at this, as it was a regular stopping off point for snacks and other stuff. Anyway, mum asked what he thought it should be, and he answered without hesitation. "A strip club." I'm not sure the residents of Horwich End would approve!
Finally, I have some very exciting news about Ole, but I am reluctant to share it until it gets Tweeted! Stay tuned!