May 9, 2020 by Mike Madden
Lockdown
Strange Times
Strange times that we live in! My last blog post did not foresee the many weeks of lockdown that has followed, and whilst Broccoli & Cheese soup, Tomato & Mozzarella salad, and chicken fajitas were unremarkable at the time, little did I know that several of the ingredients would become as rare as hens teeth within few days.
Thinking back, my first trip to Tesco after the toilet roll crisis was announced was interesting. I only wanted a few bits, and with my rucksack on my back I cycled to the store. The queue stretched around the car park, so I decided to try again later. By this time the queue to get in to the car park was backed up on to the main road. When I finally did manage to get through the doors, it was to scenes of devastation. The toilet roll shelves were bare, as expected, but what I did not expect was a complete absence of pasta and tomato based products. Had everyone turned Italian? I can only imagine the disastrous lasagnes and bologneses from people clearly unused to using such stuff. Ironically, I noticed that there was an abundance of fresh tomatoes.
Checking Out
Of course, we were not properly locked down by this stage, that would come. A few days later I decided to try my luck again, this time on a normally quiet Sunday morning. It was busier than usual, and most customers seem to opt for the self checkouts.
I noticed that, as well as trying to keep their distance, people seemed to have adopted a strange version of sign language in an attempt to remain silent, and presumably avoid anything leaving their mouths (particularly the Covid-19 virus). It was especially noticeable around the self checkouts, and it was fascinating watching a man try to tell the assistant that the barcode had fallen off his aubergine without the use of words. It was like a dystopian version of Give Us A Clue. I was tempted to remove more barcodes just to see how the game progressed.
Sally announced, "We need to ration like they did in the war', then after a brief pause she added, "I'll get Curly Wurlys".
Working From Home
With all of this disruption to everyday life it is somewhat ironic that I am busier than ever! I finished my contract in Leeds / Kiev, but continued to work from home for Google, with a few other clients wanting this and that doing as well. I know from past experience that working from home requires a certain element of discipline, and with Ole, Zac and Sally all omnipresent it is going to be even more of a challenge. Before I left Leeds I did discover one thing. "Biscuit Tea" is not very nice, despite what they tell you in Yorkshire.
I did manage to record a few more shows for Ex Pat Radio, including with Suzi Quatro and Steve Harley. Steve was a real gent with plenty of stories. Suzi reminisced about the changes in music and her continuing desire to create wonderful songs.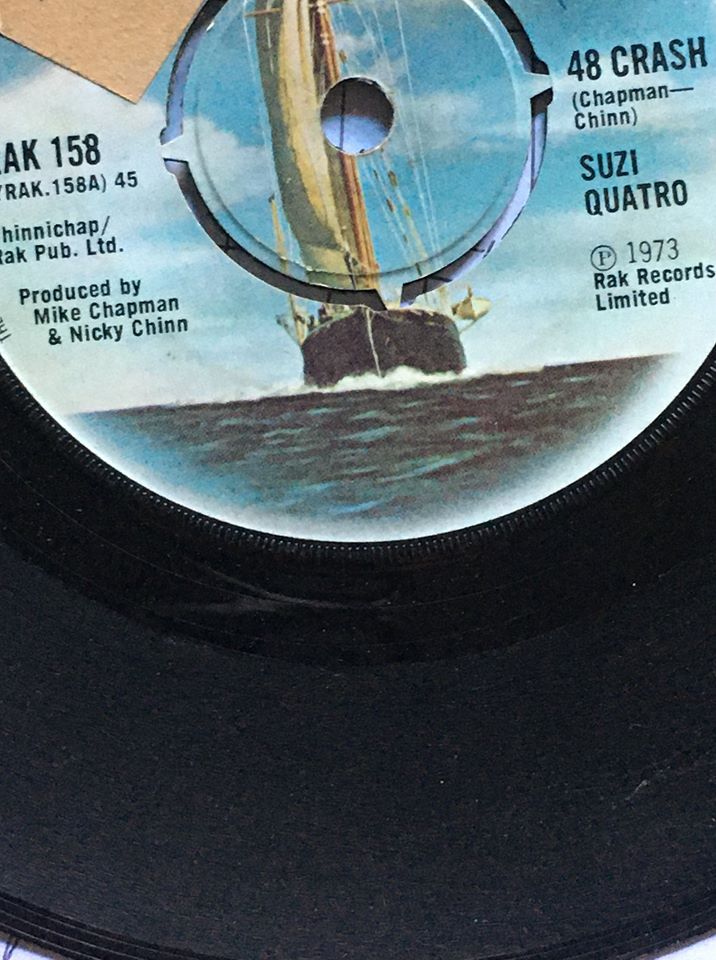 You can listen to them here:-
Surviving The Lockdown
I discovered, before the imposition of the lockdown, was that Cocoa and Hazelnut butter is a wonderful addition to home-made granola bars. Sadly, everyone else seems to have discovered this too – so it is quite a rarity on the shelves!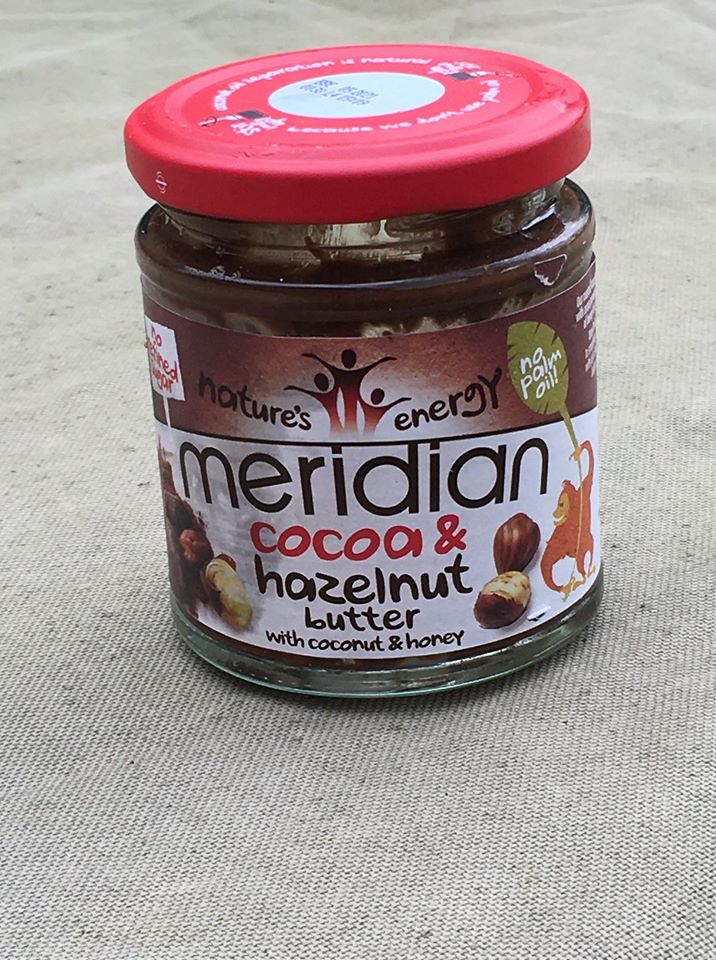 Added to the list of items that are scarce is flour, but I did manage to get hold of some spelt flour, made from an ancient grain. Anyway, it made a wonderful soda bread, ready from scratch in about 45 minutes.
It is perhaps as well, as the fridge was beginning to look like a sorry place. Sally had left me some of her home made leek soup, which if previous attempts are anything to go by will be leeks simmered in water, hence the aforementioned broccoli and cheese soup.
You will have noticed that many people are concerned about drinking too much during this period of isolation, and Sally is no exception. In fact, she appears to have included Bombay Sapphire gin as a salad dressing!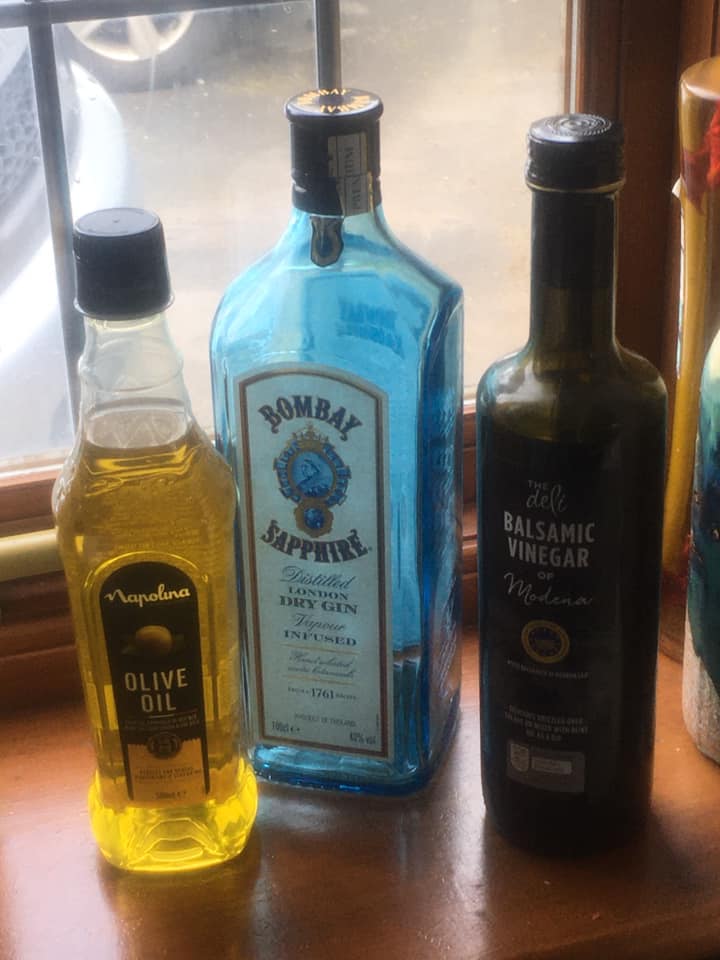 The lockdown started in the week of St Patrick's Day, so while I still could I enjoyed a final pint of Guinness…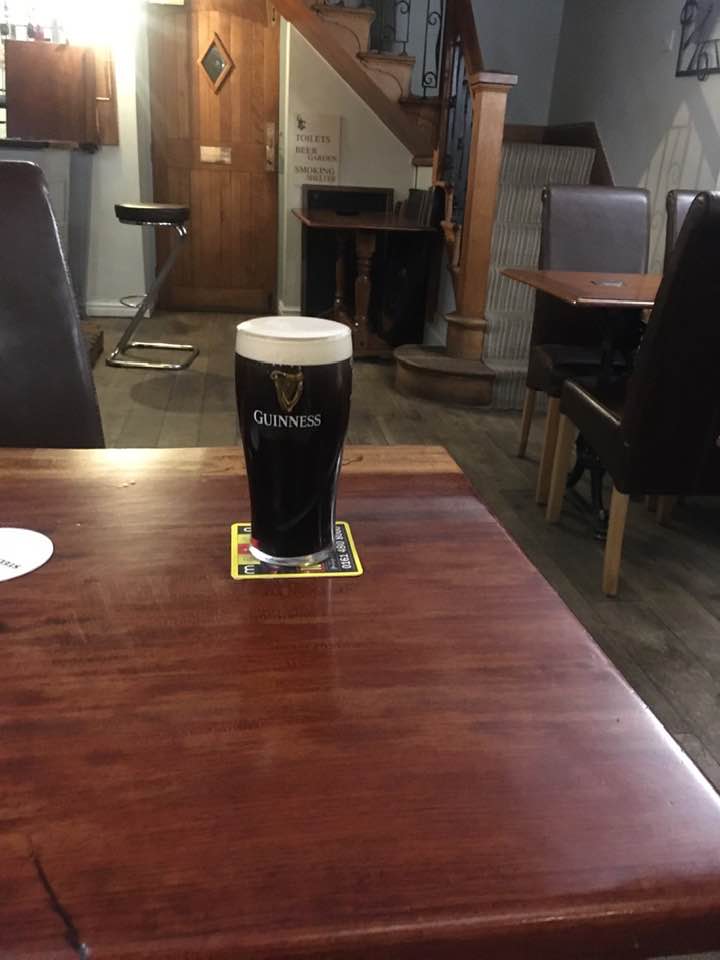 …before launching in to my latest version of St Patrick's Day cake, for which I have to turn this…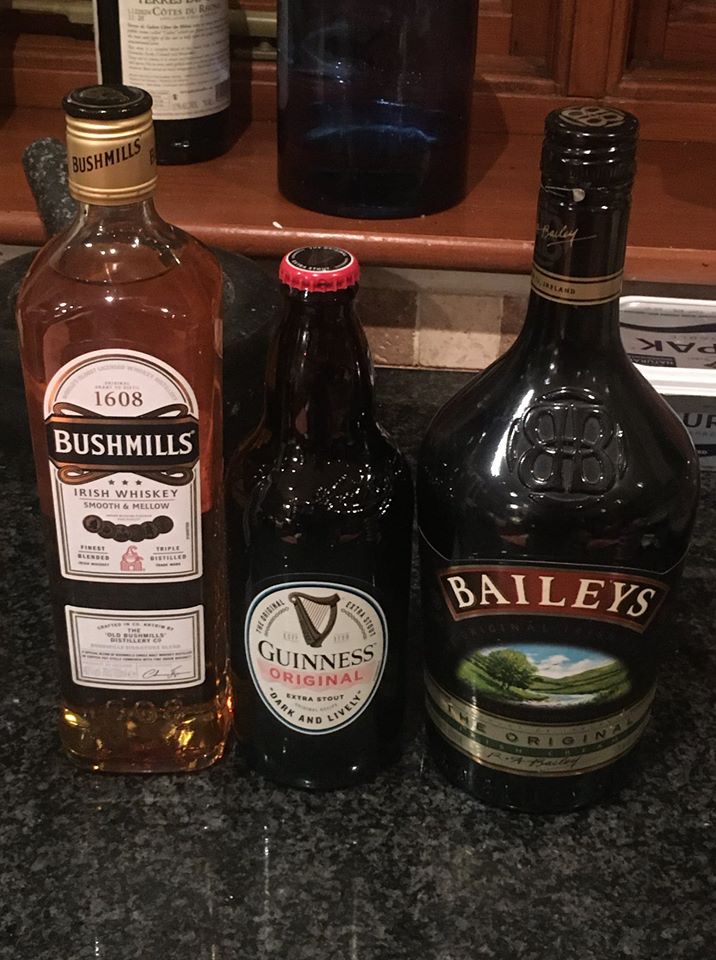 …into this!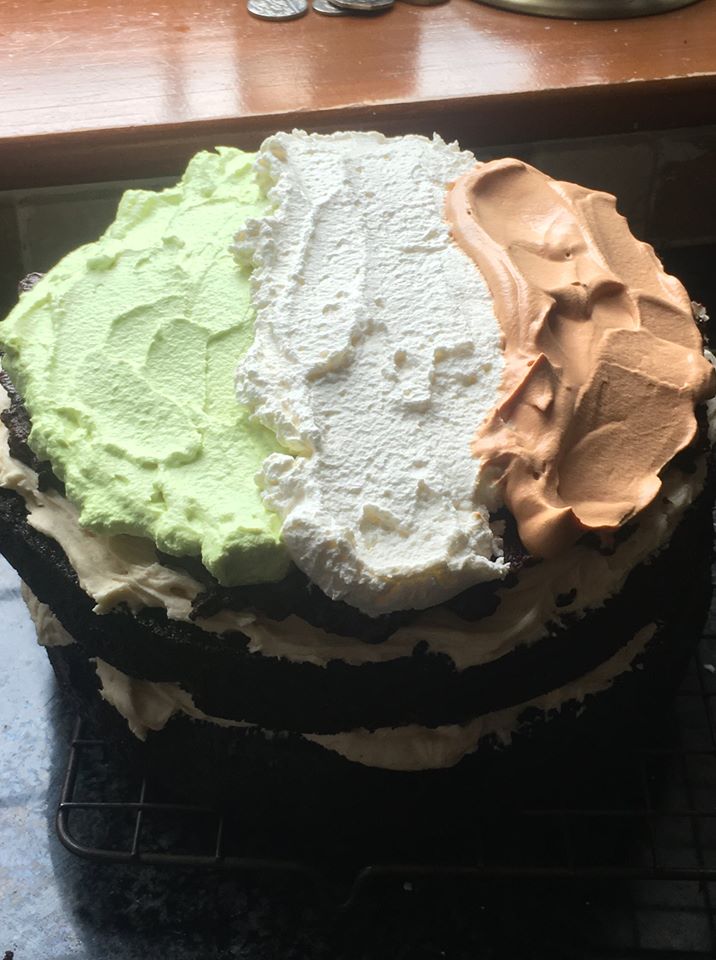 Its not advisable to drive after a slice.
Setting A Routine
Sally decided to volunteer to help out the NHS, so I suggested that her scrubs might not fit after so long away from the job. That led to a period of enforced self isolation. Anyway, return she did, and she seems to have spent her first shift putting pictures on the wall for a "Tunnel Of Hope". More from Blue Peter in the next edition.
Anyway, we quickly settled into a routine. I'm working so Sally is in charge of the shopping, with weekly deliveries from MacBurnham's and Tomson's providing some very high quality stuff – a bit more expensive – but so much better than supermarket crap. Sally gets her daily exercise up at the stable with Nancy, and I have been on my bike. It has been very quiet on the roads. I have used the lack of traffic to include the bypass on my route. I then go up to Chapel market place where I pass the Co-Op which never seems to be busy. My route definitely avoids the canal towpath.
The New Normal
Whaley is a bit weird, with people staying a respectful distance away from each other along the pavements, queuing to go in to the newsagent, chemist etc. Its like someone has done it deliberately to try to make the place look full!
By day 5 of the lockdown Zac had experienced the highs and lows of quarantine. At 6pm he was euphoric. He discovered that there would be no exams this year. However, the impact of having his own teachers allocating his grades has not really sunk in. At 6.01pm he was distraught. "We have got to spend months in this house and we have got no good chocolate." Then he remembered something! So at 6.02pm he announced, "Ah – there's all those chocolate eggs mum bought."
So its goodbye to Easter. Meanwhile, it emerged that anyone who volnteered to be injected with a potential vaccine would receive £35,000. His only comment was "Sign me up!"
Stay Safe
On Easter Sunday I explained that I had not been out and about to buy Easter Eggs, which did not go down well. So, Chapel Co-Op it was to buy whatever Easter goodies they had left. It did the trick, but I pointed out that Sally's fickle desire for chocolate products could have cost me my life. She was not impressed.
The lockdown has managed to bring out the worst in some people. Scams are on the increase, especially on social media. People must get used to certain facts of life; Morrison's are not giving away £45 vouchers; Range Rover are not giving away another free vehicle because the previous winner was only 15, and those couples that did not claim their holidays to Majorca or the Maldives? Yeah they don't exist either. And if everyone who claims to have a friend in Vienna's laboratory with information on coronavirus actually did have a friend in Vienna's laboratory, that would be one huge facility! It's all Clickbait – designed to get your information and worse. Just don't! My Facebook timeline seems to be clogged with ads for games and IQ apps. Don't think I will be going anywhere near those.
Of course, with no live sport, gambling sites are struggling to make ends meet. Nevertheless, Sally backed the winner of the virtual Grand National. Paddy Power (and I am sure they are not alone) advertised specials on two Argentina Primera D matches – clearly just for those who need a fix. Give it a rest lads – when the fun stops – stop!
Ole On Film
Ole was discussing his agent when as if by magic another job came in. This job was a callback for a role at the BBC. Everywhere was still locked down, but they were considering Skype auditions. He then received a request for a self-tape for Hollyoaks, which he duly completed. He could be really busy when we finally get let out again.
One of his friends saw the Bupa mental health ad that he featured in, though we have not managed to catch it yet. This is actually quite important. If he is in the finished ad he gets a significantly increased fee! His starring role in "White Light" has been slightly delayed. It is now due to be released on Amazon Prime Video on 17th July, one day after his 21st. This Oxygen Films production promises to be a bit edgy to say the least, but it has got him a headline role on their website.
https://www.oxygenfilms.co.uk/
The Kitchen
Of course, one of the hardest things to do during lockdown is to eat healthily, and Ole has already been through several stages of this. Chicken sausages were all the rage until mum panic bought several packs. At this point he decided to move on. He switched to high protein stuff, and followed this with some sort of strange time-based diet. This meant that he would regularly venture into the kitchen to announce that he had just 30 minutes left to eat that day. Whereupon he proceeded to devour whatever was in the fridge.
Which brings me back to the kitchen, and with hungry mouths to feed I have been experimenting. All of this goes towards Mmm…No2…Cookbook, the only piece of writing I have managed to progress during the lockdown. I have now assembled 61 recipes, and I am almost at the editing stage, so it should be about done for July! The final recipe to make it in to the book is mini cheesecakes with a ginger crumb base. These were a great success. Just need to give the base a bit more crunch – but they have definitely earned their place.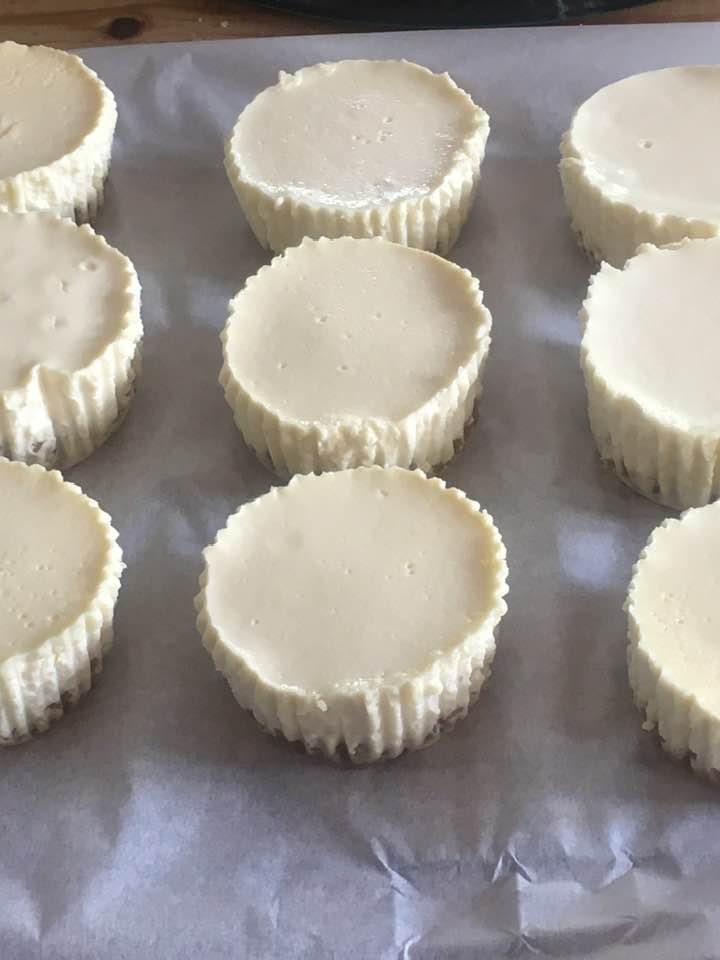 I got my grinder out and made some very passable chicken sausages. Ole liked them, before his announcement that he was not eating them any more. However, Zac did not care for the texture which was a bit chickeny.
I also repeated my brisket recipe, with a fabulous piece of meat from MacBurnhams. Slow roasted until it fell apart!
As stated earlier I have become quite adept at making soda bread. I then found Paul Hollywood's recipe for a loaf, and it turned out to be a great find. His use of oil and a water bath gave fantastic results, light bread with a very crusty crust!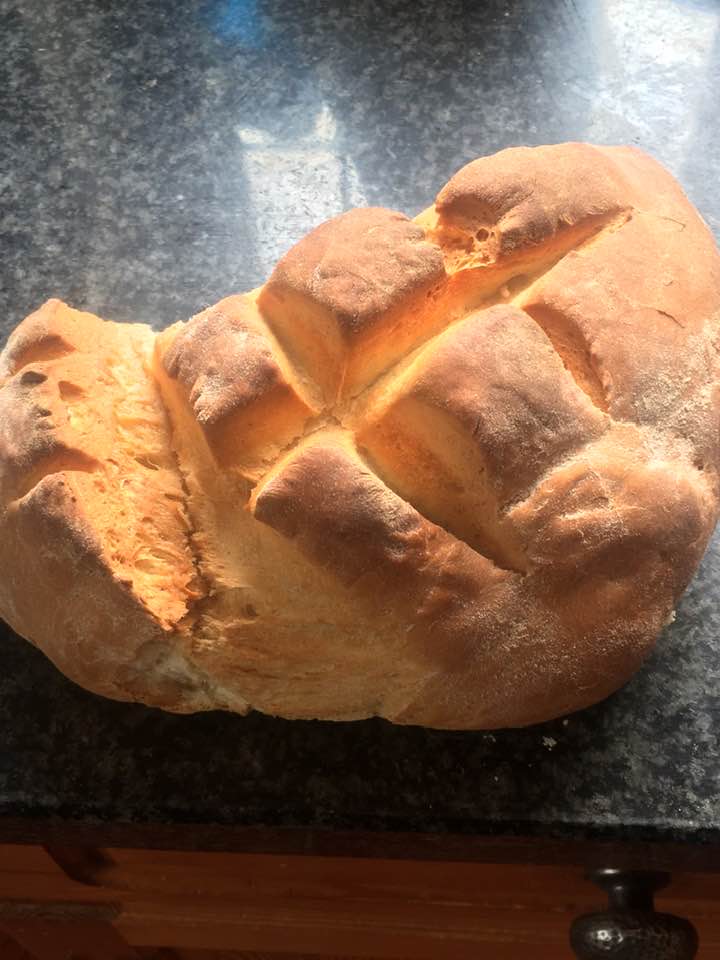 The Freezer
One culinary job that was long overdue (more than ten years as it turned out), was to defrost the freezer. I delved in to the chest freezer and turfed out packets, bags, tubs, and so much more. Very little was still in date. At first I thought these were bad enough…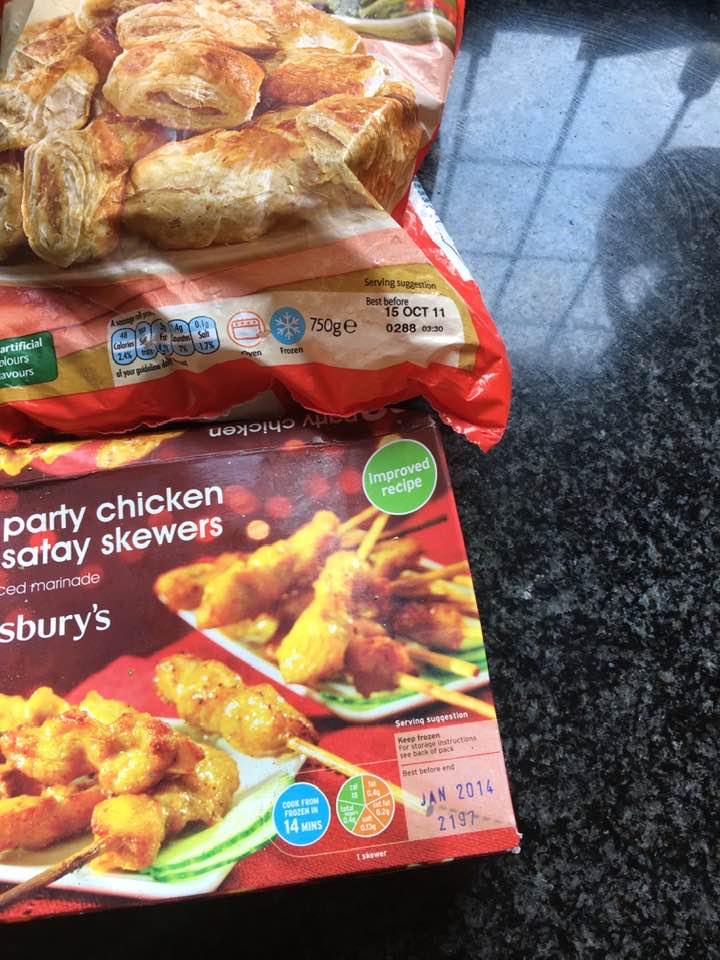 …but then I found some more sausage rolls from 2009. There were at least 40 different ice lollies, some of which were impossible to identify, and as I frantically Googled "safe to eat" dates I discovered that ice cream only lasts about 3 months. So the chest freezer is almost empty, and after a similar exercise with the American fridge, I can confirm that we have way too much freezer space.
Outdoors
The garden is looking better! We decided to put together some raised beds to grow vegetables (not sure how long we think we will be locked down for, but best not to take any chances!).
We started with lettuce and peas, which historically combine to make a Beatles song. Sally added her own touch with a sign, which she then had to redo after the rain washed away the paint. I am not sure I am quite in favour of it, as it just seems to advertise the whereabouts of the vegetables to Peter Rabbit and his chums. Anyone know where Mister McGregor is?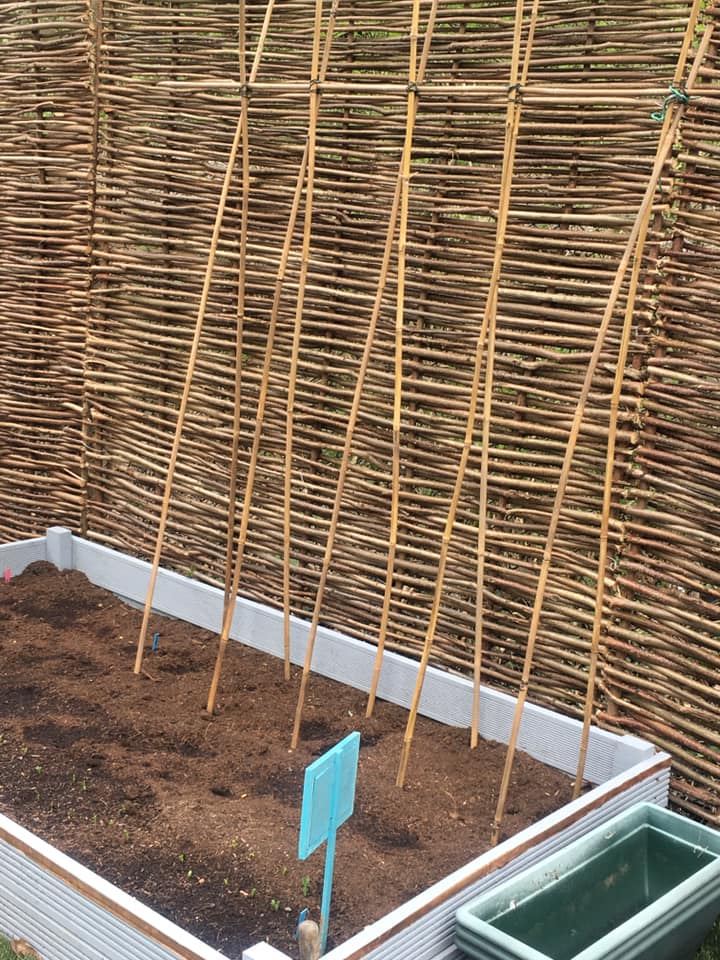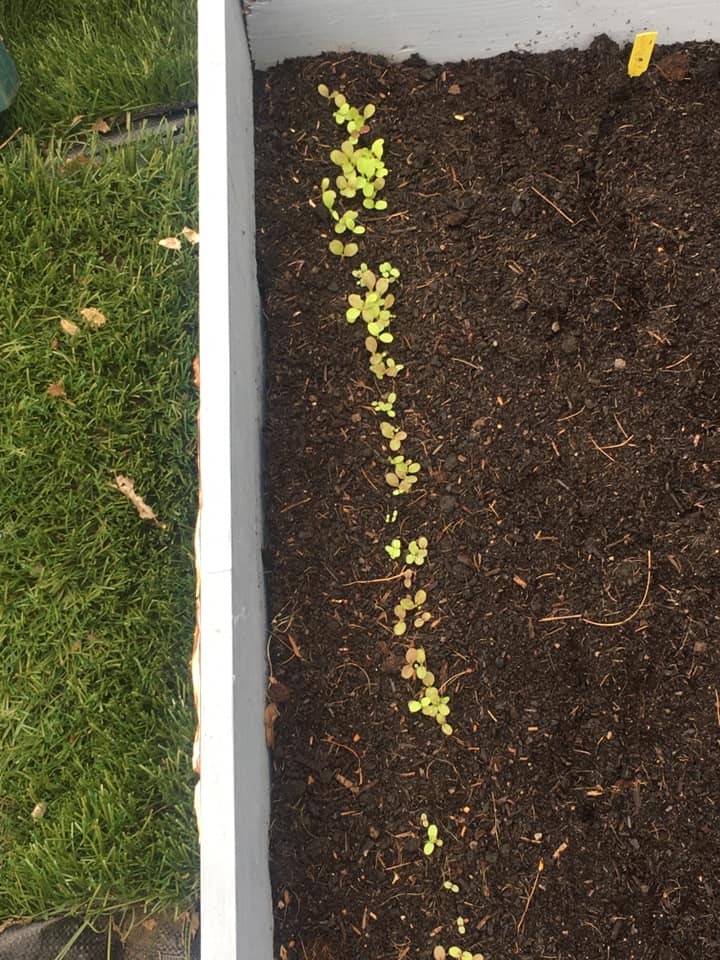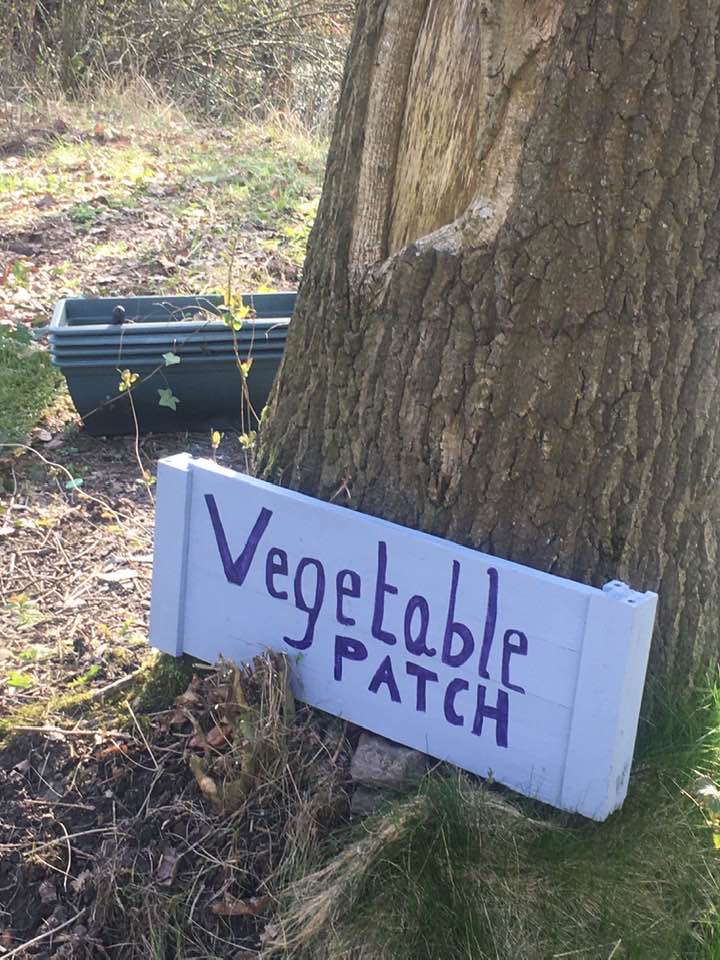 Sally has managed to position some chairs and a cauldron close to the vegetable patch, so if we do ever catch Mister Rabbit…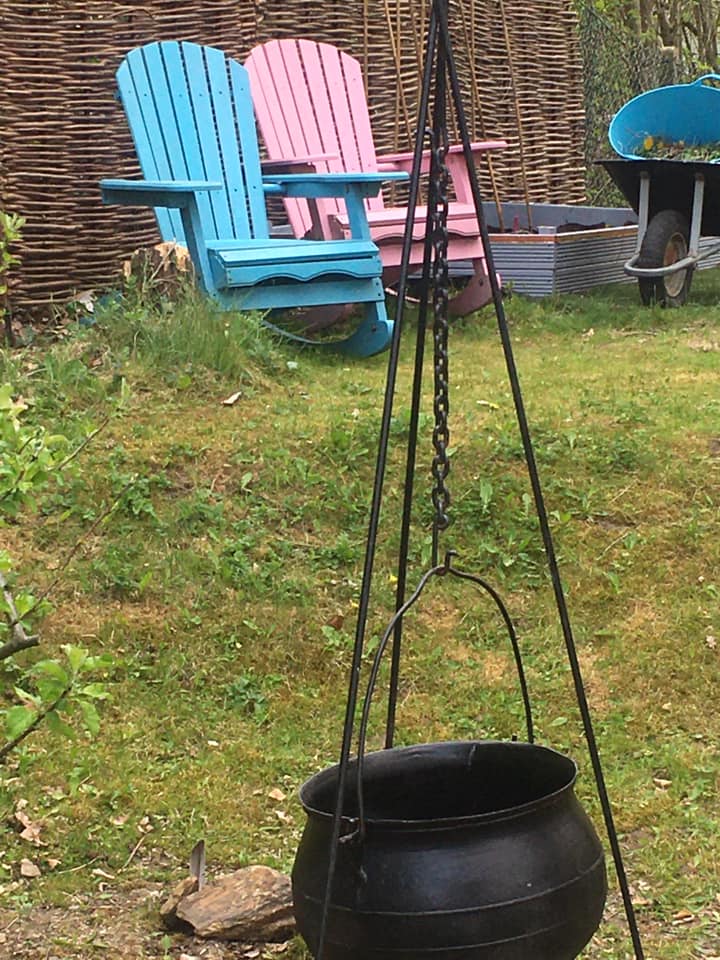 How bored have you become during the lockdown? I've discovered there are 27 different bottles, tubes and tubs of lotion, shampoo, conditioner etc around the bath. Plus a bar of soap. I have not counted the candles.
There are signs that lockdown may be on the brink of being lifted. However, here's the thing… What if the lockdown is lifted 1st June? I reckon the lager will still be ok (but will soon run out) but craft ales? No chance – they would have to have started brewing a while ago to ensure it's tip top for June. That's when the real panic will begin!
Finally, April 23rd. To many of us this is the chance to celebrate the day of our patron saint, St George. For Zac, it had even more significance. It was the day that Frydays reopened!