October 2, 2020 by Michael Madden
Is That Eeyore? No – Its Mr Madden
Need For Speed
Not quite Eeyore, but some motoring madness this month. First of all Ole got a speeding ticket doing 59 in a 50. He was unsure of the location of the A34, so I said "Its the road with the big yellow cameras all along it." He will be hoping for an online speed awareness course, but he may be disappointed. Meanwhile Zac, who will be eligible to drive later this month, said, "I'll never get a speeding fine – the old lady of the road they will call me."
Acting For The Camera
Despite the lockdown Ole has still managed to fit in a lot of auditions. His latest include a number of short films, as well as Hollyoaks, for which he got really good feedback, and Meet The Richardsons. The latter must have been useful as he recently auditioned for a tv show in which a Yorkshire accent was required. A comedic Sean Bean was my recommendation. Anyway, it worked because he got the part. His first role in a television series (Channel 4 but cant say any more about it yet!)
I Don't Like Mondays
Zac has had an interesting few weeks, starting with his results that were largely beyond expectations. He has now settled in to life at Aquinas (every other week), and he gets Mondays off. His early experience was not good as he constantly overpaid for his train ticket until he learnt how to activate his Saver ticket.
So, something has been happening there as he arrived home one day to announce a sudden interest in wild mushrooms. You might think that you know what that is all about, and you may be right, but in the following 36 hours we went out foraging three times with little success. Undeterred, Zac ordered a syringe of spores from Amazon – we await developments.
The Family Jewels
One of his subjects is economics, and he is starting to get a real eye for money, knowing what is and is not a bargain. However, there are exceptions, and when mum complained that he wanted Calvin Klein underpants at a cost of £20, he quite simply said, "£20 is a bargain for the comfort of a man's family jewels!"
Its amazing how Zac's perception is quite different to mine. Regular readers will know that it is a struggle to get him to eat fruit, so one morning he came down, sat on the settee and watched a bit of tv. I placed an apple on the arm of the settee and got a mumbled "thanks" in return. Later that day, not one of Zac's better days, he started the conversation with, "I got up this morning and straight away Dad slammed an apple on me…"
Not quite sure I know what he meant!
Speaking Of Apple…
PubHead is now live in the Google Play Store, but for IOS we have to add functionality so that users can block other users. That should be done very soon, and certainly by mid October we expect to have a working app live across the globe!
Among the new features are a screen for pub leaderboards, and a new profile page.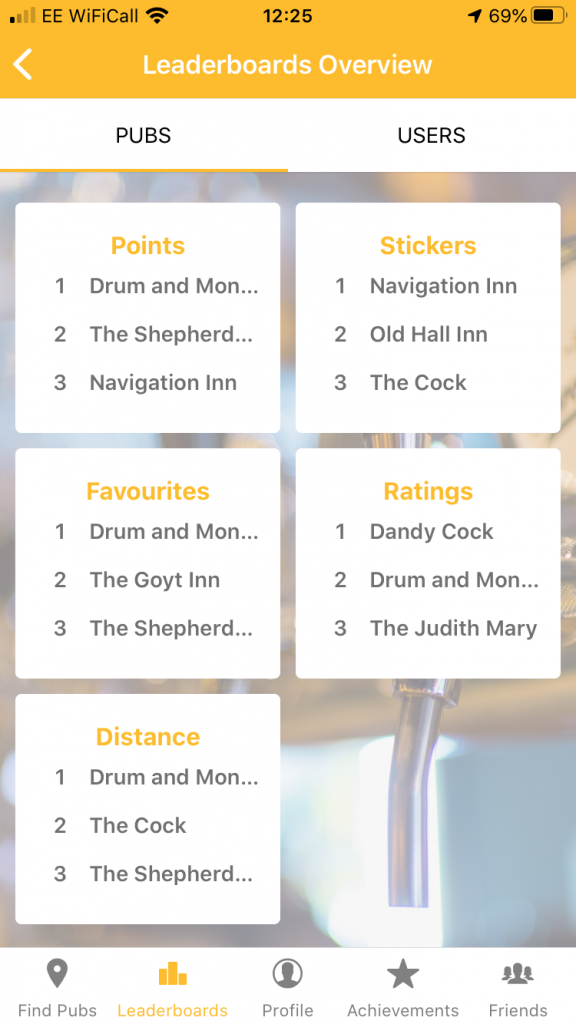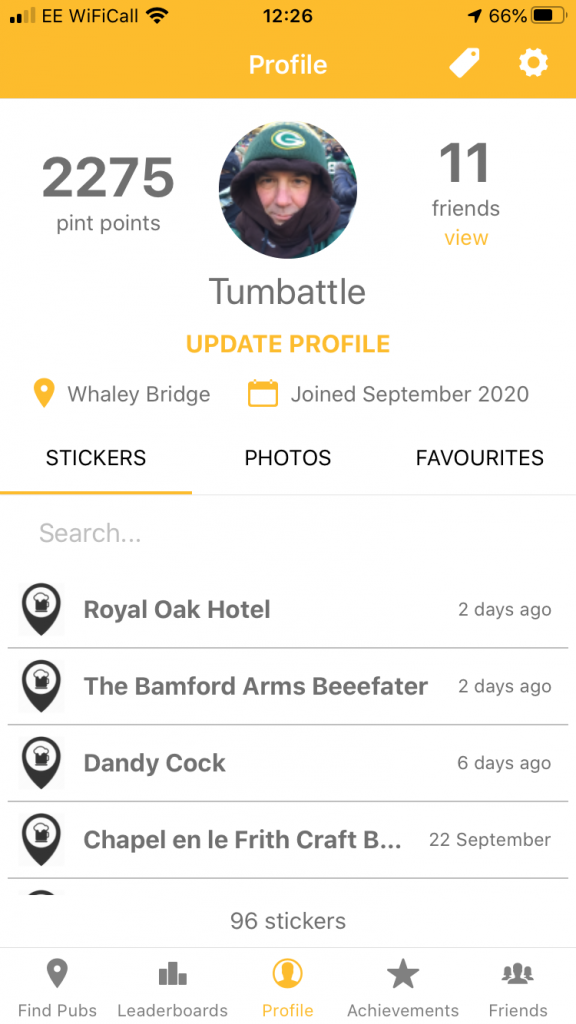 Go to https://www.pubhead.com/ for more details.
First Draft
The first draft of Mmm…No2…Cookbook came back and it needs a lot of work. More pictures for Kindle, but no pictures for paperback, and it definitely needs a new cover image. The pictures inside are black and white based on cost, it is at least four times as much to include them in colour, so its just not worth it!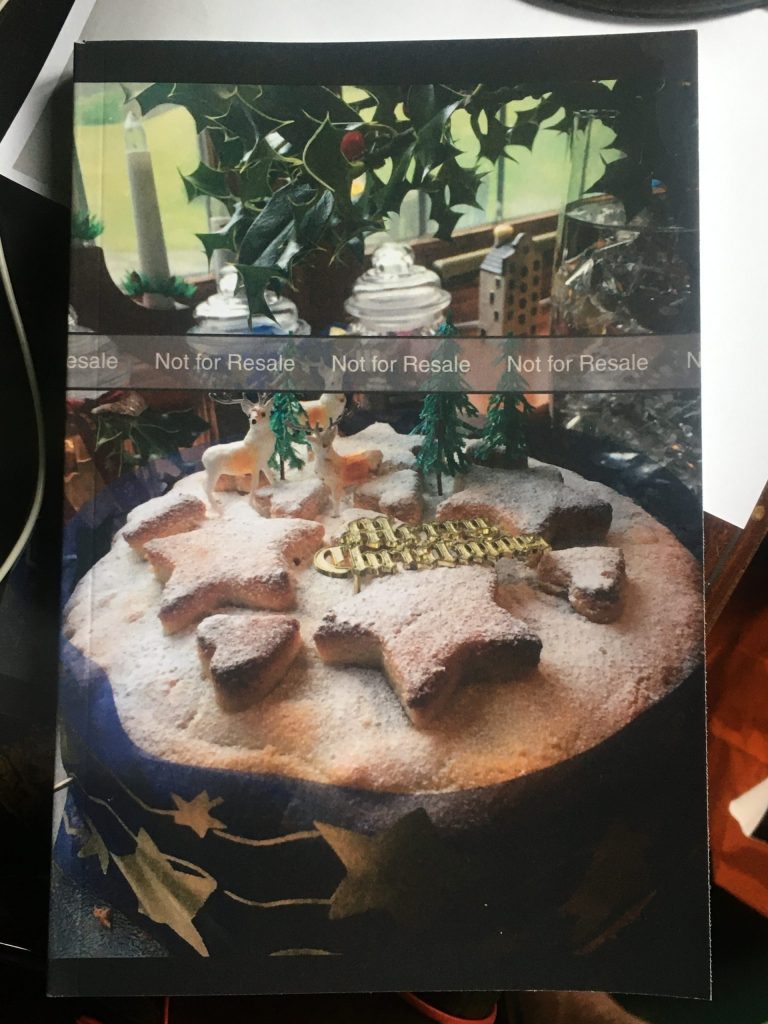 First Impressions
Around this time of the year we get our annual RAC membership renewal. This is a joint policy, although it is registered in my name. It seemed a little high, as usual, so Sally decided to call them to get a discount, as usual. The problem is that they will only speak to the policy holder. "Yes, this is Michael Madden," she said in a voice reminiscent of the biggest of the three Billy Goats Gruff. This continued for quite some time, and she was getting quite hoarse by the end of it, but it was successful. She not only got the premium lowered, they also covered us for 15 months rather than 12.
Fairy Story Land
Now, since our last renewal my credit card had expired, and I didn't have the new one to hand. "I'll get my wife to provide her details," she said, by now sounding like Eeyore. This certainly grabbed my attention as she would have to change from Eeyore to Goldilocks, but I was thwarted when the RAC adviser, who had no doubt sussed the ruse ages ago but wanted to play along, again said that he could only speak to the policyholder. I reluctantly provided my card details, and the ridiculous episode was at an end. It reminded me of the time she claimed I was diabetic so that the maid could make room for her champagne in the fridge of our hotel in Monte Carlo!
Which is where this blog actually began!
What's It All About?
The kitchen has been a busy place – with jerk chicken being a popular dish.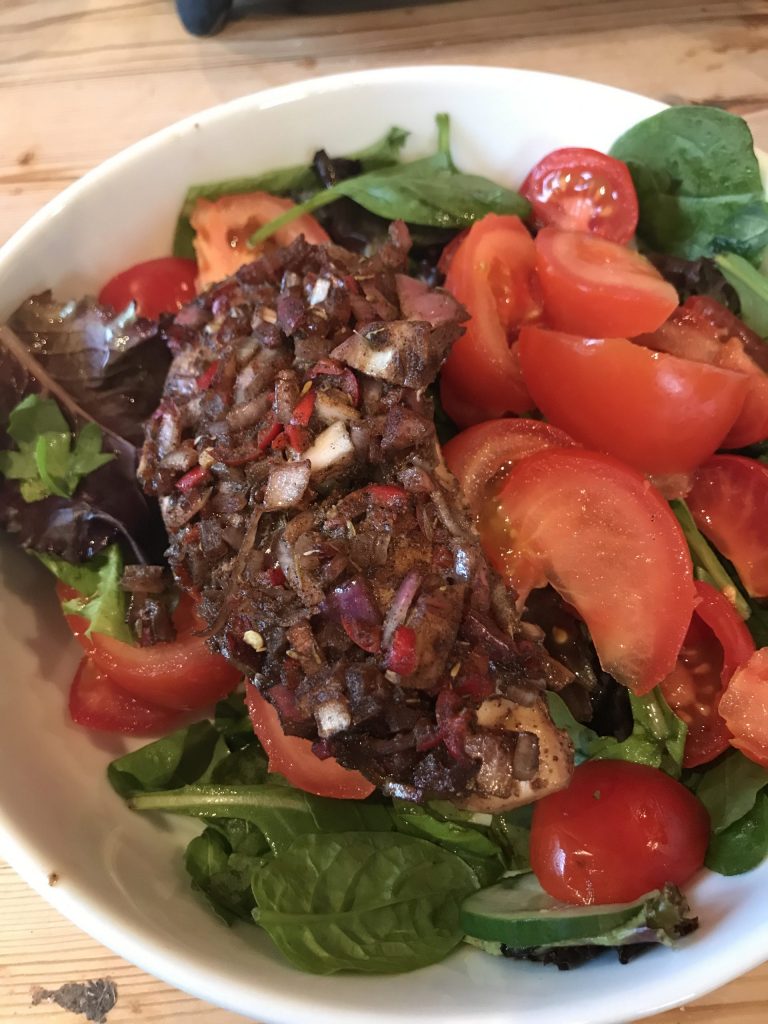 Foraging
I also went out picking the blackberries that are particularly abundant this year, and I got around 700g with a view to making Bramble Jelly. Sadly, I could not find my cooking thermometer, and I overboiled it somewhat. Bramble Toffee is not as nice as the jam! Undeterred, I tried again. I finally managed to locate the thermometer, and after straining the juice overnight, boiling it to 105oC the next day, and then testing it on a chilled plate, I had myself five jars of delicious Bramble Jelly. I repeated the expedition for the next two weekends, and ended up with around 15 jars. Many have been given away, but I should have just about enough left until the next brambling season.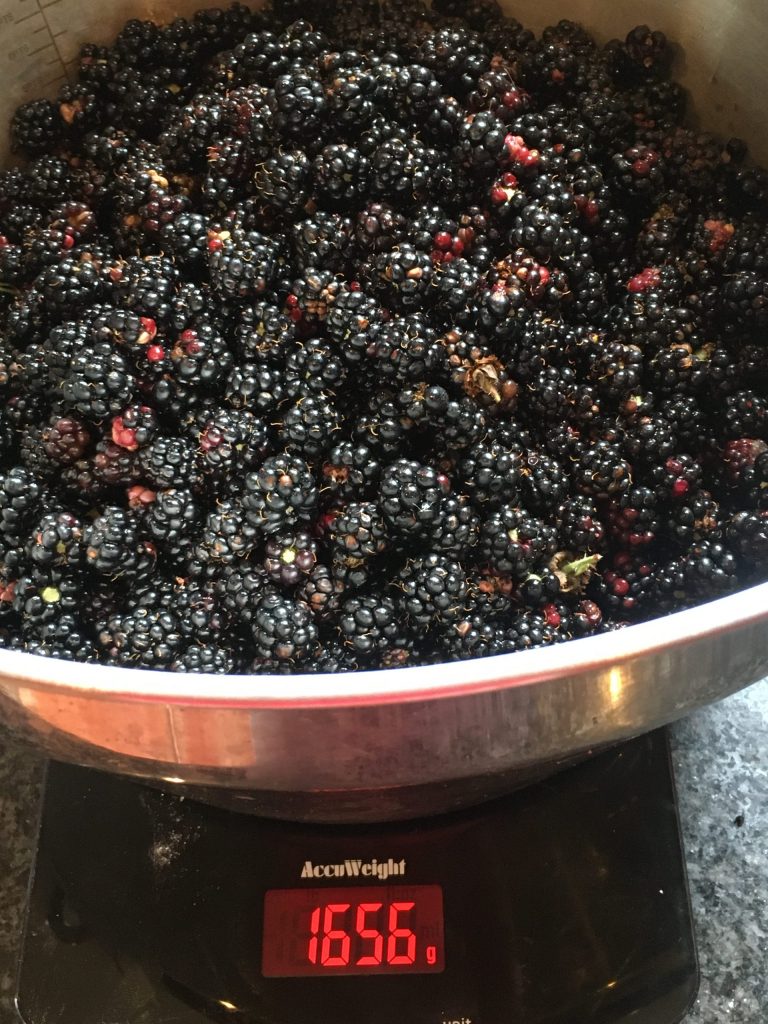 It was definitely a learning curve, and as well as understanding the importance of the thermometer, I also discovered that blackberries grow very close to nettles, jelly at 105oC is very hot, and there are big differences between granulated, preserving and jam sugar.
The End Of The Season
In a kind of a stop press moment I decided to venture once more to the brambling fields around Bob's Lane (maybe shouldn't have given away my secret location!) I got a good enough harvest, and it was noticeable how plump the last of the blackberries were. So now, distilling away in a darkened cupboard, is blackberry gin. Should be ready in a couple of weeks!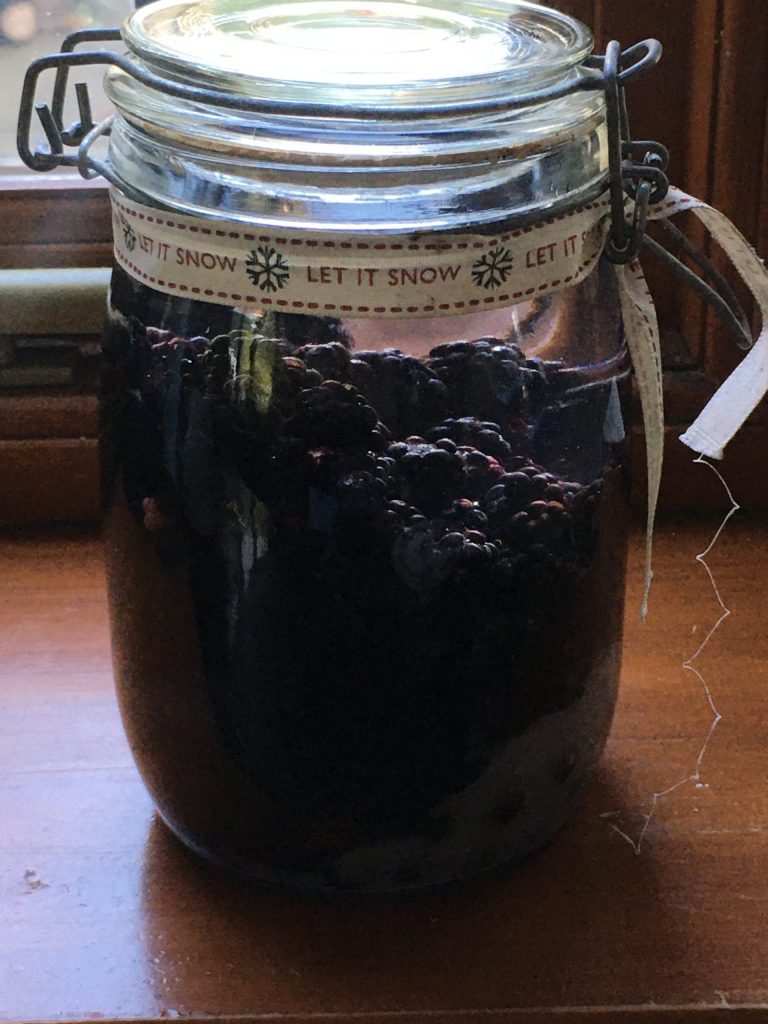 The garden is at an interesting phase. I harvested some beetroot, and although they were small they were unmistakably beets. The runner beans have started to produce a bumper crop, but we sadly lost the potatoes after their soil became flooded. After last month's fiasco trying to pollinate pumpkins I think I have had a success. This is a baby pumpkin. Yes it looks like a marrow, but we are all different shapes when we are babies!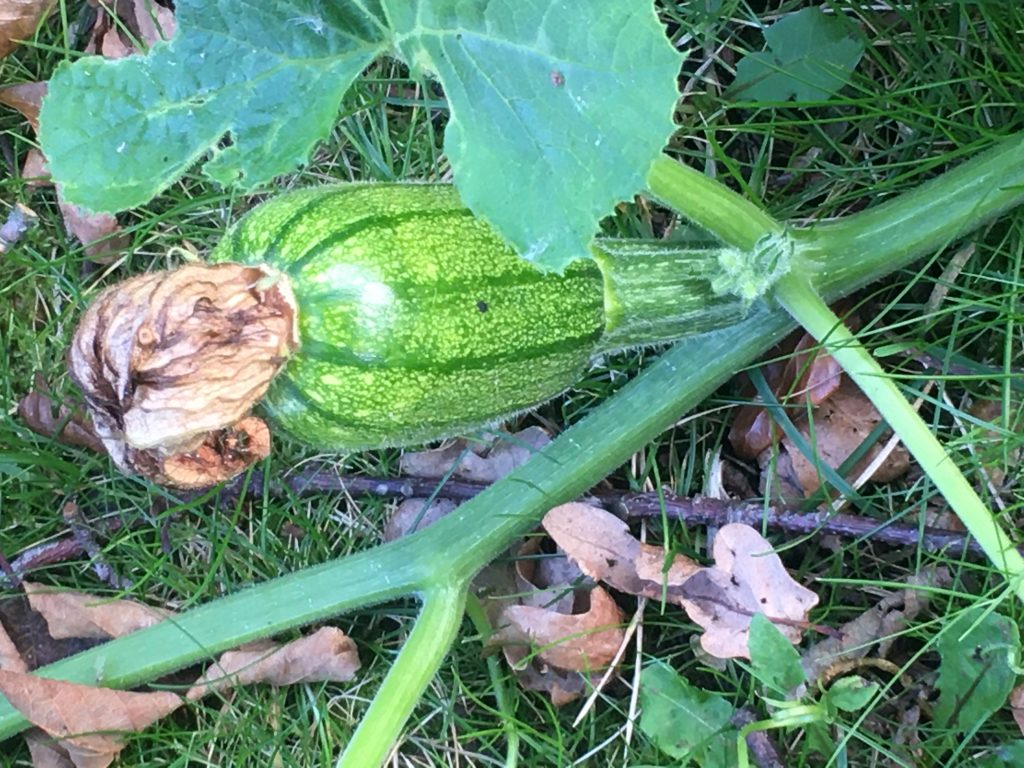 Then, when I looked a bit closer at the pumpkin patch, I found this…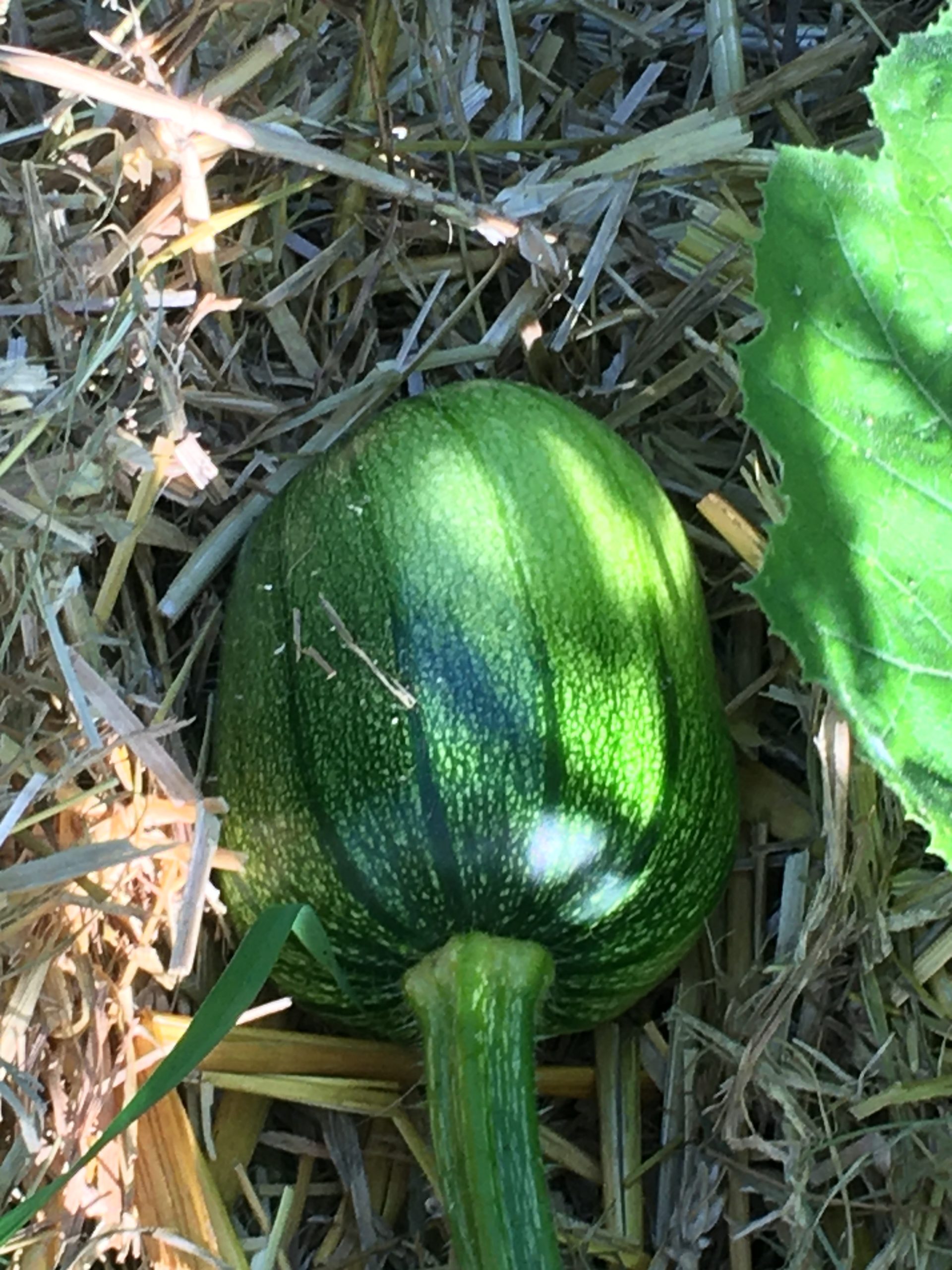 It hid itself away round the side of the composter, and is the size of a large fist. In total I now have five confirmed pumpkins, with at least one more possibility and several flowers yet to bloom.
In case you were wondering…this is a male…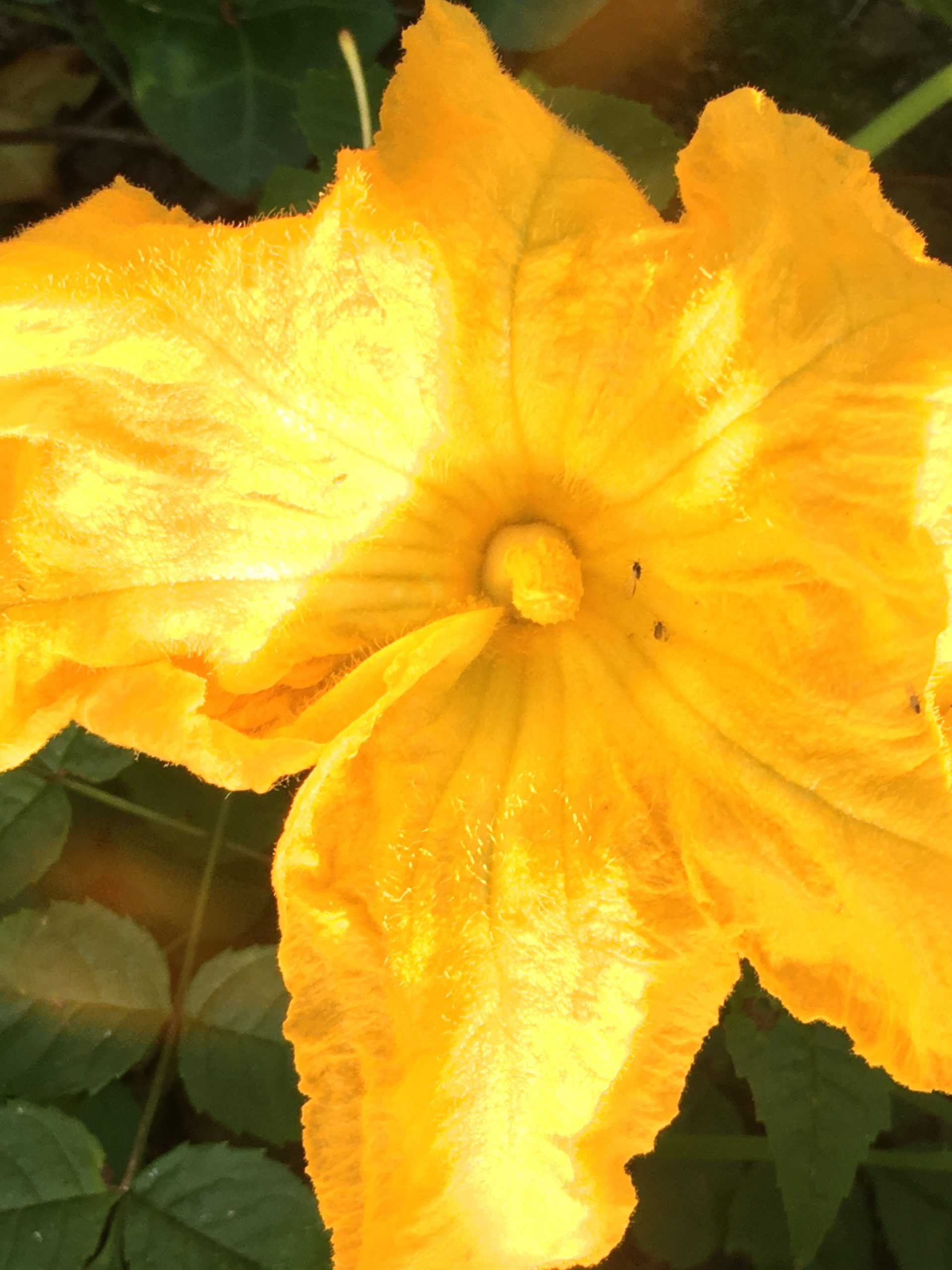 And this is a female…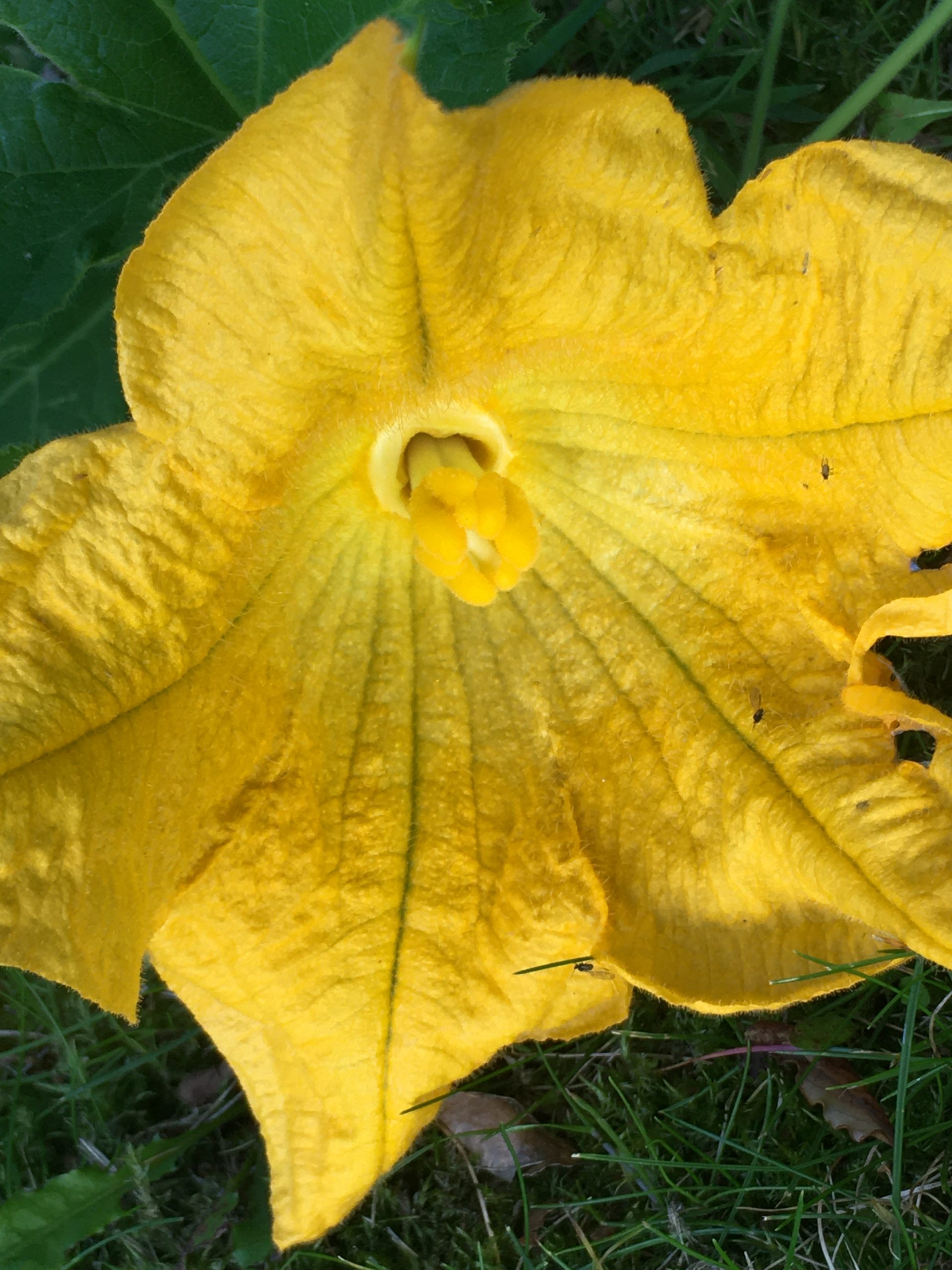 If you listen closely you can also tell by the noise they make!