November 29, 2020 by Mike Madden
Losing It In Lockdown
So we are in Lockdown 2 – only a month, but its already had an impact. We booked a holiday for February, travelling in style to the Dominican Republic where Zac could enjoy the delights of a butler, a plunge pool, and lobster on demand.
The flights were via Paris, and unfortunately Air France have cancelled all flights for the foreseeable future.
On the positive side, Virgin Holidays customer service excelled themselves, and within 20 minutes they had rebooked us on the same trip for the end of March. I'll warn the butler.
Steps
Back in July I thought it would be interesting to take the million step challenge. The idea is to walk 1 million steps in 3 months, and I have decided it is  impossible. I refereed several football games, did endless walk rounds at cricket, and walked up and down Elnor Lane picking blackberries. I don't think I even reached half way.
Lockdown Treats
The kitchen has been a busy place, with Lockdown Saturday treats and a few in midweek too. My bramble gin has been duly bottled, and the Creole cake has had its first and second feeds (port and brandy – sherry and Cointreau to come). Chocolate digestives have been made, hidden, found and eaten, whilst Victoria sponge and chocolate sponge with Nutella buttercream didn't last much longer. The latest creation is mini cheesecakes. They are supposed to be left to set for 24 hours, but I am not hopeful!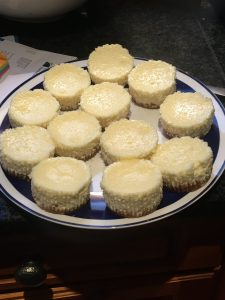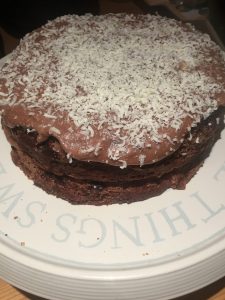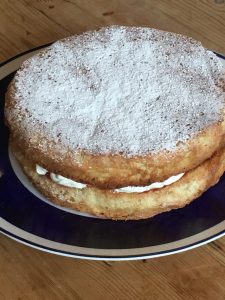 Pumpkin pie was a perennial favourite, and then there were beef enchiladas!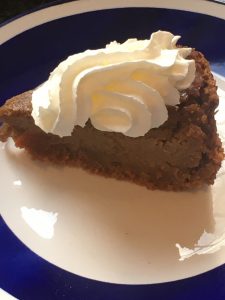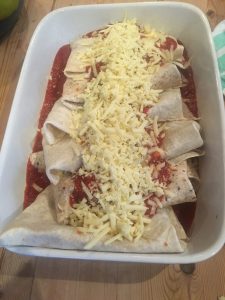 And chocolate skulls for Halloween…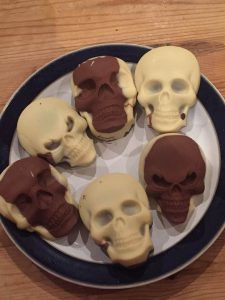 Of course, as the year turns towards December there is the obligatory chocolate log and gingerbread biscuits.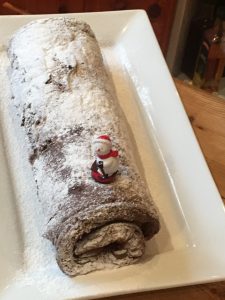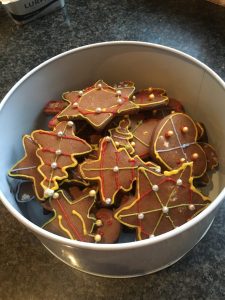 Shoutout to Hickory's Smokehouse in Poynton. We've been there twice recently and not only do they do the Covid distancing really well, they also serve delicious food and drink.
For our wedding anniversary we headed to Castleton, and decided to climb up Winnats Pass. Well, about 2/3 of the way. Its a lot easier going up than coming down, especially on a wet day. Anyway, we survived and had a nice pub lunch at the Bull's Head. Wonder when we will be allowed to do that again?!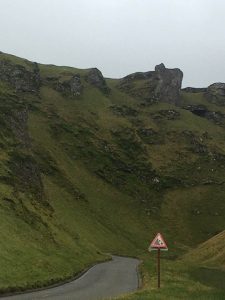 Bo!
We have the patter of tiny feet around our house, as Bo the little girl pussycat joins the family. She spent the first few days sat on my shoulder like a pirate's parrot, but that has now changed. She has settled in very well, loves to surprise you by leaping on to your back, hanging on with extended claws, and her favourite resting place is a chair under the dining room table last frequented by Bobby.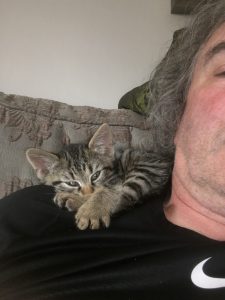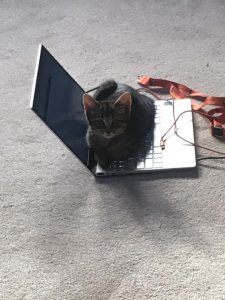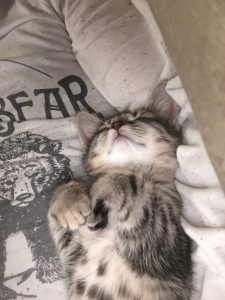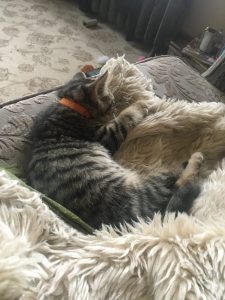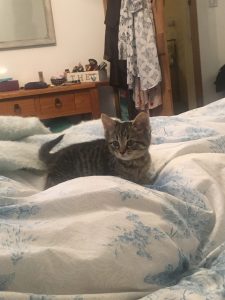 PubHead
Its a bad time to launch PubHead, it being a pub-based app, but it has given us the opportunity to add new features – the latest being pub crawls. Once lockdown ends and the tier system moves in our favour, who will be first to complete all pubs in Whaley Bridge?
When Is A Good Deed Not A Good Deed?
Zac had a pair of Yeezys that he outgrew. Size 8, whereas he is now a size 10. These exclusive trainers were the genuine article – I know because I paid for them. But when Sally tried to sell them she was hit with a barrage of "they look fake"! If there was definitive proof that they were not fake they would have fetched around £170, but people remained sceptical. However, there is a boy in Buxton who lost a lot of his possessions in a fire. Sally offered the magical trainers to him and he was delighted. It was a real feelgood gesture, but Zac did point out one downside, "I am still £170 down on the deal".
Zac has had abut 3 driving lessons, but that does include driving to Buxton and back. Now, however, he wants to drive us all to my mum's in Sale at Christmas, as that is what Ole did (after significantly more lessons). I feel that only an extended lockdown will thwart him.
Acting Up
Ole has been very busy despite the lockdown.
His LGBTQ short film is now the subject of a book available on Amazon,
Whilst his BUPA ad finally saw the light of day
He also did another voiceover, a job he got because of his Wereworld recording in London, and then he got a part in the Channel 4 series Ackley Bridge. Its a small part in the final episode of the next series, but he made the most of the experience, staying in a nice hotel for a couple of nights and mixing with the rest of the cast. It should hit the screens in February.
This week he has had two audition requests, one for Coronation Street, but I'm not allowed to tell you which part as it would be spoiler, and Brideshead Revisited which would be very exciting with a lot of global travel (post pandemic of course!)
Kitchen Calamity
Despite best efforts, some home made things don't last as long as the preservative filled equivalents that the supermarkets sell. I made sweetcorn relish, and despite being in the fridge it grew some mold. Sally decided she would try to avoid the mold and use the rest of the jar, but to no avail. She eventually gave up, but the interesting part concerned the jar itself. She was making beetroot chutney at the time, and I pointed out that the jar was given a thorough wash in boiling water, and then sterilised in the oven. "In the oven?" she questioned, and hastily revised her plans for cleaning the chutney jars.
The pumpkins came to an untimely end, as the local squirrel population filled their faces with them. We salvaged a very small one, just to prove that it was genuinely a pumpkin, but not sure we will use up that amount of growing space to feed Mr and Mrs Nutkin next year.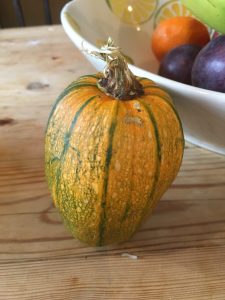 We got a new dishwasher this week, or rather we didn't, we got a six month old dishwasher, as ours has a dodgy front panel which means opening it is, well, very slightly more awkward than on other dishwashers. Anyone who has ever had to plumb in a dishwasher will tell you it is never straightforward, but Sally duly fetched the dishwasher, chopped the plug off the old dishwasher so that it could be removed, and made ready to plumb the new one in. Unfortunately, the water pipe is not compatible. It has a small plastic block on the end of the pipe, and there is no way this will fit with our existing pipe structure. So we would have to put the old one back. But wait a minute, she chopped the plug off that one so it won't work. So, now we have to call a plumber to alter our pipework so that we can replace an old dishwasher with a slightly less old dishwasher.
And Finally…
We still went to York for our annual pilgrimage, despite not being able to actually attend the races. Middlethorpe Hall was magnificent, and we decided to make the most of our night away with dinner at the National Trust hotel. Sat in the drawing room, we had several drinks beforehand, and I decided to nip back to our room to get changed.
"I was just going to bring you a menu," the waiter said as I walked past him. "I will leave it with the young lady."
"I would rather you left it with my wife," I replied. I laughed at my own joke, Sally did not!