April 10, 2021 by Mike Madden
Can You See The End Of Lockdown?
If You Want Anything Doing…
Unbelievably I have done more DIY! Sally tried to be helpful by bringing back some planks of wood from B & Q, but I had to point out that the chairs and benches had to have uniform slats, otherwise it just would not work. As it turned out, the uniform slats that I did acquire had to be modified, as the makers of cast iron bench ends clearly had no concept of consistency, and the drilled holes were often as much as an inch out. Anyway, after much cursing and drilling I managed to finish a garden seat, and in terms of working with cast iron ends that's definitely it!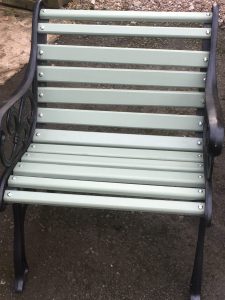 We have been pondering a greenhouse, but I decided that they were too expensive and that for our gardening expertise cold frames would be just as good. So, I set about making a couple of those. They are not perfect, but they are certainly spacious. If you ever find yourself wandering the streets in the cold you could climb into one and get a few degrees warmer.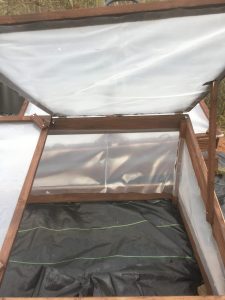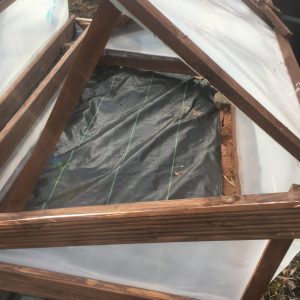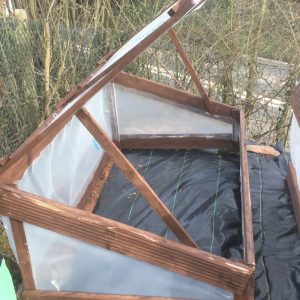 So far they are housing potatoes, leeks, sweet peas, carrots, broccoli, onions and some other stuff. If it all grows I have no idea where I will plant it all out.
For now I am keeping a close eye on the radishes that have started to emerge.
Working 9 to 5
So today was a typical work day, maybe a bit lighter than normal. First call at 9am, then continuous throughout the day with occasionally very short gaps for a brew! By around 4.30 Zac asked if I had any more calls.
"Yes," I said. "One just about to start, another at 5.30, and then a gap until my last one at 8 o clock."
"Wow," he replied. "I thought I had it bad."
You Have To Finish What You Started
The pool room above the garage was looking a little grubby, and as I had a lot of red paint left over from the bench I decided to spruce it up. There was the wooden pool table cover, the board covering the entrance to the loft, a tall shelving cabinet, and a large and cumbersome cabinet filled with LPs and, as it turned out, a lot of pizza boxes. I also bought a red dustbin and two red throws for the settee,
It looked ok once it was done, but Sally was not impressed, describing it as a bit 1970s. However, she then proceeded to paint the walls and the ceiling, purchase a red settee and a red bucket chair, and rip up the carpet for a complete replacement. Two months later the room is still less than half finished based on her grand plans. The old settee has been removed, taking most of the door furniture with it, and we have since lost the bannister after Zac fell into it.
Roger Daltrey Never Had This Trouble
For Sally's birthday I decided to get her a vintage 1970s pinball machine installed upstairs in the pool room. There's a place in Chesterfield that refurbishes them, and the guy agreed to deliver it the night before her birthday. I told her she must not go outside when she hears a knock at the door, and I made sure she was safely inside the house when the delivery was due. She had been up in the pool room, so I told her that would be out of bounds for the rest of the evening too. This did not seem to bother her, and for good reason. Ole and Zac were on standby, and a reassuringly small estate car pulled up with the machine inside. The guy loaded the machine onto his cart and moved it to the rear entrance to the garage, where the steps lead up to the pool room. Problem number 1, I found out what Sally had been doing in there – painting the stairs. So each and every step was newly coated with pale blue paint. I took the precaution of putting paper down, something that I would later regret as the paper glued itself to the painted steps, but we were good to proceed. Problem number 2, there was about a millimetre, or maybe one and a half millimetres, clearance for the machine to get up the stairs. Ole pulled and huffed, Zac, shoved and puffed, the pinball guy and myself balanced and climbed. We took out several spindles, but we finally got it sitting in the corner, raised on some old books to ensure the pace of play was good enough. Of course, Sally was delighted, and promptly announced that she wanted it moved, or at least lifted whilst she replaced the carpet that she had removed just a week before.
Whoa, I'm Going To Barbados
Well, maybe not – we are actually booked to go to the Dominican Republic, originally in February, then moved to March, now moved to May, and within a month, no doubt moved again. Its 3 degrees outside (no need for a song) – I need some heat.
Pandemic
We played a new board game recently, Pandemic. The idea is that the players work together to cure and eradicate a global virus – very appropriate for our current circumstances. Anyway, the responses to the game were quite different. Sally fell asleep, Zac strategically plotted everyone's move to get the best result, and when things went against us, Ole threw his hands in the air and announced that we are all doomed!
News From The Kitchen
Well, Sally decided to make biscuits. Not sure she used an actual recipe, instead I think she just threw some ingredients together and hoped for the best. You don't always get what you want in the kitchen, but you probably get what you deserve!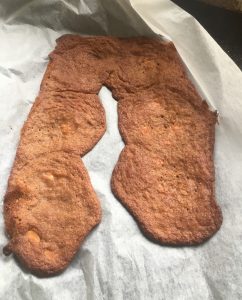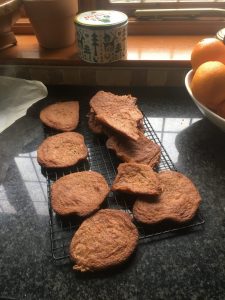 Regular readers will know that this is not a one off experience. Who can forget her giant mince pies, Battenburg that looked more like Batteredburg, and the rhubarb that looked like a vortex into another dimension? There are many more examples of her culinary endeavours, but that did not stop her from criticising Michelin starred restaurant Le Gavroche during Master Chef for their preparation of madeleines.
Of course, St Patrick's Day could not go uncelebrated – especially as I am 1/4 Irish! And last St Patrick's Day was the last pint in a pub before the first lockdown. So this year I made Irish Stew, Colcannon, Soda Bread, and of course, St Patrick's Day Cake.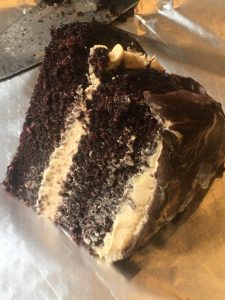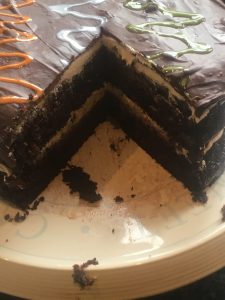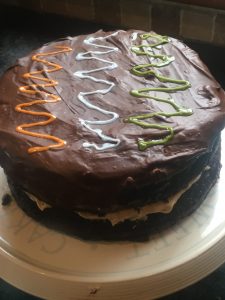 Earlier in the month chicken enchiladas proved to be a popular twist on an old recipe…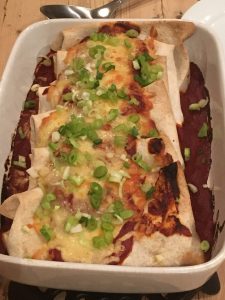 …but more recently I went a bit overboard on cupcakes. These are lemon drizzle, coffee and walnut, and chocolate.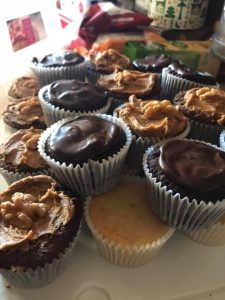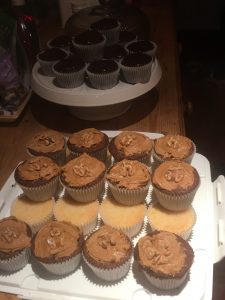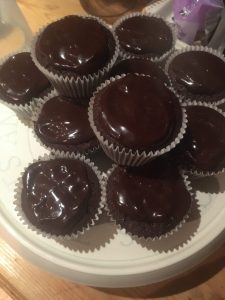 Its not quite Florida weather just yet, but in attempt to recapture the sunshine I made chocolate key lime pie! Its a perennial favourite and reminds me of the chocolate limes you used to buy by the quarter.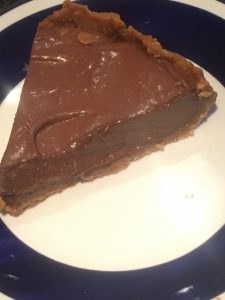 A New Launch
We will finally get to relaunch PubHead on 12th April. It might be a bit low key – but we are also engaged in sponsoring George Bloor's golf day and the Leek Blues & Americana Festival.
We have added functionality for pub crawls and we are looking at badges and achievements.
You can download the app on IOS or Android
Or you can scan this QR Code

King Of The Road
Zac continues his driving lessons in preparation for his test later this month, and this week he experienced his first accident. He was not involved, of course, but as he drove toward Chapel a motorcyclist pulled out and opened the throttle a bit too quickly. Sally barked at Zac to pull over as sparks flew where the bike slid down the road, and the free NHS instinct kicked in as she got out and administered first aid without a thought for either payment or insurance. Having dispensed her free healthcare she returned to the car to see what Zac's reaction would be. She needn't have worried, he had already informed most of his mates via instant messaging and social media of the dramatic events.
It has been a strange year for all of us, but more so for the kids, and Zac is well aware of his situation. However, he is also aware of his differences. "I am like an old man in a young boy's body," he announced. "I like a lot of things that other kids don't like."
He has also made plans for his future. He intends to buy a forest, so that if he is still at home at the grand old age of 26, he can build a shack in his forest and not be a saddo who still lives at home!
One positive development has been the return of junior football, and he had a bruising encounter for the under 18s last weekend. In one challenge the striker appeared to leave his foot in, and we discovered that Zac had picked up a lot of very colourful language during lockdown.
Out Of The Mouths Of Babes
Nixie had her first horseriding experience as lockdown eased, though this took place on Cracker as Nancy is a bit too big for her. She loved it, and showed her appreciation to Cracker afterwards.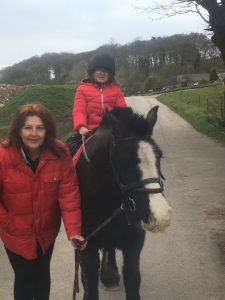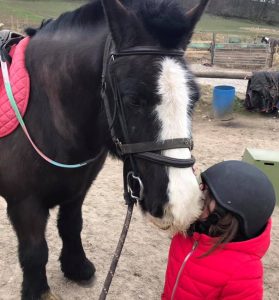 On the way back we played I Spy.
Nixie "I spy with my little eye something beginning with B"
Sally "Buttons"
Nixie "No"
Several guesses later
Sally "I give up"
Nixie "It was buttons"
Sally "I said buttons"
Nixie "Yes but you meant the buttons on a coat and I meant the buttons on the car"
Radio And TV Times
On the radio front I did another interview with Suzi Quatro, this time on Zoom where she shared her thoughts about lockdown and we played some great stuff from her new album.
The show has been relaunched as "Words And Music".
You can listen to the podcast here
https://www.spreaker.com/episode/44255063
Ole has started to see a few more auditions, including Hollyoaks, The Bay, Dark Harvest and Red Rose. He's not actually landed a part yet but his cameo in Ackley Bridge will be aired on All 4 on 19th April, and on Channel 4 on 30th April. Watch closely – its a brief cameo!
The Trail Camera
After the capture of several wild trains I positioned the camera with some bait. This time we actually got some wildlife – a magpie followed by a stray football pursued by Ole. Terry has long been an expert in the use of these cameras, and his latest ploy is to slaughter squirrels and use them as bait to film the local badgers. I tried the same with some rotten chicken – but all I got was the friendly magpie again – he seems to love the attention of the camera!
Going to send Sally to precarious badger sett for the next episode!