September 10, 2021 by Mike Madden
Oh This Year I'm Off To Sunny Spain…
Growth Spurts
As summer turns to autumn, and the UK basks in 27 degree heat, I've made a few adjustments to the vegetable plot!
The tomatoes, dwarf sunflowers and cucumbers have now migrated to the patio, and all are doing well. I am particularly impressed with the cucumbers – didn't think they had any chance of growing.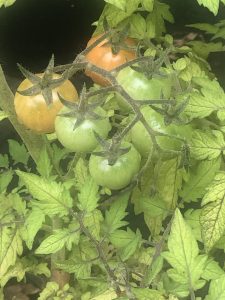 Cucumbers and tomatoes enjoying the sunshine
Ive also moved the sprouts, and although there are signs of miniature sprouts, these have been plagued by cabbage white butterflies.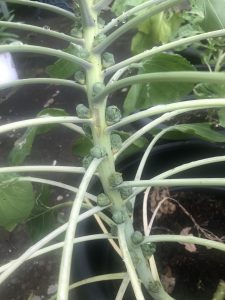 Sprouts might be ready for Christmas!
The runner beans and peas were disappointing, as were the beets and carrots. The lettuce and rocket were plentiful, but I think 2022 could see a new location for the vegetable patch. One thing that we do have an abundance of is plums. There are hundreds of them in our garden, and I shall be making plum gin and plum liqueur in time for Christmas.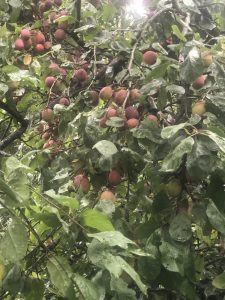 Turning plums into alcohol
Blackberry Way
Of course, at this time of year it is most definitely blackberry season. I have already foraged two bucketfuls, and the fridge is groaning under the weight of jam. However, it was not all plain sailing, and you can see the pests that I had to evade.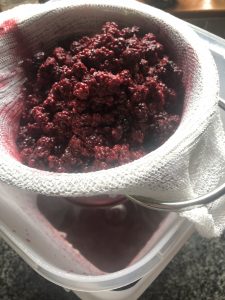 Blackberry Crop Number 2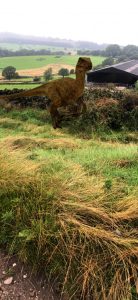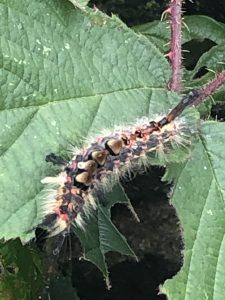 The hazards of brambling
A Question Of Size
Staying with the garden, my new Fuego clay oven should be arriving from Spain in the next couple of weeks.  However, it is not weather proof. Rather than spend £100 on an ugly cover, Sally decided we would have a grand structure to house the oven. So, several people worked for several days to produce this magnificent creation. However, having completed their efforts, Sally and John the builder had a pow wow. It seems that the structure might need to be extended to house the oven itself. Now, this structure is several metres long by a couple wide. So, as the oven is only 110cm square, it seems there is plenty of room. Not so, as it would allow a seating area if we just moved the oven a little to the right.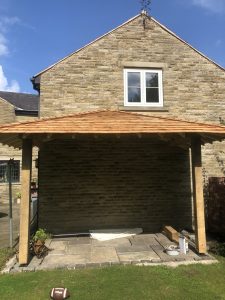 Is this big enough to house an oven?
So, we built a structure to house the oven. It was so successful that now it needs to be extended, to house the oven. I put my foot down and the structure stays as it is. Having said that, the oven has not actually arrived yet…
A Foal's Errand
The pursuit of a new racehorse continues. We headed to York for the music showcase evening in July (though we pretty much ignored Rick Astley). On the way we stopped off at trainer David O'Meara's yard, to get a feel for where our new horse might reside. We drove up his spacious drive, taking in the majestic gallops as we did so. As we came to a halt Sally got out, and that's when the fun started.
David has a Jack Russell with no boundaries. It leapt into the now vacant passenger seat, then onto my lap with paws on the steering wheel. I shooed it away, whereupon it went between the seats into the back, It sniffed at my freshly ironed short, and I tried to shoo it out of the door. Then it disappeared under the back seat, and somehow located an orange ping pong ball. Happy with its prize, it exited the vehicle and ran off.
Calamity Jack
I chased after it. I thought that if we caused David's dog to choke on our ping pong ball it would not be a good first impression. The dog held firm, and then, of course, it was a game. Using all of my dog nous I threw a stick. The dog dropped the ball to chase the stick, and I won!
The yard visit was a lot less eventful after that, but it was very impressive. It will probably be a very nice home until such time as our foal sees a racecourse.
Time flies by, and we have now received the catalogue for Book 3 of the Tattersalls sales in October. We are booked in to a hotel for the two day sale, and I have pored over the pedigrees of all 612 yearlings that will feature at the sale. I have narrowed it down to thirteen, fortunately I'm not superstitious, but I have really no idea whether I am on the right lines or not. Hopefully Luke will get to the real shortlist.
Subsequently I have reduced it to twelve – I wonder if we will eventually purchase one of that dozen.
Under Starter's Orders
Back at the track, and between us that evening we had lots of winners. We also had lots fizz and Birra Moretti, and as Sally opted for cheese and biscuits for dessert she asked, "will the cheese soak up all of the alcohol?" It didn't!
The next time we went racing was by invitation. Luke called me up and asked if we would be available to join him for lunch with The Turf Club at York's Ebor meeting. We decided to jump on the train from Chinley. It was soon evident that the mandatory mask wearing was not very strictly enforced. Luke was delayed, so we were greeted at York by a retired colonel. It soon became apparent that most of The Turf Club were also ex military officers. We backed the first winner at a good price, but frustratingly only managed places after that. Nonetheless, it was an entertaining day, and it was good to see a full house at York after so many false starts.
Gainful Employment
Looking forward to the football season – Ole has now signed for Hayfield, and his first match of the season is away at The Tipsy Toad – should be interesting.
Meanwhile, Zac has finished his football career, or so it would appear. Returning to college he is disappointed that he has to go in all five days rather than getting a day off, but he is getting around to the task of crafting his personal statement for applications to universities and apprenticeships. He got himself a job at The Lamb Inn, initially washing pots but they have since asked him to become a waiter.
The job has been well paid, but that has not stopped him seeking out more income. He agreed to cut Fiona's lawn next door, and after his first attempt he pocketed £20. It fell down his list of priorities, and the next time it was going dark when he fired up the mower. Not surprisingly he missed quite a few patches and had to revisit the job later in the week.
Musing on this he came to the conclusion, "I'll have to alter my personal statement to say works well in daylight."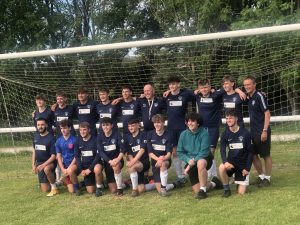 The end of Zac's football career
Lost And Found
Meanwhile Zac has had a few mishaps recently. On one occasion he complained to be completely uncontactable as he had lost his phone. This went on for several days until I took it upon myself to check his car, and there it was. Not even concealed, it lay on the floor behind the driver seat, with about 50 missed calls on it.
Next it was his car key. Zac had stayed at a friend's house, but when he came to return home he could not find the key to his car, and guess what? He didn't have a spare. He searched high and low, and then he searched high and low again. In the garden, in the house, in the rubbish bins, especially the pizza boxes, but it was nowhere to be found. So, he called a guy who could create one from scratch – at a cost of £240. Fortunately he couldn't come for a few days. On the day of the appointment the key mysteriously appeared – saving Zac a princely sum. The key man did not have a completely wasted journey, as Zac got him to replicate his newly found key. Now at least he will have a spare in future.
Finally, he lost his bag. A fairly large sized rucksack that would seem to be impossible to lose, but he managed it. Again, he looked everywhere. His bedroom, under the bed, in the garage, in his car. The only thing he was certain of was that he had definitely brought it back from Aiden's. You may by now have guessed where it eventually turned up – yes, at Aiden's.
Out And About
I have still not recovered from a combination of pulled knee, torn hamstring and general wear and tear, and so I have been stepping up my cycling activities. On one occasion I ventured through Buxworth to Chinley, intending to return via Chapel. Unfortunately I came across a herd of cows blocking the way, so I dismounted and waited for them to pass.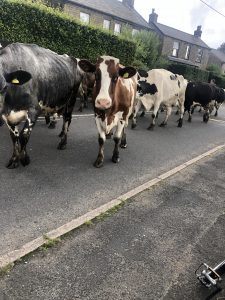 I think they were asking me to moooove
I also went to Leek for a preview event for the Leek Blues & Americana Festival that starts on 29th September. PubHead are one of the sponsors, and it is getting rather exciting as the beer mats have arrived!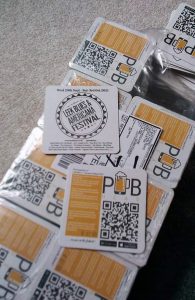 Tuesdays have become quite a relaxing day, and the past few weeks have seen me take a stroll around Lymm Dam, which is not particularly impressive, as well as lunch at the Saracen's Head near Dunham. We used to go there when I was a kid, and I vaguely remember maybe having half a cider – but it was a very long time ago. Good to see it is still there with a beer garden that is still set up for kids, with climbing frames and play equipment.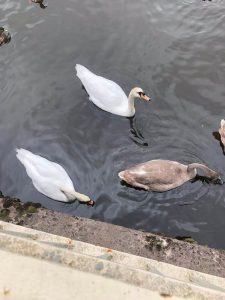 Gloria Swan's son at Lymm Dam
The food was not great – just typical pub grub, unlike another lunch that I went to with Sally. With Ole and Zac both working, we thought we would check out Zac's new working environment at The Lamb Inn. The food was excellent, roast beef and roast lamb with all the trimmings, and the vegetables were probably the best we have had with any Sunday roast. Highly recommended, though Zac was a little embarrassed at the arrival of his parents.
Y Viva Espana
After what seems a lifetime of avoiding airports we finally got to go on holiday to sunny Spain. Malaga to be precise, and although there were one or two hiccups we followed the rules and managed to get a wonderfully relaxing week away. It didn't start off particularly relaxing as both Ole and Zac needed pre departure tests. We ordered these, and Sally posted them at the drop box near Fiveways.
Unfortunately we missed Monday's collection, but no problem, Tuesday would give us plenty of time. Bearing in mind that they were posted together, it was a surprise to see that the confirmation emails that they had been received by Randox were several hours apart. By Wednesday morning, the day before departure, Ole's test had been confirmed as negative, but there was nothing regarding Zac. The hours passed, and panic began to set in as we debated whether to get an emergency test done. Eventually, in mid afternoon, Zac was also confirmed as being negative – and we were all systems go.
Covid? What Covid?
We opted for the lounge at the airport, and after Sally was inevitably stopped (again) at security, this time for a large tube of some kind of moisturising cream in her handbag, we settled in for bacon, sausage and beer. I would not recommend the J.W. Lees lager at the airport – go for a bottle instead. We boarded the flight, and as it set off we realised that we had not undergone a single covid check up to that point.
At Malaga they efficiently scanned the passenger location forms, and then spot checked for vaccination status (Sally again, obviously). There was a glitch in our transfer as the minibus had broken down. However, about an hour after landing we arrived at our villa with the most spectacular view. The owner was extremely helpful, and she gave us a lift to the local supermarket, advising that they would deliver whatever we purchased.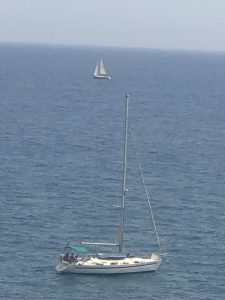 The view from the balcony
Deliver? Manana!
So, Sally and I soon racked up a bill of around 200 Euros, and when we got to the check out with two trollies full, we asked about delivery. "Not until tomorrow," was the reply. "We always deliver next day."
That was not much help to us, particularly with several tubs of ice cream and no food back at the villa, but they ordered us a taxi, and that became our favoured mode of transporting groceries.
The villa was ideally situated, on a fairly high cliff between the beaches of La Cala Del Moral and Rincon De La Victoria, both of which were reasonably quiet with plenty of restaurants alongside.
We also made use of the alfresco cooking facilities with, of course, paella!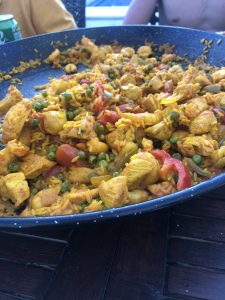 The Price Is Right
As we ventured to the beach Ole was pleased that there were a number of calisthenics areas, and he took full advantage of these despite the heat. The boys both needed sunglasses, and they were in luck as beach sellers were always in attendance, though a polite "no" sent them on their way. On this occasion they wanted two pairs of shades, at 9 Euros each. Sally immediately stepped in and tried to barter the price downwards. Ole put his foot down.
"No, mum, its only a couple of Euros. We will just pay full price." I hate bartering, and I quickly handed over the correct coinage before any more suggestion of reducing the poor man's profit could be entertained. The boys looked resplendent in their tinted sunglasses, but mum was mortified. Almost speechless at the reckless waste, not just of the 2-3 Euros, but also of the opportunity to get the better of a salesman!
It was clear that the Spanish took covid seriously, there was a lot of voluntary mask wearing, and indoors it still seemed to be enforced. However, on the beaches and at the outdoor restaurants and bars it was fine.
The sea was different from one day to the next. At times it was rough enough to surf, but on others it was like a mill pond. On one particular day it was so still that Ole and Zac paddled out around 600 yards on their paddle boards, despite me warning them about the sharks!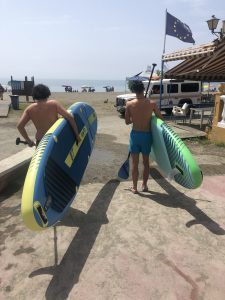 An ideal day for paddle boards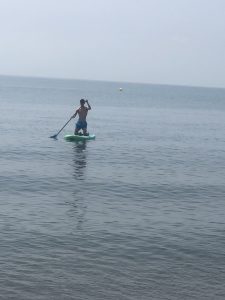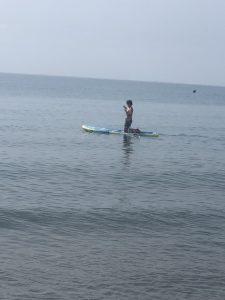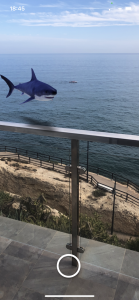 We're gonna need a bigger boat!
The Trouble With Thirteen
Of course, one of the challenges was to get a covid test before we returned to the UK. Our hostess showed us where to go in Malaga, and where to get the bus. However, she clearly did not understand that Lady M does not travel by bus! So, it became Sally's responsibility to sort out a taxi, a challenge she willingly accepted. She rang four taxi firms, and tried to overcome the fact that we were at house number 13, but she had no idea what the Spanish is for 13. "Uno, tres," she tried, but to no avail. "Its trece," I told her, but there was no way she was going to take my advice. A number of taxi firms rang back, and it was something of a relief when a cab turned up twenty minutes later.
We got dropped off outside the clinic, though we didn't know it at the time, and we walked around the block before we came to two clinics almost side by side. Ours was not busy at all, and seemed to consist of three ladies, one of whom spoke good English, but none of whom looked particularly clinical. They took down our details and gave us each a form to sign, then another of the ladies led us one by one into a room.
Getting Right Up My Nose
When it was my turn I had already seen Sally and Zac come out with eyes watering, and I was a little apprehensive. The chair in the room had straps on it, but she did not resort to these. Instead, she yanked my mask down below my nose but over my mouth, then she gripped the swab very firmly. On a previous trip to Malaga we had encountered "the omelette bitch", and this could have been the same person as she rammed the swab up my nose, twisted it, and then pushed it even further. My eyes watered too, but it was done, and we were told to return 30 minutes later.
After breakfast at a street cafe outside a church we wandered back, and four certificates were printed out stating "not detected"! Not exactly negative, and not particularly official looking, but so be it. We flagged down a cab and after overcoming the "13" issue by showing the address on my phone, we were soon back at base.
When it was time to return, Malaga airport, and in particular Ryanair, were very efficient. They checked all of our covid related documentation and waved us on our way, which is more than can be said for Manchester, The eGates were not very efficient, and they had people snaking in long queues like it was a very disappointing ride at Alton Towers. We now look forward to the Dominican Republic in April.
Just An Illusion
You may have noticed the velociraptor in the picture above, eating the blackberries before I got to them. Well guess what? Its not real! Its part of a Google search where certain animals and dinosaurs can be transported to your screen. Fooled a few people, but the shark flying above the waves was a bit of a giveaway!
By the way, the caterpillar was real! And there were lots of them.