October 19, 2021 by Mike Madden
Star Of Lady M
Born Under A Wandering Star
Sally, Fiona, Helen and Kerry went a wandering, and as Fiona had sustained an injury they stuck to relatively flat tracks rather attempt the challenge of Cracken Edge.
Sally hung back to take this picture, and although she titled it a A Hobbit's Tale, I thought that it was Lord Of The Rings and Game Of Thrones that were being filmed in the Peak District.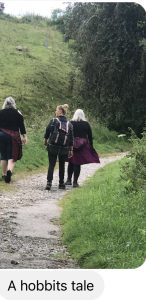 Anyway, I think it was the hairy feet that gave them away.
Lunch
We have started to venture out for Sunday lunch again, with our first two visits being the Church at Chelmorton and the Swan at Kettleshulme.
The Swan possibly just shaded it, but it was very close. Both were excellent, with the service at the Church being outstanding.
The Swan still has gravy that could be a little bit thicker for us northerners, but there is no disputing the quality of their food.
Both are definitely recommended, and we will be visiting again.
Crumble, Crab Apples, Creole and Chilli
As the foraging season comes to a close I made a plum and blackberry crumble cake which disappeared as quickly as it was made.
Our plum tree has produced more fruit than ever before, and I have several jars of plum gin and a plum liqueur maturing in a dark cupboard.
With the last of the blackberries I made blackberry gin, as well as adding some to a crab apple liqueur where the apples were sourced from the tree next door.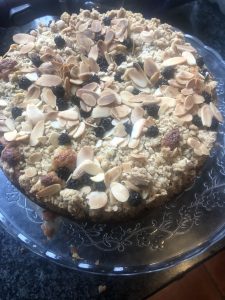 Plum and blackberry crumble cake
Elsewhere in the kitchen I made some chilli jam which could well turn out to be a game changer as a burger relish.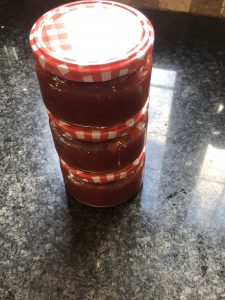 And my Creole cake has moved on to the second stage!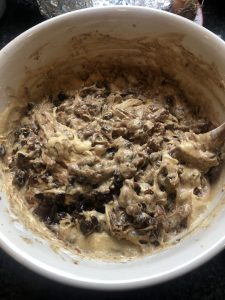 I bought a steamer, really to make a steamed Christmas pudding, but as I had the equipment I decided to try a steak and ale suet pudding as well.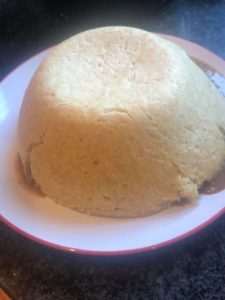 Man On Fire
Meanwhile, Zac has been doing some of his own cooking, starting with a somewhat unambitious grilled cheese and ham sandwich. As he munched on his supper there was a feint smell of burning, and this grew stronger and stronger until the smoke alarm kicked in. A brief investigation showed that he had taken his sandwich from under the grill, and then closed the grill without turning it off.
No harm done, but then he did it again! Now the whole house is on edge whenever he uses the grill, not too dissimilar to when Sally ventures anywhere near the cooker.
Eating Your Greens
The garden has yielded a few small tomatoes from what seemed like a lot of tomato plants, but it also produced several decent sized cucumbers. The cucumber plant hides its produce, but they were there – though they were a bit nobbly. After peeling the skins they tasted just like cucumber!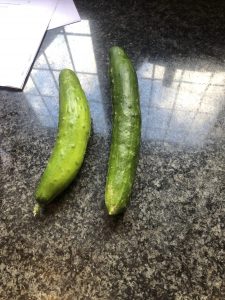 The only thing left out there now is the sprouts. Hoping to have them in time for Christmas!
Wereworld
Regular readers will remember Ole doing a voice recording for a potential Netflix series "Wereworld". That was for a pilot, and twelve months later they asked him back to record a trailer. Things are moving very slowly, but at least they are moving. Of course, there is always the possibility that the series will not get commissioned, or that they will get Tom Hanks in to record the lead, but for now we are keeping our fingers well and truly crossed!
The Dead And The Not So Dead
Ive been taking my mum to a few places recently, including two graveyards. The first of these, St. Martins in Ashton-Upon-Mersey, is where my dad's aunt and uncle are buried. It brought back fond memories of playing amongst the graves as a kid, and the adjacent farmyard which didn't have such happy memories. The church and cemetery provided the inspiration for The History Of Zombies, which is still available on Amazon!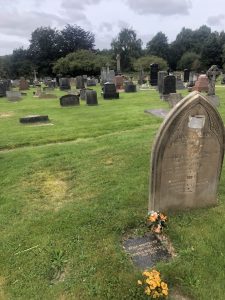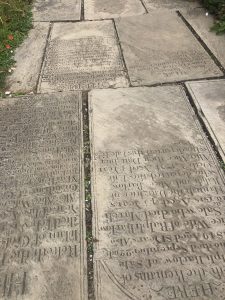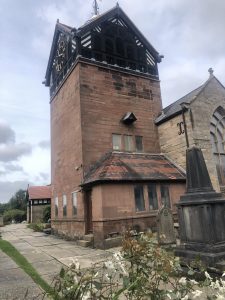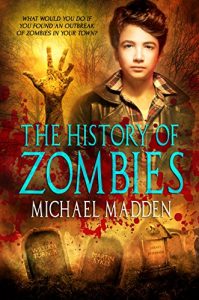 The History Of Zombies on Amazon
The second graveyard was Brooklands cemetery, where several of my family members are buried. We struggled to find one particular grave, but a helpful graveyard maintenance chap asked us for details. We knew the name, and that it would have been 70s or 80s when he was interred, but that was about it. A quick phone call produced a reference, and within seconds we had found the final resting place of my grandmother's cousin!
The following week we did something a little different, though still church related. We went to the United Reformed Church in Sale, and my mum was sceptical at first as a devout Roman Catholic. The event was the PTA, or Pleasant Tuesday Afternoon, as they liked to call it, and involved around 20 senior citizens gathering for a chat, tea, cake and biscuits. It was indeed a pleasant Tuesday afternoon, until one of the ladies stood up and made the following announcement…
"It is the Townswomens Guild meeting on Thursday, and unfortunately Mary Higgs has passed away since the last meeting."
After a brief pause, another lady stood up and announced, "No she hasn't, she's sat over there."
And indeed she was. It was a case of mistaken identity, and very "Vicar Of Dibley". I can picture my mum saying, "It wouldn't happen in a Catholic Church!"
Zachary Played Guitar
Zac has taken up two activities recently, Jujitsu and Guitar. He has completed his first few guitar lessons, but not without incident. He needed to restring my guitar, for which he had to take it apart. It involved unscrewing, drilling, missing pieces, and all manner of household tools. The guitar is still not back in one piece! Meanwhile, my guitar was really only a temporary solution,. He wants an acoustic and an electric. After his first lesson he decided we should just buy an acoustic, as his guitar teacher has a friend who will make him a custom electric.
He has always fancied himself as a bit of a Jimi Hendrix!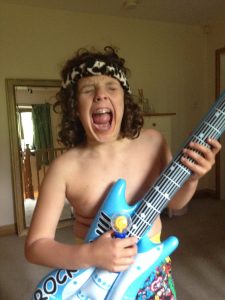 I also took him to the Leek Blues Festival to appreciate some live music and he was very impressed. He particularly liked the double bass, though his favourite was Elvis Fontenot, playing rocked up Zydeco and Cajun music. I suspect his next request might be for a washboard.
Cleanliness And A Teenage Boy
The Jujitsu brings its own set of problems. He has successfully enrolled, and he now has a Gi to wear during lessons. There are very strict instructions about cleanliness and hygiene, and the Gi is supposed to be washed after every session. I am not sure Zac has fully grasped this, as before one session I asked if he was having a wash, to which he replied, "I had one yesterday and I've not done much since." Before his latest session I asked if he had washed his Gi. "No," he said, "I'm just going to spray it with Febreze."
Next Box Down
Sometimes in life, usually every ten years, you get to a birthday that I like to call "the next box down". This happened to me recently, so now when I fill in an online form, where you indicate your age range as being 20-29, 30-31, etc, I have now reached the next box down.
We have several things planned, but as gifts I received a fully enamelled paella pan and several terracotta pots that are just perfect for the imminent arrival of the new oven.
Fuego have promised this for tomorrow – so fingers crossed.
And speaking of presents, Fiona was very impressed when Zac walked in and handed his mum a tin of Heroes. "Just for you," he said. The bubble was well and truly burst when Sally explained that he had only bought that as he had eaten almost a whole tin that she had put away for Christmas!
Madam!
Our annual trip to York races, that now happens several times a year, was not without incident. A friend had a runner, but he would not be able to attend, so Sally decided that we should represent him, especially if it meant visiting the winners enclosure. Unfortunately the horse was running in the last race, by which time we had consumed rather a lot of alcohol. We met the jockey, and he was hopeful rather than confident.
As the horses went off towards the start, Sally spotted a friend on the other side of the parade ring fence. She crossed the path to speak to them, blissfully unaware that another horse was still parading. "Madam!" shouted the female steward, but Lady M did not respond. "MADAM!" she shouted again, with a fair degree of urgency as the horse approached. When there was still no response she grabbed Sally by the waist and manhandled her to safety on the other side of the path. There are not many who would have been brave enough to do that, but I think the champagne had probably mellowed the Lady by that time.
Over at Middlethorpe Hall, our hotel of choice for the racing, my sister spotted a woman in a long red dress, but when she and Sally tried to see who she was, she was gone! So is Middlethorpe haunted? Woooooooo! More to follow on this one I am sure.
The following day I went to York again, this time in the "cheap seats" that are the grandstand and paddock. Whilst I am always quick to praise York as a racecourse, the queues at the bars and food stalls were unacceptable. Wouldn't surprise me if many people were put off having to wait 25 minutes for a can of lager.
It's Good To Be Back
After what seemed like an age we finally got back to London to watch the NFL. The main difference was that we travelled to Tottenham's stadium rather than Wembley, and if I'm being honest I prefer Wembley.
We bought premium tickets for Atlanta Falcons vs New York Jets, which allowed us some free food before the game, but we would have preferred to walk around the stadium and sample all sorts of stuff rather han the basic choice of pulled pork or mac n cheese. However, we had managed sausage rolls at Euston so we weren't too hungry.
Only In America!
Bets were on, cheerleaders were on the pitch, and we settled back for the national anthems. The British was a formal affair, with a lady in a flowing red dress belting it out in perfect tune. The American version started and we wondered where the singer was, until we looked up and saw her on the roof. The boys thought this was a typical US thing to do, well over the top, and sarcastically suggested that they would probably end up with fireworks and jets! As she built up to the finale, sure enough, four fighter jets flew over the stadium, followed by an enormous burst of red, white and blue fireworks.
The game itself was quite a good one, and it seemed like some of the bets must come in but sadly not! However, that was offset by Aitch who was performing the half time show. To be honest, although he was described as "Manchester's finest", I had never heard of him. After Ole enthused about the three songs he performed, I must admit that it sounded like just one to me!
The highlight of the second half was Zac catching a mini football fired into the crowd. We missed out on a few t-shirts and other assorted missiles, but the football was safely clutched and tucked away.
All Aboard
When the game finished we managed to get to the train within a couple of minutes. This meant that we were an hour early on our journey home. However, if the train had a capacity of 100 there were at least 200 passengers on board, a breeding ground for disease. It made me feel like I should book a Covid test for the following day.
Euston station is not the best for Sunday evening food, so we went to Burger King. Strangely, because it was after 6pm, they only served "large" meals. Not sure what people concerned with obesity would say about that, but I don't think they need to worry. The BK version of "large" is actually miniscule! A real rip off and an experience that won't be repeated.
Another Big Birthday
It was Zac's 18th birthday a week later, and, as explained earlier, he wanted a new guitar. We headed down to the marvellous PMT on the outskirts of Manchester, and we could have spent hours in there. We cut this short as we had a lunch date with Gabi, Ciaran, Nixie and Miles. Unfortunately Reds True Barbeque has gone a bit downhill, and is certainly not a patch on Hickorys, but the kids seemed to enjoy it.
Newmarket By Numbers
Finally, we set off for Tattersalls in Newmarket to buy our racehorse, and came back with more than we bargained for! A very smooth run down meant we were in position by 9.15 with the sales starting at 10. Our friend and bloodstock agent, Luke Lillingston, had made a list, and so had I. Sadly, not many of my choices were on his list. So, we decided to go with him as I did not really know what I was looking for.
Our first choice was in the ring at about 10.40am so we got into position and prepared to bid. I would have been a little disappointed to win that horse as we had planned a full two days. However, I needn't have worried. We never even got to raise our hand as the price soared to £80,000.
This trend continued for the rest of the day, and it was close to 9pm when our final candidate for the day appeared under the hammer. This time we did get to place a bid. Unfortunately it soon sailed on past our limit and eventually sold for £28,000. However, we did get to meet the wonderful Willy Carson who was selling horses from his stud farm.
We had dinner and then returned to our hotel, ready for tomorrow's skirmishes. It was a really nice hotel, but we did not have much time to spend there. Even the breakfast had to be a take away!
Lunch With The Maddens
Back at the sales we visited horse after horse and came up with a shortlist of 9 or 10. The first of these went for £50,000, and we then had a gap to regroup. A horse shied away from Sally, clearly disturbed by her black coat. Another got loose and almost knocked me over. It was a hazardous time so we retired for lunch with another business associate. He was off to St James Palace later that day, for a charity dinner with Prince Charles and the ruler of Qatar. Sally complimented him on it. "Lunch with the Maddens followed by dinner with Prince Charles and the ruler of Qatar. That's quite a day you'll have."
Star Of Lady M
After lunch we looked at more fillies, and some were crossed off the list after we saw them in the parade ring. Others went for far too much, and by 5.30pm we were left with just four. The first of these, a beautiful grey by the stallion Havana Grey, looked to be in our price range. We were bidding against ex jockey and now successful trainer Jamie Osborne, but he must have seen how determined we were. The hammer went down, and she was ours. We registered her for her journey home, then went to take photos. After that she went for a wind test. This is where she runs round in a circle for five minutes and a vet listens for any odd noises. Not particularly scientific but a well established final check.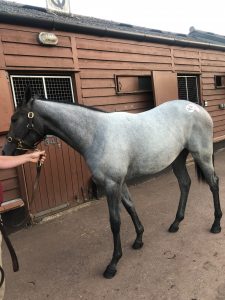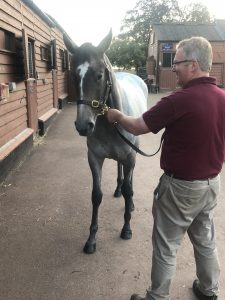 We retired to the bar to celebrate, and after some deliberation we decided to call her Star Of Lady M (subject to confirmation). She will be trained by David O'Meara close to York, and she will run in these colours!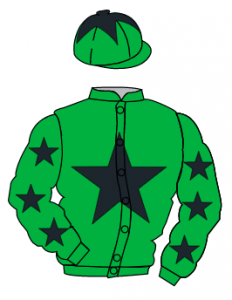 Derbyshire Duchess
While we were in the bar our other three choices were due into the ring. The first and third of these were half sisters, but we thought they would be out of our price range. The first went for £35,000 and so we were even more pleased with our purchase. The penultimate selection was our least favoured, but even that went for £22,000, and we were expecting £50-£60,000 for the last one, which on looks would have been our first choice. Luke went into the ring to see who was bidding, and he even placed a couple of bids himself but to no avail. She went for the surprisingly small sum of £20,000, and very quickly Luke had news!
The trainer, Tim Easterby, had bought her, and the breeder, Richard Kent, wanted to retain 25%. The rest would be sold, and she seemed to fit the profile of our syndicate. So, half an hour after having no horses, we now had one and three quarters. Monday was busy with registrations and conversations, but our second filly is likely to be named Derbyshire Duchess. She will probably run in the same colours as Star Of Lady M. More updates to follow!