November 19, 2021 by Mike Madden
Enter The Duchess
Emerald Duchess
It has been a really busy October, so let's start by clearing up the horse situation. Star Of Lady M has settled in at David O'Meara's yard, and we are going to visit her towards the end of November.
Just half an hour from her, our other filly, now officially named Emerald Duchess, is munching on grass at Tim Easterby's. This filly is owned 75% by our syndicate The 1891 Group, with the other 25% split between the breeder Richard Kent and the trainer. We will also be paying her a visit in late November. Incidentally, David O'Meara and Tim Easterby were the top two trainers in Yorkshire for the 2021 season.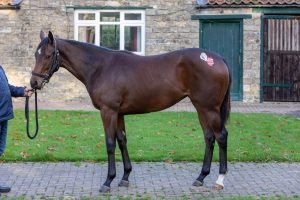 Emerald Duchess
An Epic Adventure
Things are picking up in the acting world with Ole getting an audition for a games company. He passed that, and was quite excited to get a covid test from Epic Games as they invited him in for a screen test in Manchester. Waterloo Road was the subject of his latest audition, and he was on the makeup list of the next series of Ackley Bridge, but that may have been an administrative error.
Lost And Found
Zac has not been having the best of times, as on separate occasions he lost his driving licence, phone, bank card and airpod case. Fortunately he found the phone and case, but the cards appear to be lost in murky corners of his room.  Rather than tidy up, he has ordered new ones!
The Spanish Oven Saga
The Spanish oven finally arrived from Fuego, and although the delivery driver was very helpful he was unable to get it through the gap with his very low pallet truck. We now need the brick structure that it will rest on to be built, the chimney to be fitted, and then the oven to be lifted into place. So when will we get pizzas out of it? Well, not quite yet – it has to go through four days of curing before it can be used to actually cook anything.
In The Kitchen
The more traditional kitchen has seen a lot of activity, and obviously at this time of year pumpkin pie was top of the list.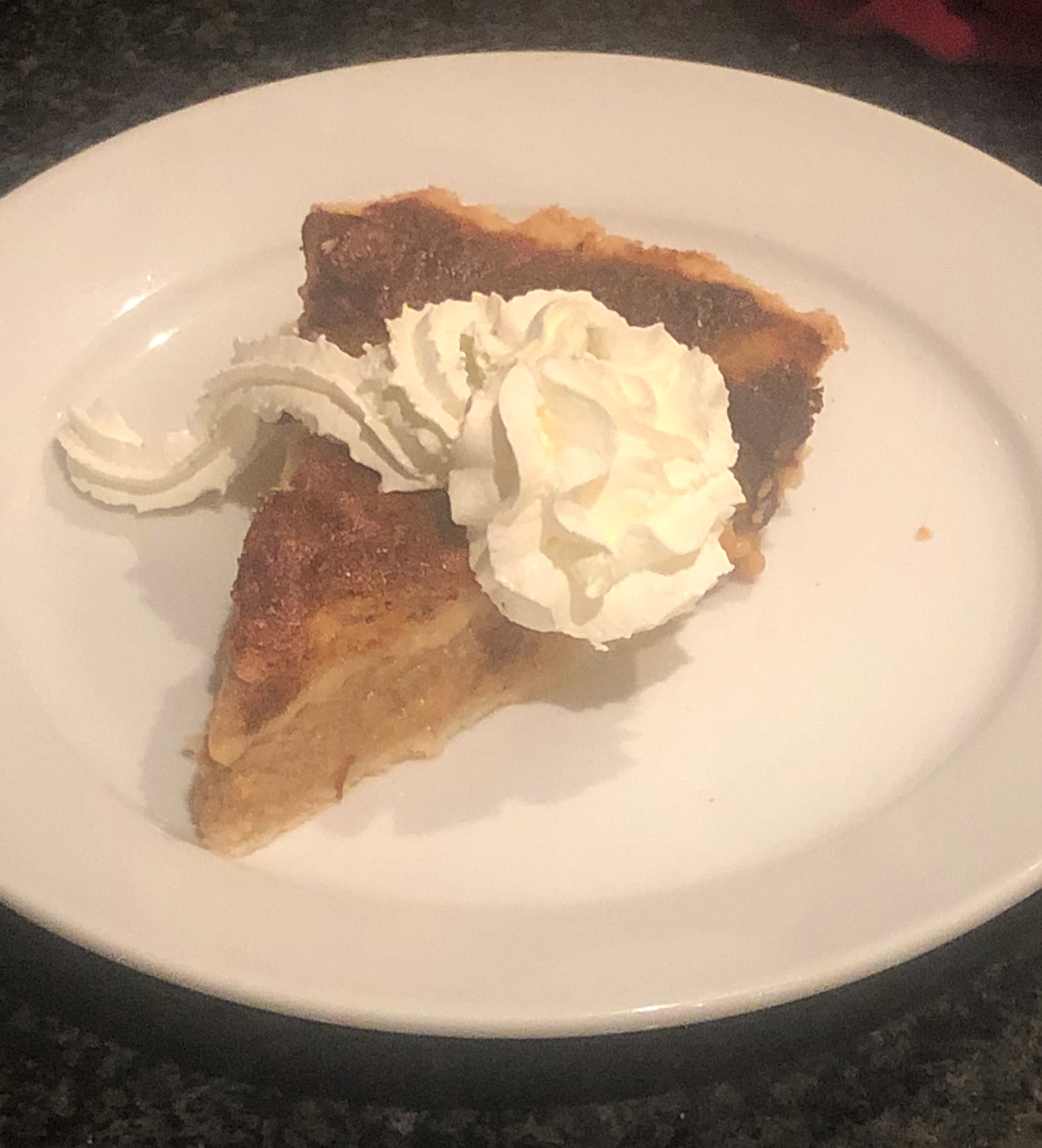 I made a Christmas pudding in the traditional way, so we are going to try this at the end of November to see whether it is worth the effort to make another for the big day itself. Meanwhile, the Christmas cake has had two feeds. It has now tasted port and rum. Brandy, sherry and Cointreau still to go!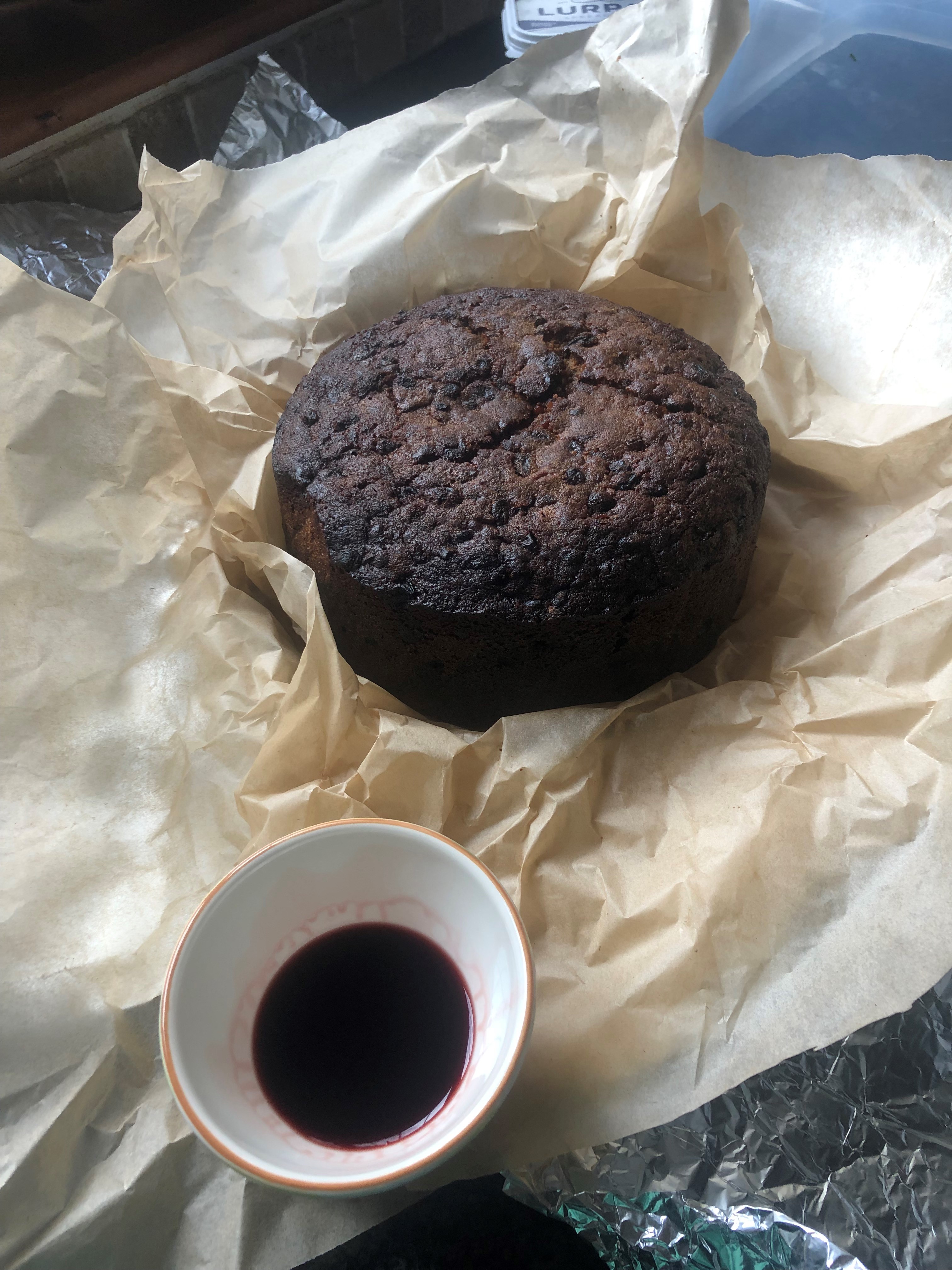 Port going in
I also made a dish with chicken drumsticks in an attempt to recreate the duck wings that went down so well in Galway (see below). However, the drumsticks just would not do – so I scoured the internet and sourced some organic duck wings.
Half was done in a sweet chilli sauce and half in a buffalo sauce that I found in the shed. Sauces can never expire, right? Anyway, the wings were good, but not great. A lot of faffing about to get not much meat. I might try and get some prepped wings next.
Of course, as it is November there had to be the obligatory Christmas biscuits. They were made last week – but they have almost all gone!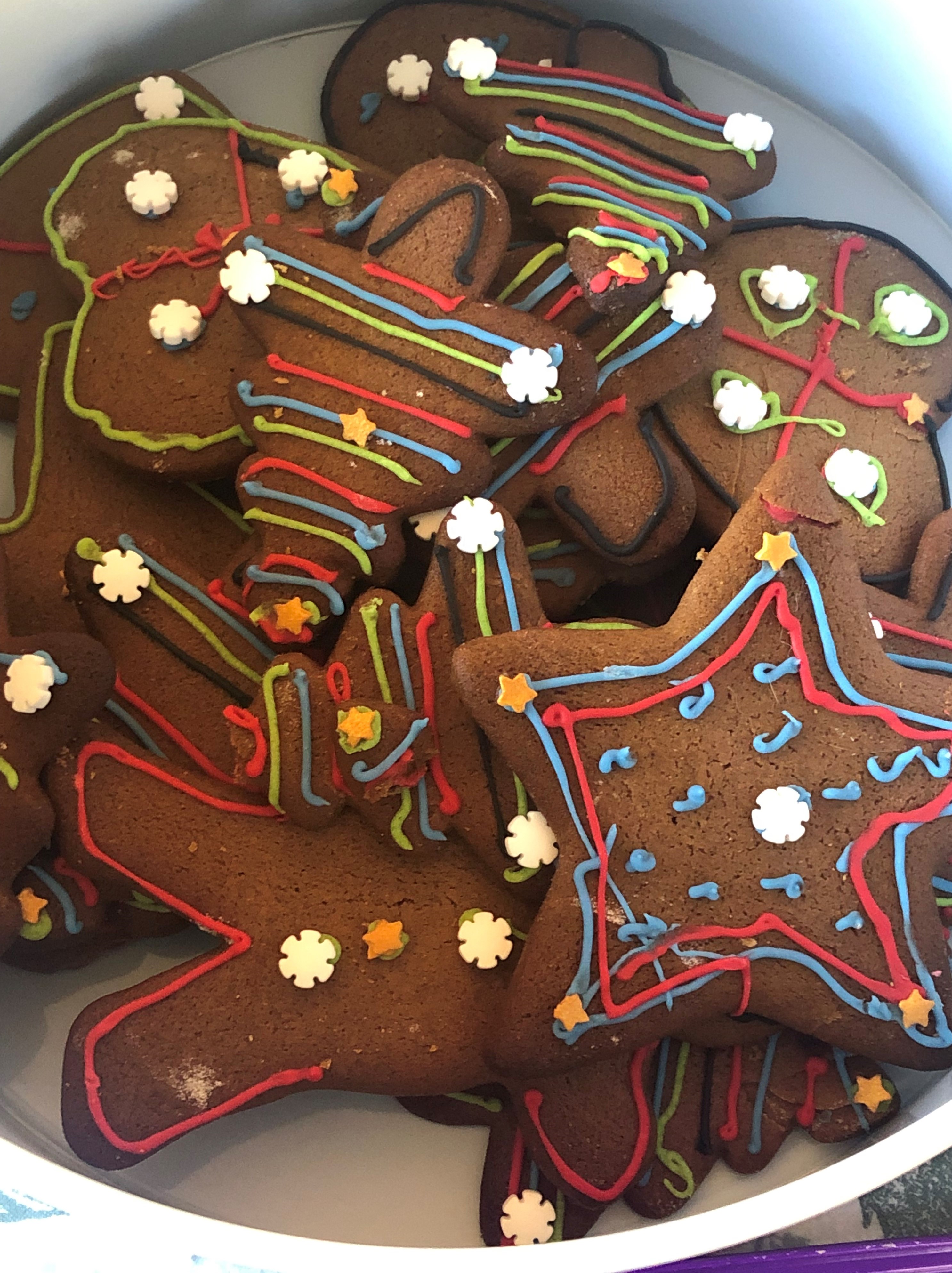 Finally , I decided to make my first ever sticky toffee pudding. It was a resounding success, based on the Mary Berry recipe rather than the date laden Nigella one. Unfortunately it went too quickly to actually take any pictures. Sticky Toffee Pudding take 2 should be appearing soon.
Guinness In Galway
We decided to go to Galway races on another of my birthday outings. This was in the balance for a while due to covid, but we eventually got the go ahead and Sally booked a table for four in the restaurant.

It was an early start on one of the busiest days of the year. We arrived at the airport where it seemed that the whole of the north of England were trying to get away. It was the start of the school half term holidays, and I was glad that I had booked Fast Track to get through security.
Of course, Sally got stopped, as has become inevitable, but we got through to a busy concourse where the queue for a drink was ten minutes. Sally managed to bypass this at a coffee bar attached to a restaurant, but there was no chance of food so we headed for the departure gate.
Shannon Before Breakfast
It was just a quick hop over to Shannon, where the rental car pick up was amazingly smooth. Although it was still only 7.30am, I researched a breakfast place close to the airport that opened at 8. We found it, despite the satnav taking us to a residential area, but apparently it didn't open until 8.30 because of covid. I hadn't realised that covid stops at 8.30, but we decided not to hang around and we hit the road for Galway.
We figured that there must be services on our route, but when we saw signs taking us off the motorway they didn't actually mean that there was a service station. What they actually meant was that somewhere within a few miles of the exit you should be able to get food, drink and petrol. That proved to be no easy task, and after seeking breakfast in vain, we decided to head straight for Galway.
Galway By Day
Once there we parked up and wandered the narrow streets looking for 56 Central. This was upstairs overlooking some traditional Irish shops, and we encountered our first hint of where Ireland is in terms of their covid journey. We all had to show evidence of double vaccination before we were allowed in, a theme that would be repeated throughout the weekend.
Anyway, the Irish breakfast was much welcomed, and we had our first of many tastes of white pudding!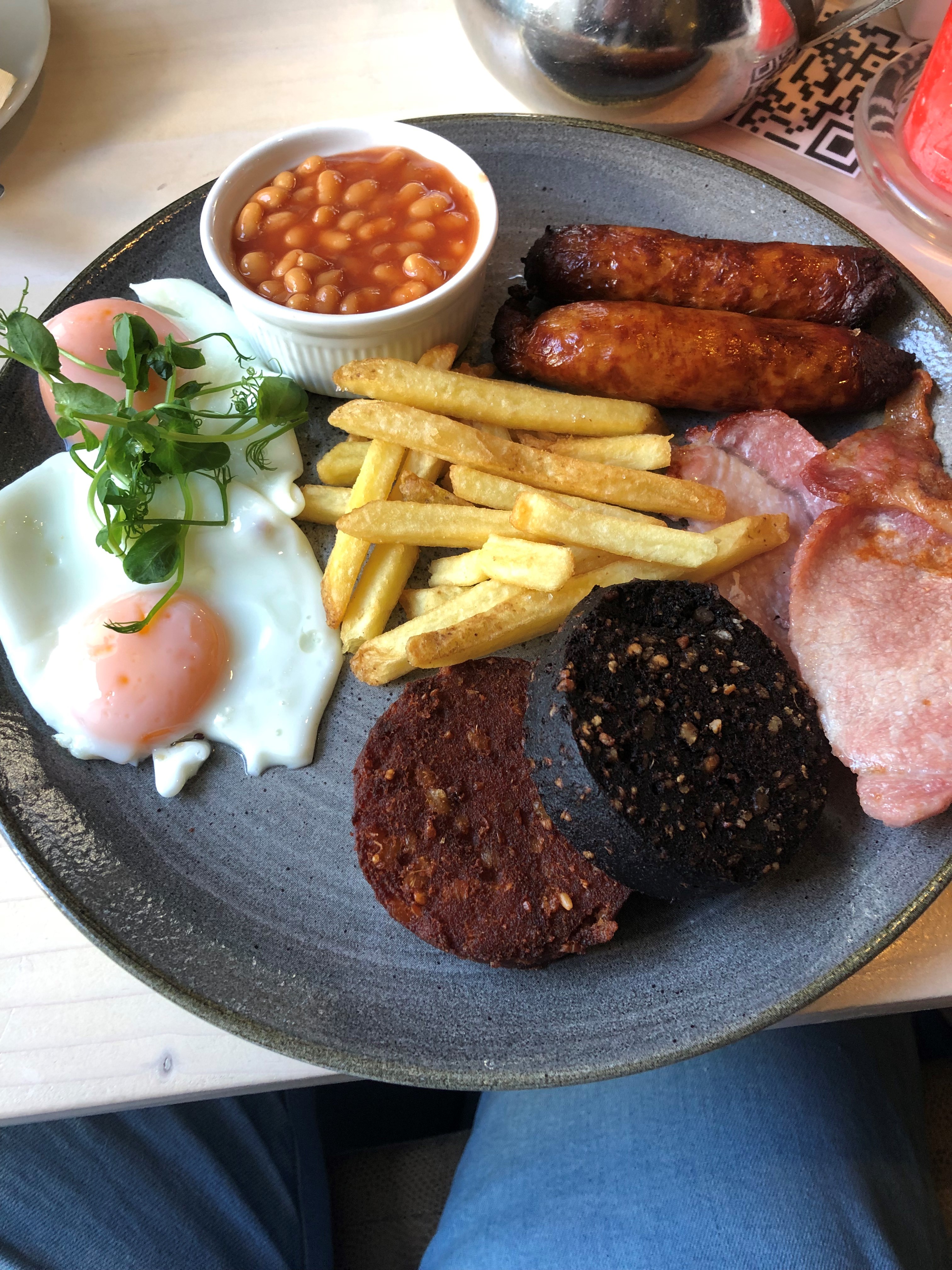 A short time later we arrived at the Galway Bay Hotel. A guest was berating a receptionist because of the lack of coffee. The receptionist explained that there was a resident barista and that coffee was available in several places. This did not deter the guest. We moved to check in as the debate subsided, and Sally empathised with the receptionist. At this point we heard the standard Irish response for pretty much everything. "Nae bother", and she gave us one of our two rooms as it was still rather early.
The swimming pool was cold, and the hot tub was not really hot. We dispensed with the disappointing leisure facilities and hit the bar. Guinness, of course, and then a nap before we headed into town.
Surf And Turf
Zac forgot his phone for the journey into town. This was an issue as everywhere checked the double vaccination status of everyone. Fortunately, he had messaged me with his details before we set off, and that was accepted as proof. So, we wandered between a few bars before heading for our reservation at Beef & Lobster, an appropriately named place where I had a steak and Zac tucked into his favourite seafood. The duck wings were a great starter, with a spicy hoisin style sauce. Even Zac tucked into them.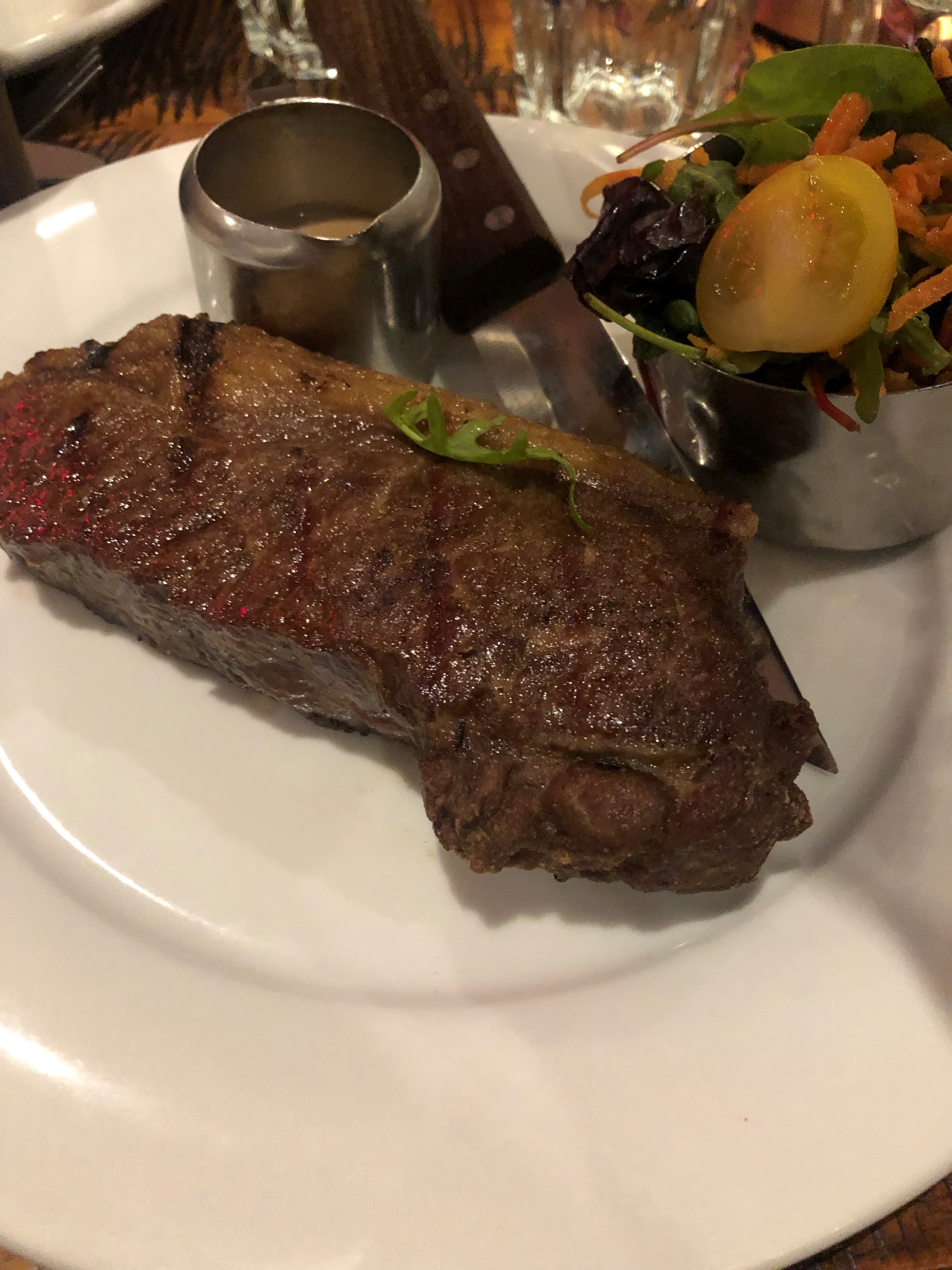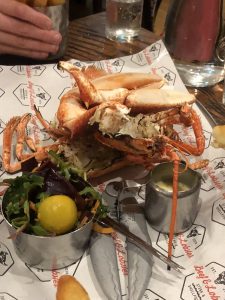 Beef & Lobster
It was evident that the Irish were literally allowed out of lockdown for the first time on that day. As the hour grew later the streets started to fill with revellers. We opted for the quieter surroundings of our hotel, where more Guinness and Irish whiskey were the order of the day.
The following morning, after another hearty breakfast, Sally had an issue with reception. They had clearly received our tickets to the races, but thereafter they struggled. It seemed beyond them to actually locate the tickets and hand them over to us.
The Galway Shore
We went for a walk along the seafront, which was quite difficult against the prevailing wind. However, that did not put off many hardy souls. There was an army of crazy folk, jumping into the bracing Atlantic and swimming around like it was normal.
"Its great, its good for the soul, its nae bother", they said, but we decided to remain dry.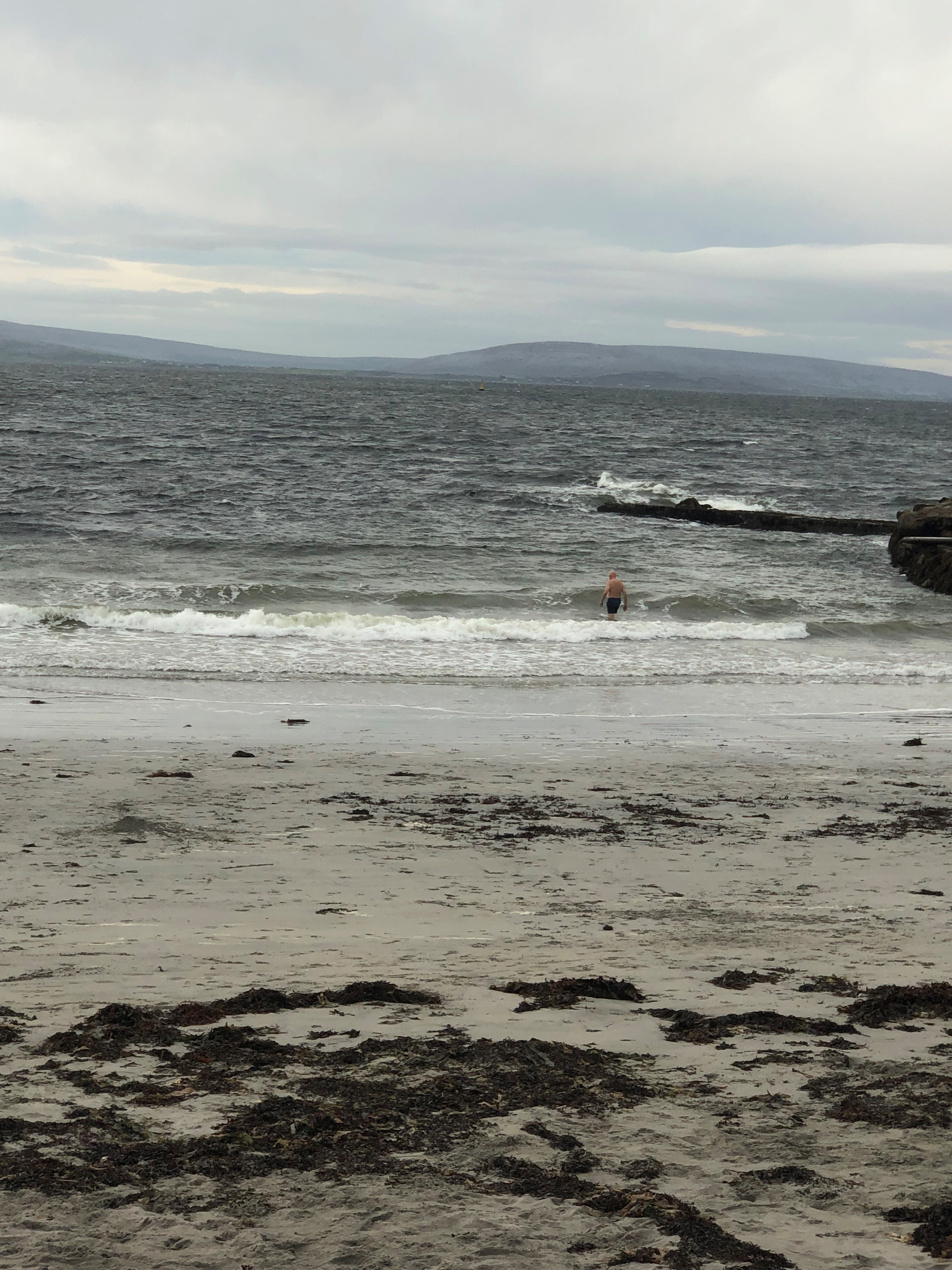 The sea was as cold as it looked
A Day At The Races
We headed off to the races which was a rather informal affair. A huge marquee housed some tables and an Irish band just going through their rehearsals, but with the wind and the rain lashing all sides we were relieved when the restaurant opened and we could head upstairs and indoors.
This was a marvellous affair. We were seated next to a window overlooking the last 100 yards of the course. The caterers had honoured our request that the fancy four course luncheon be replaced by sausage and chips for Zac, and we tucked in. Being autumn in Galway, the racing was not the best quality, but no one could fault the value and the traditional Irish hospitality. Zac struggled to pick a winner, in fact he struggled to find anything that remotely had a chance. His selections finished last, second last, and one even fell at the first. When it seemed like it might turn itself around, his choice in the last was run out of it to finish second. Ole had a winner, Sally had some places, I had two winners, but we weren't staking a lot. The fact that we all lost something on the day really was nae bother!
Definitely one to return to, and the boys are now looking forward to the day when Star Of Lady M makes her racecourse debut. 
Galway By Night
We got a taxi into town, but most bars required a reservation. Despite the warnings we tried a few without success, and even when we could get in the live music was massively curtailed due to covid. We did manage some traditional Irish shopping, then we headed back to base. At the hotel Zac went to bed, still exhausted after the previous day's early start, while the rest of us had burgers in the restaurant.
The following day, after another hearty breakfast, we had a few hours to kill. We explored the possibility of a detour to the Wild Atlantic Way. That would have taken several hours, so we opted for another stroll along the beach. To be fair the sea looked a bit warmer, and on a clear day you might even be able to see America.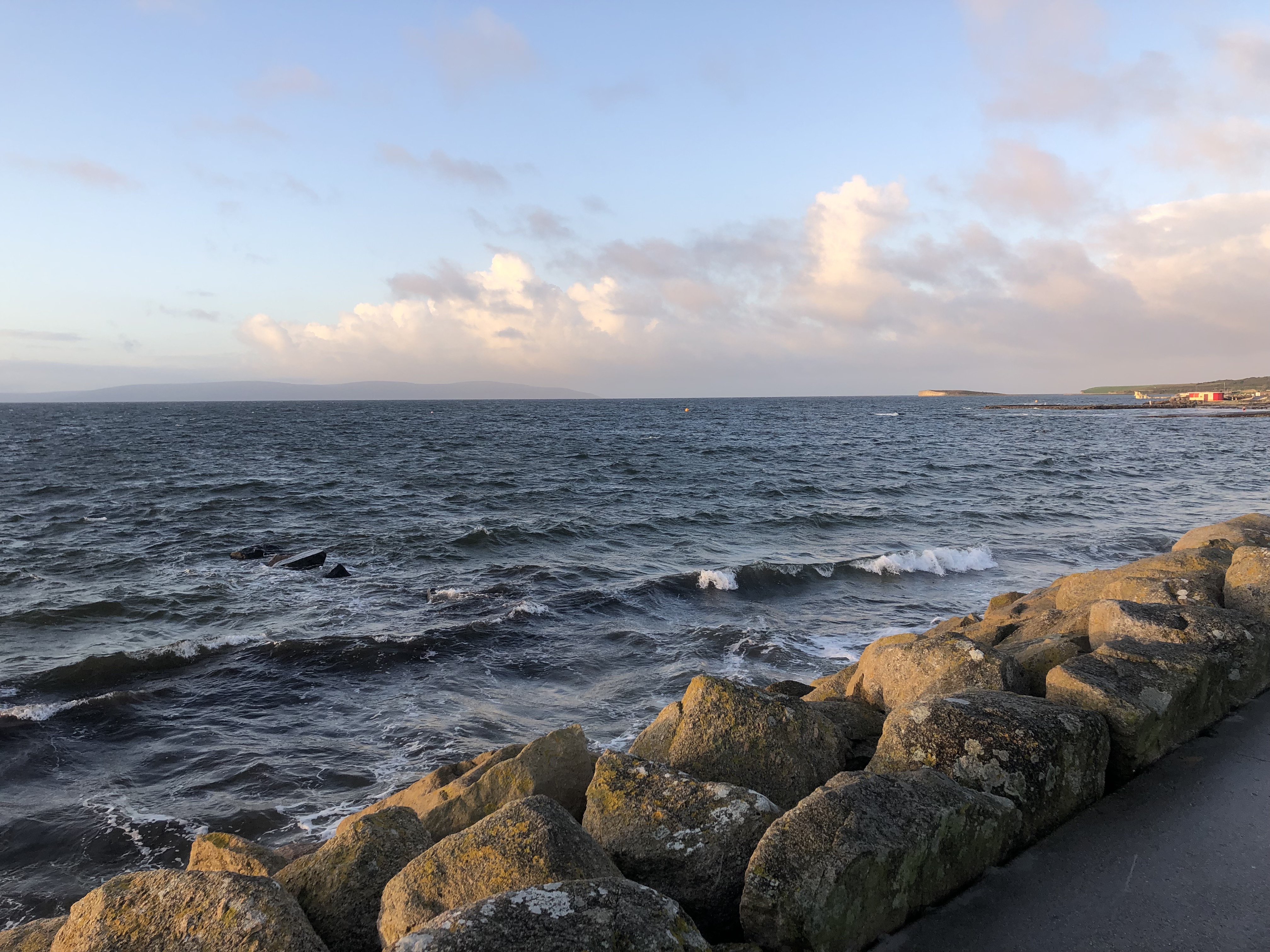 Eventually we decided to drive to the small town of Ennis, which was largely closed! The narrow streets evoked the sense of what the place might be like on a busy Friday or Saturday. On a Sunday there was not much to see.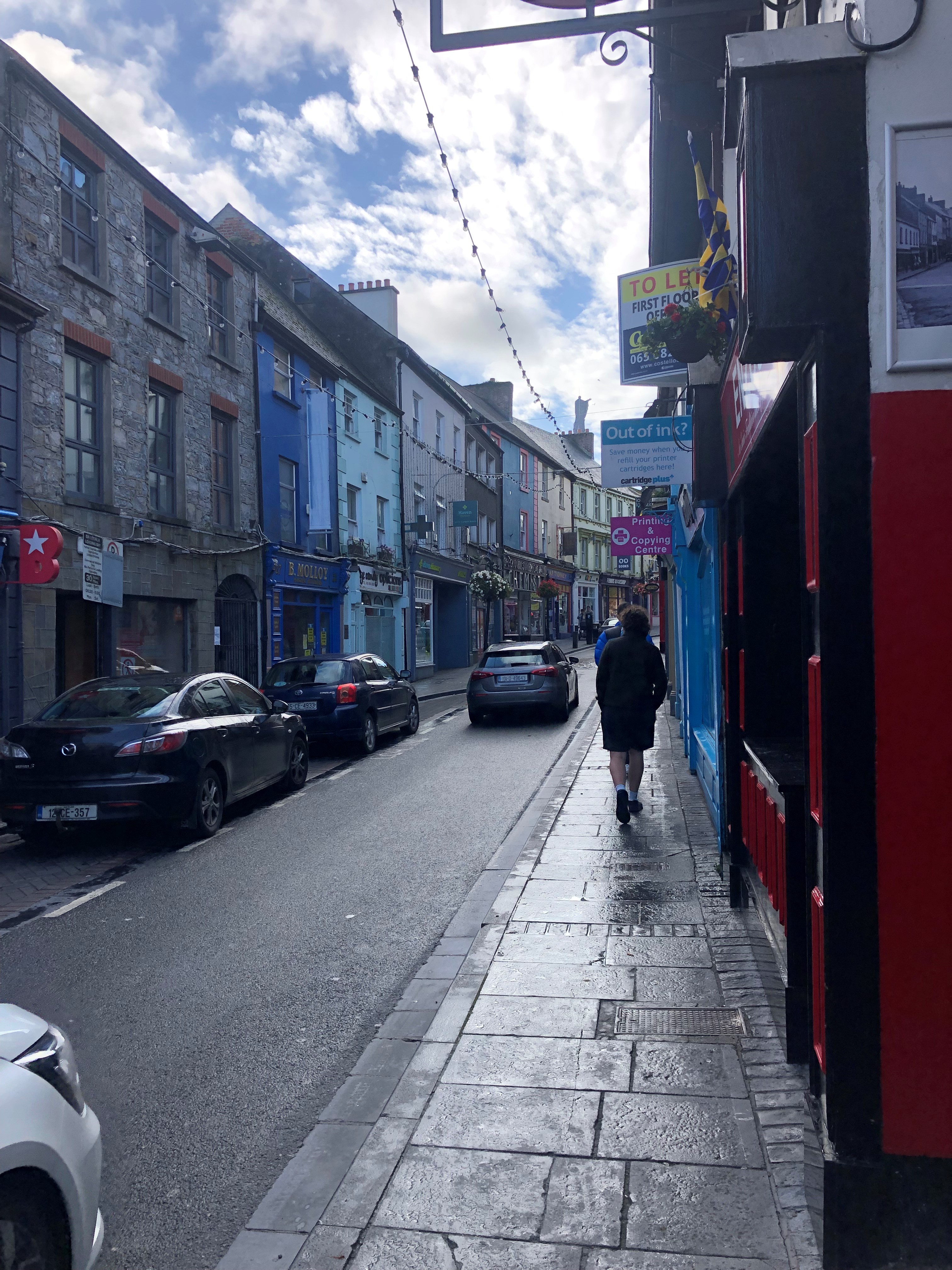 We headed to the airport and I had the best Irish Coffee that I can ever remember. (When in Rome, and all that). The rest of the gang went shopping, and finally we flew home. I was feeling pleased with myself as I had booked Fast Track through passport control. However, I was thwarted when we were ushered straight to baggage reclaim. Apparently arrivals from the Republic Of Ireland don't need passport control!
Lunchables
Two more outings for Sunday lunch, and two very different venues.
First up it was Biggin Hall. This is a rather nice restaurant that does two or three course Sunday lunch as well as other dishes. It was quite expensive, and the sticky toffee pudding tasted burnt, but the Sunday lunch was excellent. I would go again for a special occasion – but I prefer a pub.
Next up it was the Shady Oak, just a short trip over the hill. We had heard dubious reports, but we ordered roast beef with the optional addition of cauliflower cheese for £1.
Overall it was great, certainly huge platefuls. Sadly, the cauliflower cheese was a bit of a letdown, and I would have preferred a little more meat. It was also a little expensive at £15.99 – but I would definitely go again. I would perhaps try other things on their menu, rather than the traditional Sunday roast.
Pizza Cake
Zac's 18th birthday came along in October, and the talented Caroline Crankshaw made him a cake. I don't think it is actually made of pizza – but it gives some insight into Zac's eating habits. Not sure why he looks like someone out of Camberwick Green though!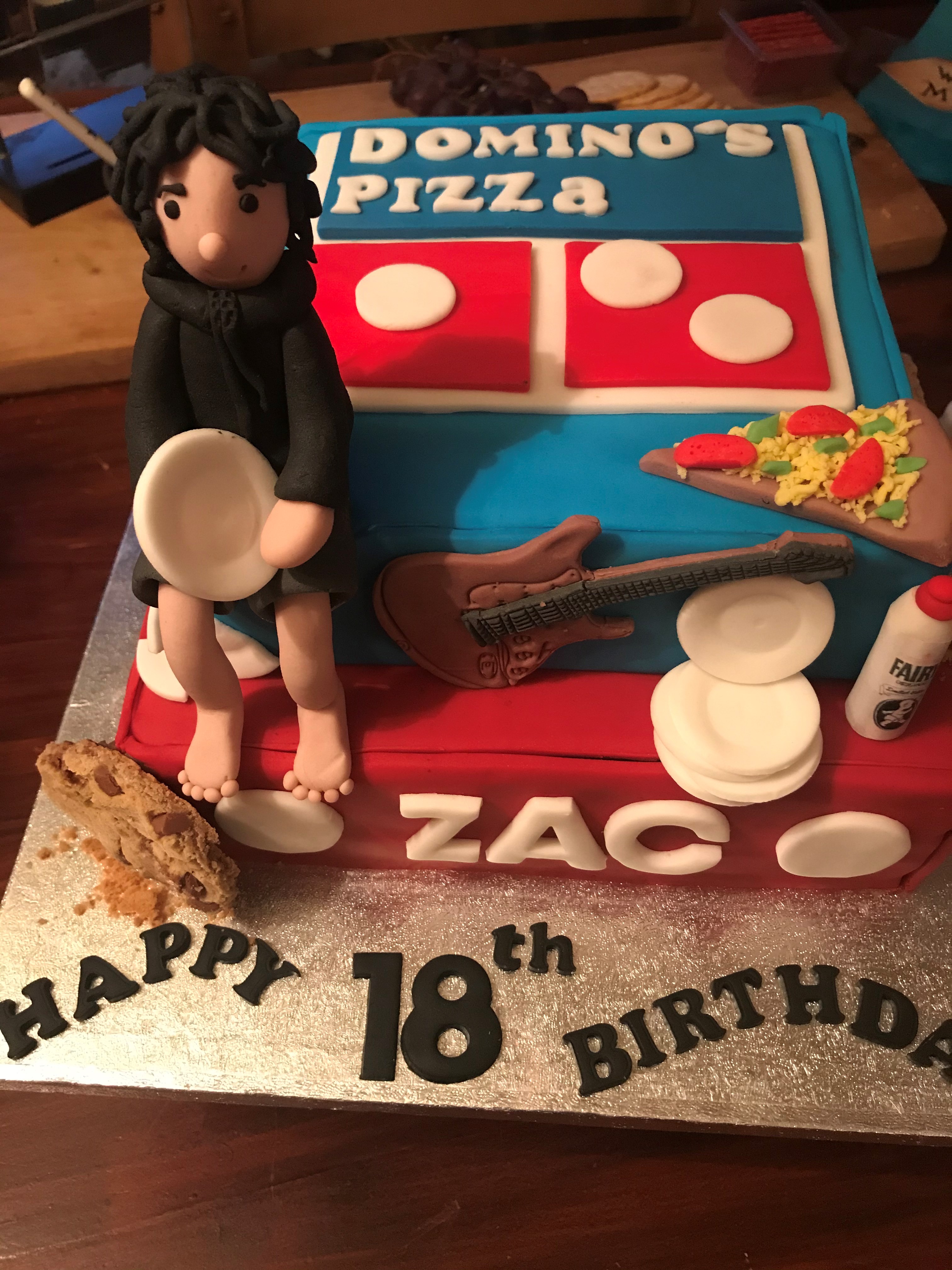 Death In The Graveyard
I had another trip to the graveyard at Brooklands – and came across plenty of these…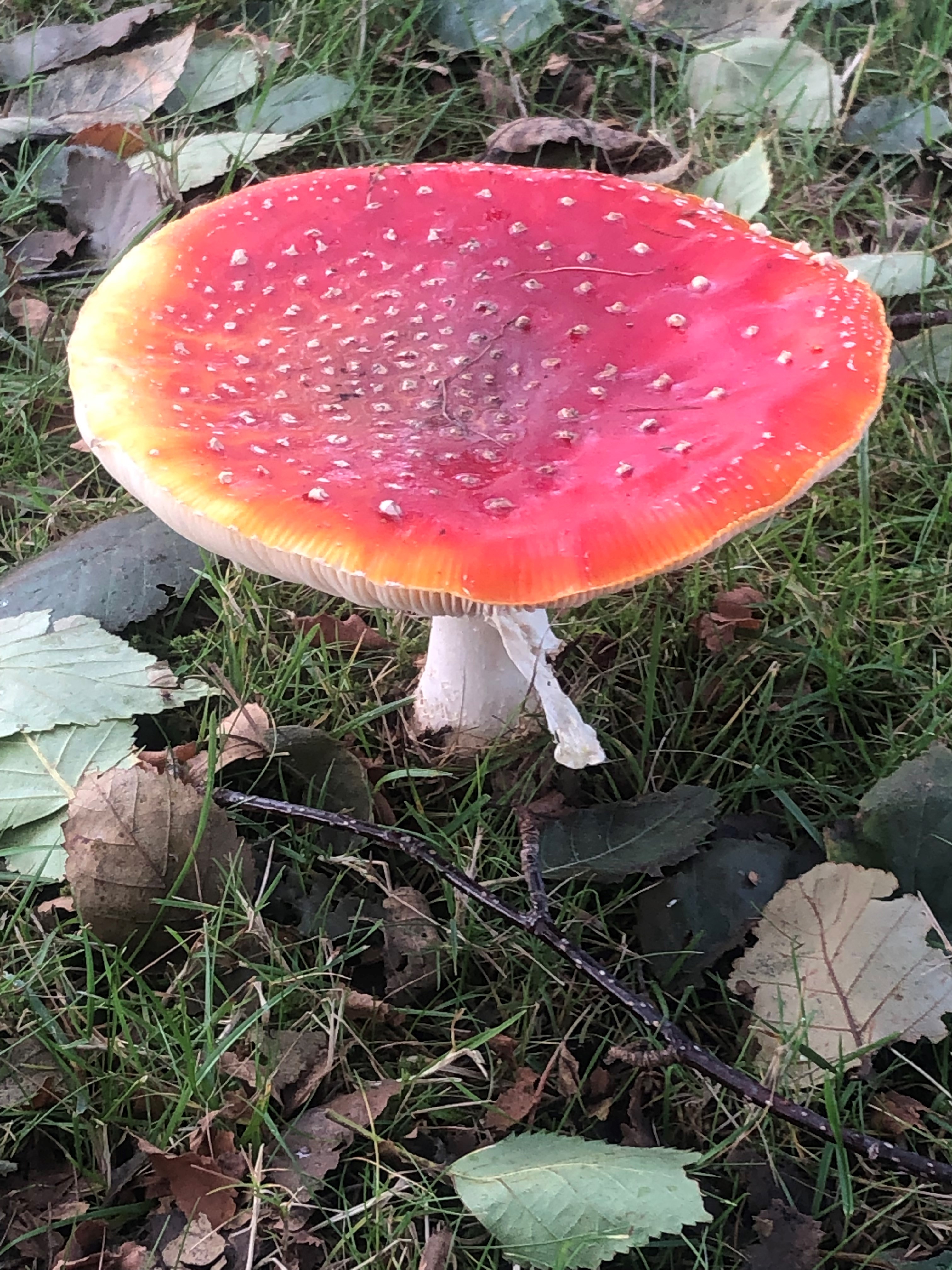 I don't think they will bother the residents much – but I think they can do a lot of harm to the living!
A Matter Of Time
Finally, Zac woke late one Saturday morning and I instructed him to clean both his room and the garage before work. "I've also got to get fuel," he said, "so I won't have time." I looked at my watch, and it was approaching 11.30am. "What time are you working?" I asked. "5"  he replied, without a hint of shame.