December 14, 2021 by Mike Madden
Gingerbread, Jabs And A Song For Rudolph
Jabbed!
Covid seems to be in the news for all sorts of reasons, and for me it was a relief when I was called for my booster. Now, having been double jabbed with Astra Zeneca I was about to be boosted with Pfizer, which is a bit like going from 1970's 3% Skol to 2021's 5% Peroni. The hangover certainly felt like a 5% one, as for 48 hours I was shaking, shivering and generally feeling like I had flu. Another day and I was back to normal, so I am now prepared for Covid to do its worst!
My knee is a different matter. I went back to my original surgeon after having no improvement through a course of physiotherapy. An X-Ray confirmed that my previous osteotomy was well healed and functioning normally, and an MRI scan showed that there was not much cartilage damage and the ligaments seemed to be intact. However, there was a lot of fluid around the joint, so the first course of action will be to drain that. I will then have an injection of Duralane, which sounds like it would kill 99% of all household germs, but it is actually Hyaluronic Acid which acts in a similar way  to the fluid that you would normally get around your knee.
The downside is that I wont be able to drive for 24 hours, but that is so much better than the six weeks of purgatory that Sally had to endure the last time I saw the same surgeon.
Winter Not So Wonderland
I have been to two festive events, in Manchester and Buxton. The legendary Christmas markets in Manchester were a little subdued, mainly because the focal point, Albert Square, was closed. The giant Father Christmas was in front of the library, but the town hall and its adjacent square were covered in scaffolding and barriers forbidding entry. Hardly the welcoming festive arena of yesteryear.
In Buxton there was a similar problem. There were a few stalls and the vendors were trying whatever they could to sell candles, gifts and hot chocolate, but this was all to a backdrop of scaffolding, netting and heavy plant machinery. Surely the organisers could have halted work or at least disguised it for a few special weeks?
Christmas In The Kitchen
At this time of year the kitchen is always busy, and after replenishing the gingerbread it seems that I will have to do it again.
The same goes for the chocolate digestives that never last longer than a week.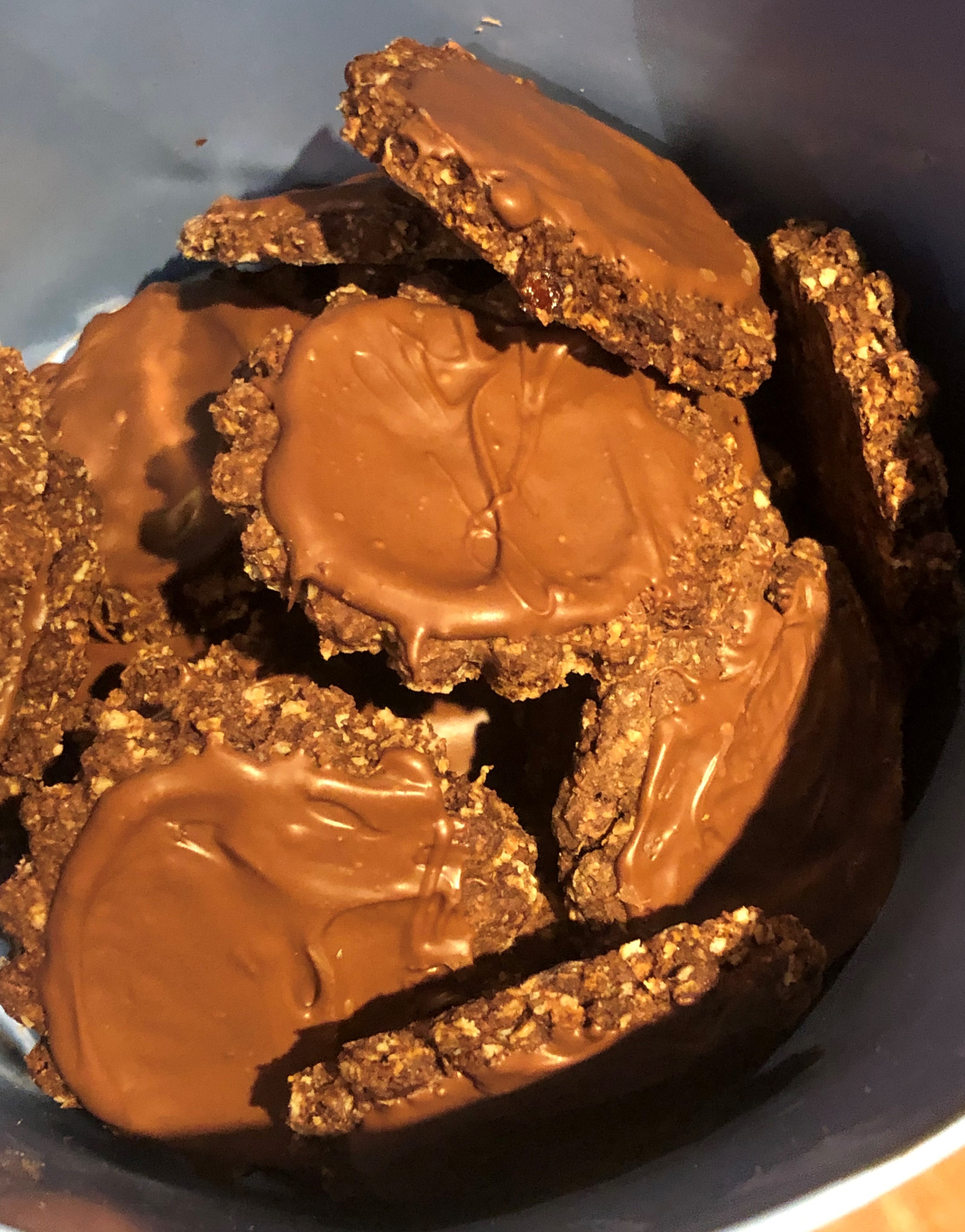 The same goes for the chocolate digestives that never last longer than a week.
However, the winner for the fastest food disappearance is definitely the chocolate log.
It went from this…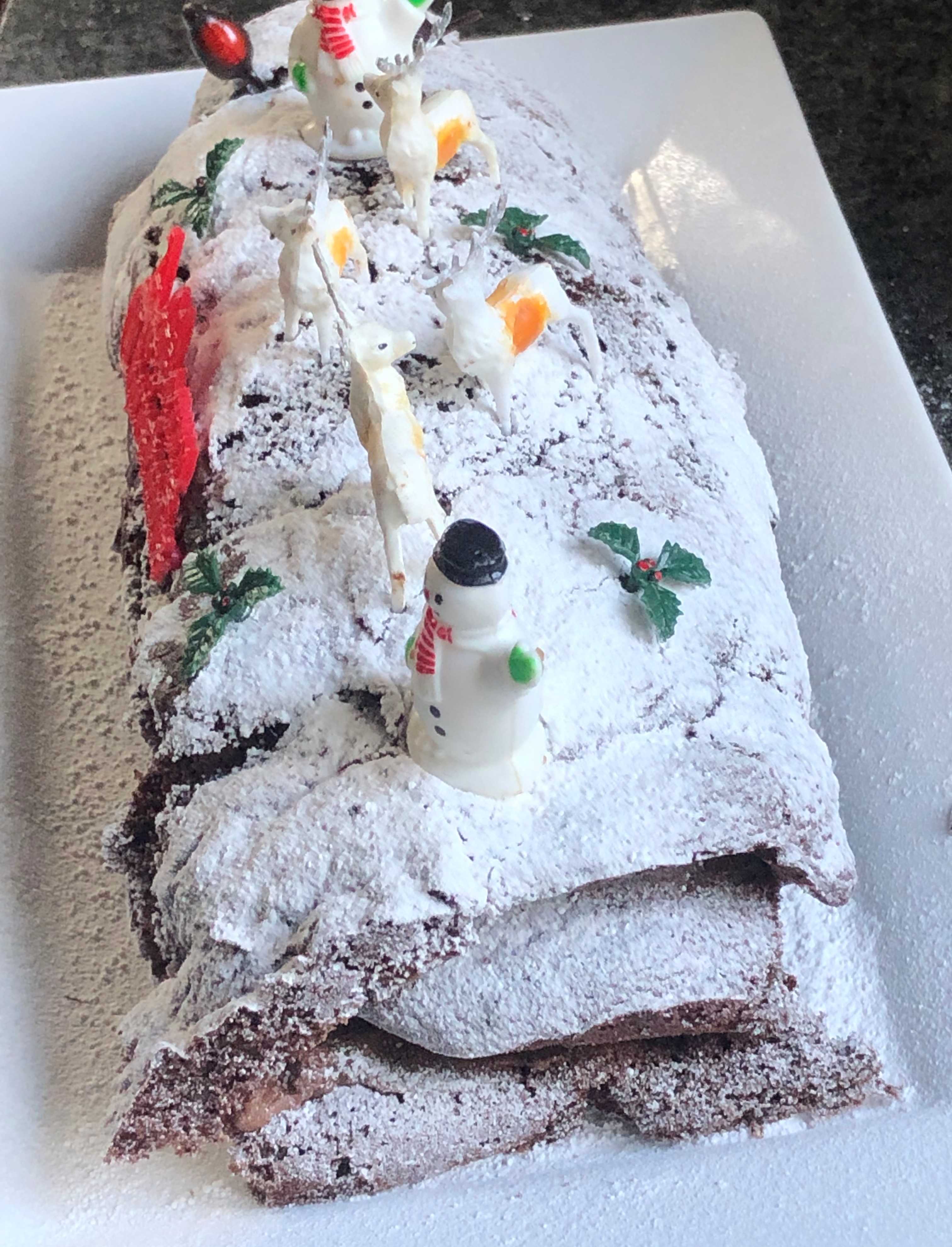 To this….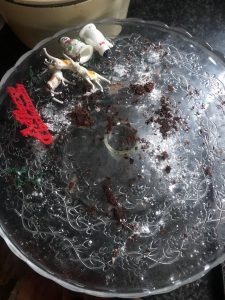 In just 3 days.
The date & walnut cake lasted quite a bit longer, but I'm not really a fan. The banana loaf was much more to my liking!
Regular readers will recall the myriad of fruit and alcohol that have been steeping since August and September. Well, they have now been decanted to create 250ml bottles of rocket fuel that Sally has been passing off as Christmas presents.
I think that the blackberry liqueur could certainly power a moderately sized vehicle.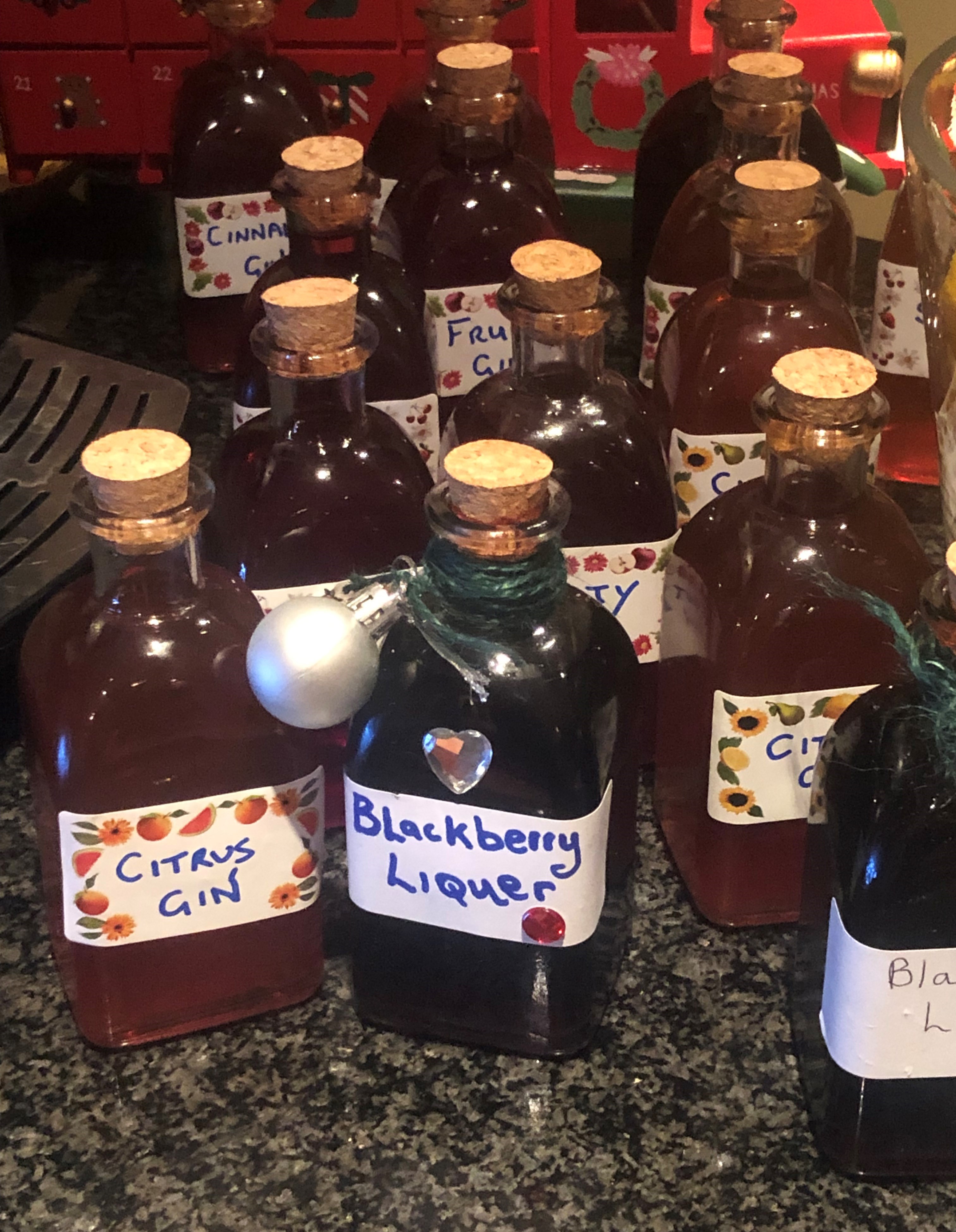 My experimental Christmas pudding is now being saved for Christmas itself, giving it an extra 4 weeks to "mature". Just to be on the safe side I gave it a couple of rather large slugs of brandy!
Finally, in the kitchen, the Creole Cake has had its infusion of brandy and sherry – so that just leaves the Cointreau for Christmas week (hic!)
Lights, Camera, Action!
Ole went down to London to get some new headshots for his Spotlight page, and it certainly seems to have helped. He got an audition for Waterloo Road, which led to a follow up audition. Next up he has been asked to go into Manchester for a Chemistry test!
He then got an audition for the stage adaptation of Kes. I am sure most of my readers will remember the original Ken Loach film with Brian Glover and Colin Welland. Well, despite that fact that Ole is 22 and the leading character is 15 he has been asked for a face to face follow up at the Octagon theatre in Bolton. If he is successful he will have to do around 50 live shows in Bolton and the Lake District, but of more concern is that he would miss our trip to the Dominican Republic. That is, of course, if Boris does not change the rules again by then.
Finally, he had to sign a non disclosure agreement for another role in which he played a Cockney character. Obviously I am not allowed to say much more, but his mum is concerned that the role may include some nudity and simulated sex!
Feeling The Heat
An off the wall incident happened in the kitchen when I noticed the oven had not been switched off.
"Who has left the oven on?" I asked.
"That will probably be Zac," Sally replied.
I opened the oven door and found….the lid of a biscuit tin.
"There's the lid of biscuit tin in there," I said.
"That will be me," replied Sally. " I put it in there to dry it."
The plastic stopper, used to pick up the lid, had unfortunately melted.
"I think we need a new biscuit tin," I said.
A Measured Response
We went to the pub recently, just Sally and myself to get some "us" time away from the kids. As it is the festive season Sally ordered a sherry. The barmaid dusted off the seasonal bottle of Harvey's. She then asked one of the more pointless questions where Lady M is concerned, "small or large?"
Having seen the measures next to each other, Sally must nave taken all of a nanosecond to say, "large!"
Its All Dad's Fault
Zac has been having a tough time at college, with some results falling below even his own expectations. When he felt he was being backed into a corner he brought me into it!
"Why am I getting grief for my mock results when dad didn't even finish his A Levels?"
Different times, my boy, very different times!
North Winds Blowing
Our planned trip to see Emerald Duchess and Star Of Lady M was aborted one Saturday morning due to snow. We rearranged, and decided to go up the night before which turned out to be a good idea. That day Derbyshire was swathed in an increasingly angry white blanket. Meanwhile, we were holed up in the cold but calm town of Malton. Our Airbnb was an interesting one. It seemed that the owners left 5 minutes before our arrival and would move back in 5 minutes after we left. There was food in the fridge, clothes in the wardrobe, and all manner of stuff hidden under beds.
I had some work to do so Fiona and Sally headed towards the bright lights of Malton. Recommendations for dinner were thwarted as many places don't open on Mondays. However, they did make some purchases, including a broom for Sally. Obviously Malton brooms are a different breed to those readily available in the pound shops of Buxton, though I struggled to see the difference!
Later that evening we ventured into town. Malton boasts the title of the food capital of Yorkshire, so we were expecting a feast, and we were not disappointed. The small and friendly Blue Ball pub provided excellent home cooked food, and plenty of it,. However, the real joy was hidden just out of sight. In a room separated from us by a curtain there was some raucous laughter from the locals. It turned out that they had purchased a mechanical reindeer head that sang Lonely This Christmas. It was similar to the singing fish that were popular a few years ago. I'm guessing the locals don't get out much.
Emerald Duchess
The Deli Of Malton served up an excellent breakfast and then we headed to Habton Grange, the training centre of Tim Easterby. Unfortunately, Tim and his wife were both self isolating with symptom-free covid. We chatted to Tim's father Peter and then went out to look at the horses with Tim's son Will. Emerald Duchess looked great in her stable and walking around the yard, but she was a bit too "fresh" to be taken out on the gallops, and to be honest with the temperature dropping I don't blame her! She is well liked, and her pet name within the yard is predictably "Duchess".
We took lots of photos and videos, but the best were these provided by Tom Denham, the stable's social media man.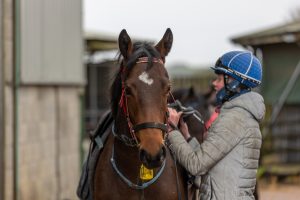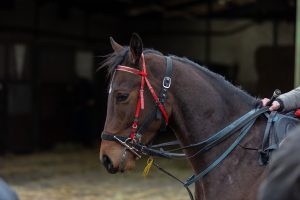 Tom also provided this video
Star Of Lady M
It was certainly cold at Habton Grange, but it reached a whole new level at David O'Meara's yard, where the wind whipped across the open Yorkshire landscape. Star Of Lady M, or "Star" as she is known by the stable staff, looked very well, and she was more than happy to canter up and down the hill.
The idea at this stage of her career is just to get relaxed and not exert too much energy, She seems a laid back filly, so that was no problem!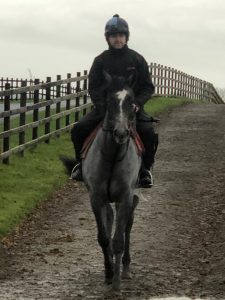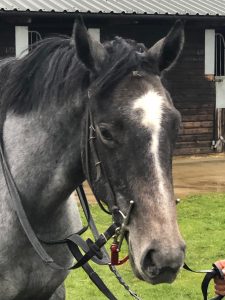 https://www.youtube.com/watch?v=PMjooacAYgQStar Of Lady M
The horses will have their official birthdays on January 1st, and then we will probably visit them again in March when they start their serious work.
So, we hit the road anticipating another blizzard but it never really arrived. Apart from a few hailstones in Hayfield we made it home safely.
Stop Press!
Before going to his Manchester Chemistry test for Waterloo Road Ole had to do a Lateral Flow test. It came back positive, so now he is off to Hazel Grove for a PCR. Fortunately they have allowed him to do the audition by Zoom – not sure how that will work. Zac is quite happy as the rest of us have to self isolate and he is doing online lessons (I think!) Meanwhile, Sally has gone in to a cleaning frenzy – currently focused on the coal bucket.