December 27, 2021 by Mike Madden
Covid For Christmas
An Eye Watering Review
I will start this edition with a product review. Not something I do a lot, and certainly not in response to emails that arrive literally minutes after ordering. However, I feel that guys out there need to know the truth, so here goes.
I am 60 so I feel I can talk about the sensitive and possibly disgusting subject of nasal hair removal. I have used a few trimmers, but I have never found one that is both reliable and really good at removing hair. Some of them eat through batteries way faster than the Duracell bunny, whilst others pull and tear rather than trimming. So, I thought there must be a better way. I found this on Amazon…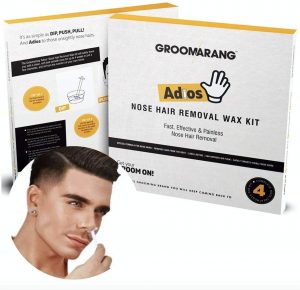 The line on the front of the package states "Fast, Effective & Painless Nose Hair Removal", so it seemed ideal. I also read some reviews, which seemed to back this up. The reality is very different.
Hot Stuff
Essentially you get some wax beads, little cups to melt them in, moustache guards so you don't remove your moustache, wooden spatulas to stir the wax, and applicators to apply the molten wax. It suggested 3 minutes in the microwave for the wax, followed by 90-120 seconds to set in the nose. After 3 minutes there were still lumps in the wax, so I gave it another minute.
I stirred quickly, and although the instructions suggested one nostril at a time, I realised that by the time the first one was done the rest of the wax would have set. So, I tested the temperature of the wax and it seemed ok, then I carefully placed one applicator into a nostril. I did the same with the  other one. It said you would be able to feel when the wax was cool enough and set enough to remove, but I preferred to count. I gave it the full 2 minutes, which may have been a mistake.
Nose To Nose
I gently pulled, and realised that a sharp tug was required. so I tugged. If you can imagine the idea of putting hot wax up your nostril and literally tearing the nasal hair, well that sounds painful, right? And it was! With eyes watering I did get the sense that something had been removed from my nose. Maybe something that wasn't meant to be removed. It somehow felt cleaner. I looked at the applicator which was a big mistake. It looked like a fruit salad chew that had somehow fallen under the fridge and been discovered 6 months later.
I then realised my second mistake. Whilst waiting for my eyes to clear and trying to get the image of a hairy fruit salad chew out of my mind, the second nostril had set harder than it should. Not messing about, I knew the tug had to be a lot harder, and it was. So hard that it drew blood. Again, there was a lot of hair, but I now had the sensation that someone had punched me on the nose with a red hot fist.
In Case Of Emergency…
It obviously did the job, but the prospect of doing it again seemed quite remote. However, in for a penny and all that, I thought the ears would be much easier. That was certainly not true. It seems that ears are way more sensitive than nostrils, and I found this out rather quickly as the hot wax seared the opening to my ear.
In this case I rolled the wax around to cover all areas, and as with the nose I did two at once. This time I thought I would give it just 90 seconds, but it was still too late. I had an applicator sticking out of each ear, and a throbbing nose, reminiscent of Blackadder just before he went over the top. A sharp tug was a terrifying thought as the surface area of the ear is far greater than the nose, and that bit of the ear that juts up above the lobe is possibly one of the most sensitive parts of the body.
And Eyes And Ears And Mouth And Nose
For more than a moment I considered that I might have to go to casualty to get the applicators removed, then I manned up and pulled. Wow! My ears were ringing, completely taking my mind off my throbbing nose. The ripping sensation felt like someone had used rusty scissors to tear apart the ear, and I still had the other one to do. I pulled the second, and found that I was left with a strip of wax on a strip of hair that still needed to come out, but now I had no applicator. I eventually resorted to scissors, being careful not to irritate my reddened aural aperture.
To all of you ladies out there who regularly wax your more sensitive areas, I salute you. I still have two applications left in the package, but I am not going anywhere near them. Probably end up on eBay, unless I get drunk at a Christmas party. It would certainly make for an interesting forfeit.
Covid Communication
At the end of my last edition you probably saw that Ole had covid and missed two auditions. Well, actually he missed the Kes audition, and although they said they would wait until this week for a Zoom call they have already found someone else. The Waterloo Road audition was done over Zoom, not ideal for a Chemistry Test, so he is not too hopeful about that one either.
However, the real kicker came two days later when Zac announced to the world that he was also positive. I was a little sceptical as he retired to his room with the test, and when I asked him for the test so I could register it, he quickly intervened and said he would register it himself! However, with two boys on lockdown the house has become somewhat chaotic. Fortunately we have a Messenger group to maintain clear communication, and it has been a bit of an eye opener.
Covid Catering
The food requests started early!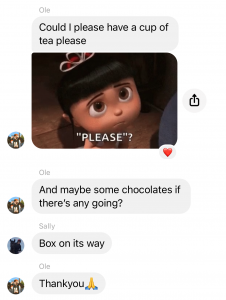 The box in question was Dairy Box (remember those?). Apologies to someone who would have missed out as that box had been earmarked as a prize in the Whaley Bridge Cricket Club Christmas raffle.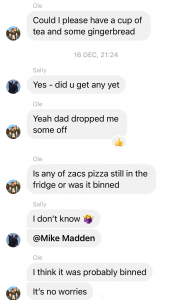 It seems that Ole's enforced isolation had seen a deterioration in his eating habits…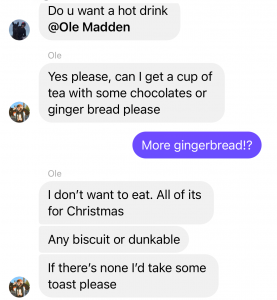 The following morning he seemed to repent…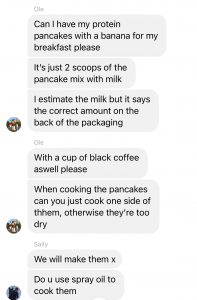 Zac's demands were a lot simpler – basically ham and cheese in either a sandwich or a toastie. But there are always complications…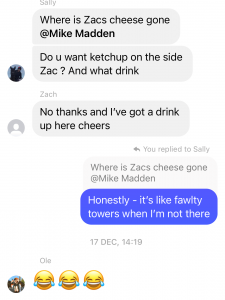 …and we do expect some minimum standards!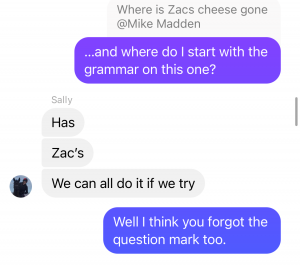 By now I was getting used to it…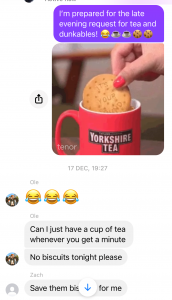 Then it became like Deliveroo…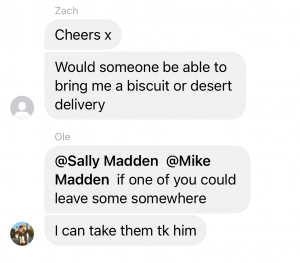 The requests became more detailed as the days passed…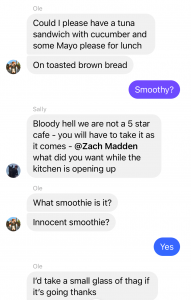 Staffing became an issue…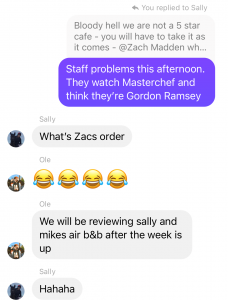 The threat of a review had to be addressed…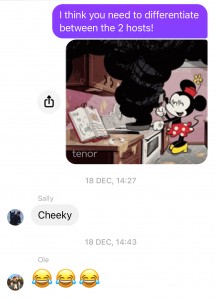 Zac had to do another test – just to be sure…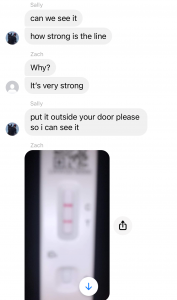 The results were inconclusive! I suspected foul play…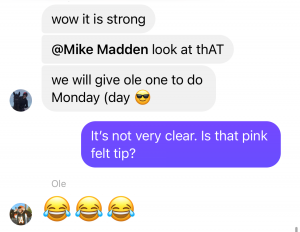 Takeaway Time
Despite Covid, or perhaps because of it, we stuck to Saturday night as takeaway night…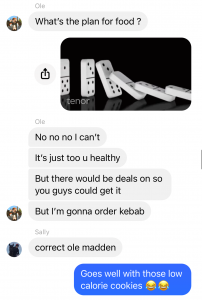 As you probably know Ole's body is a temple, Zac's less so, and mum was playing the martyr…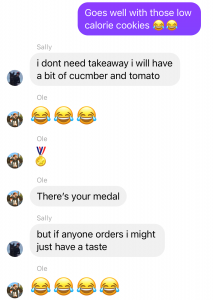 Zac has seen this ploy before…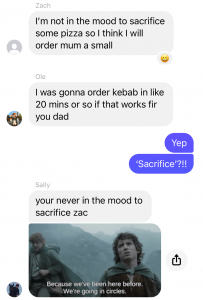 Ole's requests were relentless – but I got some respite by taking a walk…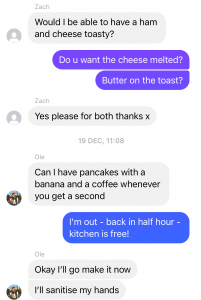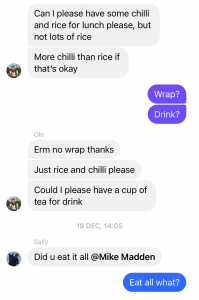 Eventually I resorted to a menu system…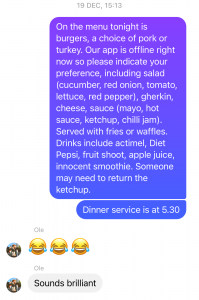 We got busy – even Sally had to help…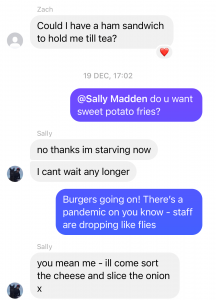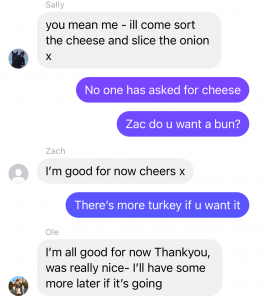 After the stresses of Sunday – Sally had to take me to the hospital – the boys would have to fend for themselves…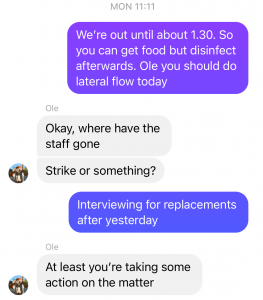 Then it was back to normal…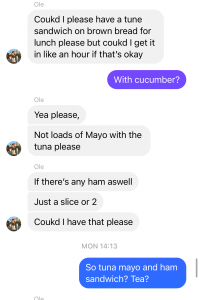 Praise indeed…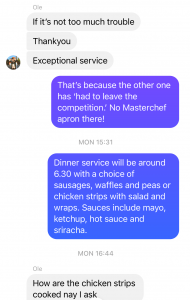 But then the guests, sorry, patients started getting picky…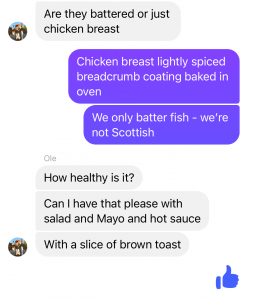 Finally, away from the kitchen, there has been a spate of burglaries…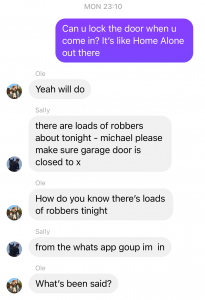 Someone wasn't taking it too seriously…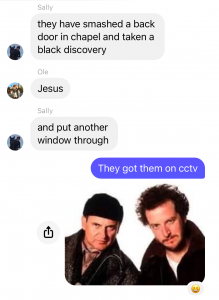 They are both now out of isolation, though I'm not convinced I have seen a negative test, and true to their word there was a review…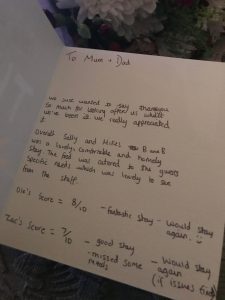 7/10?
If issues fixed?
Looking forward to when the tables are turned!
Eventually, just in time, I was able to get back to Rocky Road, and other Christmas goodies. High on the agenda was injecting the Creole Cake with a good dose of Cointreau, and that was followed a few days later by the final dressing!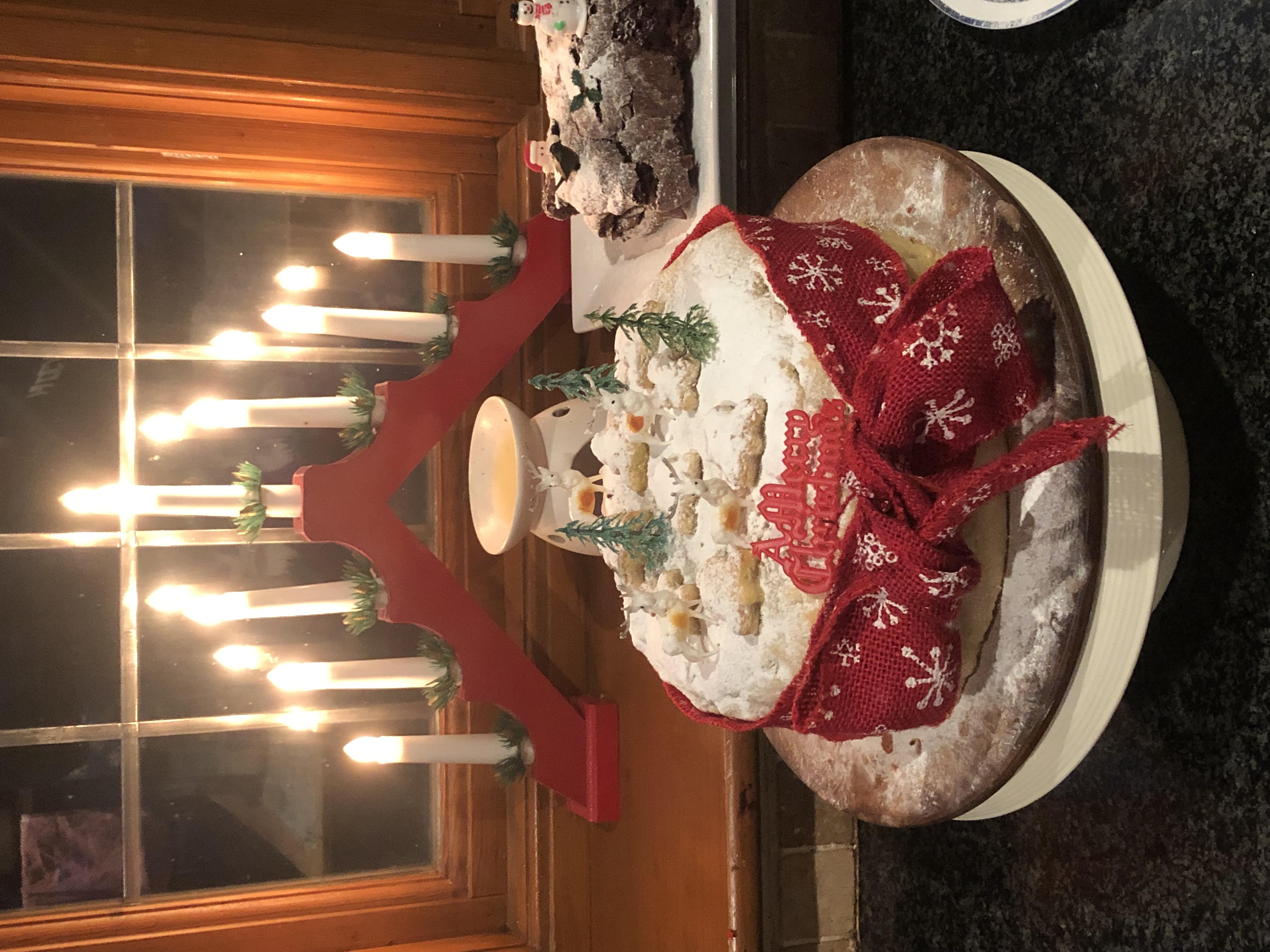 With the Rocky Road and yet another chocolate log alongside the Creole Cake, overall I was quite pleased with the Yuletide baking!

Feeling A Prick
As mentioned above, Sally took me to the hospital to get my injection of Duralane, a form of Hyaluronic Acid. I thought I would get a local anaesthetic, but no. The surgeon asked me to lie back and said I would feel a sharp scratch. Now, admittedly, it wasn't as bad as the Groomarang experience, but having a needle stuck in your knee, first to drain fluid and then to replace it, is not a particularly nice experience. Dull aches and sharp stabs are the order of the day, or maybe I just have a low pain threshold!
Christmas Crumbs
Regular readers will know that we stay at Middlethorpe Hall quite a lot. The beautiful National Trust property, almost adjacent to York racecourse, has been a favourite for years. Well this year we got a handwritten Christmas Card from the manager. I'm expecting an upgrade to the four poster suite next time we visit.
Finally, Christmas Day saw us get to light the Christmas Pudding. I had never made one of these from scratch before, but they will definitely become a regular feature of Christmas, if only to wonder whether it will explode or not!