July 1, 2023 by Mike Madden
losemyiphone findmyiphone
A Star And A Dandylion
The racing season is now well under way, and although Star Of Lady M faded to 12th place at Thirsk, there was a clear explanation that she was not yet fit enough to compete. Whereas most horses had had some downtime, our girl had undergone several months of inactivity recovering from her injury. It was obviously going to take her longer to get up to speed. Despite the result we had a splendid day, discussing wedding plans with Tim Easterby, and David O'Meara's dislocated shoulder, an injury that I had also suffered many years ago (no surprise there).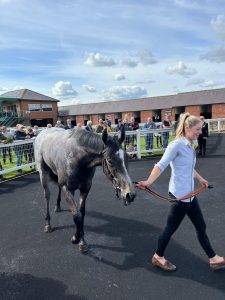 Star Of Lady M at Thirsk
Meanwhile, Lady Dandylion was doing well on the grass gallops, and she was to make her debut at Ripon. The Owners & Trainers facilities were cramped as there was a big crowd and a lot of runners. However, the Ripon method of handing out vouchers to be used almost anywhere on the course was a good one. So, we ordered fish & chips and handed over our vouchers. Strangely, we were told that the addition of curry sauce had to be settled in cash! Quite bizarre and certainly a quirk that we were not expecting.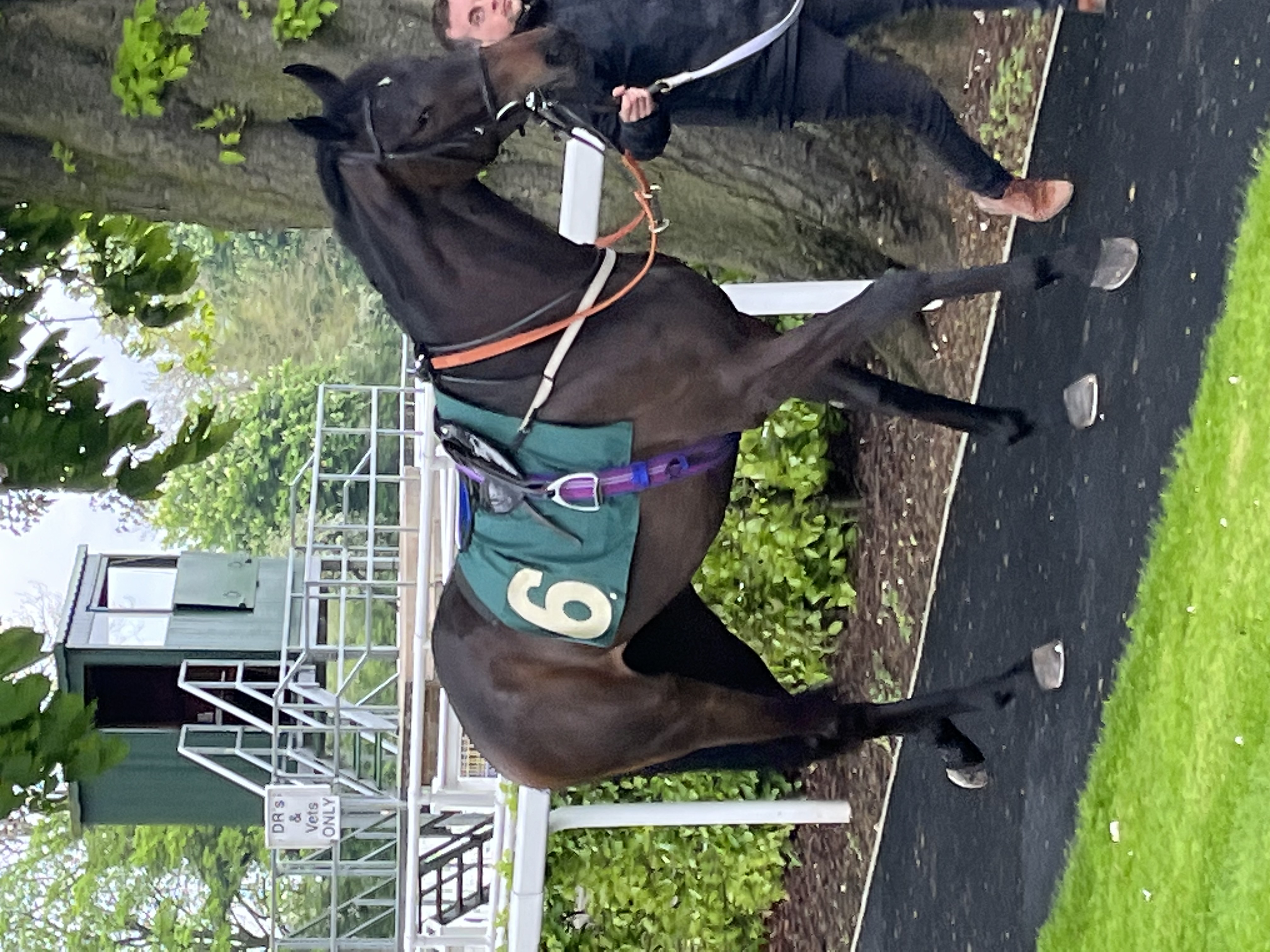 Lady Dandylion at Ripon
Qualification
Lady Dandylion got bumped coming out of the stalls, and she took a while to get balanced. When she did start to run her race the winner had already flown. She ran on into 5th place gaining some prizemoney in the process. She also qualified for the fillies EBF final at Goodwood in September. We were full of optimism afterwards, with future races of at least six furlongs being the target.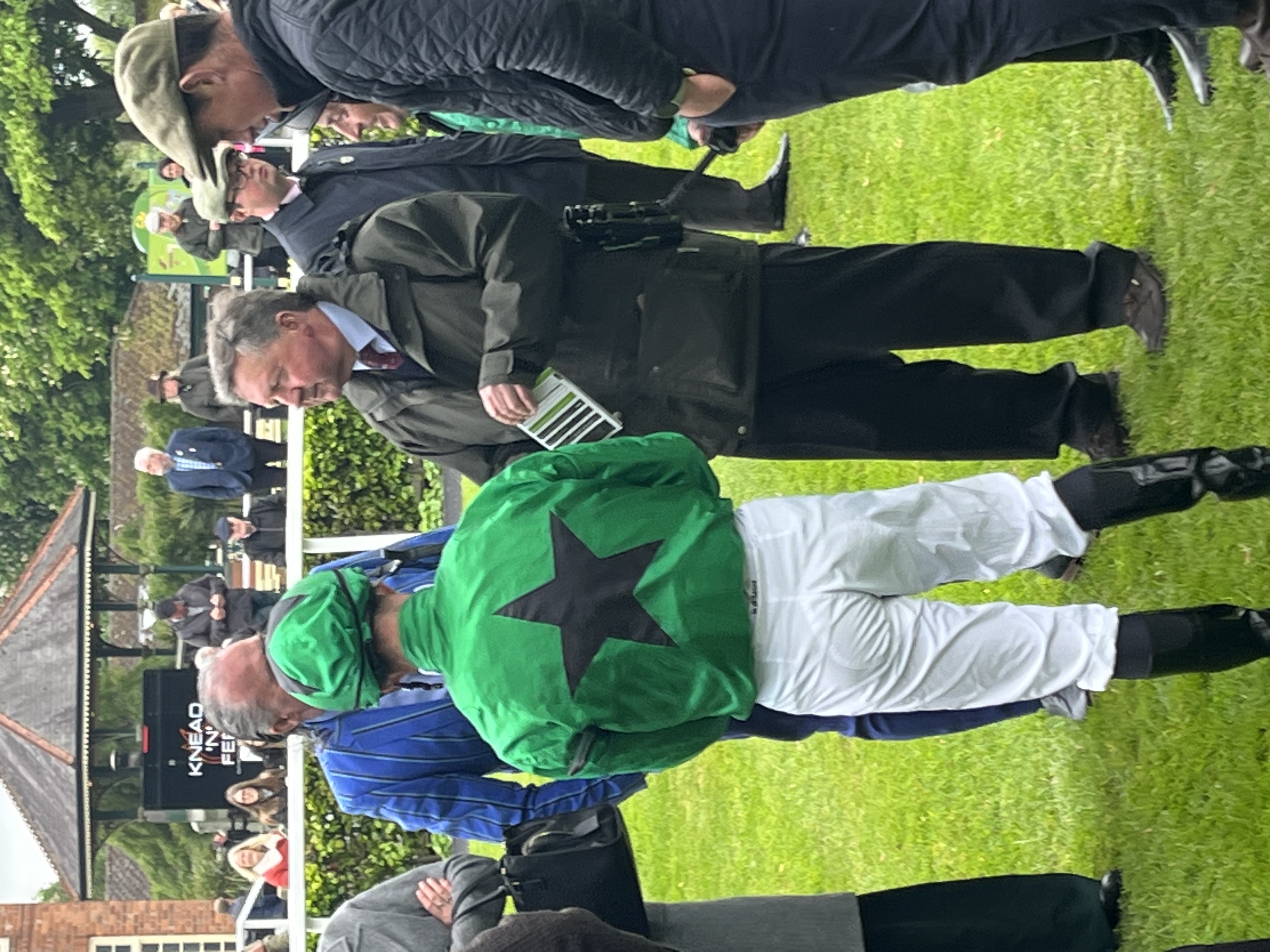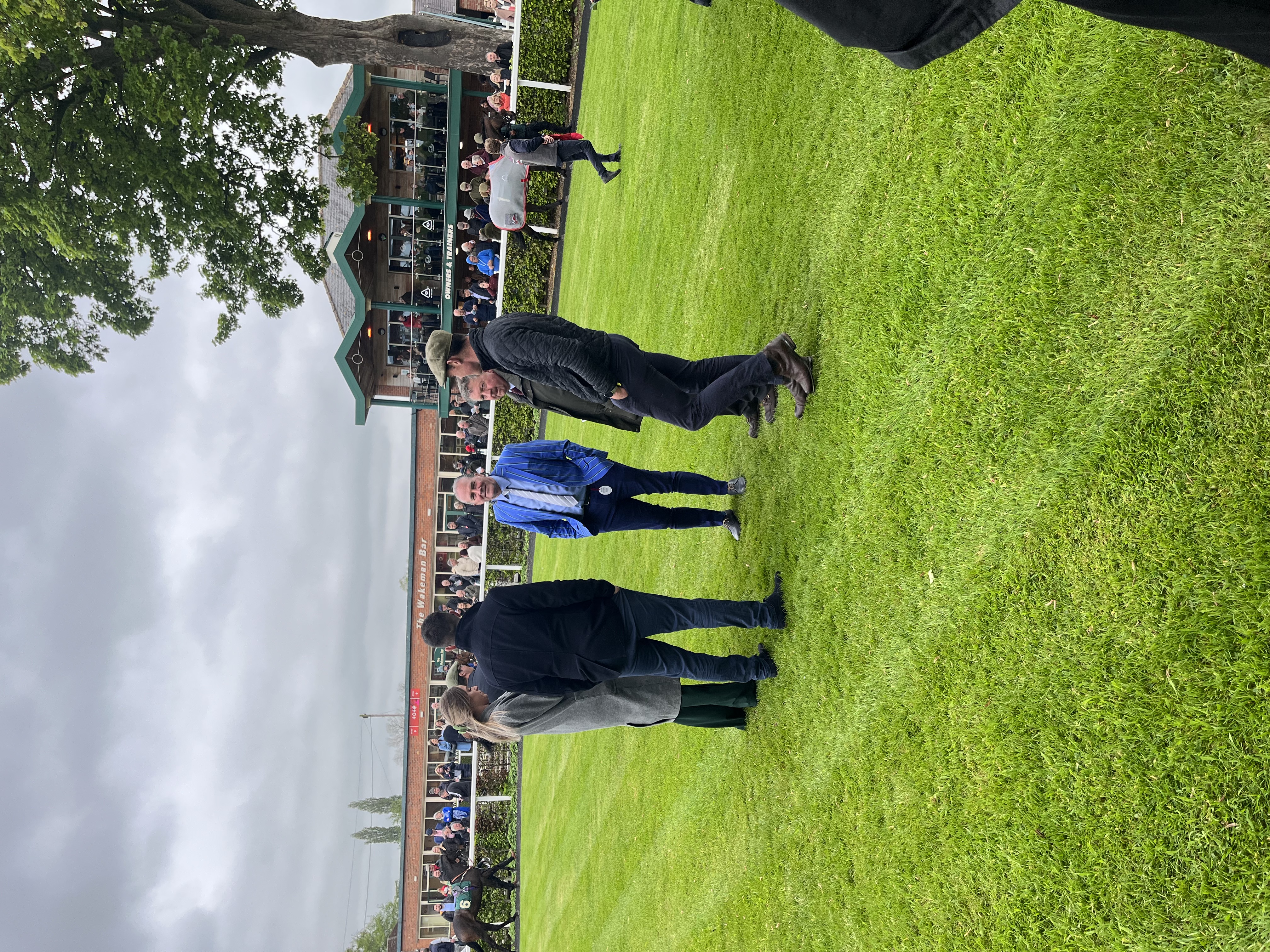 Lady Dandylion's connections at Ripon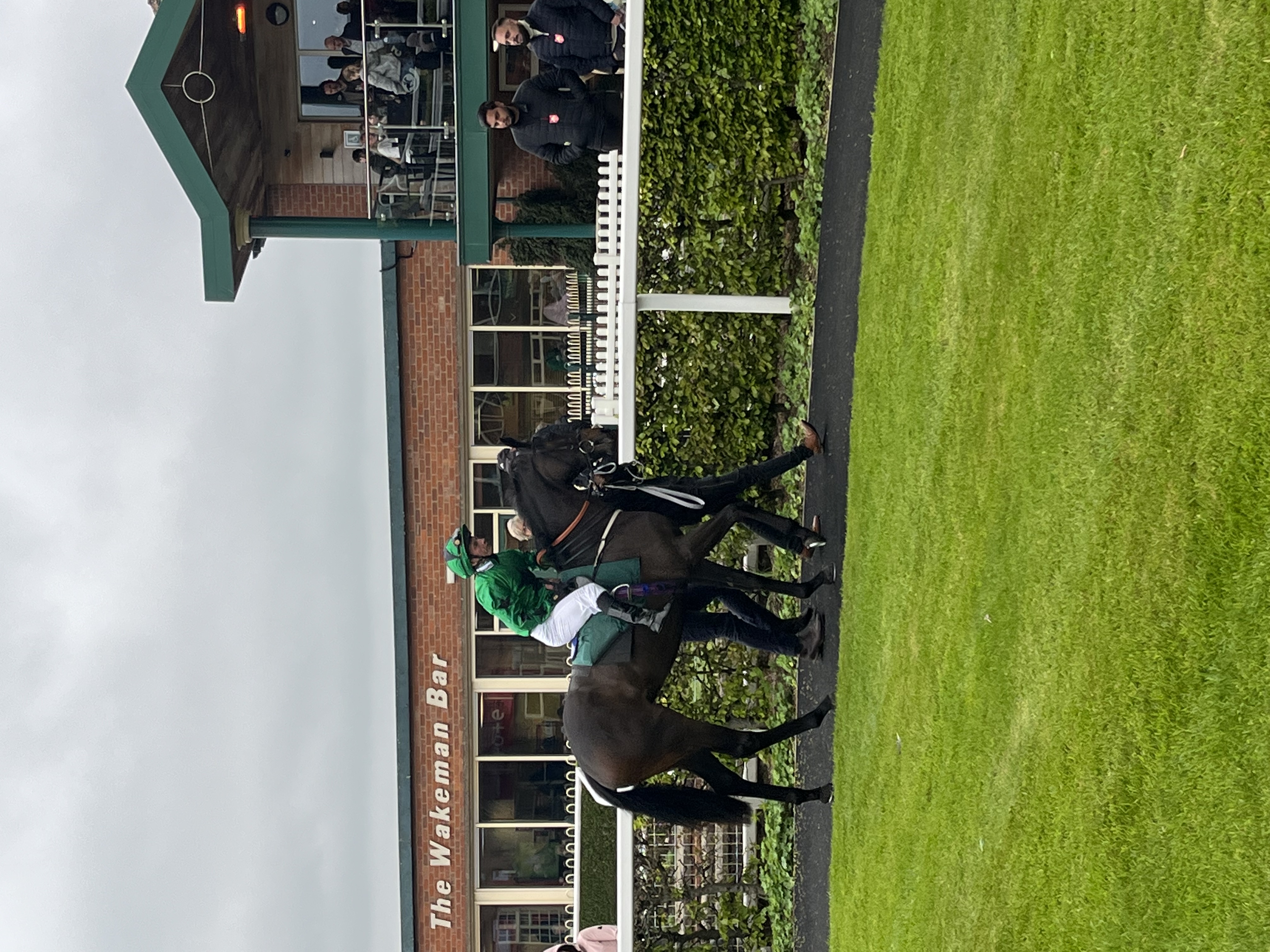 David Allan on board Lady Dandylion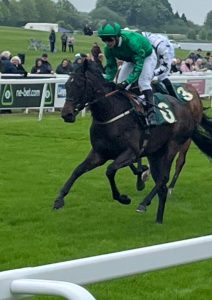 Lady Dandylion in action
York At Last
Elsewhere, Star Of Lady M was entered at Goodwood as we strived to get her fit for a date at York. We wisely decided to skip it as the weather forecast promised torrential rain. The rain duly arrived, and our avoidance of the race proved to be a good decision. The contest was barely visible in the mist and mud.
The Listed Westow stakes at York came a bit too soon for Star Of Lady M, but we entered a handicap the day after at the same track. She was up against Simon Chappell's Rose King. Luke's Kennet Valley Thoroughbreds also had an entry, though that one was later scratched.
Star Of Lady M at York
A Day In The Sun
We swapped hospitality for the Owners suite at York. It was a wonderful experience having our first runner at the course. Sally met William Derby, the Chief Executive at the course, and we chatted to Mick Doyle who owned Killybegs Warrior. He made his living in the fishing industry, and had recently sold horses to Sheikh Mohammed.
Friends Reunited
However, the most pleasing sight was Di Jackson who was officiating in the parade ring. She was still on her road to recovery after her horrific accident last summer. We drank champagne with friends beforehand, and then Simon Chappell wished us good luck. His horse had been withdrawn as it was lame that morning. We joined David O'Meara's mum Dympna in the parade ring to watch the race, which was soon under way. Star Of Lady M travelled well for around three furlongs, then her fitness told again and she faded.
Look To The Future
She was now dropping down the handicap. From 88 at the start of the season she was at 82 after the York race. David was convinced that she would come good, and she was getting fitter with every outing. Our next choice was either Epsom on Derby Day in the new three-year-old dash, or Beverley for a Sunday Series handicap. Epsom would have been a great day out. However, it was a long way to travel given that she was still not fit, so we opted for Beverley. With that decision made we could relax for an extra week.
Dandylion Goes Again
Lady Dandylion was following in the footsteps of Emerald Duchess with an engagement at Haydock. It was good to see that Haydock had completed their renovations, and we dined alfresco waiting for our race on a sun-drenched afternoon. We were optimistic in the parade ring, as we met our jockey J P Sullivan for the first time.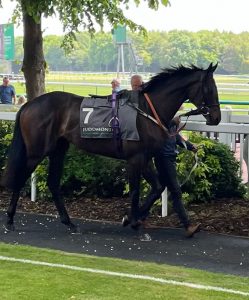 Lady Dandylion at Haydock
They're Off
Lady Dandylion travelled well, and then she moved to her inside to find a gap. However, she continued to move sideways towards the rail, and faded quite badly. Afterwards the jockey said she didn't feel strong enough to go through the gap. He thought that perhaps she was intimidated by the opposition. Fortunately she came out of the race well. Afterwards, Tim wanted to give her some time as she was a little quiet at home. I asked about entries at Carlisle, Beverley, Nottingham and elsewhere, but nothing came back.
Star Returns
As the days passed waiting for the Beverley race, Star Of Lady M was entered for a contest at Yarmouth. This was a bit of a surprise, but the trainer thought it might be a good alternative with a small field. As it turned out, it proved to be very competitive. We bypassed the opportunity, even though there were only four actually declared to run in the race.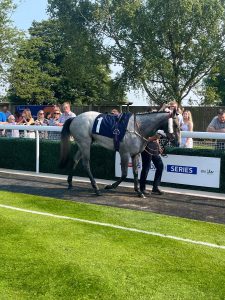 Star Of Lady M at Beverley
No Champagne
We arrived in good time for the Beverley race, an hour before the first. Last season we were greeted with champagne, but this time it was nowhere to be seen. "Perhaps thats just for the Hilary Needler day?" Sally thought. No, the welcome email stated it would be available. So, Lady M asked at reception, and they said they had run out. She was shocked, and passed on her thoughts that "that's not very good". The response that "you'll have to come early next time" was like a red rag to a bull. She remained calm as she advised the lady at reception that "we might not come here again".
All Over The Socials
On Twitter Beverley Racecourse welcomed back Star Of Lady M as the Hilary Needler winner. Lady M was still perturbed but Ole and Zac told her to let it drop (neither of them like champagne!) We met Will Easterby, and he saddled Tim's first two-year-old winner of the season. Hopefully signs of better things to come for Lady Dandylion.
When it was time for our race we quickly went to the parade ring. Here, the Beverley social media manager greeted us and thanked me for my support in promoting the racecourse. Definitely a good job that Lady M did not rise to the bait by retweeting earlier in the day! Chris Dixon from Racing TV also gave us his best wishes, and it was great to see Danny Tudhope back with us. He was calm and confident as he mounted, and David thought she was in with a chance.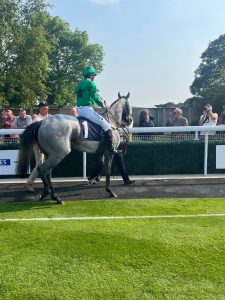 Danny Tudhope back on board
Small Steps
She wore cheekpieces to help her concentrate coming out of the stalls, and it certainly worked. She led along the rail, and was still in front as they entered the final furlong. Once again fitness told, and while she could have finished as high as third, she was eased down into seventh. That was just outside the prize money, but with hindsight it also meant that she would carry two pounds less in her next race.
Everyone was thrilled with the outcome. In particular, David O'Meara said that she was now ready to win again. Chris Dixon gave us the thumbs up, and Danny confirmed that she just ran out of steam. It has been a long way back from the injury at Ripon. After several months box rest, hopefully she was now ready to put all of that behind her.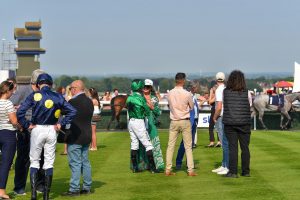 Connections at Beverley
Next Steps
She was entered into a race at Ripon ten days later. This was a six furlong contest but the yard thought it would cut up to a small field. I was a bit dubious and reminded them of the contests at Goodwood and Redcar later in the week. Entries were made, and we decided against Ripon as the declarations steadily increased until they reached ten. We also received an unexpected entry for Haydock on the Saturday evening. This was for a fillies only race that was also open to older horses. It was the first time she was entered against horses other than her own age group, which showed the growing confidence that the yard had in her ability and progress.
Then, out of the blue, Lady Dandylion was entered into the Sunday Series novice race at Pontefract. There were twenty other two-year-olds also entered. It looked a hot race, restricted to Bands B, C and D, rather than one that is more to her liking, ie just Band D. As it was her third run, perhaps this would lead to a lenient handicap mark. When she made her debut she was beaten by Hala Emaraaty, who had just been sold for £150,000. She was clearly moving in good company.
I Declare
As the dust settled we opted for Redcar on Saturday afternoon for Star Of Lady M. We turned our back on a Friday night in Goodwood because of the distance. We also snubbed a Saturday night in Haydock with Craig David because of the likely field size. The Redcar race had eight runners, and we had Jason Watson on board. Drawn seven of eight towards the outside was not ideal, but it should have ensured a clear run. With prizemoney down to fifth we should be able to get some reward. The opening salvo from the bookies disagreed as they had us at 10/1 and seventh in the betting. However, shortly afterwards she came in to 8/1 sixth favourite.
Next, Lady Dandylion had an inexplicable entry in a five furlong maiden at Carlisle the following Wednesday, casting some doubt about her participation at Pontefract. A little insight into the thoughts of the trainer would have been helpful, and perhaps we would get something from him at Redcar on Saturday.
On Friday the declarations for Pontefract came through at a trickle. With 75 minutes to go there were none, then one, two, three. With 15 minutes left there were five and Tim called to discuss. We agreed to enter. She needed another race to get a handicap mark, and he didn't want to chance Nottingham as it was previously abandoned due to unsafe ground. So it promised to be a busy weekend, with Star Of Lady M on Saturday, Lady Dandylion on Sunday, and on Monday we would head to Newmarket for a presentation to the Injured Jockeys Fund, followed by the Thoroughbred Breeders Association conference on Tuesday.
Whirlwind Weekend
Well 2 runners in 2 days sounds very exciting, but when they only beat one horse between them that's racing! The good news is they are both fit and well after their exertions. We arrived early at Redcar, though we had a long wait until the fifth race. We met Will Easterby who confirmed that his dad was not in attendance, and David O'Meara messaged to say that he was still at Royal Ascot with his hope Summerghand.
Lakota Blue was a non-runner, leaving just seven to compete for the prizemoney. Two races before ours, Jazz Samba broke free and decided on a leisurely jog around the course. By the time the horse was caught half an hour had elapsed, delaying the rest of the afternoon.
Star Of Lady M looked better than ever in the parade ring, though Sarah from the yard admitted that she did not know what the plan was. Jason Watson told us that he would try to ride her up with the pace, and go forward with a furlong or so to go. As we headed for the stands to watch the race, the Redcar social media manager came across and thanked us for the support that we have given them, ever since Star Of Lady M won there on debut more than fourteen months ago.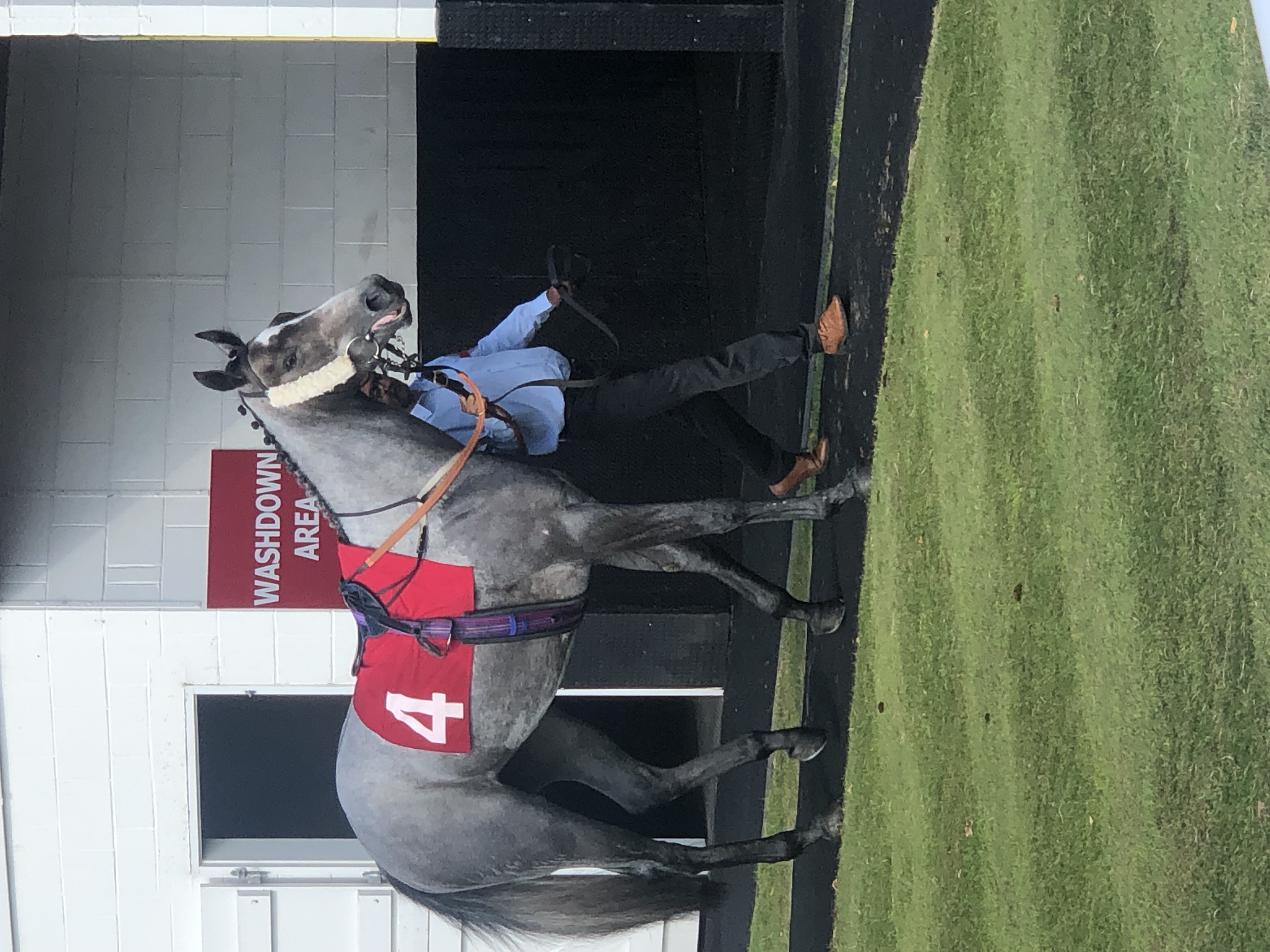 Star Of Lady M looking well at Redcar
The Best Laid Plans…
Star Of lady M got carried to her right coming out of the stalls and covered a lot of ground to get into contention. Approaching the two furlong pole Jason was hard at work, and it was clear that she was not going to win. She battled gamely but finished sixth, with only Zuffolo, the horse that had carried her right, behind. Jason thought that she needed to drop a few pounds, but I was not sure. That was nowhere near the level of her Beverley run, and we wondered if something was amiss. We decided to head home, very disappointed with the run.
David called on his way back from Ascot, but he had not seen the race properly yet and he promised to call us again when he had.
Dandylion On The Clock
Lady Dandylion was in the first race at Pontefract the following day, and we arrived at the course to catch the end of the whippet racing. We sat near to trainer Adrian Keatley who had Mummy Peas in our race, but he was preoccupied with his group of owners and his wandering children. In the parade ring we caught up with Will Easterby, as his dad was again not in attendance. Will explained that we would learn a lot more today, and she would hopefully put her Haydock run behind her. David Allan was optimistic, but also stressed that it was very much a learning curve.
We said a quick hello to David O'Meara who saddled a newcomer in our race, and headed through the stands to the owners' viewing area. Lady Dandylion was restrained by her jockey as the gates opened, and she settled in behind. With two furlongs to go she was struggling, and David gave her an easy ride to finish last, eleven lengths behind the sixth placed horse and a full twenty one lengths behind the fifth. It could have been worse, as Mummy Peas broke out of the stalls and was withdrawn from the race before it even began.
The Inquest
Will was a little lost for words, but David was more positive. The stiff six at Pontefract was way beyond her capabilities, and he reiterated the point that he had made at Ripon, that five was her trip. He also advised that she would benefit from some cut in the ground.
We watched the rest of the races with interest, but were still disappointed with our filly's run. I tried to get an update on Emerald Duchess, and although Will said she was doing well it seemed like it was time for another visit to the yard.
If It's Monday It Must Be Newmarket 
Monday morning saw us make the three hour journey to Newmarket, calling first at Peter O'Sullevan House, home of the Injured Jockeys Fund (IJF). We were there to present a cheque for £1,000, their share of the proceeds so far of From Tattersalls To Triumphs. The ceremony was brief, and they presented us with a book detailing the history of the IJF which is approaching its 60th year.
Incidentally, From Tattersalls To Triumphs is now available in a splendid hardback edition. All proceeds still go to the IJF and Retraining Of Racehorses charities.
A Piece Of History
Our next port of call was the historic Jockey Club Rooms where we were to spend the night. The Rooms are historic, a little old-fashioned, but absolutely marvellous. Walls are adorned with racing-related artwork, and tables are filled with memorabilia. It is worth a visit for this alone, and our room itself was spacious, comfortable, and with a huge bathroom. Breakfast the following morning was excellent. Freshly prepared and delicious. The dining room was also filled with artwork, and had a feel comparable to our favourite Middlethorpe Hall.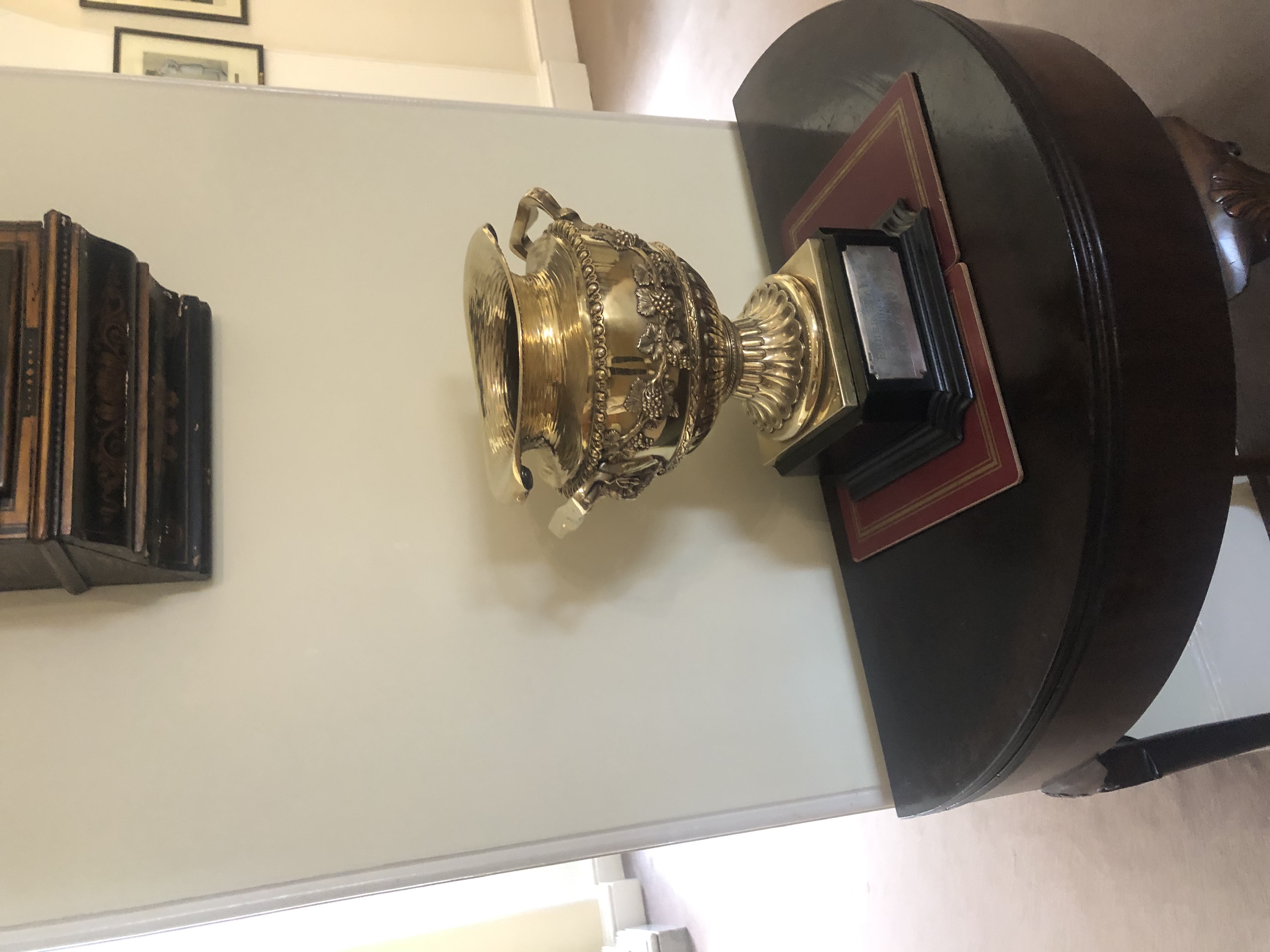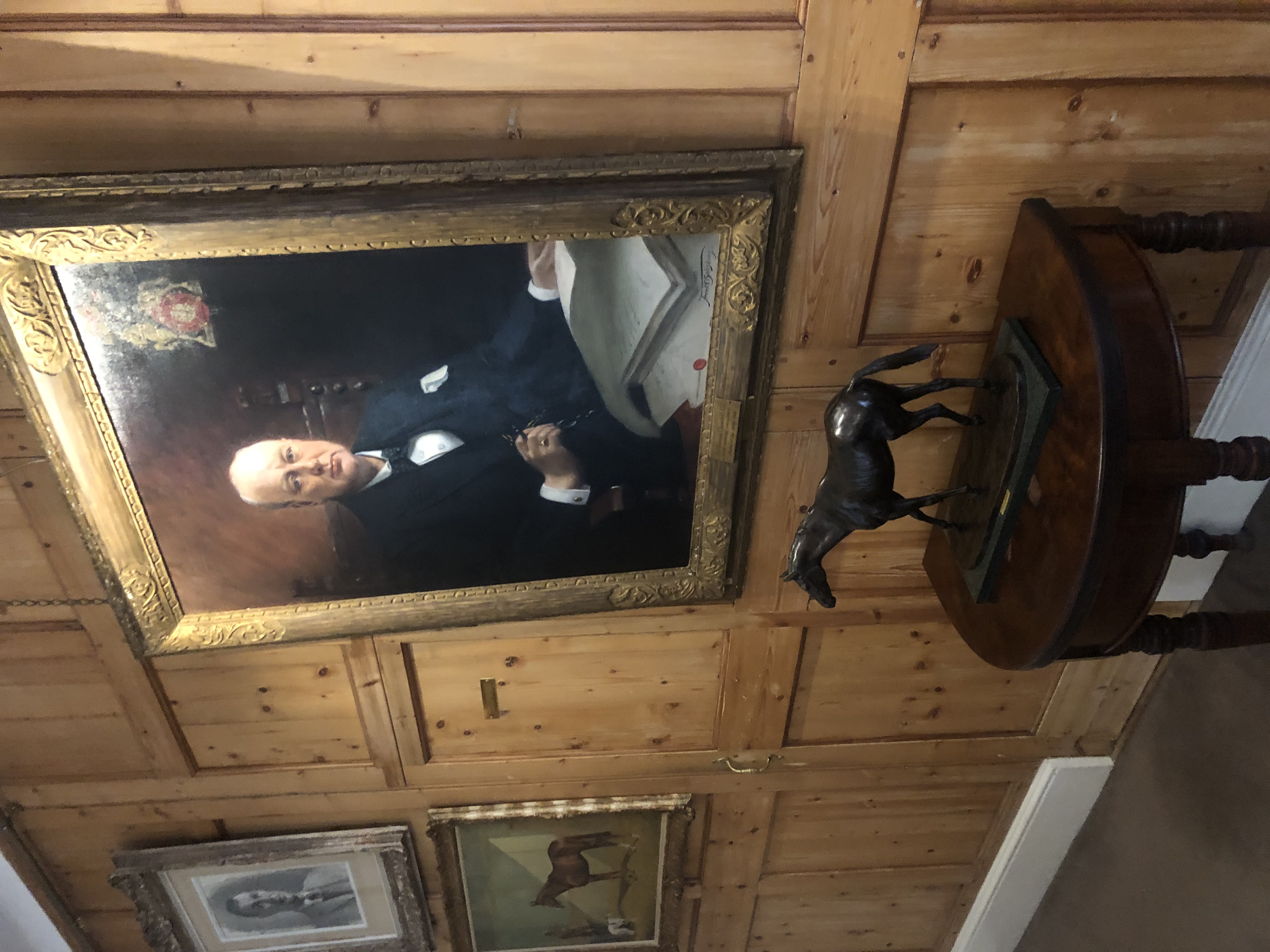 Some of the fabulous artwork at the Jockey Club Rooms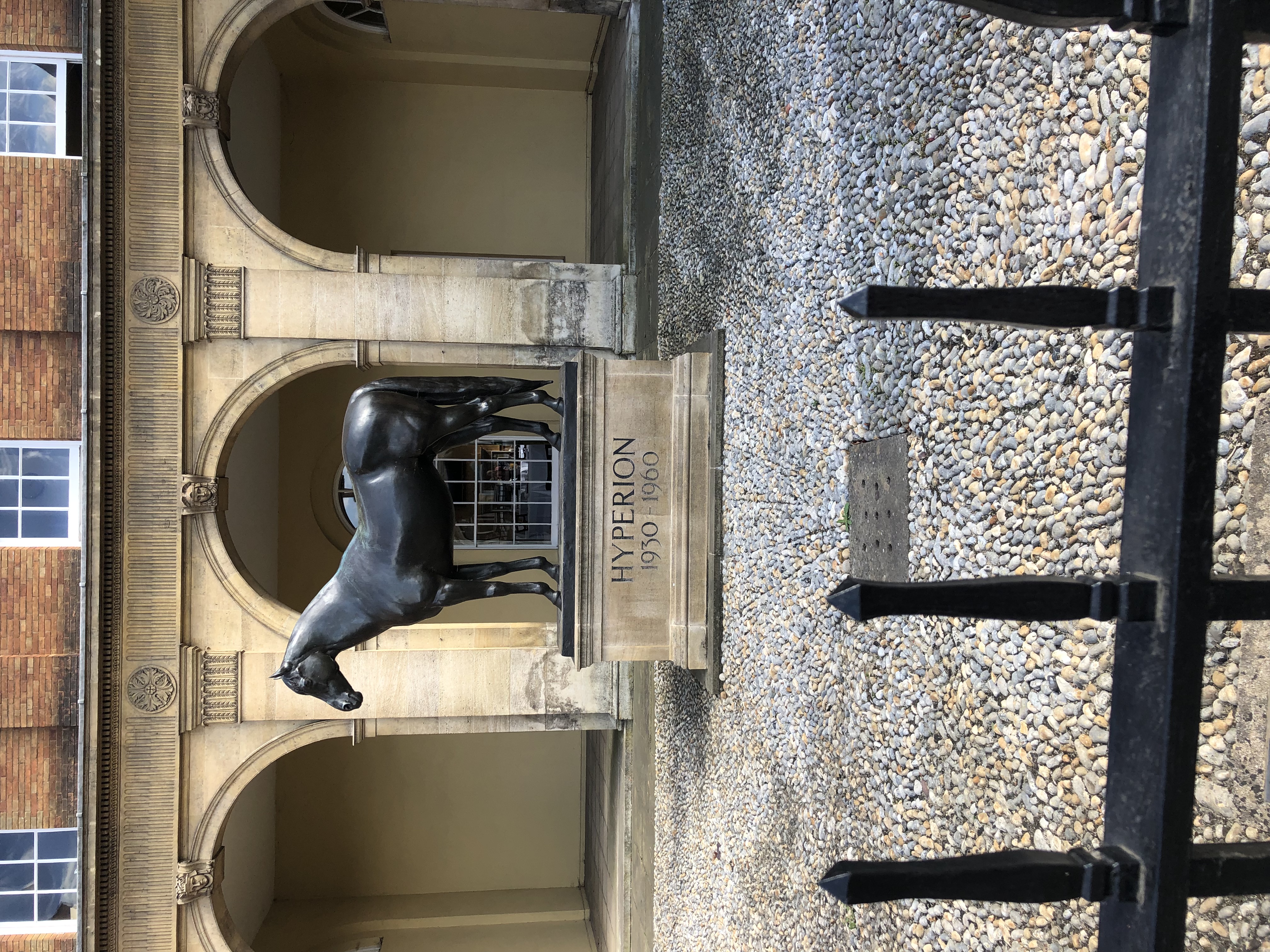 The legendary Hyperion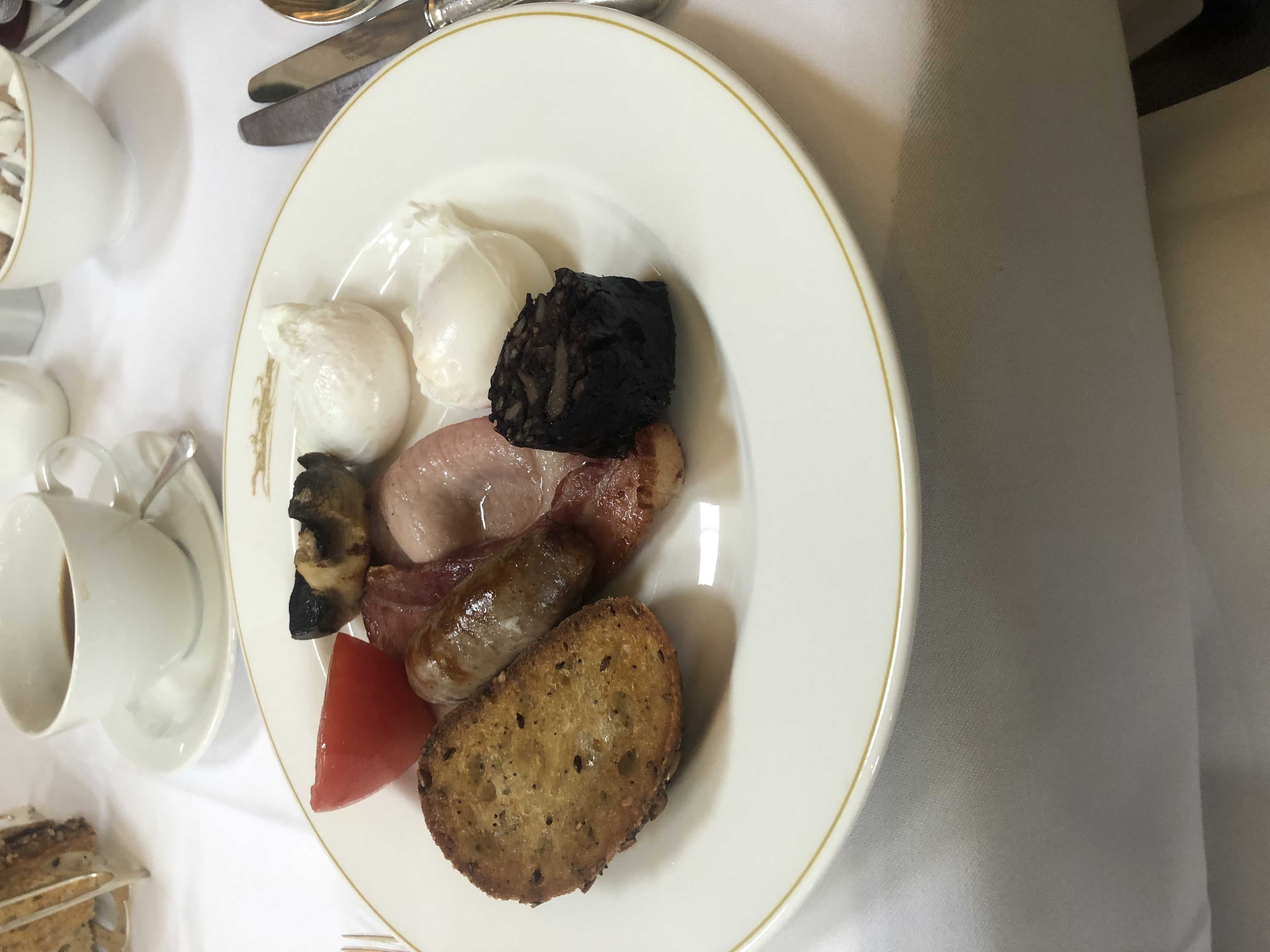 The breakfast of jockeys
We checked out, and with time to kill before the conference we headed up the legendary Warren Hill to watch the horses. Several strings of thoroughbreds galloped past us, but I was distracted by a phone call. It was David O'Meara and he wanted to discuss Saturday's race and possible next steps.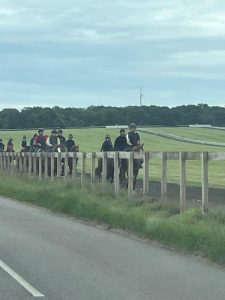 Working on Warren Hill
A Trainer's Insight
David said that the ground on the rail was several lengths better than that out wide so he put our performance down to track position. We spent twenty minutes going through the race in fine detail, as well as considering future plans.  I asked whether Star Of Lady M needed a break, but David was confident that she was just about to come to the boil. She had been dropped three pounds to 77, which meant that she qualified for handicaps capped at 75.
There was just such a contest at Windsor the following Monday. Although it was a long way to go she should be more than capable of winning that race. There was another option at Haydock on the Thursday, but that was apprentice only and his star apprentice, Mark Winn, was over-qualified for it. The other option was Friday at Beverley, but that would also include older horses. He cautioned that we might not run up to the form of last summer, as some of the horses that we beat are perhaps not that good, but against that was the Ripon contest over 6 furlongs in which she beat the 107-rated Al Karrar.
It was a welcome call, and it showed that he cared about us as owners, and our horse. He wanted to give her the best chance of winning, and although his stable is out of form at the moment, we are convinced that this will turn itself around eventually.
Post Match Analysis
Afterwards I went through the race to satisfy myself about the track position debate. Sure enough, Paddy's Day, that was drawn outside of us, switched across to the inside rail and ran on into second. In the next race there were five runners. Four crossed to the rail and the other came last.
So, we could plan for Windsor. For Lady Dandylion I emailed Tim with the suggestion of Catterick on 12th July where there was a fillies only band C and D maiden, as well as a 0-60 nursery. Windsor has just eleven entries, which would normally equate to seven or eight runners, a good option for Star Of Lady M. Tim responded that Catterick looked like a good option for Lady Dandylion.
Thoroughbred Breeders Association
We left Warren Hill and headed to Tattersalls, where the first ever TBA conference was being held. Star Of Lady M will at some point become a broodmare, and we were keen to get some insight as to what that entailed. Lydia Hislop was the presenter, and she did a fantastic job, introducing a wide variety of speakers. The highlight was undoubtedly Sir Mark Prescott, as well as lunch! We did not quite manage to stay until the end, as after almost four days of horseracing-related activities we decided to try to beat the traffic and head for home.
The Future Is Bright
Later in the week, the oddly named Granny Budgie gave us a lift. She is the full sister to Emerald Duchess, and she made an impressive winning debut at Nottingham. This gives us hope if Emerald Duchess does ever race again. However, if she is retired to stud her pedigree page has received a significant improvement.
Pizza Perfect
It has been a very busy time in the kitchen, including the pizza oven. I made a huge pile of pizzas, having promised some to the girls down the road. However, they were out for the evening and so I thought that they would miss out. Not so, as I got a knock on the door at 8am the following morning. It was the girls collecting a box of cold pizza that was apparently still delicious.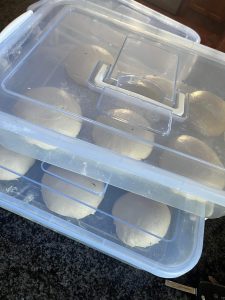 Dough balls
Into the oven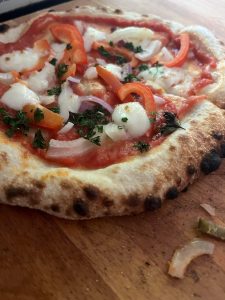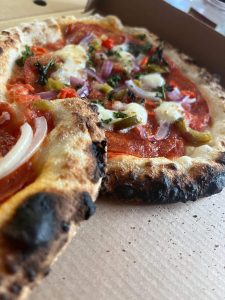 Out of the oven
Let Them Eat Cake
It always concerns me that there is a lot of wasted heat as the oven cools down, and in the past I have used at least some of it to cook steak and chicken. This time I decided on a chocolate cake. The starting heat was clearly a little too much as the top quickly charred, but an hour later the rest of it was perfect. Zac gave it 10 out of 10, and he decided that it was a cake that should be eaten in rather large squares instead of slices.
Rhubarb And ….
Inside the house turkey slices are still the most popular dish of the week. There has also been a plethora of rhubarb appearing from various sources. So, I made rhubarb and custard cake that disappeared in no time at all, and I have just finished baking a rhubarb and strawberry crumble cake, though a problem with my new scales meant that it is somewhat bigger than expected! I also experimented with steamed sticky toffee pudding, and this was very popular. A little lighter than the baked version, though still very sweet and sticky.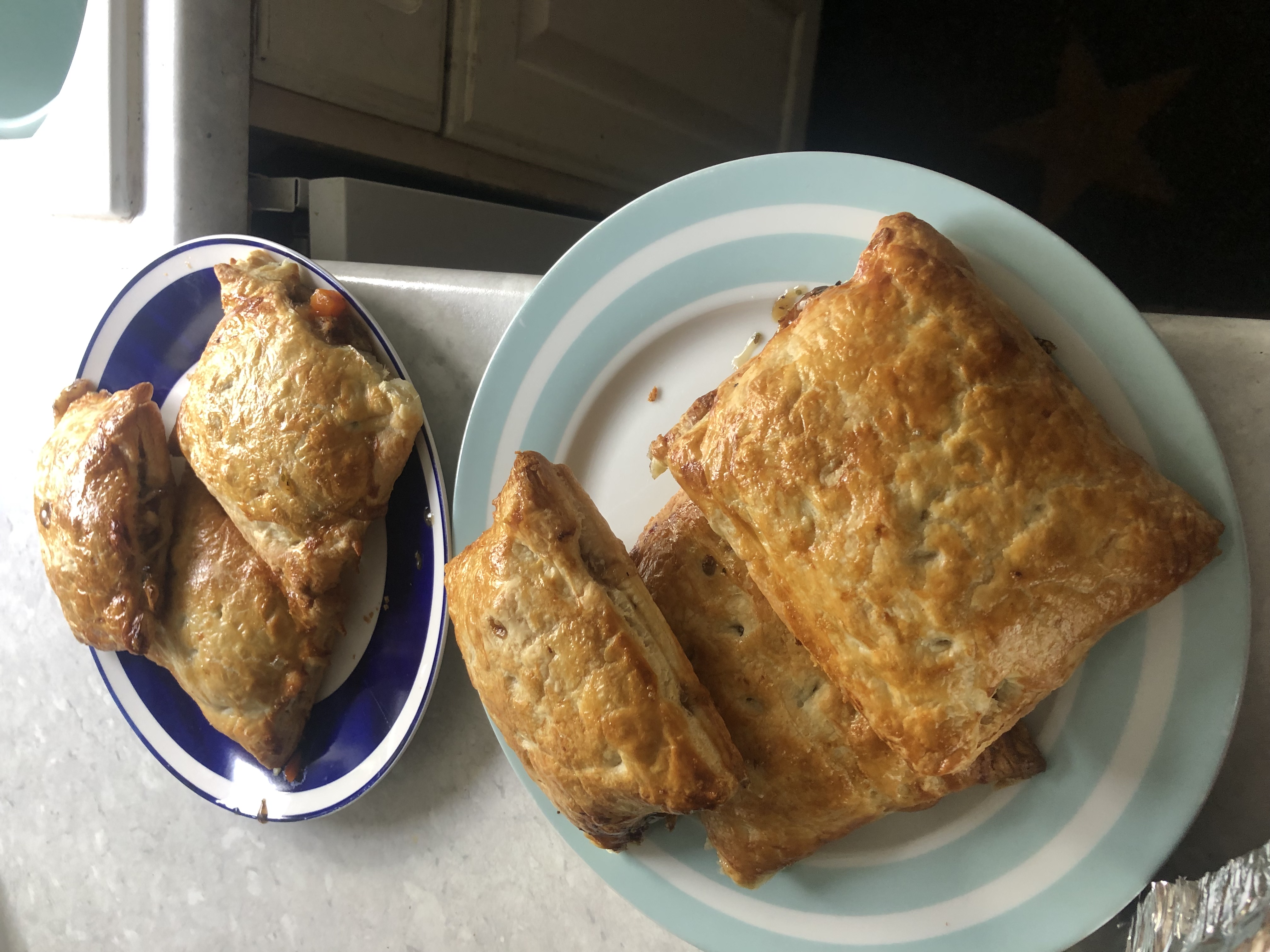 Turkey slices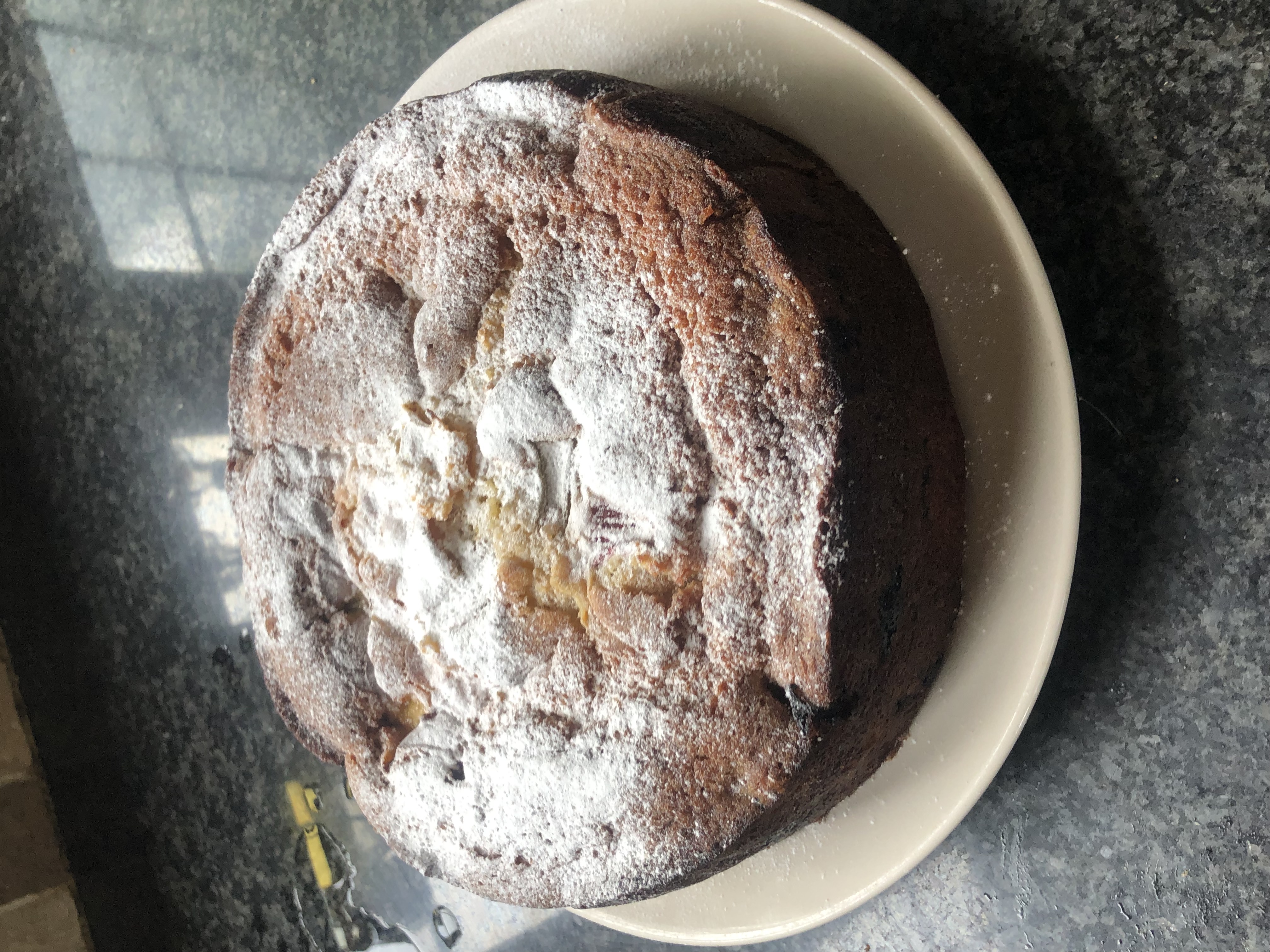 Rhubarb & Custard Cake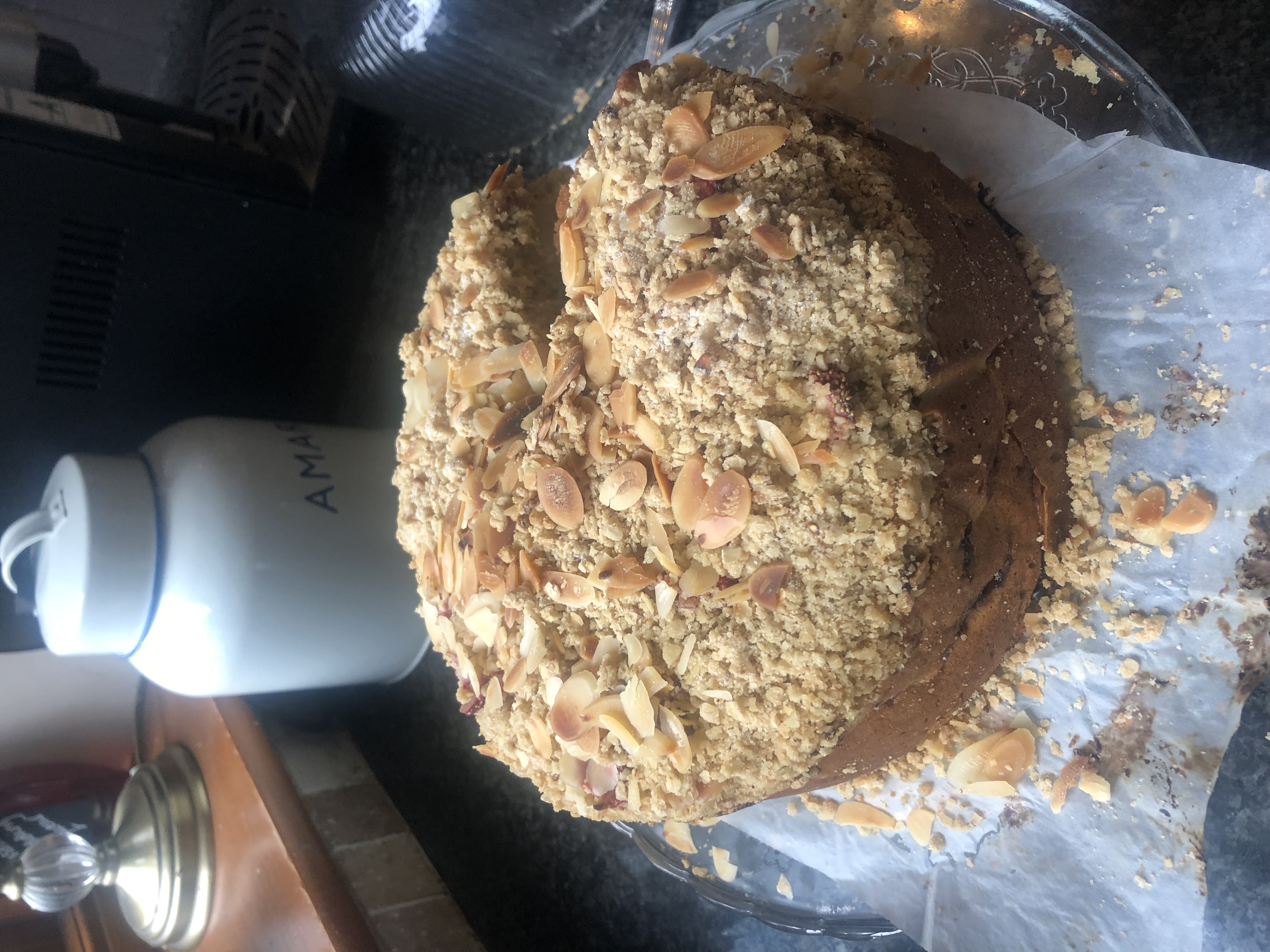 Rhubarb & Strawberry Crumble Cake
Chilli Or Not?
Meanwhile, I went through the weekly ritual of asking Sally what she wanted to do with the chilli that she had made, the majority of which was still festering in the fridge. She has developed a habit for making a pan that could loosely be called chilli, but with no noticeable heat and with a strange texture given to it by the addition of sweet potatoes. She usually has a small bowl when it is first made, and the rest goes into the fridge.
Ole knows better than to get involved with it, frequently asking who was responsible for it before deciding whether to chance it. Inevitably, the faux chilli remains untouched for days and sometimes weeks. Then the sad day arrives when it is chucked out, Sally gets some more mince and sweet potatoes, and the whole sorry cycle starts again. When asked about it she put on a brave face and said, "I'm trying!"
Beef In Buxton
Of course, we don't cook every day, and one Sunday afternoon we ventured to Baileys in Buxton, having been a fan of the place when it was situated in Whaley Bridge. Although the service was a bit chaotic, mixing up drinks and making us wait quite some time despite it being fairly empty, the food was fabulous when it arrived. The highlight was definitely the roast beef, but the Yorkshire pudding, vegetables and gravy were certainly not just there for show. We would definitely return.
Nothing To Crow About
The garden is proving to be a challenging place! Our good friend Helen made us several wicker cage-like structures. These were to prevent large birds and squirrels from stealing all of the nuts and seeds meant for the smaller birds. They did not work, and several crows combined to shake the food to the ground. Next, I built a cage from bamboo and string. This worked for a limited time, though the squirrels immediately found a way to break in. However, the squirrels could only get small amounts of food at a time, which was fine. It took a couple of days for the crows to figure out that bamboo and string is no match for a crow's beak, and they forced their way in. I am currently working on plans for a sturdier cage, so watch this space.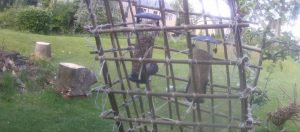 Fight Night
Elsewhere, I decided to see if the hedgehogs were still around, so I put out some hydrated cat food and positioned my camera. The result was the nearest thing hedgehogs ever get to a fight!
In other garden news I took my mum to Dunham Park and it was great to see the rabbits and deer enjoying the sunshine.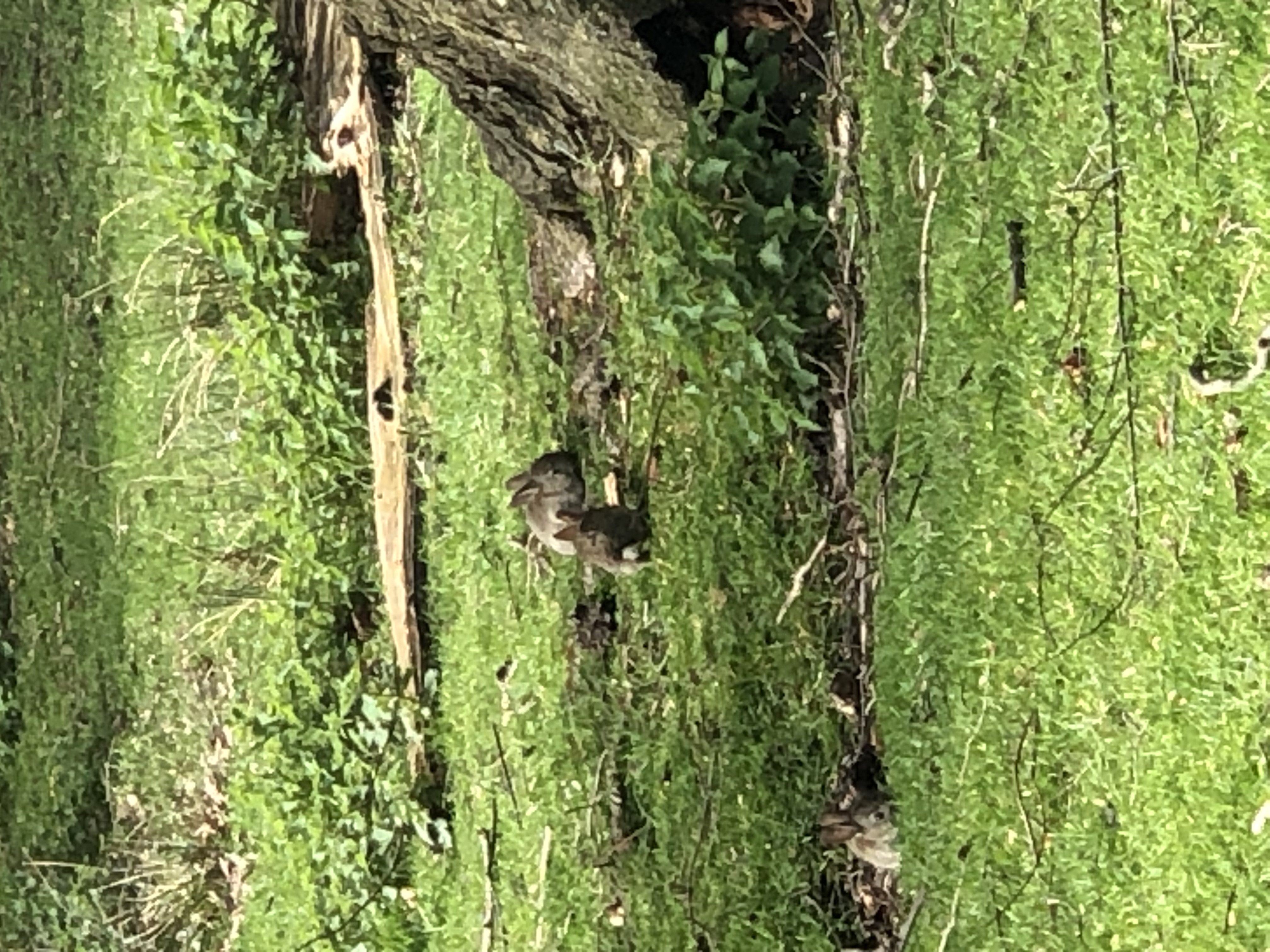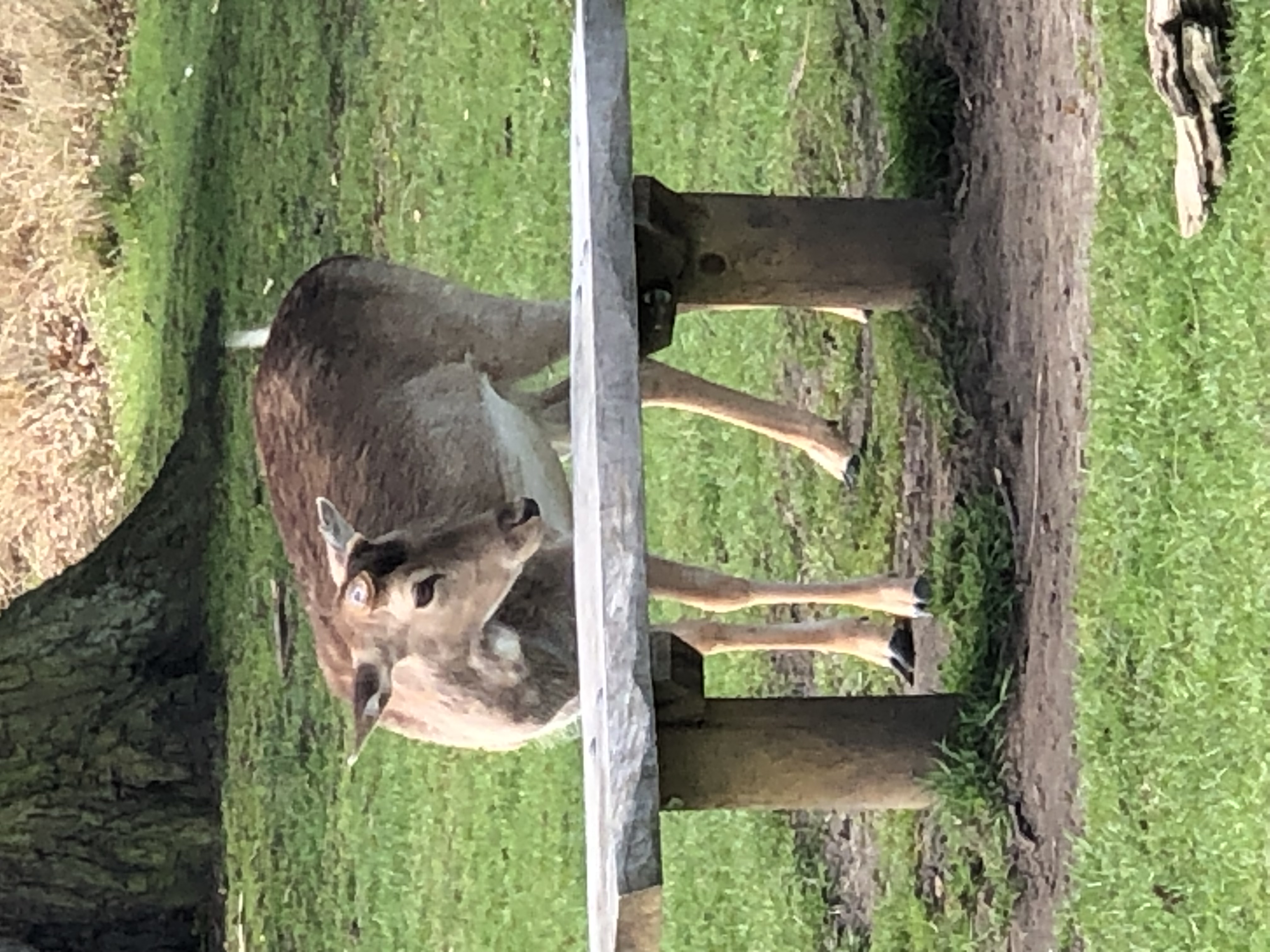 Thomas's New Cart
Working in the garden can be an arduous task, and there is always stuff to be carried from one end to the other. Sally has made this an infinitely easier task by purchasing a little cart for herself. This is a cage on wheels with a handle to pull it, and it looks like something off the island of Sodor. If you see it trundling along don't be surprised if it is accompanied by the theme tune to Thomas The Tank Engine.
Chatsworth Challenge
Continuing the outdoor theme, we went to the horse trials at Chatsworth. So much nearer than Badminton or Hickstead, this international show is right on our doorstep. However, it would not be British without a bit of eccentricity, and this was highlighted in the side-saddle event. Only in England could this be classed as a sporting contest. The showjumping was somewhat disappointing, with the clatter of falling fences being a constant throughout. Sixteen faults seemed like the absolute minimum for any of the riders. Even more disappointingly, no one fell off at the water on the cross-country course.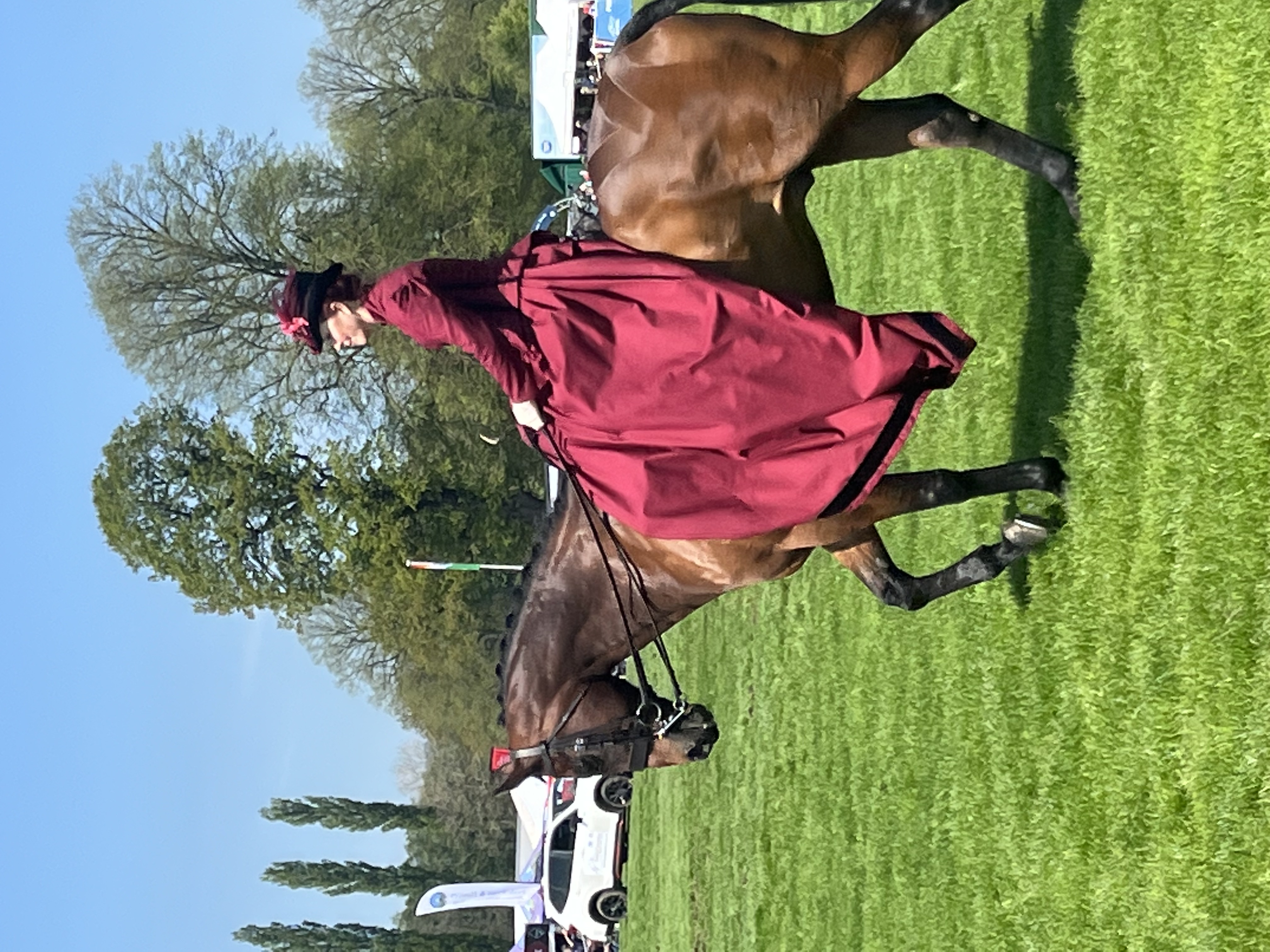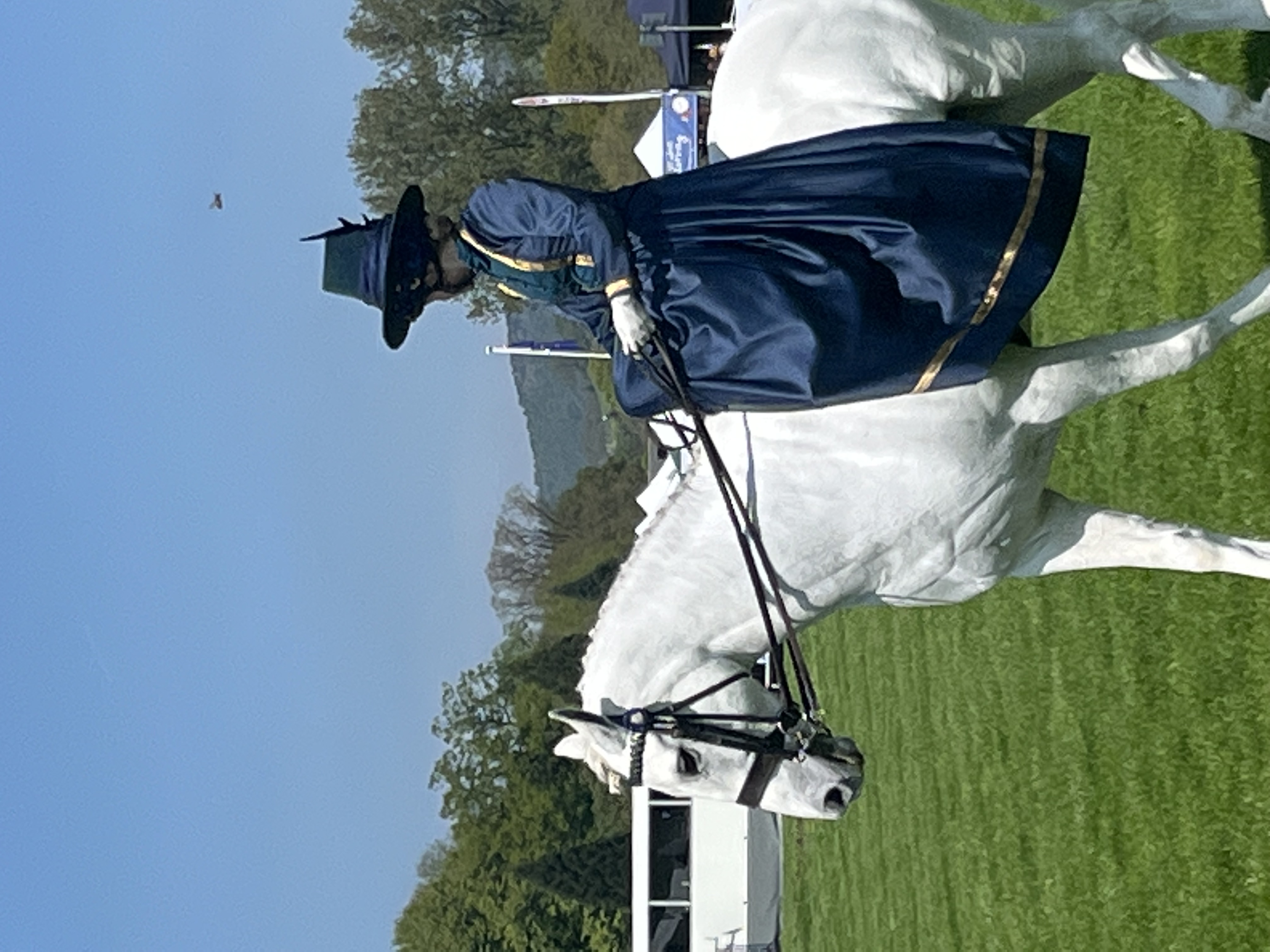 Sporting competitors at Chatsworth
Everyone's Favourite
Ole has been busy chasing his thespian dreams, starting with a day for the release of the Cubic Motion software used by Epic Games. This was followed by a part in All Creatures Great And Small, the popular vet series, which seems to be everyone's favourite. He plays an air force cadet. He went to London for a day to get fitted for his costume, and then it was off to York for three days of filming. His biggest ordeal was on day one, when he had to get his hair cut in the style of a 1940s air force cadet! The series will be shown from September, and he will be in the final episode. Of course, its not just about the filming, and he went for dinner with the director of photography and James Herriot after the shoot had finished.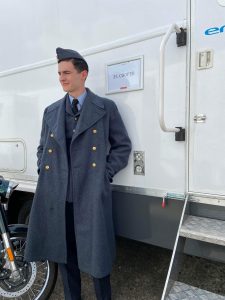 A Stupid Game
I recently resurrected my golfing career after not playing since my last major operation in 2015. I quickly remembered what a horrible sport it is. My first round total of 18 points was ok, but then scores fluctuated between the high of 22 and the low of 12. Some might say it will get better over time, I am not so sure. However, my step count has gone through the roof, with somewhere around 16,000 steps per round. At least that's what I recorded when I remembered to put my phone in my pocket rather than leaving it with my clubs in the buggy.
Missing Moggy
We recently took in my mum's cat who was originally from Dove cat sanctuary. We tried to take him back there but he was sad and pining for affection. So, we took him home and after a couple of days he was purring away and happy to see us. He lived in the garage, away from Bo, though they did have a couple of stand-offs as part of their acclimatisation.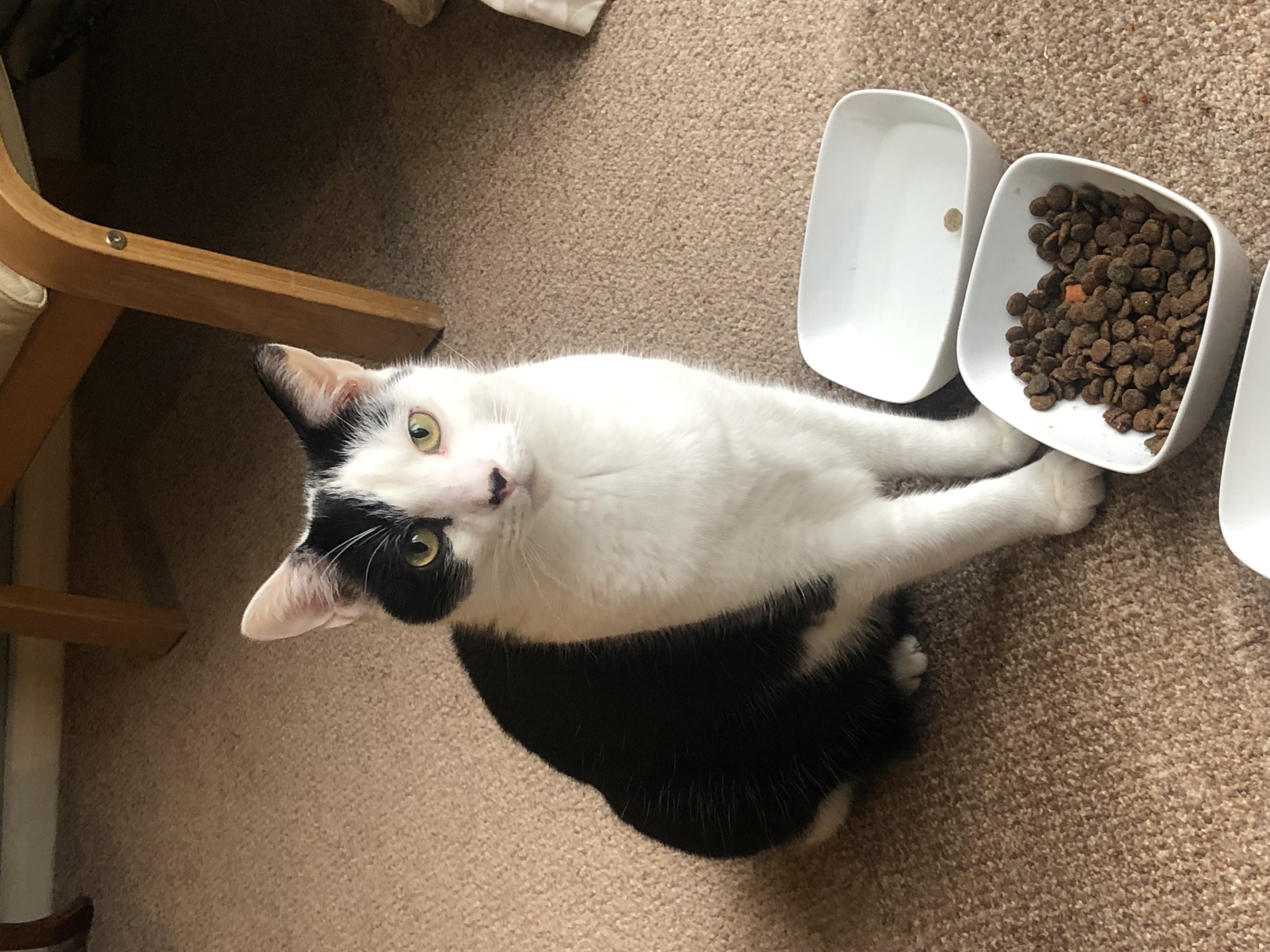 Have you seen me?
Just when we were getting confident with him, he decided to take himself off, and he has not been seen since. If you see him please let me know. He will probably hiss at you, but he means you no harm!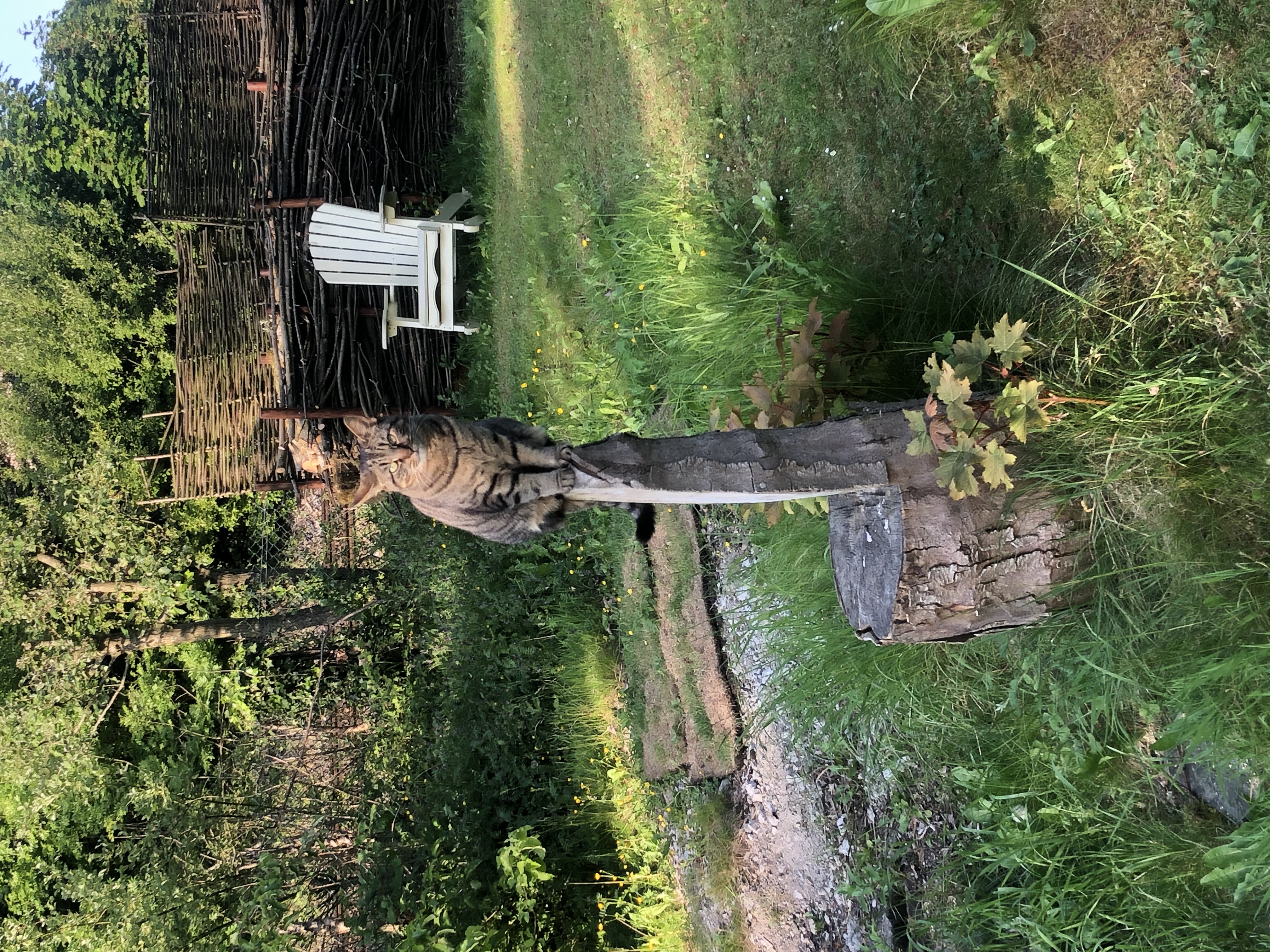 Bo not looking too hard for Lucky
Money, Money Money
Zac was thrilled with his Coronation Day shift at Tesco, gloating over Ole as they paid him £25 per hour. That soon changed when Ole earned several hundred £s for a day's work with Cubic Motion, with the added bonus of thousands more if his footage is actually used.
Where Did You Lose It?
The garage is often used by the boys as a hangout, with lots of musical equipment, pool table, dart board, pinball machine, etc. After a while it gets into a bit of a mess, and the boys are forced into cleaning it armed with mops and bin bags. Last month Zac lost his phone, and the strong suspicion was that it had been included with the rubbish that was now in the external bin awaiting collection. It would be a messy job rummaging through that to find it, but Zac had a better idea.
He actually has two phones, and they are linked by findmyiphone so in theory he should be able to locate the missing phone. However, findmyiphone can be out by a few yards, so he had to narrow it down a bit. He established that the phone was within the vicinity of the garden, and to further pinpoint it he decided to take the bin for a walk and watch whether the location changed. He got to the end of the road and the location of the phone had not moved. Therefore, the bin could be ruled out. That left the problem of the real location, and it was down to supermum who found it where he had left it, just lying around in the garden. 
Driving Dilemma
Car insurance can be an expensive purchase, and Zac thought he had a good deal with BeWiser that included a black box. However, after a few weeks he got an email stating that he had recorded 30 days of bad driving and so his insurance would be cancelled. Zac thought this was harsh, as some of the bad scores were down to driving at night. I guess that the insurance companies are suspicious of all night time driving, but in this case Zac had a genuine case as he regularly had to drive home after midnight when he finished his shift at Tesco.
Of course, having an insurance policy cancelled has to be declared, and would count against him when he bought his next policy. Zac being Zac, he had a solution to this. He called his insurer and told them he wanted to cancel the policy before they did, and they helpfully enabled him to do this. So, no black mark on his record, and he received a significant refund for his unused insurance. He has since taken out a policy with Tesco, and with his staff discount it is about half the price of BeWiser anyway!
SoEnergy Saga
SoEnergy finally came back to complete the smart meter installation that began last September. To date they had been out twice, but on both occasions they had only done one of the meters and not the other. So, we finally have two meters, one for electricity and one for gas. Unfortunately, the meters could not transmit data and so are still not in operation. We have a date set for next week to complete the process, but this has since been cancelled!
A Question
Finally, a question from Sally. Of all of the things that could be troubling her at the moment, this came to the forefront. "When you fall and hurt your knee as an adult, why don't you cry like you did when you were a child?" Answers directly to Sally please!
You can see the previous edition here
Horace Comes Home