August 16, 2020 by Mike Madden
Pollinating Pumpkins
Who knew that pollinating pumpkins was even a thing? The pumpkins in my vegetable patch are growing vigorously, and a week or so ago this huge pumpkin flower appeared.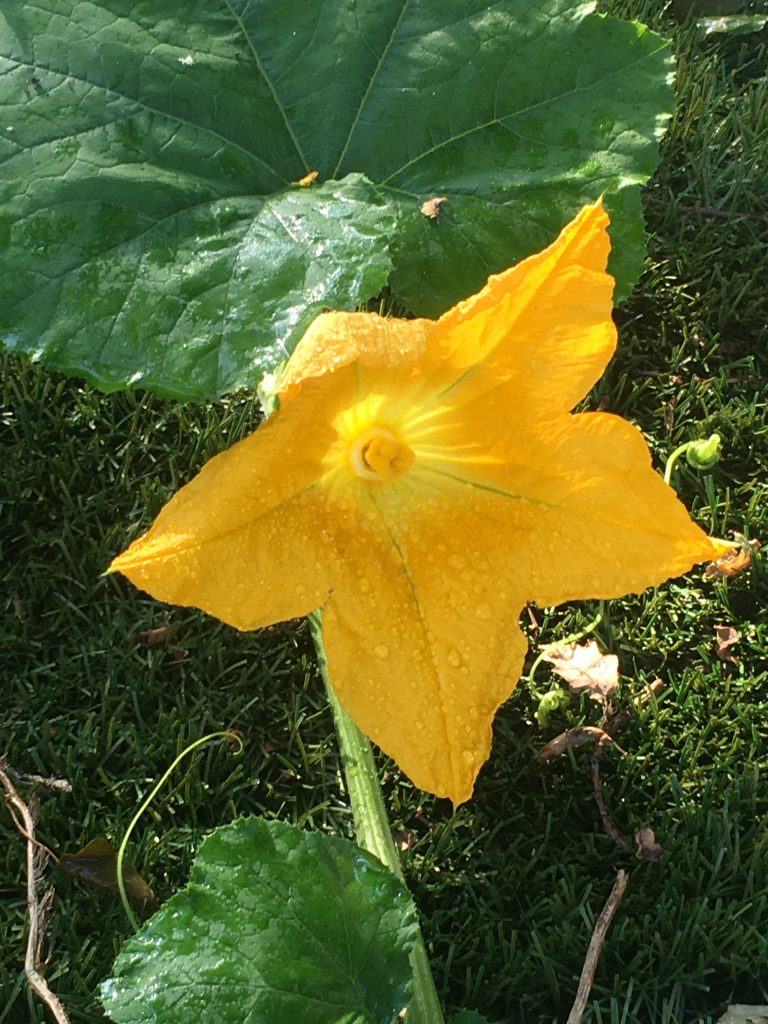 I googled how long before the flower turns into a pumpkin, and discovered that it may need a little help. The pumpkin flowers are either male or female (the one above is female), and they only survive for 24 hours. That is all the time that the bees have to do their part. If the temperature is wrong and the bees are inactive then the pumpkin may never grow. It seems that the humble pumpkin is the vegetable equivalent of the giant panda.
However, it is possible to do this manually. You have to wait until a male and female flower appear at the same time, then use a cotton bud to swab the male pumpkin flower. The cotton bud should be covered in pollen, and you can then impregnate the female pumpkin flower.
I am quite intrigued to see what happens next; I have had several male flowers since the lone female.
The pumpkin vines are spreading wildly, and the runner beans are thriving too. Beetroot is probably not far away, but the peas and lettuce are coming towards the end of their harvest.
To be honest, whilst the peas have been delicious, I have been somewhat disappointed at the lack of quantity produced. My sweet peas have not exactly set the world on fire either, perhaps its a bad years for all things pea related.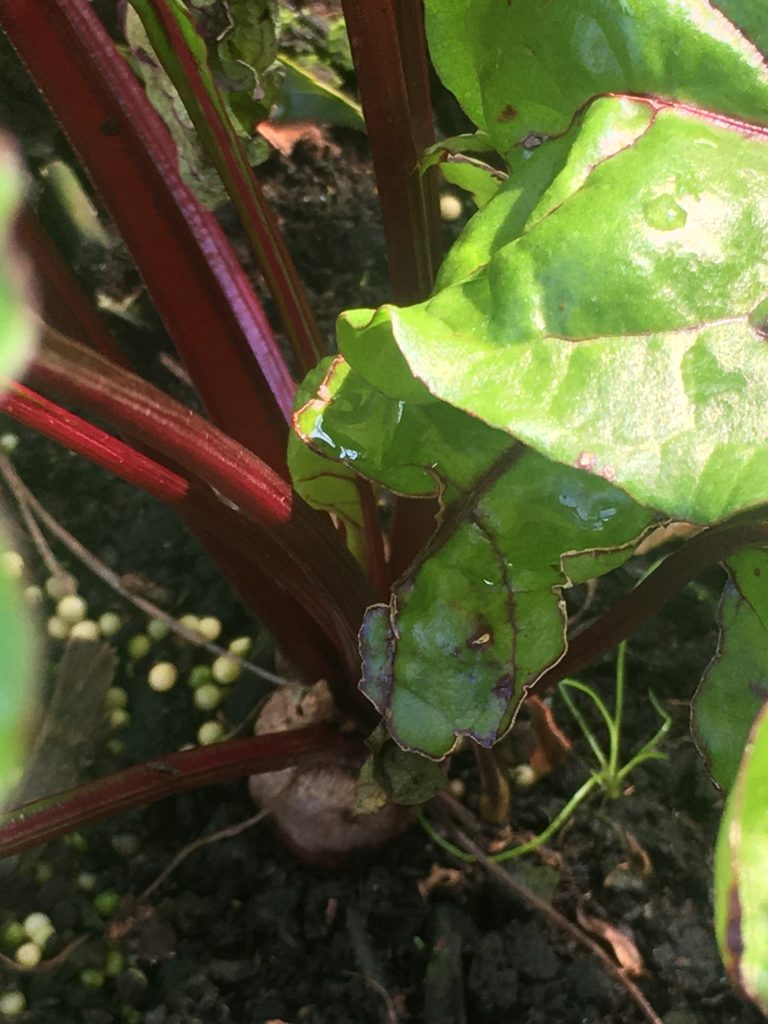 The beginnings of beetroot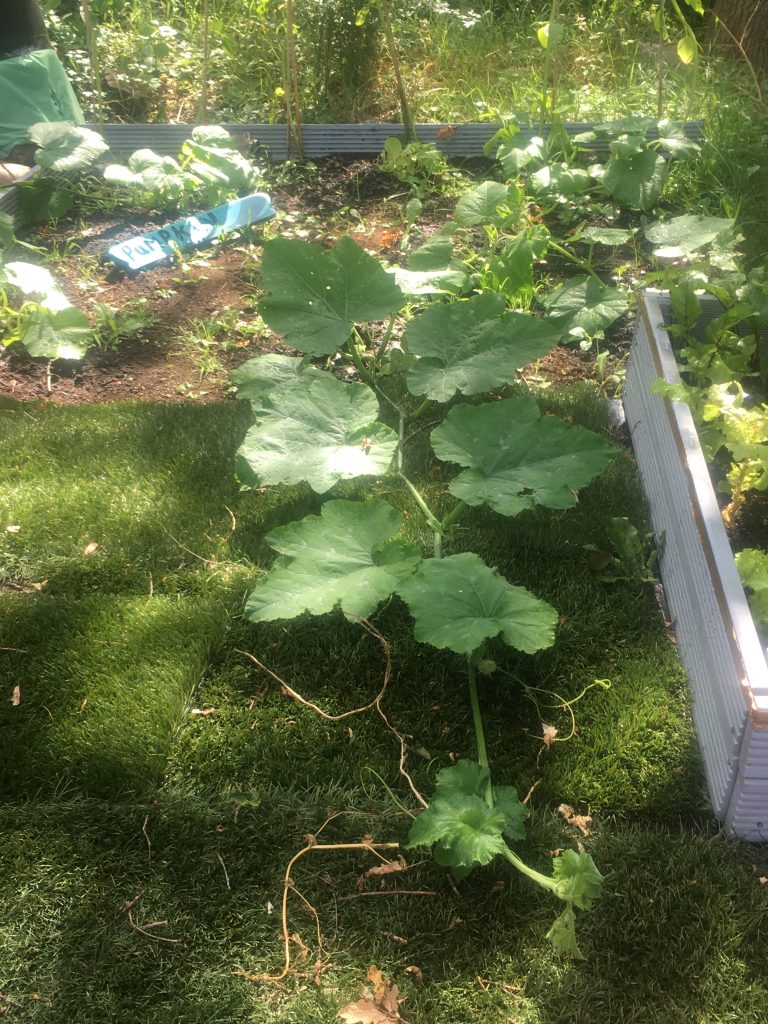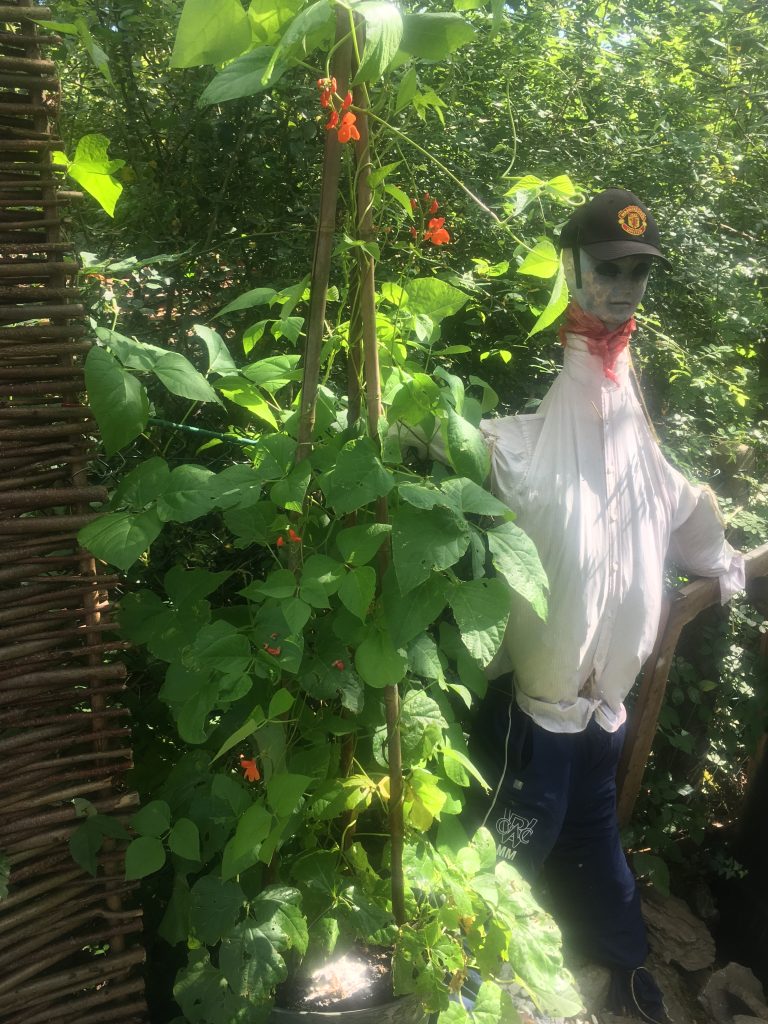 Well guarded beans
It's All A Drama
Despite the lockdown Ole has been busy with his acting career. The release of A Series Of Light from Oxygen Films has been long anticipated, and it is now available on Amazon Prime Video and Youtube. He also did a post show Q & A and has already agreed to a second series.
He also received an unusual request do do a voiceover for an animated piece called Wereworld, written by the guy behind Bob The Builder! The casting company asked him to do a live reading through Zoom, and eventually they selected him to do the complete voiceover at a studio in London. Ole found this to be an interesting experience, though fortunately he had been to that part of the capital before. He found the Jellyfish studio, and rubbed shoulders with Helena Bonham Carter before recording his piece and heading for home. The hope is that the finished pilot could interest Netflix.
The Director
Interestingly the production company is Lime Pictures, and last week Ole got a request for another self tape from them, this time for a part in Hollyoaks. The self tape threatened to go pear-shaped as Ole was not happy with his delivery, the filming, and the background noise. Zac pointed the camera, Sally had to deliver the cue lines, and Ole had to perform. After around the hundredth take Ole was ready again. "Three, two, one, go," he said, but the cameraman suddenly became the director. "I'll do the three, two one," Zac asserted, clearly disliking the prima donna on the other side of the camera.
Once again, Ole got a request for a callback, this time for a live session in Manchester. The Henlay House production team are taking as much credit for this as the lead actor, but I guess that is how showbiz works! Fingers crossed that we may see him on Channel 4 before too much longer!
The Dam BBC
And speaking of television, the anniversary of the Whaley Bridge dam incident arrived a couple of weeks ago, and the BBC wanted a piece centred around the Toddbrook reservoir.
You may remember the story from this time last year.
They contacted Karen from Marks And Spencer, one of the many supermarkets that provided food for the emergency services, and she contacted Sally. Sally roped me into it without hesitation, and passed my details to the BBC's Holly.
It seemed that there would be two clips, one to be be filmed at 6.30am, and the other two hours later. I was to be in the early session. Later that afternoon Holly called me to ask about my side of the story. At the same time, Karen rang Sally to say that she was nervous and could she appear with me. Sally asked me to put Holly on speakerphone while she sorted it out. "Karen is nervous and would like to be on at 6.30 with us," she said. Holly quickly put two and two together. "Oh, will you be there too?" she asked. "Of course," said Sally. Unfortunately the 6.30 slot was full in terms of guests, and so Karen would have to do the later one alone.
Morning Call
The next day started early as we prepared to get to the football field for 6am. I got a text from the producer at approximately 5.55am. It stated that the 6.30 was now oversubscribed with guests, and could we do 8.30 with Karen. Karen would be delighted, not so Lady M! "I'm off horse riding," she said. "Come on, we are already prepared, lets go up there." So at 6.05am we were stood with the presenter, Sam, who explained that it was simply not possible to include "us" at 6.30. "I can't come back later, but Michael can," explained Sally. "Well that's all we need," replied Sam, not quite realising that it was not the done thing to dismiss Lady M so easily.
As it turned out the clip was a matter of seconds. The BBC production was chaotic in its execution, and minimal in its information. It is no surprise that people want to remove the licence fee!
A Round With Nancy
Of course, Lady M is never down for long, and huge congratulations must go to Nancy and Sally for taking first place in the cross country hunter trial at Eland Lodge. She saw off more than 70 competitors, and she was showered with prizes. These included £40, which would not cover the first celebratory bottle, a fancy horse rug, and entry into the nationals. That feels like an expensive day out!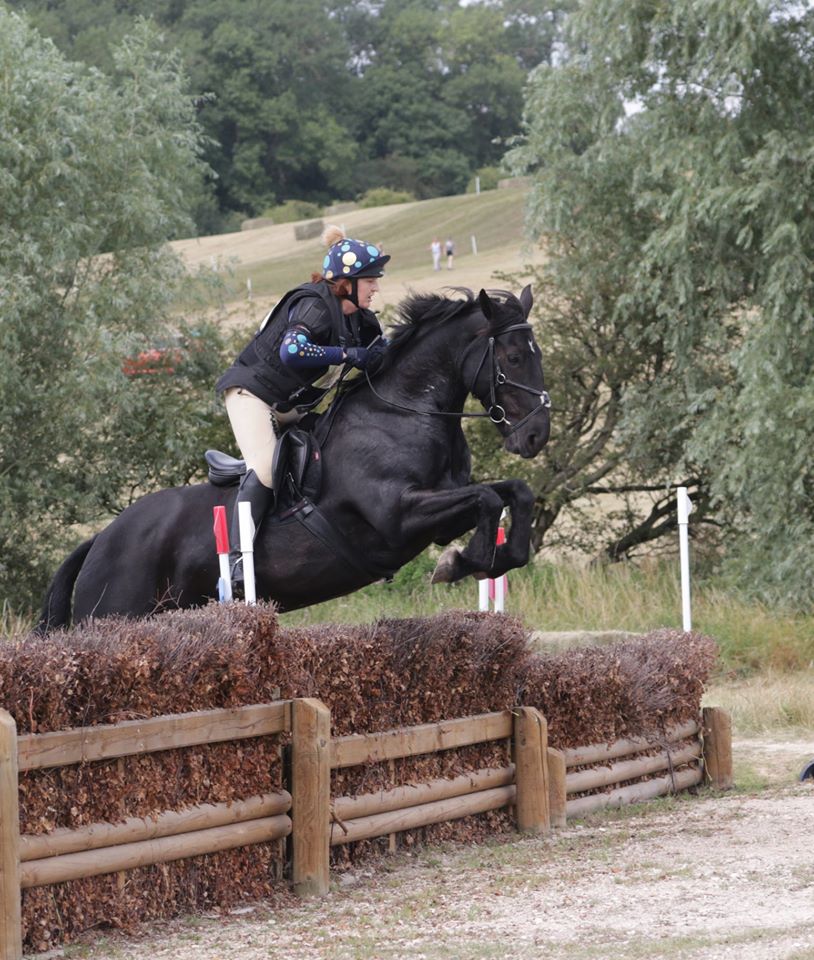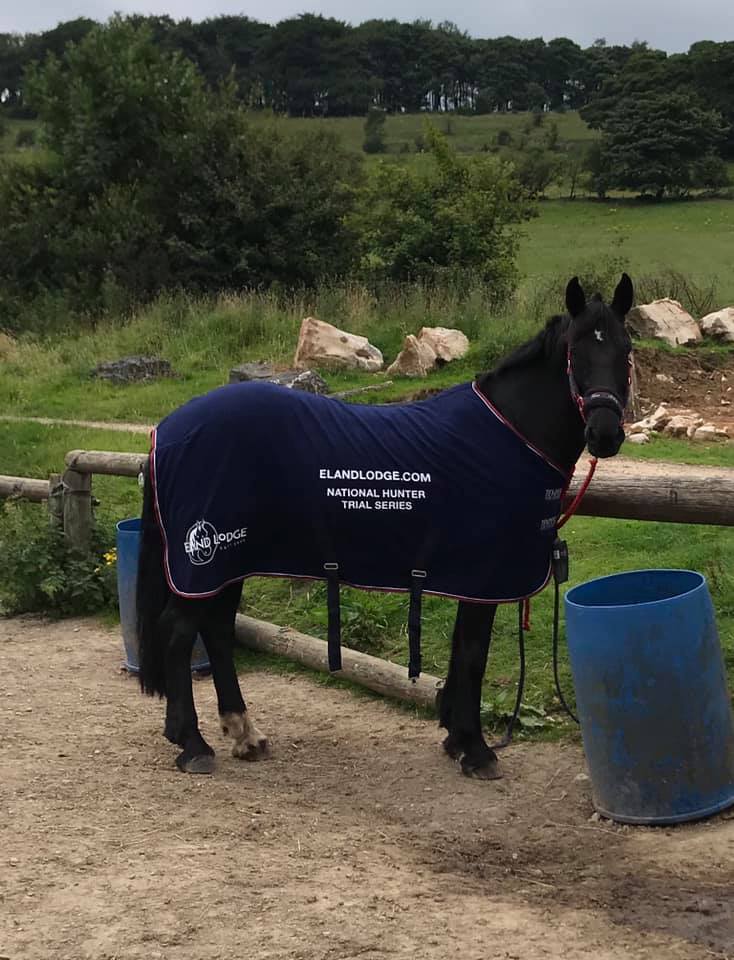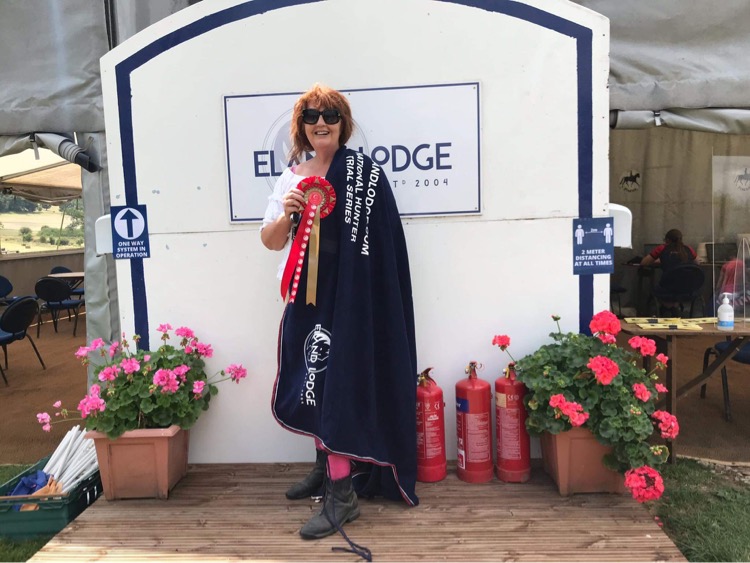 PubHead
Our new App PubHead finally launched in Beta mode for both IOS and Android. It can be a bit of fun, a challenge, and a great reference guide. There will be much more to come in the official launch which looks like being in September, but if you want to try the early release you can get it here www.pubhead.com
21
I am not quite sure what happened at Ole's 21st. Everyone seemed to have a good time, based on the fact that everyone was hammered. Zac made an interesting observation beforehand. "Is James (his cousin) coming?" "Yes," I said. "What about the other one, the one who is married?" he continued. "Paul, yes I think he's coming too, but he's not married." Zac thought about this, and then he laid his cards on the table. "He's not married? But he's got a kid. Is that even a thing?" The naivete quite impressed Sally!
I made more ciabatta, making use of my new giant mixing bowl, and very slow cooked brisket. I also assembled a cake, with 3 caterpillars, that soon became 5, a yellow and green Battenburg, and chocolate leaves.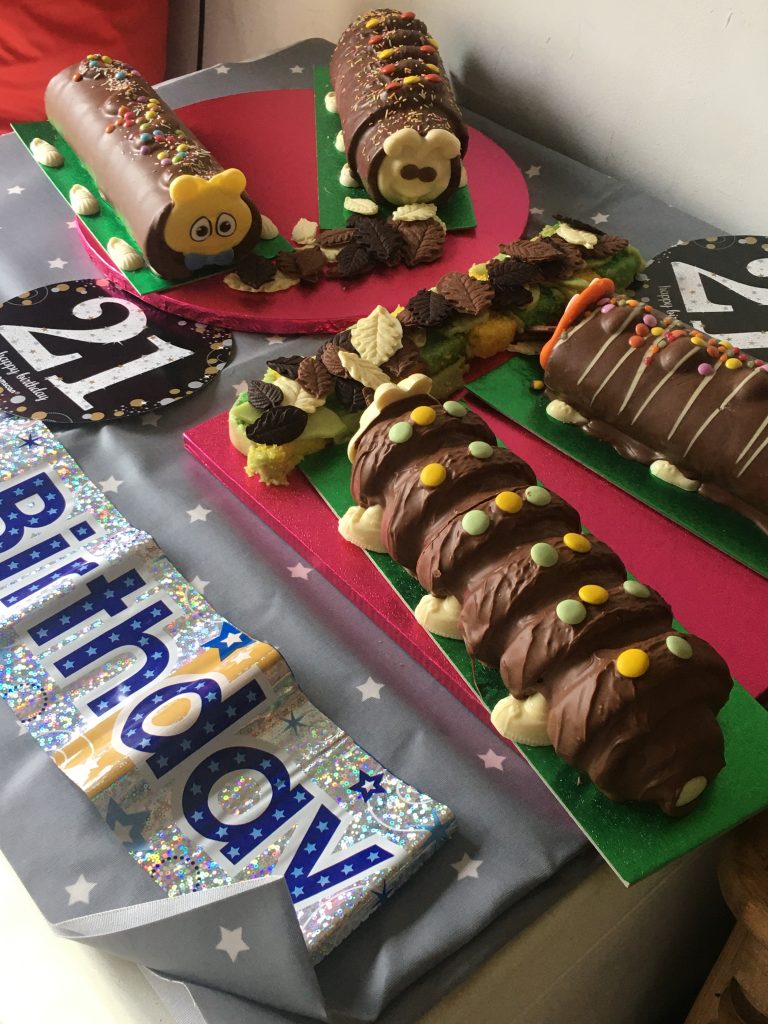 Beware Of The Vodka
Zac quietly topped up his drink as the night wore on, and it soon became apparent that he had downed about three quarters of a bottle of vodka. He went for a lie down, and was inevitably sick. However, his constitution came to the fore as he quickly rebounded to take on all comers at basketball in the garden.
How Not To Get From A To B
A couple of weeks later there was another 21st, this time in Taxal. The hour was late, the light had gone, and we decided to walk home, starting at the church brew. After about ten minutes Ole turned left, whilst Sally insisted that she knew the way and went in the opposite direction. Zac followed Ole, I followed Sally. Ten minutes later it became clear that Zac had chosen the best option. Our torch died at round about the same time.
We meandered from one path to another, across roads and ravines, and I strained to see something vaguely familiar. The boys, meanwhile, kept to the straight and narrow, arrived home, let themselves in, grew up, had families and no doubt wondered what happened to their parents on that fateful night. We somehow emerged close to the top of Elnor Lane, still well short of our destination. I expected to see the sun rise and hear the crowing of a cockerel as we eventually made it home. Frodo and Sam would have been proud of us. Fortunately for Sally my phone had died, and so Endomondo was not able to track our epic journey. However, the map below shows our circuitous wanderings in red, with the boys somewhat more direct approach in blue.