August 10, 2022 by Mike Madden
Truly Glorious Goodwood
Horses For Courses
It has been a busy time for Star Of Lady M after her exertions at Royal Ascot, and Emerald Duchess has been getting involved too. The Dragon Stakes at Sandown was dismissed as an option for Star, and instead we entered her into the Yacowlef at Deauville.
Meanwhile, the Duchess headed to Thirsk. Trainer Tim Easterby said that the main aim of today's run was to get a handicap mark. We met Sean Kirrane, our young jockey who was taking three pounds off her back. He was a confident pilot who had ridden her many times at home, which was very reassuring.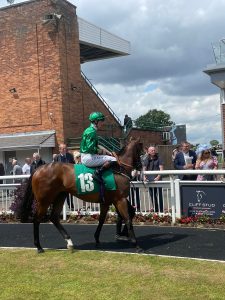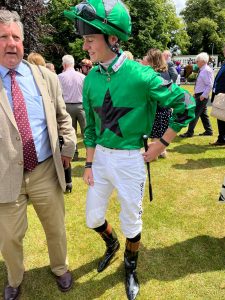 A Race Inside A Race
Tim instructed Sean to give her a slap if she needed it, but otherwise to ride her hands and heels. He would obviously want to win, but the advantage of finishing tenth as opposed to second could be as much as 10lbs on the handicap.
For the race itself she got out better than previously, though there is still room for improvement. She quickened well when she was asked, and at one point she was in contention. Admittedly, she was outpaced in the middle third. However, she could have still made up significant ground other than for the "hands and heels" instruction. Sean was reasonably pleased with her, though he did say that she still ran quite green. She also hung quite badly which hampered her progress. Her finishing position of tenth was far worse than she could have achieved. On the plus side, it certainly hit the spot in terms of her likely handicap mark. Her official RPR was 53, up from 47, whilst her TopSpeed was 2 which I found baffling. I think that I will stop paying any attention to TopSpeed.
What Next?
Tim thought that perhaps seven furlongs on a left-handed track to counteract the hanging would be better for her. Chester would be an extreme example of this. Elsewhere, maybe somewhere like York, Redcar or a return to Thirsk would also do the trick.
Afterwards, Luke agreed with the assessment that she was green, and that she may benefit from further. He certainly thinks she has a good deal of ability. It was still only June and she had already run three times. She was seven and a quarter lengths off the winner (which is closer than previous races). She was also five places in front of Tim's other horse that finished last!
French Disconnection
For Star Of Lady M the Yacowlef entries closed on Friday 1st July. I scanned the other French two-year-old races. It appeared that they generally had at least ten and often many more entries. However, a Class 2 contest at Saint-Cloud over six and a half furlongs opened with nine entries. Five of these were forfeited leaving just four runners. That would not give viewers much a of a spectacle, but as an owner it would be great!
Jason Kelly would assess the Yacowlef entries at the closing time on the Friday. That is when a decision would be made.
I heard nothing from Jason, and as I was browsing through the France-Galop site I searched for Star Of Lady M. I found her entry for the Yacowlef, and that then allowed me to see the rest of the entries. There were sixteen in total, and some very highly rated individuals. Five had an RPR higher than our filly, including Malrescia from George Boughey's yard. Mark Johnston had entered Beautiful Eyes. Havana Angel had an entry, and she had been bought the previous day for 320,000 Euros.
Done With Deauville
It was disappointing as it seemed to be a very strong race, and Jason agreed. We were tending towards not declaring, as it is a tough journey for a young horse, With a big, high class field it would not be worth the risk. We would keep an eye on the next stage, and if the race did cut up we could still declare. That would mean a lot of last minute travel arrangements.
Deauville could effectively derail the rest of her season. On the back of Ascot, David wanted to give her an easy time. The Ascot race itself would not have taken much out of her, but the travelling, heat and the whole atmosphere might have affected her in ways that are perhaps not obvious. It would also cost around £6,000 just to get her to Deauville and back.
So, we did not declare. I cancelled the hotel and closed down the browser tabs with details of Eurostar and other transport methods. We were not going to Deauville, and with no set race in our sights I did not have to worry about my countdown. I could relax until such time as our next entry was made.
St Who? St Hugh!
Jason thought that we should target the St Hugh's at Newbury on 12th August. This is a fillies only Listed race that was also on my list. It could fall at just the right time, but the Julia Graves Roses at York eight days later was also a possibility.
It hopefully meant that I could relax for a few weeks. However, we also talked about a prep race before the St Hugh's. This could either be a six furlong nursery at Newmarket, or the Alice Keppel at Glorious Goodwood. The Newmarket race would give us an opportunity to see whether she stayed six furlongs,. Newmarket is generally seen as an easy six as it is downhill. The Alice Keppel is a Class 2 five furlong race. In the past two renewals there have only been seven runners each time. Newmarket is second only to York in terms of the prestige of having a runner, and I have always considered Glorious Goodwood to be a laid back version of Royal Ascot. So, either would be a good option.
The Duchess Defined
Emerald Duchess's handicap rating came through as 54, which I thought was perhaps a couple of pounds too high. However, it should now pave the way for handicap entries, and we could look forward to her next run, particularly with our newest syndicate member Edwina Currie on board.
Somewhat out of left field, Star Of Lady M had an entry for a five furlong handicap at Musselburgh. This was for the following Tuesday, two days before the Alice Keppel entries. Jason thought that it would be more like a decent piece of work on grass rather than a race. We would still have a reasonable chance to win, and certainly be in with the possibility of some prize money. The winner of the race would earn just short of £6,700, so not the biggest prize, but perhaps I had been spoilt! Jason's reasoning made sense as there were only nine entries, which meant that the final field could be just four or five runners.
Teatime Tipple and Fragrance were both entered, but in my mind the biggest danger was Jungle Time. We would have to give away a lot of weight all round. However, it would give us that extra week to prepare for the St Hugh's at Newbury which was still our ultimate aim.
We'll Take The High Road
My internal countdown clock started ticking at six days, and my thoughts turned to Musselburgh. First of all I had to confirm exactly where it is. Five miles east of Edinburgh, and a four and a half hour drive. The train could potentially take even longer. The train would also be rather expensive, a somewhat ironic stance given that our last trip with Star Of Lady M was by helicopter. My mind was quickly made up. We would drive on the morning of the race, and stay at one of the local castles. The following day we would drive back. The biggest decision was, which castle?! We would also have to hope that Emerald Duchess would not run at Lingfield the day after the Musselburgh race. This was a distinct possibility, but fortunately one that did not materialise.
The weights were announced the following day. We had to give lots of weight to just about every other horse. These included Dickieburd who would be five pounds lighter, Explicit nine pounds lighter and Fragrance ten. Howaydaoin would carry a huge twenty six pounds less than us. Jason Watson, another of David O'Meara's stable stable jockeys, was on board. We were confident that he would have ridden Star Of Lady M plenty of times at home. He would also be familiar with her pace, having ridden Primrose Ridge when Star Of Lady M won on debut.
Well, I Declare
By 8am the following day there were just two declarations for the race at Musselburgh. By 9.45 there were still just two, and then in the closing minutes another two were added. So there were four runners, and one was a bit of a surprise. Karl Burke's Jungle Time raced the previous Thursday, so would only have five days between races. We would have to concede eleven pounds to that runner.
At the bottom of the weights we would have to give sixteen pounds to Cuban Rock, and the other entry was Explicit.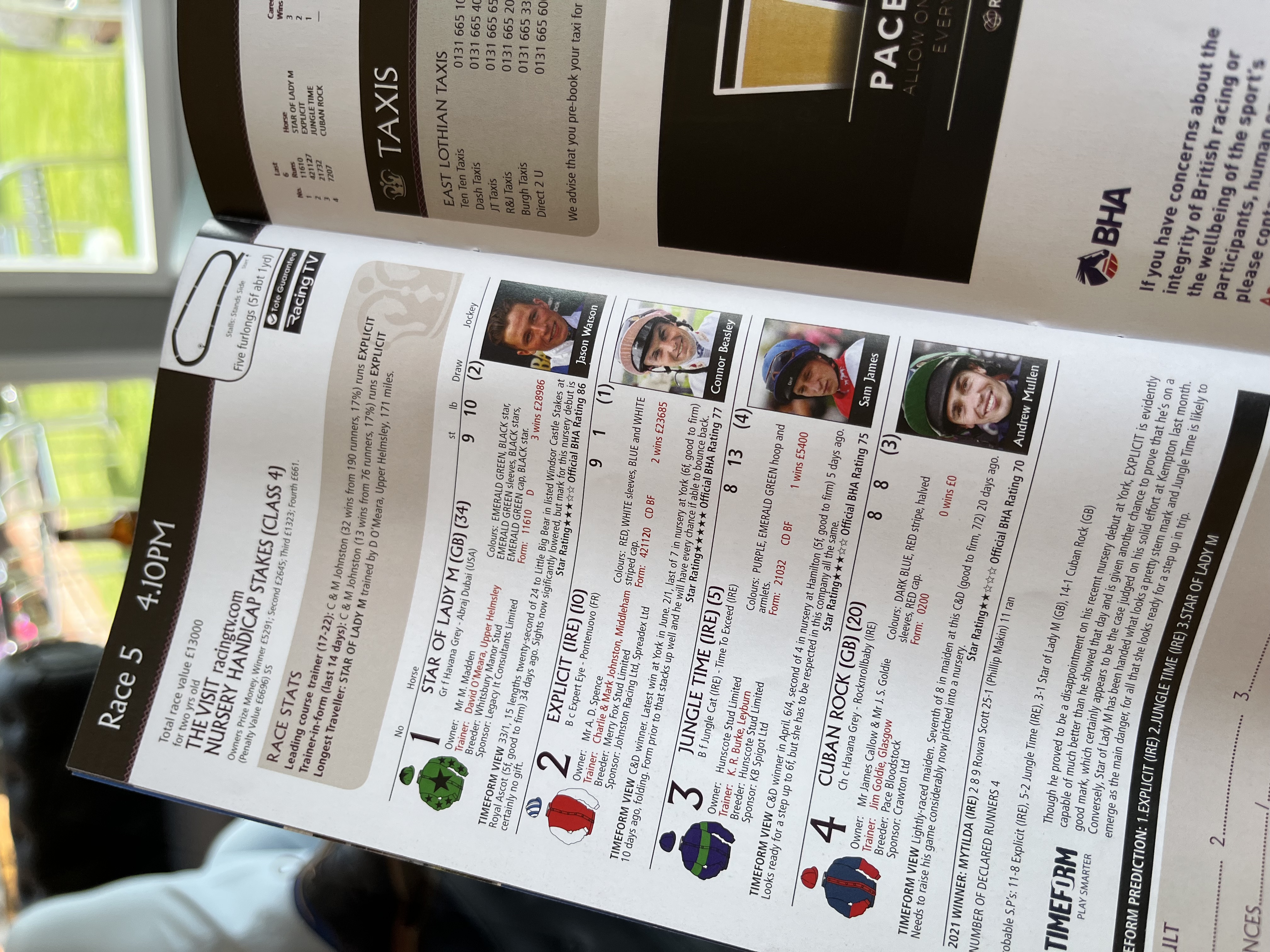 The Heat Is On
Britain was struck by a heatwave, and five meetings were cancelled due to the extreme heat. Musselburgh survived, but we kept a close eye on the temperatures and the possibility of a last minute cancellation. We were certainly grateful that Musselburgh's standard dress code is "wear what you feel comfortable in".
It was the day before the Musselburgh race and I received a brief message from Tim Easterby. Emerald Duchess was well and in good form, and they were looking for a nursery for her. I had suggested Chester on 31st July or Thirsk on 5th August. He also said that she would run in a hanging bit to try to encourage her to run a little straighter next time. There was a sense of optimism that Emerald Duchess might finally start to show us something.
I'll Take The High Road
The following morning we set off for Scotland, and even as early as seven o'clock the heat was stifling. We hit the M6 and headed north with very light traffic. By the time we reached Carlisle the air was noticeably cooler. We continued over the Scottish border and stopped for a break. We checked the Sporting Life website and Musselburgh was definitely on, so we booked a room. This was at Melville Castle, just a few miles from the racecourse. It was still another hour and a half away, so we called ahead and asked them to book a taxi to the course.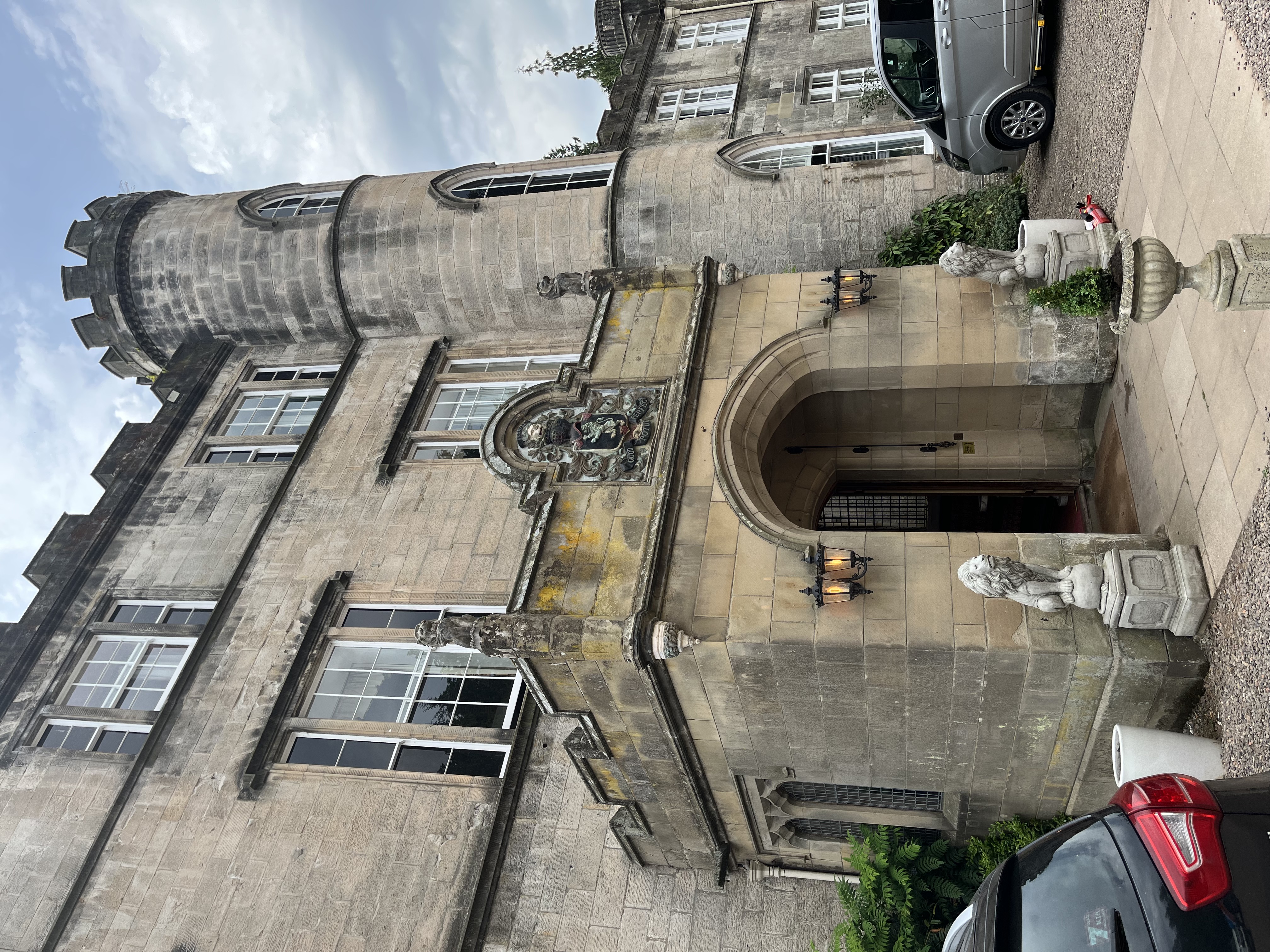 Almost five hours after leaving home we pulled into the elegant surroundings of Melville Castle. We were greeted by suits of armour and huge tapestries. There were pleasant gardens surrounded by mature trees and bushes. Check in was great as our room was ready, so we had a quick change and jumped into our waiting taxi.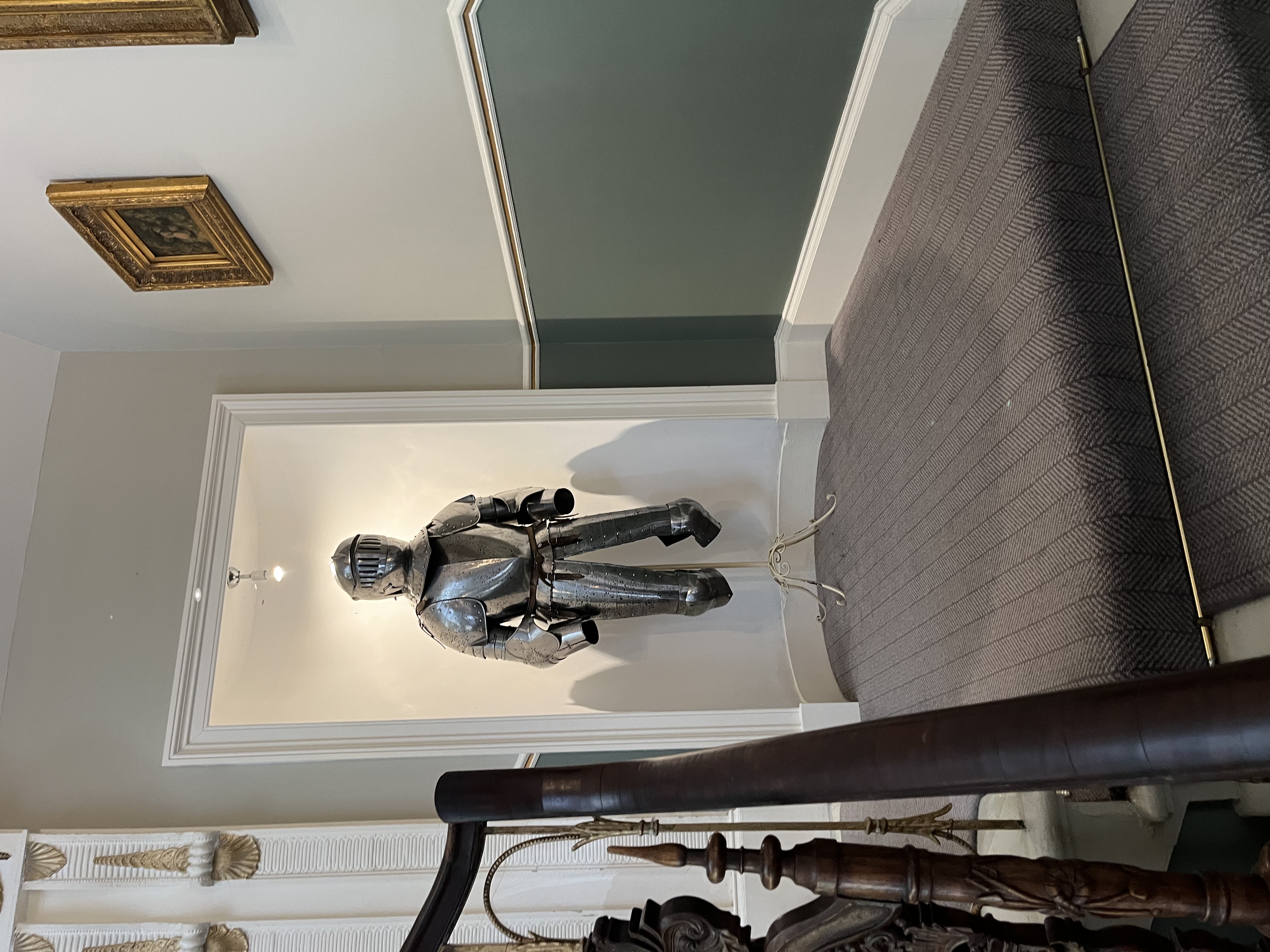 Strategy
I had a call with Jason Kelly and he was comfortable that Star Of Lady M was only facing three rivals. He thought Jungle Time and Explicit would vie for the lead and we would track in behind. If the weight did not hold her back then she would challenge late. I also asked him if this was the only race before the St Hugh's but he was non-committal. He thought that if she won at Musselburgh, or just ran a good race, then the St Hugh's would follow. However, there may still be an opportunity to run her in the Alice Keppel at Goodwood. The entries for that were two days away, so it was becoming a hectic time of the season.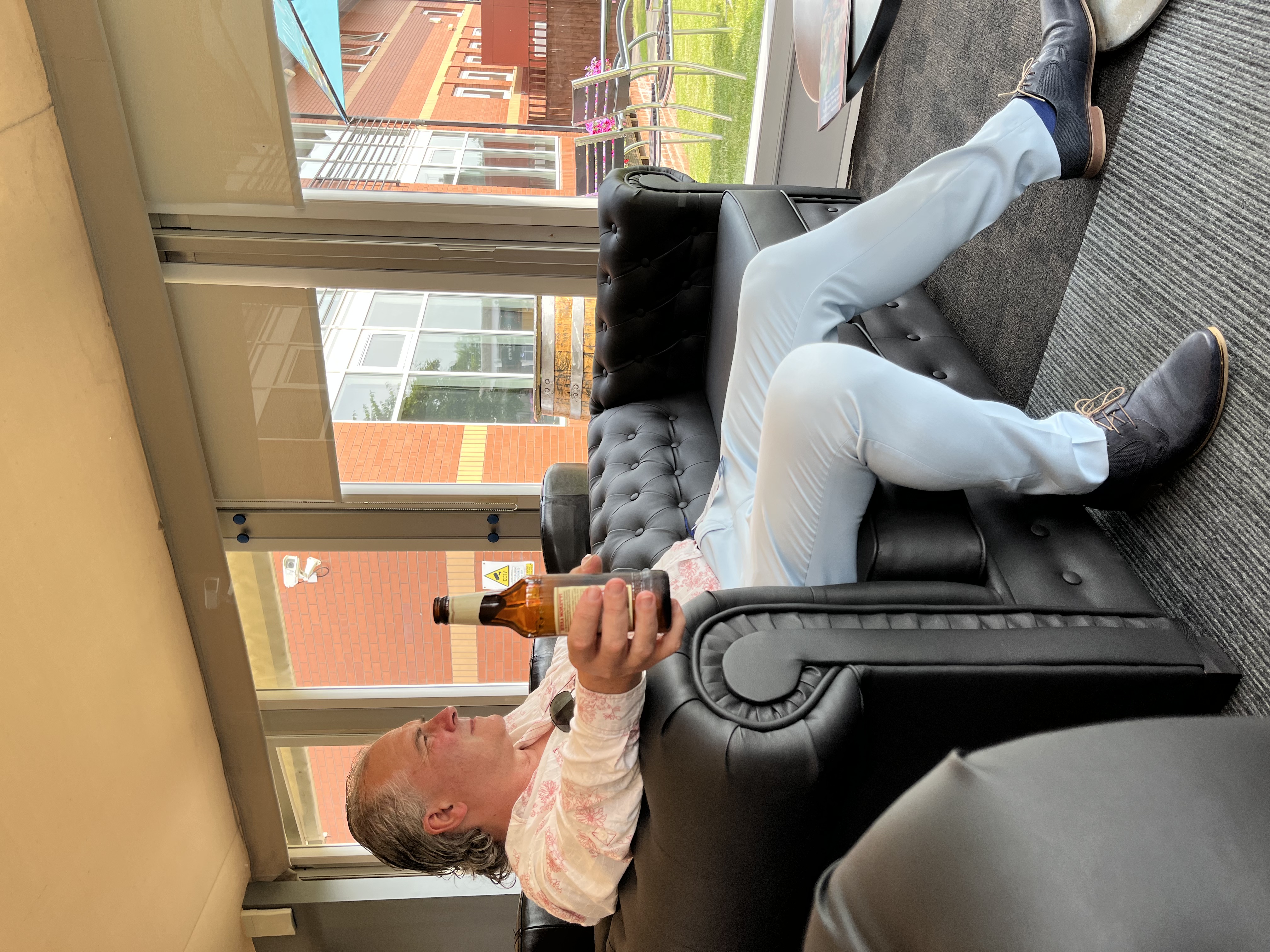 We'll Take The Low Road
Musselburgh racecourse was about fifteen minutes away. We were given Owners & Trainers badges, racecards and lunch vouchers on our arrival. It was still early, and our race was not until 4.10pm, so we had an excellent ham salad for lunch in the Harris Tweed bistro before heading into the Owners & Trainers marquee. The temperature was certainly bearable, especially when the clouds drifted across the sun. We had beer and champagne and watched the early races. Sally seemed to have the golden touch, backing several winners, whereas I seemed to struggle with seconditis!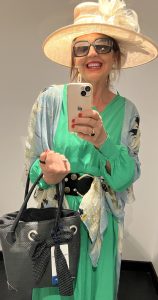 There is a viewing section in the stand reserved for Owners & Trainers, and it had a great position overlooking the winning post. However, it seemed that it was a bit of a free for all, with no one checking badges.
Temperatures began to rise around 3pm, which is about the same time as my nerves started to kick in. They were certainly not as bad as at Royal Ascot, but as soon as the preceding race was finished and the horses returned to their stables, I was on the lookout for Star Of Lady M. We crossed into the parade ring, and with only four runners it was easy to see the other owners, but who was with which horse?
Will She Win?
Sara, from David's yard, appeared, and we chatted about the weather, our castle, and Star Of Lady M. Our filly appeared shortly afterwards, and she looked fantastic. She was relaxed, inquisitive, and taking in her surroundings. Jason Watson came to greet us, and he confirmed the tactics that I had discussed with Jason Kelly earlier. They headed for the start, so Sally and myself left the parade ring to take up a suitable spot in the grandstand. On our way there we were stopped by a couple of chaps who wanted to know if our horse would win. All that I could confirm was that I had backed her, and that seemed enough for them.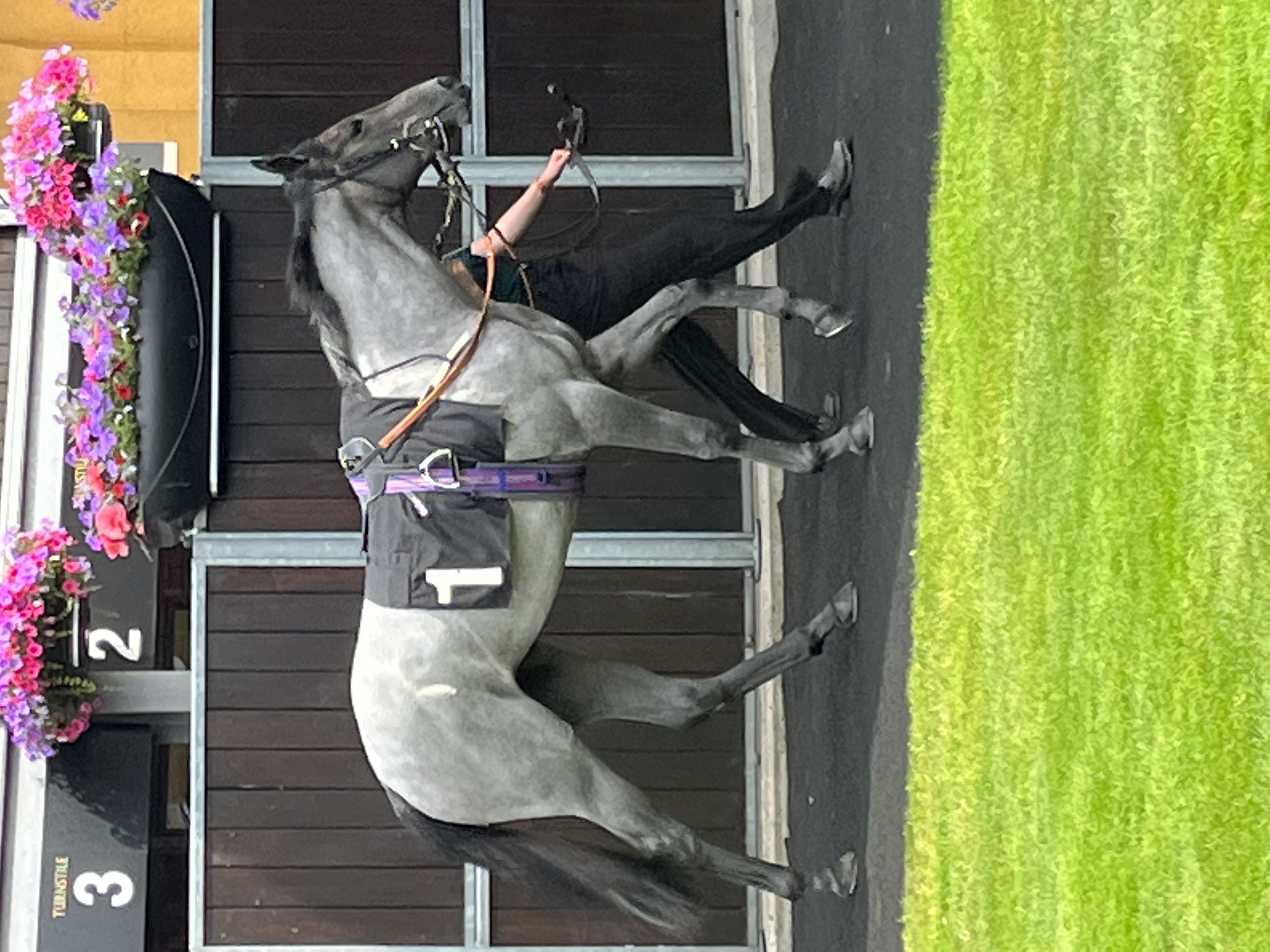 As expected, the Owners & Trainers part of the grandstand had a lot of people in it. There were only four runners, but maybe forty spectators! It made for a good atmosphere as the horses started to enter the stalls.
A Plan Comes Together
Despite the small field there was a bump between Explicit and Star Of Lady M at the start, but it did not seem to have much effect. Jason Watson steadied Star Of Lady M in behind Explicit who was vying for the lead with Jungle time on the rail. The leaders were three lengths clear of our filly in the early stages. Cuban Rock was struggling in the rear.
Past half way and Jason asked her to quicken. For a while it looked like she would not make it, but she gradually started gaining. Explicit took the lead from Jungle Time and Star Of Lady M ranged alongside. She looked at her rivals, put her head down, and sprinted to the finish going away. It was a massive weight carrying performance that resulted in an easy length and a half victory. The Owners & Trainers grandstand erupted, and it was not just Sally and myself. Many of the punters were waving betting slips emblazoned with Star Of Lady M. We were offered many handshakes and pats on the back. She had won £6696, but the prizemoney was incidental; it was another victory.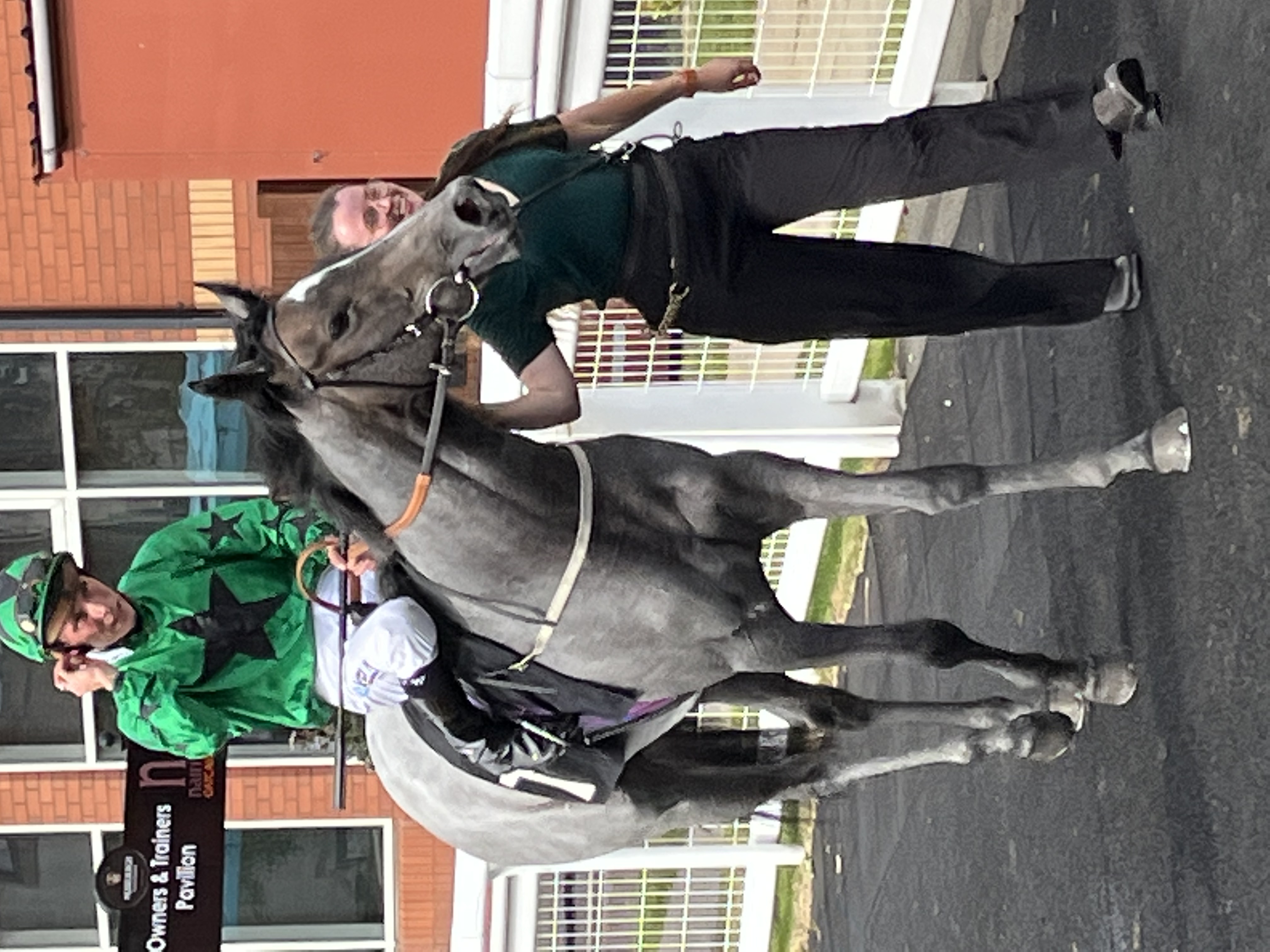 Star Of Scotland
In the parade ring we headed for the space reserved for the winner and waited for our Star. She still looked fresh as she was washed down, and she is always ready for a bit of fussing after her races. Photographs followed, and then Jason was interviewed about the race, his only mount of the day. He said that she was an easy ride, and she travelled strongly to take the win as she liked.
We had a presentation of four beautifully engraved glasses and a bottle of Edinburgh gin. Next it was into a private suite to enjoy a couple of glasses of champagne and reruns of the race. The way commentators call the race is always fascinating, and in this instance it was finished off nicely with "Star Of Lady M is going to give weight and a beating to her rivals, the class act of the race wins."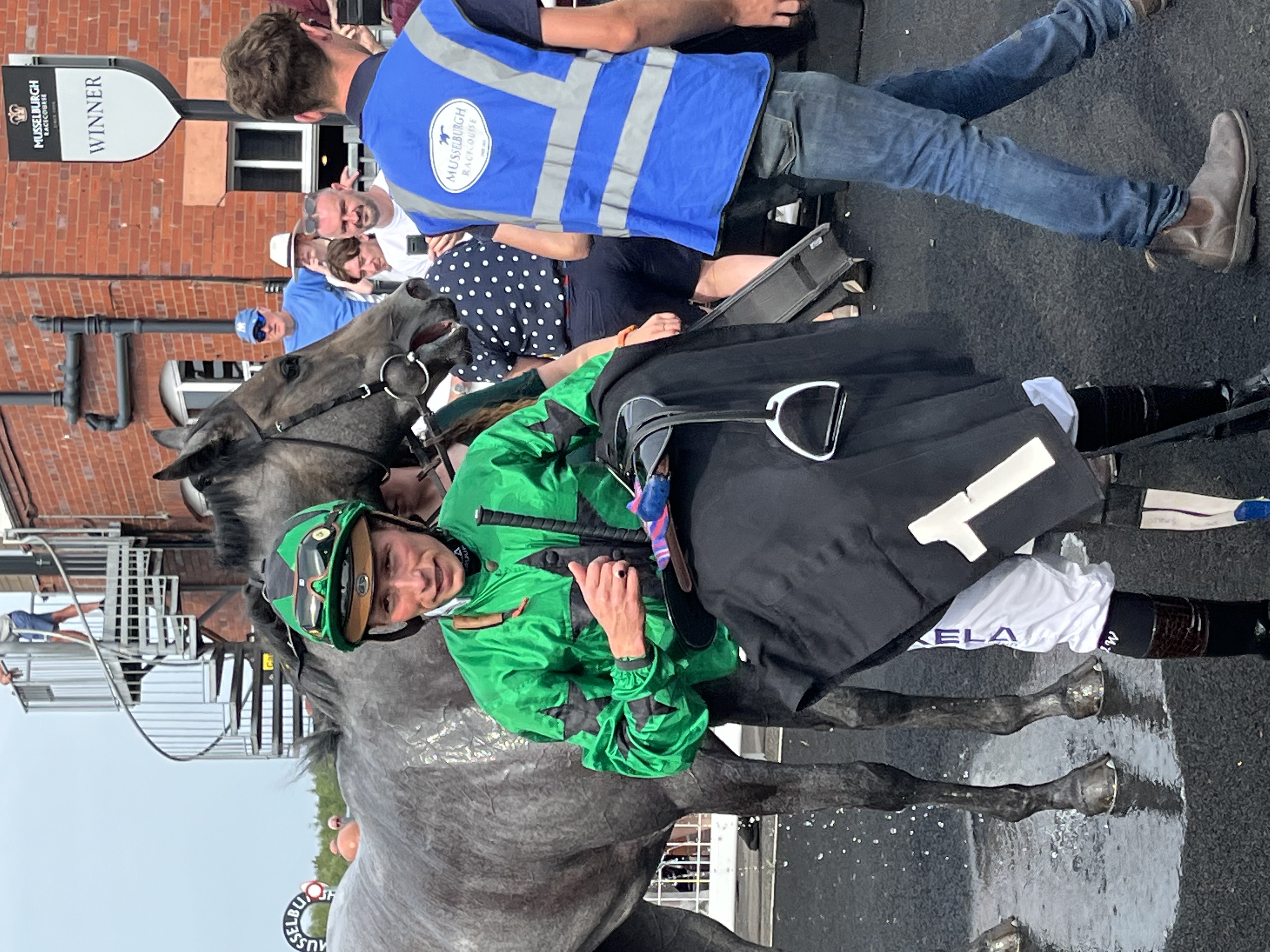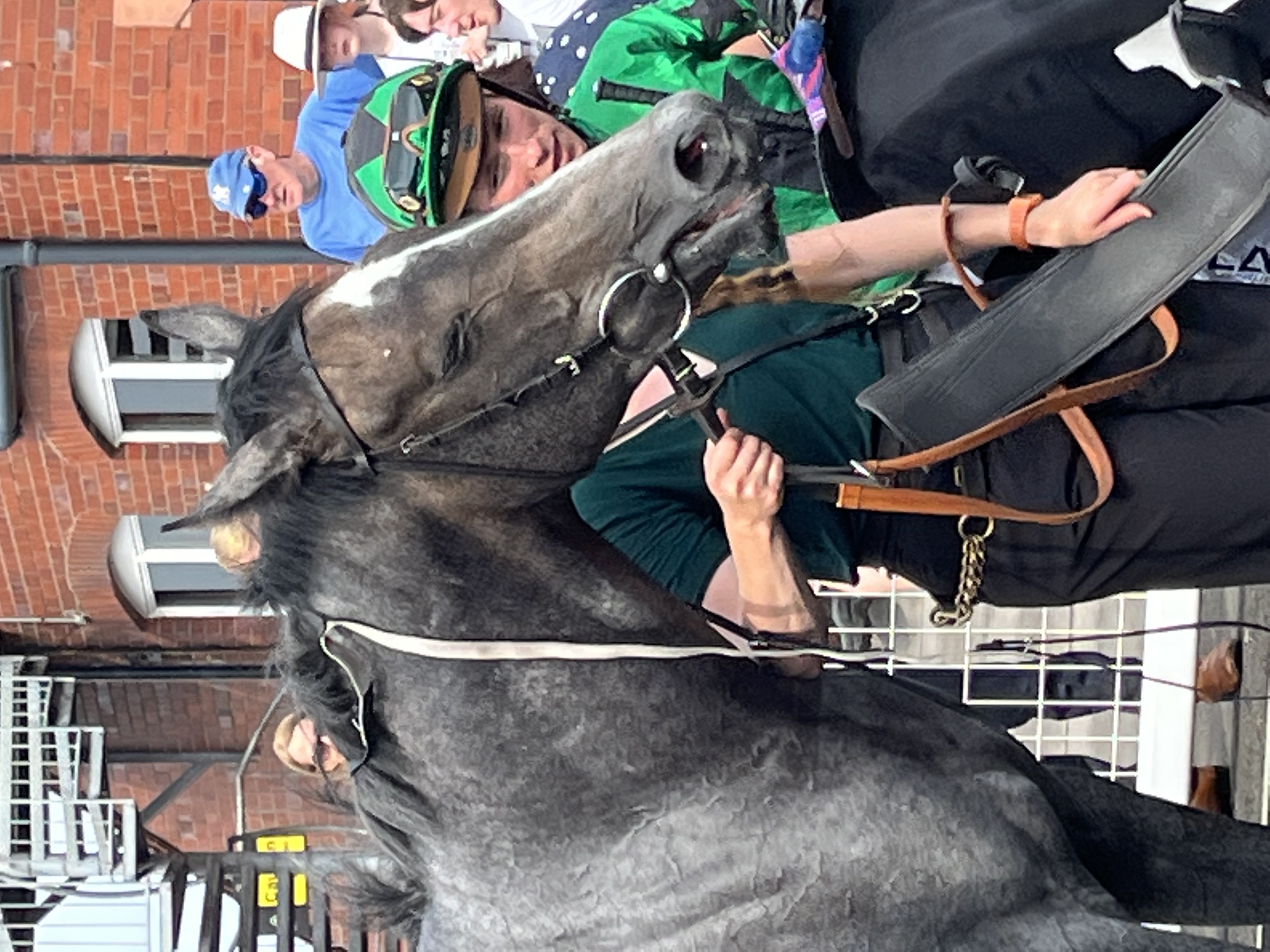 And Breathe!
Eventually we made our way back to the Owners & Trainers marquee. We could again relax once the race was over. Luke messaged his congratulations but then called almost immediately. He was so thrilled and wondered aloud if she was the only two-year-old across Europe to have won four races this year. She is certainly the winning-most daughter of Havana Grey who is fast becoming a legend at stud.
I spoke to Jason Kelly over a refreshing shandy, and he was very impressed. He also suggested that she had not had a hard race, it was more like a piece of work. This meant that she could still go to Goodwood the following week before the St Hugh's on 12th August.
We bumped into James Callow, owner of the disappointing Cuban Rock, who was very complimentary about our filly. We chatted to him and his party until well after the final race. Twitter had exploded more than ever, possibly because Musselburgh was the only UK meeting of the day. I had many new followers, all offering their congratulations. There were some issues leaving the course as taxis were few and far between. Then, as we waited at the taxi rank, more people came up to us and told us that they had won on our horse. She seems to be popular wherever we go!
At The End Of The Day
We eventually arrived back at the hotel where we had dinner, and we sat on the outdoor terrace watching the world go by against the backdrop of the castle. It had been an exhausting day after a long drive and the tension of the race.
The following morning we set off early for the journey home, and I noticed that we had been given a mystifying TopSpeed of 58. I wondered what the RPR would be, and more importantly what her revised OR would be after such a convincing performance. We received the welcome message from Gina at the yard that she was well after her race and she had trotted up sound.
I spoke to Richard Kent who again suggested that we might get offers for her to race in California, particularly after carrying so much weight, but I told him we were not selling at any price. I also suggested that he might want a special golden door at his stud farm if we eventually sent her there as a broodmare, but he thought that Luke might want her at his Mount Coote stud. That was a conversation for way into the future!
Going With Alice
The BHA website is never far away, and I noticed that we already had an entry for the Alice Keppel. Entries would close the following day, and I would be scrutinising them in real time! There was one big problem with the Alice Keppel, it was the sixth race on the card. I wondered how on earth my nerves would cope for that length of time!
I mentioned to Sally that the owner of Absolutelyflawless said that she would run in the Alice Keppel, and therefore she should perhaps not wear her emerald green dress as that was also the colour of our potential rival. Sally looked rather puzzled. "I can't wear that as I've already worn it once," she said, as if such a situation was patently obvious. In retrospect Absolutelyflawless was not entered, but Sally would still not have worn that dress!
The Clock Is Ticking
I logged on just after 8am the following morning, and the Alice Keppel entries already stood at five. They quickly increased to ten and kept on going. With a few minutes to go they had reached twenty one, which is considerably more than I was expecting. Conversely, the Group 3 Molecomb, on the same day, only had ten entries. I messaged Jason and we agreed that a Molecomb entry would give us an additional option. It was a short conversation, but an incredible feeling that Star Of Lady M was good enough to even be considered for a Group race.
As the entries closed I looked at the fields. I thought that we might be sixth favourite for the Molecomb, where top three would be the objective for black type. The Alice Keppel, which we needed to win to justify entering, and to pick up another GBB bonus, would have us as perhaps fourth favourite. In the ante post betting for the Molecomb we were listed as joint 8th favourite at 20/1, with Rocket Rodney, Walbank and Eddie's Boy heading the market. There was also the possibility that we could skip Goodwood altogether and go straight for the St Hugh's at Newbury.
Later that day we received the updated RPR from the Musselburgh race. We had been given 91, whilst Explicit had dropped from 77 to 75. I also noticed that Danny Tudhope was now listed as our jockey in the Alice Keppel. Previously he had been assigned to ride the Clipper Logistics newcomer Eternal Class. That was good news, and perhaps meant that Eternal Class would not run.
Racing Back Home
Another day dawned with another racing engagement, this time the music showcase event at York. On our way up we called in at David O'Meara's to see Star Of Lady M who demanded attention. We also received a head collar from Beverley racecourse. This was engraved with Hilary Needler Winner 2022 to add to our growing collection of prizes.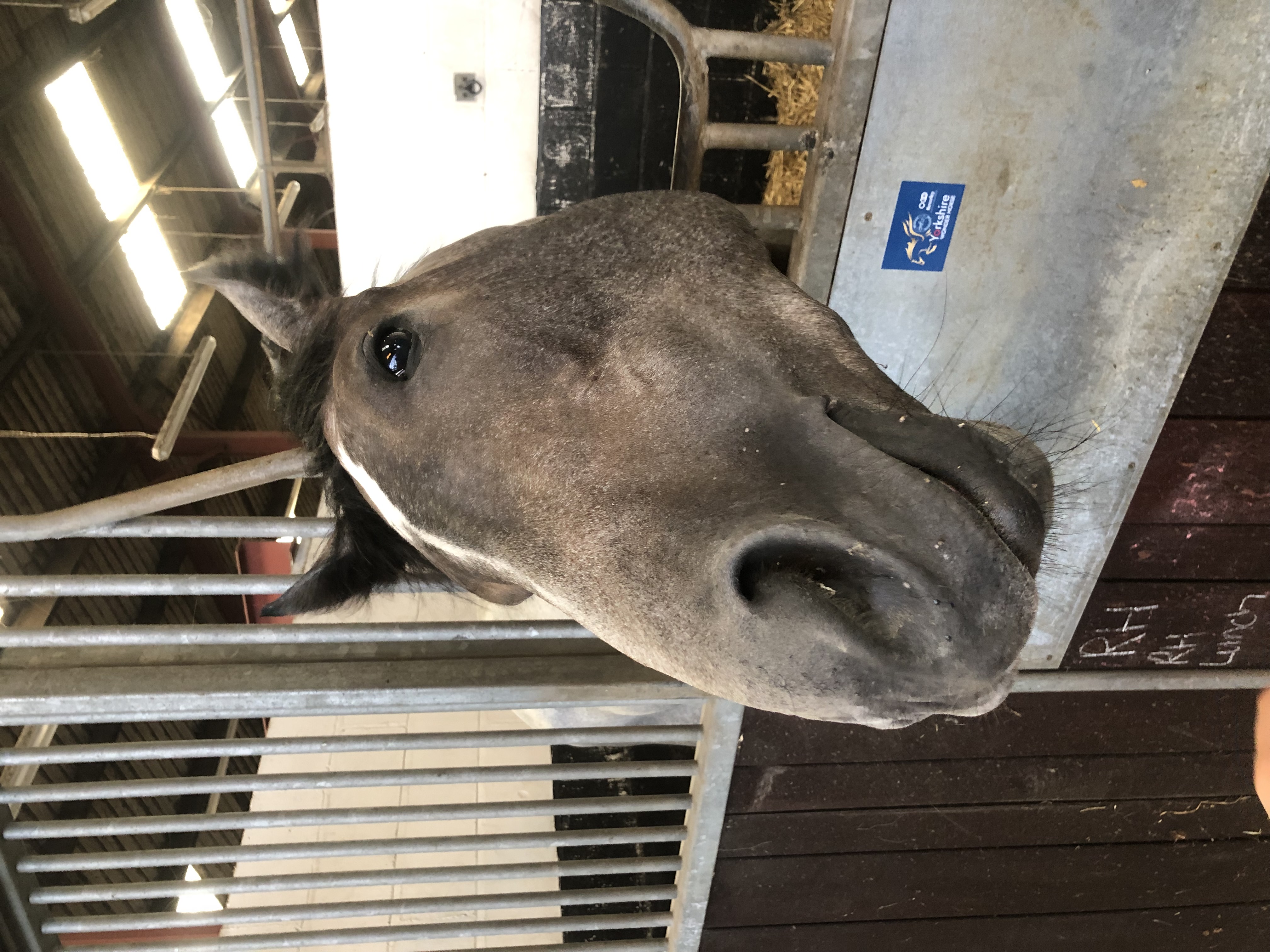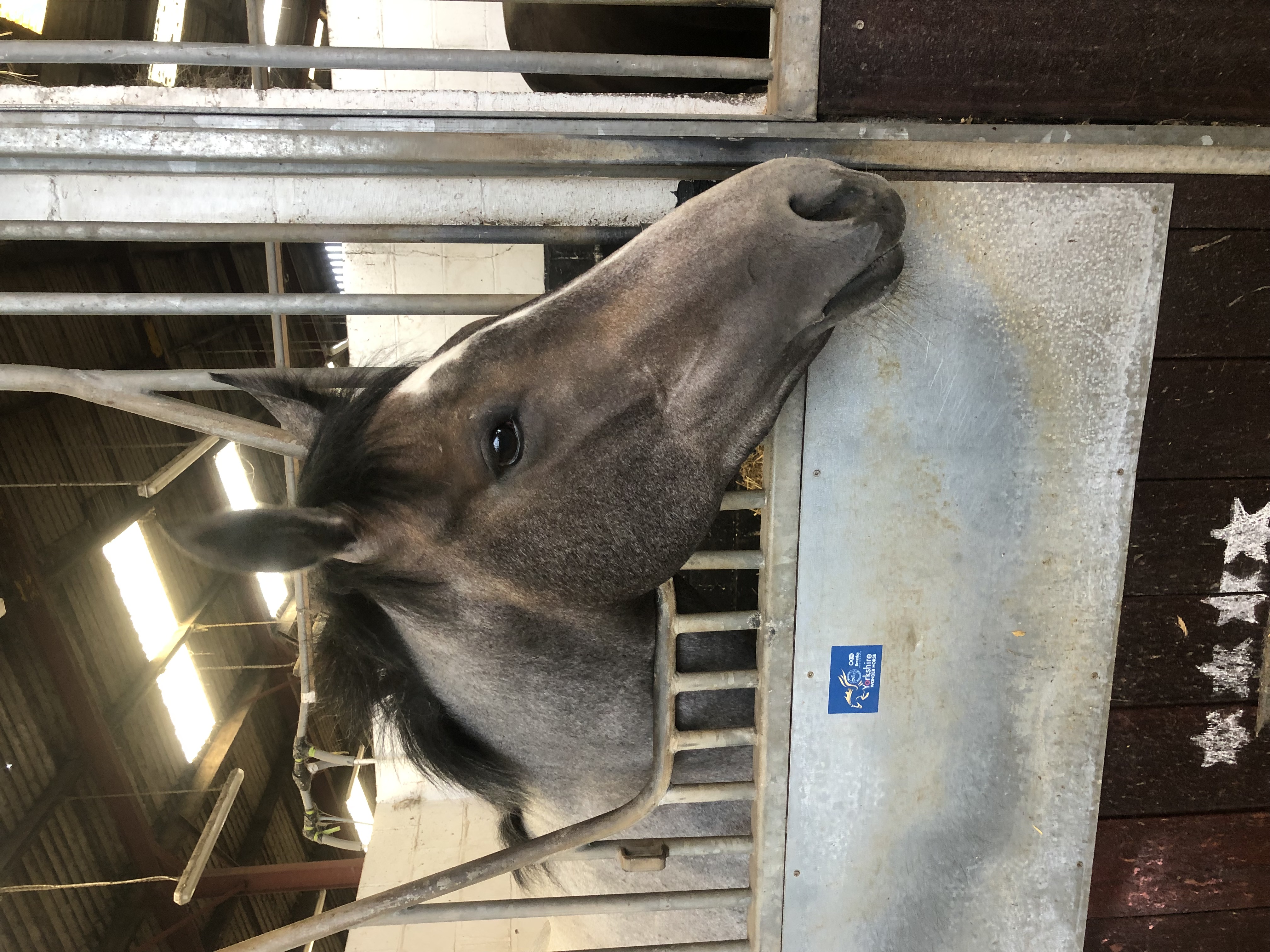 From Middlethorpe Hall our driver Terry dropped us off at the course. We then settled in for a fabulous evening in the Parade Ring restaurant. David O'Meara's mum Dympna rang me, and we met her and David by the parade ring. We talked about the trip to Musselburgh and David told us that he thought it was a fantastic performance by Star Of Lady M. He had not yet looked at the Alice Keppel entries, but he reiterated that it could cut up to a handful of runners. I was once again hit by seconditis, but worse was to come in the sixth race. Danny Tudhope's mount could only finish fourth, denying me the placepot.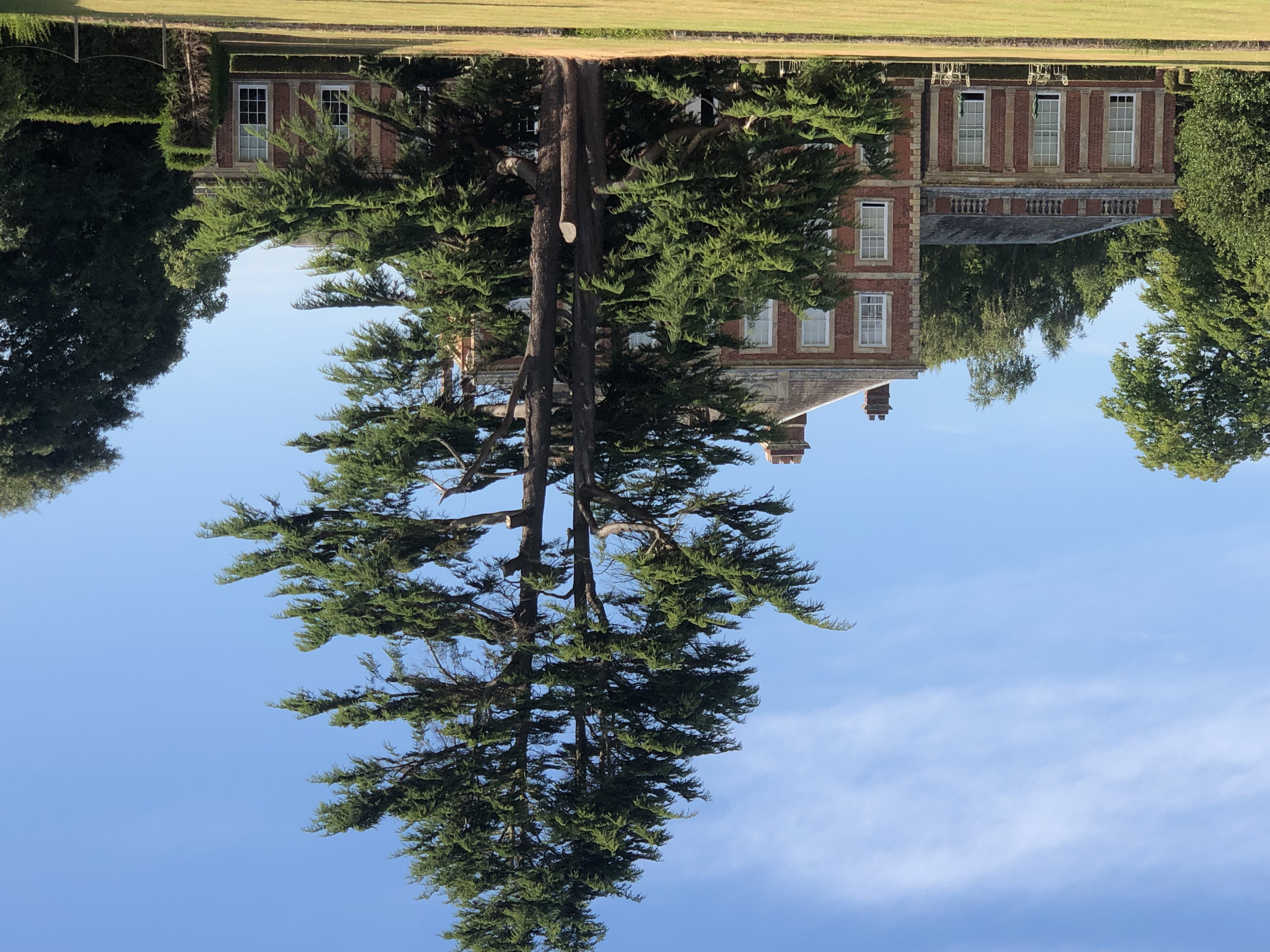 Middlethorpe Hall
After racing, Tim Easterby came over to talk to us with his wife Sarah and son Thomas. Tim and Thomas were both impressed by Emerald Duchess' latest piece of work. Tim confirmed that the handicaps at Chester and Thirsk which I had suggested were both good options. He favoured the Thirsk race as it was for fillies only.
An Agonising Wait
On the Monday morning, I was due to have a scan on my knee at 9.20am. This was just forty minutes before the Alice Keppel declarations closed. There would be an agonising wait, and I would have to catch up with Jason Kelly after my scan. It would give me little or no time to assess the situation, but I knew that Jason would have it covered.
The highly rated colts had all been declared for the Molecomb before I went in for the scan, so we agreed to scratch from that race.
At 9.37 Jason thought there might be some brinksmanship going on between ourselves, The Platinum Queen and Miami Girl. Perhaps each was waiting to see which of the others would declare. So, he decided to declare her and that was that!
By the time I emerged from the clinic the declarations were closed, and we were one of ten runners. Miami Girl had scratched, but The Platinum Queen was still there. Jason's view was that you should never be afraid of one horse. Our form was much stronger than most of the other runners. Jason mapped out the next few weeks, with the Alice Keppel being followed by the St Hugh's at Newbury. Next up would be a Listed race over six furlongs as preparation for whichever of the early closing races we opted for on 1st October.
In The News
Later that morning there was news on Emerald Duchess. She had been entered into the handicap at Chester the following Sunday, along with eighteen other runners. There were a few previous winners in the field, but nothing too spectacular. This was to be expected in a handicap for horses rated less than 70. I knew that Thirsk was also a possibility, so I put the Chester entry to the back of my mind.
Star Of Lady M was drawn in stall one for the Alice Keppel, the same as at Royal Ascot. With only ten runners this was not a huge problem, but it was still a disadvantage compared with the favourite who was drawn in eight.
I Quote…
Luke Lillingston was featured in an article in the Thoroughbred Daily News (TDN), in which his success at the sales was highlighted. His quote about our journey was certainly memorable.
"She has given me huge pleasure as an agent this season. The Maddens asked me to buy them their first racehorse last year and we focussed on Book 3 because it suited our budget. She only cost 15,000gns and is eligible for the British bonuses. Including bonuses, she's earned the best part of £70,000. We bought another filly at that sale and she's with Tim Easterby. Her name is Emerald Duchess (GB) and she is by Massaat (Ire). She should be fun for them. The Maddens are bringing new people into racing and any time new people come into this sport, we should be very happy."
It was a reminder that bargains can be had, and we certainly had one.
The day before the Alice Keppel Star Of Lady M's new OR of 92 was announced, a rise of 6 which was fully justified based on her Musselburgh effort. Oddly enough her RPR of 91 from that race was reduced to 89, but I was not going to dwell on that.
Didn't We Have A Lovely Time…
Our odds remained constant despite the favourite shortening to odds on, with everything else drifting. I placed a bet to win, and we set off on our long journey down south. As we progressed past Leicester, the M1 was surprisingly quiet. We passed a red horse wagon emblazoned with David O'Meara Racing. It was Star Of Lady M, sensibly heading for the course a full twenty four hours in advance.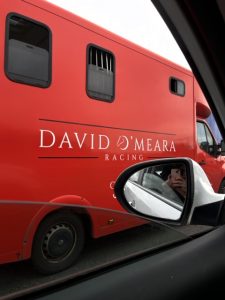 We reached our Airbnb in Easebourne by late afternoon. Our limousine for the following day was already booked, so we went to the nearby town of Midhurst for a relaxing alfresco dinner.
I messaged Simon Chappell, as I knew he would be at Goodwood. I invited Simon and his wife Louise to join us for the race. He was delighted and accepted immediately. Although I genuinely wanted them to be there for the fun of it, there was the underlying thought that they might just be able to distract me enough to quell the nerves.
…The Day We Went To Goodwood
The following morning we were up bright and early. We had a long soak in the hot tub that was in the garden of the Airbnb. Our host Linda was very interested in Star Of Lady M, and confessed that she had placed a small bet already. Her odds were drifting, and it seemed that all of the money was for The Platinum Queen. Most of our opponents were now 10/1 or more, whilst we were hovering around 11/2.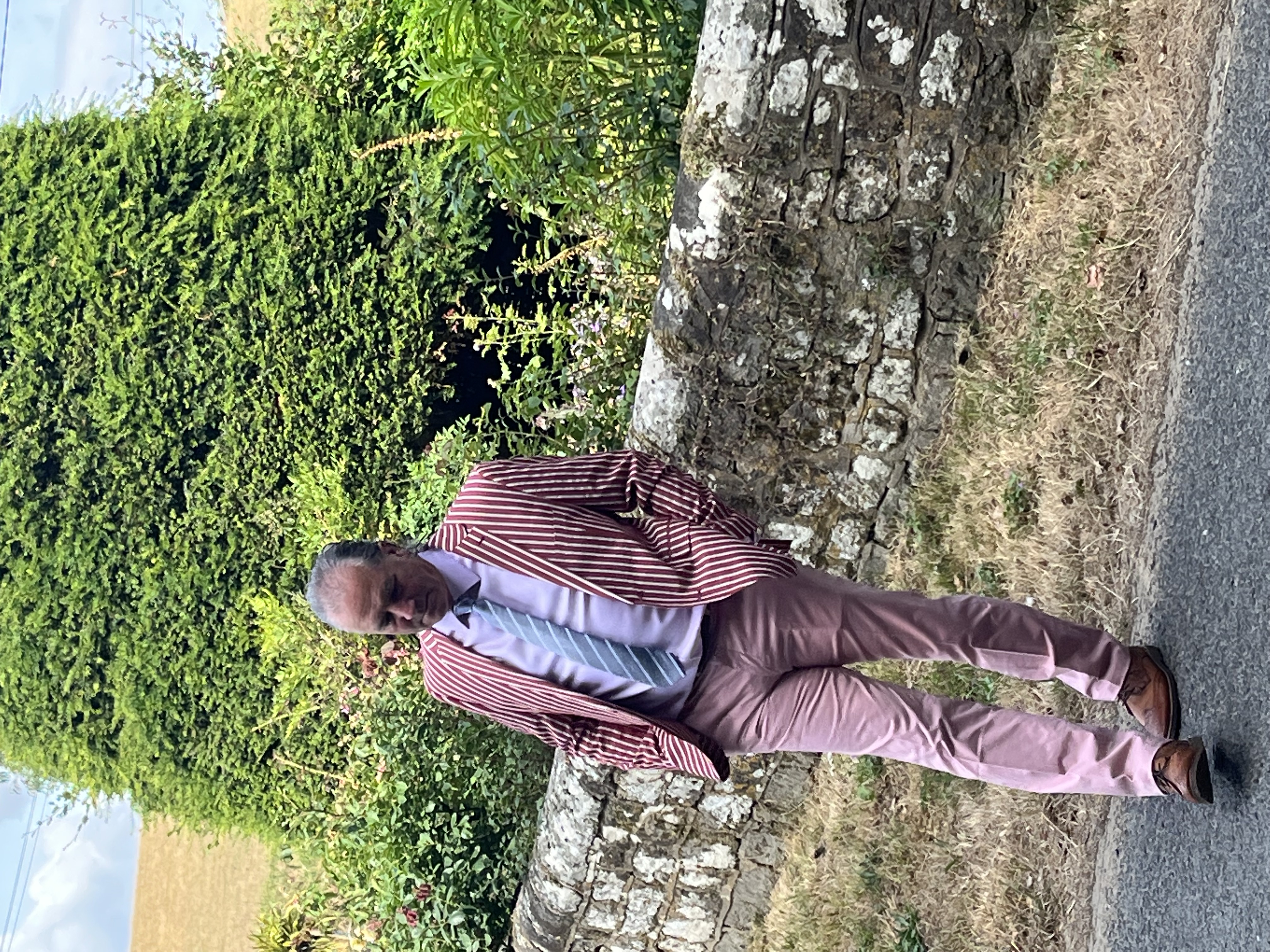 We then had a long wait for our limousine. I received a message from Simon Chappell that his trainer Scott Dixon was holding a pre-race party in the Owners & Trainers car park. Would we like to join them? Of course we would! Finally it was time to go. Our driver picked us up in a plush Jaguar for the short fifteen minute journey to the course. Unlike Ascot, it was entirely possible to drive right up to the front entrance of Goodwood. The Owners & Trainers car park was at the bottom of a small slope. We soon found Simon and Louise, together with Scott Dixon, Matt Eaves and their wives. Pimms was immediately poured, and it all seemed very laid back and relaxed.
No Comparison
I could not help comparing it to our journey to Ascot when we were stuck in traffic on the high street for what seemed like an age. Of course, the talk was all about horses, and Star Of Lady M got more than a few mentions. It was a welcome distraction, but we eventually made our way to the entrance to collect our badges. Perhaps it was the much lower temperatures, perhaps it was the meeting with friends beforehand, or perhaps it was just the laid back vibe of Goodwood, but I was definitely not as nervous as at Royal Ascot.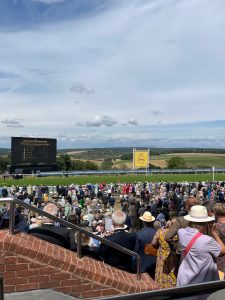 The Hallowed Turf
Within minutes we were inside, with time and space to look around. Everything was very well signposted, including the Owners & Trainers pavilion as well as the reserved viewing area. The view across the course to the South Downs was stunning. It was so much nicer than the tented village and car parks of Ascot. We were already loving it, and just after 1pm we went to the Owners restaurant for a delicious buffet lunch. We mainly stuck to water, though I did manage a bottle of beer.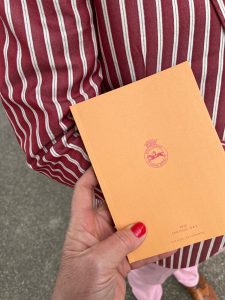 The build up to racing was in full swing, and when it began I backed the first winner. It was a good start, and with three hours to go before our race I was relatively calm. We wandered into the Owners pavilion, ordered a jug of Pimms, and stood by the window admiring the sights and sounds of Glorious Goodwood.
Child's Play
During lunch we had spotted Tim Easterby, and now he came across to chat to us. He had arrived by plane, apparently a much more comfortable journey than by helicopter. He had not yet looked at the Chester entries, but he was happy to talk about all manner of things, including children, cricket, and, of course, horses. We had just received a message that Ole and Zac had somehow managed to lock themselves out of the house, a distraction that I could well do without!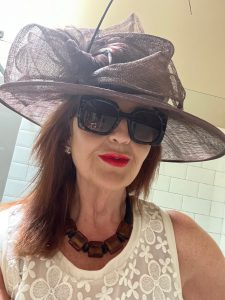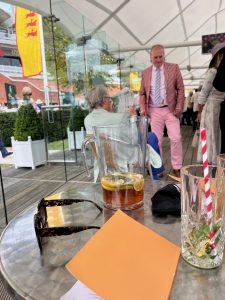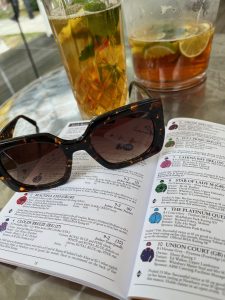 The second race passed us by as we were engrossed in our conversation with Tim, but I would have lost anyway so I'll take that as a winner. Tim wandered off just as the runners paraded for the next race. This was the Molecomb, the Group 3 that we had declined in favour of the Alice Keppel. I was very interested in the outcome, as there would always be thoughts of could we have done better? I did not back the winner, which was a very fast Richard Hannon horse. Trillium broke the course record, defeating the hot favourite Rocket Rodney. Would that be an omen for the favourite in our race?
Time With Tim
Tim came back and by then we had secured a table, so he sat down for more discussion. It was time for the superstar Baeed who duly won with a minimum of fuss, and I would have backed the second each way if I could have torn myself away from Tim!
I messaged Jason Kelly, and he replied that he was on his way, and he would see us at the course. That was encouraging as I did not know how chaotic the pre-race preparations would get, though they could not be as mad as at Royal Ascot.
Tim left to assist with Myristica, his horse in the 4.10. We wandered past the huge strawberry tower, and the even bigger queues to partake of the tower, and took our place in the grandstand. We cheered Myristica on, but she could only finish a gallant fifth. It was now time for our race, so we sought out the pre-parade ring.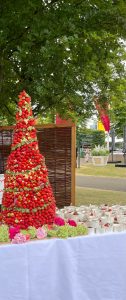 The Star Appears
Across the manicured lawns and beyond the neat and tidy hedges we spotted Star Of Lady M walking around with her groom. We went through the barriers and got as close as we dared, as she was taken back into her stable to be saddled. Jason Kelly emerged, followed by our filly, and she looked a picture. She walked calmly around, showing her usual level of interest.
Jason had the opinion that the favourite was strong but we had a good chance. It was time to move to the parade ring, where we were joined by Simon and Louise Chappell as well as Matt Eaves. Chris Dixon, from RacingTV, a regular at David O'Meara's yard, also came over to us. They were all very complimentary about Star Of Lady M, even speculating what a good breeding programme might look like for her, but that was a few years away!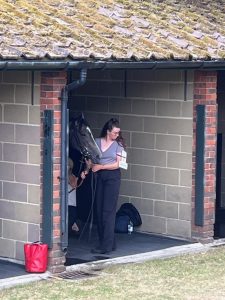 Danny Tudhope was back on board, and his only issue was with the draw. For the second consecutive big meeting we were unfavourably drawn in 1, but he had a plan to try to tuck in and track the leaders before delivering his challenge late.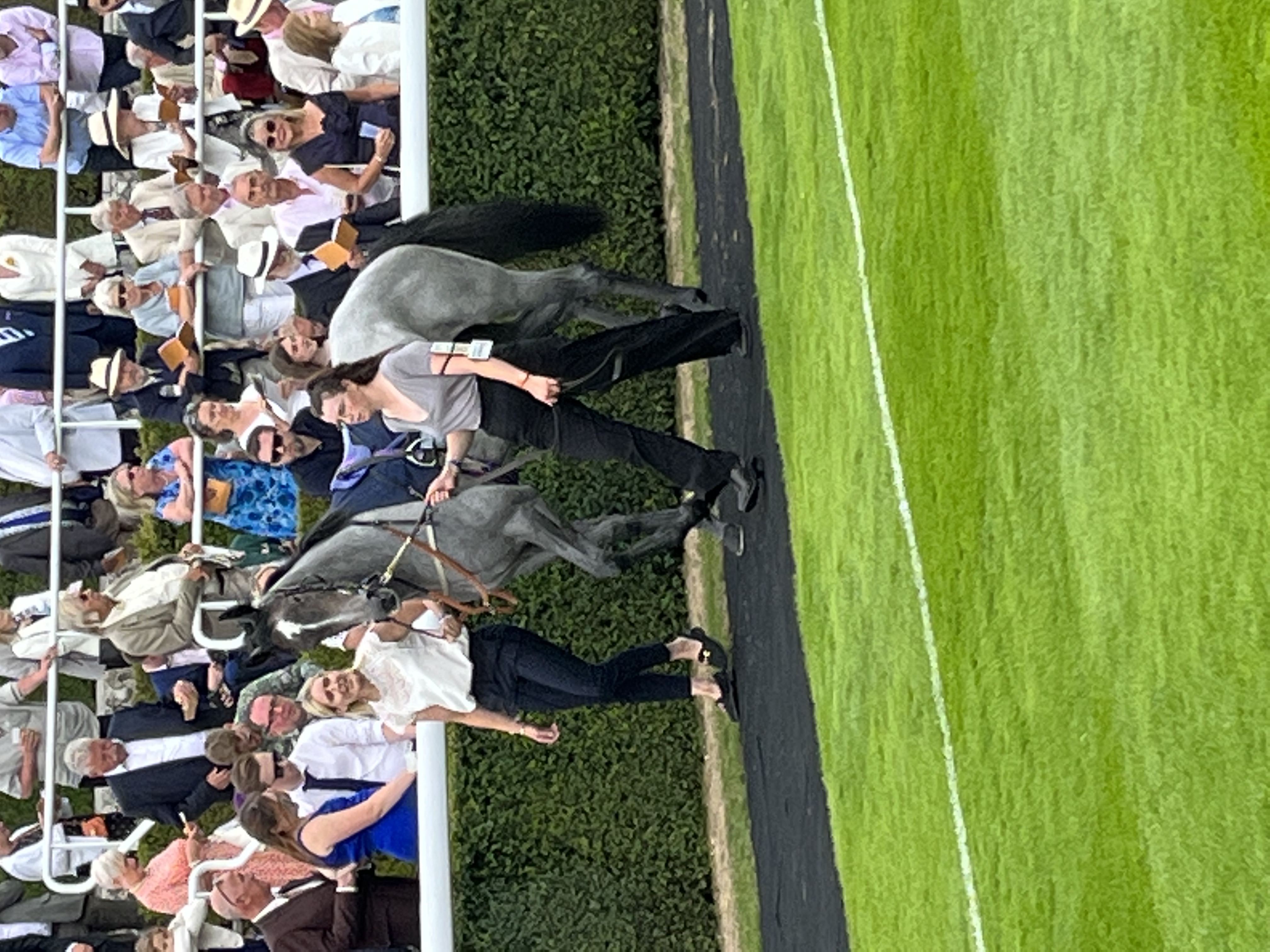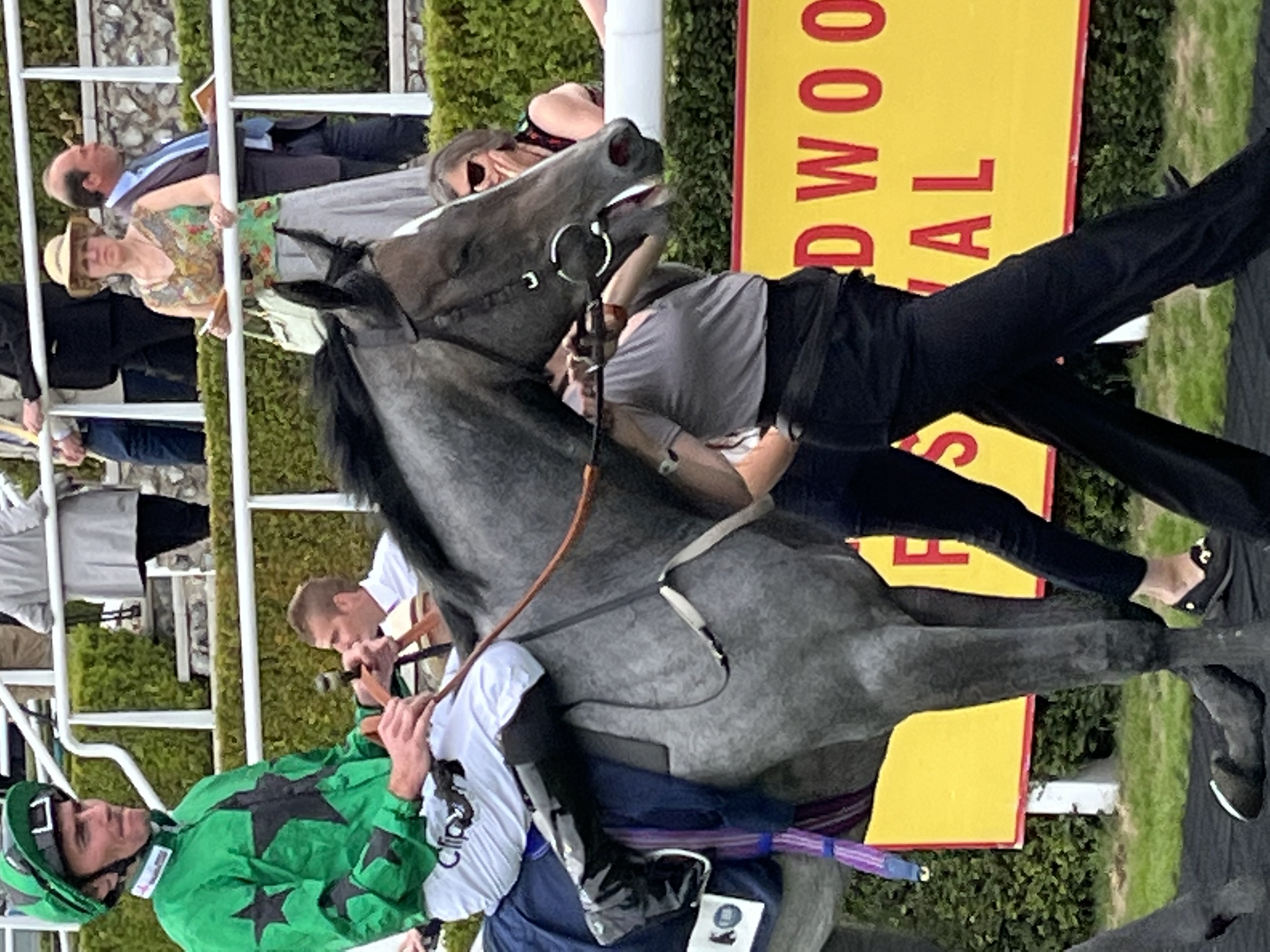 Under Starter's Orders
Simon and Louise accompanied us into the stands, and with the constant chatter from the pre-parade ring all the way through the preliminaries, I had not had time to think about nerves. Could distraction be the key to overcoming this problem? Now they were starting to kick in, but before I had time to think about it they were off.
Danny's plan began well, he got out smartly and tucked in, tacking across towards the rail where The Platinum Queen was blazing a trail. The move cost a few lengths, but it kept us in the race. At half way the favourite was still tearing up the course, and several in behind were struggling. We moved up to challenge, but the favourite kicked again. Ourselves and Union Court were the only realistic challengers, but The Platinum Queen surged clear to win by four lengths, breaking the new track record in the process. Danny eased Star Of Lady M down to finish third, a further two lengths back behind the second placed Union Court.
Heads Held High
It was no disgrace to finish third to a horse that broke the track record and is almost certainly bound for Group success. She had even beaten the time set in the Molecomb. Star Of Lady M had done us proud, beating several fancied horses and previous winners. We had to pinch ourselves to believe that we had achieved a place at the second biggest meeting of the summer, and I was fairly sure that she had run faster than she ever had before.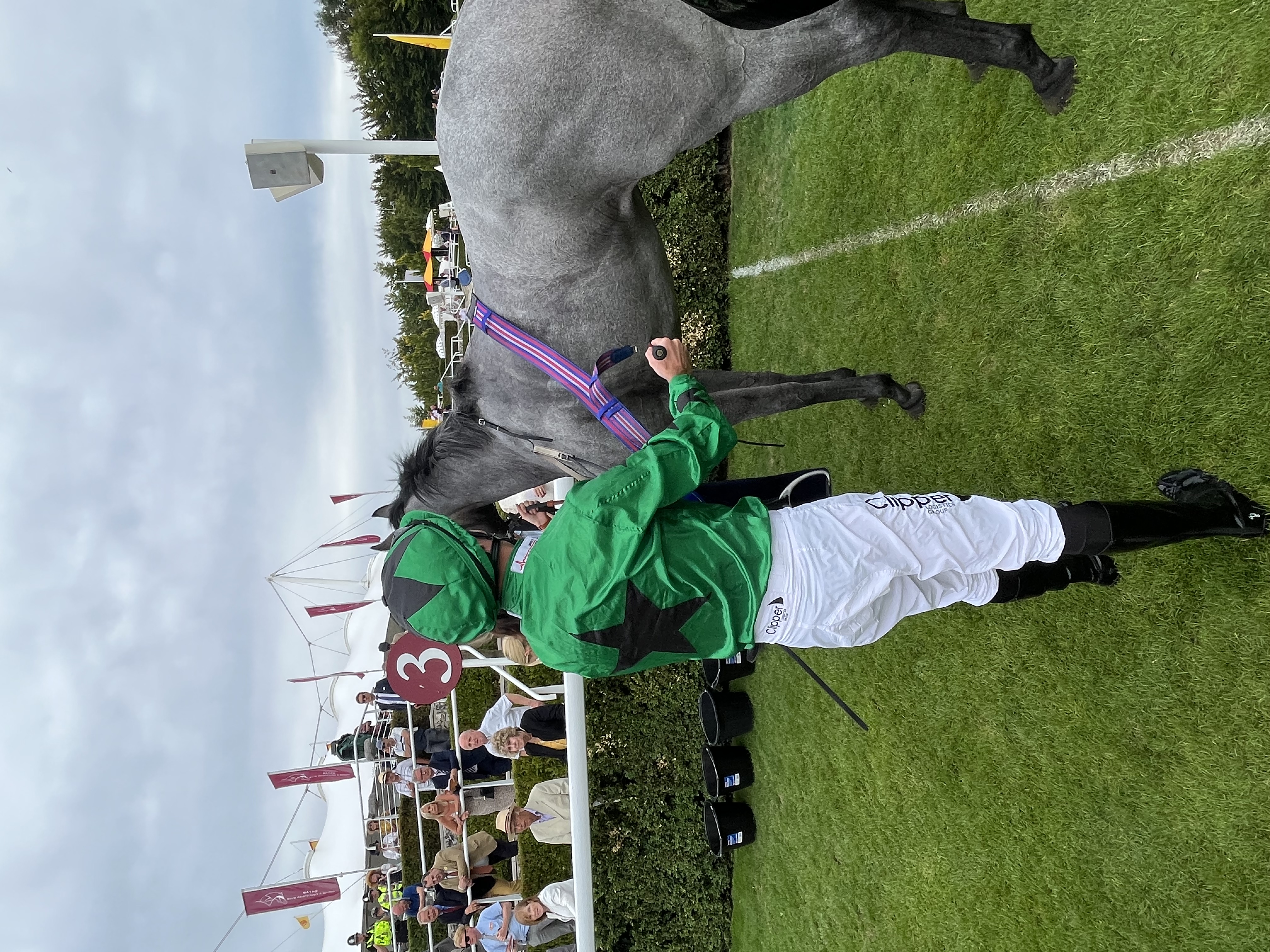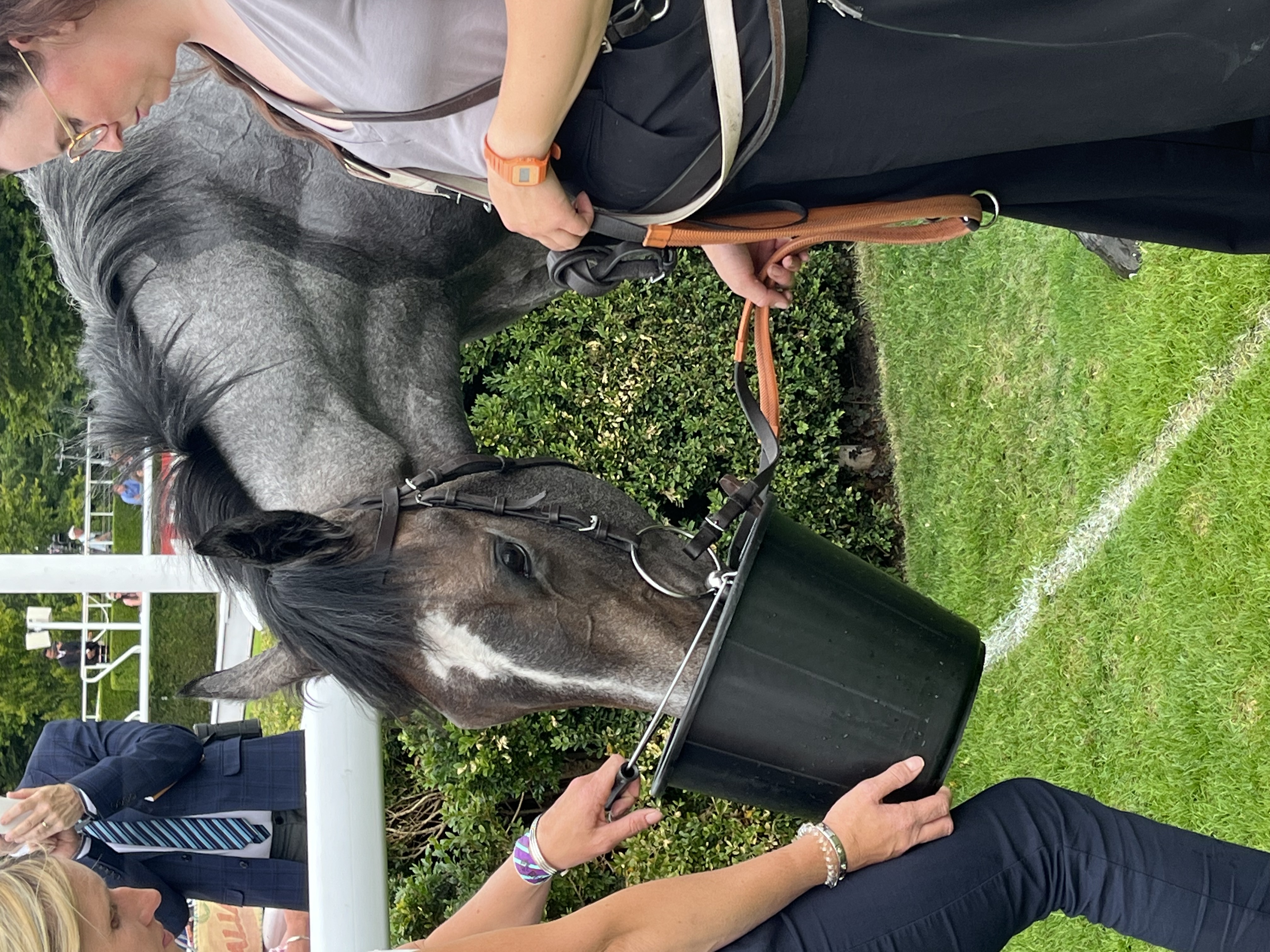 Simon and Louise were delighted for us. Danny suggested that she might benefit from six furlongs, and that is certainly on the cards. However, for now her excellent run confirmed that the St Hugh's at Newbury would be her next target. Jason was impressed, and for him it was "black type" all the way. The prize money was just over £6,000 but that was very much an incidental part of the day.
We said our goodbyes and headed to the car park where our limousine was just a few minutes away. We stopped at the pub for pizza where a lot of the locals admitted to betting on our horse. Exhausted, we finally walked up the hill to our Airbnb.
A Time To Reflect
Without the victory social media was not quite as explosive as on previous occasions, but there were plenty of goodwill messages. Of course, Luke was the first, and needless to say he was very impressed. As we reflected on the day, I could not help but compare our experiences at Royal Ascot and Goodwood.
The former has pomp and circumstance, but Goodwood has the much more laid back vibe. The drive to and from the course, the entry process, the arrangements for Owners, the views across the course, and even the signposts made for a much more relaxing experience. The biggest difference was probably in the pre-parade and parade rings, where we actually had time to breathe, chat, and take in our surroundings. Of course, the heat at Royal Ascot did not help, but given the choice I would return to Goodwood in a heartbeat. It truly was Glorious!
Fringe Benefits
The following morning we had a soak in the hot tub before packing up our luggage and setting off on the long journey home. As we pulled over for a break I checked the BHA website, and our entry for the St Hugh's was confirmed. We also received the always welcome note from Gina that Star Of Lady M was fit and well and had trotted out sound. So, fifteen days until her next race, the countdown could begin again.
We arrived home to a complimentary bottle of champagne and a free £50 bet courtesy of Tote World Pool, just for entering our horse at Goodwood. She received an RPR of 76, compared with The Platinum Queen's 105 and Union Court's 84. This was perhaps a little on the low side, but now that she had an OR it did not matter too much. Her TopSpeed of 75 was encouragingly high, but again it had no effect on anything.
Time For The Duchess
I assessed the Chester race that Emerald Duchess was entered into in three days time. There were a total of nineteen runners, and none of them jumped out, as you would expect from a 0-70 nursery. I sent my thoughts to Tim, and the following day he called just before the declarations were due to close. At that stage there were just six declared. He could see no reason not to enter her, and I agreed, so we could prepare for the short trip to Chester for their Sunday meeting. There were nine declared in total, but these included two that were due to run later that evening at Southwell.
I messaged Richard Kent, and he told me that Evolicatt, another Massaat offspring, was expected to win at Southwell. She would not be going to Chester. So I backed her and waited for news. She duly won, with Breath Catcher some way adrift, and as expected both horses were withdrawn from our race by Sunday morning. Not only did this mean that there were less opponents, it also meant that Emerald Duchess was guaranteed at least £500 prize money.
Ready To Go
She looked well in the pre-parade ring, though perhaps just a little on her toes. She had two handlers in the parade ring, but there was still no cause for concern. Duran Fentiman was the jockey, and he confirmed that if she was in the firing line with a furlong to go he would be throwing the kitchen sink at it. Her draw position of 6 was not ideal, but with only seven runners she was effectively in 5. We made our way to the viewing area on the roof of one of the bars and waited for the action to unfold.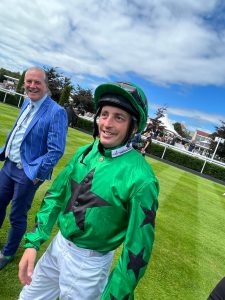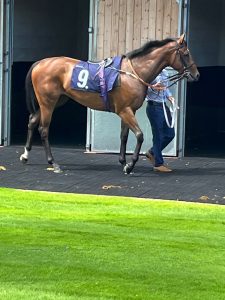 She has had a problem with the break in previous races, and this time, although she got out quickly enough, she seemed to pause before joining the race. Within a few yards she moved from sixth to fifth, then dropped back to sixth and seventh. She made some headway passing a tiring outsider, but finished a disappointing sixth. The only horse to break worse than Emerald Duchess had actually run on strongly to finish a very close second, carrying 17lbs more than our filly.
Excuse Me!
Duran thought that she might have needed the run after more than a month off. He said that she perhaps did not like the track, and he suggested that dropping back to six furlongs might help her. The ground was the opposite of what she was used to, being officially good to soft, soft in places.
It was a glum table back in the Owners & Trainers pavilion, but not for long. We were quickly back in good spirits thanks to Chester's excellent hospitality.
The following day we received the Royal Ascot saddle cloth kindly sent to us from the racecourse. It is a fabulous memento of our day at racing's top table, and one that will be cherished. I also discovered, thanks to Simon Rowlands on Twitter, that Star Of Lady M had indeed run more than two seconds faster than she had ever run before at Goodwood. Her Musselburgh time was 59.76 seconds, whilst at Goodwood she completed the five furlongs in just 57.52 seconds. Even though Goodwood is a notoriously fast course, that is still a significant achievement and bodes well for the future.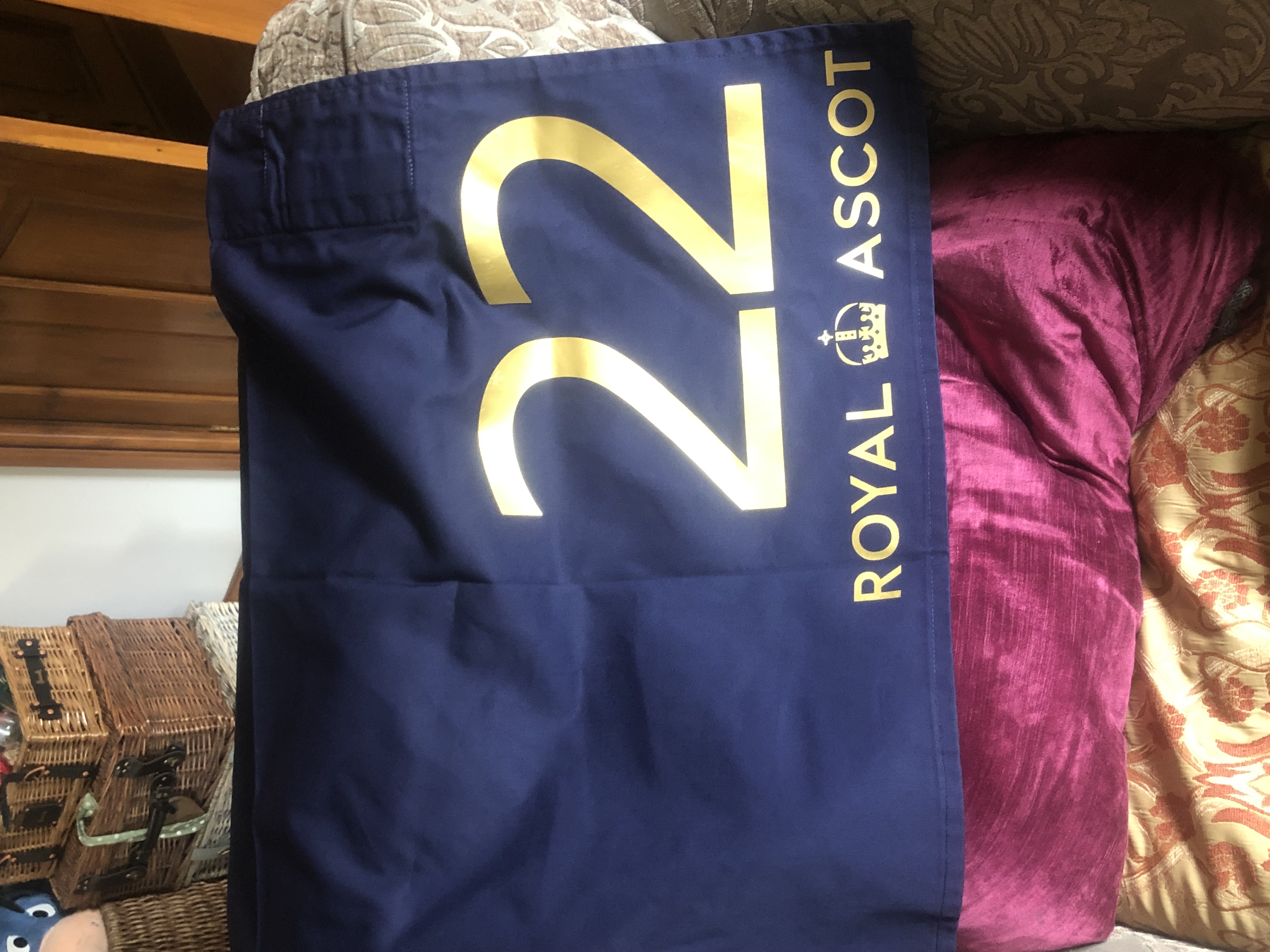 All Bets Are Off
Meanwhile Emerald Duchess, who also had an entry for Thirsk on the Friday, would certainly not be running again so soon, particularly as that race was over seven furlongs. Syndicate member Neil Woolley went to see Tim en route to Ripon, and he had a good conversation with the trainer. For the first time Tim hinted that she might not actually be good enough which caused some consternation, but I would prefer to draw a line under the Chester race, just as we had done with Star Of Lady M's disappointing run at the same course.
With no further engagements, we could relax with still eleven days until the Newbury race for Star Of Lady M. We agreed that we would drive down there on the morning of the race, and we booked our accommodation for a single night.
On Tuesday our rating had dropped one pound to 91, the same mark that had been given to Union Court. The Platinum Queen had been raised by 8 to 106. There was an article online suggesting that The Platinum Queen may be supplemented for the Nunthorpe at York, though if they did not do this she would still be at the Ebor meeting in the Julia Graves Roses Listed race. That would rule her out of the St Hugh's at Newbury, which was welcome news given her recent prowess. Emerald Duchess had surprisingly been left on 54, perhaps an indication that Chester races are not a particularly reliable form guide.
Seeing Into The Future
With ten days until Newbury I looked at what might happen afterwards. The Listed race at Ayr in mid-September was a possibility, as was the Group 3 race at Salisbury at the beginning of September. However, it looked like the two-year-old trophy at Ripon, a Listed race that often reduced down to a handful of runners, would be the best option. It was seventeen days after the Newbury race, so plenty of time for recovery.
Zachary's World
Regular readers will know that Zac intends to head off to Thailand travelling from some time in late September. We have quizzed him about all manner of things, including inoculations. He calmly announced that he would head to the Hope Valley and go to the GP to get them done. Sally pointed out that his GP was in the Goyt Valley, not the Hope Valley, which does not bode well for his geographical skills in the far east.
Meanwhile, in an attempt to pay for his sojourn he applied for a job at Aldi. He went through FIVE stages before being told that he had not got the job, which seems quite a lot of vetting for someone to just be able to pile up random items on no shelf in particular. So, he has returned to the Lamb Inn, and in July they finally paid him his pre Christmas tips, which is at least some good news.
Not Breaking And Entering
And now to the story of the boys getting locked out. They had gone out of the back door, but when Bo appeared with a live mouse between her jaws they quickly slammed the door to prevent the mouse from being let loose indoors. They went around to the front door and found that was locked too. Fiona did not have a spare key, and neither did anyone else!
Those with a very long memory may recall Sally losing her keys in the snow, causing us to have to break in through the kitchen window, and that was suggested as the same solution for the boys! However, the lock picking kits they received for Christmas and endless hours of watching Bear Grylls were not in vain. They constructed a fishing rod type contraption with a hook, and they managed to wrestle the keys from the lock, through the letterbox, and hey presto they were in. I'm not quite sure whether that is a good thing or not.
A Prickly Visitor
This edition seems to be a real trip down memory lane, and here is a reminder of the last time Sally saw a hedgehog…
On that occasion the hedgehog was dead, but this time Zac spotted one of the rare creatures snuffling about on the path. It was the first time any of us had seen a live hedgehog for years, and in the case of Zac, ever! I Googled what to do if you found a hedgehog, and the cautionary tale was that if it is moving about in the day time it is almost certainly in trouble, and should be taken to a rescue centre. Sally, for some reason, asked how you would sex a hedgehog. It was clear that this one was a youngster, and we let it wander off into the undergrowth. The next morning I relayed the story to my dentist, and he told me that once, when he was camping in France, a hedgehog came in to his tent and ate all of his cheese!
Say Cheese
The following day, our prickly friend was back. So, recalling the dentist's tale, I found a square of cheddar and fed it to the hoglet. I named him Horace, for obvious reasons, and although I had not even begun to establish how to sex a hedgehog, he looked like a bit of a lad so I was happy with my choice. Horace loved the cheese. However, everyone else told me how bad it was for him. Did I not know that hedgehogs are lactose intolerant?
Of course I didn't! But I did wonder which scientist had invested so much time and money to discover that hedgehogs are lactose intolerant. It reminded me of the first time I was told that you should not feed bread to ducks as they can't digest it. I mean, we don't exactly see them falling out of the sky on a regular basis, do we?
Anyway, I Googled again, and this time I found that they like cat food. So, I soaked some cat biscuits in water. Horace loved them. He was quite tame as he snuffled about under my hand, and followed me into the garden.
Bo was not impressed – pricking her nose as she sniffed the new visitor.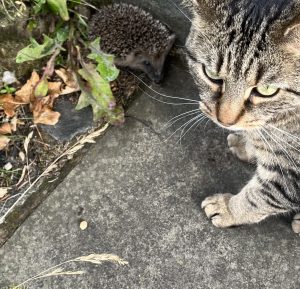 Double Vision
An hour later I was stood at the back door as Sally returned. "The hedgehog has gone back up the lane," she said, but I pointed out that Horace was actually meandering around the garden. Sally had seen a second hoglet which was quickly fetched to be with its companion. Minutes later there were three, and this was soon followed by calls from next door. They had one in their wood pile, and it was driving the dogs wild. We had quite an array of hedgehogs (not a prickle as some may fancifully suggest), and after feasting on hydrated cat biscuits they stopped coming out in the day time. I saw this as a positive, as perhaps they were now healthy enough to resume their nocturnal activities.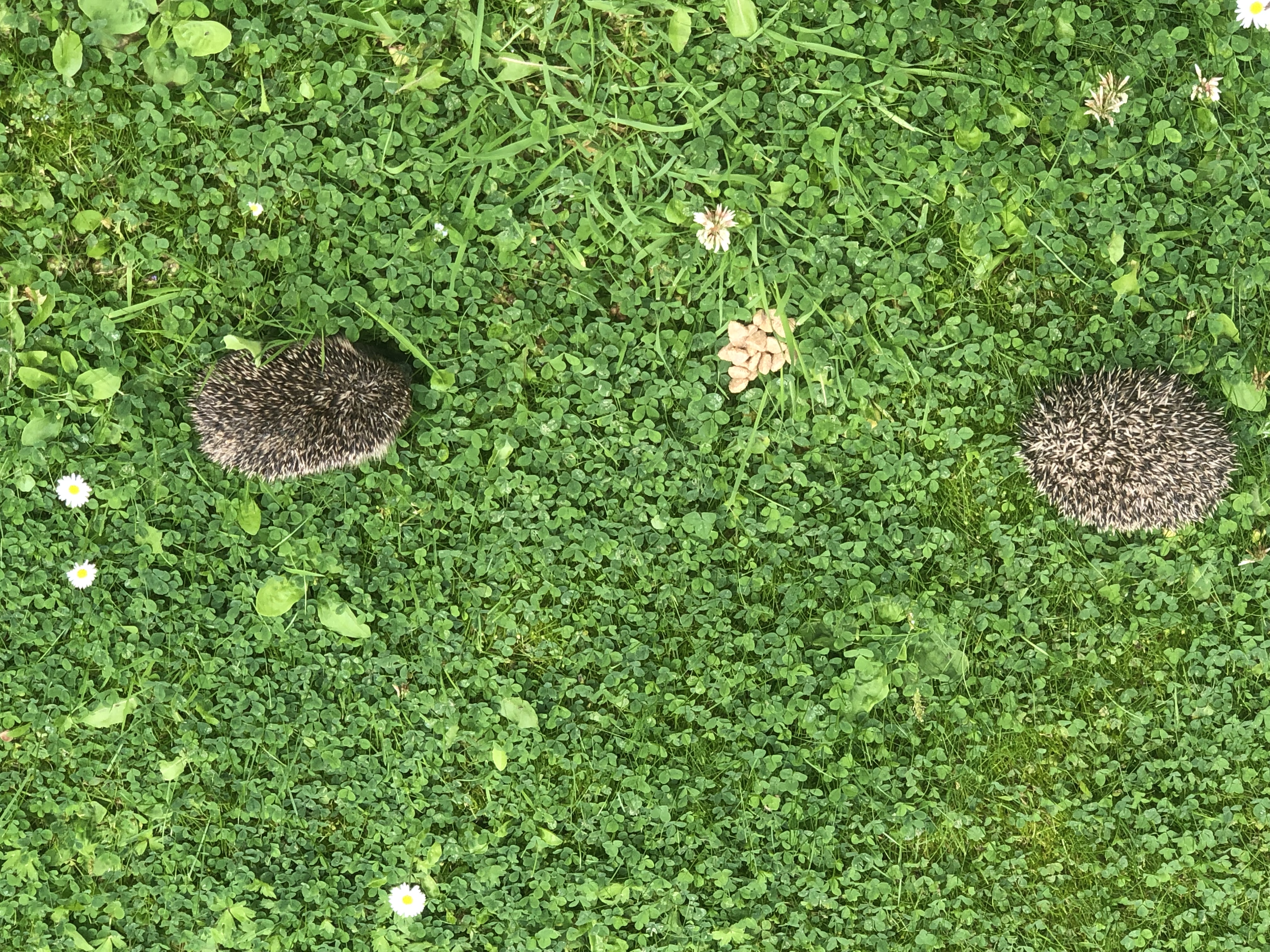 To verify this I set up my trail camera and laid more biscuits. The following morning I was pleased to be able to report that at least one hedgehog had ventured out and partaken of the biscuits. I also discovered that a fox was also quite partial to this free food. Hoping for badgers and deer in the future!
Previous edition
Fairytale Of Newmarket To Ascot