October 2, 2022 by Mike Madden
Black Type And Blackberries
Free Food
Not sure whether it was the hot weather, the prospect of an extreme winter, or one of many other old wives tales. One thing that is for sure, there were certainly a lot of blackberries about this year. I also noticed that they were a couple of weeks earlier than normal.
Whatever the reason, I made the most of them, producing copious amounts of jam. The first batch was good, but the second didn't seem to produce as much juice. So, for my third and final batch I added more water, and got a wonderful jelly-like consistency. Some of the jars are currently maturing. Others are already empty!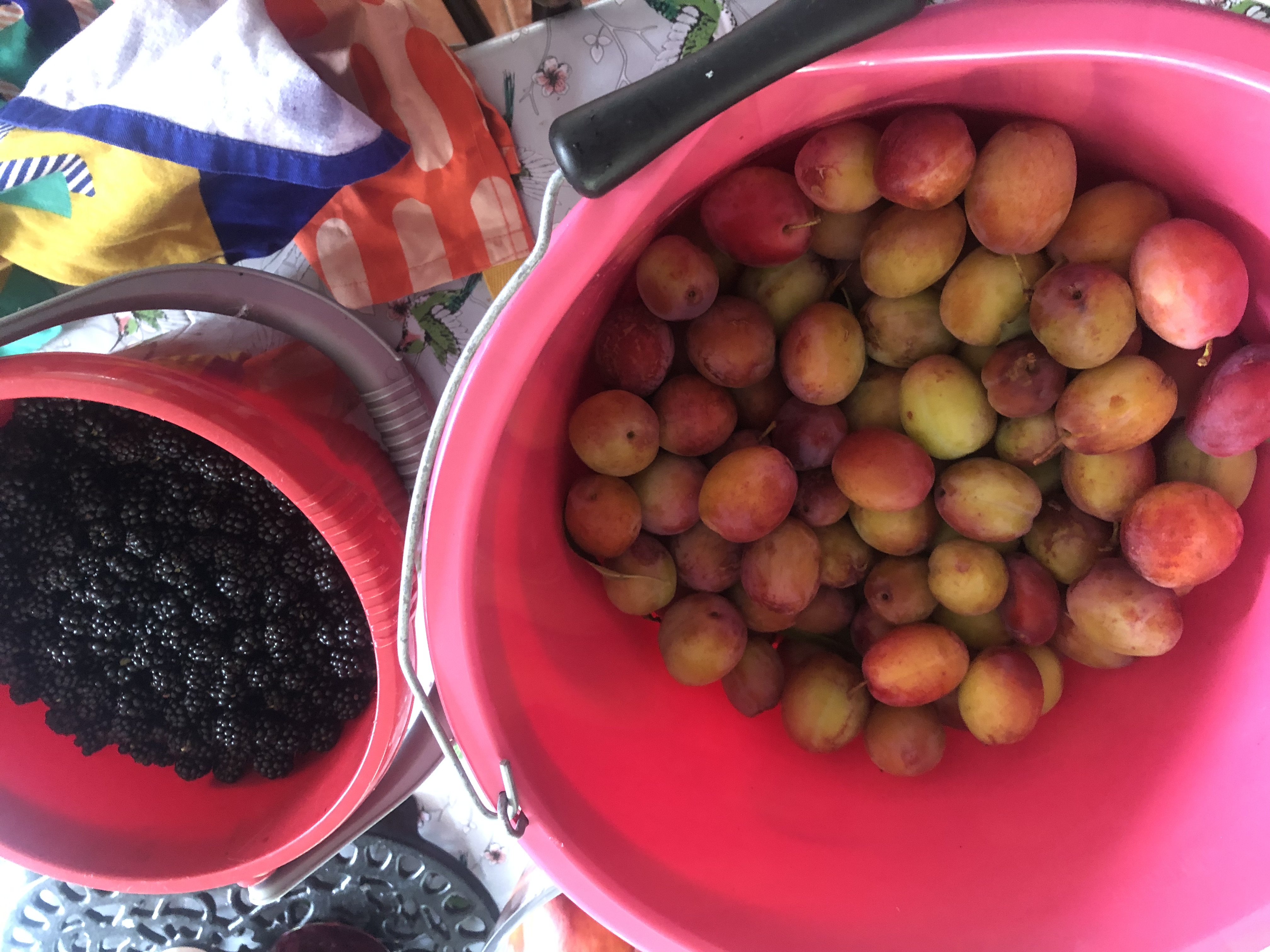 Blackberries and plums cost precisely nothing!
We also had an abundance of plums, even more than last year. I went up a ladder to pick some, but each time a branch rattled several more fell to the ground. As a result the kitchen has been very busy. I made a blackberry and plum crumble cake, and a plum and rhubarb crumble.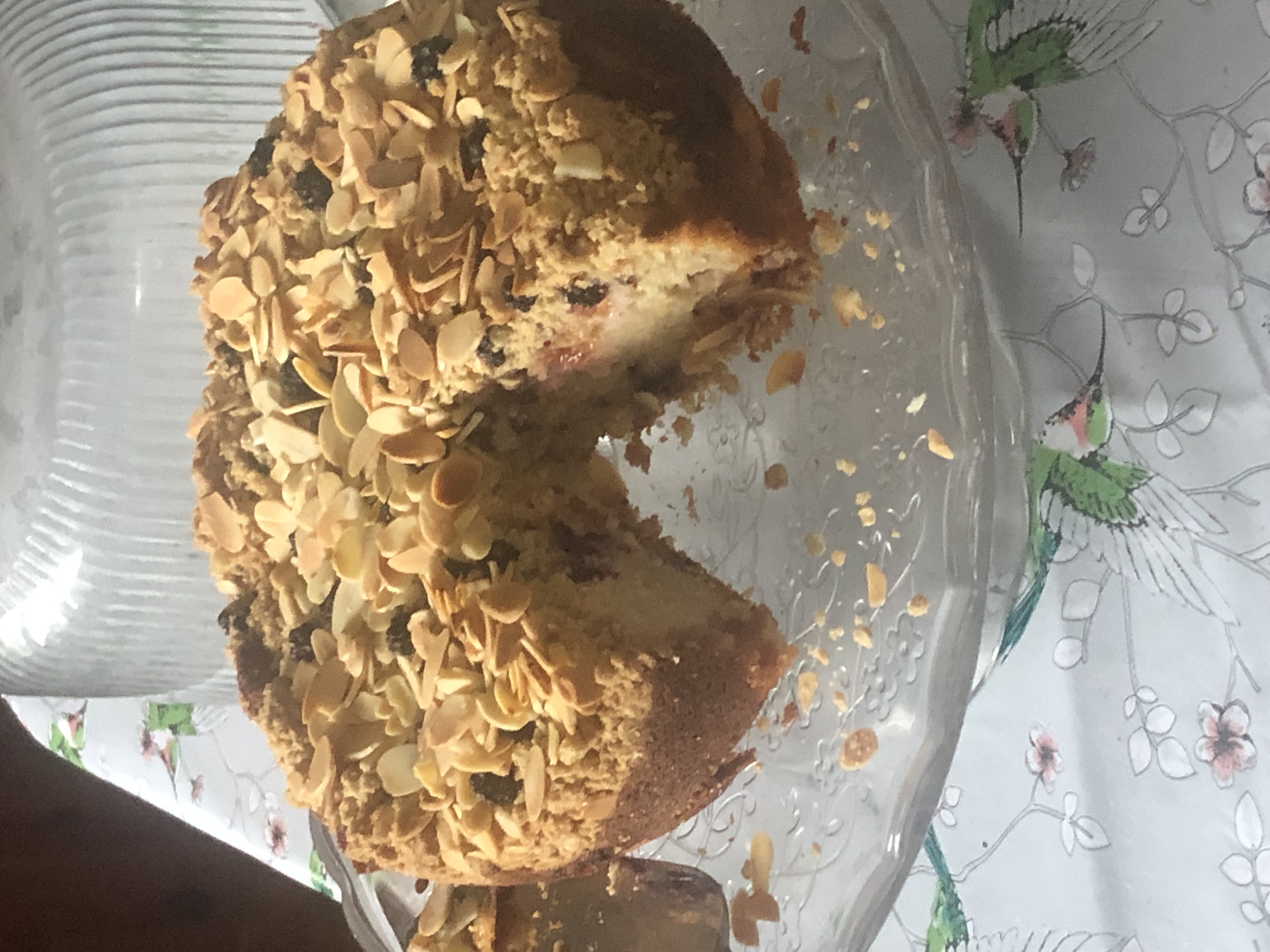 Blackberry & plum crumble cake
Different Gravy
On the subject of the kitchen I also made a coffee loaf, as well as a chocolate key lime pie. However, my most popular dish came from a simple roast beef dinner. It wasn't the roast beef itself, it was the gravy. I allowed the juices to drip into the bed of stock that was bubbling around celery, onion and carrot. I thickened it to make a sauce that Ole described as both unreal and insane. Before the day was out there was nothing left. Whatever could be dunked into the gravy was dunked into the gravy. This included Yorkshire puddings, roast potatoes, sweet potatoes and even cauliflower cheese.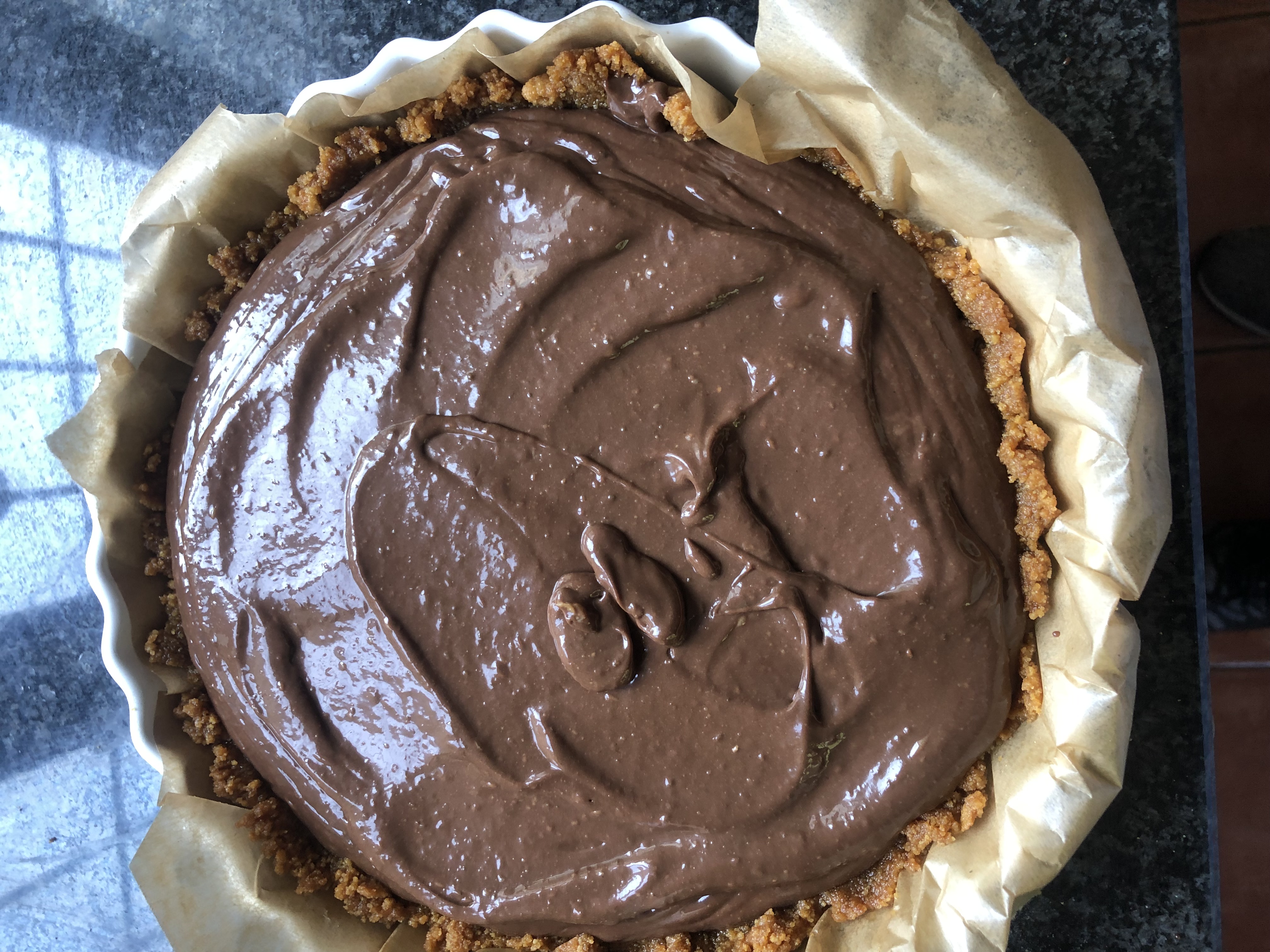 Chocolate key lime pie
Black Type Or Bust
After her previous efforts Star Of Lady M was on the hunt for "Black Type". This is achieved by finishing in the first three in a Class 1 race. Our first target was the St Hugh's at Newbury, a five furlong race for fillies only. On the Saturday that entries were due they rose quite quickly. Beginning at 10, there were 20 by midday, and on paper they were a formidable bunch.
Later that day the Phoenix Stakes took place at The Curragh. The race saw a very impressive performance from Little Big Bear, the winner of the Windsor Castle that we trailed fifteen lengths behind. It seems that we were probably quite fortunate to get that close!
Meanwhile, in Malton, Emerald Duchess was entered for the Class 6 nursery at Catterick the following Monday.
St Hugh's Day
Wednesday was the big day for the St Hugh's as it meant declarations. The message from Jason Kelly was simple enough, she is up there in the ratings and she is in good form, so let's declare. There were a total of twelve declared, but we lost Danny Tudhope as our jockey as he was booked to ride in three races for David O'Meara at Thirsk. This was disappointing, but we managed to secure the services of Jason Watson who had won on her at Musselburgh.
We were drawn in stall 4, much more central than our previous big race positions, so we could be confident of getting a reasonable position within the race. I hoped that the plan would be to track the early pace, and make our move with a furlong and a half to go.
The Outsider
We were initially priced up at 10/1 in the Sporting Life which was around seventh in the betting lists. William Hill opened with us at 14/1, a clear eighth best in their eyes. On the ratings we would do well to finish in the top six. However, there were question marks against several of the runners. The Sporting Life only gave her two out of five stars.
Temperatures were rising across the country again, but this time there was no doubt that the race would take place. By Thursday morning our travel plans were well advanced, and we could relax. That was until the taxi company rang and said our cab was waiting, a full 24 hours before we were due to leave! The ROA gave my details to journalist and broadcaster Nick Luck. He called me for an interview to feature in his podcast, and he seemed particularly interested in the book that I am writing. This will hopefully encourage racehorse ownership.
The Heat Is On
On Friday morning we set off early for Newbury racecourse, which was some three and a half hours away. The heat was steadily rising, with a forecast high of thirty-two. The air conditioning was still broken in my car, so it was a stifling journey. We arrived at Donnington Valley hotel, and as our room was not ready we had to change in the baking hot spa. It was still before midday, and we had time for a pint of the locally brewed lager in the bar. I think that it is fair to say that the locally brewed lager is best left to the locals.
I received a message from Jason Kelly stating that he was surprised at her odds that ranged from 20/1 to 25/1. He could not be there as he was at a wedding, but I suggested that the horse did not know what her odds were. There was some good news when the fancied Miami Girl was declared a non-runner, which squeezed our odds down to 18/1.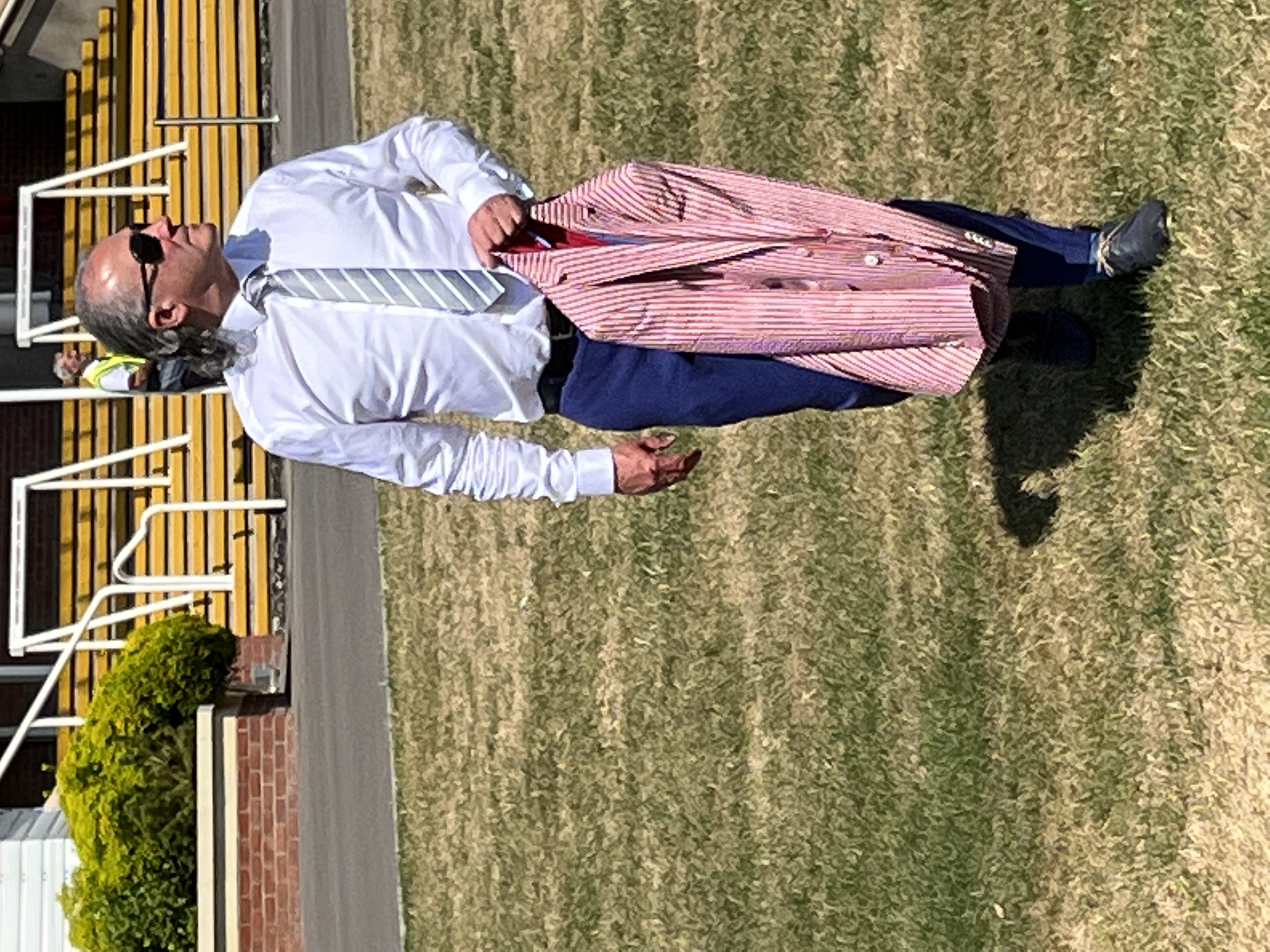 Too hot for a jacket at Newbury
It was a short taxi ride to the course, where there was an easy check-in. The Owners Club was spacious and airy, with a cool breeze blowing through. Ten minutes after our arrival we were tucking in to sea bass for lunch, in the relaxed atmosphere of the restaurant adjacent to the parade ring.
The Winner Takes It All
Sally and I had a look around and we were both impressed with Newbury. It struck me as a kind of "York Of The South", with similarly spacious surroundings and plenty of outdoor seating areas. The view from the grandstand was excellent, and we decided to watch the races from there. I looked at some form but to no avail, whilst Sally opted for the tried and trusted method of picking horses based on names. Hoof It Hoof It duly obliged at 20/1, but better was to come in the second race. Our eldest son is named Ole Joseph, and so Sally backed OJ Lifestyle. It just held on in a tight finish, at odds of 125/1. Even better, the Tote paid closer to 150/1, and so her £2 each-way bet returned almost £350.
Dirty Money
I offered to go to the bar, and she reached into her purse and threw a tenner at me. Honestly, the disrespect was palpable. She made me feel like a cheap stripper! And anyway, £10 was not enough for a round!
The Owners Club was a friendly place, but the chat was just noise. I filled our table with copious amounts of water, to combat the heat and my nerves that were starting to kick in. My mind was on Star Of Lady M. I could not concentrate on anything else, and I was quite relieved when it was time to go. She looked very well in the pre-parade ring, where her regular groom Maddie was looking after her, along with Sarah who we first met at Musselburgh.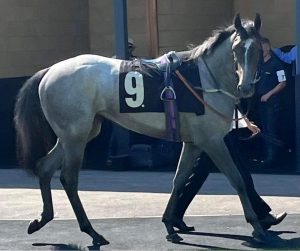 Star Of Lady M wants to know what you are looking at
As we entered the parade ring I realised that the outsider Queen Of Uplands was also a non-runner, leaving just ten in the race. Incredibly, of the ten remaining runners, six were sired by the prolific Havana Grey, including, of course, Star Of Lady M.
Race Time
Jason Watson was happy with her. It was a strong field, but we would see how the race panned out, and hope to challenge late. We headed for the stands as horse and rider headed for the start. She was still unfancied at 20/1, with Maylandsea the 5/2 favourite.
Star Of Lady M broke well, and was in behind Cuban Mistress and Union Court, with Minnetonka also up with the pace. Several of the fancied runners, including Maylandsea, Carmela and Katey Kontent, were soon under pressure. Woolhampton moved forward, and it seemed that Jason was struggling to find a way around Minnetonka. Cuban Mistress kicked again as Star Of Lady M saw daylight on the stands side. Jason pushed the button and she flew, gaining with every stride.
Unfortunately the line came too soon, and she finished fifth, just over two lengths off the winner. Union Court and Woolhampton filled the places, with Minnetonka a neck in front of us. With another fifty yards we could have reached third place, and with another one hundred we might even have got our head in front. Maylandsea, Carmela, Katey Kontent, and the much-vaunted Funny Story, were nowhere to be seen. Havana Grey had recorded an historic first and second.
A welcome drink for Star at the end of another brave performance
The Future Is Bright
It was a fabulous performance. In the parade ring afterwards Star Of Lady M looked thrilled with her own efforts, and ready to go again. Maddie and Sarah were also delighted, but it was Jason Watson who gave the most detailed appraisal. He said that she would definitely get black type somewhere, it was only a matter of time. He also said that she made his job so easy as she was so genuine, running through the line.
On Target
I believed that she thoroughly enjoyed her race again, and she still had plenty of options. David O'Meara called and said that she had now proved that she could compete at Listed level. This gave us confidence to enter her in lots of races, but he was particularly interested in the Firth Of Clyde at Ayr, which is a Listed race for fillies only over six furlongs. I mentioned the Two-Year-Old Trophy at Ripon, and he said that yes, of course that would be on the agenda. Luke called from Deauville, and he thought that all roads should lead to Ripon.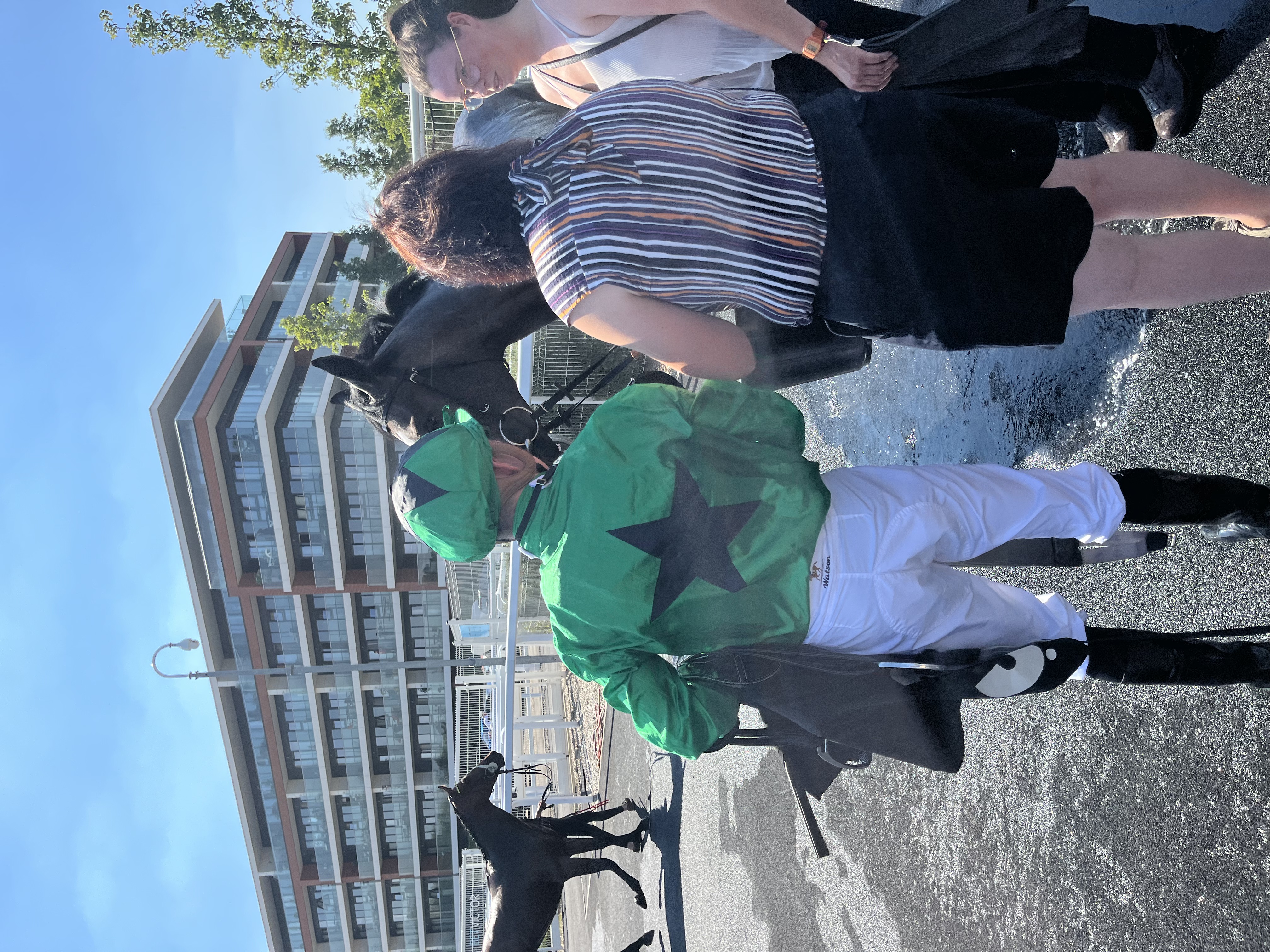 Jason Watson gives his summary of the race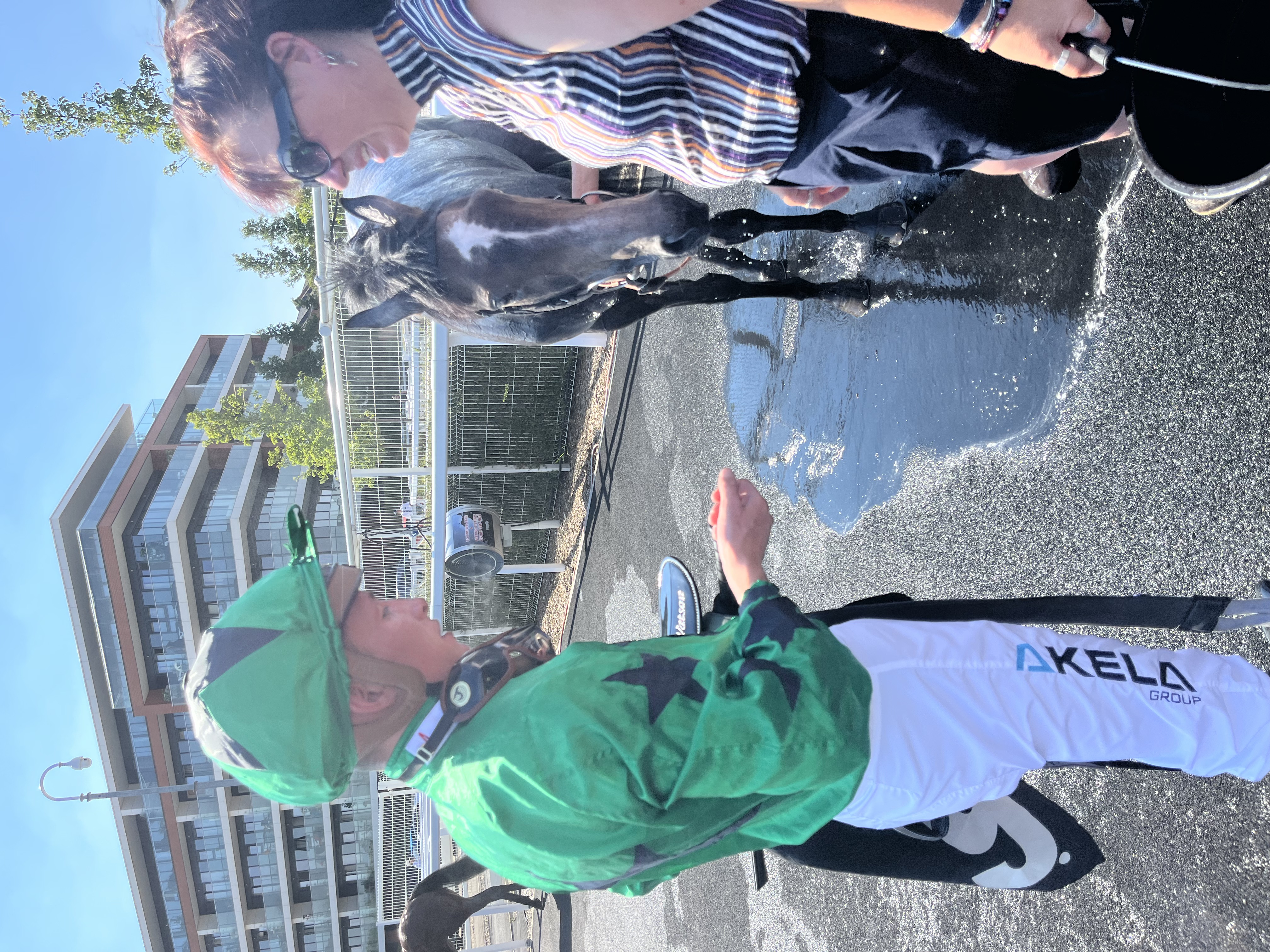 She will get black type somewhere…
Jason Kelly mentioned the Dick Poole at Salisbury, another Group 3 for fillies only, and the Firth Of Clyde, but he also agreed that Ripon could be another possibility. He thought that we should spread our entries to keep options open. In the Owners Club we spoke to several of the Middleham Park Racing syndicate, owners of the winner Cuban Mistress. They were a lively bunch, but very complimentary about Star Of Lady M, and they were interested in her name. I explained about Abraj Dubai, and of course Lady M, and one of them genuinely asked Sally if she preferred "Sally" or "Lady M". She laughed it off saying, "Sally's fine," and I thought that perhaps she was taking the "Lady M" part a little too much to heart.
Room With A Lever
The journey back to the hotel showed what a difference there is between Sally and myself. I would probably have not spoken more than five words to the taxi driver, but somehow, in the fifteen minutes it took us to get to to our base, Sally was having a philosophical discussion about how genuine friends can be. Fortunately, it was just a short journey, and we settled in to our oversized room. Sally pulled a lever, and we thought that nothing happened. However, a short time later there was a breathless knocking at the door. The hotel porter asked if everything was ok, and Sally looked a little stunned. Apparently the lever triggered the emergency alarm, as they had put us in a disabled room!
We rose early the following day and made the long journey home. On arrival we learned that Emerald Duchess had been declared to run at Catterick two days later, so I began the process of obtaining tickets.  Edwina Currie was now a member of The 1891 Group syndicate, and she has taken in a family of Ukrainian refugees. She thought that it would be a great experience for them to attend a British race meeting. I contacted Catterick who very kindly agreed to provide them with complimentary badges with lunch.
Ukrainian Racing
We set off for Catterick on the Monday morning, and pulled into the Owners & Trainers car park after two and a half hours. The racecourse have built a splendid new Owners & Trainers facility, and our Ukrainian guests soon settled down for lunch as they studied the racecards. These must have made very little sense to them, but the boys in particular quickly found a winning formula. Edwina drew plenty of attention, including from the director of the racecourse.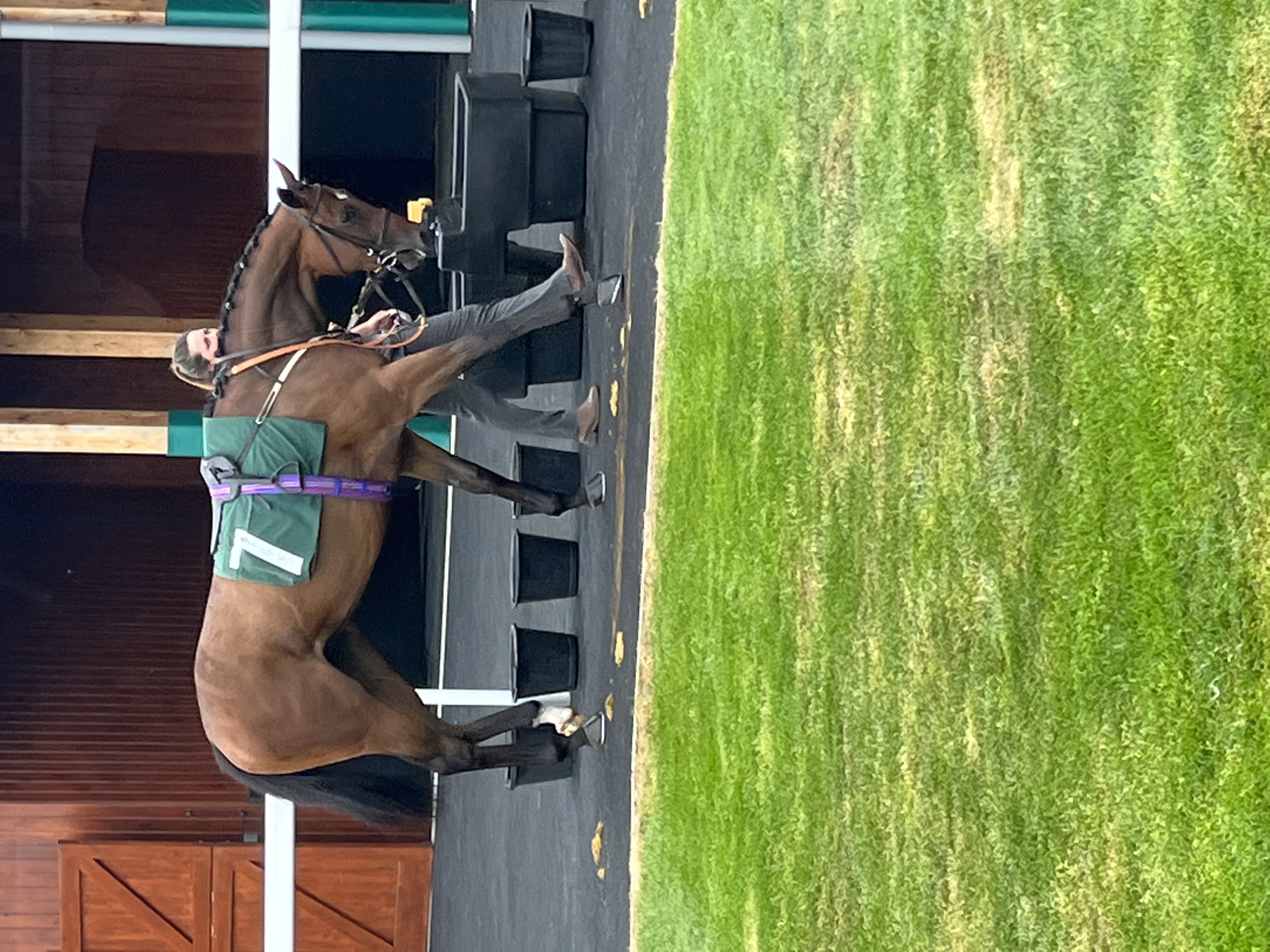 Emerald Duchess on parade
We were in the second race, and as we entered the parade ring I met Chris Dixon from RacingTV who was full of praise for Star Of Lady M. David O'Meara had a runner in our race, and another of Star Of Lady M's regular handlers, Di Jackson, came over to talk to us. She was amazed at how genuine and robust our filly was. She was impressed at how she came out of her races like it was nothing. However, we do know from our previous visit to the yard that she does like to stamp her authority at home!
Syndicates And Celebrities
Tim came into the ring, and as we waited for the syndicate to assemble he spoke about Star Of Lady M in glowing terms. He was very impressed with her at Goodwood, though he had not yet seen the St Hugh's race. Everyone wanted to talk about Star Of Lady M, but it was time for Emerald Duchess.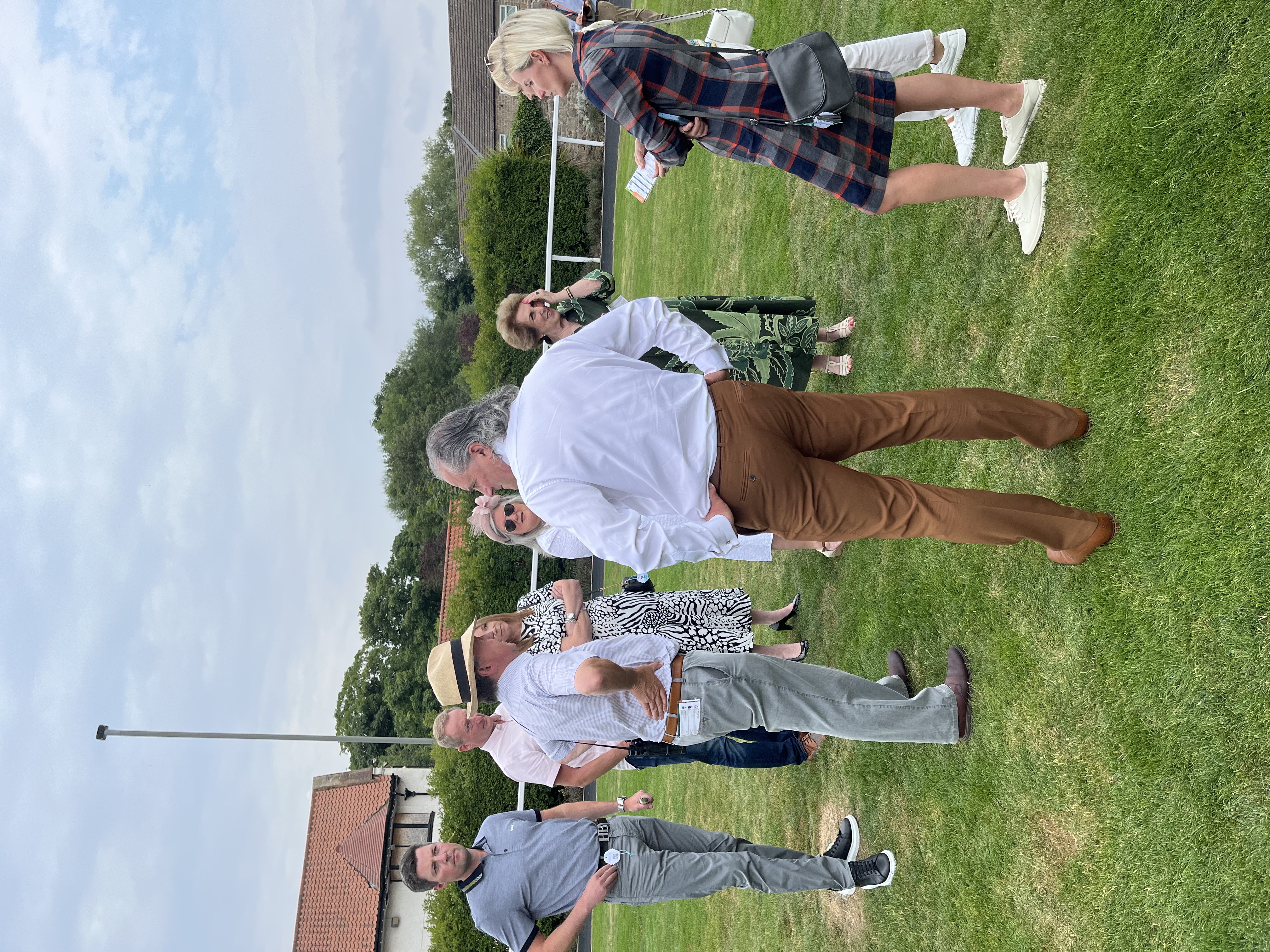 The 1891 Group listening to Tim's appraisal
David Allan was today's jockey, and he was considered to be Tim's stable jockey. Tim was not sure what to make of Emerald Duchess, but that did not seem to concern David. We stressed that she had struggled leaving the stalls, but that she had shown some ability. He was very confident in what he was being asked to do, and this confidence spread throughout our party. Tim took time out to speak with Edwina, and then we made our way to the viewing area.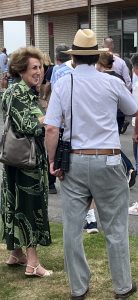 Edwina and Tim share a moment
Emerald Duchess was drawn in stall 6 of the eleven runners, and she broke well. She was not leading, but she was certainly in the first six or seven. They reached the bend, and it all went wrong as she was bumped into. She had to be snatched up, and then it took David a while to get her balanced again. Coming out of the bend she had progressed up to fifth, but the effort in getting back on an even keel had clearly taken a lot out of her. She was eased down to finish ninth, and we went back to the parade ring for the post mortem.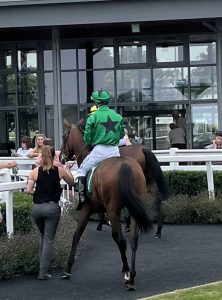 David Allan on board Emerald Duchess
Disaster For The Duchess
David was very clear in his opinion that he was lucky to stay on board around the bend. It could have been a serious incident, and both rider and horse did well to come out of it safe and sound. He thought that she did well, but that she was not a sprinter. She would do better over seven furlongs, and her hanging was not an issue. We should consider left or right-handed tracks. It was a very professional assessment, and despite the fading finish we were pleased that she had put Chester behind her and shown some improvement.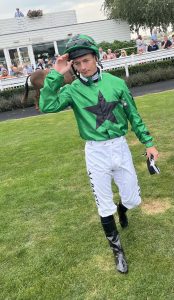 David Allan had a narrow escape at Catterick
On the way home from Catterick Sally asked Edwina about her busy lifestyle. Edwina admitted that she had to be careful when she met with groups of people as she had a tendency to "dominate the room". She then considered, and said to Sally, "Of course I cannot dominate the room if you are in it!"
Friday was the third day of the Ebor Festival at York. Although we did not have any official invitations, we ventured there anyway as we knew there would be plenty of people to meet. We arrived early, and were immediately met by the ITV Racing paparazzi filming the early racegoers. The Champagne Pavilion seemed a good place to start, so we grabbed a table and settled in with a bottle of pink champagne. ITV Racing clearly thought this was a good idea too. They filmed their introduction to the day using our champagne bucket and glasses as their starting point.
Star Of The Show
Luke Lillingston joined us, and he was full of enthusiasm for Star Of Lady M. Earlier that day he had been to David O'Meara's yard with his Hot To Trot racing group, and David first brought out the Hot To Trot filly for them to look at. He followed this up by bringing out Star Of Lady M, and she looked a picture, in great condition and ready for her next race.
Luke offered to get sandwiches from the hog roast, but did not realise that York do not allow food to be transferred from one enclosure to the other. Sally stepped in, and concealed the foil wrapped sandwiches as she strode nonchalantly into the Champagne Pavilion. Luke christened her his "Hog Roast Mule", a nickname that probably won't stick! We shared a few glasses of champagne and then wandered around the parade ring where, of course, Luke knew almost everyone.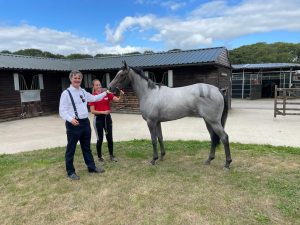 Star Of Lady M paraded for the Hot To Trot Group as one of the stable stars
Meet And Greet
Tim Easterby greeted us, and he explained that he had not entered Emerald Duchess into a suitable race at Catterick as he wanted to try her at a different track. This made sense, as we would not want her to relive the bad memories of what happened on that top bend. I met Nick Luck and he was very complimentary about Star Of Lady M's efforts at Newbury, reiterating his offer to feature us again on a future podcast. We also met Sam Hoskins, one of the partners in Hot To Trot, and he too was full of enthusiasm for Star Of Lady M. We watched The Platinum Queen finish a gallant second in the Group 1 Nunthorpe, an indirect compliment to Star Of Lady M as we had got within six lengths of that rival at Goodwood.
Finally, we met up with Simon Chappell who was sponsoring the fifth race on the card, and we spent a couple of hours chatting with him and his team. Simon has been a long-time owner of horses, but it seemed that the success of Star Of Lady M had tempted him into buying another two-year-old. It was a lovely feelgood kind of a day, with the majority recommending the Ripon race as our best opportunity for black type. This was based on Star Of Lady M having already won at the traditionally quirky course.
Roaring Ripon
Tuesday morning was entries day for Ripon. There were two entries just after 8am. An hour later there were still only three, and by 10am there were five. I guessed that maybe just over half of the final entries would actually be declared to run, so anything less than fifteen or sixteen entries would be good. As time ticked on into the final hour the number reached seven, then eight and nine. With minutes to go they finally reached double figures, and then the entries were closed.
On Saturday morning, declarations day, Jason Watson was listed as jockey for Star Of Lady M at Ripon, and she was one of six runners. There were three highly rated colts declared, and we were the highest rated of the three fillies.
The Cheap Filly
I looked at the purchase price of the other entries, and it showed the size of the gulf that we had to overcome. Figures of 180,000, 160,000 and 75,000 dwarfed our 15,000 guineas. However, Star Of Lady M had already shown that she deserved her chance.
The journey to Ripon was slightly delayed due to the Leeds Festival traffic, but we arrived shortly after noon. We were soon enjoying lunch in the Owners & Trainers bar. My youngest sister Fiona was with us, and we met my middle sister Jane when we got to the course. Her only previous experience of racing was when she watched Emerald Duchess make her debut at Nottingham. Jane had been following Star Of Lady M very closely. This was my fifth trip to a Yorkshire course as an owner that summer, and it was great to recognise some friendly faces on reception and in the bar. The staff rotated between the courses, ensuring that it was all run very efficiently as everyone knew what was expected of them.
It was a family fun day at Ripon and the course was very busy. It was also August Bank Holiday, which added to the numbers. The parade ring was three or four deep at times, and even the pre-parade ring was busy enough. I went for a walk to calm my nerves, and I spotted a few faces. These included Tim Easterby, and his travelling head lad Geordie.
Boys Against Girls
The favourite, Al Karrar, firmed up overnight to 1/2, but he began drifting. He went from odds on to odds against, eventually going off at 11/8. Meanwhile, the two other colts were vying for second favouritism, at around 3/1. We drifted throughout the morning, and at one point the price of 25/1 was available. However, as the off time approached, we shortened quite dramatically, eventually starting as the 8/1 fourth favourite.
At the pre-parade ring we chatted to Tim Easterby. He told us that he had sneaked black type in last year's race with Atomic Lady, and it made such a difference. He thought that the leaders had a tendency to go out too fast and cut each other's throats, giving the others a chance to take them late on.
David O'Meara appeared as Star Of Lady M trotted out, accompanied by her regular groom Maddie as well as head girl Gabi. The previous week the stable had suffered a terrible tragedy when travelling head girl Di was involved in a head on collision after racing at Yarmouth. The horse, Lincoln Pride, sadly died in the accident, whilst Di suffered multiple injuries but was now on the long road to recovery. It was only a couple of weeks since Di came over to chat to us when Emerald Duchess raced at Catterick.
We were in the fourth race of the day, but I had managed to keep my nerves under control by chatting to Tim and David. As Star Of Lady M moved to the parade ring for her most important date so far, I could feel my mouth drying and my heartbeat quickening.
The Lady Is Ready
She looked in peak condition yet again. It really was remarkable that she seemed to thrive on her racing, even after a very long season. This was her ninth two-year-old race, and many others from her age group had not even seen a racecourse as yet.
In the parade ring Jason Watson was confident. Even more so because he had just ridden a good winner in the previous race. He knew his job, but David reiterated that although we would be trying to win, first three would also be great for black type. At Newbury, Jason had told us that she would definitely get black type somewhere, but I did not remind him of that!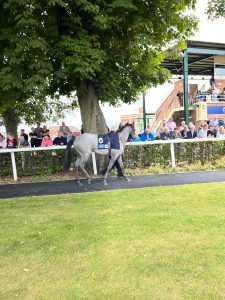 Star Of Lady M ready for her next big day
Nervous Energy
As we took our seats I could not look at anyone, and I could not speak. For a brief moment, the nerves were as highly strung as they had ever been, such was the importance of the task ahead.
The field moved behind the stalls, and as expected Star Of Lady M walked quietly in to her position. The plan was to break well enough to track the expected leader Hoof It Hoof It, ahead of Miss Mai Tai on the rail. She could then make her move as the three colts pressed on the outside, and with the advantage of the rail she might just see one or more of them off.
It did not quite work out like that. She got out well enough, behind the expected pace of Hoof It Hoof It. However, she moved across to the right, away from the rail, and bumped the favourite. Bolt Action took the leader on for pace, with Miss Mai Tai always struggling. We were in behind Shouldvebeenaring, and ahead of Al Karrar who quickly came under pressure. He did not find much, and as Hoof It Hoof It began to fade we moved into third. Shouldvebeenaring forged ahead, with Bolt Action close behind.
Jason Watson eased our horse, confident that he would not catch the two in front, but more importantly that nothing else would catch him. Star Of Lady M finished a comfortable third, gaining black type in the process. She had only been beaten by two colts, beating the 107 rated favourite by a couple of lengths.
Black Type Bonanza
We were delighted. It was almost as emotional as that first win at Redcar. The nerves faded away as once again the adrenaline carried us along. We rushed to the parade ring, where David greeted us with a beaming smile after a job well done.
The strange thing was that Jason reported that she hated the ground. Ripon could be quirky, and although she had won there before, she hit a few flat spots which slowed her momentum. This meant that she effectively had to start her charge all over again. With that in mind it was an even more remarkable performance to get third, and it showed what an exemplary ride Jason had given her. He also told us that once again she made his job easy for him, and that she was definitely the toughest filly that he had ever sat on. That was praise indeed.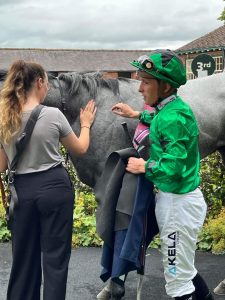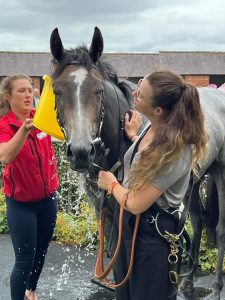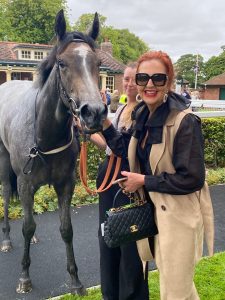 She's done it! Star Of Lady M finishes third under Jason Watson as Gabi and Maddie cool her down ready for her celebrity photo op
David confirmed that Ayr should be the next target, and we discussed the October 1st races. That would be a tricky decision, but it did not have to be made just yet.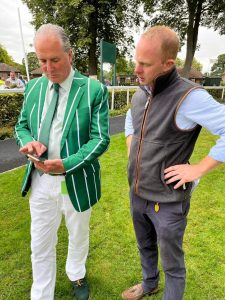 Discussing the Firth Of Clyde with David O'Meara
I called Luke and he was understandably thrilled. He said that we should definitely visit Whitsbury Manor as part of the research for the book, and Ed Harper would be very pleased to see us. His Havana Grey had sired both the first and third in the prestigious Ripon Two-Year-Old Trophy. Whitsbury Manor was the birthplace of our girl, as well as the home of her mother, Abraj Dubai.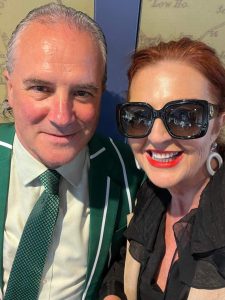 A triumphant selfie
She Did It!
The congratulations came thick and fast, including from Richard Kent, Jason Kelly, Simon Chappell and Mike Curtis. We met Tim Easterby coming out of the Owners & Trainers bar and he offered his congratulations. He had a wide grin and he was obviously and genuinely pleased for us. We sat down for a celebratory drink, which was largely soft due to the long journey home.
It was a surreal feeling. I discussed insurance with Luke, and he thought that £100,000 was just about enough. Though he also thought that no one would argue if we wanted to increase it slightly. We had an exciting autumn ahead of us, but in some respects the pressure had been taken off us. We had achieved the holy grail of black type.
A Cloud On The Horizon
As often happens the next race at Ripon passed us by, but we went into the grandstand to watch the sixth. I noticed a missed call from David O'Meara, so I called him back and he gave me some worrying news. Star Of Lady M had sustained a cut during the race. It was nothing to worry about, but it was quite deep and close to the tendon. So, he wanted to take her to his vet where it would be flushed out properly. He would let us know how she was tomorrow. This dampened down our euphoria somewhat, but we knew that she was in the best hands. The Ayr race was nineteen days away, and I could not help wondering if she would still go for that, or indeed race again at all this season. Her health must be the priority.
The following morning the news was better. The vet had done a white blood cell count which had come back normal. This suggested that there was no infection. The wound had been flushed out and stitched, and David expected Star Of Lady M to return home later that day or the following morning.
I put it to the back of my mind as I focused on Emerald Duchess who had been entered into the seven furlong nursery at Newcastle, along with twenty three other runners. She was also entered for a similar event at Leicester, but we would be keeping an eye on the weather as we would not want to run her if it was too soft.
The Cloud Breaks
Later that day David called again, and this time the news was not so good. They had done a second white blood cell count and it was slightly up. This was a worry because of the chance of sepsis, so they had given her an anaesthetic and flushed out the joint again. At times like this a lack of knowledge could create demons in your mind and problems could grow out of all proportion. I was very worried, but David said that she would be fine. Luke suggested that it did not sound too serious. I could not begin to think about other races, I just wanted some positive news.
The hours ticked by on Wednesday afternoon, and there was still no update. I knew that David would be short-staffed and I did not want to bother him. So I contented myself that no news must be good news. 
Waiting For Willow
On Thursday it was confirmed that two of the Leicester entries had not qualified as their rating was too high. I was thinking of Willow Farm. I messaged David for an update, and his response was reassuring. The surgery had gone well, she was up and about, and they would keep her at the vets for a couple of days before sending her home. In my mind that was Saturday, but in reality I knew that this was imprecise. It could be Friday, or it could be early next week. I would just have to wait.
David also sent a picture of the wound which looked horrific. However, it was just a flesh wound. He reiterated that she would be fine, and Luke thought that it was not too serious. Perhaps she could run in a boot? I contented myself in simply hoping that she came back to the stable safe and sound.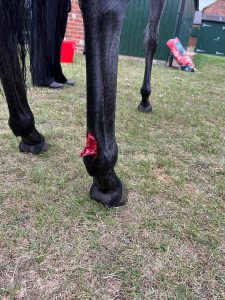 Star Of Lady M's wound looked worse than it really was
Leicester For The Duchess
On Saturday morning I had a conversation with Tim. We decided that we would not run at Newcastle, as the surface would introduce yet another variable to the career of Emerald Duchess. Leicester would be a much more straightforward option. When the declarations came out on Sunday she was drawn two of ten, with Cam Hardie on board. A bit of research told me that Cam had a 3% strike rate for two-year-olds on turf, but I was not going to let that worry me.
On Monday morning I received the news that Star Of Lady M would be heading home later that day. She had been with the vet for a week, but I reassured myself that it was all precautionary. I did not sound convincing to myself! The following day she was given an OR of 88, which was down another two pounds. I thought that was bizarre after finishing third in a Listed race, and again it was probably her best run to date. Shouldvebeenaring was rated at 101 with Bolt Action at 100. Even with the fillies allowance I thought that we might have been closer to that pair. Perhaps the official handicapper wanted to push us towards handicaps again.
Leaving For Leicester
On the day of the Leicester race we set off and immediately hit traffic problems. A truck had jack-knifed across a country lane in our village, but after a short delay we continued on our way. It was a pleasant day, and the expected rain had not really arrived. There were a few showers, but the going was still officially good. Emerald Duchess was available at 40/1, and with some bookmakers paying an extra place it seemed like a reasonable bet. The pundits did not seem to give her much chance, but we certainly did. We had a plan, which they were blissfully unaware of.
The Duchess Delivers
As race time approached we were in good spirits, having backed a previous winner at around 9/1. Luke Lillingston's Hot To Trot group had also had a winner when Rage Of Bamby won the next, and after listening to the presentation we headed to the pre-parade area. We met Rory from Tim's yard, and he had travelled there alone. He invited us into the stable, where Emerald Duchess was having the final few adjustments made to her tack prior to the race. She looked well, and she was happy to have us alongside her. She was still quite small, but we knew she had plenty of scope for growing into her racing career.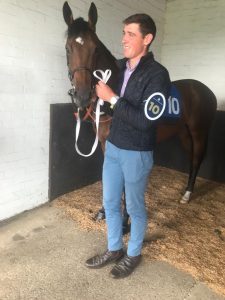 Rory taking good care of Emerald Duchess
Rory was very particular about where Emerald Duchess went into the parade ring. He waited until he could be sure that she would parade behind a filly as opposed to a colt. I had not seen this before, but I was certainly impressed by his attention to detail. We met Cam Hardie in the parade ring, and he was a confident young jockey. He had been in to Tim's to ride Emerald Duchess at home, and he was pleased with her.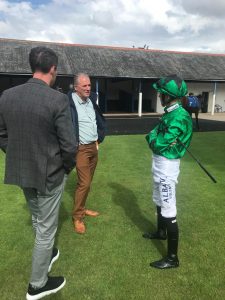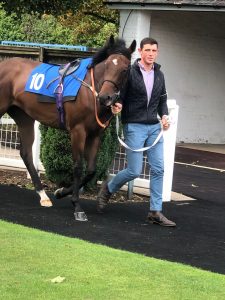 Cam Hardie discusses tactics as Rory leads her round
Lucky Leicester
We went towards the stands, accompanied by Rory. As we had been successful so far that day, we took him to our lucky spot about half a furlong from the finish. Superstitions could count for a lot when you were seeking a change of fortune!
As the race began Emerald Duchess got out well. After three furlongs she was being ridden, seemingly outpaced. She was under pressure, and then she started to find something. Menalippe and River Usk went clear, but Emerald Duchess flew after them. She was a fast finishing third at the line, easily her best position so far. We were all delighted, and Rory immediately announced that she would be even better over a mile. Cam came back and said exactly the same, although he also said she stumbled on the uneven ground, and so a flatter track might also suit. In my mind I had already identified a race at Redcar later in the month that seemed to fit the bill.
The Golden Mile?
Rory disappeared to look after the horse, and we bumped into Cam again a short time later. He had spoken to Tim and they agreed that the mile at Redcar would be a great opportunity. Luke called, and he was more relieved than anything. He always had faith in her, and now she had shown that she does have ability and we could look forward to a bright future with her.
The commentator praised the front two and was quite dismissive of the rest of the field. However, he did counter this by opining that at least Emerald Duchess showed something, running past the rest of the field. 
After four troubling months and five inconclusive runs, our plan was finally starting to come together. I was so pleased for the syndicate, even though there were just two of us at Leicester. We could look forward to the rest of the season, as well as her three-year-old career, with renewed confidence.
The Final Curtain
The sales season was in full swing, and at the Tattersalls Somerville sale the half-sister to Star Of Lady M was sold for 52,000 guineas. This was a full sister to Aye Catcher, Abraj Dubai's first foal that was rated at 66. It seemed reasonable to assume that Star Of Lady M's prowess had had some effect on the purchase price.
I had not heard any more from David, but I was content that the additional payment had been made for the Redcar Two Year Old trophy, and she would probably be settling in back at home.
On Thursday morning that all changed. I received a picture message from David that was the vet's report for Star Of Lady M. It was in tiny print, and before I had chance to read it I received a voicemail, also from David.
Hiya Mike. There is a vet note for Star Of Lady M. A lot of it will be in vet speak which if you're not used it can be a little bit mind boggling. Ultimately the prognosis is good but the filly is finished for this year. She just needs a bit of time now for the wound to heal up, and everything to settle down. It was a nasty cut, but she's fine.
Right In The Solar Plexus
I was gutted, and I felt kind of empty. No more nerves, no more excitement, no more scanning the Listed races on the BHA website, and no more assessing entries. My first thought was that it must be serious if she could not be ready to race by the end of October. I listened to the message again, and then several more times. I let David's words sink in, and I realised that whatever the injury was, she was in the best place.
Within the report the prognosis was indeed good, and I read it in full. The stitches would come out four days later, and she would need four weeks of box rest. This would be followed by four weeks in a small paddock and then four weeks in a large paddock. If she came through all of that ok she would be able to resume training. That would take us to December, so any thought of running before the start of the next flat season could be pushed aside.
Looking To The Future
The following day I received a picture from David showing a remarkable recovery from the original gash. It looked so good that Luke thought that she might recover earlier, but that was not the case. We discussed her recuperation, and what a three-year-old career might look like for her. He mentioned the Kilvington at Newmarket, and there was also the Commonwealth Cup Trial at Ascot. Both seemed an awfully long time away. It would probably be around two hundred days before she saw a racecourse again.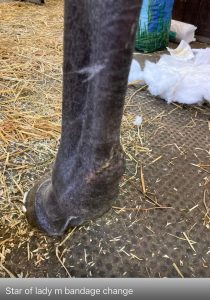 Recovering well
I then reflected on where she had taken us. Royal Ascot, Glorious Goodwood, Chester, Newbury, as well as her victories at Redcar, Ripon, Beverley and Musselburgh. Her season culminated in getting black type at Ripon, and she deserved a rest. She would be at home at Willow Farm until the spring, when we could hopefully look forward to her three-year-old career. She was the first winner of the season for her sire Havana Grey, and for her trainer David O'Meara. Could she repeat that in 2023?
Stones And Stallions
We crossed Ayr off the calendar, but decided to make the most of the time by arranging a trip to Whitsbury Manor near Salisbury. It was a long drive, and we opted to break up the journey by stopping off at Stonehenge on the way. Neither Sally nor myself had ever seen it in person, and it is what you would expect. Ancient stones arranged in a vague circle!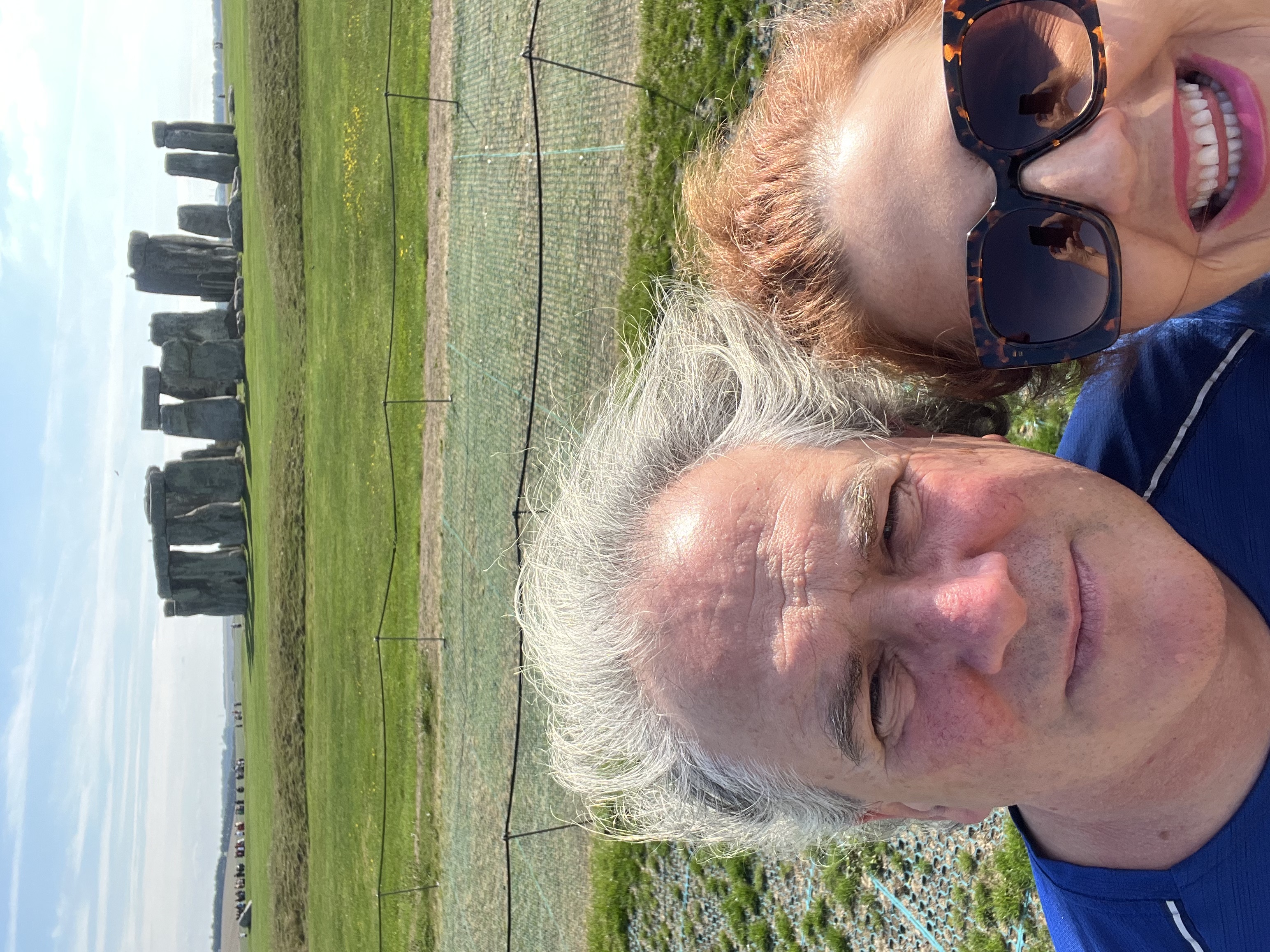 Some old fossils – and thats Stonehenge in the background
Oh We Do Like To Be Beside The Seaside
That evening we stayed at the Three Lions at Fordingbridge. It was an excellent pub and restaurant with rooms that included a hot tub. Suitably refreshed, Sally stocked up on the plentiful apples from the orchard in the grounds of the hotel, as well as the very nice toiletries in their handy sized bottles. We nipped to Bournemouth beach the following morning, which reminded us a little of Blackpool. Just down the coast was Boscombe, which was quite a bit nicer, but we did not venture out of the car at either. We returned to the hotel for breakfast and then headed to Whitsbury. This magnificent stud farm is home to Havana Grey and Abraj Dubai, both of Star Of Lady M's parents.
We went into the office and they were very excited to see us. They had been following Star Of Lady M's career with interest, and although they were disappointed to hear of her injury, they knew that she was tough enough to overcome such a setback. We had met Phil and Chris at the sales, and they tongue-in-cheek commented that it gave them much more satisfaction selling Star Of Lady M to us for 15,000 guineas, than getting half a million from a big organisation; it was obvious at the time just how excited we were to take ownership of the filly.
Meet The Parents
It was a busy time for the farm, preparing yearlings and foals for the upcoming sales, but Ed Harper drove us around to see all of his stallions. I expected them to be huge, unruly beasts, but Havana Grey was calm as his handler paraded him. He looked us up and down, wondering what all of the fuss was about. Abraj Dubai was out in a paddock with her latest foal by Sergei Prokofiev. Ed warned us that she could be a bit of a madam, but her inquisitive nature worked in our favour as she walked across to the fence to see who her visitors were. She loved a head scratch, and her foal eyed us up and down, gaining confidence from its mother.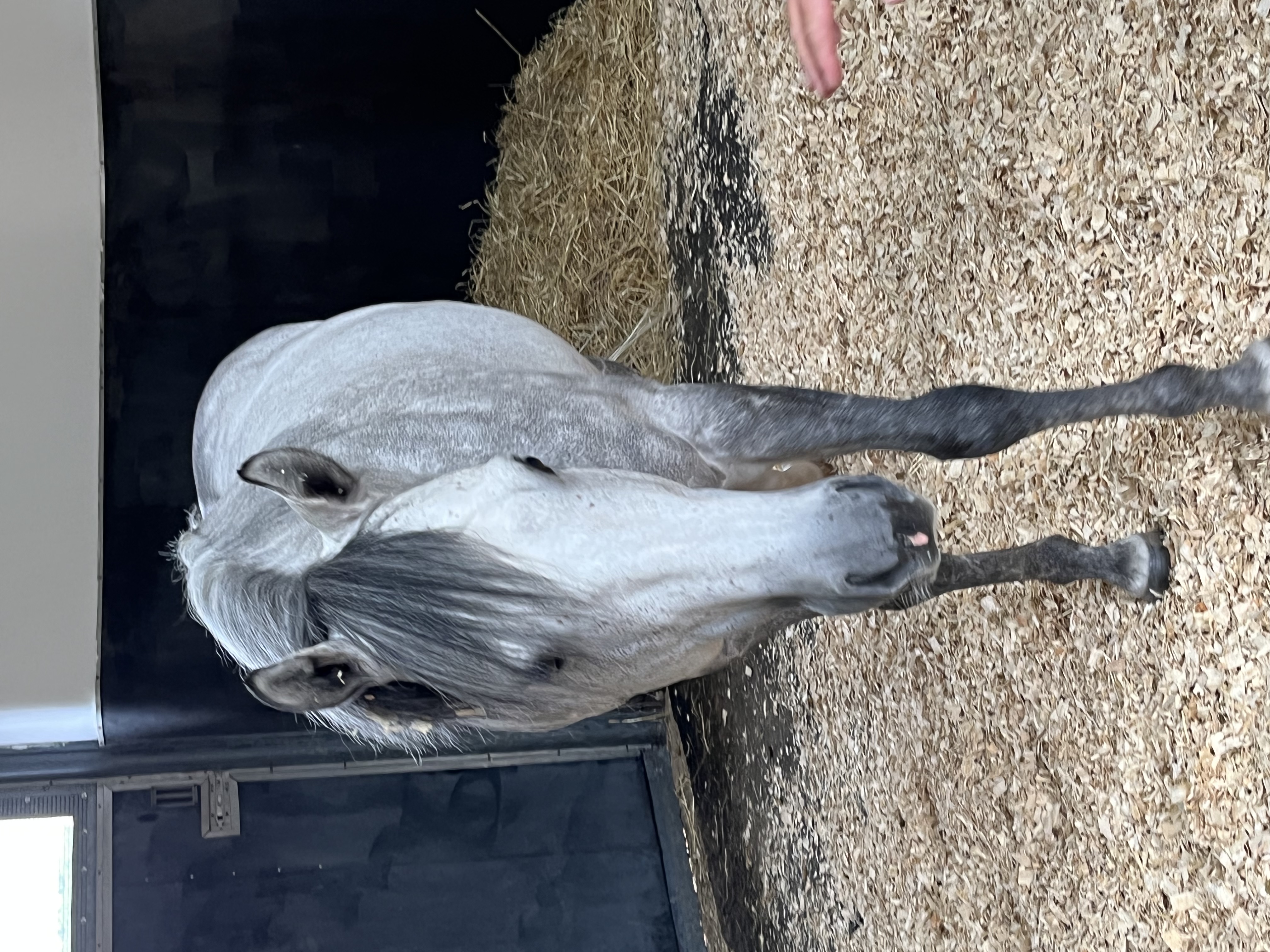 Havana Grey wondering when the covering season will start again
When it was time to go we thanked them all and said that we would hopefully catch up at the sales. We had seen stallions, mares, foals and yearlings, and who knows, we may even have seen the next Star Of Lady M.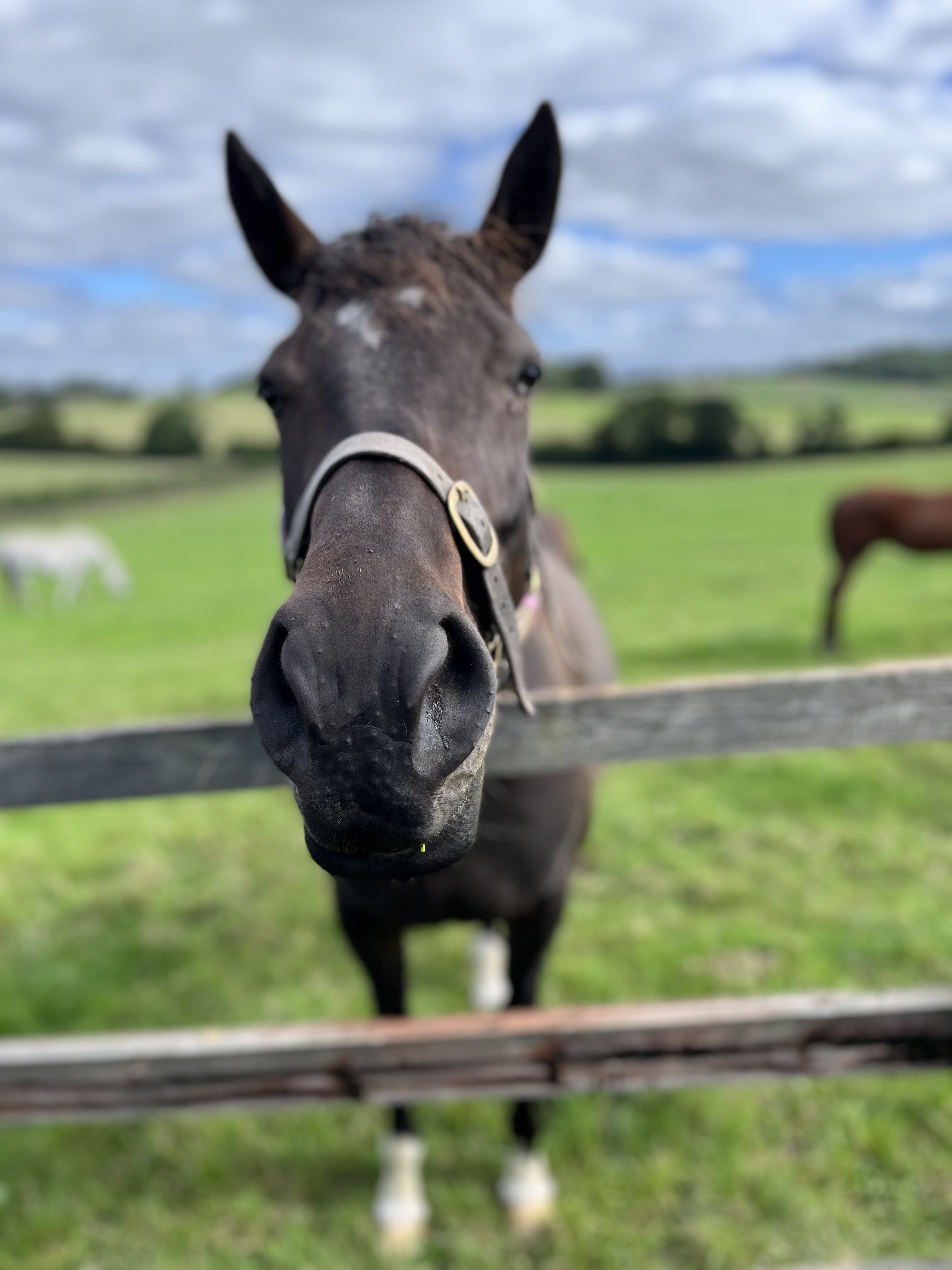 Abraj Dubai could not keep her nose out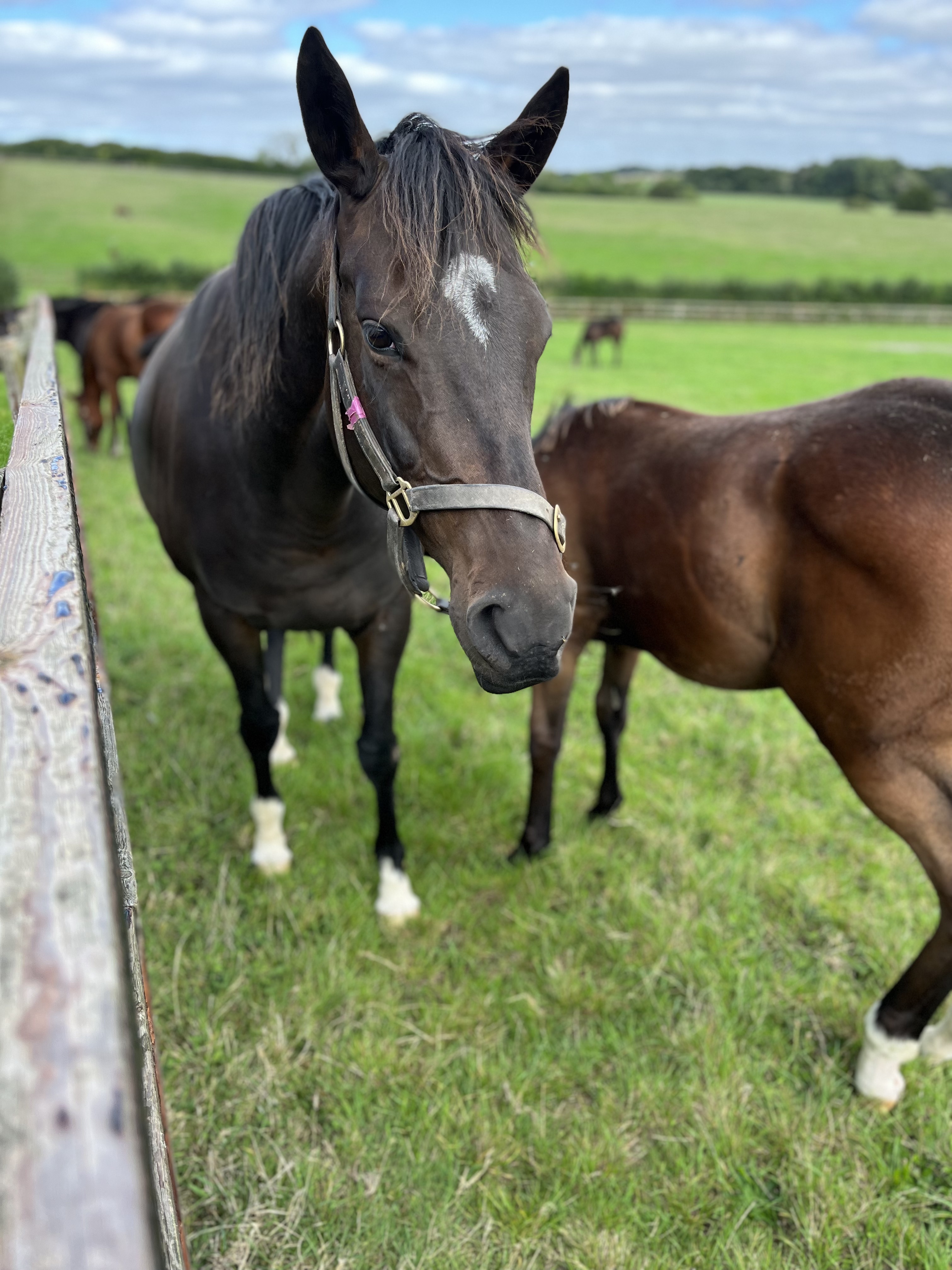 Proud mother and baby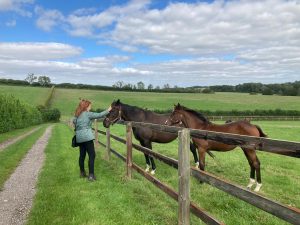 This one is a real madam – struts about like she owns the place and always wants her own way – on  the other side of the fence is Abraj Dubai
Hooray For Horace
The wildlife in the garden continues to come and go. During one night time session a fox triggered the camera, but there were no hedgehogs. However, I switched it to another part of the garden and the following night they were back, scurrying about, eating hydrated cat biscuits. It will be interesting to see whether they return after hibernation.
Oil Change
The saga of my knee continued when Sally researched platelet replacement therapy, or PRP as it is known. I booked a consultation with my surgeon, and he was quite blunt about it. He said there was very little evidence to support it. The clinical trials had been done on just a few volunteers, and it seemed to be a triumph for the marketing team rather than the clinical specialists. Sally certainly fell for it!
As it was still causing me a problem they decided to do another scan. This time they found a cyst at the back of the joint that could well impact the extension of the tendon. The solution was an ultrasound guided injection to drain the cyst, followed by an injection of steroid to prevent a repeat. The fluid that was removed looked like greasy oil from a car engine, and I was optimistic about the results. A few weeks later I tested my knee again, and although the symptoms had not completely disappeared, they were certainly less severe. If the improvement continues I may even be able to play cricket again, and the surgeon did give me the option of a second procedure if there were signs of the cyst returning.
Travellin' Man
Zac has shunned the traditional post A-Level choices of university or apprenticeship, instead he has decided to go travelling. His first destination was to be Thailand, so we thought that we would take him for a Thai meal as a celebration, a farewell, and to get him used to Thai food. He thought it was a great idea, and he was totally up for it, with the caveat that he did not really fancy the Thai aspect!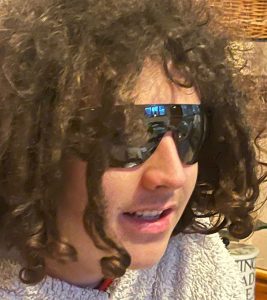 Davy Crockett rides around and says its cool for cats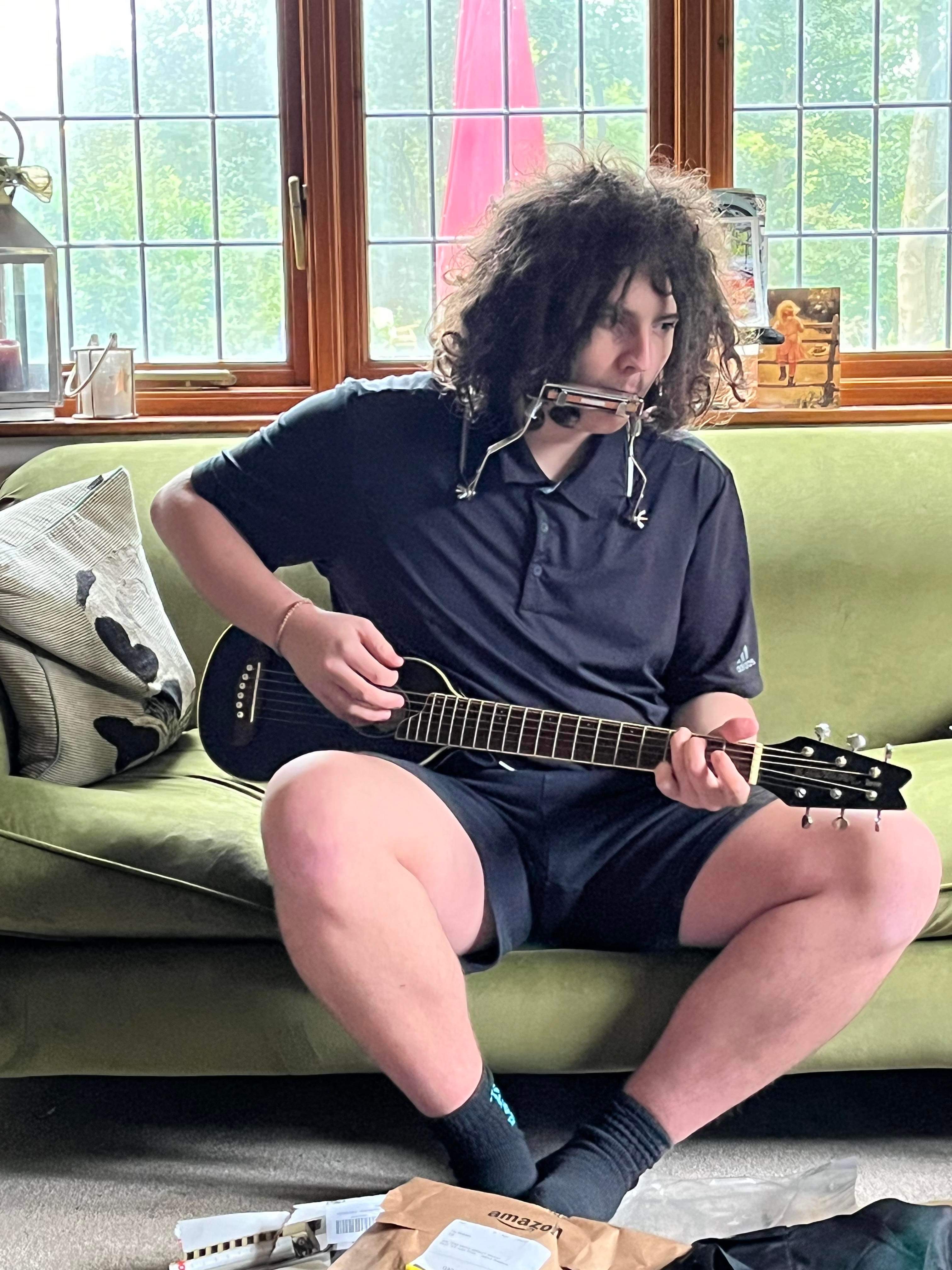 In search of Bob Dylan
I provided him with a lengthy checklist prior to his departure on a trip that could see him away for six or seven months. He seemed to ignore the list, relying on his instinct and his friends to ensure that nothing would be forgotten. He picked his inhalers up two days before departure, his final jabs were three days before departure, and his packing was completed seconds before his departure.
Ready, Steady, Pack
It was a Monday morning when he was due to embark upon his epic adventure, beginning with a lift to Manchester from Ole to catch the Magic Bus to London. When I ventured downstairs, half an hour before their scheduled departure, Sally was tearful and Zac had still not finished packing. He was removing packaging from paracetamol and anti-histamines to reduce volume, and he had not yet located a bum bag for his vital documents. Somehow, shortly after 8am, the car was ready, though Zac had to take his rucksack off his back so that he could get in. They pulled away, and we wondered when the first disaster would strike.
We didn't have to wait long, as one of Zac's two companions, lets call them "A" and "G" to protect the "innocent", forgot her wallet. This seemed a minor inconvenience, as Zac could handle the additional cash withdrawals for "G" through his new Monzo account. Of more concern was that of the three travellers, "G" was the sensible and organised one. As it turned out, she had not actually forgotten her wallet, she had just misplaced it. So, all was well.
Still In England
They got to London and navigated their way to Heathrow. This could have been their first hurdle as it would be the first time that paperwork was checked, but Zac messaged a picture that showed them safely in the departure lounge. Several hours later they landed in Bangkok, and Zac admitted that he was still very tired. He blamed the economy seats that were a far cry from the Business Class of his previous flight from Paris. He decided to get some sleep in their hostel as "A" and "G" went for food. This was another eye opener, as Zac had to get to grips with sleeping in a room where most of the other guests were strangers.
When he awoke they found a bakery that served garlic bread and chips, so we knew that he would not starve, and he also tried some shrimp. "A" found that the hostel sold 500ml bottles of premium beer for just £2. They went to a temple, and they hired a tuk-tuk to drive them around the city all day at the cost of approximately 40p each. He visited a temple, tried meditation, and then sampled some of the local delicacies, deep fried insects. Maybe he will never ask for a Richmond sausage ever again!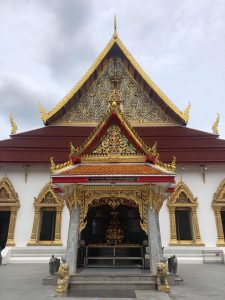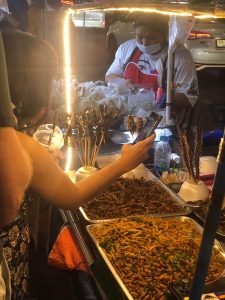 Another temple and lunch appeared to be insects
Their next trip out took them to some seedier places, and I think that they were all looking forward to the traditional pilgrimage to the elephant orphanage.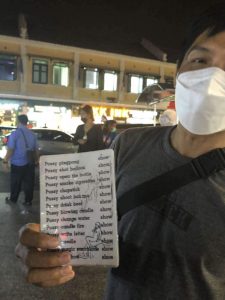 No translation required
Home Is Where The Heart Is
Some 52 hours after leaving home he face-timed us, and that at least reassured his mum that he was looking after himself, for now! The following day he headed off to Kanchanaburi on a train. He said it was quite fun hanging off the train, but I think that was just to wind mum up. On board he actually sat in a booth talking to some guys from Oregon. They wanted to hear him play guitar (or maybe they were forced to hear him play guitar). He has eaten jerky and rice, so he's not quite starving just yet!
The Need For Speed
Fast cars can be more of a problem than they are worth. This is particularly true when your fast car is fitted with a tracker. Zac received an email warning him that if he continued to exceed the speed limit his insurance would be invalidated. In this instance the tracker had registered him on the A555 where he was doing 74mph in the 50 zone. He was fortunate that it was the tracker that alerted him and not the police!
Meanwhile, Sally tried a shortcut through the Goyt Valley to get to Buxton. When she turned on to Long Hill she was feeling very pleased with herself. Then she saw the mobile speed camera on the approach into Buxton. "Why would they put a speed camera there when Long Hill is closed?" she somewhat ironically complained. After fearing every drop of a letter through the letterbox for two weeks, she seems to have got away with it this time!
Oh Deer
Finally, I have rediscovered the joys of Dunham Park. This National Trust park contains dozens of deer, roaming free in the grounds of the stately home. The peace and quiet is only broken by the occasional call of the geese. The best bit, if you park in Dunham Massey village it is completely free!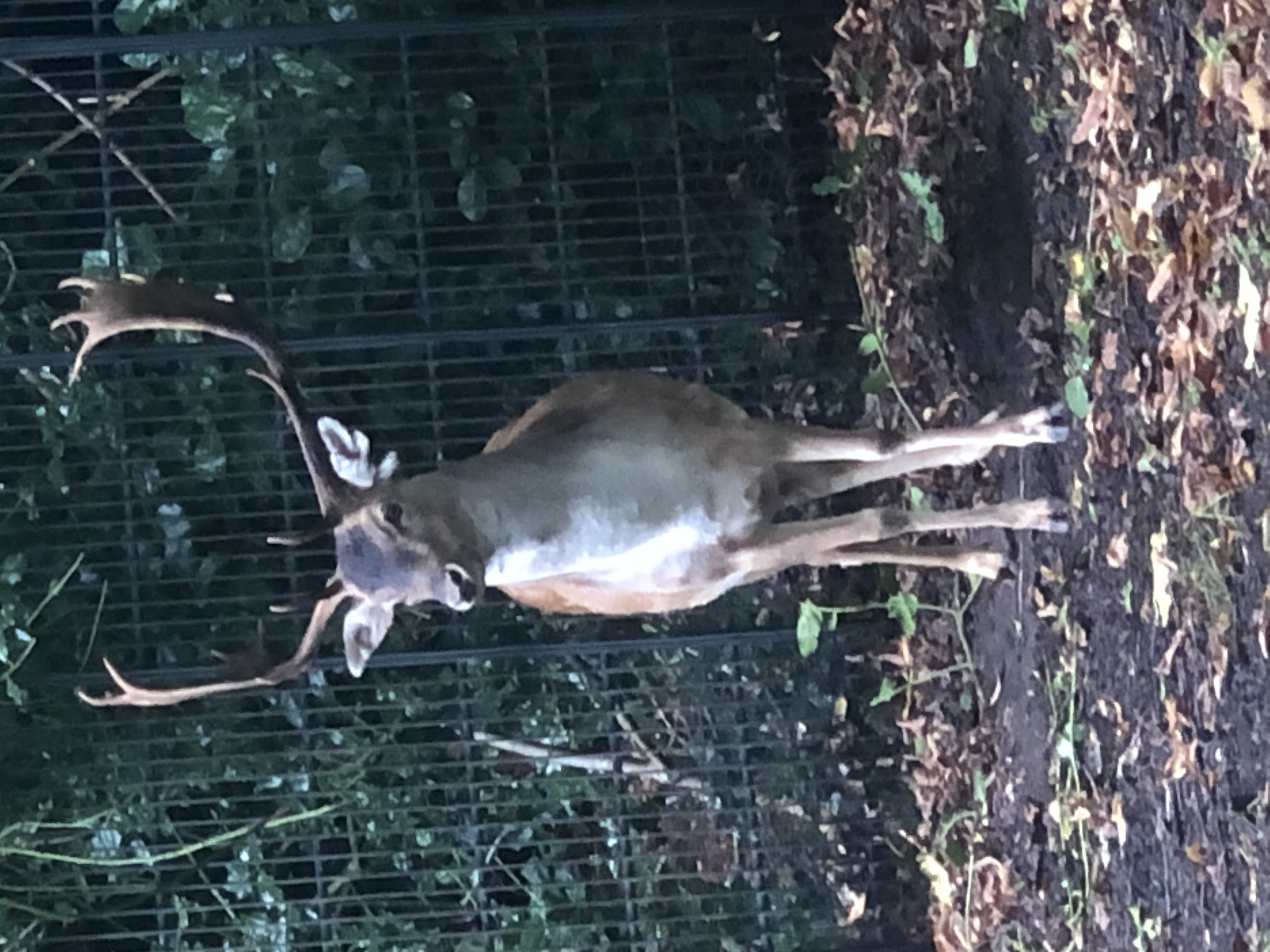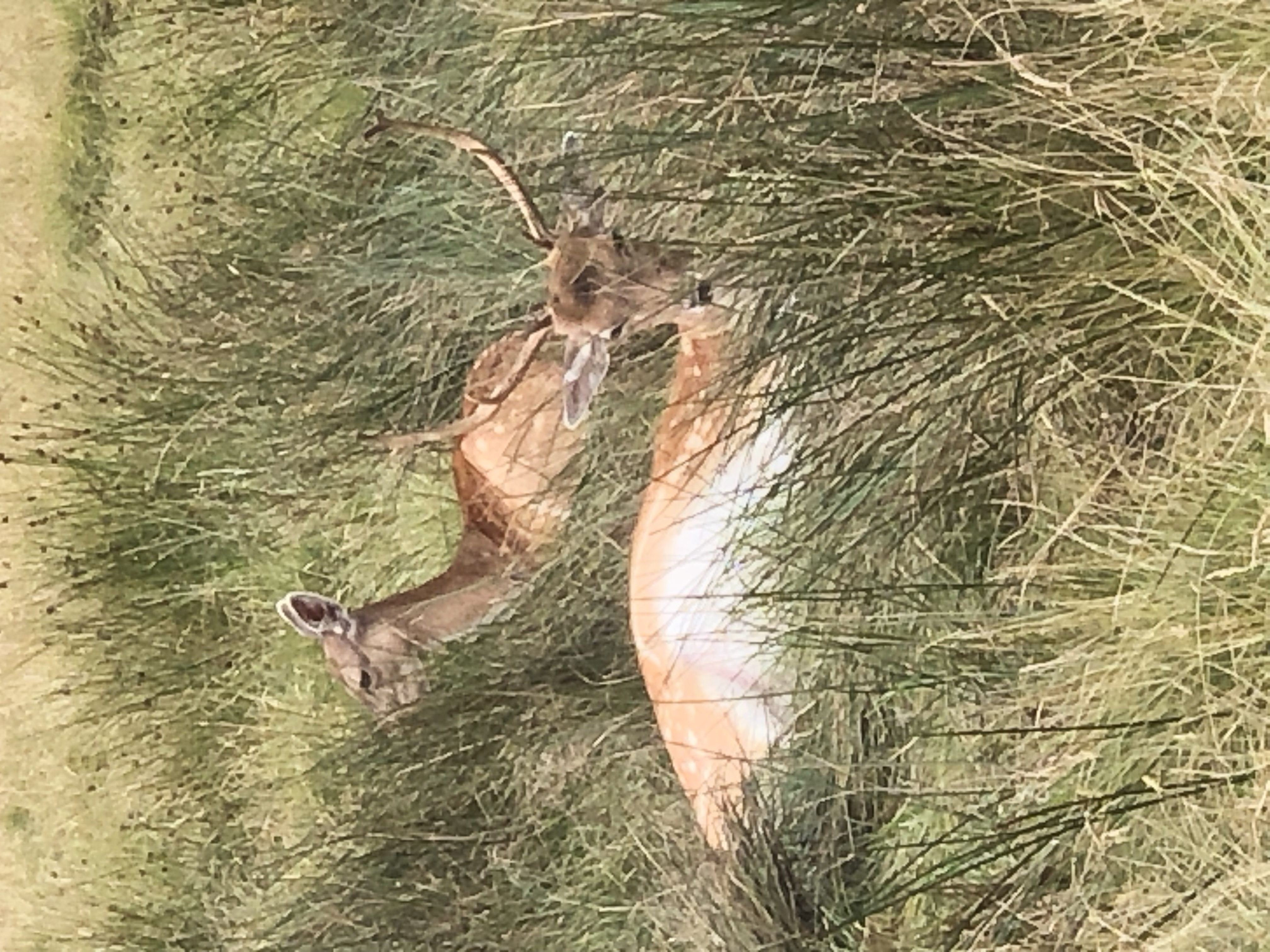 Majestic deer in Dunham Park
Previous edition