January 17, 2023 by Mike Madden
Evri Cloud…
Leaves On The Lawn
The dark days of winter are not helped by the thankless task of clearing up leaves. I gathered up 40 bags of the perennial nuisance and deposited them at the tip. I am fairly sure that's a record – and one that I won't hope to beat next year!
Evri Cloud Has A Silver Lining
The World Cup certainly added a bright spot to winter. I decided that I should purchase a Brazil shirt for the tournament, as is traditional. Kitbag seemed to be the best option, so I placed an order that was duly dispatched. A few days later I got notified that the item was with their chosen courier Evri, and that's when problems began. Evri updated the tracking to state that they had the parcel. However, they had no idea when it would reach me, so I contacted Kitbag for a refund. By now the group stages were well under way. Kitbag said that they would need to get confirmation from Evri that the parcel was lost. I pointed out that this was their problem and not mine. I also mentioned that any company with reasonable customer service would look at the Evri tracking and issue a refund forthwith.
Meanwhile, I ordered a replacement from JD Sports. Unfortunately, I then got the dreaded notification, "Your parcel is now with Evri". I crossed everything and hoped for the best, but to no avail. The second parcel went missing, and whereas Kitbag had to undertake a full investigation, JD Sports accepted liability and issued an immediate refund. I received a notification that the item had been received back at JD Sports, and the refund appeared against my card almost immediately.
Third time lucky? As the knockout stages approached I ordered the same item from Nike, and I was dismayed to find that they too use Evri as their courier. However, I was delighted when the item arrived a full five days before it was due. Coincidentally, this was on the same day that Kitbag finally processed a refund.
London Buses
The saga did not end there. Evri then continued to update me on the status of my Nike parcel, even though it had already arrived. Then, just as the semi finals were due to start, the JD Sports order mysteriously arrived. There was no tracking or notification, just a delivery. A few days later, just in time for the final, the Kitbag item arrived. Unfortunately, I had already completed the incessant surveys that these retailers send out, including somewhat colourful answers to the questions, "Would you recommend Kitbag to your friends and family?" and "What could Kitbag do better to improve your experience?"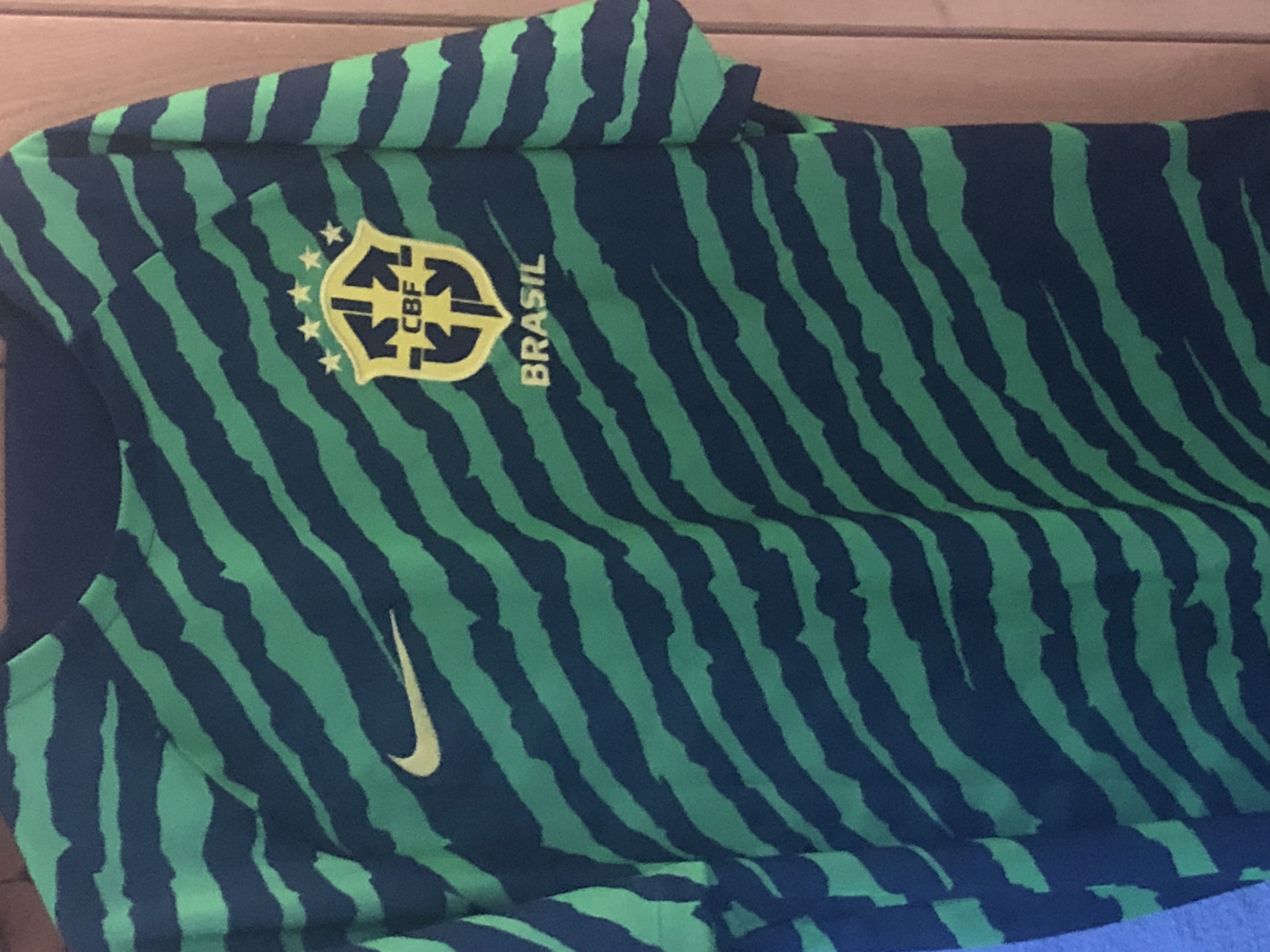 If the Brazilians run out of shirts – I've got plenty!
Sherry Shortage
Zac managed to get himself a temporary job at Tesco for November and December, but it did not start well. He was stacking shelves in the booze aisle when a full case of sherry toppled from his cage. Every single one of the twelve bottles smashed, and he became an instant folk hero. No one had managed to smash a full case before. He followed this up with a bottle of wine that bit the dust, and then some mustard that was particularly pungent, but after that all went well. He is hoping to be recalled in the New Year, as he needs funds to pay for his next jaunt, to India!
Christmas, Creole & Coffee
The run up to Christmas is always busy in the kitchen, but this year seemed more hectic than usual. I made a large batch of gingerbread "Christmas biscuits", but Ole got wind of them. They disappeared long before December, and so I had to make a second batch.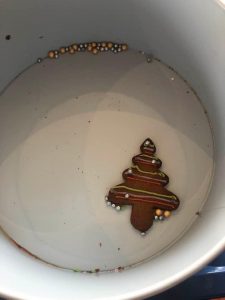 Whodunnit?
A similar thing happened with the chocolate digestives. I delayed the mini cheesecakes, but they did not last long either. I made a number of chocolate logs, though Zac's slices just seemed to get bigger and bigger. Since his return from Thailand, Zac has started to eat some more cosmopolitan food, with Madras being a particular favourite, so there has been no shortage of curries.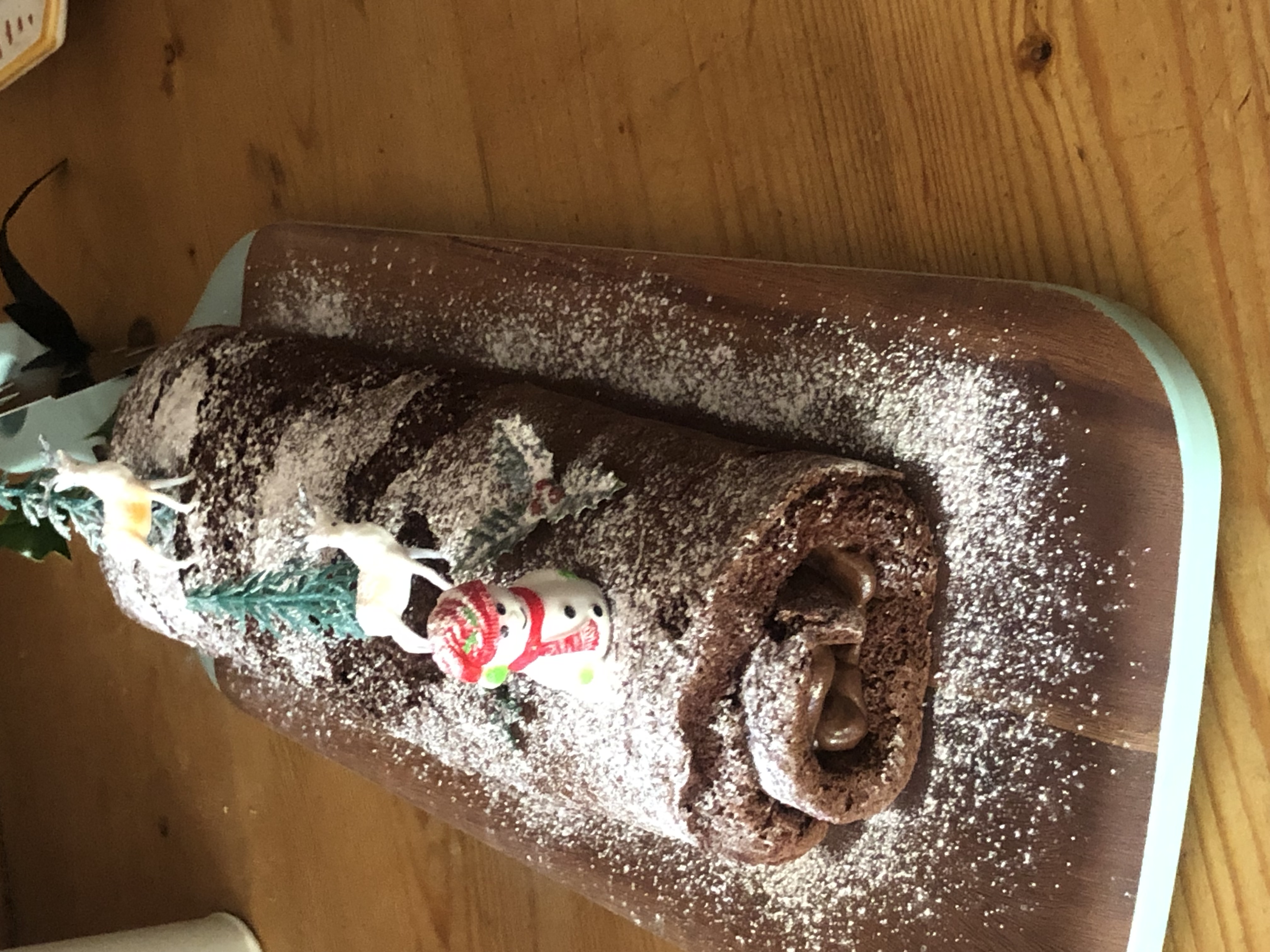 Brownies came and went, both naked and covered in cream, whilst the perennial favourite coffee and walnut cake, made using Camp coffee and chicory essence of course, is always a hit with the older generation.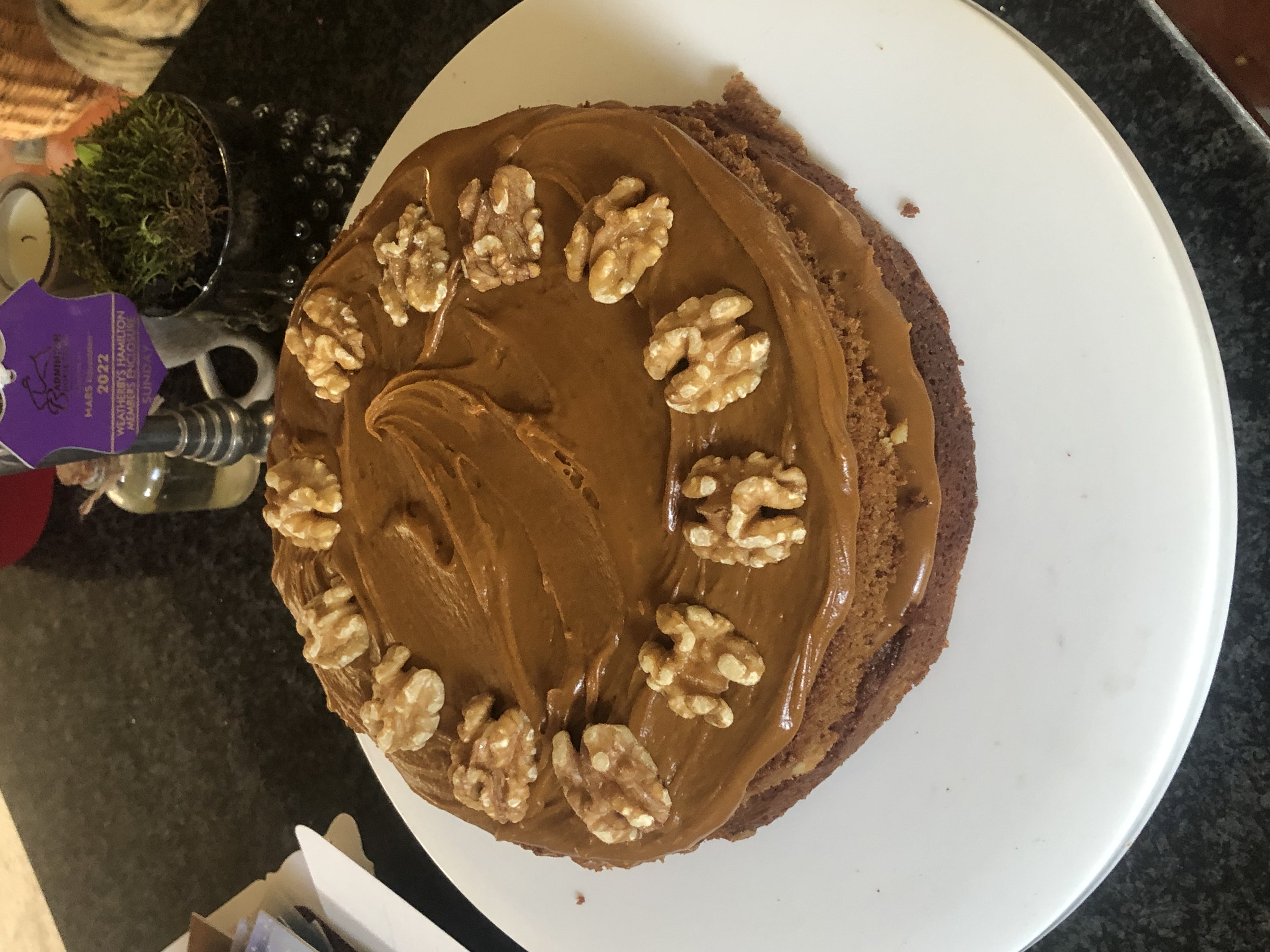 The Creole cake was a big success, particularly after Sally had applied her artistic touch, and the Christmas pudding shimmered with flame. This was possibly my favourite food of the festive season.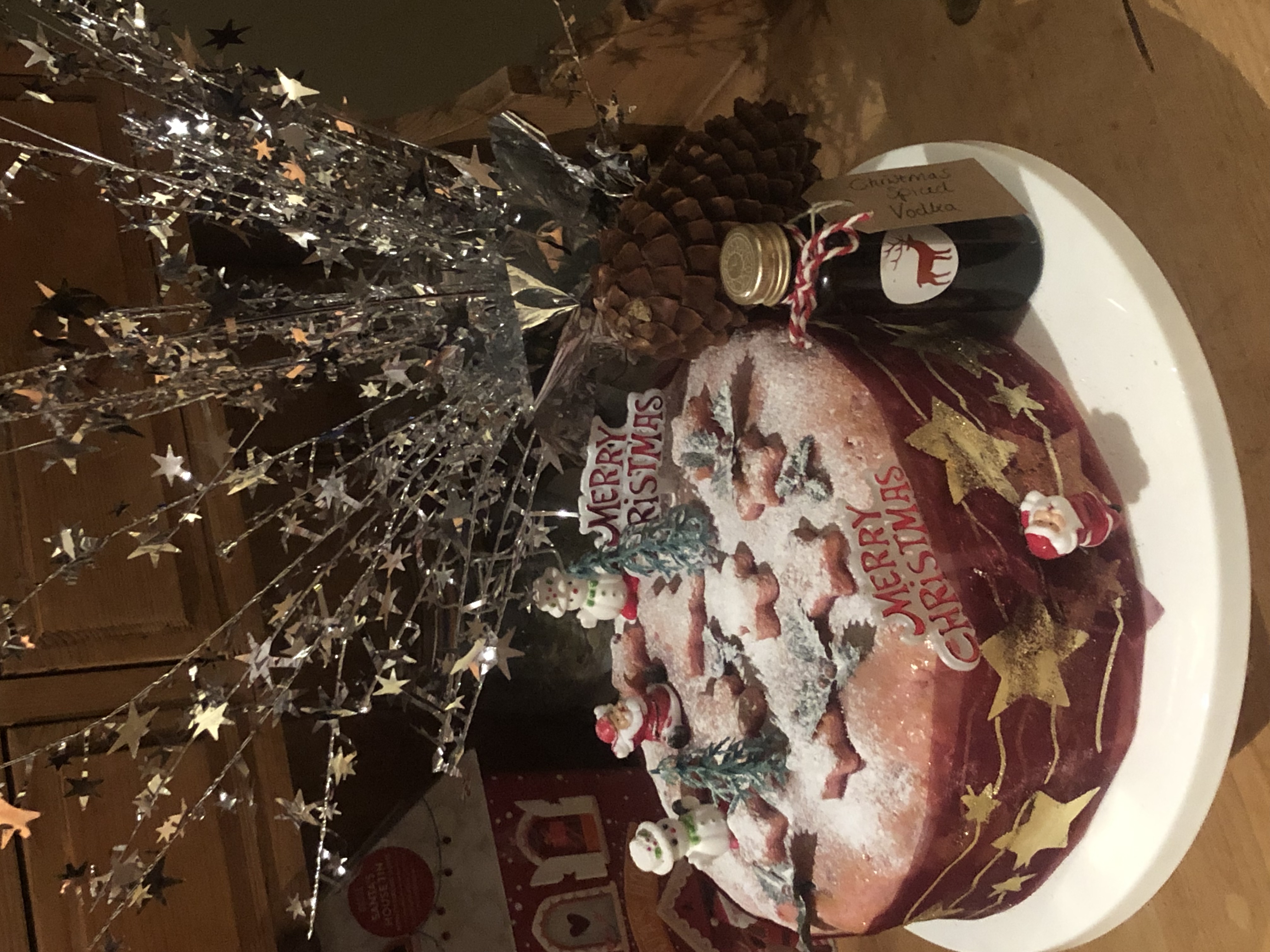 Creole Cake 2022
You're Fired
Speaking of flames, we replaced the floors in two rooms on the run up to Christmas, and so we had a lot of old wood and board that needed burning. I built a huge bonfire, and although it was too wet to burn on the traditional New Year's Eve, it stayed alight for 4-5 hours on New Year's Day.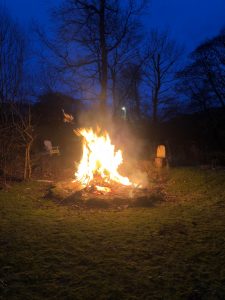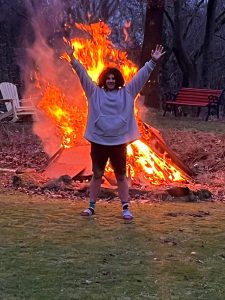 I'm Making A List…
Christmas is over all too quickly, and its a good time to reassess your excesses. We discovered a new game, Herd Mentality, where there are no wrong answers. The aim is to try to answer the same as everyone else, and you quickly realise that after alcohol you have no chance! I made a note to order more parsnips next year, as well as much less chocolate and to make much, much less stuffing. We had enough to sink two Titanics. I will no doubt lose my list by next year, and we will have more or less the same problems.
What Goes Down Must Go Up
On Boxing Day Sally went to join the traditional hunt from Bakewell. Its not a real hunt, so I'm told, but if its not a real hunt I'm not sure why they take hounds with them (you're not allowed to call them dogs). Anyway, I took Ole and Zac with me for some fresh air and to see her off. We parked near Lady Manners school, and as we descended the rather sharp hill to the streets of the town, Zac stumbled across a stark realisation.
"We could have parked a lot closer – we are going to have to walk all the way back up here." He was right!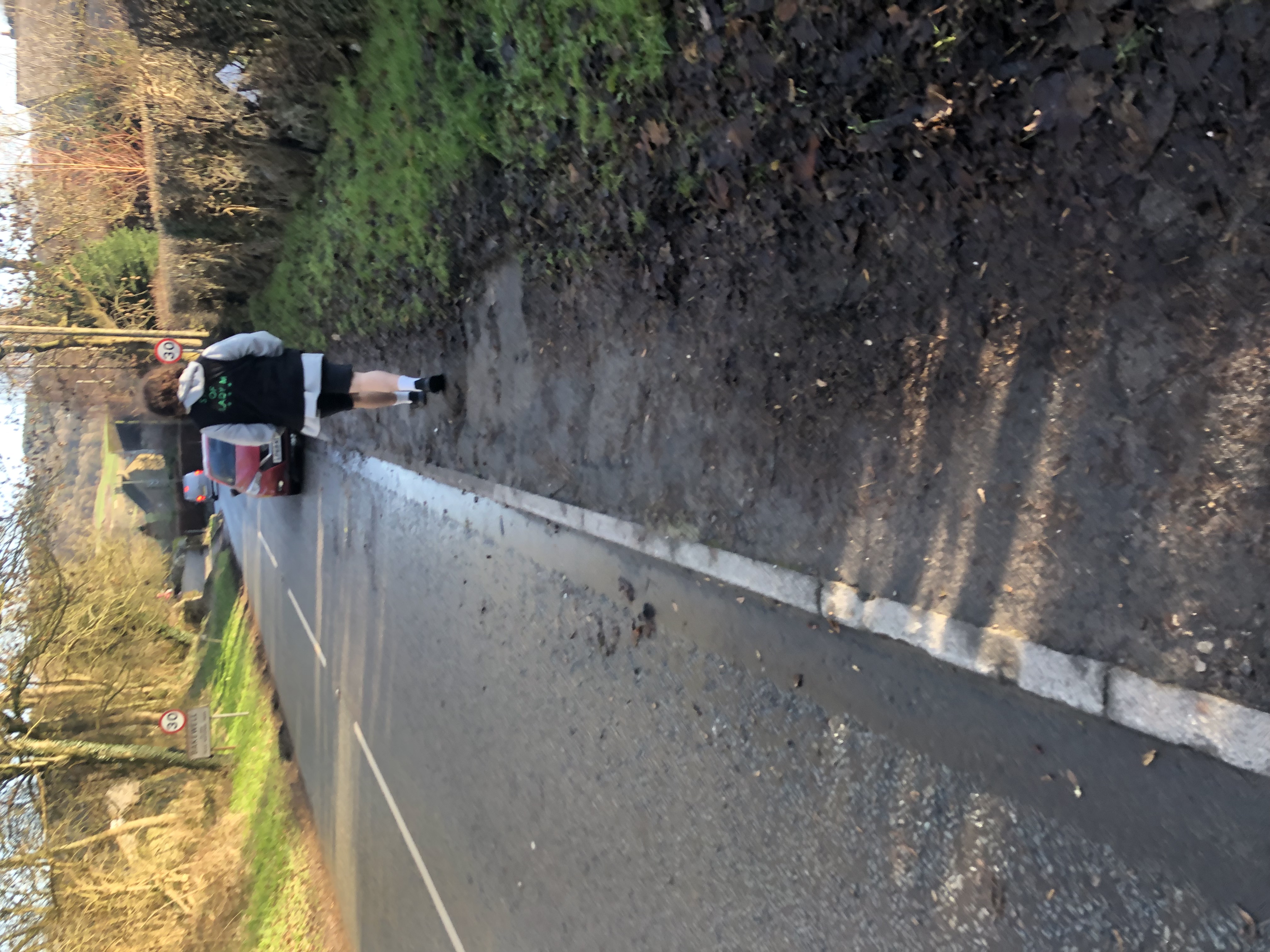 Its all downhill until you have to go back again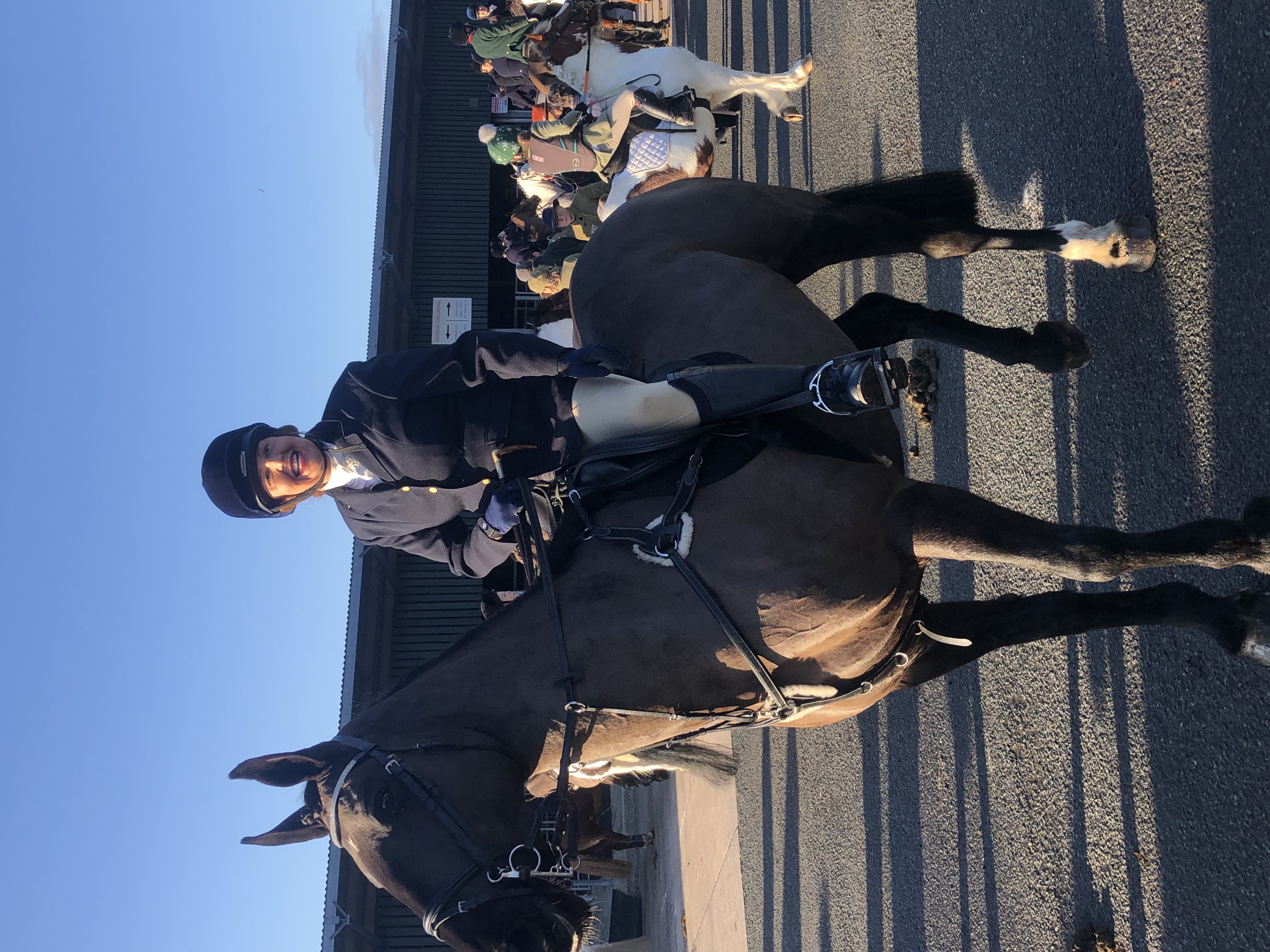 Lady M and Nancy
Sally's Stew
Some of you may think that Sally gets a bad rap when it comes to the kitchen, and to be fair she excels around the festive season. Christmas Eve sees her create a traditional and mouthwatering cheese & onion pie with home made beetroot chutney, and the following day she makes a wonderful Christmas Dinner. She also promised me a New Year full English breakfast, but she went out so I had to make my own. However, there are still times when I shake my head and wonder what will happen next. A week or so before Christmas she went out to ride her horse. An hour or so later, we got a message at home.
"Can someone check the stew I've left on?"
It was in the middle of the World Cup, so I replied, "Sorry – Brazil just about to kick off. Whatever state it's in won't be any worse in an hour!"
She was not amused, but in fact she had forgotten that she had turned the stew off before she left.
From Tattersalls To Triumphs
As reported in the previous edition we launched From Tattersalls To Triumphs, with all proceeds going to the Injured Jockeys Fund and Retraining Of Racehorses charities. Sales started well, but then hit a bit of a slump, I did an interview with Frankie Foster at Ascot which seemed to have a positive effect, and then on the back of that Sun Racing contacted me for their own interview. Finally, I went to the mares sale at Tattersalls, where Gina Bryce asked me all about the past year in horseracing.
You can follow the press here! 
From Tattersalls To Triumphs in The Sun
Interview with Gina Bryce on Tattersalls TV
Of course, you can still buy the book here…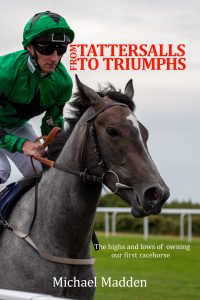 From Tattersalls To Triumphs on Amazon
…or if you have already purchased please consider leaving a review.
Hopeful Horses
Meanwhile, Emerald Duchess is not yet back in training, whilst Star Of Lady M is fully recovered from her injury. Unfortunately, she got a little too boisterous in her paddock and managed to injure her shoulder on a fence post, but it was nothing too serious and it should be all systems go for April.
Our two-year-olds are now officially three-year-olds, as all racehorses have a birthday on 1st January. Although flat racing happens year round, the official flat season begins with the Brocklesby at Doncaster on April 1st. The countdown is officially on as we hope that both Star Of Lady M and Emerald Duchess will race in April. Unfortunately, our trainer, David O'Meara, is aiming Star Of Lady M for a May start, which hopefully means he has a couple of specific targets for her.
Back in November the BHA website published the fixtures for April, and so I have mapped out all possibilities for both horses, and the advantages / disadvantages of each potential race, based on previous renewals going back to 2016. So, it seems likely that Emerald Duchess will race at Redcar followed by Pontefract and / or Wetherby. Star Of Lady M could have a somewhat ambitious journey that takes in Bath, Newmarket and York.
In the interim, I am booked in to do a presentation on racehorse ownership at the High Peak Business Club on 17th March.
If you are interested the event costs £25 and includes breakfast pastries and bacon sandwiches.
Cat Calling
We had a new wood burning fire installed, and it is a great success, blasting out heat at significantly less cost than using the radiators. Bo, in particular, is a big fan, and she now waits expectantly whenever she wants it to be lit.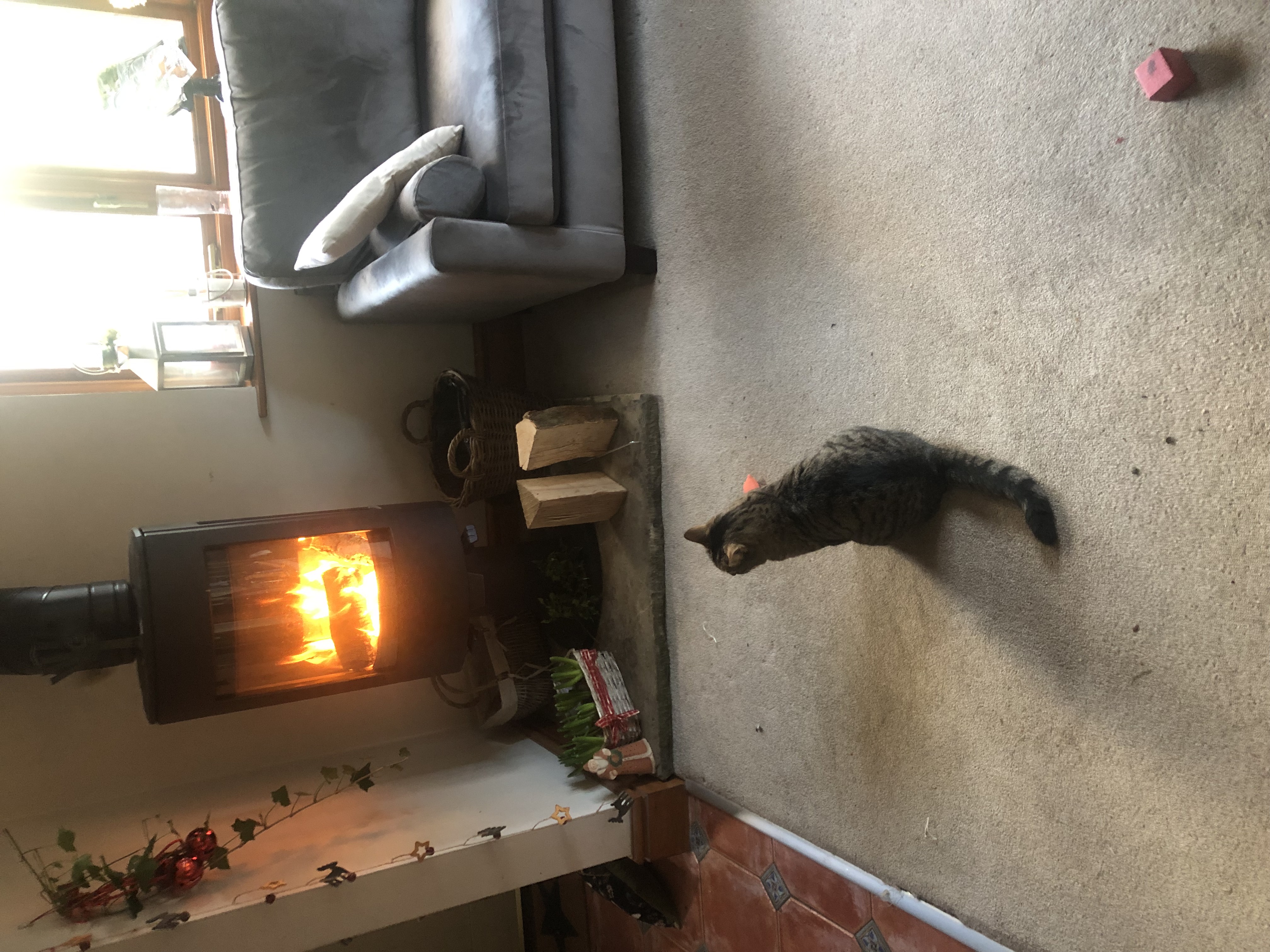 Bridge Over Troubled Whaley
Whaley Bridge is a bit of a contradiction at the moment. It is about to become either chaotic or a ghost town depending on where you live. Network Rail are kindly shutting the road for SIX weeks whilst they replace the rusted and creaking, but crucially "Listed" bridge across Buxton Road. This has caused a lot of consternation, and it could be quite an inconvenience. It seems that Whaley Bridge will become a cross between Stephen King's Under The Dome and John Wyndham's Midwich Cuckoos. We've already been known as Village Of The Damned after the Todbrook incident!
I think I will just continue to walk to Tesco to collect small loads rather than doing a Big Shop! We are also fortunate that Frydays Cod & Cake opened last week, and it was very popular on opening night. We sent Ole and Zac to bring back samples, but we were very disappointed on their return. It wasn't long before they had to admit that the queue was too large in Cod & Cake, and so they sourced the fish and chips from elsewhere. Definitely not up to standard. We hope to get genuine Cod & Cake fish and chips in the near future.
Somewhere Old, Somewhere New…
Elsewhere in Whaley, the White Hart is yet again temporarily closed. I am not sure how temporary the closure is based on its appearance. The building has had huge unsightly boards erected, a lovely site for visitors to the village. Other places seem to be thriving, with a Mediterranean steak restaurant, the Istanbul Grill, and the revamped Sunday roast at the Cock all on the list of places to dine out. I am particularly interested to see what happens with the Cock, as there are rumours that they are clearing the huge piece of land at the back of the pub to create an even more extensive beer garden. Top of my list to try in the village is Grill 13, the burger place at Horwich End. They were reported to have had a few teething troubles. However, all is well now and they have an ever expanding menu.
We revisited the Royal Oak at Hurdlow for Sunday lunch a few weeks ago. Once again, it certainly lived up to expectations. It is one of the top 5 in the area, along with the Barrel at Bretton that we are booked in to early next month.
Anyway, there's no getting away from the fact that we live in one of the most beautiful places on earth. With the road about to be closed I'm glad I live on this side!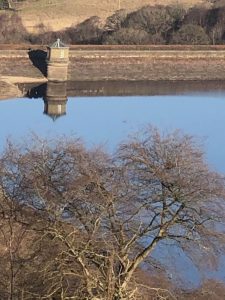 You can view the previous edition here
What the hell is that?