October 24, 2023 by Mike Madden
Sal Qaeda And The Mole
I start this edition with what could have been some disturbing news! Sally went away for a few days with some friends, and as most of them sat down for refreshments at 4 o clock on a Wednesday morning at Manchester Airport, Sally headed off to duty free. With sunglasses on and boarding pass in hand she spent some time browsing the perfumes. She took a particular interest in the Chanel counter. Eventually she returned to her merry band, where it was immediately clear that something was amiss.
Fiona asked with concern, "Sally, where is your bag?". Sally looked around. She realised that in the euphoria of holiday mode she must have left it at one of the shops. She located it at the aforementioned Chanel counter, but retrieving it was not that simple. The lady at the counter had noticed the unattended luggage and immediately called security. Having admitted that she owned the bag, she was taken into a room. Both Sally and her bag were swabbed. She was eventually allowed to return to her friends. Although she insisted that they kept the story quiet, it did not take long for the mole to reveal the truth!
Kitchen Kalamaties
The kitchen has been especially busy, and not always successfully. I begin with blackberries that were much earlier than in previous years. I have still got plenty of jam from last year, so I decided to make a blackberry and apple loaf and a blackberry bakewell. These are both useful and tasty ways of using up the free fruit. However, the favourite was undoubtedly blackberry and fig crumble cake.
I also decided to try my hand at pastel de nata, the small custard-filled Portuguese pastries. I used pre-rolled pastry for which I make no apology, but the custard was home-made. They were delicious, and could become a staple.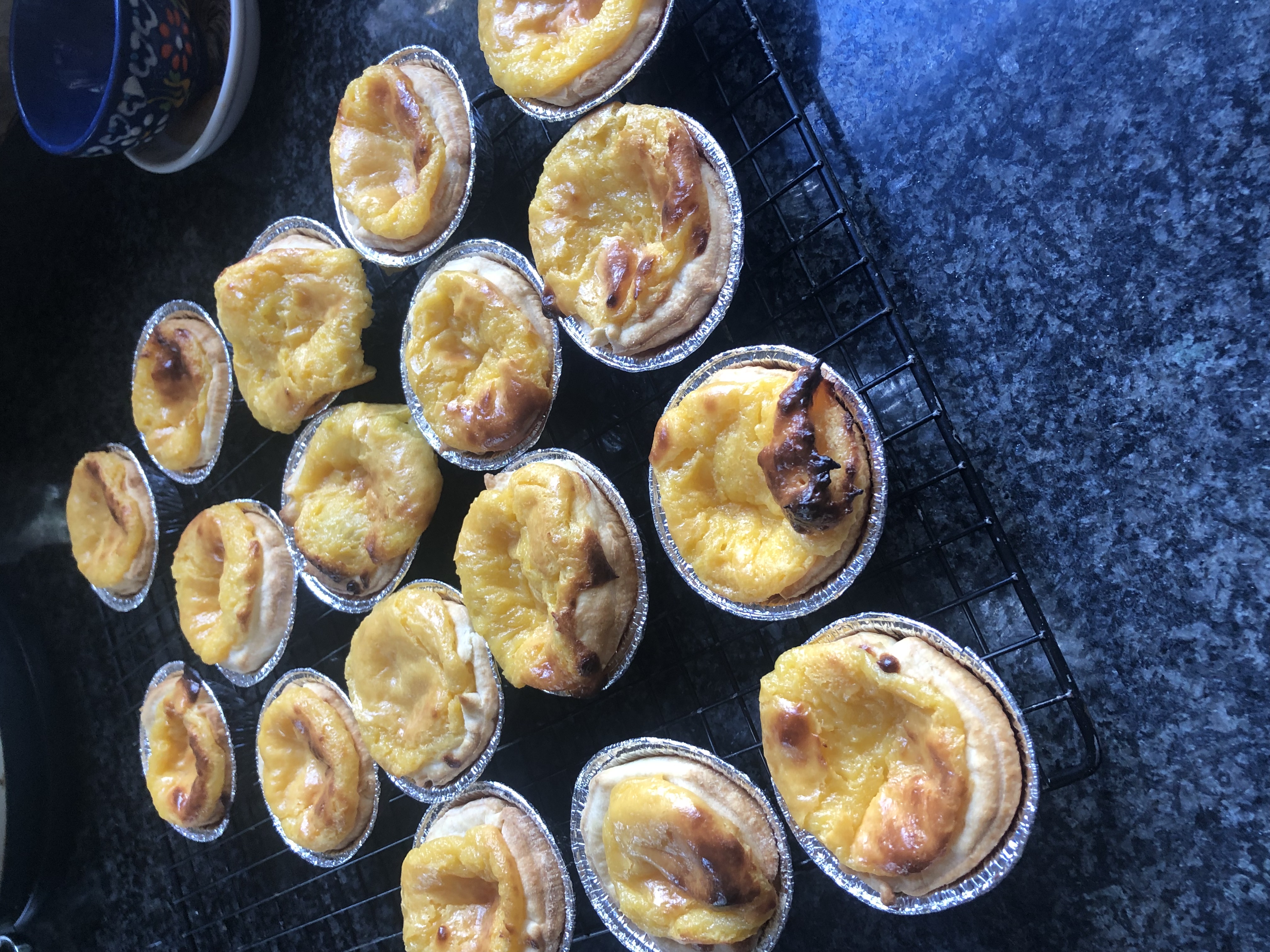 Pastel De Nata
I also baked a lot of shortbread biscuits. These are surprisingly easy, and very moreish despite their somewhat unhealthy constitution.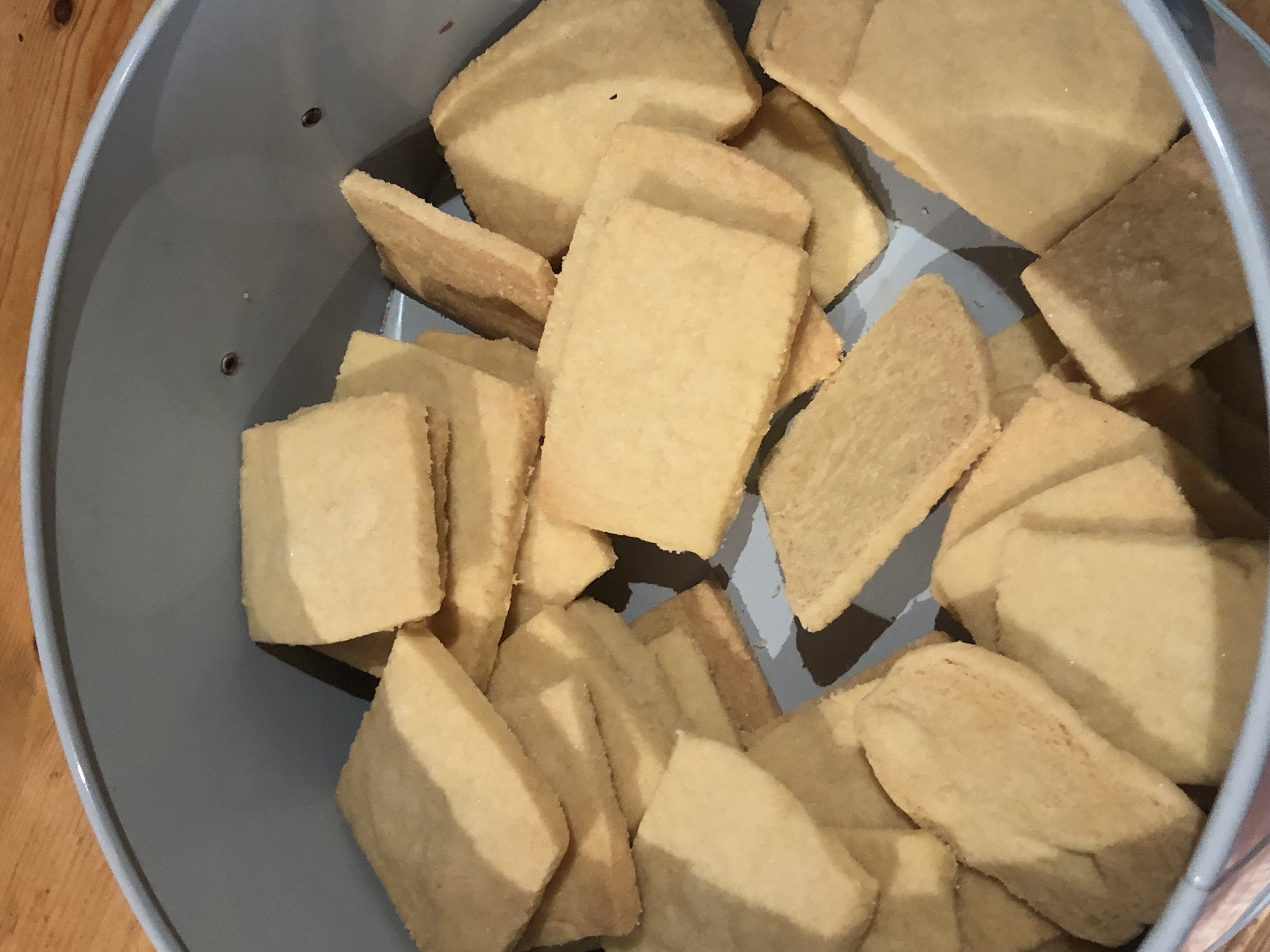 Shortbread
Scary After Dark…
Zac has become a bit of a night owl, and he frequently uses the oven after work, or when he comes in from his mate's house in the middle of the night. Inevitably, this would lead to disaster. These are chips, or so I am reliably informed.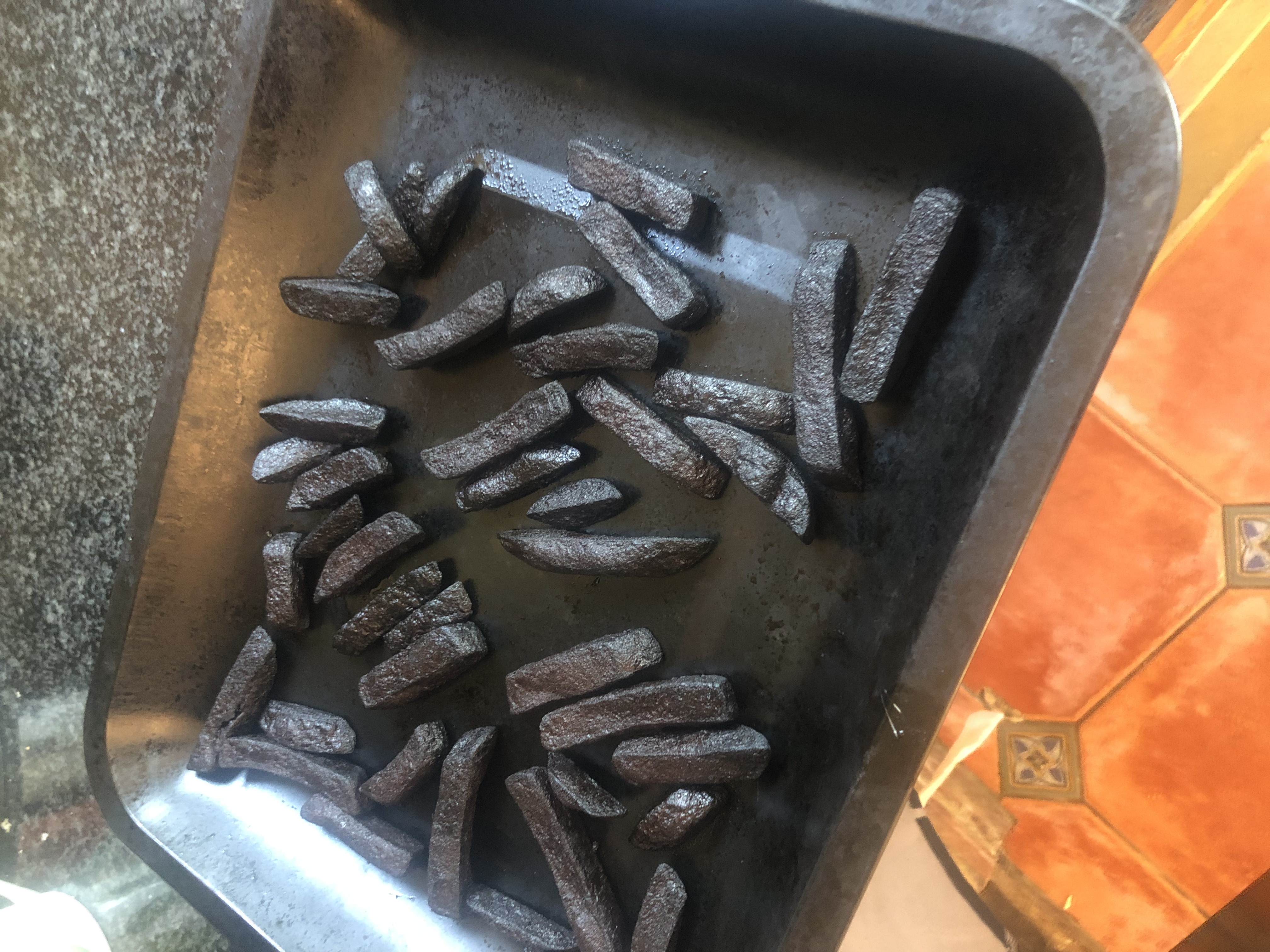 Oh no!
…And In The Daylight
Regular readers will know that Sally is not to be outdone when it comes to kitchen disasters. I marinated some chicken for her which she duly placed into the oven. After a while I asked if she could smell burning, and was her chicken alright? "Should be," she replied, but then she took a look. A disappointed "Oh" was all that she said.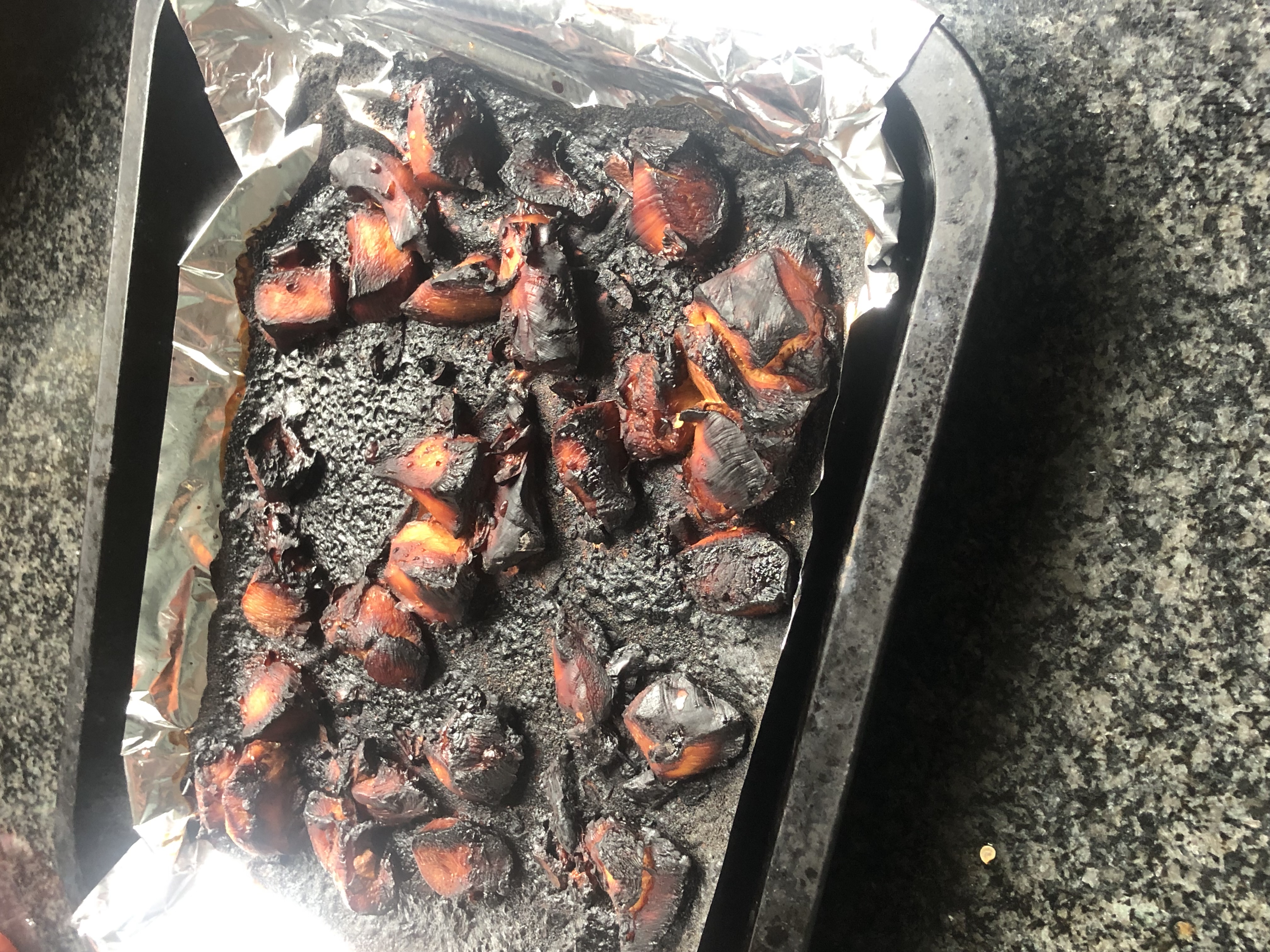 Oh no, no, no!
King Creole
Of course, October means Creole Cake, and the first two stages are now complete. It will soon be time for the repeated infusion of alcohol.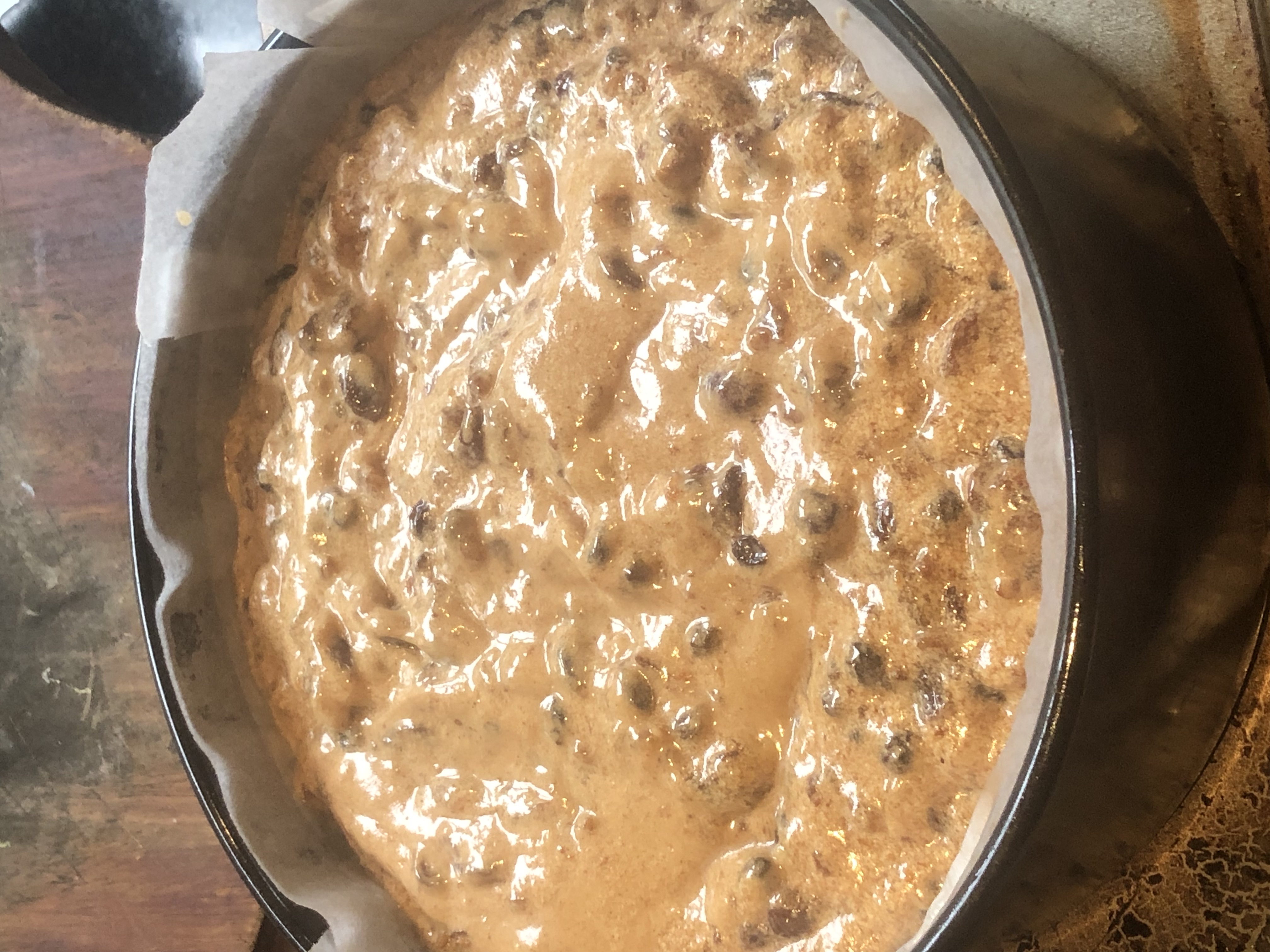 Creole Cake ready for the oven
Cat Calls
Quite a lot of cat news to report. Firstly, Sally spotted a black and white cat outside Fernilee church. She thought it could have been Lucky, the one that ran away a month or so earlier. It was not Lucky, nothing like him actually, but it was very friendly and very hungry. I drove up a short time later and it was still there, so I left some food. The people at the church were a little scared that it might get run over, so it went to the vet in Whaley. Not heard anything since, and Lucky is still missing!
Doubting Thomas
In August I thought it might be a good idea to get a kitten as a companion for Bo. She is naturally aggressive except with me. I thought she might suffer from separation anxiety when we went away. So, I got a little boy from the cat sanctuary in Dove Holes. Sally christened him "Thomas", and that seems to have stuck. His first night was eventful to say the least.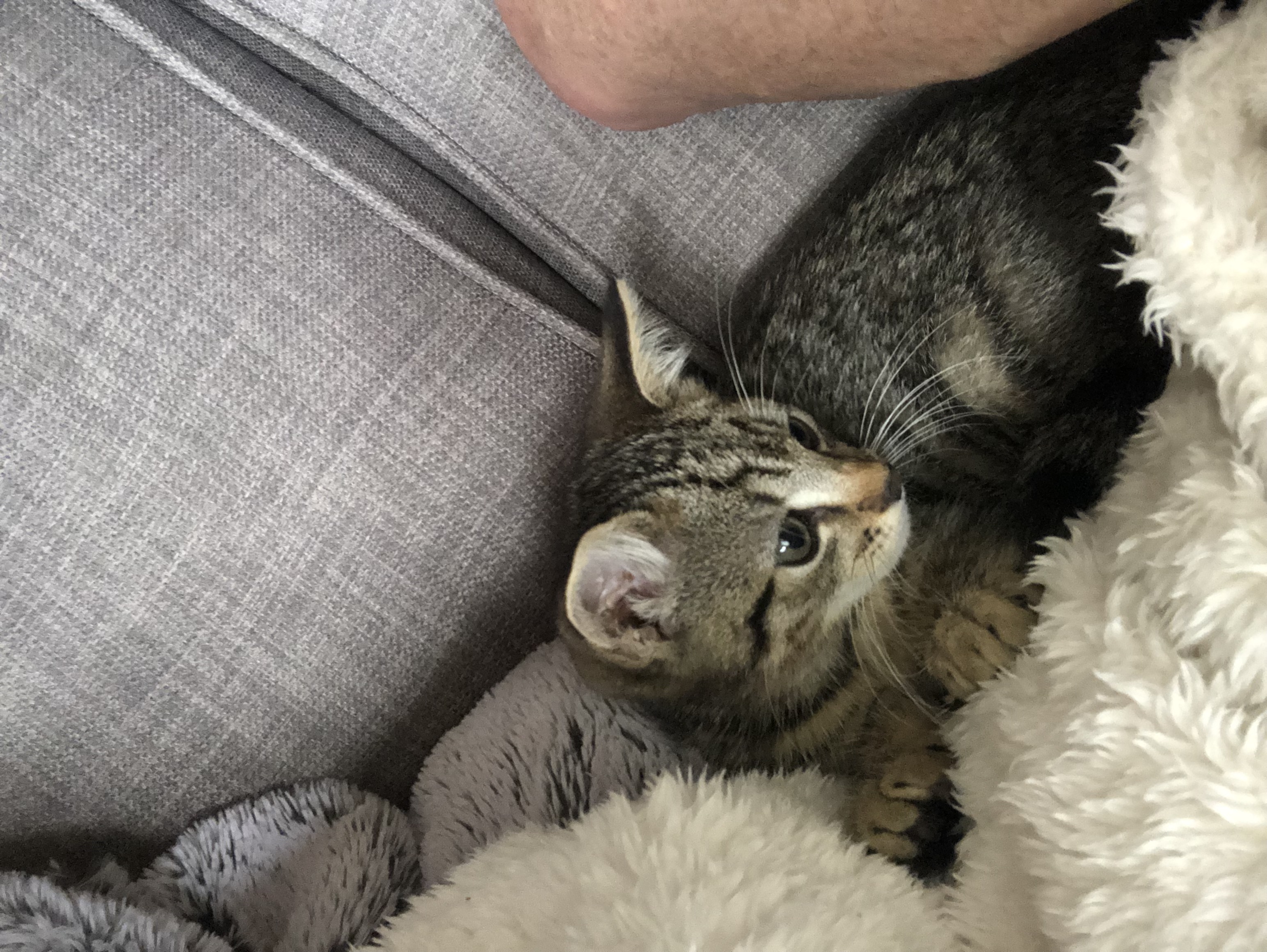 Thomas – butter wouldn't melt
He had a cat cage, complete with food, bedding and cat litter, so he should have been fine. The following morning the cage was empty and there was a quiet miaowing from somewhere unseen. He had gone into a kitchen cupboard and found a gap that had remained undetected for 24 years. The gap led to a space under the cupboards that ran the length of the kitchen. He had wandered along to a dead end.
I hammered at one of the base boards and dislodged it, but he was still out of reach. He would also probably be terrified at the noise. So, I removed another and another until I got to the end. Finally, I lured him out with some food on a very long spoon. The base boards are irreparably damaged, but Sally is not too put out. She thinks it will accelerate the arrival of her new kitchen.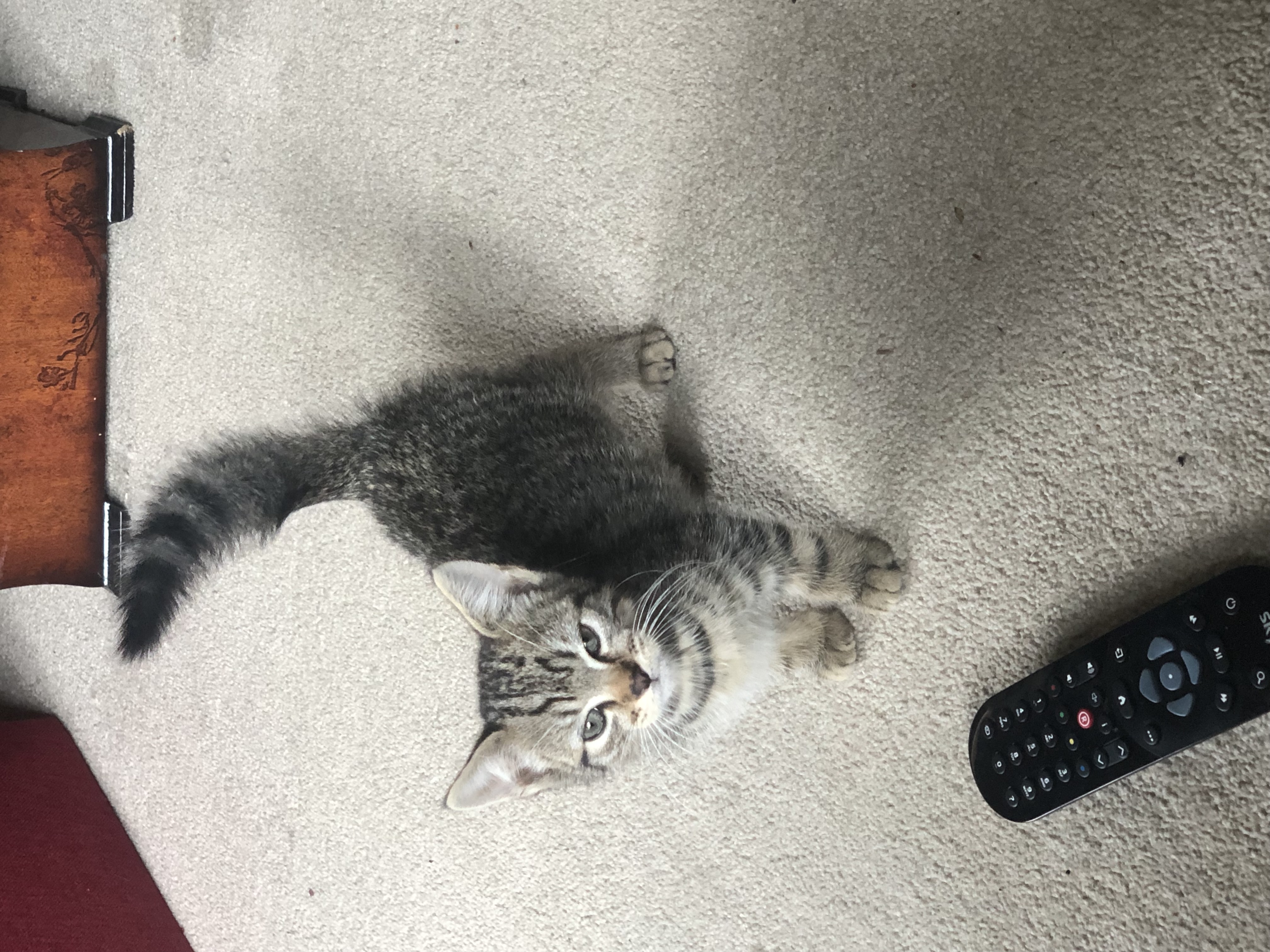 Naughty Thomas
Thomas has also taken a dislike to referees.
That was never a penalty
The Cold War
Over the next few days Bo was a lot more relaxed. She encountered Thomas and there was a series of Mexican stand offs that then developed into a cold war. They have eaten side by side, but Thomas thinks its a good idea to attack her when she least suspects. This is guaranteed to keep the cold war going for much longer.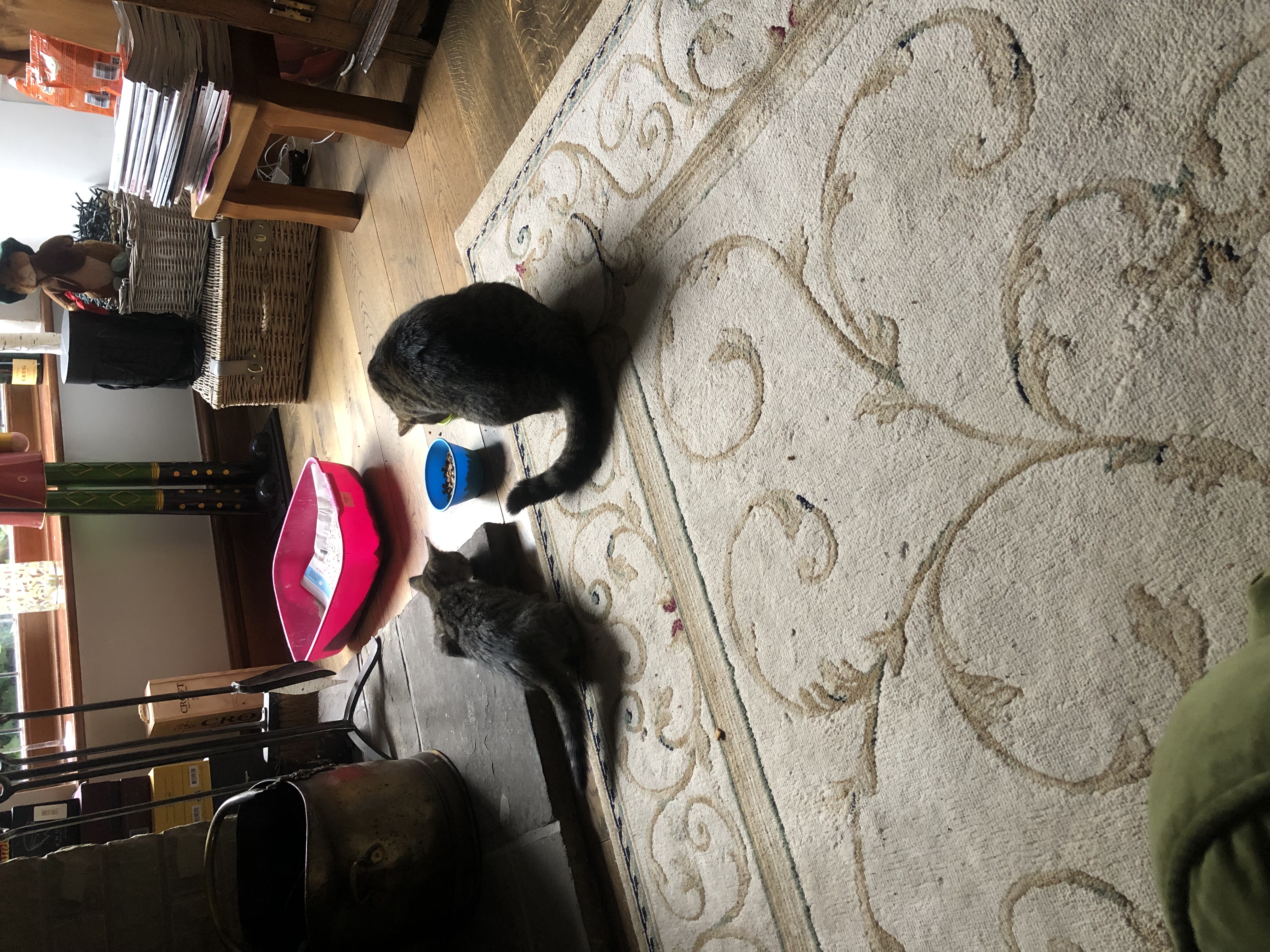 A thawing
A Book For Christmas
From Tattersalls To Triumphs is still selling well, and the hardback edition is also now available. The Amazon process to create and proof the hardback was quite tedious. However, the finished article is well worth paying an extra few pounds for.
Ponies Without Prosecco
Summer holidays are an excuse for mum and dad to dump the kids on the grandparents. Gabi is no exception to this! We had Nixie and Miles for a few days, though Nixie had the distraction of Pony Club. She had a wonderful time, collecting several rosettes at the end of the week. With Miles we were happy when he ate everything put in front of him (small victories are important). At the end of the week we reminded ourselves why it is good that they are not here more often, as exhaustion kicked in.
Thespian News
Its been a busy time for Ole.  He filmed All Creatures Great And Small and he then landed a small part in the next season of Brassic. He has also auditioned for the period drama Hardacres, and a fantasy wizards and demons series. His next request was for the part of a murder victim in Ridley, and then for a living person in the same series. Hopefully these roles will all come together to provide him a starring role.
A Nice Surprise
The Whaley Bridge Cricket Club Trip landed in Montenegro this year. The details might be a little gory for this publication, but I can report that the country itself was a very pleasant surprise. We flew to Podgorica, and although it is a capital city the airport was small and efficient. Hotel Podgorica was modern and well equipped, and the city was full of parks and statues. Restaurants and bars lined the streets, and were very reasonably priced. The beach was about an hour away in Budva, which also has a traditional Old Town and a marina. Ryanair fly on Friday afternoon, returning on Sunday evening, so it is ideal for a weekend break.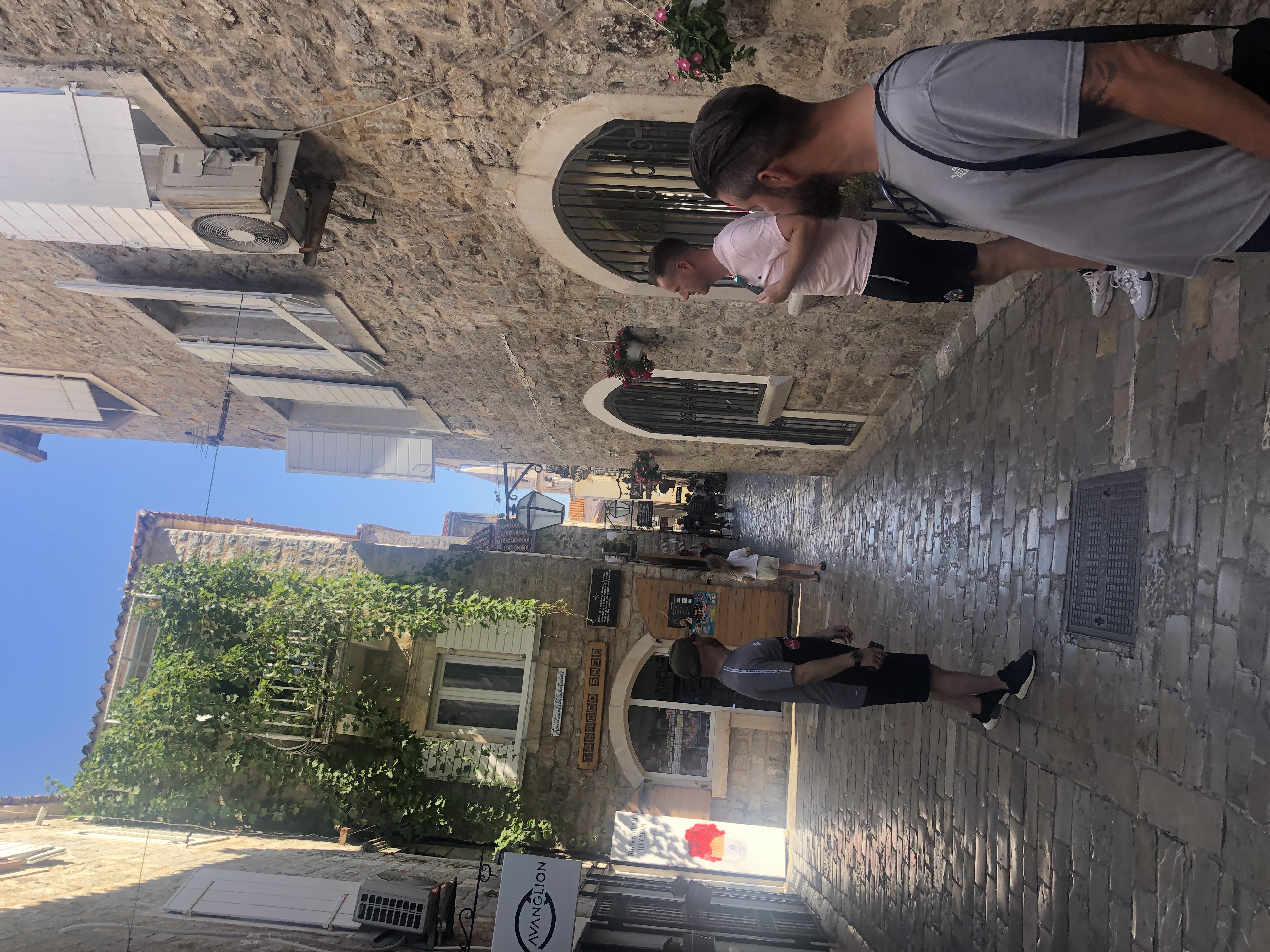 Budva Old Town, Montenegro
Stone The Crows
I had limited success with a bamboo cage in the garden. Now, I have made a much sturdier one to keep the crows and magpies away. I have already had several tits munching on the nuts and seeds, and the squirrels love it. This is presumably because they can have their fill of the small birds' food without having to worry about their noisier and bigger cousins.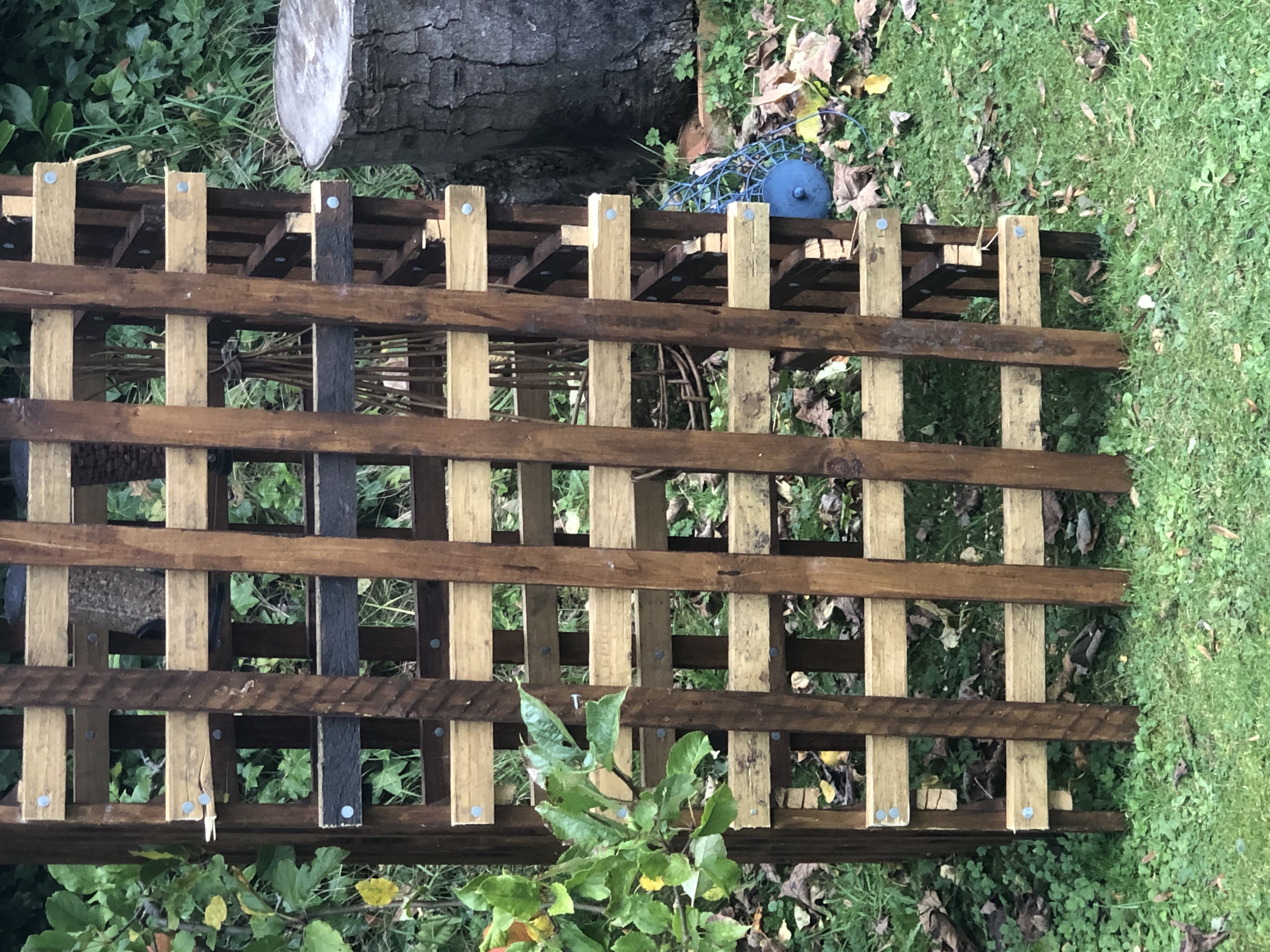 Now Get Out Of That
My Kingdom For A Horse
Summer has been a busy time at the track. Star Of Lady M made her way to Windsor for a Monday night fixture. Hector Crouch was our jockey, with a new face, Clive, meeting and greeting us from the yard. We booked into a hotel at nearby Slough and made our way to the course in a taxi.
Windsor is a friendly course, and we did not mind when two American chaps left their stuff on our table whilst they went to eat. We were in an early race. So, when they returned we asked them to look after our things whilst we were gone, and they agreed. Star was on edge in the parade ring, with a strong wind swirling around the course. Sally decided to calm her by joining the groom on the outside, so that she essentially had two handlers. With several horses getting nervy Star seemed to have settled, but then Sally's hat blew off. This could have been catastrophic as she chased after it, but no harm was done. On the plus side, the tv camera seemed to zoom in on the exact moment that it left her head.
Close But No Cigar
A lot of people had backed Star each way at big prices, and we were hopeful of a good showing. She broke well, and settled in behind a ferocious pace. One of our regular jockeys, Jason Watson, moved off the fence on his mount. This was the cue for Hector to steer Star to the inside. She burst through and finished very strongly, but too late to catch the first and second favourites. A gallant third was a brilliant result, and with a clearer run she could have won. David was delighted, and we debated whether we should aim her at a sharp six or stiff five furlongs. Luke was also thrilled, and we made plans to meet up to discuss her potential future career as a broodmare.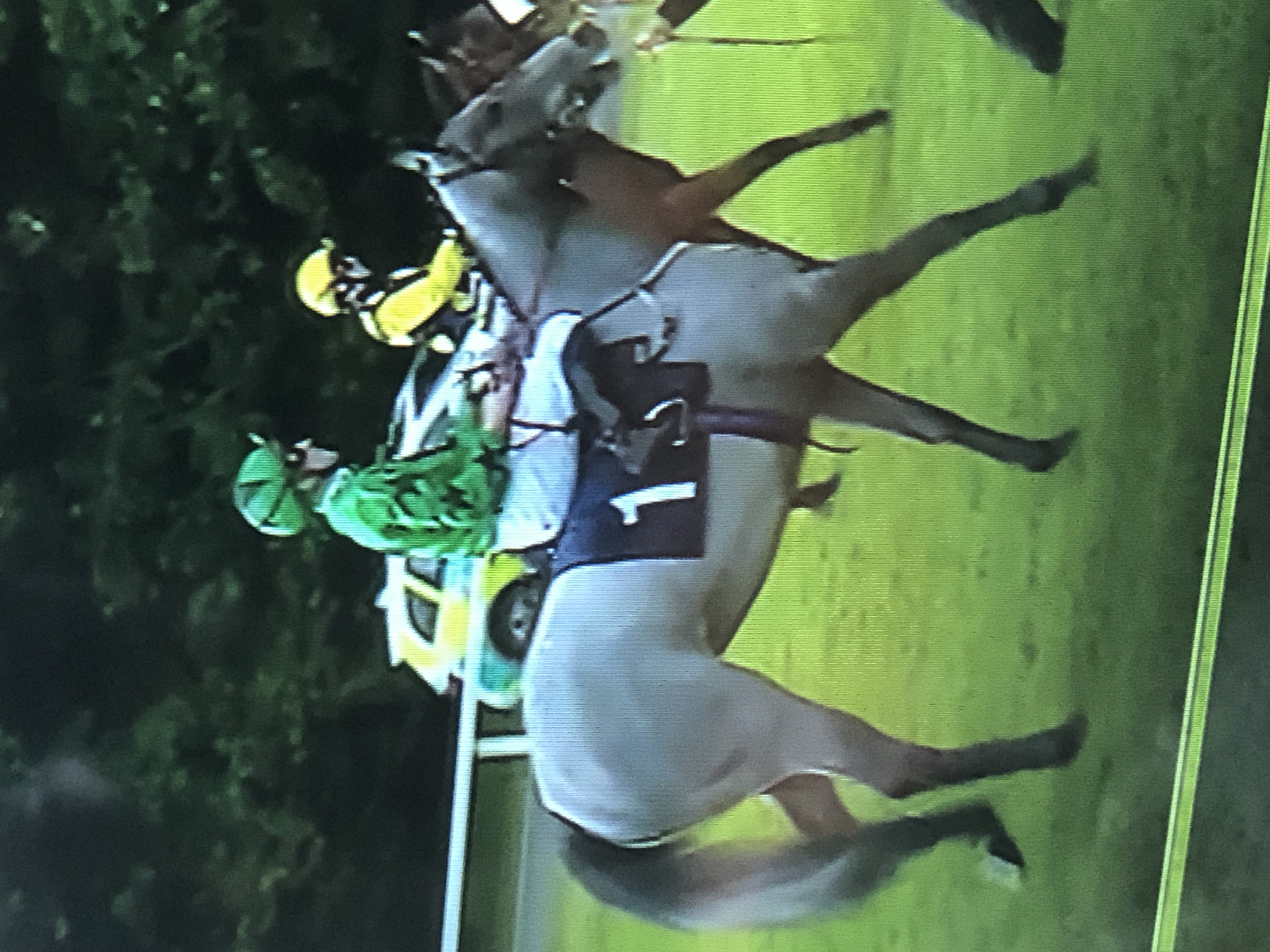 Star Of Lady M at the start at Windsor
Meanwhile, Sally caught up with Matt Chapman and decided to interview him rather than the other way round, and to be fair he was a good sport. The Americans were sitting with reams of betting slips back at our table. The mobile Tote guy was selling them Tim's Terrific Trifecta, which entails picking the first three in a race. That is very difficult to do, but when perming multiple choices you have a much better choice. They were extremely successful, and so Sally decided to copy their bets with great success.
Don't Judge A Book By Its Cover
The Americans were an odd couple, an older chap who was rather scruffily dressed, accompanied by a younger guy who looked like he had come straight from Royal Ascot minus the hat and coat. As it turned out they had come from Royal Ascot, after which they had sold some mares to Coolmore. They were flying back to the US the following day, and thought what better way to spend a Monday night in England than at Windsor racecourse. They were a father and son team, with a fascinating background. Their company, Kentucky West Racing, owned and bred Classic Causeway in the hope of winning the Kentucky Derby. Unfortunately they had to settle for the almost as prestigious Belmont two months later! I am sure that our paths will cross again.
Lady D Returns
Elsewhere, Lady Dandylion was given a rating of 53, so she would be eligible for a nursery. This was perhaps a little too high, but it was a consequence of contesting a Class 2 race rather than sticking to Class 4 or 5.
It threatened to be a busy time, with Lady Dandylion entered at Catterick and Star Of Lady M entered at Carlisle the following day. We made plans to travel on to Carlisle after Catterick and stay over, but the ground was against us and Star was a non-runner. Lady Dandylion was one of 17 entered into the nursery at Catterick, along with old rivals Patasola and Bazball.
A Sad End
Sadly it was not to be. She was not even close to being competitive, and David Allan gave her a frank and honest assessment afterwards. She simply could not gallop and did not know what to do when the pace quickened. It was clear that she was not cut out to be a racehorse, so we quickly put an end to her racing career and made plans to rehome her. She would hopefully make someone a lovely dressage or event horse. At that stage we were encouraged that Emerald Duchess might be able to return to training within the next couple of weeks.
It seemed that we had found somewhere suitable for Lady Dandylion, and quite local too, but circumstances meant that they had to withdraw. We had another option, a contact provided by Richard Kent, and we were cautiously optimistic of a successful outcome.
Lady Dandylion ready for a new life
Star's Next Move
There were a number of options for Star Of Lady M. After considering Windsor, Doncaster, Musselburgh and Sandown, we opted for the Friday night fixture at York over five furlongs and a crucial 89 yards. This was for three-year-olds only, giving it an advantage over the other handicaps. It was at the end of the music showcase evening, and Sally and myself had booked into the Parade Ring restaurant already. Sally's brother Simon was also going to be there with Ben and Beth in the grandstand. We invited Ole and Zac to join us, and they jumped at the chance, swanking into the owners restaurant beforehand. I got an extra owners badge for Beth, but Simon and Ben were not for dressing up.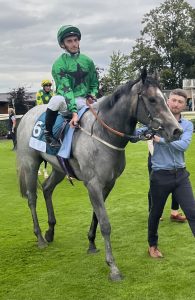 Star Of Lady M at York
It was a competitive race, with Star ranging in price from 7/1 to 14/1, eventually going off at 12/1.
My nerves would normally have been shredded by the time of the race, but we had enough beers to settle them before we headed to the parade ring. We bumped into William and Thomas Easterby, but there was no sign of Tim. There were lots of other familiar faces, and Sally had a good chat with Mick and Peter Easterby. I backed the winner of the race prior to ours, but as nerves finally began to kick in I forgot to collect the winnings. I asked Rory about the gamble on Northcliff, and he denied all knowledge of it.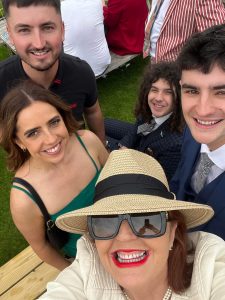 Kissing Cousins
A Close Shave
Danny Tudhope was back on board, and we all agreed that he should drop her in and not chase what promised to be a very strong pace. She was quite a distance from the lead at half way, but Danny began to pick his way through. Entering the final furlong she put on a spurt up the stands rail, but the winner had flown. She finished a brilliant second, two lengths off the winner, but two and a quarter lengths clear of the third. It was a worthwhile evening, with around £5,000 in prize money, and as an added bonus our hosts at York invited us for champagne as placed connections.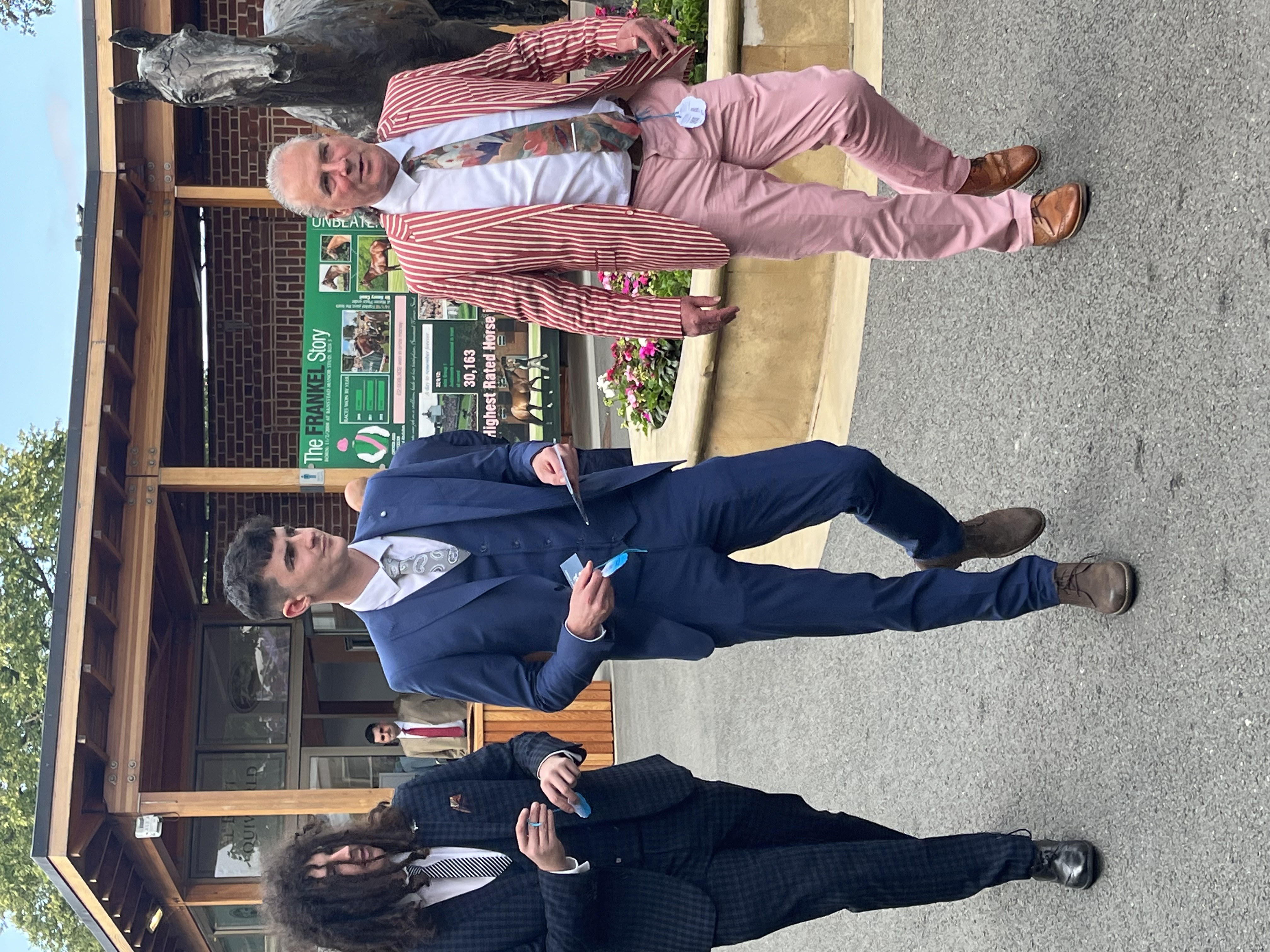 Let me explain about horse racing
This was especially nice as Di Jackson was in attendance, but when I said we should wait for Sally I was told that she was already in the champagne room. Fortunately there was no dress code in there, so Simon, Ben and Beth were all able to join us. It was quite some time before we made our way out, and the music showcase headliners Human League were well into their set. We went back to the Parade Ring restaurant to settle our bill, and the couple on the next table insisted on buying us another drink as they had backed out horse. "Don't You Want Me" blasted out from the stage as we headed for a belated meeting with our driver Terry, who happily took us back to our hotel.
In the drawing room we were ready for a quiet night, but another group arrived, and when they found out that we were the owners of Star Of Lady M more drinks followed. It was well into the night when we finally retired to bed.
A Date At Doncaster
As the dust settled we made plans, and David again came up with a three-year-old only race, this time over five furlongs at Doncaster. It would be one of her last opportunities at that level as the handicapper would surely want a long, hard look at her rating.
Enter The Queen
At the time we were still working to find a forever home for Lady Dandylion, and Tim generously offered to lease a horse to us. This was a three-year-old filly named Canaria Queen, and she had finished third last time out. She was lightly raced, having not seen the racecourse as a two year-old, and Tim offered us tickets to watch her at Leicester the following day before making a decision. It was a bit short notice, but we tuned in to the race and were very impressed.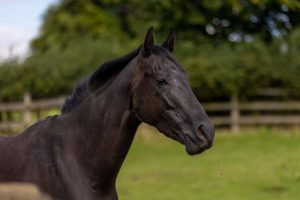 Canaria Queen – the latest recruit for the emerald green silks with black stars
Canaria Queen ran on well to go clear in the final furlong, but she was just caught on the line to finish second. It did not take the syndicate long to decide that we would like to lease her for the rest of the season, or at least until Emerald Duchess came back to fitness. I broke the good news to Tim, and we agreed to split any GBB bonuses 50-50.
Do You Want To Know A Secret
Early August meant a trip to Glorious Goodwood. We enjoyed it so much with Star Of Lady M last summer that we decided to head down there again, this time in the Secret Garden restaurant.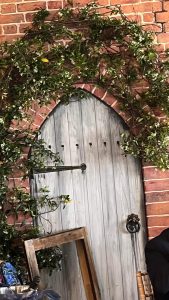 The door to the Secret Garden
The weather was horrendous, and we were glad to pull into the grounds of the rather grand but somewhat tired Avisford Park hotel. I had called the hotel the previous week to book a taxi to the races, but they assured me that would not be a problem. However, a few phone calls later proved that it certainly would be a problem. After half an hour I had managed to secure a ride to the course, but not back to the hotel. Taxis were in short supply, and even our driver from last year could not help.
A La Carte
We sat in the bar and studied the menu, and then Sally gave me her order. "I want a fillet steak with salad instead of chips, and I am not paying for the salad." "That's not what the menu says," I argued, realising that after a fruitless search for a cab Lady M was in no mood to compromise. "A menu is just to provide ideas," she said, and repeated her order. To be fair the hotel obliged, and after a splendid meal we remained in the bar and chatted to a few of the other diners.
By this stage, at least a bottle of red wine into the evening, Sally was in full flow. She regaled the other guests with tales of racing, and the value of Star Of Lady M went up by a quarter of a million pounds in a matter of a couple of sentences. Some were also off to the races, and they had either already booked their rides, or were in the same predicament as ourselves. We decided to leave it until the following morning and retired to bed.
Taxi?
As the sun rose we enjoyed a leisurely breakfast, and Sally enquired if any of the young bar staff might want to earn a few quid. The answer came back negative, but she was not to be deterred. The grounds of the hotel contained a golf course, and we strolled towards it. I waited outside as Sally went into the club house, and after a few minutes, with the rain coming down again, I joined her inside. She was again deep in conversation about horses, and we met a chap who rode out for Major Dick Hern back in the day.
Then Sally cut to the chase. She wanted to know if there was anyone at the club who wanted to earn an extra few quid. The barman suggested Jamie, but when Sally asked where he was it transpired that he was cutting the 15th green. We waited a few minutes, and a youngish lad walked in, no doubt wondering why everyone was staring at him.
"Are you Jamie?" Sally asked. The young lad nodded and then the deal was sealed. "I am going to give you a hundred pounds, and you are going to take us to the races and pick us up afterwards. How does that sound?" "Great," he replied, but I'll have to ask my boss for the time off." His boss was stood at the end of the bar, and in the face of Sally's confident approach, and the sight of rain pouring down outside, he could think of no good reason to deny the request. So, Jamie would be our driver, and we went off to get changed.
An English Summer
An hour later we were at the course, and the rain was relentless. A gale howled around the course, and we had to literally hang on to our hats as we made our way to the oasis that is The Secret Garden. This was a fabulous setting. As the rain bounced down outside we were sat in an indoor English country garden sipping English sparkling wine, before the obligatory champagne arrived. The food was excellent, and the table layout meant that we could not avoid making new friends.
As the rain eased we ventured out to watch Paddington. Aidan O'Brien gave us a nod, perhaps to acknowledge the indomitable spirit of the English in summer, no matter what the weather brings! I met Facebook friend and tipping competition organiser Will Cemis, and then we spent a fabulous hour with Luke Lillingston. Sam Hoskins finally got to meet Lady M, and I am sure he was thrilled by that! We bade farewell, and I agreed with Luke that we would meet up at the Doncaster sales to discuss Star Of Lady M's future as a broodmare.
Back at the table I heard a familiar voice. I turned around to see Tim, of Tim's Terrific Trifecta fame. He remembered us from Windsor, and reminded me of the spectacular bet.
I managed to back David O'Meara's Rhoscolyn who won the last race, and our lift back with Jamie turned out to be just perfect.
Back To The Track
It was a long drive home ,and when we arrived I discovered that we had actually been declared for Doncaster on the Saturday. David had notched four winners the previous Saturday and so was in good form. Redcar had been abandoned the previous day, and with the possibility of heavy ground at Ripon,  Doncaster in south Yorkshire looked a good alternative.
As we prepared to head to Doncaster the news came through from Tim that Canaria Queen had got spots. This was nothing too serious, but it would put her back a couple of weeks. The 1891 Group's luck continued to be almost exclusively bad!
The Best Laid Plans…
The rain started to pour down at Doncaster, and so we declared at Ripon as well just in case. At first Jason Watson was on board, then this changed to Danny Tudhope. We set off for Doncaster not knowing whether we would even race or not.
We were installed as the 2/1 favourite as the rain started to ease. David Nolan was our jockey, and although we drifted out to 5/2 it was clear that we would take our chance. We were in the second race, and the opener certainly seemed to churn up some ground. David was knowledgeable about our filly, and he gave us confidence as he headed to the start, just as the heavens opened once more. Clive was again in attendance, and he pushed us towards the cameras as our jockey was being interviewed.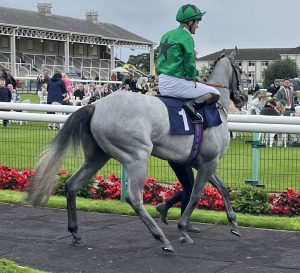 Star Of Lady M at Doncaster
We watched the race from the parade ring, which runs alongside the course. Star broke well, but it was clear that she struggled in the ground. It was certainly on the heavy side, and she did well to run on into fourth place. That at least gained us some prize money, and we agreed that the ground description should at least have the word "good" in it on her future runs.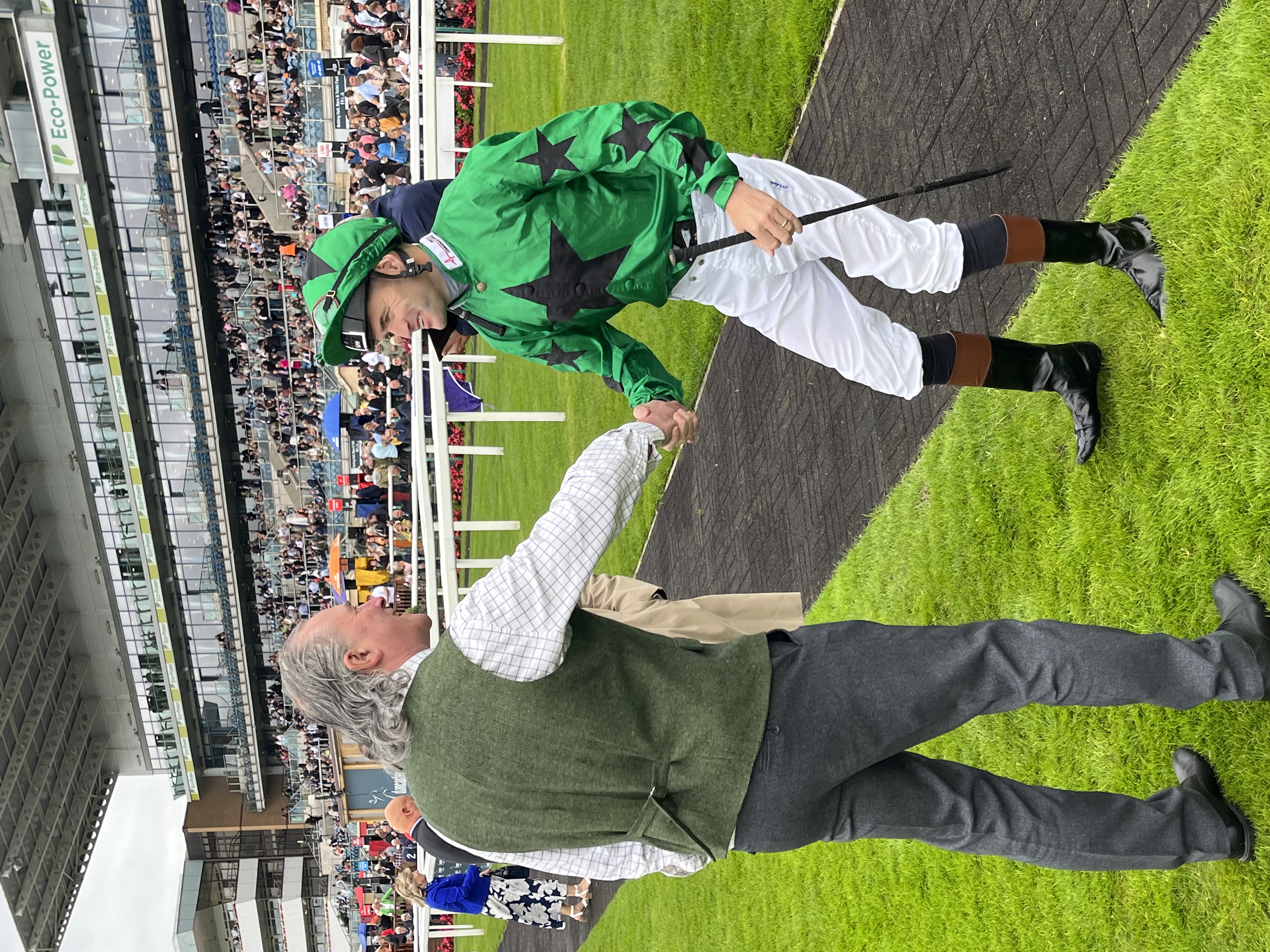 Meeting David Nolan
Another Festival?
Elsewhere David O'Meara was on television talking about his Stewards Cup win with Aberama Gold. His success continued even if ours did not.
Star Of Lady M was in good form, despite the setback at Doncaster. She was entered at Ripon, Carlisle and Newmarket, and I also mentioned to Jason Kelly that there was a somewhat ambitious race for fillies only at the Ebor festival at York. However, although it was Class 2, as opposed to Class 4, it was historically good for three-year-olds, and particularly those rated in the 70s. So ,we entered that too.
The Ripon race was heavily oversubscribed with 33 entries, whereas the Newmarket race had a £30k prize pot, only 20 entries, and it was just for grey horses. That significantly reduced the pool of eligible horses, and we were favouring that.
Lady D Departs
Kate Tibbits, a friend of Richard Kent's, agreed to collect Lady Dandylion from the Easterby yard, and Canaria Queen was back cantering after having a bout of ringworm, so we could expect to see her in the next few weeks. Emerald Duchess was making good progress and would be reassessed in six weeks.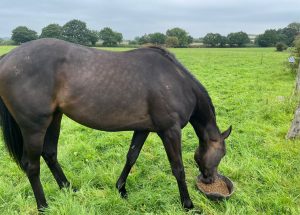 Lady Dandylion happy in a field at her new home
Aim High
The best laid plans are easily thwarted by horses and races, and when sixteen were declared for the Newmarkey greys race David thought that we should skip it. It was 10lbs higher than the races she should be contesting, but as there were no clear alternatives we declared anyway and were quoted at 12/1. I warned everyone that we were far from certain to run, and sure enough, later that morning David confirmed our entry into the York race, a contest that was an even higher standard than the Newmarket race. However, it had the advantage of being fillies only, it was on her doorstep, and there were only 18 entries.
The handicap system meant that we would need a very light jockey, but even then we would be carrying 3lbs more than our rating stipulated, so we were certainly up against it.
We withdrew from the Greys race and focused on York. It was the first day of the Ebor festival, meaning that Star would have raced at Royal Ascot, Glorious Goodwood and the Ebor before her three-year-old career was over, just the Derby and Newmarket to complete the set!
Festival Fever
It was certainly a thrill to have a runner at the Ebor, as for me it tops the list ahead of any of the other English racing festivals. We booked the very experienced Joe Fanning to ride at the featherweight of 8st 2lbs, and it was no surprise to be priced at 25/1.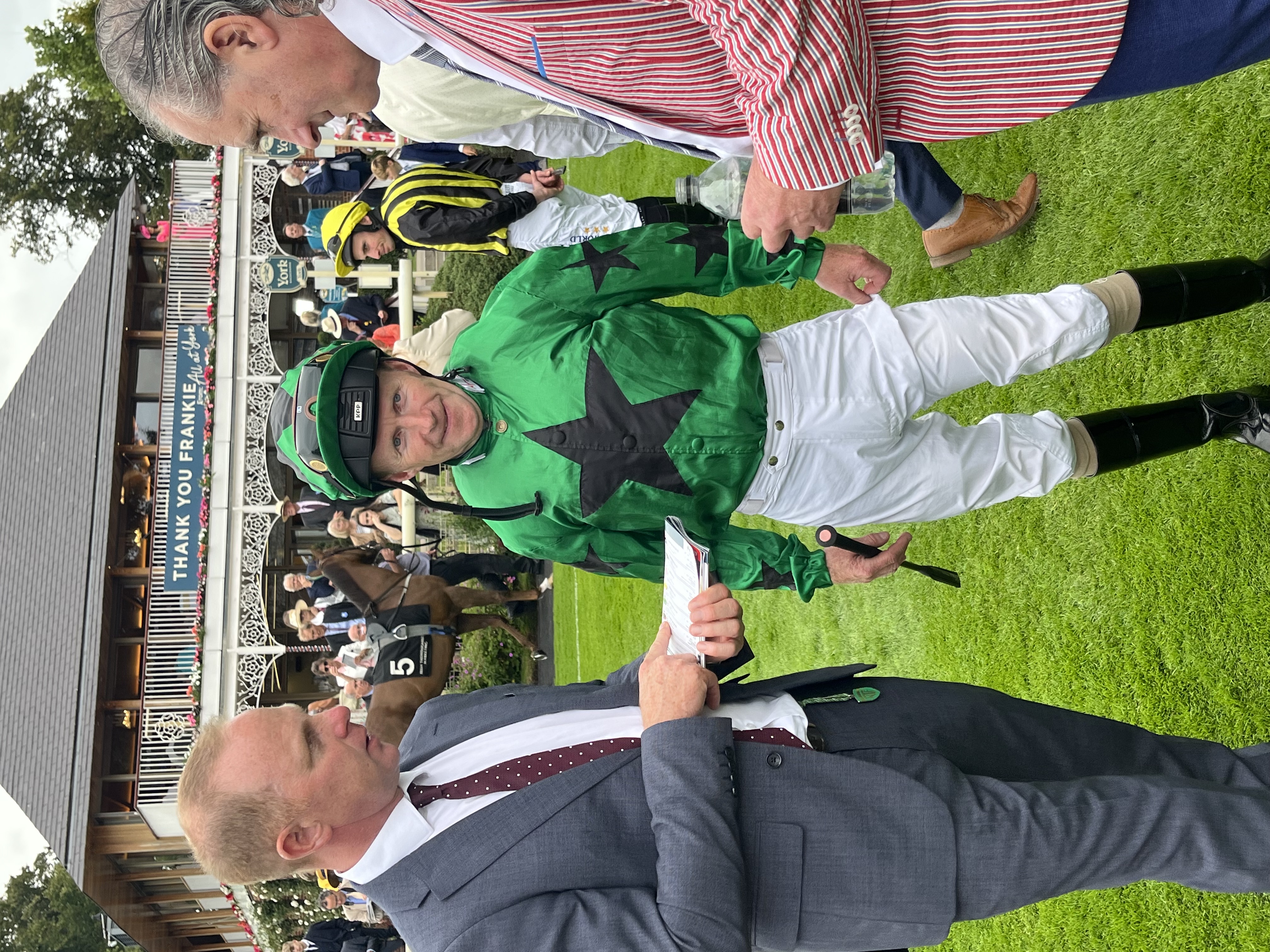 Talking tactics with Joe Fanning and David O'Meara at the Ebor
We arrived at the course before midday, despite the traffic from Leeds Festival. After picking up a few compliments in the car park we headed inside. Maureen and Mick Doyle, two owners that we met earlier in the season, were in attendance, as were Middleham Park owners Vinny and Kenny. Local trainer Adrian Keatley was also there, this time without his children.
The Owners restaurant was very busy, and York came up with an innovative solution to ease the congestion. Rather than sit down at a table they provided the option of a couple of carvery rolls complete with roast potatoes and a pot of gravy, and these could be eaten in the bar. Sally had her own problems, as the enormous hat that she had chosen for the occasion was too large to fit through most of the doors.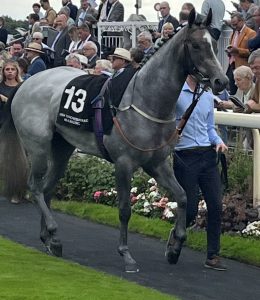 Star Of Lady M looked magnificent at another festival
Passing The Time
As race time approached my nerves went into overdrive, and I was pacing about trying to drink lots of water. In the pre-parade ring I sat on the lawn, to the concern of Jason Kelly and David's team. Hugh Lillingston, Luke's son, introduced himself, and a few minutes with him and Jason distracted me for a while.
In the parade ring Joe Fanning appeared, and we talked tactics. I pointed out that there was no pace on our side so perhaps Joe would need to tuck in towards the middle. David stressed that we should be closer to the pace, and to avoid the far rail where the ground seemed dead.
Fractions!
A short time later Joe mounted and they were off to the start. We took up our customary place in front of the giant screen in the parade ring, and they were off. She got bumped at the start, and suddenly we were ten lengths behind. Joe took her to the far rail, breaking our two golden rules in the first half of the race. She started to run on, and was closest at the finish. Her final position of 7th did not do justice to her, and Joe was very apologetic afterwards. However, he was making split second decisions at 40mph, and sometimes those decisions go wrong, That's racing!
Star Is Back
She was beaten just 2 lengths in the Class 2 contest, just inches and eight hundredths of a second from 4th, which boded well for the rest of her season.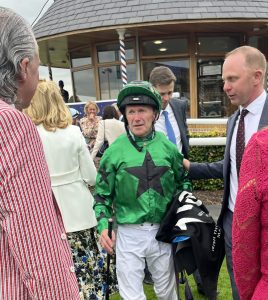 Joe apologises but he was not to blame
Everyone complimented us on what a fantastic race she ran, though Sally was more concerned about my nerves. She wanted me to get a watch so that she could monitor my vital signs!
We made our way home, mentally exhausted after ticking off another major festival. Meanwhile, the O'Meara team, and many others within the Yorkshire racing fraternity, were off to a party hosted by the owner of major racing supporter Clipper Logistics. It was anything but a low key affair, with Bryan Adams providing the music.
The following morning we were pleased to hear that Star Of Lady M had come out of the race just fine, and we could plan ahead.
There And Back Again
It was a busy week, and Friday morning we were once again on our way to York for the third day of the Ebor meeting. As we pulled into our hotel we were greeted by several staff members with umbrellas, Terry, our driver, and Frankie Dettori who was just about to head to the racecourse. Sally spoke to him in Italian, and he somehow managed to understand her. He was more than happy to pose for a photo, and Lady M was even gracious enough to crouch down so that the diminutive jockey was the taller of the two!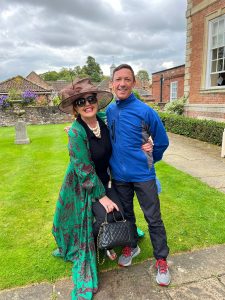 Lady M and Frankie
At the course we were booked into the Parade Ring restaurant, and they had certainly dressed it up for the Ebor. Rather than the usual prosecco on arrival, we were greeted with champagne, and the chairs were adorned with white cloth that made them seem quite regal.
It was a splendid afternoon, and we managed to catch up with some of The 1891 Group syndicate, as well as Luke Lilllingston, as we shared a jug or two of Pimms. We met William and Sarah Easterby who were both a little the worse for wear after the Clipper party, as were David O'Meara and Char-lee. I also noted that Andrew Balding was pacing up and down before the Lonsdale Cup that was eventually won by his horse, Coltrane. Apparently he is renowned for pre-race nerves – so its not just me!
A New Best Friend
Sally was circulating as ever, and she got on famously with Stacy Keatley. She then met Charlie Hills and praised his children for their Tweets highlighting Charlie's recent racing achievements.
Terry picked us up after racing, and when we got back to Middlethorpe he showed us a picture of himself and Frankie that was clearly his pride and joy. Charlie Hills' children were waiting for dad on the doorstep, and after discussing Tottenham Hotspur with them we went inside. In the drawing room there were other owners who had travelled up from Norfolk just to experience the Ebor festival. He was not particularly interested in racing, but she was passionate, and she admitted that she too gets very nervous before race time.
We retired early and got on the road straight after breakfast the next morning. Unfortunately, the news regarding Lady Dandylion was not good. She was covered in sarcoids. With that ailment it was unlikely anyone would take her, and they can be expensive to treat. However, we had faith in Kate, and sure enough a few days later she was seen on Twitter enjoying herself in a field in what will hopefully be her forever home.
The Queen Is Waiting
Canaria Queen was finally ready to see a racecourse again, and although it would be a long journey there was a race at Bath that should have been within her ability. However, Tim had other ideas, and put her into a hot contest at Carlisle. Tim thought that we would need to win to justify going to Bath and Andrew Balding had the hot favourite. At Carlisle, the race was possibly not as deep as it looked, and we could pick up some decent prizemoney.
It was a pleasant run up to the Cumbrian course, and we were given a warm welcome. The complimentary food was as good as it gets, but the race was predictable. She had proved to be a little on her toes at the stalls, so travelling head lad Geordie went to the start to calm her down. This meant that the only person from the stable that could give us information was Duran Fentiman, our jockey. She showed great professionalism going into the stalls, but once the race began she was quickly under pressure. Trailing some way behind the principals, she finished 9th of 11. We did not look forward to the return part of our five hour round trip. Hindsight always knows best, and at Bath the favourite as a non runner. We would certainly have been in with a favourite's chance.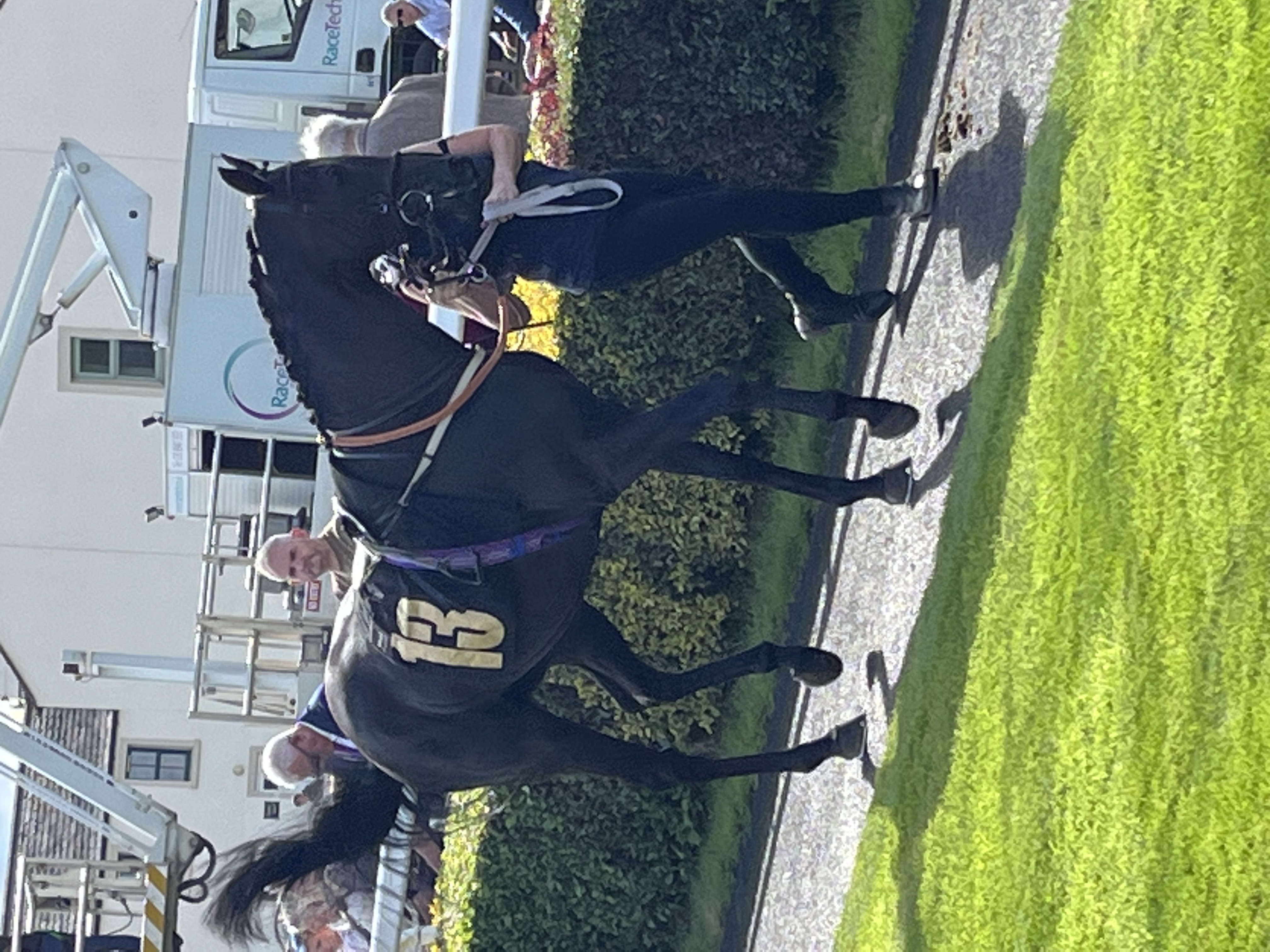 Canaria Queen at Carlisle
Out Of Her Depth
Duran was a little more optimistic. He was not quite sure why was in such a hot race, but at a lower level and with some cut in the ground, he thought that she could get her head in front.
The following day the Tim messaged to say that she ran too freely and would be dropped to 5 furlongs for future races. In addition, she was disadvantaged by being drawn out wide. I was not convinced and thought she should be dropped significantly in class.
Someone obviously thought otherwise, as she was entered into a Class 3 contest that also looked likely to feature Star Of Lady M. I gave Tim a call and he agreed that she should set her sights a little lower.
She was entered into races at Leicester and Catterick which were much more suitable. Unfortunately the ground was against her so she was not declared for either. That was just before the heavens opened and there were swathes of non-runners due to the soft ground, Who would be a trainer?
What The Future Might Hold
I ventured to Doncaster again, this time to meet Luke at the Goffs sale. It was a busy arena, though I caught up with Tim Easterby and David O'Meara. David was keen to explore future options for Star Of Lady M. However, the meeting with Luke was all about the future for Star Of Lady M once her racing career is over. He was delighted that we would consider sending her over to his Mount Coote Stud, and he explained how a deal might be structured. This included the possibility that one day we may even race one of her foals.
The End Of A Chapter
The news was not so good from Tim, as he finally conceded defeat with Emerald Duchess. He did not believe that she would recover sufficiently from her injury to be able to race again, and so we would send her to the Tattersalls Mares sale in December. In the meantime, we had to hope that her full sister, Granny Budgie, continued to win more races. As it turned out, her full brother was sold at Goffs, though not for as much as we had hoped. Richard Kent admitted that the colt was still a bit backward but should come good in time.
York Once More
Star Of Lady M was entered into the apprentice handicap for three-year-olds only at York, and as it was their family fun day their somewhat stringent dress code was relaxed. I was feeling ill before we even got there, so when the nerves kicked in it was worse than ever. Mark Winn was our jockey, and he was confident of a good showing.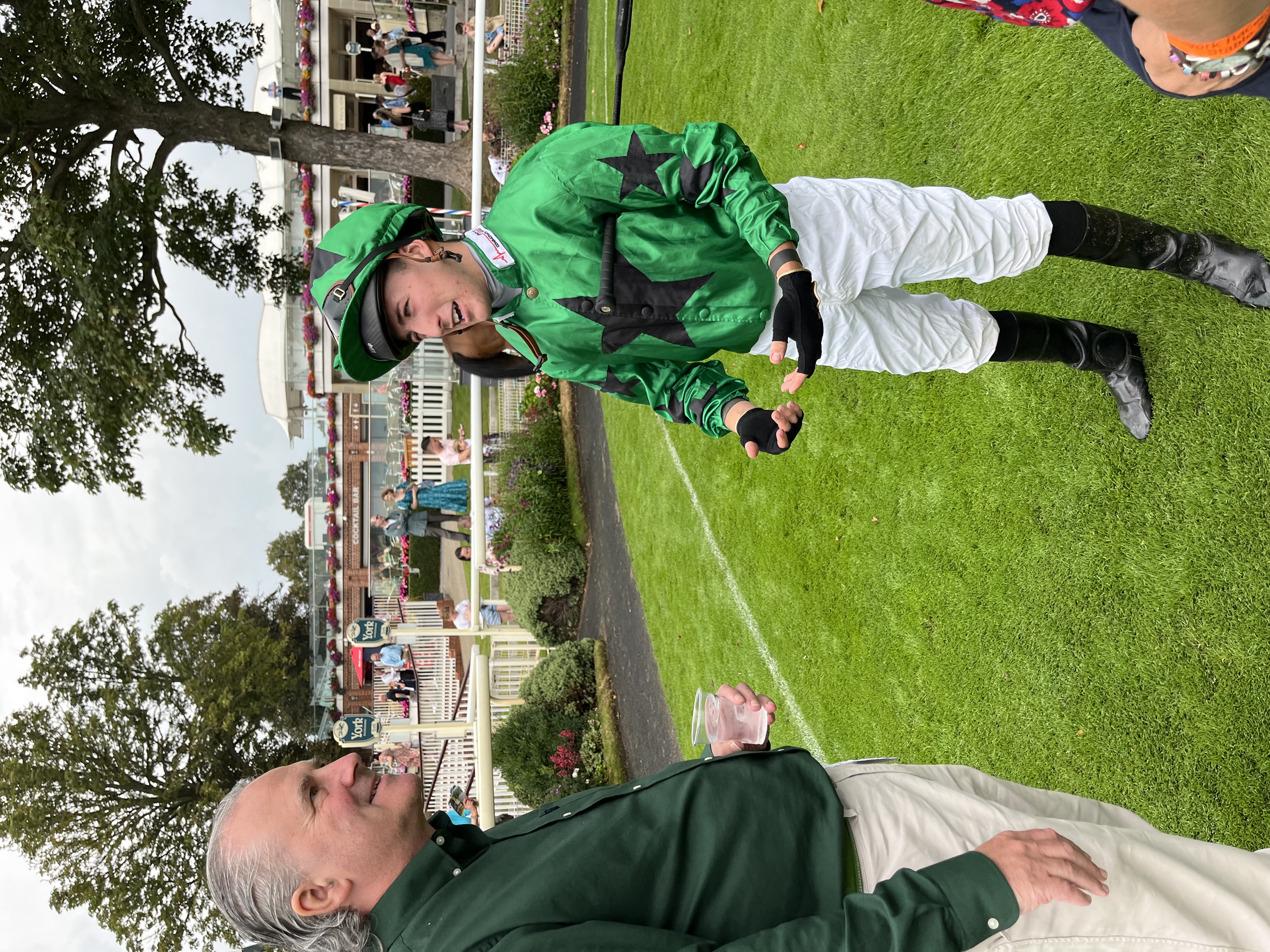 Meeting Mark Winn before the apprentice race at York
However, we were drawn away from the pace, and when the race settled down we were ten lengths or more behind. She found nothing, and afterwards Mark admitted that he was at a loss. That was not her true running as he eased her down to 16th of 17. David had no explanation either, suggesting that her draw had done her no favours. It was also possible that the ground had gone against her, as it had started raining just before the race. 
Perhaps she was in season, perhaps she was just under the weather. It was another one that we had to put down to experience and move on.
The Queen Of Scotland
Grannie Budge finished 3rd in a competitive nursery, confirming her promise and the potential uplift to the value of Emerald Duchess. Elsewhere, Canaria Queen was entered at Musselburgh, Thirsk and Redcar, and it seemed that the first of these was the preferred destination. It was a GBB race, and there were just seven runners, but as the course is near Edinburgh there were certain logistical issues.
The night before was the end of season cricket celebration, and that went on until late into the night. In addition, the girls trip to Majorca would see them return after midnight as well.
Fiona offered to drive, but there were just two other travellers, myself and Jake. Jake had to ride in the back because of his hangover, and he was very relieved when we stopped close to Penrith for coffee and Greggs.
Last Minute Jitters
We carried on, making good time, and eventually pulled into the course a good hour before the first race. Canaria Queen was on her toes in the parade ring, but Geordie was confident that she would be fine at the stalls. There were originally six runners, but the favourite was withdrawn. The new favourite was long odds on, but we were feeling reasonably confident. At the start Canaria Queen was not happy. She reared up, backed away, and for a while it looked like she might not even enter the stalls. That would have been one heck of a waste of a nine hour round trip. Eventually, though, the shrugged off all but one of the stalls handlers and moved into her gate swiftly and smoothly.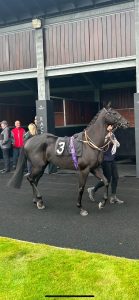 Canaria Queen at Musselburgh
First!
David Allan said that he hoped the favourite would give him a lead, and that proved to be the case. Two furlongs out he made his move, and it was decisive. It was difficult to hear the commentary with Fiona screaming at the top of her voice, but that did not matter. It was clear that she would win from a long way out. The performance was supremely confident from all concerned, and after almost 18 months The 1891 Group had finally had their first winner.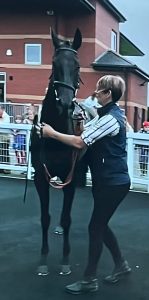 The winner – Canaria Queen wanted the limelight to herself
There was a brief presentation, but no pictures of the winning owners with the winning horse as she was still full of herself. We received a bottle of Edinburgh gin and four presentation glasses, and then we went to the winners lounge to watch the race over and over again. We were given a USB stick containing the race, and a picture of Canaria Queen crossing the winning line. As ever after a win, the rest of the racing became a distraction and we headed for home. The following morning the syndicate were still excited, all wanting to know where she would be off to next. I had Redcar on 27th September earmarked, but with Tim it was difficult to be confident.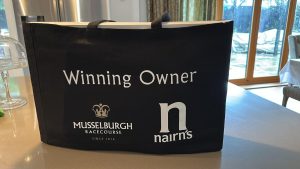 The 1891 Group finally come out on top
Here Comes The Rain Again
Star Of Lady M had an entry at Beverley, but we were concerned about the weather. Danny Tudhope was on May Blossom, possibly because of the doubt about our participation, and even on the morning of the race we thought we might give it a miss. David called at 11am, and we were off to Beverley! As we approached the east Yorkshire course the day was clear and sunny, but that concealed the deluge that was about to occur.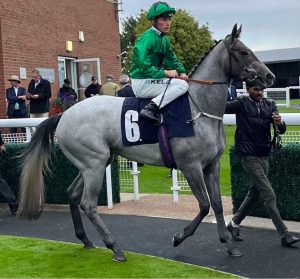 Star Of Lady M in the rain at Beverley
At race time the parade ring was empty and under water, and the incessant rain continued as they went to post. We had figured that Star did not like the heavy going, and so it proved. She did her best, but finished 8th of 9 in ground that could be described as bottomless. We would definitely need to consider that for future races.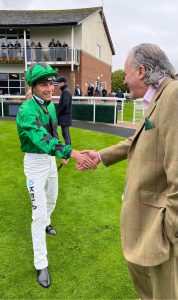 Reacquainted with Jason Watson
The Queen Is High
We saw Will and Rory from Tim's yard, and they confirmed that they were waiting for the handicapper to reassess Canaria Queen before further entries. As it turned out she was raised 5lbs, which seemed a little harsh for winning a small novice race. Despite that, she should still be able to hold her own in a low grade handicap.
Unfortunately Tim thought it best to enter her into a higher grade again, this time at Ripon. I was away for the weekend, but the syndicate was well represented. Canaria Queen was slowly away, and never really challenged. This could have been expected, but the disappointing thing was that the handicapper saw fit to leave her on her elevated mark of 69 rather than drop her a few pounds.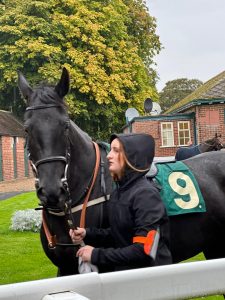 Canaria Queen at Ripon
She was entered into a contest at Southwell, but was not declared as the ground looked like riding too fast, whilst Star Of Lady M was also going to contest that but for an administrative oversight.
A Battle Royal?
Next up for Canaria Queen could well be a contest at Musselburgh that might also feature Star Of Lady M. Star could well go to Windsor instead and Canaria Queen might sensibly end up at Redcar, but it is an intriguing prospect.
You can view the previous edition here
losemyiphone findmyiphone